NASCAR: Blaney wins FireKeepers Casino 400 at Michigan
Ryan Blaney took the lead on a restart with eight laps remaining and skillfully held off a frantic field to earn the victory Sunday in the FireKeepers Casino 400 at Michigan International Speedway in the penultimate race of the NASCAR Cup Series regular season.
Those eight laps out front were the only laps Blaney's No. 12 Team Penske Ford led on the afternoon but it was good enough to give him his second victory of the season – by a modern-day track record margin of .077-second over Hendrick Motorsports teammates William Byron and Kyle Larson.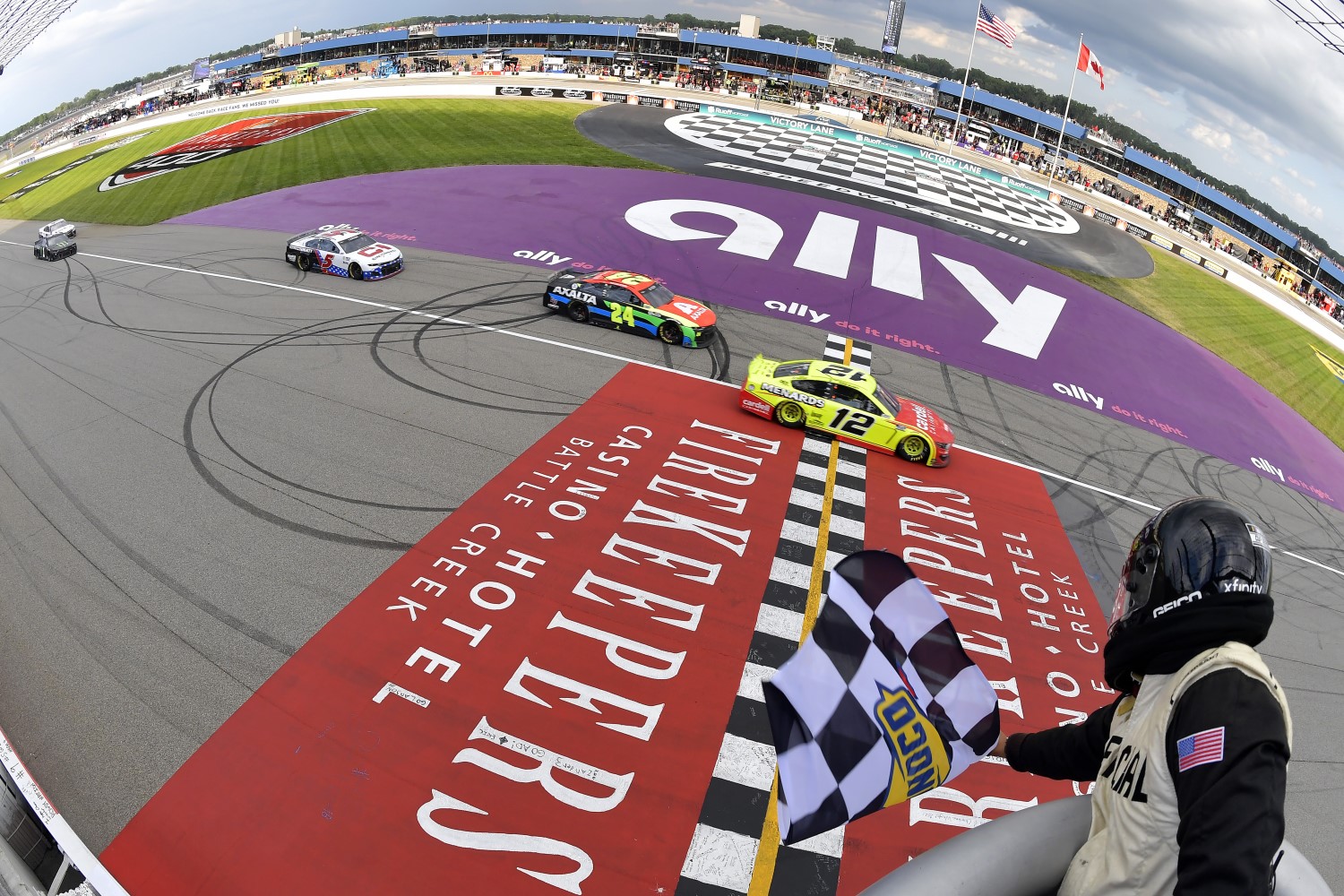 Blaney credited Joe Gibbs Racing driver Kyle Busch with giving him a push from behind on the final race restart to get out front and the popular 27-year-old Blaney took it from there, using all the track to keep the field behind him.
Kurt Busch and Denny Hamlin finished fourth and fifth with Matt DiBenedetto, Kyle Busch, Chase Elliott, Brad Keselowski and Martin Truex Jr. rounding out the top 10.
"We got a great push by the 18 (Kyle Busch) on the restart and were able to get clear there," Blaney said. "Michigan you pretty much run wide open and just play the air game.
"Such a huge win for Ford," he added. "I'm fired up."
Blaney conceded he didn't necessarily consider himself an odds-on favorite coming into the race but credited his team for the improvements they made to his Ford all day. He finished runner-up at Indianapolis last week giving the organization some well-timed momentum heading into the Playoffs in two weeks.
As with his late race rally at Indy, Blaney made steady gains all afternoon. Most of the early race was a battle between Larson (71 laps), Elliott (68) and Hamlin (10) – the three drivers combining to lead 149 of the 200 laps.
Different pit strategy certainly affected the final run – with some drivers getting a variation of two-tires or four-tires with their fuel. When the final stops cycled out Byron led Larson and Hamlin. A brief caution came out for rain with 21 laps remaining and another for a seven-car accident with 14 laps to go.
"Honestly I think I was maybe a little too patient behind the 12 (Blaney)," said Larson, who leads the regular season championship standings by 28 points over Hamlin with only one race left to decide the 15-point championship bonus. "Just made a couple wrong moves and allowed Blaney to get by me.
"I was never close enough to William [Byron] to help him generate a run on the 12 (Blaney)," Larson added. "Good points day. Wish we could have gotten more, but all in all, a good day.''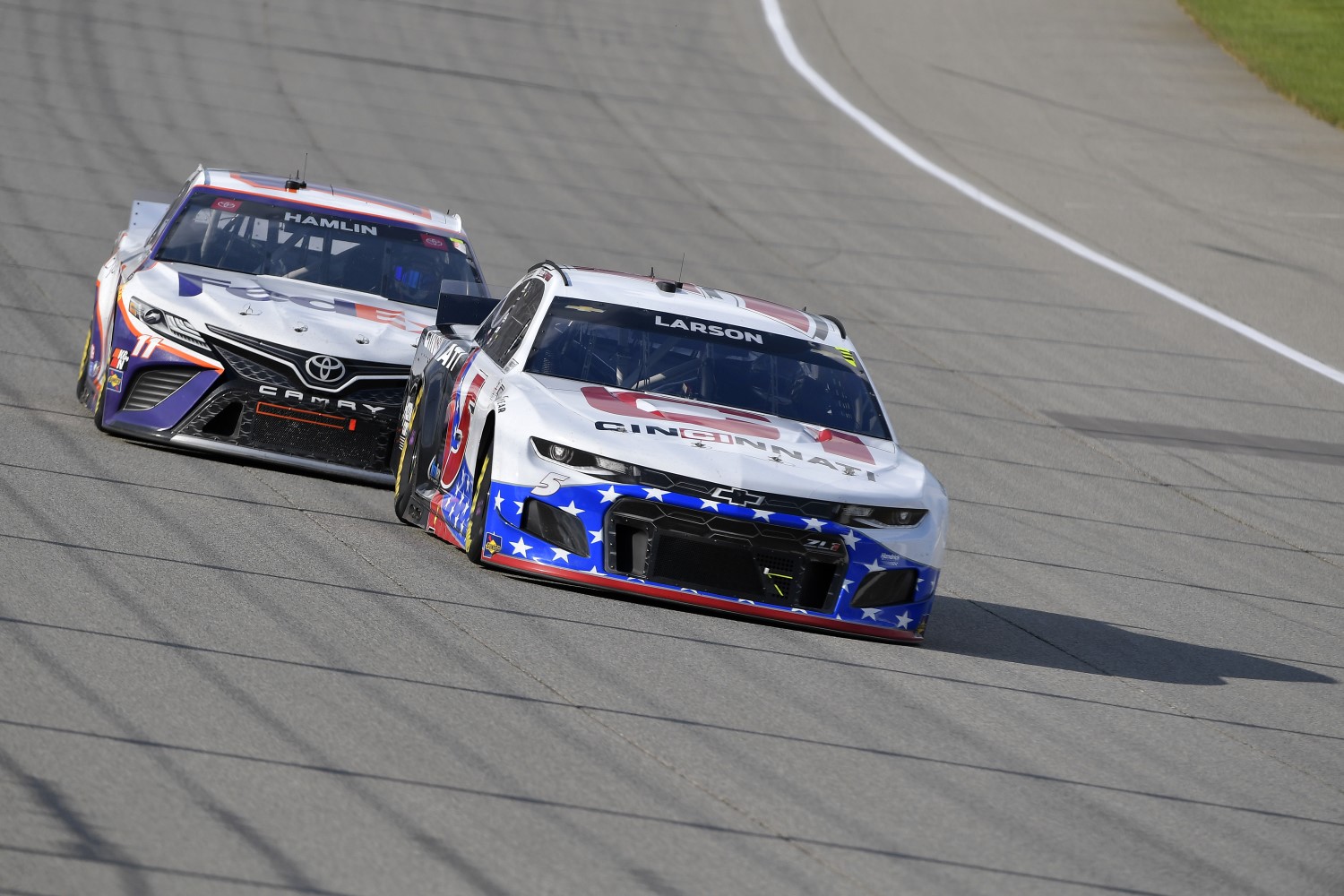 Stewart-Haas Racing driver Kevin Harvick finished 14th which was good enough to secure the 15th Playoff position on points heading into Daytona.
Richard Childress Racing's Tyler Reddick is in 16th place after an eventful 29th-place finish. He holds a slim 25-point edge on his teammate Austin Dillon for the 16th and final Playoff position. DiBenedetto is 18th, 120 points behind meaning he would have to win at Daytona to qualify for the Playoffs.
It all certainly makes for a compelling Coke Zero 400 next Saturday.
But for much of the Michigan race, it looked like Dillon was in position to hold the upper edge going to Daytona. He ran top five (led a pair of laps) and moved that Playoff duel into a tie following the Stage 1 break.
But contact between Brad Keselowski and Dillon just after taking the Stage 2 checkered flag spun Dillon's No. 3 Richard Childress Racing Chevrolet across the track and hard into the wall. Dillon had crossed the line sixth and Keselowski seventh before the contact.
For his part, Keselowski immediately radioed his crew, "Man, I didn't want to do that, I just wanted to hold him down (track)."
After being released from the infield care center, Dillon said he watched a replay and didn't understand the hard racing after taking the Stage flag.
THE STAGE WAS OVER. WHAT HAPPENED BETWEEN YOU AND BRAD KESELOWSKI?
"I was just trying to get as many Stage points as I could get right there and did a good job of side-drafting and came down to the apron and I've seen just one quick replay, but it was after the Start/Finish Line. I was starting to come up off the apron because it's so rough down there. But I figured by that point, he would have given me a little room. I hate it. I'm thankful that the good Lord kept me safe today. That was a heck of a wreck, but I feel fine. I hate it for BREZTRI and my guys, most of all. The built a rocket ship. They really wanted this one, and I did too. Just working our tails off right there. I think we would have had a shot to do something there at the end with our race car. It's the best race car we've brought to the track at RCR this year, I feel like. It's just a bummer, but we've got Daytona left and I just hate it. I don't know why it happened, really. I thought I had a little room to come up and he just held me down there a little bit too long, I guess."
HOW DETERMINED ARE YOU TO WIN AT DAYTONA NEXT WEEK?
"Very. The guys have worked so hard. You saw the equipment I had today and man it was so fast. I was having a blast out there racing like that. It's fun to be able to do that. I've just got to thank ECR and RCR. But that one is probably done, and we'll just bring another one next week to Daytona."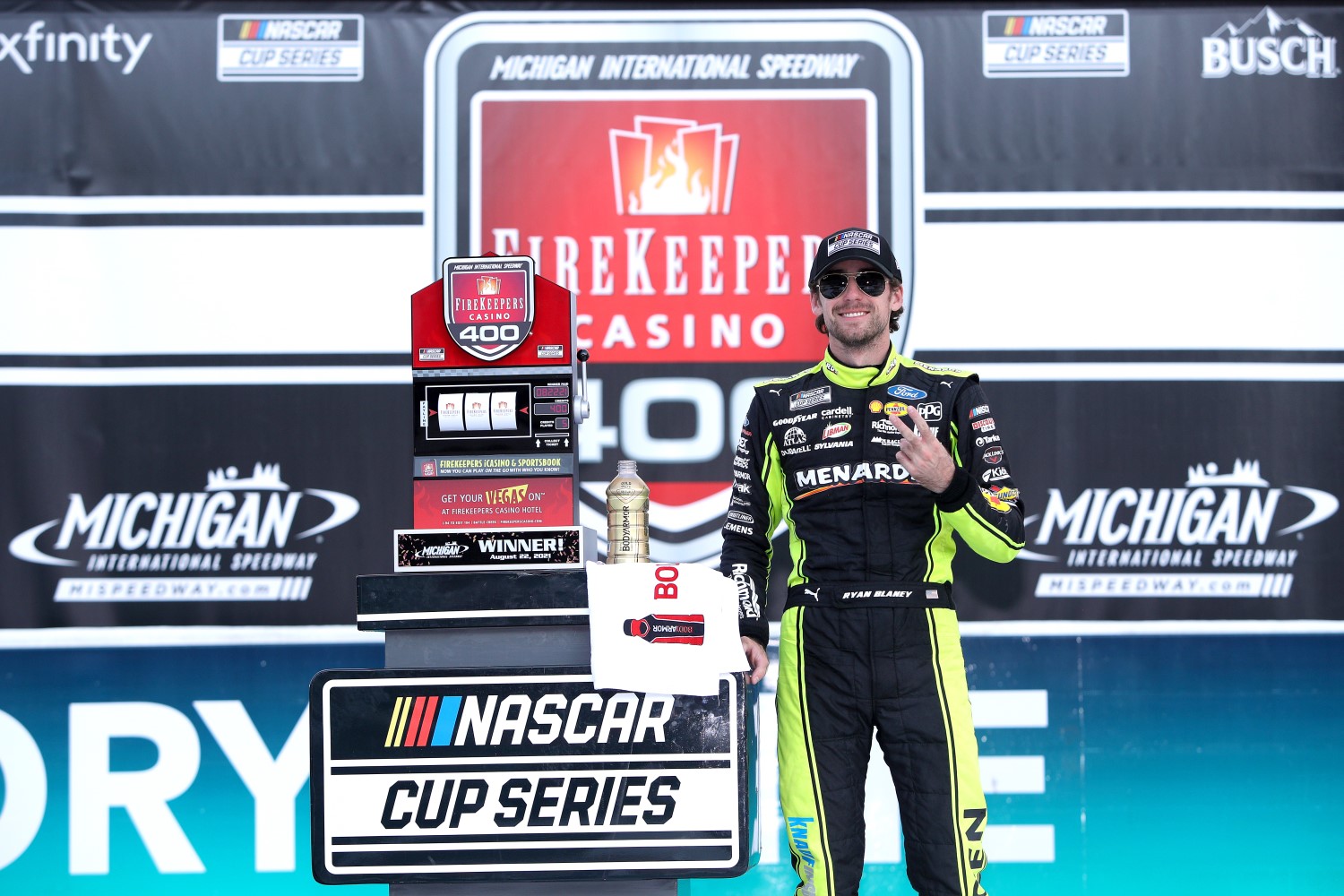 Ryan Blaney
No burnout because he said, I was so exhausted from the final few laps, I didn't have time to think about one. Maybe the hardest 10 laps you've driven in your life, Ryan?
RYAN BLANEY: Yeah, pretty close to it. Yeah, got a great push by the 18 on the restart, was able to get clear there. Michigan is a matter of pretty much running wide open and trying to play the air game. I hate you have to race that way. That's how you have to run. Worked out for us.
Man, I'm proud of everybody on the 12 team. Man, we weren't great to start the day off, kept working and working, got a lot better. It's so cool to get in Victory Lane for Ford here. This is such a huge win for Ford, Penske, Menards Cardell, Bodyarmor. I can't thank them enough, what they do. That was cool, man. I'm fired up. I'm fired up.
After the first run of the day, if I told you, you were going to come back and win this thing, what would you have told me?
RYAN BLANEY: I'd tell you, you were crazy. We just worked on it a lot. We had our problems early. We took a lot of time to try to fix it. We got better and better. Picked a good lane on the restart there and got the push.
It was really the push. The 18 pushing me, that was the whole thing. I appreciate Kyle for pushing me through there. Thanks everybody for coming. Hope you enjoyed it.
William Byron
William, you put up a major fight there with late-race restarts trying to get by Ryan Blaney. What more did you need to make the pass?
WILLIAM BYRON: Just the 11 to stay with us. He tried to shuck us into one. I had to stay with him to not sacrifice my right rear. Once you get put three-wide middle, it's game over. I gave up the lead trying to protect the top. Just didn't have the loyalty there to kind of push me to the lead.
Overall really good car. Axalta Chevrolet was extremely fast. Definitely know we can bring that to the Playoffs. Stinks to finish second, but feel like we had a really good car to go to battle with.
Saw you and Larson get out of the car, both smiling, high-five'd a little bit. What were you discussing? Did you have a lot of fun in the last couple laps?
WILLIAM BYRON: Yeah, it was fun, kind of like a speedway race. I was trying to back up to him about two to go. Feel he kind of ran the bottom so he didn't have any momentum to push me.
Yeah, I don't know what you do. You can only block so many lanes. I tried to block the top and cost myself first, but just part of it.
Kyle Larson
Third for Kyle Larson. It looked like it was going to be so much more. So many moves being made out there. Describe what it was like racing William and everybody else trying to get this win.
KYLE LARSON: Yeah, the restart, worked out a little better than I thought it was going to for me. The 11 tried to stick the 24 three-wide. They got loose. I got to the middle. I think came out third or something there. Was able to get to second.
Just made a couple bad moves, I guess. I think honestly just a little too patient behind the 12. Could have made some later, you know, dives I guess to the inside. Who knows. I need to watch the replay.
Just made a couple wrong moves, allowed William to get by me. Once I was in third, I hoped they would get racing, get side drafted.
I was never close enough to William to help him generate a run on the 12. Ended up third. A good points day. Wish we could have had more, but all in all a good day for the Cincinnati Chevy.
 That is a hard decision. You don't want the disaster of getting dumped if the move isn't good?
KYLE LARSON: Yeah, I was probably honestly a little too — I had points on my mind a little bit too much. I'm looking in my mirror. I saw the 11 falling back some. I just didn't want to screw it up really.
I felt like I had to weigh the risk versus reward. I could risk going for the win, not having it work out, end up 30 something and lose the point lead going into Daytona or I could be a little bit more cautious, beat Denny by a couple spots, which is what we did.
 You have to have those points on your mind next week, too. Got to make your mind hurt.
KYLE LARSON: Yeah, I mean, I'm glad I gained some points on him today. But Daytona is Daytona. I don't typically see the checkered flag I feel like too often there. We'll see.
But glad to go in there with 28 points. If we could get a couple good stages there at Daytona, I would feel much better about it.
Race Results
| | | | | | |
| --- | --- | --- | --- | --- | --- |
| POS | CAR | DRIVER | MANUF | BEHIND | LAPS |
| 1 | 12 | Ryan Blaney | | -0.000s | 200 |
| 2 | 24 | William Byron | | 0.077s | 200 |
| 3 | 5 | Kyle Larson | | 0.209s | 200 |
| 4 | 1 | Kurt Busch | | 0.494s | 200 |
| 5 | 11 | Denny Hamlin | | 0.571s | 200 |
| 6 | 21 | Matt DiBenedetto | | 1.088s | 200 |
| 7 | 18 | Kyle Busch | | 1.198s | 200 |
| 8 | 9 | Chase Elliott | | 1.368s | 200 |
| 9 | 2 | Brad Keselowski | | 1.567s | 200 |
| 10 | 19 | Martin Truex Jr. | | 2.339s | 200 |
| 11 | 14 | Chase Briscoe # | | 2.499s | 200 |
| 12 | 47 | Ricky Stenhouse Jr. | | 2.716s | 200 |
| 13 | 20 | Christopher Bell | | 2.942s | 200 |
| 14 | 4 | Kevin Harvick | | 3.561s | 200 |
| 15 | 17 | Chris Buescher | | 4.140s | 200 |
| 16 | 48 | Alex Bowman | | 4.250s | 200 |
| 17 | 10 | Aric Almirola | | 4.279s | 200 |
| 18 | 43 | Erik Jones | | 4.391s | 200 |
| 19 | 23 | Bubba Wallace | | 4.566s | 200 |
| 20 | 34 | Michael McDowell | | 4.842s | 200 |
| 21 | 37 | * Ryan Preece | | 5.397s | 200 |
| 22 | 99 | Daniel Suarez | | 5.919s | 200 |
| 23 | 41 | Cole Custer | | 5.932s | 200 |
| 24 | 6 | Ryan Newman | | 8.667s | 200 |
| 25 | 77 | Justin Haley(i) | | 12.724s | 200 |
| 26 | 7 | Josh Berry(i) | | 19.774s | 200 |
| 27 | 51 | Cody Ware(i) | | -1 Lap | 199 |
| 28 | 78 | BJ McLeod(i) | | -2 | 198 |
| 29 | 8 | Tyler Reddick | | -2 | 198 |
| 30 | 00 | Quin Houff | | -4 | 196 |
| 31 | 52 | Josh Bilicki | | -5 | 195 |
| 32 | 53 | Garrett Smithley(i) | | -6 | 194 |
| 33 | 22 | Joey Logano | | -12 | 188 |
| 34 | 38 | Anthony Alfredo # | | -22 | 178 |
| 35 | 42 | Ross Chastain | | -48 | 152 |
| 36 | 3 | Austin Dillon | | -80 | 120 |
| 37 | 15 | Joey Gase(i) | | -171 | 29 |
# DENOTES ROOKIE
(I) NOT ELIGIBLE FOR POINTS
(*) REQUIRED TO QUALIFY ON TIME
Average Speed of Race Winner:  142.476 mph.
Time of Race:  2 Hrs, 48 Mins, 27 Secs. Margin of Victory:  .077 Seconds.
Caution Flags:  6 for 29 laps.
Lead Changes:  20 among 11 drivers.
Lap Leaders:   K. Larson 1-2;M. DiBenedetto 3;K. Larson 4-22;D. Hamlin 23-26;C. Elliott 27-63;K. Larson 64-65;A. Dillon 66-67;K. Larson 68-79;C. Elliott 80-110;K. Busch 111-113;C. Bell 114-115;K. Busch 116-122;K. Larson 123-126;K. Busch 127;K. Larson 128-158;D. Hamlin 159-164;K. Busch 165-167;B. Keselowski 168-173;C. Bell 174;W. Byron 175-192;R. Blaney 193-200.
Leaders Summary (Driver, Times Lead, Laps Led):  Kyle Larson 6 times for 70 laps; Chase Elliott 2 times for 68 laps; William Byron 1 time for 18 laps; Kyle Busch 3 times for 13 laps; Denny Hamlin 2 times for 10 laps; Ryan Blaney 1 time for 8 laps; Brad Keselowski 1 time for 6 laps; Christopher Bell 2 times for 3 laps; Austin Dillon 1 time for 2 laps; Matt DiBenedetto 1 time for 1 lap; Kurt Busch 1 time for 1 lap.
Stage #1 Top Ten: 9,5,3,11,24,22,21,1,18,2
Stage #2 Top Ten: 18,20,5,9,11,3,2,8,24,21