NHRA: Torrence, Hagan win at Brainerd
It was never really a slump but after winning almost everything in sight, Steve Torrence came into the Lucas Oil NHRA Nationals riding a two-race winless streak, and for the Capco Contractors team, that was not acceptable. With the Dodge//SRT U.S. Nationals and the Countdown to the Championship on the horizon, Torrence righted the ship by winning his seventh title of the season and the 47th of his professional career on Sunday in Brainerd. In the final round, Torrence was paired with Clay Millican and ran his record to a perfect 4-0 against the Parts Plus dragster with a narrow 3.712 to 3.729 victory in one of the best final rounds of the season.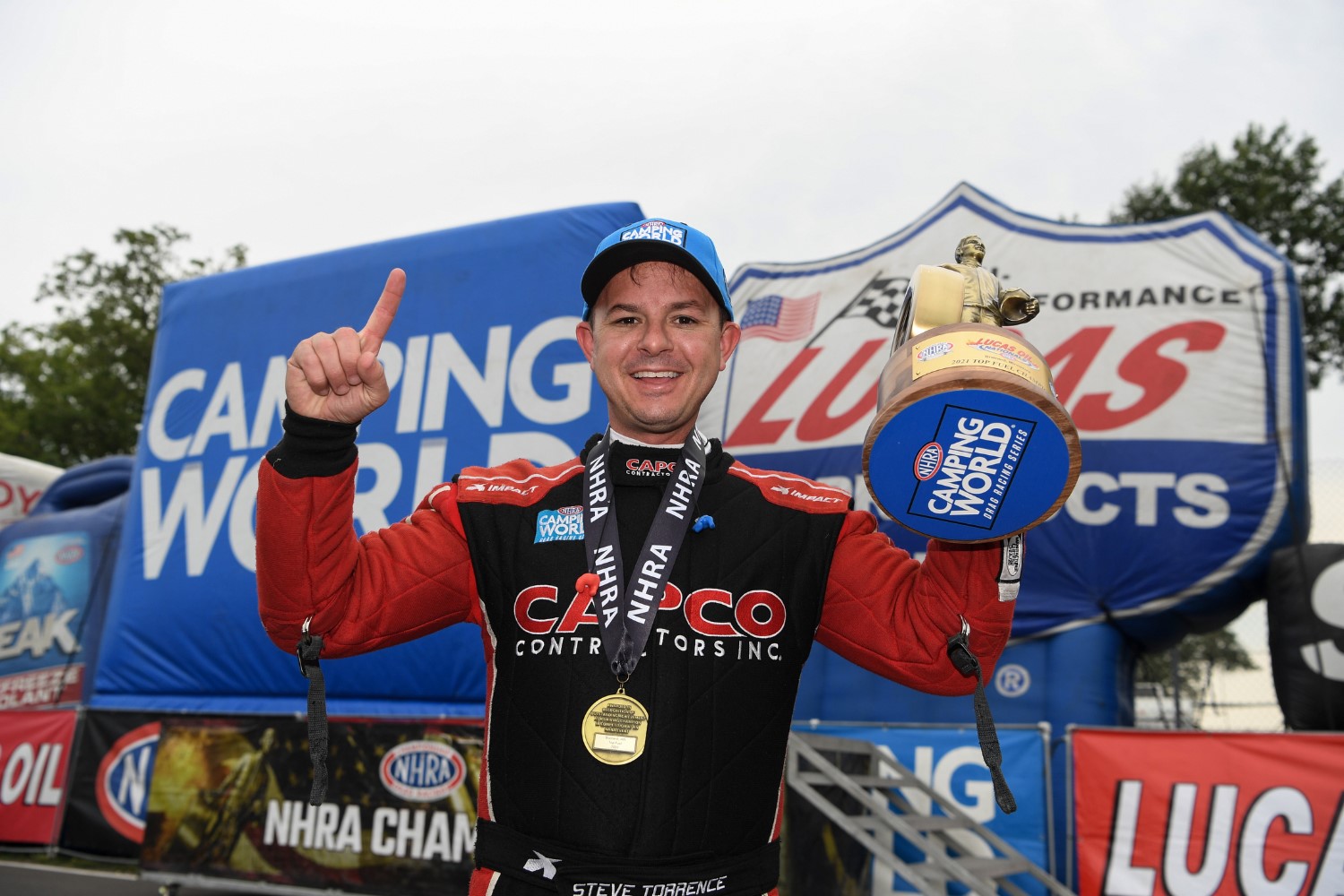 "I did everything possible to screw this up until the final and I finally got my head out of my butt and drove my race car because that was a heck of a race against Clay and those guys, they're coming on strong right now," said Torrence. "I couldn't be more proud of that team but these Capco boys, they continue to just save me when I need it. I help them when they need it and we're at the front and we're staying there."
Torrence came into the Brainerd race with a massive lead in the Camping World Top Fuel standings and even though he'll see most of that advantage disappear with the Countdown points re-set, he's remains extremely confident in his ability to with the championship for the fourth-straight year. The importance of winning at every track also wasn't lost on the Capco driver.
"It's just a blessing to be here," Torrence said. "To have this opportunity is truly special and to say that I've won every race on the circuit; I just remember dreaming of winning one race. To be here and have the accomplishments we have is nothing short of the glory of God."
Torrence was the No. 2 qualifier behind Topeka winner Brittany Force, but in his mind, that was the best place to be since it offered the possibility of a semifinal bye run due to the short (11-car) field in Minnesota. Torrence needed to beat Terry Totten and 2020 Rookie of the Year Justin Ashley to punch his ticket to the final and he did that with relative ease. After a 3.697 in round one, Torrence used a 3.737 to take out Ashley, who left first but wasn't able to maintain the lead. A single run in the semifinals was enough for Torrence to gain a spot in his 70th Top Fuel final.
Millican struggled at times earlier this season and had to miss the Summit Racing Equipment NHRA Nationals in Norwalk due to a medical issue but he's been money ever since. After a runner-up finish last week in Topeka, Millican made it to his second-straight final with wins against Doug Kalitta, Mike Salinas, and Brittany Force.
Hagan Wins All-Dodge Charger SRT Hellcat Funny Car Final
It was an all-Dodge final at the 39th annual Lucas Oil NHRA Nationals with Don Schumacher Racing (DSR) pilot Matt Hagan powering the Mopar Dodge Charger SRT Hellcat to his first victory at Brainerd International Raceway by defeating fellow HEMI®-powered driver Cruz Pedregon. It was Hagan's 38th career Wally trophy and his second win of the 2021 NHRA Camping World Series season.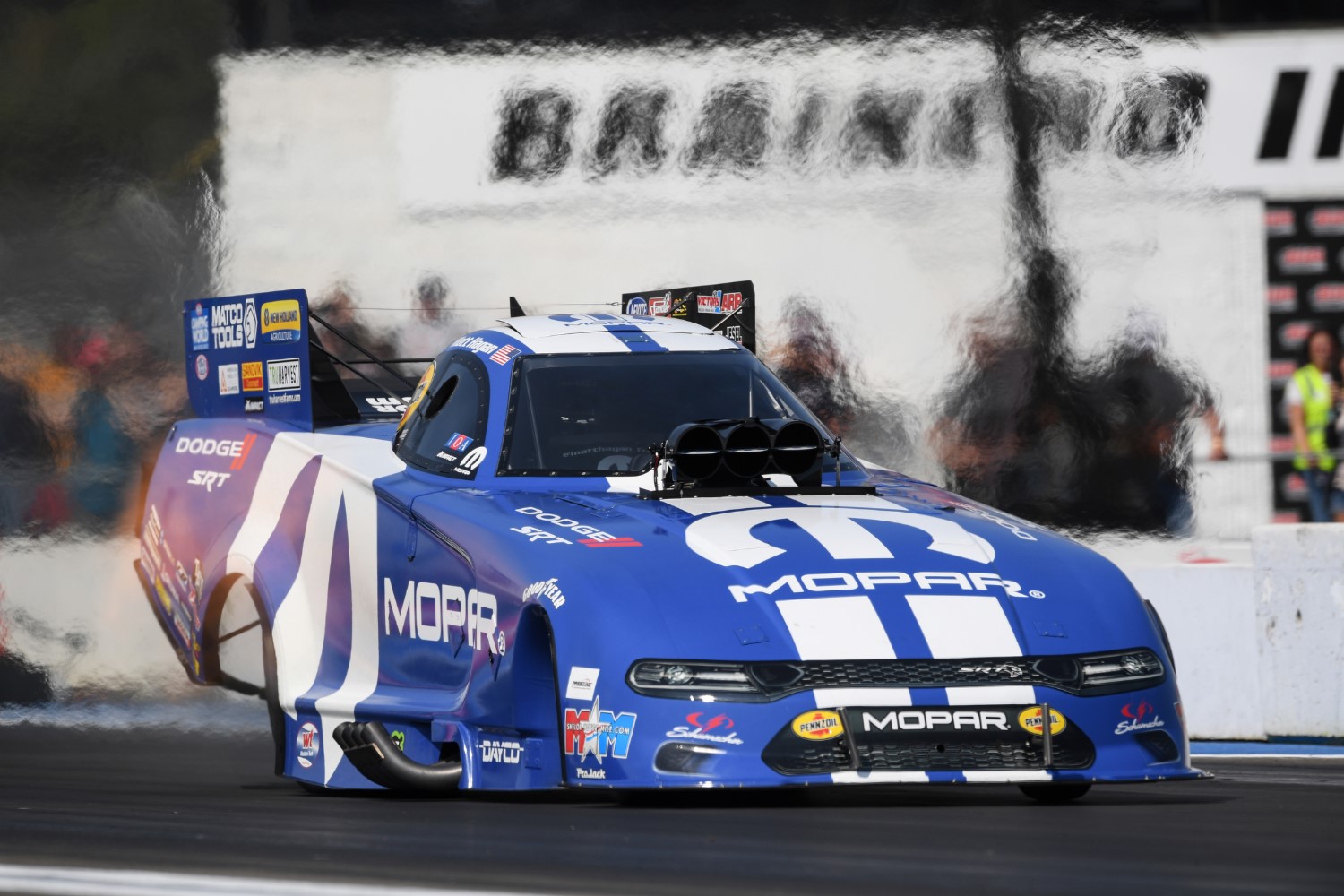 After qualifying No. 4 on the eliminations ladder, Hagan put together a string of consistent runs and round wins over Dale Creasy Jr., Paul Lee and Bob Tasca III to advance to his 69th career final round. That paired him with No. 2 qualifier Pedregon and his hard charging Snap-on Tools Dodge Charger SRT Hellcat for their first final round showdown in over ten years.
Hagan's quick 0.051-second reaction time gave the DSR Mopar Dodge Charger SRT Hellcat an early lead from which he never looked back on his way to a 3.923 second elapsed time run at 327.98 mph to defeat Pedregon's 0.106-second light and solid 3.935 sec./324.83 mph pass and capture his second win in five national events.
Hagan's two victories this season were both "firsts" in that they were both earned at venues at which he had never won. Earning the coveted Wally at the Dodge//SRT Mile-High Nationals in July and Sunday's drive to the winner's circle at Brainerd helped propel the defending NHRA Funny Car World Champion into the points lead for the first time this season with just one event remaining for racers to lock themselves into the "Countdown to the Championship" playoff.
Hagan's 2021 season began on an ominous note when he lost in the opening round in Gainesville, but he quickly bounced back and climbed to as high as No. 2 in the points following his victory in Denver and a runner-up finish the following week in Sonoma. He's now run his record to 20-10 on the season with his win against Pedregon in the all-Dodge final round.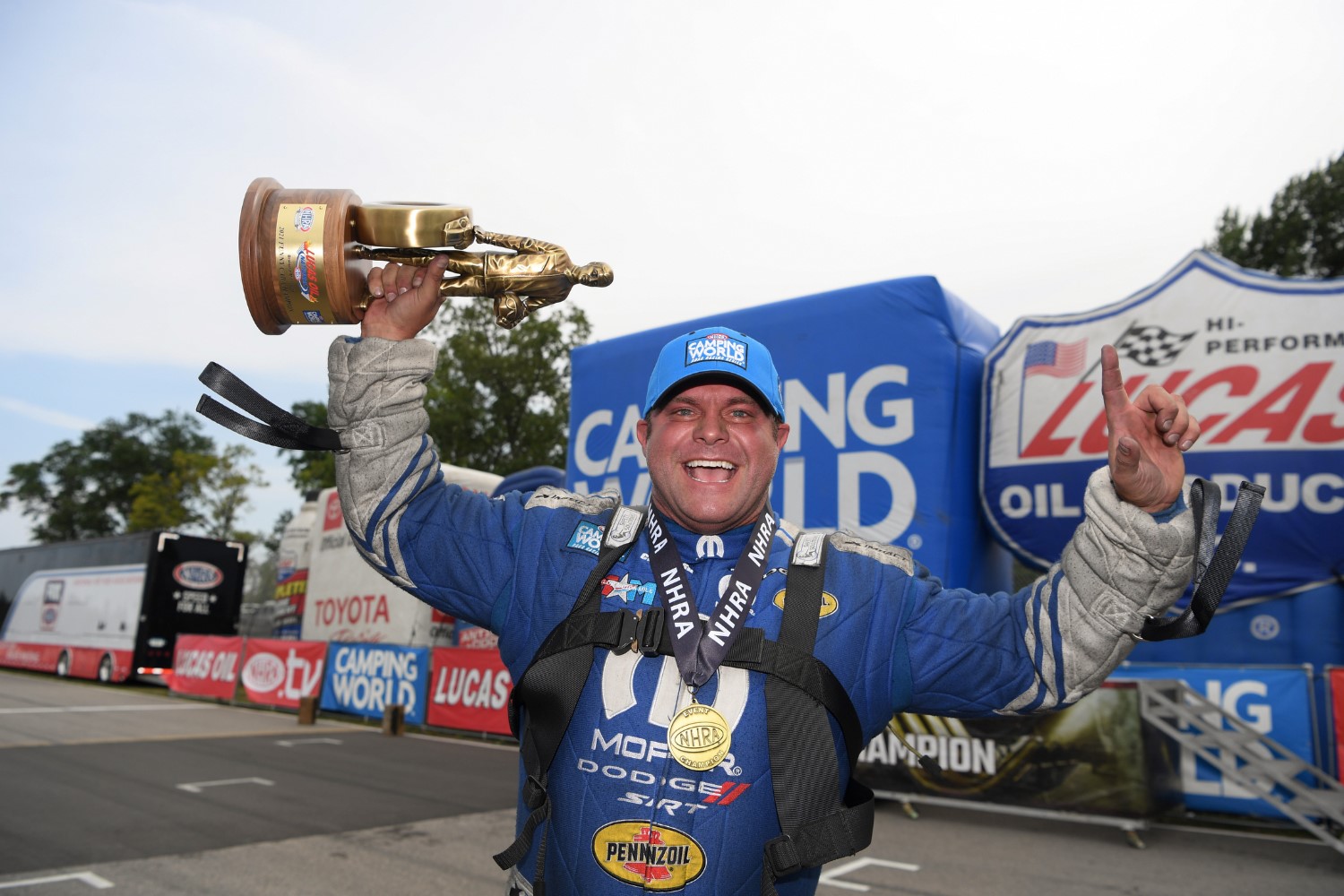 "We're trying to get to where we need to be, where we should be coming off a championship run last year," said Hagan. "You kind of expect to come out here and set the world on fire. We just haven't been able to do that but [crew chief] Dickie Venables, you give that guy enough shots at the racetrack and he's a bad man."
Qualifying was tight, especially in the top half of the field and Hagan was in the thick of the battle with a 3.891 that was good for the No. 4 seed. Much to the delight of the Brainerd fans, eliminations produced a large number of great side-by-side runs and very little tire smoke, allowing crew chiefs to tune on the aggressive side. Hagan's team took what the track would give them with consistent runs of 3.91, 3.92, and 3.92 in their first three wins against Dale Creasy Jr., Paul Lee, and low qualifier Bob Tasca III. Hagan's reaction times also got progressively quicker with a best of .051 in the final.
"I just want to do my job up there," Hagan said. "I really pride myself on leaving the starting line really well. I think most of our competitors understand that well but it's just going to have to take these tough packages. You're going to have to leave well, and you're going to have to race well, and right now we're doing that with this Mopar car."
As for Pedregon, he obviously knew what he was doing last winter when he assembled a new crew for his Snap-on Dodge Charger. Pedregon hired crew chief John Collins, car chief Rip Reynolds, and the rest of the team that previously worked on Tommy Johnson's car. That move has already paid off with a victory earlier this season in Norwalk. It's also no surprise that Pedregon would do so well in Brainerd since Collins appeared in three-straight final rounds with Johnson between 2017-19.
Pedregon suffered a potentially big setback a week ago when he was involved in a two-car collision with Tim Wilkerson during qualifying for the Menards NHRA Nationals presented by PetArmor in Topeka. Pedregon ran a backup car during eliminations, but his Snap-on Tools team made a detour on their route from Topeka to Brainerd, returning to their shop in Brownsburg, Ind., in order to repair their damaged car. That moved paid off in spades as Pedregon made his quickest runs of the season in Brainerd including a 3.87 in qualifying accompanied by a string of low 3.9s in eliminations.
That last race of the regular season will be the 68th edition of the NHRA's cornerstone event and world's biggest drag-racing competition – the Dodge//SRT U.S. Nationals in Indianapolis on Labor Day weekend.