F1: Verstappen tops both Mercedes' in Practice 2 at Spa
Before choking and crashing, Red Bull's Max Verstappen nipped the two Mercedes F1 drivers by the slimmest of margins to top the 2nd practice session for the Belgian GP at Spa.
Verstappen's lap of 1m44.472s was just 0.041s faster than Valtteri Bottas and 0.072s faster than Lewis Hamilton.
Fernando Alonso was a solid 4th quick for Alpine 0.481s back while Pierre Gasly was close behind Alonso to round out the top-5.
The session had two red flags when Charles Leclerc wadded up his Ferrari – losing the backend exiting turn 6 and hitting the turn 7 barrier.
Max Verstappen choked and did the same thing exiting Turn 7 to end the practice session. Replays show he lost the rear out of Turn 7, and hitting the high curbs, he had no chance to save that one as he skated through the gravel and into the barriers. That looked a decent sized hit.
Last place and slower than his Russian teammate once again, Mick Schumacher has marked the 30th anniversary of his father's 1991 Formula 1 debut at Spa-Fancorchamps with a special helmet design for this weekend's Belgian Grand Prix at the same track.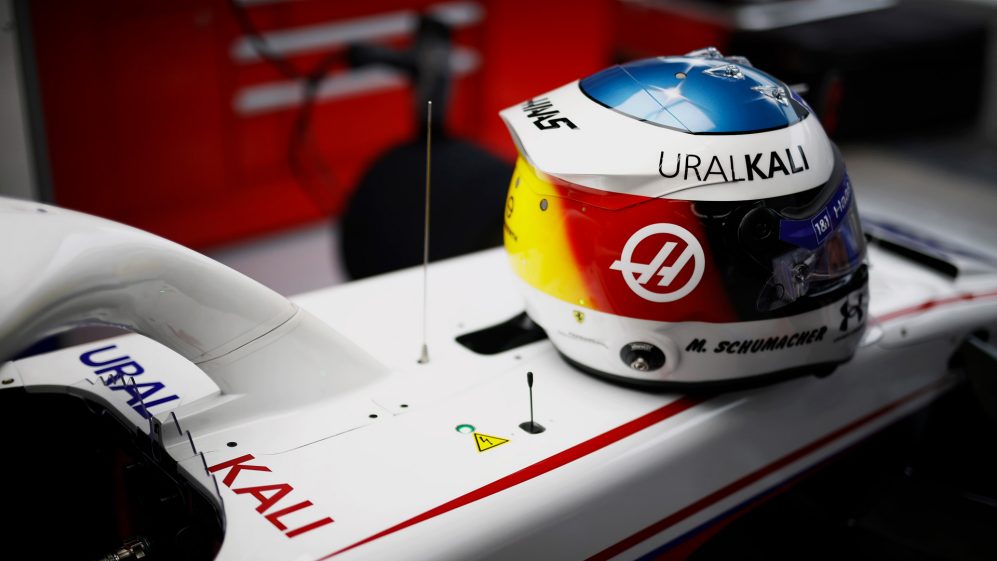 The design is an homage to that of Mick's seven-time Formula 1 World Championship-winning father Michael Schumacher, who wore a helmet with a blue dome and the German flag emblazoned on the side for his first F1 race on August 25, 1991, when he drove for Jordan.
Select Quotes
Max Verstappen
"I think we definitely had a positive start today but unfortunately, I just lost the rear at the end of the second session, there was a bit too much oversteer to correct and I hit the wall. As a Team we were quite happy with how everything was going, and we did some fine tuning between FP1 and FP2. Looking ahead to tomorrow, there are of course things to take into consideration including the weather, but it's difficult to say what the track is going to be like in the wet. I think Saturday and Sunday will be similar weather to today, so it will definitely be interesting. It's also great that Checo will be with the Team next year, we have a good relationship, so I'm happy to continue working together to try and score a lot of points for the Team for the rest of this season and of course next year."
Sergio Perez
"The car is feeling good and I think we have strong potential for this weekend. It's going to be interesting what happens with the weather tomorrow as that obviously affects how you configure the car but I'm looking forward to it. I think we will be in the fight and able to have a good qualifying, the pace was strong out there today, and it will be interesting to see who has what when they put it all together in Q3. We collected plenty of information over the two practice sessions, we'll sit down this evening to analyze it so we have the best package tomorrow. It's also great to have my contract for next year with Red Bull finalized so that I can focus my energy on this season. I really enjoy being a part of this Team so I'm really happy to continue for 2022, but my focus right now is on this weekend and delivering the best possible result."
Valtteri Bottas
Everything felt pretty good out there today. As we saw from the timesheets, it's going to be very close with Red Bull once again so we'll look into the detail tonight and see what marginal gains we can find. The pace on both the short and the long runs was pretty decent. It's always tricky to compare in detail from the practice sessions, but at least the feeling is good, so that is a positive start to the weekend. We looked quite fast on the straights with the wing level we ran and in the race, it'll be important for me to be quick in sectors one and three, to make the overtakes. But then, if it rains, you want more downforce. So, session by session, we need to see how it is going to look. That decision will be key for Qualifying.
Lewis Hamilton
Finding the right balance here is a big challenge. In FP1, we tried one way, and then we changed it this afternoon. The pace was quite similar – you try one option, and you are faster in the first and third sectors, but slower in the middle. And then you try the other option and it's the opposite. So, figuring out the right balance is really tricky. It's also tough to gain knowledge in these short sessions but we're navigating it the best we can and at least it was dry for most of the running. Overall, it was an okay day, but I didn't quite have the car underneath me, so we've got some work to do tonight to figure that out. The weather is also going to play a big role. If it does rain, you obviously want more downforce, but then if it doesn't rain, you are a sitting duck on the straights. So we have to be very careful with the changes we make.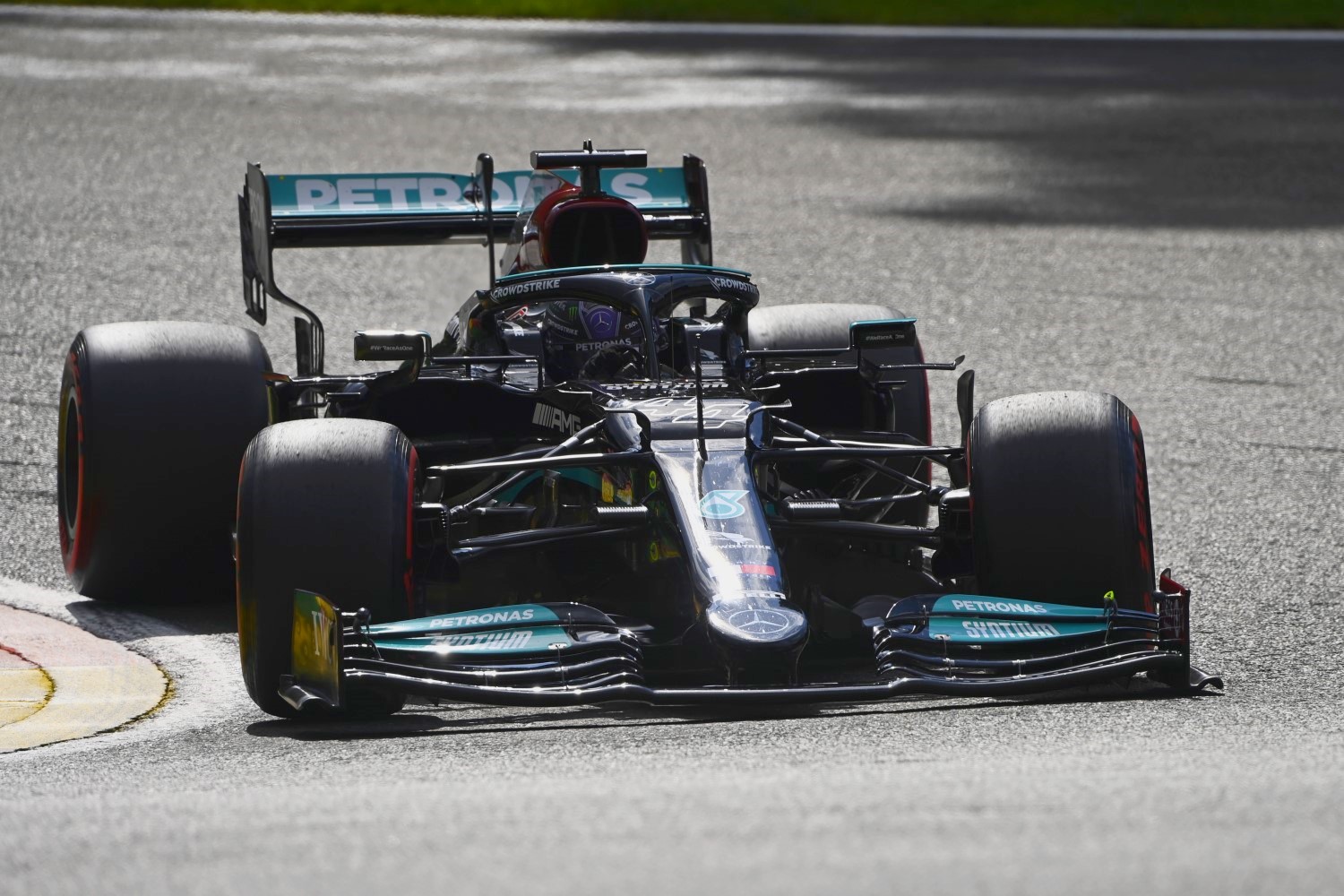 Andrew Shovlin
We've had a pretty clean day overall. It's often tricky on Friday here with the long lap and unpredictable weather but we've made good use of the sessions and have ended up with a reasonable balance. It's hard to know quite where we stand; the circuit is very power sensitive so going up and down on modes can give big swings in lap time but the car seems to be working as it should and it looks like we're there or thereabouts on pace. There's a bit more to find on the balance and Lewis had some vibrations on the long run that won't have helped but hopefully we can make some further progress with the car overnight. We're expecting more of the same from the weather over the rest of the weekend, it's quite hard to read more than 30 minutes into the future so planning qualifying and the race could be tricky but it's not unusual to be in that position here.
Practice 2 Results
| | | | | | |
| --- | --- | --- | --- | --- | --- |
| POS | DRIVER | NAT. | TEAM | TIME | Behind |
| 1 | Max Verstappen | NED | Red Bull Racing | 1m44.472s | +0.000s |
| 2 | Valtteri Bottas | FIN | Mercedes AMG Petronas | 1m44.513s | +0.041s |
| 3 | Lewis Hamilton | GBR | Mercedes AMG Petronas | 1m44.544s | +0.072s |
| 4 | Fernando Alonso | CHI | Alpine F1 Team | 1m44.953s | +0.481s |
| 5 | Pierre Gasly | FRA | Scuderia AlphaTauri Honda | 1m44.965s | +0.493s |
| 6 | Lance Stroll | CAN | Aston Martin Cognizant | 1m45.180s | +0.708s |
| 7 | Esteban Ocon | FRA | Alpine F1 Team | 1m45.302s | +0.830s |
| 8 | Sebastian Vettel | GER | Aston Martin Cognizant | 1m45.336s | +0.864s |
| 9 | Lando Norris | GBR | McLaren F1 Team | 1m45.386s | +0.914s |
| 10 | Sergio Perez | MEX | Red Bull Racing | 1m45.404s | +0.932s |
| 11 | Carlos Sainz Jr. | ESP | Scuderia Ferrari Mission Winnow | 1m45.517s | +1.045s |
| 12 | Yuki Tsunoda | JPN | Scuderia AlphaTauri Honda | 1m45.758s | +1.286s |
| 13 | Antonio Giovinazzi | GBR | Alfa Romeo Racing Orlen | 1m45.789s | +1.317s |
| 14 | Kimi Raikkonen | FIN | Alfa Romeo Racing Orlen | 1m45.967s | +1.495s |
| 15 | Daniel Ricciardo | AUS | McLaren F1 Team | 1m46.118s | +1.646s |
| 16 | Nicholas Latifi | CAN | Williams Racing | 1m46.198s | +1.726s |
| 17 | George Russell | ISR | Williams Racing | 1m46.665s | +2.193s |
| 18 | Charles Leclerc | MON | Scuderia Ferrari Mission Winnow | 1m46.836s | +2.364s |
| 19 | Nikita Mazepin | RUS | Uralkali Haas F1 Team | 1m47.335s | +2.863s |
| 20 | Mick Schumacher | GER | Uralkali Haas F1 Team | 1m47.529s | +3.057s |