F1: Verstappen wins sensational pole for wet Belgian GP
Driving superbly in treacherous conditions on intermediate Pirelli tires, Max Verstappen took pole position with a lap of 1m59.765s for the Belgian GP at Spa.
George Russell in the inferior Williams was 2nd quick just 0.321s behind Verstappen to get his first front-row start. His performance has to get Toto Wolff's attention whose drivers could only manage 3rd and 8th best.
It was Verstappen's first-ever pole at Spa. "When we switched to the intermediate – they couldn't handle a lot of water so it was quite tricky. Just happy to have a qualifying like this after the break."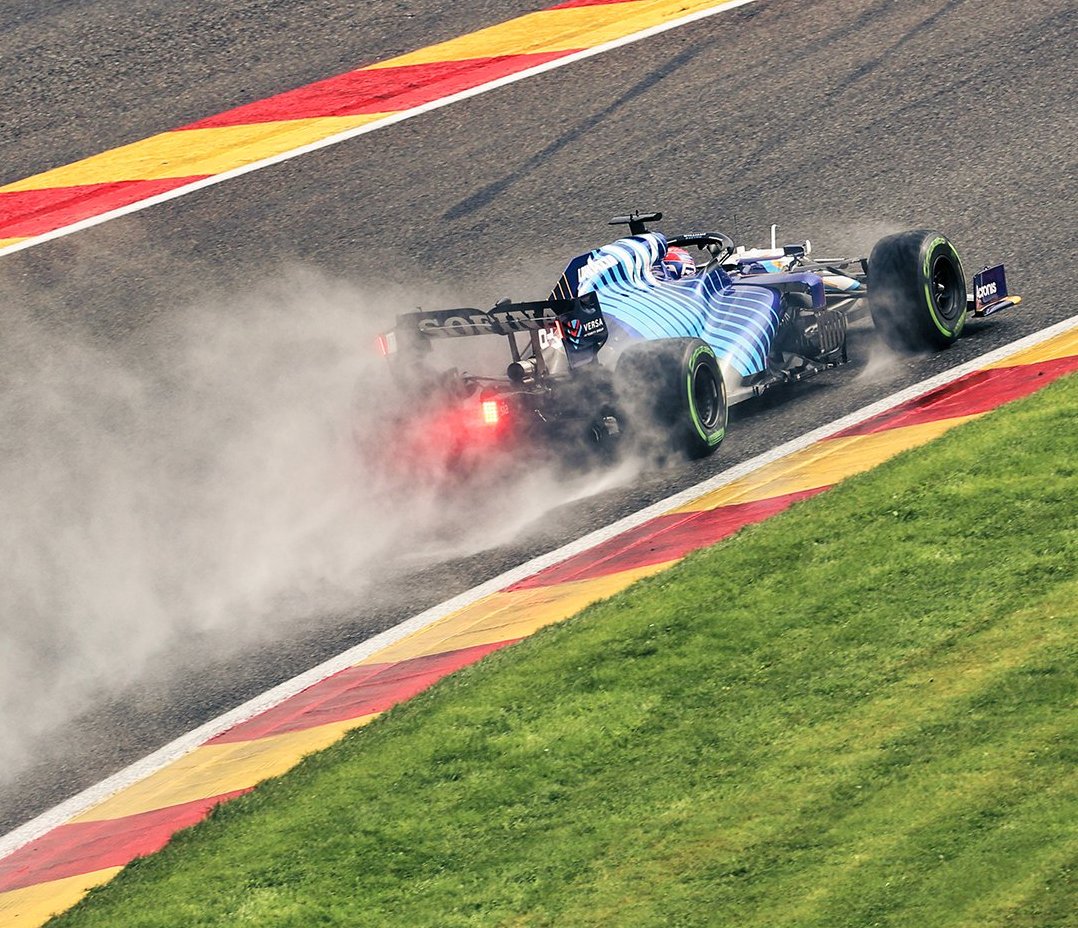 Hamilton wound up third, 0.013s back on Russell. He shares the second row with Ricciardo, the Aussie doing his best to fly the flag for McLaren without his teammate who crashed at the start of Q3 at the top of Eau Rouge.
"It's been a very difficult day for everyone, just tried to stay positive and calm," said Hamilton.  "My first lap was really good, my second one ummm… Well done to Max and to George. If it's like this tomorrow, it's going to be tricky to balance straight line speed and downforce. Tomorrow is another day."
Daniel Ricciardo secured his best qualifying performance since joining McLaren this year with fourth, but there was frustration for team mate Lando Norris, who crashed heavily at Raidillon in Q3, having been quickest in each of the first two segments of qualifying. Norris walked away unscathed.
Sebastian Vettel and Pierre Gasly share the third row, Sergio Perez was seventh, Valtteri Bottas a lowly eighth – which will become 13th once his grid penalty is applied- with Esteban Ocon ninth and Lando Norris P10.
The heavens opened around 30 minutes before qualifying was set to begin, soaking the track and making the work mechanics had done drying the pit boxes with blowers immediately redundant.
Though the rain intensity eased, the F1 Race Director Michael Masi opted to delay the start of qualifying until conditions improved, with the session finally getting under way 12 minutes behind schedule.
Knocked out Q1: Giovinazzi, Tsunoda, Schumacher, Raikkonen, Mazepin
Knocked out Q2: Leclerc, Latifi, Sainz Jr., Alonso, Stroll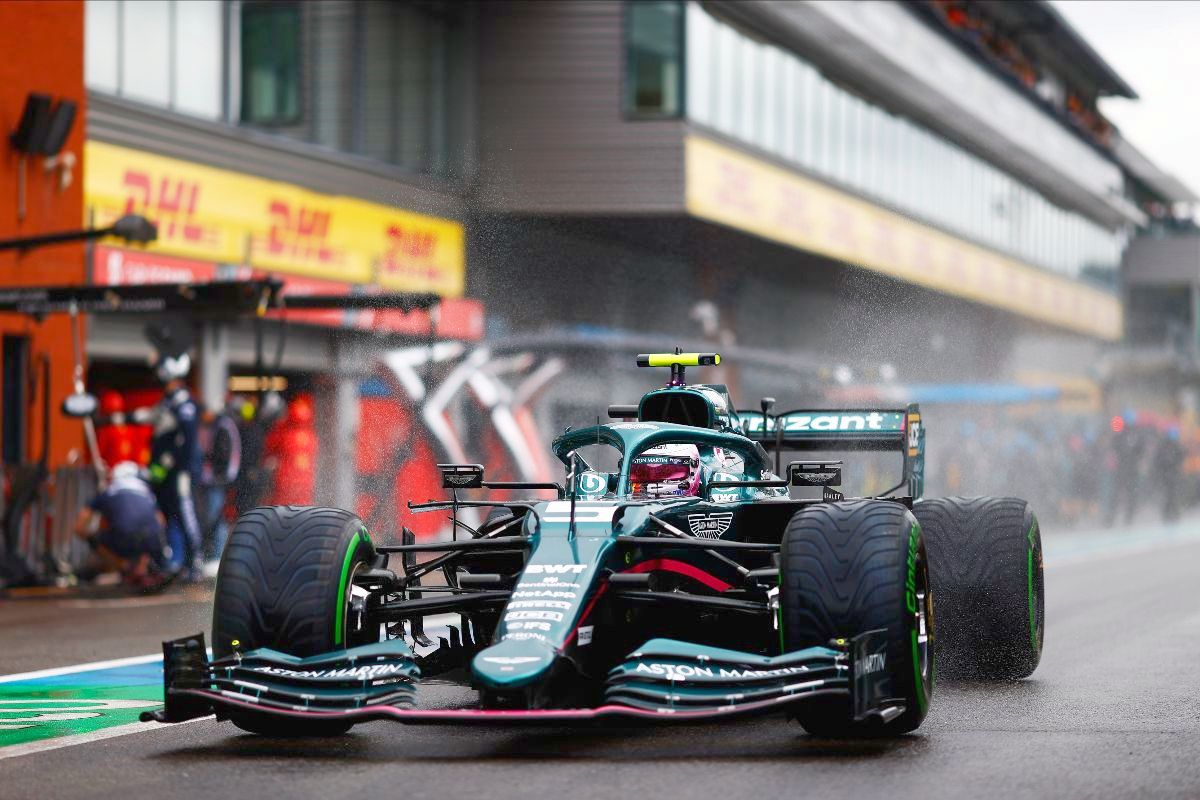 Select Quotes
Dave Robson, Williams Head of Vehicle Performance: Today was a classic Spa qualifying session with the heavy but intermittent showers making decisions very difficult. Today we got many things right, but we did so from a position of having little to lose, which always takes some of the pressure off.
The whole team worked extremely well today, and collectively good decisions were made. Both George and Nicholas were excellent throughout and both provided a great calming influence to go with their immense bravery and skill on track. Nicholas called the initial Q1 tires perfectly and although he spun on his opening lap, he recovered very well to comfortably qualify for Q2.
In Q2 we opted to use another two sets of new Intermediate tires on each car, giving each driver a final chance on a drying track with a new set. Nicholas couldn't quite match the improvement that George made, but nonetheless P12 was an excellent result. George built momentum throughout Q1 and Q2 and delivered a very strong lap at the end of Q2 to secure his place in Q3 once again.
Conditions were much worse in Q3 with visibility and grip both low. George was struggling on the Kemmel straight as Norris crashed in Eau Rouge and the session was stopped. At the restart we thought that conditions were still quite poor and elected to leave the pit lane on the Extreme Wet knowing that there was time to switch to Inters if appropriate. George was quite confident that the Inter was the correct tire and with the track now improving quickly, we opted to prepare the tires for a single 'all-in' lap at the end of the session. On this occasion the strategy worked perfectly, and George had his tires, brakes and power unit all in perfect states as well as a clear track ahead of him. His lap was little short of exceptional and he was able to balance risk and reward perfectly to take a very well-earned front-row position.
Tomorrow will undoubtedly be difficult, and we are under no illusion that we have qualified both cars a little out of position. However, with more rain looking likely for tomorrow, we will do everything we can to make the most of today's result. More importantly, we wish Lando and everyone at McLaren well and look forward to racing them tomorrow.
George Russell
It is an amazing feeling and we definitely did not expect to be starting on the front-row! The team did an incredible job to have me on the track at the right time, on the right tires, with the right strategy. The driving is one thing, but you need to have everything right around you and often in these moments, that is what it's all about. I'm so happy for everyone as it's such a team effort and they did a fantastic job. We obviously had a great result in Hungary, and it feels like our hard work is starting to pay off and people are starting to recognize that.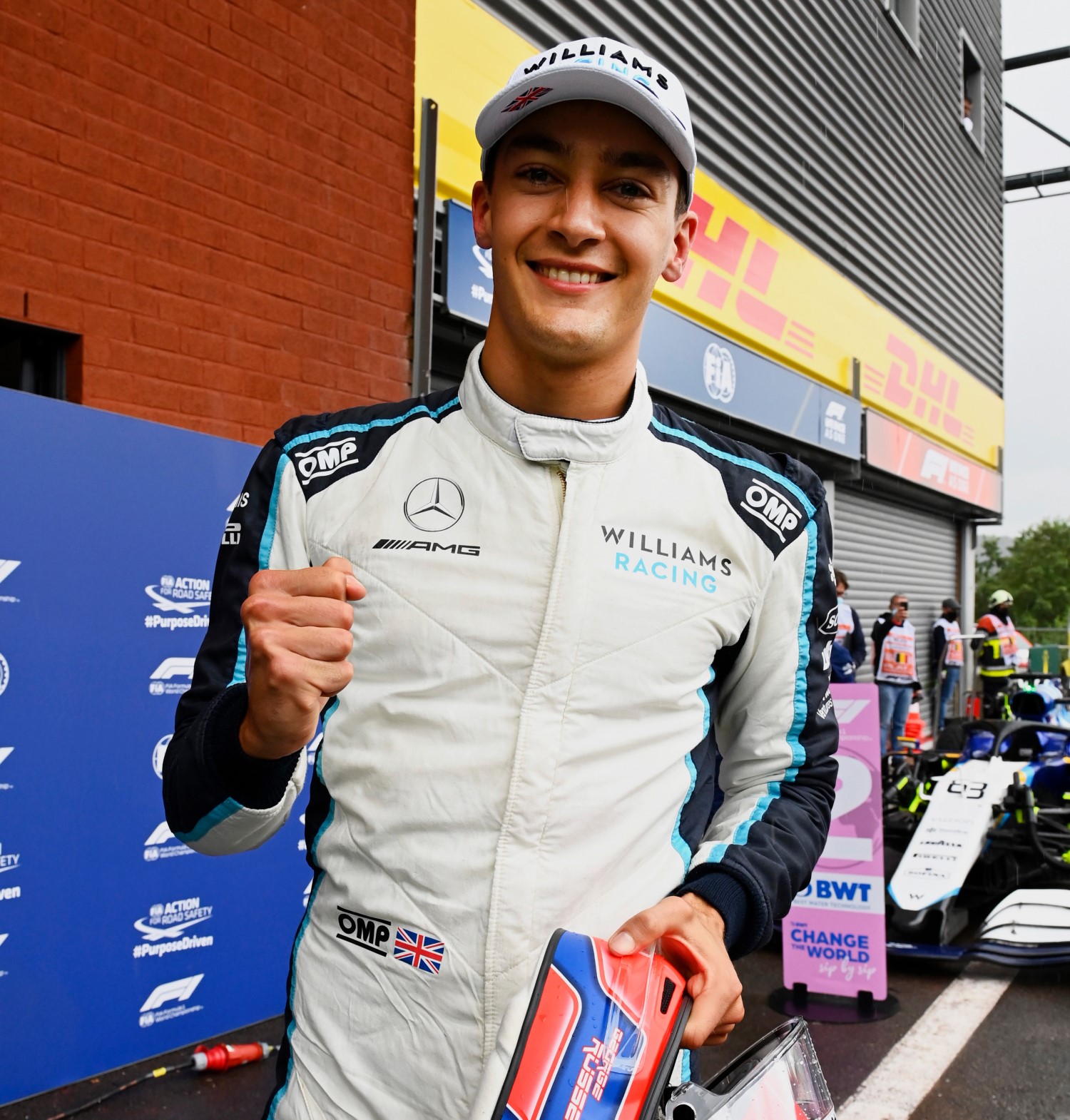 I knew my last effort was a good lap. It was so tricky out there but because we're not in Q3 every week, I had the luxury of really being able to put everything on the line and go for it. I had a really good feeling from lap one in FP3 in the wet and when it mattered, we put everything together and that was exceptional. This feeling is exactly what Formula One is all about. Qualifying is over now though and the race is tomorrow, so we need to make sure we have a good one.
MAX VERSTAPPEN
"I am very happy with pole position here at a home Grand Prix, but it was not easy out there. It was very hard to nail a lap, I was just trying to find the right lines at the right times and judging how fast to go into corners after such a long red flag was tricky. It was so important to get the tires up to temperature because that could give you a few seconds of lap time around a long track like this. Tomorrow we don't know if it will be a dry or wet start, I think if it's wet I don't mind if I start first because at least I should have clear vision but I just hope that we have a good and clean start. I also hope that Lando is feeling okay and that he doesn't have any serious injuries because that didn't look like a good impact at all, he's a good friend of mine so I hope he can race tomorrow."
SERGIO PEREZ
"I'm very disappointed with my qualifying as our car was performing well, there was plenty of pace in it and a much better position was possible today. With the changing weather conditions it was tough out there and so the final lap was going to be critical, but unfortunately I wasn't able to improve. It's a shame, but I'm still looking forward to tomorrow as with the weather anything can happen and so there's plenty of opportunities. The Team is doing a strong job and provided we can stay out of trouble tomorrow then we should be in pretty good shape and able to fight for a strong result. I'm also pleased to see Lando was able to get out of the car after his accident and hope he's okay. We discussed Eau Rouge in the drivers' meeting on Friday and raised our concerns so I really hope to see some solutions for next year. It's something that we definitely have to improve because in conditions like today, if we have a wet race tomorrow, it's not a place where drivers want to have contact, especially considering it is a blind spot."
CHRISTIAN HORNER, Team Principal
"It was a good session and a strong qualifying for us with our first pole position at Spa for 10 years. Both drivers did a great job, Max's ninth pole, seventh for Checo and on our 50th Grand Prix with Honda as well, so it was a fantastic performance on a very difficult day. Max has always been very strong in the wet, he made a mistake on his first lap but absolutely nailed his second lap, so it is now crucial that we convert this into good points tomorrow. It looks like the weather could be similar to today, but at least if it is wet we have some visibility by starting at the front and both drivers have managed to retain a set of inters. I think we are the only team in the top 10 to have managed that, so we have that up our sleeve. More importantly however it was a relief to see Lando walk away from his big accident at the beginning of Q3 and hopefully he is able to race tomorrow."
Lewis Hamilton
It's been a very difficult day for everyone, just trying to stay positive, focused and calm. Max put in a strong lap so well done to him, and George also did a great job. For me, my first lap was really good, but I lost some tire temperature on the slow lap in between my runs, so I think there was a little bit left on the table with that final lap. You live and you learn, and I gave it everything I had today. But we'll look to move forward tomorrow. I'm hoping for better weather and a dry day, that'd be great for the fans and also interesting to see where everyone stands with the wing level. We've tried to find the right balance between straight-line speed and downforce. It might not have been the best for today, but we'll see tomorrow exactly how good it is. Nevertheless, we'll do everything we can.
Valtteri Bottas
It was definitely a challenge out there and of course, I hoped for a better result. I think overall the session was okay and there were opportunities to get into the top three, but on the slow lap before my final attempt, I had some traffic coming through. So, I had to back off and lost the tire temperature. From the very start of the final lap, I was locking the tires because of the lack of temperature and the car felt on a knife-edge. Obviously with the grid penalty, it means tomorrow won't be easy, but I'll be fighting hard. If it is wet, there will be many opportunities, and if it is dry, we have a competitive car. It'll be a big challenge but as we have seen, anything can happen.
Toto Wolff
That was a very exciting and dramatic qualifying. It was a difficult session, and it is always tricky to predict the weather here, especially when it is coming in and out so fast. In the end, we can be satisfied with P3 for Lewis and everything is to play for tomorrow. We have a strong race car, perhaps more set up for the dry. If the weather is like this, we might struggle a bit more, but otherwise I think we should be in for a good race. Valtteri will be starting outside of the top 10. He did pretty well through the session, on par with Lewis, but he struggled for tire temperature on that last lap. So, it will be more a race of damage limitation for him tomorrow but with plenty of opportunities to score good points. It was a brilliant day for everyone at Williams, with Nicholas in P12 and George showing his talent in P2. And it was fantastic to see Lando was able to climb out of his car, after his scary accident.
Andrew Shovlin
It was quite a messy qualifying session by our standards; we didn't always read the conditions right and in the second session we could have managed the risk better as at one stage, a double yellow or red flag would have seen both cars bumped out. We still had it all to play for in the final session, but we dropped a bit too much tire temperature on the slow lap and lost a bit of grip. It does look like a number of cars have moved more towards a wet set-up than we have, particularly in terms of downforce level. Despite that our performance in the middle sector was good and our straight-line speed is strong, so we're not unhappy with our set-up decisions given the forecast. But if we could choose, we'd like at least a bit of dry running at some point tomorrow.
Sebastian Vettel
"The most important thing today is that Lando [Norris] is OK after his crash. I stopped to make sure he was because I saw a lot of debris, and it is never a nice place to go off. From our side, we can be happy with fifth on the grid tomorrow. I was getting increasingly into the groove with the car, and I was happy with my laps – until the final one. I had already put in a good lap time and I wanted to extract more, so I was pushing a little harder, but I went off at Turn Eight and lost some time. I think if we had avoided that, I could have battled with the guys at the front of the field. The forecast suggests that tomorrow will be similar weather, which suits us, so we can fight for a strong result and get some good points for the team."
Lance Stroll
"It is a difficult qualifying result to take. The car had felt good in the tricky conditions throughout the day, and the end of Q2 was crucial because conditions were improving all the time. We switched to a new set of intermediate tires to try and capitalize on the situation, but we just ran out of time to begin a flying lap, which meant a lot of drivers around me were able to easily improve their times. We will look into how that happened and learn from it. It means we will start at the back of the field tomorrow [owing to the grid penalty from Hungary], but I still believe we can get a result tomorrow because this is a circuit on which you can overtake, especially if the weather continues to be changeable."
Otmar Szafnauer, CEO & Team Principal
"It was very disappointing that we were not able to give Lance two laps on new Inters in Q2, owing to his being delayed by Fernando [Alonso], and the result was that he was not able to get through to Q3. It is doubly upsetting because Lance is brilliant in the wet. In fact, the last wet Formula One qualifying session, which was at Istanbul Park in 2020, resulted in a Lance pole position. Had he made it across the line in time, it is likely that he would have been very, very near the front in Q2. It may well rain tomorrow and Spa is a circuit on which it is possible to overtake, so you can be assured that he will be gunning for points, even though he will be starting from the back. As for Seb, he drove a solid quali hour today, even stopping to check that Lando [Norris] was OK after his big Eau Rouge shunt, and ended up a fine P5. Another podium finish has to be his target tomorrow."
Qualifying Results
| | | | | | | | |
| --- | --- | --- | --- | --- | --- | --- | --- |
| POS | NO | DRIVER | CAR | Q1 | Q2 | Q3 | LAPS |
| 1 | 33 | Max Verstappen | Red Bull Racing Honda | 1:58.717 | 1:56.559 | 1:59.765 | 20 |
| 2 | 63 | George Russell | Williams Mercedes | 1:59.864 | 1:56.950 | 2:00.086 | 24 |
| 3 | 44 | Lewis Hamilton | Mercedes | 1:59.218 | 1:56.229 | 2:00.099 | 22 |
| 4 | 3 | Daniel Ricciardo | McLaren Mercedes | 2:01.583 | 1:57.127 | 2:00.864 | 22 |
| 5 | 5 | Sebastian Vettel | Aston Martin Mercedes | 2:00.175 | 1:56.814 | 2:00.935 | 23 |
| 6 | 10 | Pierre Gasly | AlphaTauri Honda | 2:00.387 | 1:56.440 | 2:01.164 | 23 |
| 7 | 11 | Sergio Perez | Red Bull Racing Honda | 1:59.334 | 1:56.886 | 2:02.112 | 22 |
| 8 | 77 | Valtteri Bottas | Mercedes | 1:59.870 | 1:56.295 | 2:02.502 | 22 |
| 9 | 31 | Esteban Ocon | Alpine Renault | 2:01.824 | 1:57.354 | 2:03.513 | 23 |
| 10 | 4 | Lando Norris | McLaren Mercedes | 1:58.301 | 1:56.025 | – | 19 |
| 11 | 16 | Charles Leclerc | Ferrari | 2:00.728 | 1:57.721 | – | 16 |
| 12 | 6 | Nicholas Latifi | Williams Mercedes | 2:00.966 | 1:58.056 | – | 17 |
| 13 | 55 | Carlos Sainz Jr. | Ferrari | 2:01.184 | 1:58.137 | – | 15 |
| 14 | 14 | Fernando Alonso | Alpine Renault | 2:01.653 | 1:58.205 | – | 16 |
| 15 | 18 | Lance Stroll | Aston Martin Mercedes | 2:01.597 | 1:58.231 | – | 16 |
| 16 | 99 | Antonio Giovinazzi | Alfa Romeo Racing Ferrari | 2:02.306 | – | – | 9 |
| 17 | 22 | Yuki Tsunoda | AlphaTauri Honda | 2:02.413 | – | – | 9 |
| 18 | 47 | Mick Schumacher | Haas Ferrari | 2:03.973 | – | – | 9 |
| 19 | 7 | Kimi Räikkönen | Alfa Romeo Racing Ferrari | 2:04.452 | – | – | 9 |
| 20 | 9 | Nikita Mazepin | Haas Ferrari | 2:04.939 | – | – | 8 |