F1: Verstappen wins 2-lap Belgium GP at Spa
Rain washed out all chance of running a real race for the Belgium GP Sunday, so they paraded the cars in formation behind the safety car for 2-laps, called it a day and awarded everyone half points and an official race.
Max Verstappen was awarded his 16th race win, followed by George Russell, Lewis Hamilton, Daniel Ricciardo and with Sebastian Vettel rounding out the top-5.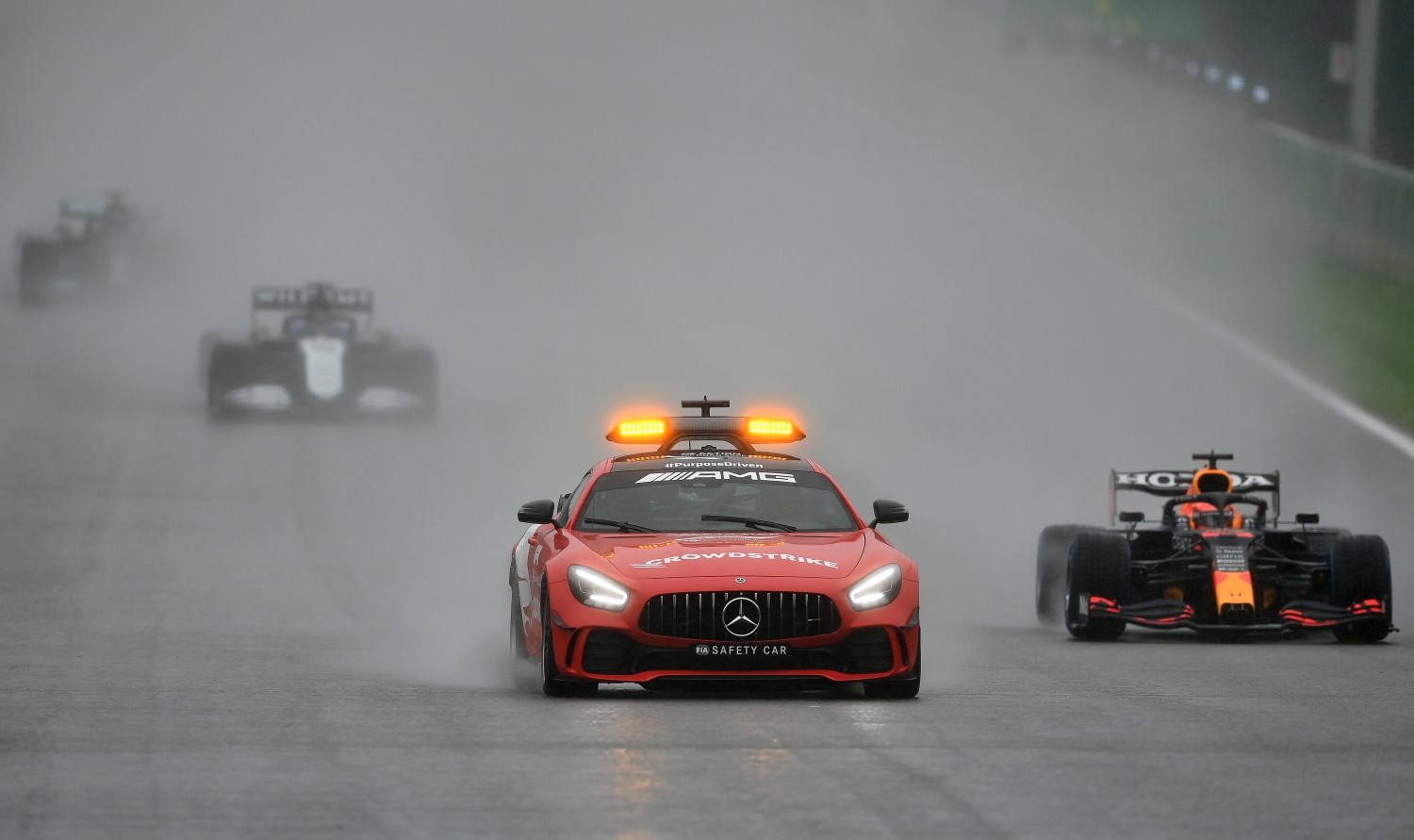 Ricciardo had his best finish of the year for McLaren, Latifi picked up more points for Williams who cemented their place in the constructors' ahead of Alfa Romeo and Haas.
The fans, who waited for hours in the rain, do not have an opportunity to come back Monday to see the race.  They were ripped off royally for tickets that are very expensive.
With downpours regularly falling across the Ardennes circuit throughout the morning, conditions in the build-up to the were extremely difficult. The treacherous nature of the track were fully revealed when Sergio Pérez lost control of his RB16B at Les Combes on his reconnaissance lap to the grid. The Mexican's car slid into the barriers on the right side of the track breaking the suspension on the front right of the car. His Red Bull was recovered to the pits and it appeared as if he would take no further part in proceedings.
With rain continuing to fall ahead of the scheduled start at 3pm local time, the formation lap was delayed for 25 minutes. When it eventually got underway the red flags were swiftly shown as drivers throughout the order declared the conditions to be undriveable.
There followed an almost three-hour delay as FIA race officials monitored conditions for any sign of improvement. During the race suspension Red Bull Racing consulted officials who confirmed that if the team could repair the Mexican's car he would be allowed to start the race from the pit lane. After furious work in the Red Bull garage Pérez's car was in the end readied well ahead of the race start at 6.18pm.
Cars flowed out of the pit lane to follow the safety car around but with the rain beginning to fall more heavily it quickly became apparent that red flags were once again necessary and the cars steered back to the pit lane where 19 minutes later Race Control issued the message that the race would not be resumed.
The abandonment of the race means it goes down as the shortest in Formula 1 history. The record was previously held by the 1991 Australian Grand Prix at 14 laps.
The last time F1 had a half points race was in 2009 at the end of a Malaysian Grand Prix also halted by rain. Verstappen was declared the winner, scoring 12.5 points, with George Russell being awarded nine points and his first F1 podium finish. Lewis Hamilton was classified third, scoring 7.5 points. Max therefore closes the gap to Hamilton to just three, with the Red Bull driver now on 199.5 points. The Team now sits on 303.5 points, seven behind Mercedes.
Select Quotes
MAX VERSTAPPEN, Finish Position: 1st, Start Position: 1st
"It is always good to win and the points are important but today is not how anyone wants to do it, especially on our 50th start with Honda. In hindsight it was very important to get pole yesterday and although it's a big shame not to do some proper racing laps, as I really love coming to this track, it was just impossible in these conditions. I thought maybe at 15:30 the conditions were a bit better than just now when we tried to re-start but the visibility was still very low and I understand why we couldn't race today. For me in the lead the visibility was a lot better, even with the Safety Car ahead, but the guys behind me couldn't see a single thing and if someone went off at Eau Rouge and bounced back onto the track they could have been T-boned at high speed which we do not want. It was also extremely low grip and because it kept raining all afternoon it just didn't improve. I think today the big credit goes to the fans around the track who stayed here the whole day in the rain, wind and cold. It must have been horrible to sit in those conditions so a big thanks goes to them and they should be the real winners from today. Now we have to keep on pushing and trying to re-gain the championship lead. I'm confident we have a good car and there is a long way to go so we just need to make sure we get the best performance out of it for the rest of the season."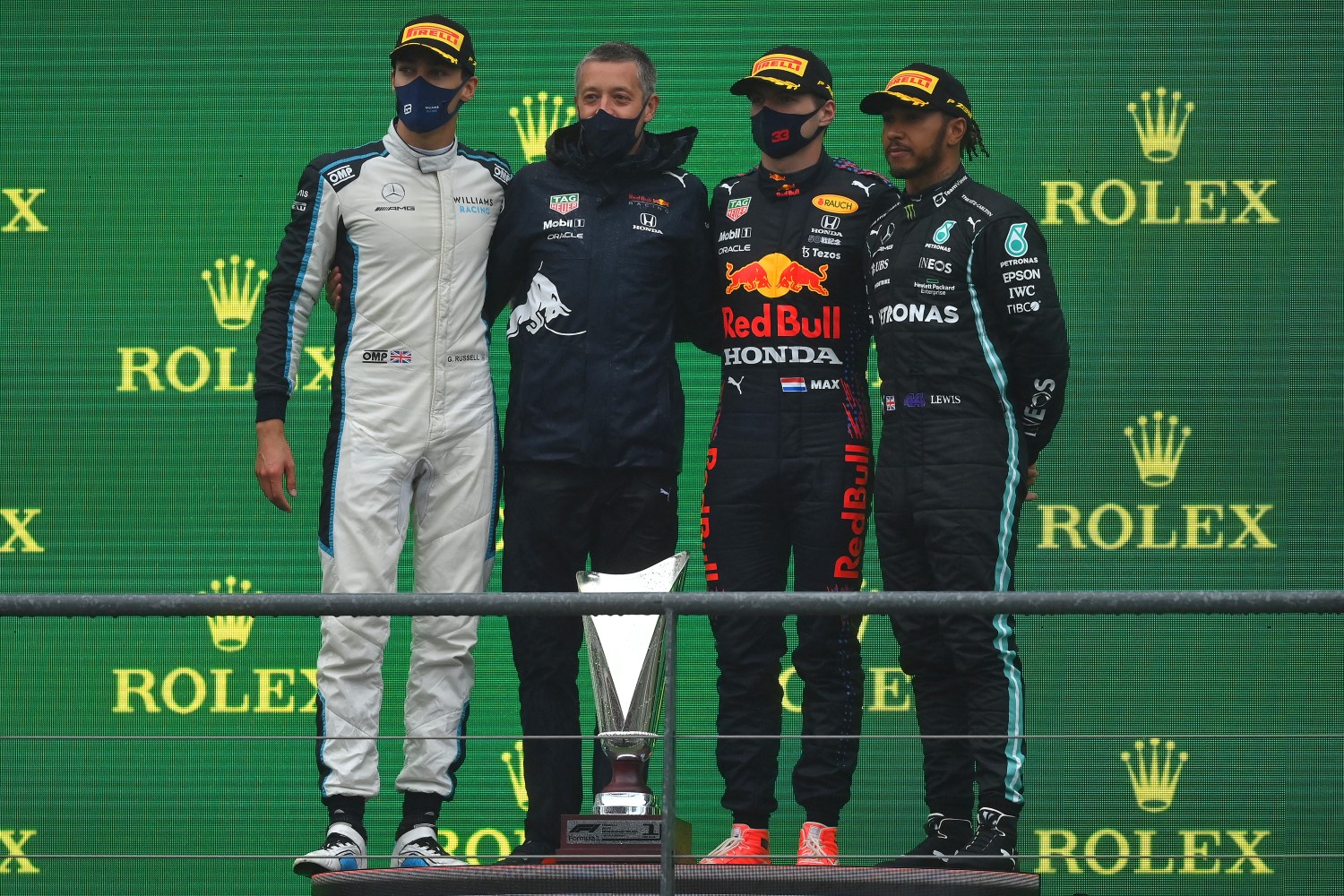 SERGIO PEREZ, Finish Position: 20th, Start Position: 7th
"It was a strange afternoon and I have to say thank you to the fans, they were incredible for staying with us in the rain and cold. It's a shame we couldn't put on a good race for them today but we as a sport tried our best to race but it just wasn't possible. The lap to grid was my mistake, the conditions and visibility were extremely poor and I just went on the kerb and lost it. I always knew there was a small chance we could get the car back out and the Team was pushing hard, really showing the spirit of Red Bull Racing which was nice to see. My Team did what they do best and they repaired the car so quickly it was incredible. I really wanted to repay them for their hard work during the race but that didn't happen, luckily we are racing again in a few days and we all look forward to Zandvoort now!"
CHRISTIAN HORNER, Red Bull Team Principal
"It's frustrating for the teams, drivers and especially the fans that we could not race today, but unfortunately the conditions meant that no matter how long we waited it was not safe to do so. Everybody did their best to try and put a race on and credit must go to the FIA and Liberty who did everything within their power and waited until it became impossible. Ultimately, Max's great work in very difficult qualifying conditions yesterday earned him the win and the maximum half points on offer which importantly enabled us to close the gap in both championships. Following Checo's unfortunate trip into the barrier on the initial out lap it was incredible to see our mechanics in action under pressure once again, fixing his car in the time they did, giving him every opportunity to race should we have been able to get out from behind the Safety Car. It was a massive job as both sides of the suspension and the steering rack were damaged but it was very rewarding to see the teamwork with both sides of the garage working together to get it fixed. We are all feeling a little cold and wet but huge credit has to go to the fans who continued to pack the grandstands today. We truly appreciate the loyalty and I'm just sorry that we couldn't deliver the track action they came for, but hopefully everyone will tune in for next weekend's Dutch Grand Prix so we can provide a great weekend of racing."
Lewis Hamilton
Firstly, I'm really disappointed for the fans. It's no one's fault, you can't control the weather, but the fans have been incredible today, sticking with us the whole time, holding out for a potential race, keeping their energy up and creating the atmosphere. They were robbed of a race today, unfortunately. I love racing in the rain, but today was something else. You couldn't see the car ahead, there was aquaplaning, it was so, so tricky out there. It's a shame because of course I wanted to race and I love this track as well. I think it would have been a great race if it hadn't rained so hard, but unfortunately it just didn't stop.
Valtteri Bottas
It's a huge shame, of course, that we couldn't race and there were many committed fans out there, waiting for us to get started but we couldn't. They were still smiling throughout and in good spirits, so hats off to them. And obviously for me, with the penalty I had and the bad qualifying, being outside the top 10 on the grid meant I couldn't fight for any points. There was a fair amount of standing water but the main thing was the visibility, particularly on the straights. It was really poor and would have been too dangerous. Thankfully there isn't long to wait for the next race, Zandvoort is a new track on the calendar, I have raced there before in Formula 3 back in the day, so I'm looking forward to that.
Toto Wolff
I really want to take my hat off to all the fans who were here with us over the weekend, in the wet and the cold. And particularly during this afternoon, spending hours waiting for the race to start. It's great to see their enthusiasm and passion, it's just what the sport needs. We are all racers and we want to race, but today it just wasn't possible. It would have been too dangerous to let the drivers race because of a total lack of visibility. In terms of the race result, of course we are not happy that points have been awarded for what was a few laps behind the Safety Car but if the regulations allow that, you have to take it on the chin and move on. Now, we are looking forward to Zandvoort, to hopefully score some big points and continue this fight for the Championship.
Andrew Shovlin
Obviously, we're all feeling frustrated to come here and not get to race, and I'm sure the fans feel that frustration even more. It's also not a good feeling, losing ground in both Championships. But ultimately, the conditions were not safe to race in. There was a lot of standing water and visibility was very poor. The decisions in Race Control are difficult ones on days like today, but there was no break in the rain, so it was correct not to continue with the race. We'll quickly switch our focus to Zandvoort and hopefully the weather will be better there!
Sebastian Vettel
"I think it is a frustrating day for all of us and an anti-climax, especially for the fans, who were outside in the wet and the cold all day waiting to see a race. I feel sorry we could not give them the entertainment they deserved to see. The rain just never stopped and, when we did go out, the spray was very bad with low visibility. The FIA had to make some tough decisions today. It is not easy for them, but safety has to be the priority, and even though their decisions may not have been popular they were probably the right ones."
Lance Stroll
"It is a real shame for the fans today. I am sorry they waited all afternoon for a race that ended in the sad way it did. We cannot control the weather and safety must come first. It is a tough decision for the FIA and Formula One to make, but it was the right one. Visibility out on track was really bad. It is not a nice feeling to be on sections like the Kemmel Straight, where it is so fast, and you cannot see in front of you because of the spray. I would have loved to try and fight my way back up the grid today; I felt confident we could make good progress, but it is over now and we will focus on next weekend's race at Zandvoort."
Otmar Szafnauer, Aston Martin CEO & Team Principal
"First of all, on behalf of everyone at Aston Martin Cognizant Formula One™ Team, I want to say how sorry I am for the fans, who braved the weather in the hope of watching an exciting 44-lap race on the magnificent Spa-Francorchamps circuit but ended up enduring a damp squib – literally. However, the safety of the drivers, marshals, photographers and camera operators is of course paramount, and the FIA had no choice other than to make the difficult decision they did. We scored five world championship points as a result of Sebastian's fifth place, which would usually have netted us 10 world championship points had the race not been shortened and the half-points rule therefore applied. Lance had no opportunity to fight his way through the field – which, had the race been run normally, I am sure he would have been able to do with his usual wet-race panache. All in all, the 2021 Belgian Grand Prix will be remembered as a very disappointing event – or non-event – but we are now looking forward to the Dutch Grand Prix next weekend. Bring it on!"
Pierre Gasly (AT02-05, Car 10)
"It's been a long day and I'm very disappointed that we didn't get to race. I think we all feel very sorry for the fans that have stayed with us in the rain all day, without any racing, and I would like to thank them all for staying until the end. However, the conditions were very extreme, I don't think I've driven in conditions worse than this before. I think that the problem was that if anyone spun in the first lap, there was absolutely no visibility and there would've been a big accident. We know how dangerous it can be to race here, so this was absolutely the correct decision."
Yuki Tsunoda (AT02-06, Car 22)
"It was clearly not possible to race today, especially for any drivers from P7 onwards, I think the visibility was just too poor. It would've been far too dangerous to race in these conditions here today, particularly on such a high-speed track like Spa, so for safety I think the FIA made the right decision today. Obviously, it's disappointing on a personal note to not have had the opportunity to race for points today, but safety is far more important."
Franz Tost (Team Principal)
"First of all, I'm very sorry for all the fans that have come here to see an exciting race and then, because of the bad circumstances, we weren't able to offer them anything. I really hope that they understand that today it was simply not possible to race with a Formula 1 car.
The team were quite well prepared ahead of the race, and I was convinced that in the dry we could have shown a very strong performance with both cars, as the set-up on the aero side was optimized for this. Pierre was starting in sixth position and has looked strong all weekend. Yuki was in 16th position and I think he would've had the opportunity to finish in the points. Heavy rain prevented the start of the race and I must say that the stewards and race control made the correct decision, as it would have been far too risky to start this race properly. After the second car, no one could see anything, so if for example a car had spun at one of the fast corners then it would've resulted in a heavy crash. Safety is the priority, so Michael Masi and the stewards made the right decision today."
Pirelli's Mario Isola
"With the rain not improving, it unfortunately wasn't possible to have a green flag race. The main problem was the lack of visibility. With the full wet tires evacuating around 85 liters of water per second at 300kph, all that water has to go somewhere. The result is the spray that everyone watching could see behind the safety car, making it impossible for the drivers to see – which is obviously a dangerous situation. On a track with plenty of elevation like this one, there is also a risk of pools of water forming in certain places, which adds to the risk of aquaplaning. We'll be back racing in less than a week's time at the Dutch Grand Prix, hopefully with better weather."
Race Results – 2 Laps
| | | | | |
| --- | --- | --- | --- | --- |
| Pos | No. | Driver | Team | Laps |
| 1 | 33 | M. Verstappen | Red Bull | 2 |
| 2 | 63 | G. Russell | Williams | 2 |
| 3 | 44 | L. Hamilton | Mercedes | 2 |
| 4 | 3 | D. Ricciardo | McLaren | 2 |
| 5 | 5 | S. Vettel | Aston Martin | 2 |
| 6 | 10 | P. Gasly | AlphaTauri | 2 |
| 7 | 31 | E. Ocon | Alpine | 2 |
| 8 | 16 | C. Leclerc | Ferrari | 2 |
| 9 | 6 | N. Latifi | Williams | 2 |
| 10 | 55 | C. Sainz Jr. | Ferrari | 2 |
| 11 | 14 | F. Alonso | Alpine | 2 |
| 12 | 77 | V. Bottas | Mercedes | 2 |
| 13 | 99 | A. Giovinazzi | Alfa Romeo | 2 |
| 14 | 4 | L. Norris | McLaren | 2 |
| 15 | 22 | Y. Tsunoda | AlphaTauri | 2 |
| 16 | 47 | M. Schumacher | Haas | 2 |
| 17 | 9 | N. Mazepin | Haas | 2 |
| 18 | 18 | L. Stroll | Aston Martin | 2 |
| 19 | 7 | K. Räikkönen | Alfa Romeo | 2 |
| 20 | 11 | S. Perez | Red Bull | 2 |