F3: Hauger beats Schumacher to pole with sensational late lap
Championship leader Dennis Hauger pulled off a spectacular late lap to deny David Schumacher pole for the first time in Formula 3 and get his title bid back on track after a difficult Round 5 in Spa. Missing out on pole to the PREMA by a tenth, the Trident driver will start from the front row for the first time ahead of MP Motorsport's Victor Martins.
Ayumu Iwasa's Hitech Grand Prix led the cars around for their first tour of Zandvoort in Qualifying, but it was Jack Doohan who topped the order at the end of the first flying laps, the Trident racer beating Frederik Vesti with a time of 1:25.630.
A few of the field dived in for fresh rubber with 20 minutes to go, but Hauger stayed out to punch in a statement of intent. The Red Bull junior scored just six points in Spa, but appeared to be back on the pace in Zandvoort, launching from fifth to first with a tour of 1:25.167.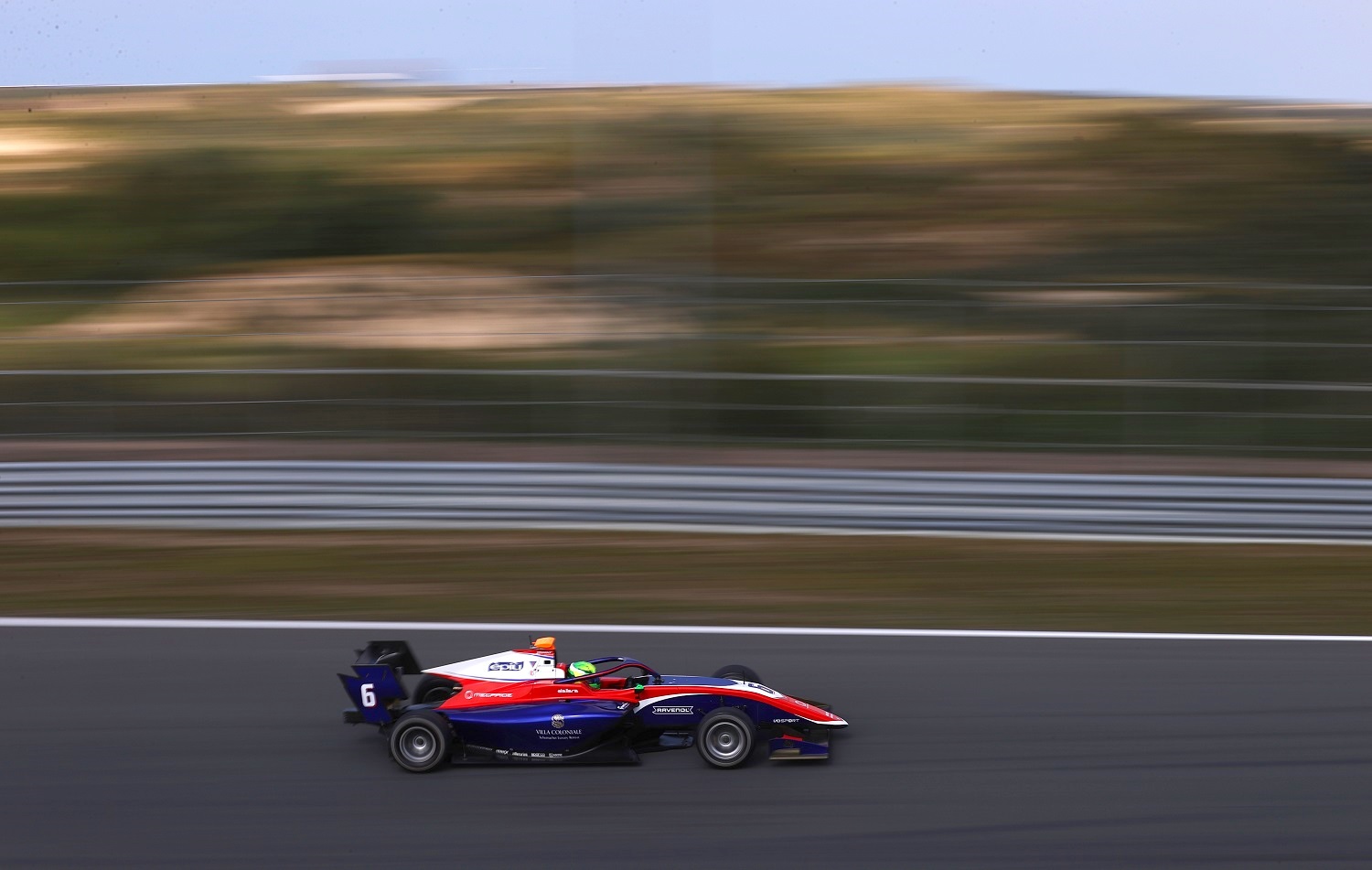 Neither Schumacher nor Arthur Leclerc could match the Championship leader, but they were able to jump to second and third, before diving into the pits with the remainder of the field for a freshen up.
Schumacher set a sensational lap as he started his second run, going purple in both the first and second sector to snatch provisional pole from Hauger. The PREMA attempted to respond, but couldn't find any more time.
A final run of push laps was interrupted by a spin from Hunter Yeany, who lost the rear at Turn 3 and spun to a stop. The Charouz Racing System driver momentarily brought out a Red Flag but was able to get going again with four minutes of the session to spare.
Although sufficient time remained for another lap, the field had taken a significant chunk out of their Pirelli rubber and were tasked with getting them back up to temperature.
All eyes were on Hauger who would need a mammoth effort to displace Schumacher. The Norwegian delivered on that front, pulling purple first and second sectors out of the bag to beat the German's excellent effort by more than a tenth, setting 1:24.580.
Martins was the last man across the line and beat out Trident pairing Doohan and Clément Novalak to third with a last gasp lap.
His teammate, Collet, had done enough to hold on to sixth ahead of Jak Crawford and Alex Smolyar, despite not improving on his final run. Iwasa and Leclerc's earlier efforts were also good enough to hold onto spots in the top 10.
Finishing 12th overall, Campos Racing's Amaury Cordeel will start ahead of Logan Sargeant in Saturday's reverse grid Race 1, which takes place at 1035 local time.
Qualifying 1 Results
| | | | | |
| --- | --- | --- | --- | --- |
| Pos | Driver | Team | Time | Gap |
| 1 | Dennis Hauger | Prema Powerteam | 1m24.580s | 0.000s |
| 2 | David Schumacher | Trident | 1m24.715s | 0.135 |
| 3 | Victor Martins | MP Motorsport | 1m24.885s | 0.305 |
| 4 | Jack Doohan | Trident | 1m24.939s | 0.359 |
| 5 | Clement Novalak | Trident | 1m24.961s | 0.381 |
| 6 | Caio Collet | MP Motorsport | 1m25.031s | 0.451 |
| 7 | Jak Crawford | HitechGP | 1m25.274s | 0.694 |
| 8 | Alexander Smolyar | ART Grand Prix | 1m25.345s | 0.765 |
| 9 | Ayumu Iwasa | HitechGP | 1m25.403s | 0.823 |
| 10 | Arthur Leclerc | Prema Powerteam | 1m25.422s | 0.842 |
| 11 | Logan Sargeant | Charouz Racing System | 1m25.556s | 0.976 |
| 12 | Amaury Cordeel | Campos Racing | 1m25.567s | 0.987 |
| 13 | Rafael Villagómez | HWA AG | 1m25.574s | 0.994 |
| 14 | Frederik Vesti | ART Grand Prix | 1m25.612s | 1.032 |
| 15 | Lorenzo Colombo | Campos Racing | 1m25.612s | 1.032 |
| 16 | Olli Caldwell | Prema Powerteam | 1m25.752s | 1.172 |
| 17 | Ido Cohen | Carlin | 1m25.752s | 1.172 |
| 18 | Oliver Rasmussen | HWA AG | 1m25.786s | 1.206 |
| 19 | Jonny Edgar | Carlin | 1m25.799s | 1.219 |
| 20 | Roman Staněk | HitechGP | 1m25.886s | 1.306 |
| 21 | Calan Williams | Jenzer Motorsport | 1m25.892s | 1.312 |
| 22 | Filip Ugran | Jenzer Motorsport | 1m26.047s | 1.467 |
| 23 | Johnathan Hoggard | Jenzer Motorsport | 1m26.077s | 1.497 |
| 24 | Matteo Nannini | HWA AG | 1m26.157s | 1.577 |
| 25 | Tijmen van | MP Motorsport | 1m26.261s | 1.681 |
| 26 | Kaylen Frederick | Carlin | 1m26.292s | 1.712 |
| 27 | Juan Manuel Correa | ART Grand Prix | 1m26.409s | 1.829 |
| 28 | László Tóth | Campos Racing | 1m26.638s | 2.058 |
| 29 | Hunter Yeany | Charouz Racing System | 1m27.507s | 2.927 |
| 30 | Zdenek Chovanec | Charouz Racing System | 1m27.726s | 3.146 |