F1: Ferraris run 1-2 in 2nd Dutch GP Practice
In another disrupted session with two red flags, it was Charles Leclerc who finished on top of the pile with a 1m10.902s, just over a tenth ahead of his Ferrari teammate Carlos Sainz Jr.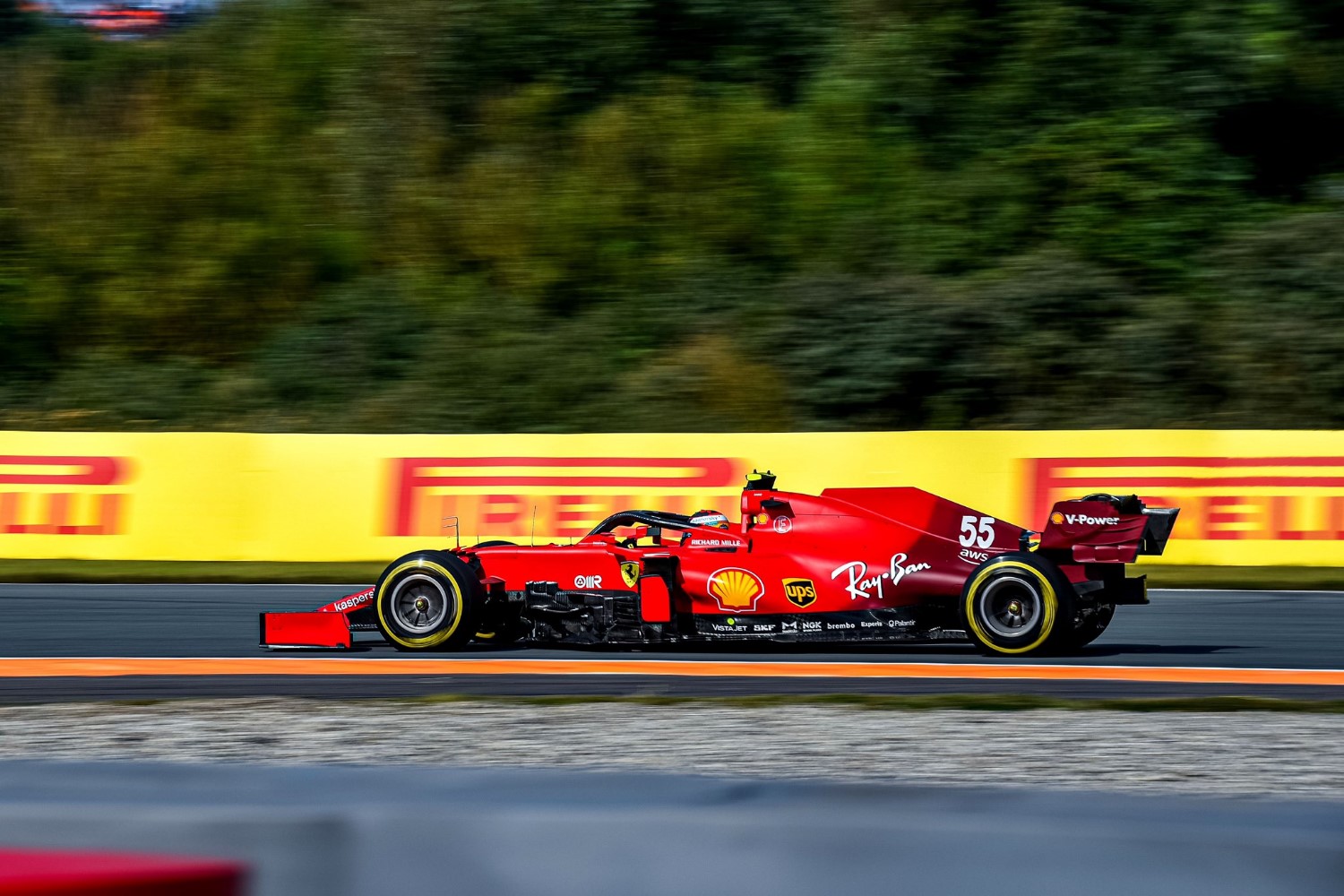 Esteban Ocon was third for Alpine, 0.172s behind. Ocon set his flying lap time early before the track had rubbered in. The race winner from Hungary has been full of confidence since his surprise win, and it is really showing out there with consistently impressive performances.
Local hero Max Verstappen's flying lap was compromised by red flags, and he ended up only 5th.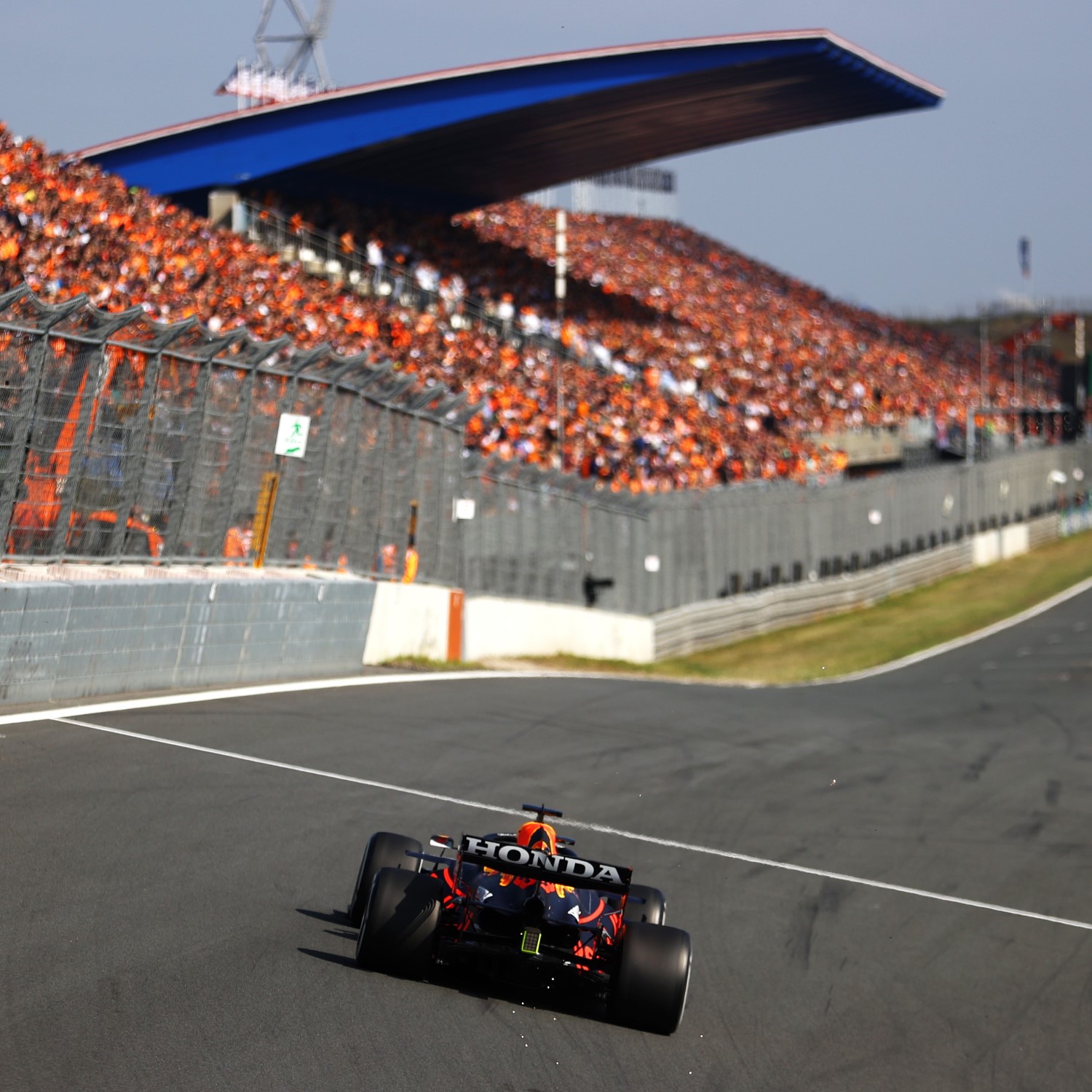 Valtteri Bottas in 4th went for his very early before the track was ramped up with rubber.
Lewis Hamilton brought out the first red flag. He wound up P11 after managing just two laps in the session before having to stop out on track with an engine issue. The latest updates are that Mercedes possibly detected an oil system anomaly in their data – and it remains to be seen what that means heading into tomorrow.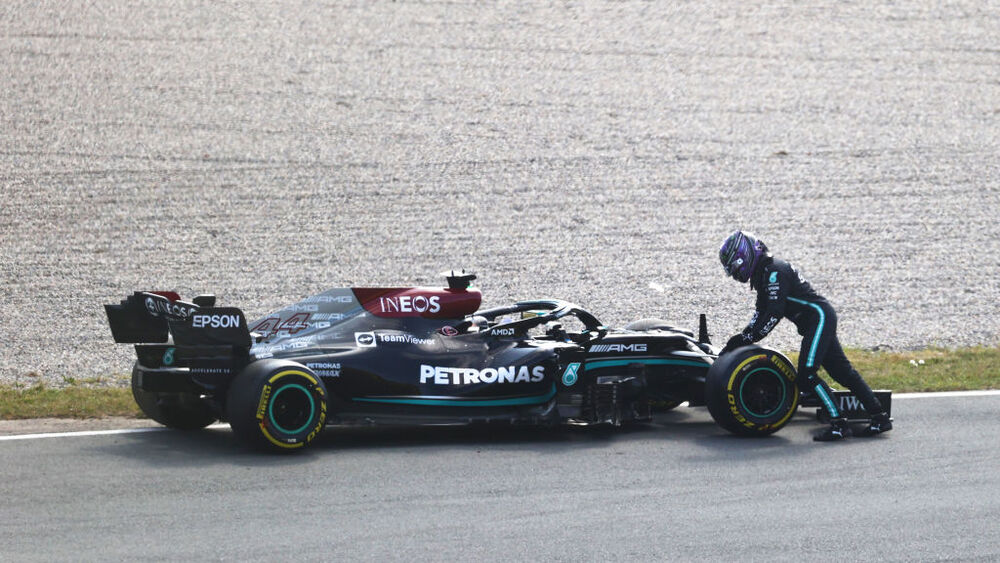 This may be what caused Sebastian Vettel's blown Mercedes engine in practice 1.
So while the leaderboard isn't fully representative, there are certainly some trends emerging out there. Ferrari look strong in the midfield, with Red Bull and Mercedes likely to overtake the Scuderia on the timing sheets when they manage to get clean runs in tomorrow.
Overtaking here is expected to be tricky, meaning grid slots are going to be absolutely crucial here.
So one hour of practice to come then, before qualifying tomorrow afternoon. With the weather set fair across the weekend, it will be all eyes on the track rather than at the skies as twenty drivers go head-to-head for those all-important grid slots.
But for now it is advantage to the Scuderia after two solid sessions. They have already been on pole this season against the odds, and this track seems to suit them. Could Leclerc and Sainz be in the fight for P1 tomorrow? We'll find out then.
Select Quotes
Charles Leclerc #16
I think there is still quite a bit of potential for us to improve. It is looking good for now, but we shouldn't get carried away because it's just Friday and I feel our competitors have a bit of performance still to reveal. I really enjoyed driving on the new Zandvoort. The banking feels very special on the first timed lap, and it's just overall a fun track to drive on. Then for the race, I don't think there will be much overtaking, so it will be important to secure a good grid position tomorrow. Our race pace was not as good as the single lap performance so we will be focusing on that.
Carlos Sainz #55
It's an impressive and different track compared to what we are used to. It was fun to try different lines in FP1 around the banking corners and to push a bit more in FP2. I enjoyed myself out there today and the atmosphere with the fans close to the track is great!
In terms of performance, we felt confident straightaway with the car balance and with the car performance. We managed to do some decent running on soft tires, whereas other competitive cars were caught out by the flags, so that's maybe why we look so good on the time sheet. For sure we have room to improve, but still, the car felt good, and it was a positive Friday for us.
Valtteri Bottas
Overall, it was a good day for me, and I enjoyed it out on track. It's an exciting track to drive, with all the banked corners and high-speed sections. It's got a nice flow and it's fairly easy to settle into a rhythm. I'm sure tomorrow in Qualifying will be even more fun. It was quite a disrupted day with a lot of red flags, but even so, I got quite a lot of laps in, particularly in FP2 where we did some proper running on both single lap and long runs. I'm sure we have plenty of data to go through. The margins look small, which is nice to see, so everything is possible.
Lewis Hamilton
This track is epic. It brought back so many memories when I first got out there, from when I drove here before. I knew it was great when I was in Formula 3, but in a Formula One car it is just something else. It's a shame I couldn't complete more running, but the loss of power cut my FP2 short quite early on. I've got some catching up to do and we need to investigate the issue in more detail, but it's not the end of the world. The car wasn't feeling too bad, in the limited running I had, and Valtteri had a productive FP2, so we'll have plenty of learnings to take from that. It was amazing to see the crowd here today, there were so many people out there and the Dutch fans bring so much energy. I hope it's a great weekend for everyone.
Andrew Shovlin
We've had a tricky day with red flags costing us a lot of running time in the first session and then Lewis had an issue with his car, so we had to stop on track. Everyone has struggled with a lack of running so there isn't masses of data to work with and many had low fuel runs that were compromised with traffic, so we have to expect many teams to move forward tomorrow. We're struggling a bit with Turn 2-3, we seem to be losing there on both low and high fuel but we've got a bit of time tonight to understand that. There are a few other places we can improve the balance but overall, it doesn't seem too far off. We have to recover a bit of running with Lewis but there is time to do that in the morning session.
Max Verstappen
"It's been a good day and it was really enjoyable to see everyone in orange having fun in the grandstands. Of course the track is also very fun to drive with a lot of fast corners so it was good to finally get out there. From our side, I don't think the lap times are very representative today as I did my fastest lap on a used set of tires. I was improving on another push lap and then Mazepin had a spin otherwise I think we would be higher up, but it's only Friday, and we're still looking at all the details of where we can do better and improve. The long runs looked competitive, which is positive, but we also know that the start position is very important here, so we'll see what we can do to get more pace out of the car overnight."
Sergio Perez
"It was awesome to get out there and drive this old school circuit. It's very different to the other tracks we go to and with so many consecutive right-hand corners it's a pretty unique and physical challenge. I've never driven here before, so it's completely new and with so many red flags it was difficult to get into a rhythm. You really need the confidence going into the session to trust the car in order to push it, and I wasn't quite there or fully comfortable today, so there are a couple of things on my side that we need to look at and make some decisions on in order to get the most out of the package. It's amazing to see so many fans enjoying themselves and cheering in the grandstands, so I expect the energy around the track to only get better and better over the weekend."
Sebastian Vettel
"I think overall that was a decent afternoon session. We had some catching up to do because of the power unit issue this morning. So I had to find the rhythm quickly, and it helped that I have driven here before many years ago. They did not change too much on the track [layout], but I think the changes they have made are for the better. It is an exciting lap because of the banking and corners with camber are always good fun to drive. We need more circuits with these types of corners. The crowd was great, too, and I am enjoying the atmosphere. There is more to come from me and the car, so it will be interesting to see what we can find overnight."
Lance Stroll
"It was a positive day to start the weekend and I really enjoyed the experience of driving at Zandvoort once again. Track time was limited in FP1, we finished ninth, and we looked strong in FP2 until we were caught out by the red flag when I was on a quick lap. I felt comfortable in the car and I think we have a good baseline. We know that qualifying is going to be key to success here because overtaking will be so difficult, but there is some degradation, which might make strategy a bit more of a factor. We have got plenty of data to look at tonight, and we will aim to take another step forward tomorrow."
Dave Robson, Williams Head of Vehicle Performance
It has been fantastic to run the cars on this tricky circuit. The whole track is demanding with very little opportunity for the cars or drivers to get a rest. The profiling of the circuit makes several of the corners quite difficult and places different demands on the car and the tires, with several drivers finding the limit during the day. The regular red flags hampered some of our work, but we still got a lot of our program, including some useful high fuel running late in FP2.
With a short track and hard tire compounds, track position is going to be at a premium in Q1 as it was regularly today. Whilst we thought that Zandvoort might be less favorable for the FW43B than Spa, the times today don't really tell the full story as we didn't get to do representative laps. There is a lot to do tonight to improve the car, but we are happy that there is more to come tomorrow.
George Russell
It was a great experience driving this circuit today. I think it's definitely a driver's favorite, it's very undulating and all the banking is great to drive. It's fast, flowing, and you can't put a wheel wrong and that is what we all want from a racetrack. It wasn't easy out there though, and it was a very interrupted day with all the red flags. There's therefore not a huge amount to take away from today, but the pace isn't quite as we'd like. Nevertheless, a few improvements overnight, and I think we will be able to make some good steps. The traffic is also really difficult to manage with this short lap and I think that it is going to be key to get a clear run tomorrow, particularly in Q1.
Nicholas Latifi
It was definitely challenging out there today. It's a tight and twisty circuit with very few straights, so having 20 cars on track made it difficult to get some space. I spent a lot of time looking in my mirrors which can be quite difficult to manage on a hot lap. It's also a very fun track to drive though; it's high speed and narrow, so a proper old school track that will punish you if you make a mistake! I think we have some work to do tonight as it's not quite where we wanted to be ending FP2. Whilst I felt like I got up to speed quite quickly, the red flags caused a lot of disruption, so it would have been great to get some more data from the team's perspective. I think there's some improvements we can make in both low and high fuel runs, so we'll see what we can do and go again tomorrow.
Practice 2 Results
| | | | | | | |
| --- | --- | --- | --- | --- | --- | --- |
| POS | NO | DRIVER | CAR | TIME | GAP | LAPS |
| 1 | 16 | Charles Leclerc | Ferrari | 1:10.902 | +0.000s | 28 |
| 2 | 55 | Carlos Sainz Jr. | Ferrari | 1:11.056 | +0.154s | 27 |
| 3 | 31 | Esteban Ocon | Alpine Renault | 1:11.074 | +0.172s | 32 |
| 4 | 77 | Valtteri Bottas | Mercedes | 1:11.132 | +0.230s | 32 |
| 5 | 33 | Max Verstappen | Red Bull Racing Honda | 1:11.264 | +0.362s | 27 |
| 6 | 14 | Fernando Alonso | Alpine Renault | 1:11.280 | +0.378s | 29 |
| 7 | 10 | Pierre Gasly | AlphaTauri Honda | 1:11.462 | +0.560s | 28 |
| 8 | 4 | Lando Norris | McLaren Mercedes | 1:11.488 | +0.586s | 26 |
| 9 | 99 | Antonio Giovinazzi | Alfa Romeo Racing Ferrari | 1:11.678 | +0.776s | 29 |
| 10 | 5 | Sebastian Vettel | Aston Martin Mercedes | 1:11.713 | +0.811s | 23 |
| 11 | 44 | Lewis Hamilton | Mercedes | 1:11.911 | +1.009s | 3 |
| 12 | 11 | Sergio Perez | Red Bull Racing Honda | 1:11.946 | +1.044s | 26 |
| 13 | 22 | Yuki Tsunoda | AlphaTauri Honda | 1:12.096 | +1.194s | 30 |
| 14 | 18 | Lance Stroll | Aston Martin Mercedes | 1:12.136 | +1.234s | 28 |
| 15 | 3 | Daniel Ricciardo | McLaren Mercedes | 1:12.157 | +1.255s | 24 |
| 16 | 7 | Kimi Räikkönen | Alfa Romeo Racing Ferrari | 1:12.206 | +1.304s | 30 |
| 17 | 47 | Mick Schumacher | Haas Ferrari | 1:12.607 | +1.705s | 30 |
| 18 | 6 | Nicholas Latifi | Williams Mercedes | 1:12.610 | +1.708s | 26 |
| 19 | 9 | Nikita Mazepin | Haas Ferrari | 1:12.835 | +1.933s | 12 |
| 20 | 63 | George Russell | Williams Mercedes | 1:12.855 | +1.953s | 29 |