F1: Verstappen defeats Hamilton to win Dutch GP, fans go wild
Except for the first pitstop, local hero Max Verstappen dominated the Dutch GP before his throng of loyal fans, keeping the Mercedes of Lewis Hamilton at bay the entire way to win at Zandvoort in his Red Bull Honda. It was Verstappen's 17th F1 win.
Hamilton made an extra pitstop on the last lap to get the fastest lap point, otherwise the gap would have been a bit over 2-seconds.
Hamilton does grab the bonus point for fastest lap – which means Verstappen, having trailed by three points heading into this weekend, now leads by three points.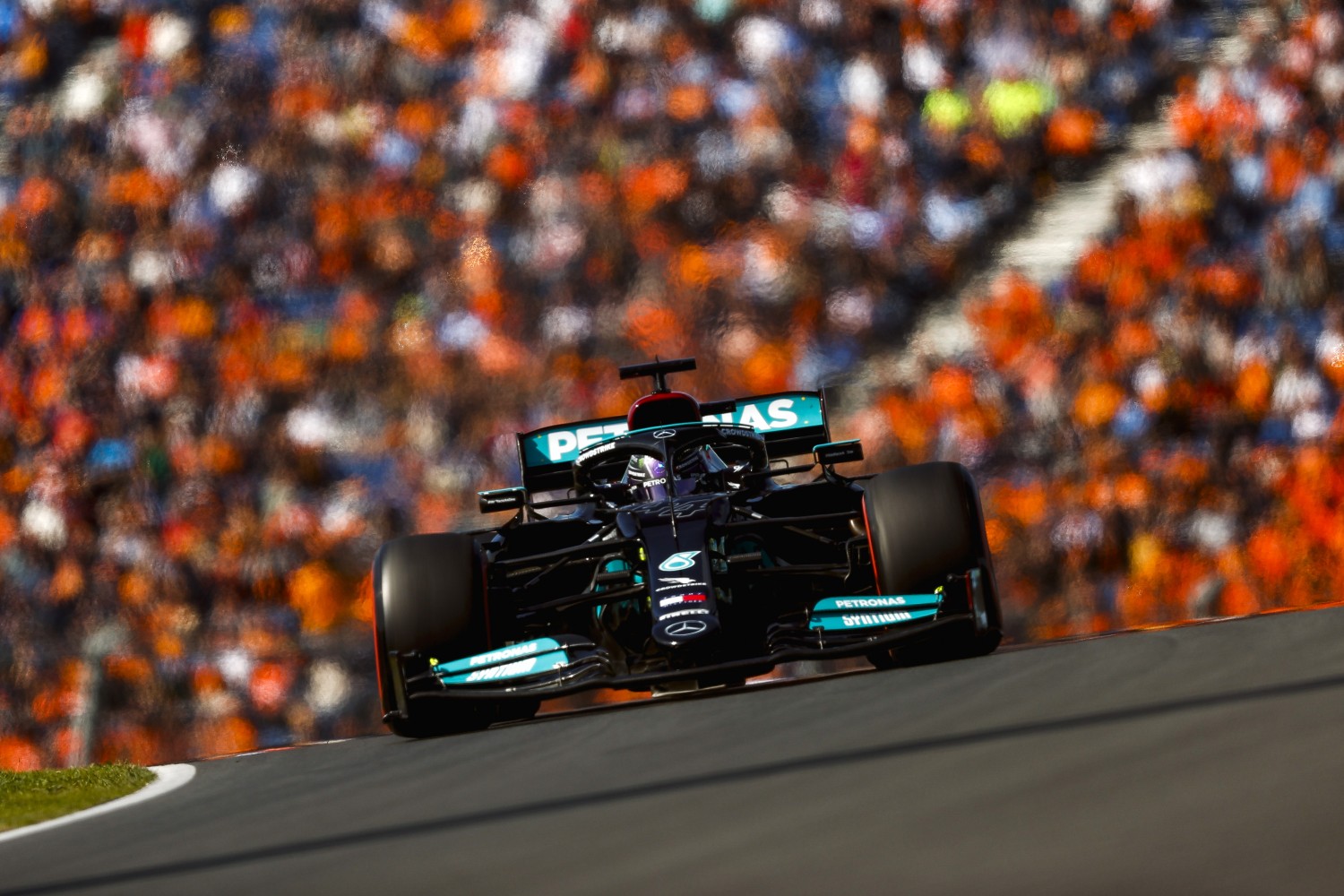 Everyone else was out to lunch.
Valtteri Bottas was third, almost a lap behind
Pierre Gasly in 4th, and Charles Leclerc in 5th were over a lap behind.
Fernando Alonso did pick off Carlos Sainz Jr. on the very last lap for sixth, with Sergio Perez in eighth (after starting last) having also passed Esteban Ocon late on. Lando Norris rounded out the top 10.
"As you can hear already, it's just incredible," said a happy Verstappen.
"Expectations were high going into the weekend, I'm so happy to win here. It's such an amazing day, the whole crowd, incredible."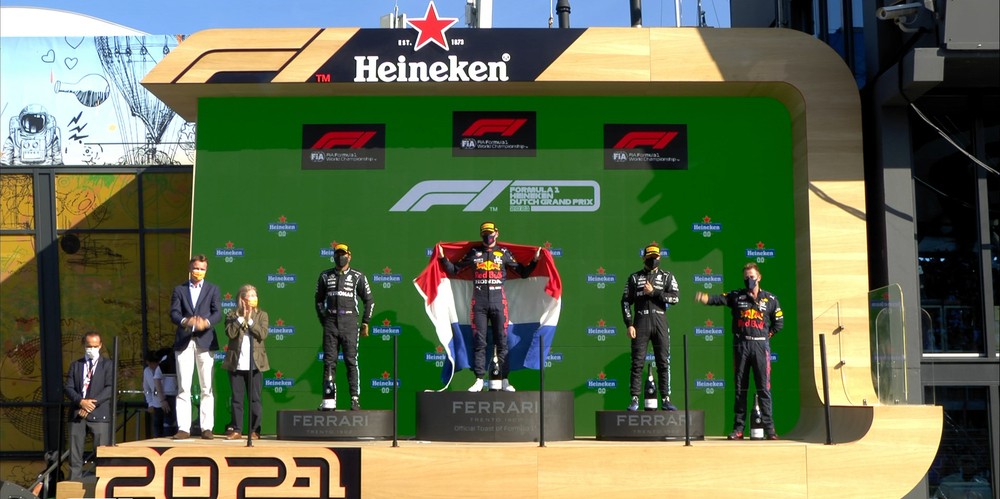 "What a day, what a crowd! Max did a great job, congratulations to him," said Hamilton.
"I gave it everything, they were just too quick for us. They had that upper edge, and it's very hard to follow here. The last lap was one of the best parts of the race for me – single lap, low fuel. This is now one of my favorite tracks."
Select Quotes
Max Verstappen
"It's incredible to win here today on another home track, and it feels great to take the lead in the Driver's Championship again. Of course the expectations were very high coming into the weekend, and it's never easy to fulfil that but the whole crowd has been incredible, and I am so happy to win here. It was quite a tough race, Lewis was really putting the pressure on, and both Mercedes' had really good pace but we managed to have that three second buffer when we needed it, and I think that was very important. We can be really pleased with the whole Team performance; we made the right calls, and we managed the race really well. 72 laps around this track is cool, especially in front of all these fans, they were incredible throughout the whole race, I've never experienced anything like this before in my life. I will of course celebrate at home this evening, but Monza is just around the corner, and the championship fight is tight, so I want to make sure we perform at our best."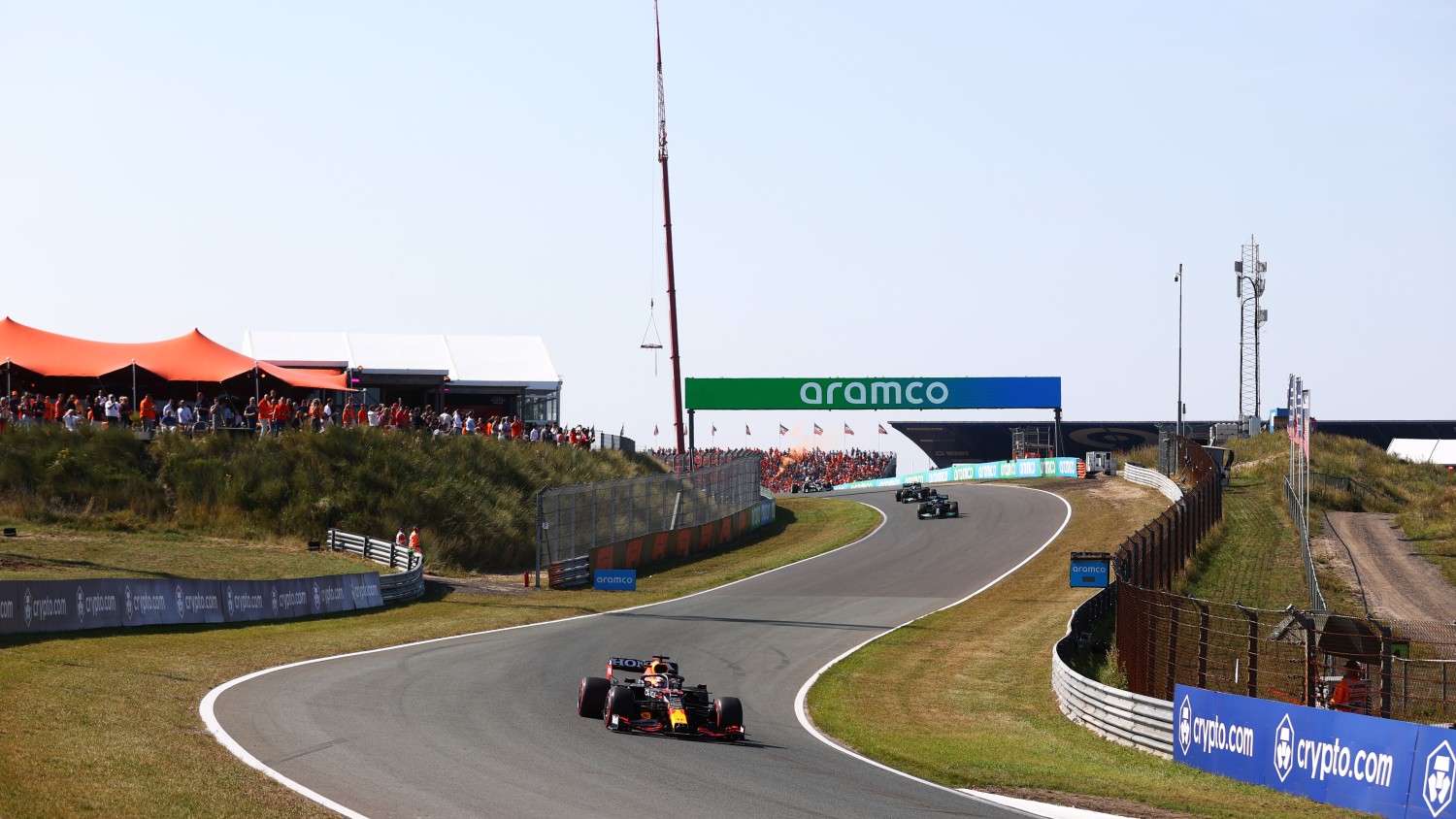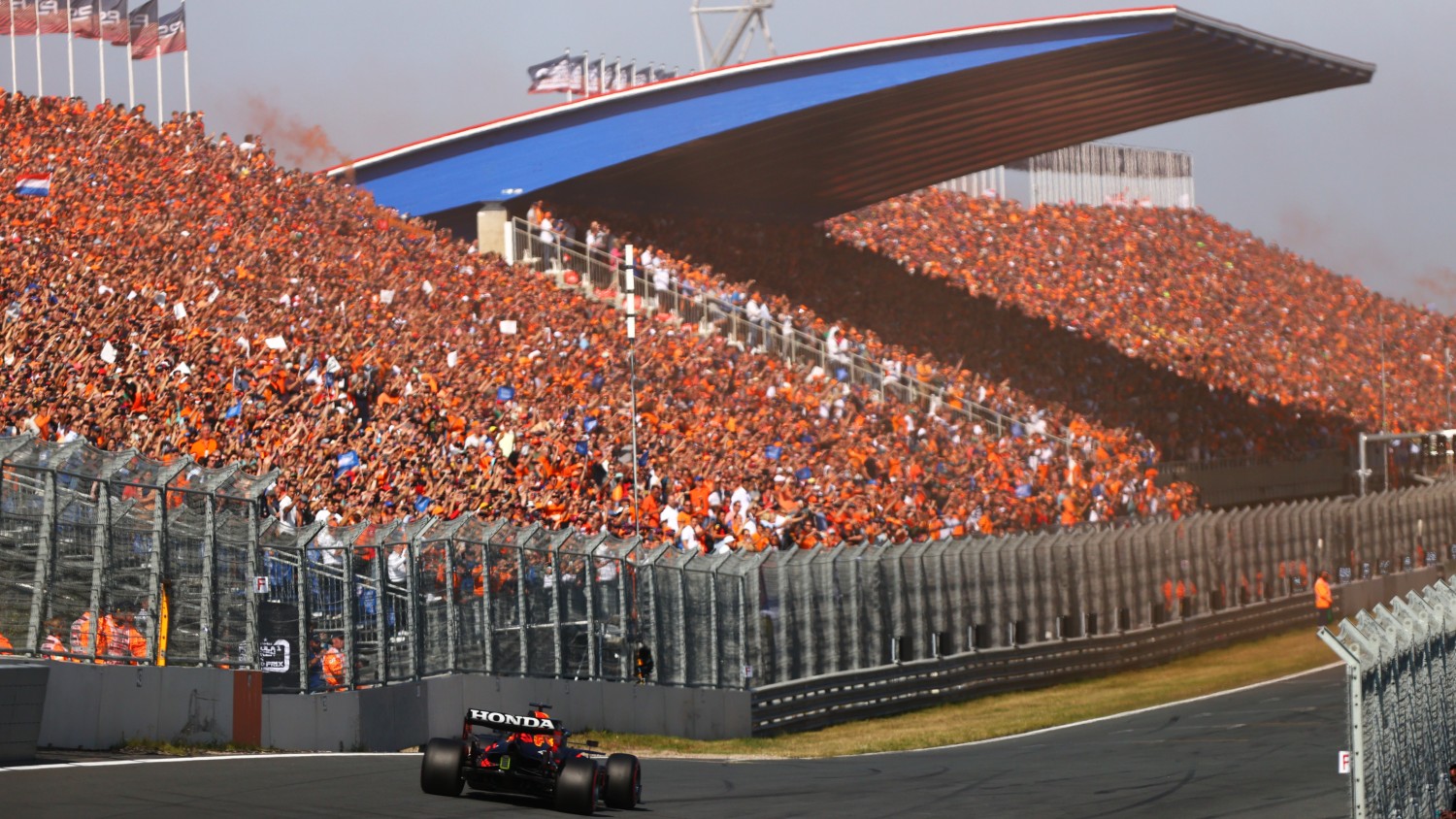 Sergio Perez
"I gave it my all, every overtake was on the limit, and I had to take a lot of risks. Today was all about damage limitation as I started from the pits after taking the penalty for the engine change. It was a bit of a shame at the end when Lando, and I touched, I had a lot of damage on the right-hand side of the car. I think it was a racing indecent as I wasn't given enough space, and I don't think he could see me. Since that point I lost a lot of grip, otherwise, I definitely think P6 was on the cards today. I really wish I could have given more to the Dutch fans, they have been incredible all weekend. From now on it's just about looking ahead, and trying to come back strong in Monza."
Christian Horner
"It was an impeccable race for the Team today. There's a fantastic atmosphere here, and I've never seen a reaction like that in my whole career, the fans in Holland are incredible. It was important for Max to get a clean start, his ability to judge, and read the grip level is very strong. We knew with the strategic options that Mercedes had that they were going to split the strategy, and they did exactly that. It was also crucial for Max to make that pass on Valtteri quickly, and then after that, we were able to cover Lewis. The Team did everything they could today to make sure Max had a smooth race, and he did everything that he needed. Sergio won driver of the day, and he has driven a great race. Not only did he take the penalty, he had a huge flat spot, and we had to pit him for safety reasons, so he was in an even more difficult position then. He made great progress through the field, scoring important points for us, and improving his confidence after a really tough Saturday. Looking ahead, Monza, and Sochi are tracks that Mercedes have a stronghold, we'd expect them to have the upper hand, therefore the next two races are about trying to limit the damage, and making sure we extract as much as we can out of the cars. It's going to be really close, and this championship looks like it's going to go all the way to Abu Dhabi."
Lewis Hamilton
What a race, and what a crowd, honestly, it's been an amazing weekend. Max did a great job so congrats to him. I gave it everything I had out there, but they were just too quick for us this weekend. I think even if we'd have got everything right today with the traffic, the pit stops, and the strategy, it'd still have been tough to get by them. We didn't get those elements spot on, but either way, we pushed as much as we could, and we'll take it offline, debrief, and see how we could have improved. We'll be fighting right to the end. It was an incredibly difficult race out there, physically, and mentally I think it was one of the toughest, but it's an amazing track. The fastest lap at the end was one of my favorite parts of the race, it's an incredible track to drive on low fuel, this is one of my favorite tracks now, and I've had a great time here in Holland, so I'm looking forward to coming back next year.
Valtteri Bottas
It was quite a quiet race for me but as a team, we scored solid points, and there's been an amazing atmosphere here. Before the race, there was so much energy from the crowd, and it's a really cool track to drive. Very hard to overtake on, but good fun. I was pushing hard out there but we committed to the one-stop strategy quite early on, and that needed too much management really, and proved tricky. It definitely wasn't as fast as the two-stop. We ended up stopping late in the race for safety as we had the gap behind, and I was starting to get some tire vibrations. We were lacking a bit of speed here compared to Red Bull but Monza is a completely different circuit so I'm hopeful we can compete there.
Toto Wolff
Red Bull were faultless out there today so congrats to them, and Max on the victory. Whatever we tried on the strategy, it was going to be difficult to compete with them. We tried everything we could, attempted the undercut a few times with Lewis, and he was pushing to the maximum, but it wasn't enough. For Valtteri, we put him on the one-stop but towards the end, he was struggling with the tires, so we stopped him as a precaution as he was getting some vibrations. P2, and P3 is a solid result, and good points for us, so now we look to Monza. I'm sure it's going to be another close weekend, and an exciting fight. It's a very different track, and the Sprint Qualifying format returns, so we could see a bit of a different story. Let's see how it goes.
Andrew Shovlin
Our car wasn't quite quick enough today, and we ended up in a situation where we had to push in dirty air to keep up, and it was just taking too much out of the tires. The pace at the front was very quick, and the degradation was moving it towards a two stop. We lost a little time on the first stop with Lewis going onto Medium, and while Max could cover, our pace seemed a bit better on that tire, and we could close, and follow more easily. We didn't have many options by the final stop, we decided to go relatively early, perhaps optimistically hoping they would take a Soft to cover us, but they fitted the Hard, and it was working well for them, so that was that. Valtteri had a straightforward race, although perhaps not as exciting as he'd hoped. He managed the one stop well but with a clear window behind, we made a precautionary stop at the end. Overall a solid weekend for him, and nice to see him move back into third in the Drivers' championship. With Lewis we managed to grab the extra point for fastest lap, which was a bit of damage limitation, but we didn't have the best car here, and need to address that for Monza if we're looking to take back the lead of the Drivers' championship.
Pierre Gasly
"P4 is an amazing result today, I don't think we could really hope for much better, and it's 12 important points for us. I really enjoyed all 72 laps here in Zandvoort, it's a fantastic track. I had fun today, I'm really pleased with everything, the car is really fast, and I managed to get it set-up just the way I wanted. The team did a fantastic job throughout the weekend, and today we were flying! I'm obviously very excited to get back to Monza after last year, and obviously the expectations are very high. We've clearly maximized our package this weekend, so it'll be interesting to see how it performs next weekend in Italy."
Yuki Tsunoda
"Today's result is disappointing of course, we saw an issue on the PU data, and unfortunately had to retire the car. Up until that point the race was going quite well, and the pace of the car was there, but it was hard to overtake. I've got to look forward to Monza now, I have some experience on that circuit which is good. I'm going to take the same approach as this week, slowly building up the pace, and hopefully we can put it all together next week."
Franz Tost (Team Principal)
"Firstly, big congratulations to the organizers of this event. It was fantastic to see the fans in the grandstands, and their celebrations across the entire weekend, starting from Friday. Likewise, congrats to Max Verstappen, Red Bull Racing, and Honda, they've dominated this Grand Prix. From our side, we're also quite satisfied because Pierre did a fantastic job this weekend. The team managed to give him a strong car, even yesterday for Qualifying where he secured P4. He then managed to keep this position all the way to the checkered flag in today's race. It was a very good job by Pierre, so a huge well done to both him, and the whole team for this great result. As for Yuki, his car suffered a technical failure on the drivetrain during the race, and we had to retire the car. We need to go away, and investigate the cause of this issue. We are now looking forward to Monza, after this fantastic event here in Zandvoort."
Lance Stroll
"We can see from the race just how important qualifying is, and unfortunately we were compromised yesterday, so we had it all to do today. I made an OK start off the line, but I was not able to make up any places. After that, I could only really follow George [Russell] for the majority of the race in a train of cars. Without a significant tire delta, it is almost impossible to overtake here. We will look into the strategy to see what else we could have done, but I do not think we could have done a lot differently. Zandvoort is a great track to drive, and it is definitely more of a Saturday circuit. I am happy to see it on the calendar, but perhaps there are ways to look into improving overtaking on a Sunday. For now, we will reset, and focus on Monza."
Sebastian Vettel
"It was one of those days which shows that if you start further back it is really hard to recover, especially on a track where overtaking is so tricky. I had to take a lot of risks when overtaking, but if you qualify out of position it is difficult to come back. When I did have some clean air, in the final part of the race, the pace was very competitive, and I found a good rhythm. From where we started, we had to try to do something different with the strategy, and I was happy with our approach."
Otmar Szafnauer, CEO & Team Principal
"On a circuit on which overtaking is extremely difficult, we were unable to make much progress today with either Lance's one-stop strategy or Sebastian's two-stopper. Nonetheless, they both drove well in difficult circumstances. The first Formula One Dutch Grand Prix for 36 years was well-organized, and efficiently run, and, although there was not a lot of on-track action in terms of overtaking, an excited full-house audience was rewarded with victory for the local hero. Next weekend we will be at Monza, a very different kind of challenge, and a welcome opportunity for us to try to improve on today's performance."
Race Results
| | | | | | |
| --- | --- | --- | --- | --- | --- |
| POS | NO | DRIVER | CAR | LAPS | BEHIND |
| 1 | 33 | Max Verstappen | Red Bull Racing Honda | 72 | +0.000s |
| 2 | 44 | Lewis Hamilton | Mercedes | 72 | +20.932s |
| 3 | 77 | Valtteri Bottas | Mercedes | 72 | +56.460s |
| 4 | 10 | Pierre Gasly | AlphaTauri Honda | 71 | +1 lap |
| 5 | 16 | Charles Leclerc | Ferrari | 71 | +1 lap |
| 6 | 14 | Fernando Alonso | Alpine Renault | 71 | +1 lap |
| 7 | 55 | Carlos Sainz | Ferrari | 71 | +1 lap |
| 8 | 11 | Sergio Perez | Red Bull Racing Honda | 71 | +1 lap |
| 9 | 31 | Esteban Ocon | Alpine Renault | 71 | +1 lap |
| 10 | 4 | Lando Norris | McLaren Mercedes | 71 | +1 lap |
| 11 | 3 | Daniel Ricciardo | McLaren Mercedes | 71 | +1 lap |
| 12 | 18 | Lance Stroll | Aston Martin Mercedes | 70 | +2 laps |
| 13 | 5 | Sebastian Vettel | Aston Martin Mercedes | 70 | +2 laps |
| 14 | 99 | Antonio Giovinazzi | Alfa Romeo Racing Ferrari | 70 | +2 laps |
| 15 | 88 | Robert Kubica | Alfa Romeo Racing Ferrari | 70 | +2 laps |
| 16 | 6 | Nicholas Latifi | Williams Mercedes | 70 | +2 laps |
| 17 | 63 | George Russell | Williams Mercedes | 69 | DNF |
| 18 | 47 | Mick Schumacher | Haas Ferrari | 69 | +3 laps |
| NC | 22 | Yuki Tsunoda | AlphaTauri Honda | 48 | DNF |
| NC | 9 | Nikita Mazepin | Haas Ferrari | 41 | DNF |