F1: Bottas leads Mercedes 1-2 in Monza qualifying
There is no question that the two powerful Mercedes cars have an advantage here at Monza on the long straights and Valtteri Bottas and Lewis Hamilton used it to their advantage to make it an all-Mercedes front row for Saturday's Sprint Race with near identical times – 1m19.555s for Bottas and 0.096s slower for Hamilton.
Hats off, he didn't have a tow from his teammate either for that lap.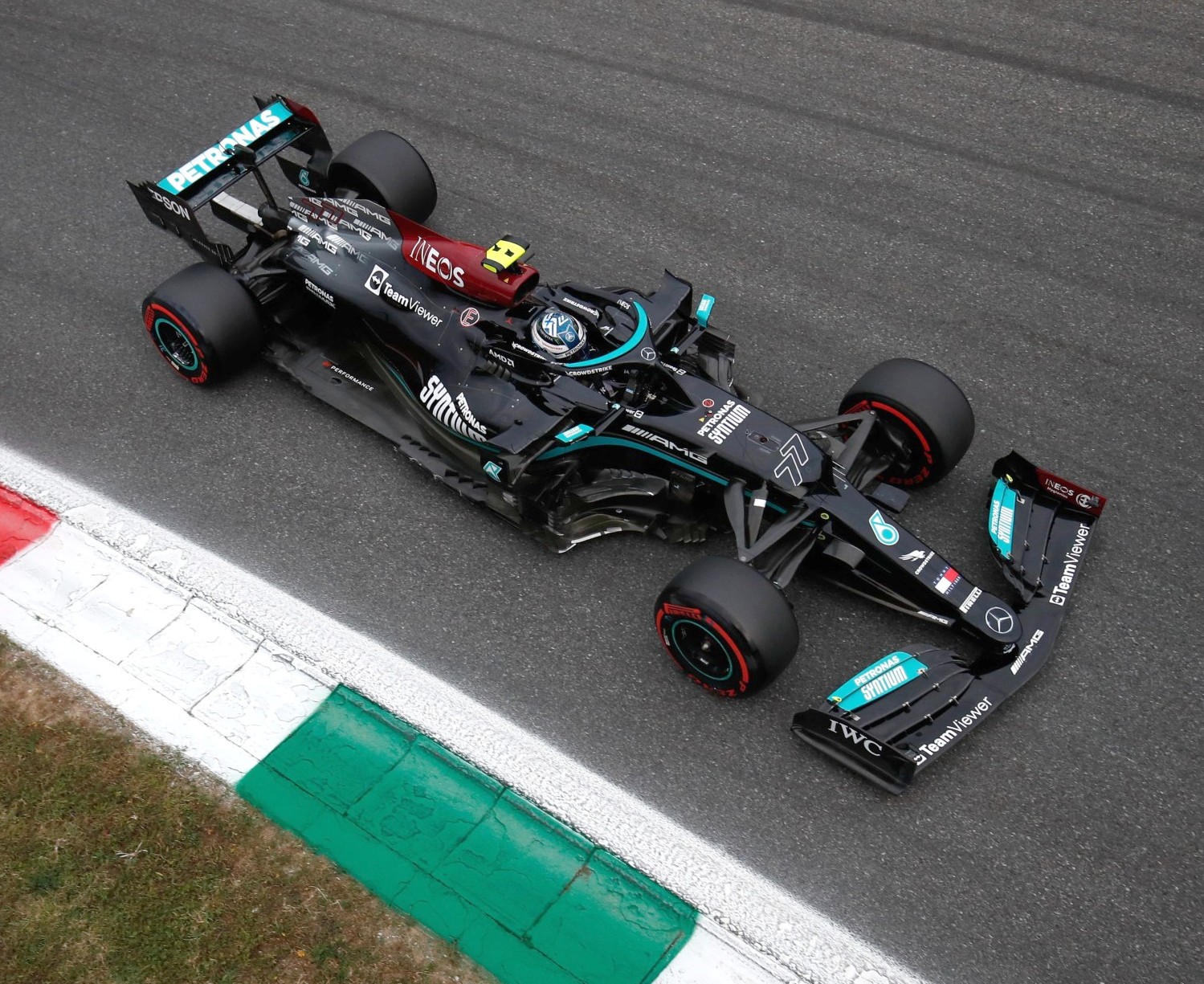 "Every point counts. Congratulations to Valtteri, mega lap," said Hamilton.
"It was looking good from our side up to then but he just went quicker and I couldn't match it. The Italian fans, it's so good to see them here. The weather's been great, and what an amazing circuit here."
Max Verstappen got a good tow, which is worth 0.7s, to go third fastest 0.411s behind. "I think for us, at this track, it's always going to be difficult. We recovered quite well throughout qualifying, I'm happy to be third. In the race we expect to be closer."
Bottas will start from the back on Sunday. The Finn has taken on a raft of new PU components and, as such, will be starting from the back of the grid for the Grand Prix.
Lando Norris was 4th quick ahead of his McLaren Mercedes teammate Daniel Ricciardo in 5th.
Bottas is going to have an interesting weekend – lining up first tomorrow for the Sprint, and then last on Sunday for the Grand Prix thanks to a raft of engine penalties.
He'll be expected to play the team game at some point. Bottas though, will serve a grid penalty on Sunday after taking on new PU components, so regardless of where he finishes the Sprint, he will line up at the back of the field and have a hot afternoon of it trying to make his way back to the points.
All of which sets things up nicely at the front. Tomorrow Verstappen, starting third, will get a tow down to the first corner, and we've just seen how potent the tow can be here.
Don't discount a Red Bull pole for Sunday's race.
Speaking of, a reminder of tomorrow's format. FP2 comes up first, just the second hour of practice for the weekend and a chance to work on race pace on the harder compound tires.
Then comes the 18 lap Sprint.
There will be no pit stops, just a race start and full throttle to the flag. Tires are free choice, and if Silverstone is anything to go by, a few outside the top 10 may well gamble. Choose the softs, and you'll get a good start, but may well run out of rubber towards the end…
…But the mediums may well cost you at the start, with little time to regain any lost positions. In FP1 earlier on, Mercedes showed that the yellow-marked rubber is a decent race tire, but will anyone in the top 10 go a different way on strategy?
Monza Qualifying Results
| | | | | | | | |
| --- | --- | --- | --- | --- | --- | --- | --- |
| POS | NO | DRIVER | CAR | Q1 | Q2 | Q3 | LAPS |
| 1 | 77 | Valtteri Bottas | Mercedes | 1:20.685 | 1:20.032 | 1:19.555 | 18 |
| 2 | 44 | Lewis Hamilton | Mercedes | 1:20.543 | 1:19.936 | 1:19.651 | 18 |
| 3 | 33 | Max Verstappen | Red Bull Racing Honda | 1:21.035 | 1:20.229 | 1:19.966 | 19 |
| 4 | 4 | Lando Norris | McLaren Mercedes | 1:20.916 | 1:20.059 | 1:19.989 | 21 |
| 5 | 3 | Daniel Ricciardo | McLaren Mercedes | 1:21.292 | 1:20.435 | 1:19.995 | 17 |
| 6 | 10 | Pierre Gasly | AlphaTauri Honda | 1:21.440 | 1:20.556 | 1:20.260 | 16 |
| 7 | 55 | Carlos Sainz | Ferrari | 1:21.118 | 1:20.750 | 1:20.462 | 18 |
| 8 | 16 | Charles Leclerc | Ferrari | 1:21.219 | 1:20.767 | 1:20.510 | 18 |
| 9 | 11 | Sergio Perez | Red Bull Racing Honda | 1:21.308 | 1:20.882 | 1:20.611 | 20 |
| 10 | 99 | Antonio Giovinazzi | Alfa Romeo Racing Ferrari | 1:21.197 | 1:20.726 | 1:20.808 | 16 |
| 11 | 5 | Sebastian Vettel | Aston Martin Mercedes | 1:21.394 | 1:20.913 | – | 14 |
| 12 | 18 | Lance Stroll | Aston Martin Mercedes | 1:21.415 | 1:21.020 | – | 13 |
| 13 | 14 | Fernando Alonso | Alpine Renault | 1:21.487 | 1:21.069 | – | 11 |
| 14 | 31 | Esteban Ocon | Alpine Renault | 1:21.500 | 1:21.103 | – | 12 |
| 15 | 63 | George Russell | Williams Mercedes | 1:21.890 | 1:21.392 | – | 16 |
| 16 | 6 | Nicholas Latifi | Williams Mercedes | 1:21.925 | – | – | 10 |
| 17 | 22 | Yuki Tsunoda | AlphaTauri Honda | 1:21.973 | – | – | 9 |
| 18 | 47 | Mick Schumacher | Haas Ferrari | 1:22.248 | – | – | 8 |
| 19 | 88 | Robert Kubica | Alfa Romeo Racing Ferrari | 1:22.530 | – | – | 7 |
| 20 | 9 | Nikita Mazepin | Haas Ferrari | 1:22.716 | – | – | 9 |