F1: Bottas holds off Verstappen to win Monza Qualifying Race
Valtteri Bottas has won the qualifying Sprint Race for the Italian GP at Monza, the Finn coming across the line having been untroubled from the start.
Max Verstappen came home second, ahead of Daniel Ricciardo in the first McLaren.
Three points for Bottas in the championship, two for Verstappen – which extends his championship lead to five – and one for Ricciardo from that.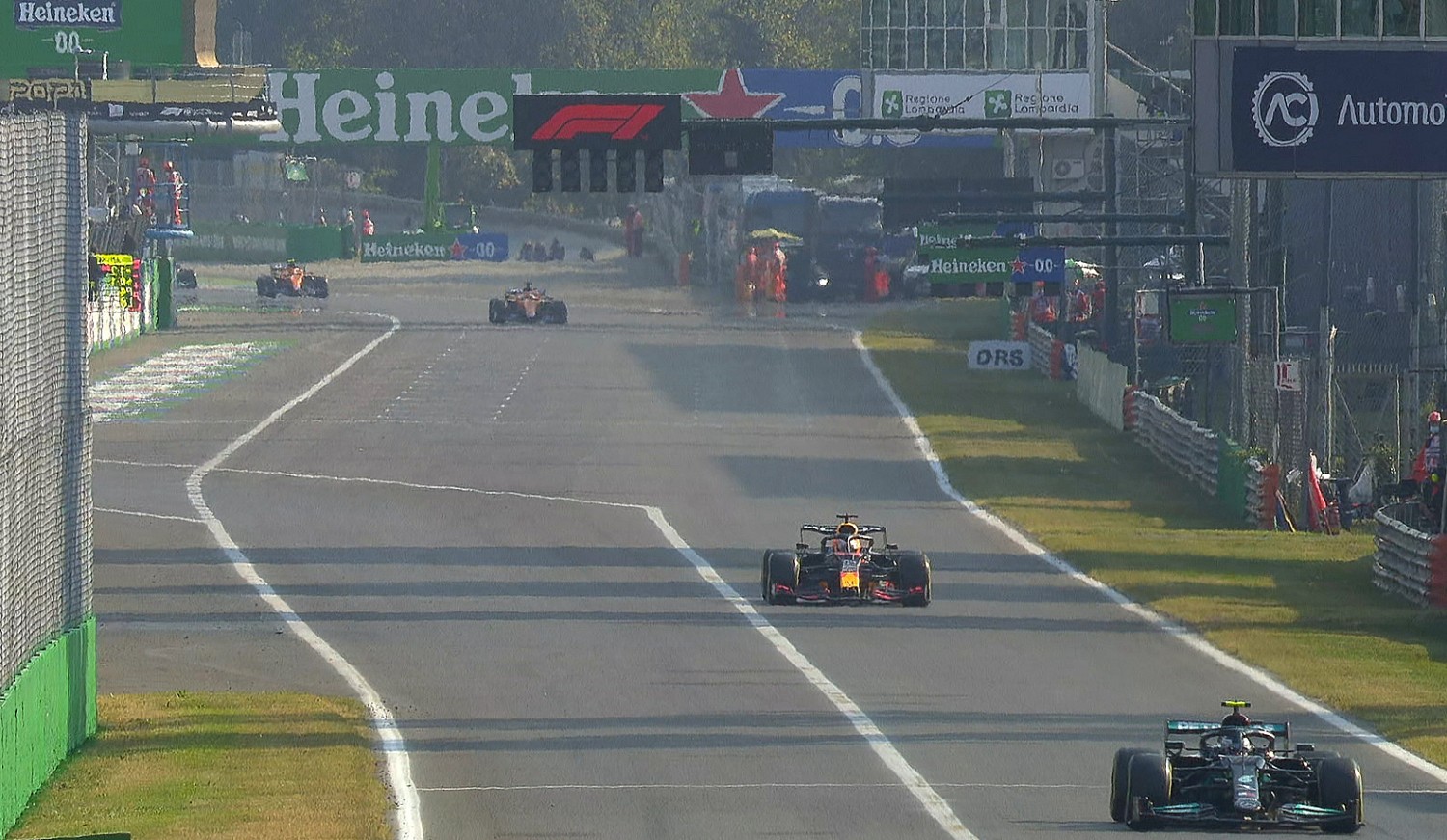 "This feels good, feels like it's been awhile! I'm starting from the back tomorrow but the speed is there," said Bottas.
"But today I enjoyed, good clean race, and we had the pace. It's not going to be easy with a train of cars with DRS, let's see if we can do something."
"That went a little bit better than expected, up to second, scored some points, up to pole tomorrow," said Verstappen. "It's going to be an interesting battle tomorrow. We did trim our car so we had decent top speed, so we should be okay in the race."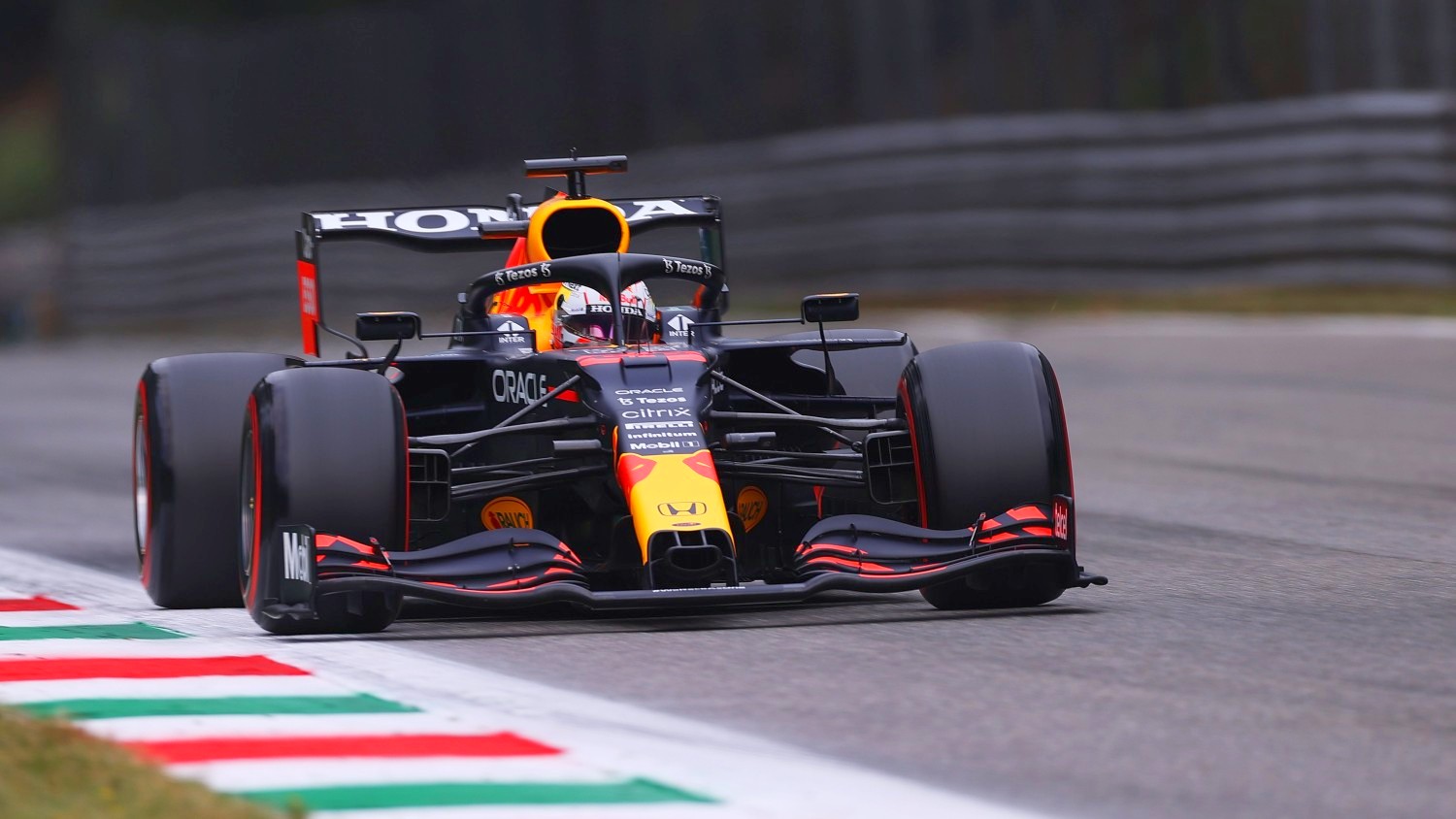 With Bottas having to start last Sunday due to an engine penalty, Max Verstappen will start on pole Sunday with Daniel Ricciardo on the outside front row.
"It's good to be back! We're on the front row and that has been a long time, so I'm happy for that," said Ricciardo.
"Full attack tomorrow. I thought maybe I'd get Max into Turn 1 but he had the inside. I look forward to trying again tomorrow.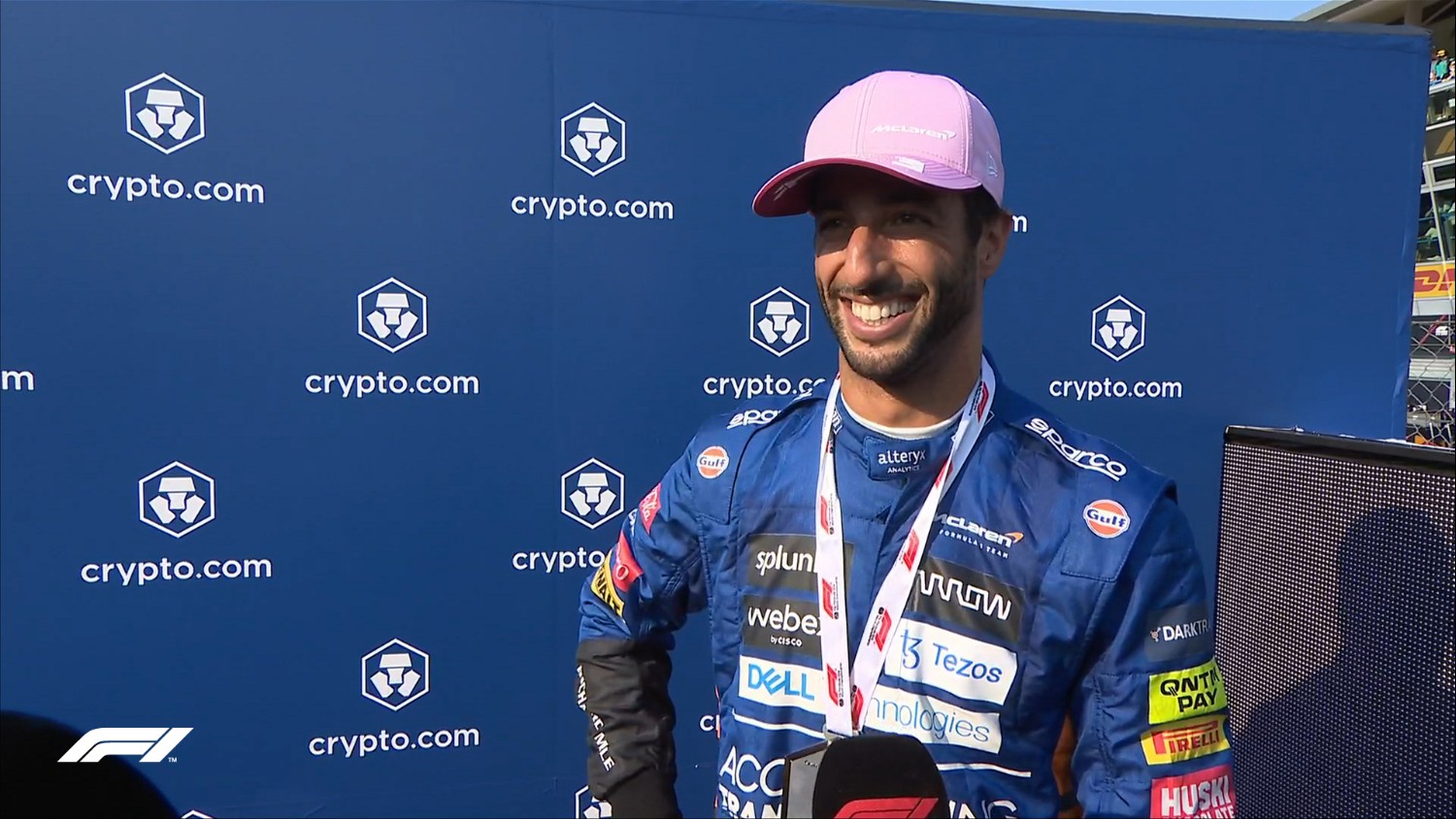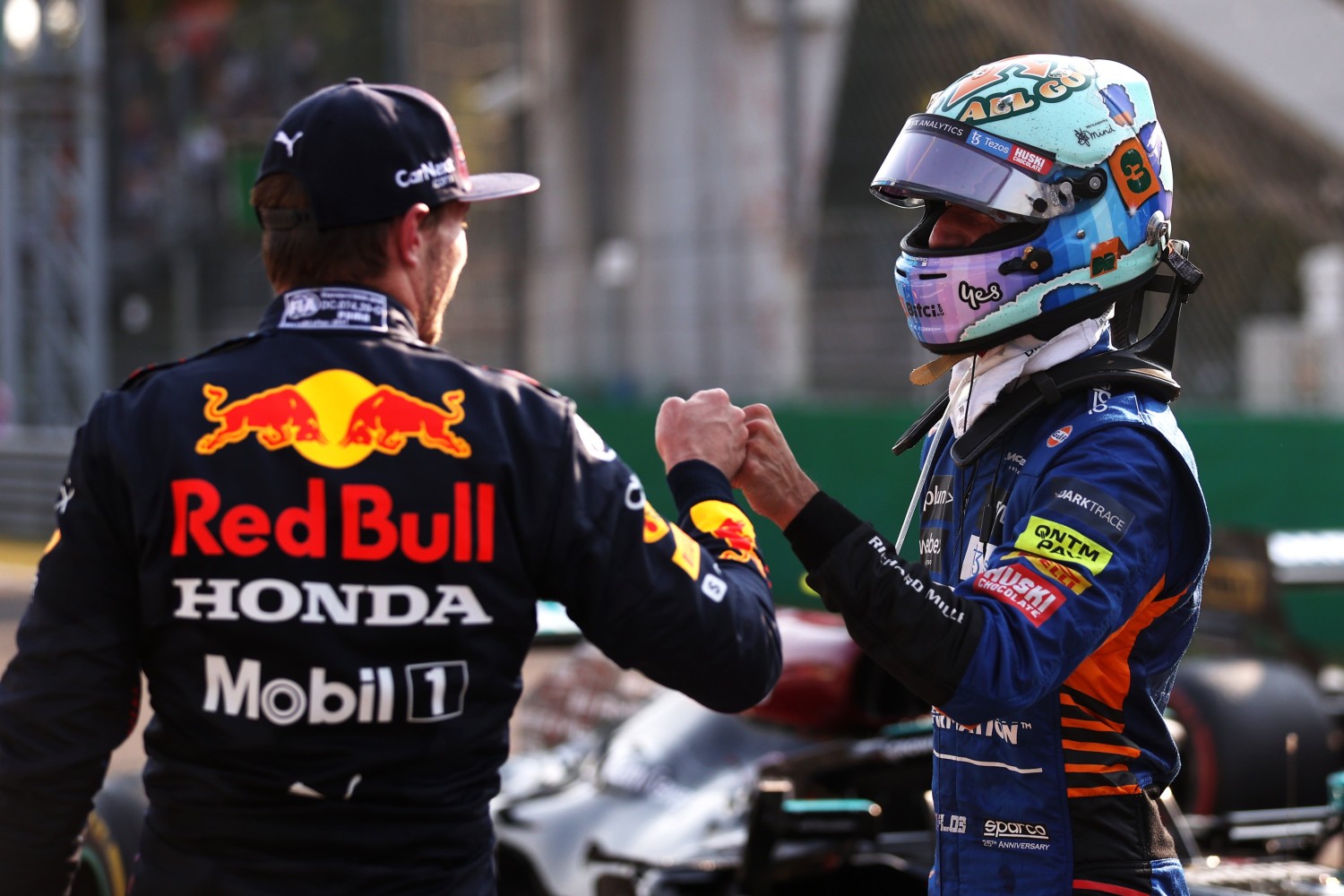 Lando Norris finished 4th today, 18.8s behind Bottas in the #3 McLaren.
Lewis Hamilton had a bad start from the outside of row 1, fell back to 5th on lap 1 and could never pass Norris the entire race.
That's a very downbeat Hamilton there, some of his fighting talk long gone. Starting fourth at a 'Mercedes' track while his rival is on pole is a tough pill to swallow.
"It is what it is," said Hamilton.  "We underestimated how well [the soft tire] would behave. Got to try and figure out how to get by the McLarens tomorrow and try and limit the damage. You saw the pace of the Red Bull, and now they're on pole so it should be an easy race win."
But strategy will now be fascinating. Would Mercedes gamble and start Hamilton on the softs and see if they can do a McLaren and catapult him forward so that Verstappen doesn't escape up the road? Or play the long game and bring out the hard tires?
So, tomorrow it will be Verstappen and Ricciardo on the front row – those two former teammates still get on for what it is worth – and then comes Norris and Hamilton. Norris could be even better placed that his teammate, as he'll have a bit of a tow and the clean side of the track.
The Ferrari pair will start on the third row in front of their home fans, but with their midfield rivals McLaren bouncing back from a difficult Zandvoort, can the Scuderia extract anything else form the SF21 to hold onto third in the championship?
They'll have the Tifosi cheering them on, and whatever they manage should be better than last year, when neither Ferrari saw the checkered flag.
It was advantage Mercedes after qualifying, but now it is all about Verstappen. If the Dutchman wins from pole, he'll extend his championship lead still further, and Hamilton knows it. So much to play for, a pair of pesky McLarens in between the championship rivals and an awful lot to lose. Not to be missed.
Sprint Race Results
| | | | | | | |
| --- | --- | --- | --- | --- | --- | --- |
| POS | NO | DRIVER | CAR | LAPS | Status/Behind | PTS |
| 1 | 77 | Valtteri Bottas | Mercedes | 18 | +0.000s | 3 |
| 2 | 33 | Max Verstappen | Red Bull Racing Honda | 18 | +2.325s | 2 |
| 3 | 3 | Daniel Ricciardo | McLaren Mercedes | 18 | +14.534s | 1 |
| 4 | 4 | Lando Norris | McLaren Mercedes | 18 | +18.835s | 0 |
| 5 | 44 | Lewis Hamilton | Mercedes | 18 | +20.011s | 0 |
| 6 | 16 | Charles Leclerc | Ferrari | 18 | +23.442s | 0 |
| 7 | 55 | Carlos Sainz Jr. | Ferrari | 18 | +27.952s | 0 |
| 8 | 99 | Antonio Giovinazzi | Alfa Romeo Racing Ferrari | 18 | +31.089s | 0 |
| 9 | 11 | Sergio Perez | Red Bull Racing Honda | 18 | +31.680s | 0 |
| 10 | 18 | Lance Stroll | Aston Martin Mercedes | 18 | +38.671s | 0 |
| 11 | 14 | Fernando Alonso | Alpine Renault | 18 | +39.795s | 0 |
| 12 | 5 | Sebastian Vettel | Aston Martin Mercedes | 18 | +41.177s | 0 |
| 13 | 31 | Esteban Ocon | Alpine Renault | 18 | +43.373s | 0 |
| 14 | 6 | Nicholas Latifi | Williams Mercedes | 18 | +45.977s | 0 |
| 15 | 63 | George Russell | Williams Mercedes | 18 | +46.821s | 0 |
| 16 | 22 | Yuki Tsunoda | AlphaTauri Honda | 18 | +49.977s | 0 |
| 17 | 9 | Nikita Mazepin | Haas Ferrari | 18 | +62.599s | 0 |
| 18 | 88 | Robert Kubica | Alfa Romeo Racing Ferrari | 18 | +65.096s | 0 |
| 19 | 47 | Mick Schumacher | Haas Ferrari | 18 | +66.154s | 0 |
| NC | 10 | Pierre Gasly | AlphaTauri Honda | 0 | DNF | 0 |