IndyCar: Palou Storms to GP of Portland Pole
Chip Ganassi Racing's Alex Palou edged Alexander Rossi for pole position in tomorrow's Grand Prix of Portland. The Spaniard, who sits 9 points behind NTT INDYCAR Series championship leader Pato O'Ward hopes to hopes to parlay his strong qualifying effort into a renewed title charge.
"I'm super happy with my first pole in INDYCAR," Palou said. "We're starting on the best position tomorrow, and we know we have a really fast car. I cannot wait for tomorrow's race."
Scott Dixon made it two CGR Hondas in the top-3, while Felix Rosenqvist was the fastest Chevy in fourth. Graham Rahal and Colton Herta rounded out the top-6. In his best qualifying performance of the season, Rossi will start 2nd, and missed pole by just 0.08s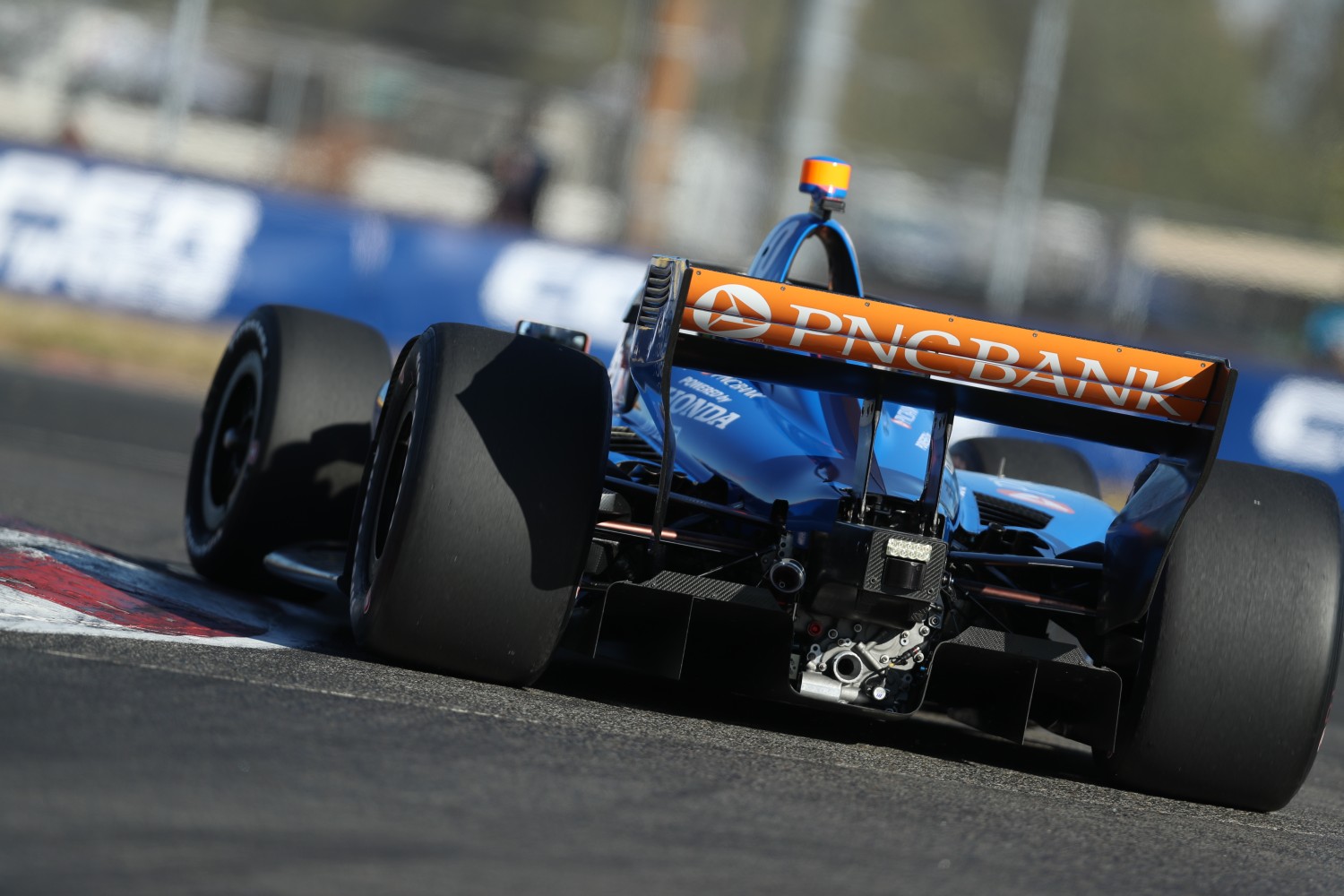 The pole was the first for Palou in his second season of INDYCAR competition, and the fifth for Honda in 2021.  Since winning the season-opening Honda Indy Grand Prix of Alabama, Palou has either led or run second in the championship points standings, and is currently second, nine points out of first, with three races remaining.
Palou will earn one point for the pole, valuable as he entered this event 10 points behind championship leader Pato O'Ward. Palou started on pole for the Genesys 300 in early May at Texas Motor Speedway, but qualifying for that event was canceled due to weather delays, with the starting lineup set by entrant points.
The strong performance at Portland was a powerful rebound from Palou's two worst finishes of the season in the last two races, 27th at the Indianapolis Motor Speedway road course with a mechanical problem and 20th at World Wide Technology Raceway after being taken out in a crash.
"This motivates us, but we were already fully motivated," Palou said. "We all know that the last two race weekends we had, it was out of our control. So, we're fully laser-focused on these three races we have to get that championship home, and we'll try to get that."
Of particular interest is the fact Team Penske failed to get any 4 of its cars out of Round 1 qualifying. Josef Newgarden, who sits third in the standings following his recent win at Gateway, will start 18th tomorrow.
Championship leader O'Ward qualified seventh in the No. 5 Arrow McLaren SP Chevrolet after being eliminated by teammate Rosenqvist by .0103 of a second on the last lap of the second qualifying session. Marcus Ericsson, 60 points behind O'Ward in fifth, qualified 10th in the No. 8 Huski Chocolate Chip Ganassi Racing Honda.
Two-time series champion Josef Newgarden, 22 points behind O'Ward in third, will start 18th in the 27-car field in the No. 2 Hitachi Team Penske Chevrolet.
Newgarden's qualifying troubles were a symptom of larger woes for Team Penske. All four Penske drivers – Newgarden, 2019 Portland winner Will Power, Simon Pagenaud and rookie Scott McLaughlin – were eliminated in the first round of road or street course qualifying for the first time this season.
British driver Callum Ilott qualified 19th for his NTT INDYCAR SERIES debut in the No. 77 Juncos Hollinger Racing Chevrolet. Ferrari Formula One test driver Ilott was the second-quickest of the four series rookies in the field, behind only McLaughlin, who qualified 15th in the No. 3 PPG Team Penske Chevrolet.
Dale Coyne Racing with RWR driver Romain Grosjean had the speed during Saturday's qualifying for the Grand Prix of Portland, but a qualifying penalty for interference sent him down the time charts and 21st on the starting grid for Sunday's race.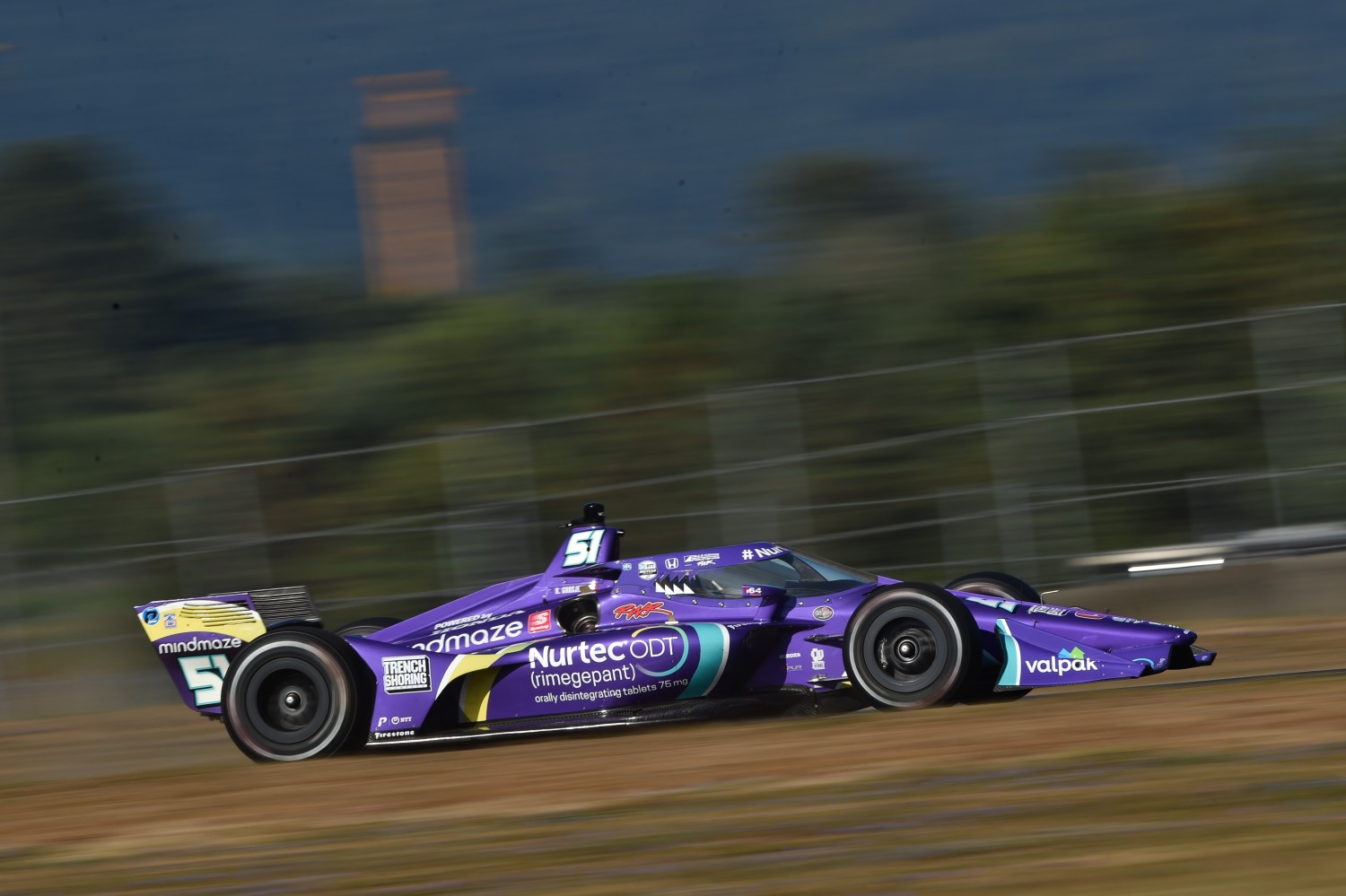 Grosjean went out in Group 1 of qualifying and maintained a position in the top six throughout most of the session but after getting caught in some traffic and while trying to build a gap from the other cars ahead of him it was judged he had impeded the lap of another competitor.
Coverage for tomorrow's race begins at 3 p.m. ET on NBC.
Starting Lineup 
| | | | | | | | | | |
| --- | --- | --- | --- | --- | --- | --- | --- | --- | --- |
| Pos | No | Name | Time | Diff | Gap | Speed | Engine | Team | Round |
| 1 | 10 | Alex Palou | 58.7701 | 58.7701 | 0.000 | 120.306 | Honda | Chip Ganassi Racing | Firestone Fast Six |
| 2 | 27 | Alexander Rossi | 58.8573 | 0.0872 | 0.0872 | 120.128 | Honda | Andretti Autosport | Firestone Fast Six |
| 3 | 9 | Scott Dixon | 58.8673 | 0.0972 | 0.0100 | 120.107 | Honda | Chip Ganassi Racing | Firestone Fast Six |
| 4 | 7 | Felix Rosenqvist | 58.9505 | 0.1804 | 0.0832 | 119.938 | Chevy | Arrow McLaren SP | Firestone Fast Six |
| 5 | 15 | Graham Rahal | 59.0067 | 0.2366 | 0.0562 | 119.824 | Honda | Rahal Letterman Lanigan Racing | Firestone Fast Six |
| 6 | 26 | Colton Herta | 59.2796 | 0.5095 | 0.2729 | 119.272 | Honda | Andretti Autosport | Firestone Fast Six |
| 7 | 5 | Pato O'Ward | 58.9732 | 0.2041 | 0.0103 | 119.892 | Chevy | Arrow McLaren SP | Round 2 |
| 8 | 18 | Ed Jones | 59.0247 | 0.2556 | 0.0515 | 119.787 | Honda | Dale Coyne Racing with Vasser Sullivan | Round 2 |
| 9 | 45 | Oliver Askew | 59.0837 | 0.3146 | 0.0590 | 119.668 | Honda | Rahal Letterman Lanigan Racing | Round 2 |
| 10 | 8 | Marcus Ericsson | 59.0901 | 0.3210 | 0.0064 | 119.655 | Honda | Chip Ganassi Racing | Round 2 |
| 11 | 59 | Max Chilton | 59.2346 | 0.4655 | 0.1445 | 119.363 | Chevy | Carlin | Round 2 |
| 12 | 14 | Sebastien Bourdais | 59.2419 | 0.4728 | 0.0073 | 119.348 | Chevy | AJ Foyt Enterprises | |
| 13 | 51 | Romain Grosjean | 59.2231 | 0.4137 | 0.0089 | 119.386 | Honda | Dale Coyne Racing w/RWR | Round 1, Group 1 |
| 14 | 12 | Will Power | 59.0032 | 0.3120 | 0.0642 | 119.831 | Chevy | Team Penske | Round 1, Group 2 |
| 15 | 29 | James Hinchcliffe | 59.2537 | 0.4443 | 0.0306 | 119.324 | Honda | Andretti Steinbrenner Autosport | Round 1, Group 1 |
| 16 | 20 | Conor Daly | 59.0974 | 0.4062 | 0.0942 | 119.640 | Chevy | Ed Carpenter Racing | Round 1, Group 2 |
| 17 | 3 | Scott McLaughlin | 59.3563 | 0.5469 | 0.1026 | 119.118 | Chevy | Team Penske | Round 1, Group 1 |
| 18 | 2 | Josef Newgarden | 59.1371 | 0.4459 | 0.0397 | 119.559 | Chevy | Team Penske | Round 1, Group 2 |
| 19 | 06 | Helio Castroneves | 59.4190 | 0.6096 | 0.0627 | 118.992 | Honda | Meyer Shank Racing | Round 1, Group 1 |
| 20 | 60 | Jack Harvey | 59.1463 | 0.4551 | 0.0092 | 119.541 | Honda | Meyer Shank Racing | Round 1, Group 2 |
| 21 | 77 | Callum Ilott | 59.5008 | 0.6914 | 0.0818 | 118.829 | Chevy | Juncos Hollinger Racing | Round 1, Group 1 |
| 22 | 21 | Rinus VeeKay | 59.1885 | 0.4973 | 0.0422 | 119.456 | Chevy | Ed Carpenter Racing | Round 1, Group 2 |
| 23 | 48 | Jimmie Johnson | 59.7120 | 0.9026 | 0.2112 | 118.408 | Honda | Chip Ganassi Racing | Round 1, Group 1 |
| 24 | 30 | Takuma Sato | 59.1953 | 0.5041 | 0.0068 | 119.442 | Honda | Rahal Letterman Lanigan Racing | Round 1, Group 2 |
| 25 | 28 | Ryan Hunter-Reay | No Time | — | — | — | Honda | Andretti Autosport | Round 1, Group 1 |
| 26 | 22 | Simon Pagenaud | 59.6591 | 0.9679 | 0.4638 | 118.513 | Chevy | Team Penske | Round 1, Group 2 |
| 27 | 4 | Dalton Kellett | 59.7438 | 1.0526 | 0.0847 | 118.345 | Chevy | AJ Foyt Enterprises | Round 1, Group 2 |

Firestone Fast Six
| | | | | | | | | | | |
| --- | --- | --- | --- | --- | --- | --- | --- | --- | --- | --- |
| P | No | Name | FTime | Diff | Gap | FL | Laps | FSpeed | Engine | Team |
| 1 | 10 | Alex Palou | 58.7701 | 58.7701 | 0.000 | 4 | 4 | 120.306 | Honda | Chip Ganassi Racing |
| 2 | 27 | Alexander Rossi | 58.8573 | 0.0872 | 0.0872 | 3 | 3 | 120.128 | Honda | Andretti Autosport |
| 3 | 9 | Scott Dixon | 58.8673 | 0.0972 | 0.0100 | 3 | 4 | 120.107 | Honda | Chip Ganassi Racing |
| 4 | 7 | Felix Rosenqvist | 58.9505 | 0.1804 | 0.0832 | 3 | 3 | 119.938 | Chevy | Arrow McLaren SP |
| 5 | 15 | Graham Rahal | 59.0067 | 0.2366 | 0.0562 | 4 | 4 | 119.824 | Honda | Rahal Letterman Lanigan Racing |
| 6 | 26 | Colton Herta | 59.2796 | 0.5095 | 0.2729 | 4 | 4 | 119.272 | Honda | Andretti Autosport |

Round 2
| | | | | | | | | | | |
| --- | --- | --- | --- | --- | --- | --- | --- | --- | --- | --- |
| P | No | Name | FTime | Diff | Gap | FL | Laps | FSpeed | Engine | Team |
| 1 | 10 | Alex Palou | 58.7691 | 58.7691 | 0.000 | 8 | 8 | 120.308 | Honda | Chip Ganassi Racing |
| 2 | 9 | Scott Dixon | 58.8200 | 0.0509 | 0.0509 | 8 | 8 | 120.204 | Honda | Chip Ganassi Racing |
| 3 | 15 | Graham Rahal | 58.9338 | 0.1647 | 0.1138 | 8 | 8 | 119.972 | Honda | Rahal Letterman Lanigan Racing |
| 4 | 26 | Colton Herta | 58.9459 | 0.1768 | 0.0121 | 6 | 7 | 119.947 | Honda | Andretti Autosport |
| 5 | 27 | Alexander Rossi | 58.9571 | 0.1880 | 0.0112 | 8 | 8 | 119.924 | Honda | Andretti Autosport |
| 6 | 7 | Felix Rosenqvist | 58.9629 | 0.1938 | 0.0058 | 8 | 8 | 119.913 | Chevy | Arrow McLaren SP |
| 7 | 5 | Pato O'Ward | 58.9732 | 0.2041 | 0.0103 | 7 | 8 | 119.892 | Chevy | Arrow McLaren SP |
| 8 | 18 | Ed Jones | 59.0247 | 0.2556 | 0.0515 | 8 | 8 | 119.787 | Honda | Dale Coyne Racing with Vasser Sullivan |
| 9 | 45 | Oliver Askew | 59.0837 | 0.3146 | 0.0590 | 7 | 8 | 119.668 | Honda | Rahal Letterman Lanigan Racing |
| 10 | 8 | Marcus Ericsson | 59.0901 | 0.3210 | 0.0064 | 8 | 8 | 119.655 | Honda | Chip Ganassi Racing |
| 11 | 59 | Max Chilton | 59.2346 | 0.4655 | 0.1445 | 5 | 8 | 119.363 | Chevy | Carlin |
| 12 | 14 | Sebastien Bourdais | 59.2419 | 0.4728 | 0.0073 | 7 | 8 | 119.348 | Chevy | AJ Foyt Enterprises |
Round 1, Group 2
| | | | | | | | | | | |
| --- | --- | --- | --- | --- | --- | --- | --- | --- | --- | --- |
| P | No | Name | FTime | Diff | Gap | FL | Laps | FSpeed | Engine | Team |
| 1 | 7 | Felix Rosenqvist | 58.6912 | 58.6912 | 0.000 | 8 | 8 | 120.468 | Chevy | Arrow McLaren SP |
| 2 | 10 | Alex Palou | 58.7971 | 0.1059 | 0.1059 | 8 | 8 | 120.251 | Honda | Chip Ganassi Racing |
| 3 | 26 | Colton Herta | 58.8450 | 0.1538 | 0.0479 | 7 | 8 | 120.153 | Honda | Andretti Autosport |
| 4 | 9 | Scott Dixon | 58.8684 | 0.1772 | 0.0234 | 8 | 8 | 120.105 | Honda | Chip Ganassi Racing |
| 5 | 18 | Ed Jones | 58.9330 | 0.2418 | 0.0646 | 7 | 8 | 119.974 | Honda | Dale Coyne Racing with Vasser Sullivan |
| 6 | 14 | Sebastien Bourdais | 58.9390 | 0.2478 | 0.0060 | 8 | 8 | 119.961 | Chevy | AJ Foyt Enterprises |
| 7 | 12 | Will Power | 59.0032 | 0.3120 | 0.0642 | 8 | 8 | 119.831 | Chevy | Team Penske |
| 8 | 20 | Conor Daly | 59.0974 | 0.4062 | 0.0942 | 7 | 8 | 119.640 | Chevy | Ed Carpenter Racing |
| 9 | 2 | Josef Newgarden | 59.1371 | 0.4459 | 0.0397 | 9 | 9 | 119.559 | Chevy | Team Penske |
| 10 | 60 | Jack Harvey | 59.1463 | 0.4551 | 0.0092 | 6 | 8 | 119.541 | Honda | Meyer Shank Racing |
| 11 | 21 | Rinus VeeKay | 59.1885 | 0.4973 | 0.0422 | 7 | 8 | 119.456 | Chevy | Ed Carpenter Racing |
| 12 | 30 | Takuma Sato | 59.1953 | 0.5041 | 0.0068 | 8 | 8 | 119.442 | Honda | Rahal Letterman Lanigan Racing |
| 13 | 22 | Simon Pagenaud | 59.6591 | 0.9679 | 0.4638 | 8 | 8 | 118.513 | Chevy | Team Penske |
| 14 | 4 | Dalton Kellett | 59.7438 | 1.0526 | 0.0847 | 8 | 8 | 118.345 | Chevy | AJ Foyt Enterprises |

Round 1, Group 1
| | | | | | | | | | | |
| --- | --- | --- | --- | --- | --- | --- | --- | --- | --- | --- |
| P | No. | Name | FTime | Diff | Gap | FL | Laps | FSpeed | Engine | Team |
| 1 | 8 | Marcus Ericsson | 58.8094 | 58.8094 | 0.000 | 7 | 8 | 120.226 | Honda | Chip Ganassi Racing |
| 2 | 15 | Graham Rahal | 58.9369 | 0.1275 | 0.1275 | 8 | 8 | 119.966 | Honda | Rahal Letterman Lanigan Racing |
| 3 | 27 | Alexander Rossi | 59.0177 | 0.2083 | 0.0808 | 8 | 8 | 119.801 | Honda | Andretti Autosport |
| 4 | 59 | Max Chilton | 59.0735 | 0.2641 | 0.0558 | 5 | 8 | 119.688 | Chevy | Carlin |
| 5 | 45 | Oliver Askew | 59.1960 | 0.3866 | 0.1225 | 8 | 8 | 119.441 | Honda | Rahal Letterman Lanigan Racing |
| 6 | 5 | Pato O'Ward | 59.2142 | 0.4048 | 0.0182 | 8 | 8 | 119.404 | Chevy | Arrow McLaren SP |
| 7 | 51 | Romain Grosjean | 59.2231 | 0.4137 | 0.0089 | 8 | 8 | 119.386 | Honda | Dale Coyne Racing w/RWR |
| 8 | 29 | James Hinchcliffe | 59.2537 | 0.4443 | 0.0306 | 4 | 8 | 119.324 | Honda | Andretti Steinbrenner Autosport |
| 9 | 3 | Scott McLaughlin | 59.3563 | 0.5469 | 0.1026 | 7 | 8 | 119.118 | Chevy | Team Penske |
| 10 | 06 | Helio Castroneves | 59.4190 | 0.6096 | 0.0627 | 8 | 8 | 118.992 | Honda | Meyer Shank Racing |
| 11 | 77 | Callum Ilott | 59.5008 | 0.6914 | 0.0818 | 7 | 7 | 118.829 | Chevy | Juncos Hollinger Racing |
| 12 | 48 | Jimmie Johnson | 59.7120 | 0.9026 | 0.2112 | 8 | 8 | 118.408 | Honda | Chip Ganassi Racing |
| 13 | 28 | Ryan Hunter-Reay | No Time | — | — | — | — | — | Honda | Andretti Autosport |