IMSA: All-Acura Front Row at Laguna Seca
Wayne Taylor Racing's Filipe Albuquerque scored his first IMSA WeatherTech SportsCar Championship pole position, and the team's third pole of the season for Acura, in qualifying at WeatherTech Raceway Laguna Seca.
The reigning Rolex 24 at Daytona winners for Albuquerque and co-driver Ricky Taylor will lead the pack around the 2.238-mile track in their #10 Acura ARX-05 prototype, followed by fellow Acura DPi drivers Dane Cameron and Olivier Pla in the Meyer Shank Racing machine.
The pole position marks the Wayne Taylor Racing team's fourth consecutive front-row start in 2021, and gives Honda Performance Development a double front row sweep between IMSA and INDYCAR today—following Alex Palou and Alexander Rossi's front-row lockout in qualifying for the Portland Grand Prix.
No. 3 Corvette Takes GTLM Pole
Corvette Racing's Jordan Taylor won his second straight GT Le Mans (GTLM) pole position at WeatherTech Raceway Laguna Seca on Saturday, setting a track record in the process.
Taylor, driving the No. 3 Mobil 1/SiriusXM Chevrolet Corvette C8.R with Antonio Garcia, set a lap of 1:21.151 (99.281 mph) ahead of Sunday's Hyundai Sports Car Championship to best his qualifying mark from 2020 by 0.332 seconds.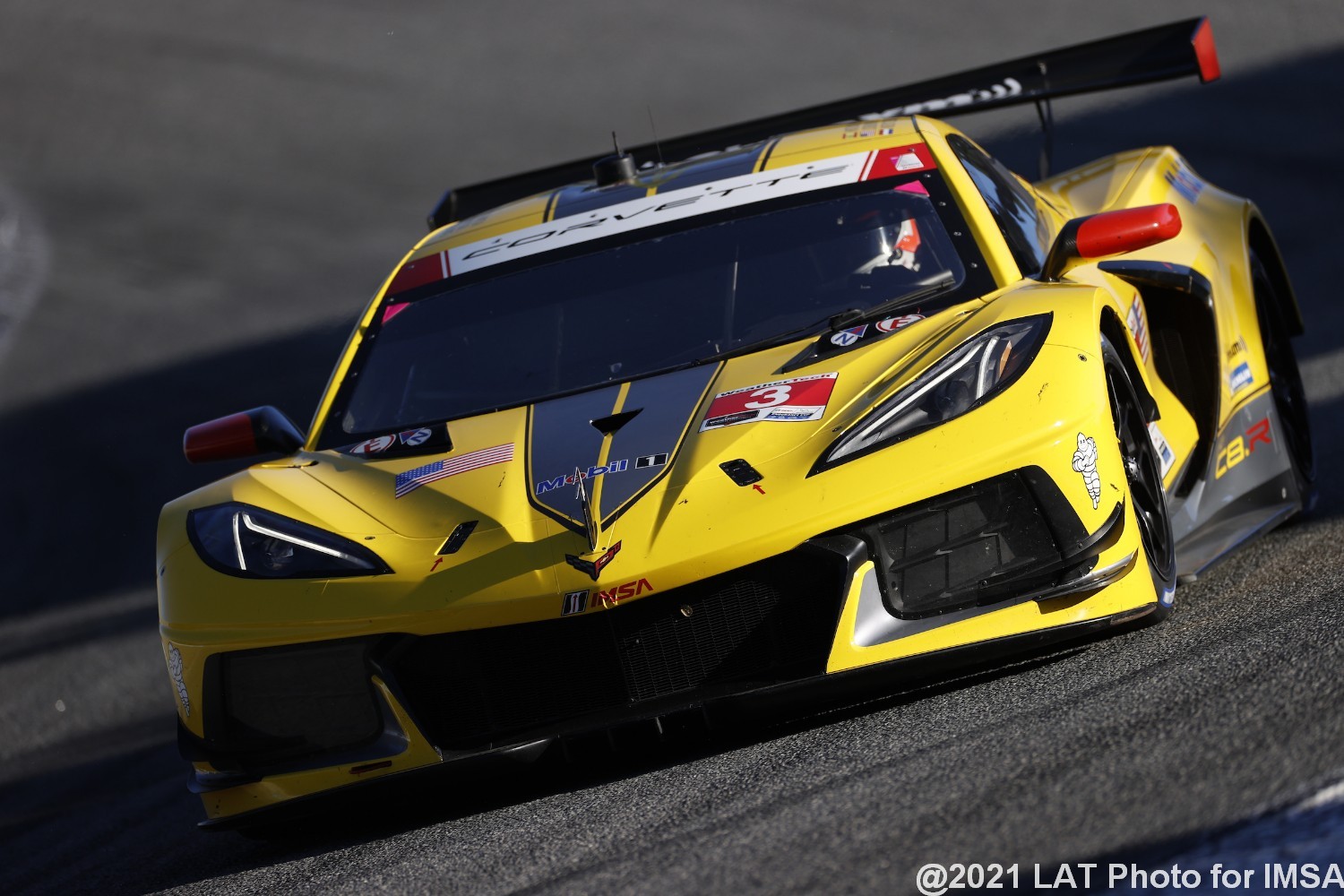 Tommy Milner made it a 1-2 for Corvette Racing and just missed claiming pole position for he and Nick Tandy in the No. 4 Mobil 1/SiriusXM Corvette C8.R. Milner's best lap was a 1:21.267 (99.139 mph) and also below last year's pole time as well.
JORDAN TAYLOR, NO. 3 MOBIL 1/SiriusXM CHEVROLET CORVETTE C8.R – GTLM POLE-WINNER: "It was good. We were a little bit behind the 4 car all weekend. They seemed to be a little bit stronger throughout practice. We made some big changes in Practice 2 and even into qualifying to separate the two setups (for qualifying and the race). We found some things for pure laptime but I don't think they're going to work for a race setup. It's nice to get the pole and get those points. We have an idea of what we need to do for the race from a setup point of view. So it's nice to start out front but at the same time, I think tomorrow is going to be a different picture."
KEYS TO WINNING THE RACE: "Last year was our first year here with this new Corvette. Having that under our belt and understanding more about tire degradation, what tire compound to be on and the strategy of when to pit when we're catching GTD cars (are important). Every year we are learning new lessons. We learned a lot last year and already have learned a lot through yesterday and today. We're in good shape but at the same time, you never know what's going to happen in these races with yellows and the different strategies. We'll have to stay on top of our game."
Qualifying Results
| | | | | | |
| --- | --- | --- | --- | --- | --- |
| Pos | Driver | Class | Chassis | Time | Behind |
| 1 | Ricky Taylor/Filipe Albuquerque | DPi | Acura DPi | 1m14.441s | 0.000s |
| 2 | Dane Cameron/Olivier Pla | DPi | Acura DPi | 1m14.464s | 0.023s |
| 3 | Renger van der Zande/Kevin Magnussen | DPi | Cadillac DPi | 1m15.026s | 0.585s |
| 4 | Oliver Jarvis/Harry Tincknell | DPi | Mazda DPi | 1m15.052s | 0.611s |
| 5 | Felipe Nasr/Pipo Derani | DPi | Cadillac DPi | 1m15.384s | 0.943s |
| 6 | Tristan Vautier/Loic Duval | DPi | Cadillac DPi | 1m15.451s | 1.010s |
| 7 | Ben Keating/Mikkel Jensen | LMP2 | ORECA LMP2 07 | 1m17.227s | 2.786s |
| 8 | Dwight Merriman/Ryan Dalziel | LMP2 | ORECA LMP2 07 | 1m19.873s | 5.432s |
| 9 | Thomas Steven/Tristan Nunez | LMP2 | ORECA LMP2 07 | 1m19.894s | 5.453s |
| 10 | Antonio Garcia/Jordan Taylor | GTLM | Corvette C8.R | 1m21.151s | 6.710s |
| 11 | Tommy Milner/Nick Tandy | GTLM | Corvette C8.R | 1m21.267s | 6.826s |
| 12 | John Farano/Gabriel Aubry | LMP2 | ORECA LMP2 07 | 1m21.563s | 7.122s |
| 13 | Cooper MacNeil/Matt Campbell | GTLM | Porsche 911 RSR – 19 | 1m21.931s | 7.490s |
| 14 | Trent Hindman/Patrick Long | GTD | Porsche 911 GT3 R | 1m24.505s | 10.064s |
| 15 | Bill Auberlen/Robby Foley | GTD | BMW M6 GT3 | 1m24.568s | 10.127s |
| 16 | Roman De Angelis/Ross Gunn | GTD | Aston Martin Vantage GT3 | 1m24.591s | 10.150s |
| 17 | Bryan Sellers/Madison Snow | GTD | Lamborghini Huracan GT3 | 1m24.711s | 10.270s |
| 18 | Richard Heistand/Jeff Westphal | GTD | Audi R8 LMS GT3 | 1m24.751s | 10.310s |
| 19 | Zacharie Robichon/Laurens Vanthoor | GTD | Porsche 911 GT3 R | 1m24.754s | 10.313s |
| 20 | Aaron Telitz/Jack Hawksworth | GTD | Lexus RC F GT3 | 1m24.802s | 10.361s |
| 21 | Ian James/Alex Riberas | GTD | Aston Martin Vantage GT3 | 1m25.385s | 10.944s |
| 22 | Frankie Montecalvo/Zach Veach | GTD | Lexus RC F GT3 | 1m25.600s | 11.159s |
| 23 | Rob Ferriol/Katherine Legge | GTD | Porsche 911 GT3 R | 1m25.813s | 11.372s |
| 24 | Mario Farnbacher/Jacob Abel | GTD | Acura NSX GT3 | 1m25.875s | 11.434s |
| 25 | John Potter/Andy Lally | GTD | Acura NSX GT3 | 1m26.613s | 12.172s |
| 26 | Till Bechtolsheimer/Marc Miller | GTD | Acura NSX GT3 | No Time | No Time |