F1: Ricciardo leads McLaren 1-2 to win Italian GP
Half-Italian, but racing under the Aussie flag, and now a race winner with McLaren in Italy.
Daniel Ricciardo has broken his streak of bad luck by winning the Italian GP in his #3 McLaren, holding off his teammate #4 Lando Norris by 1.747s.
Ricciardo got the jump on polesitter Max Verstappen at the start and never put a wheel wrong to take his 8th GP win. It his first F1 win since Monaco several years ago.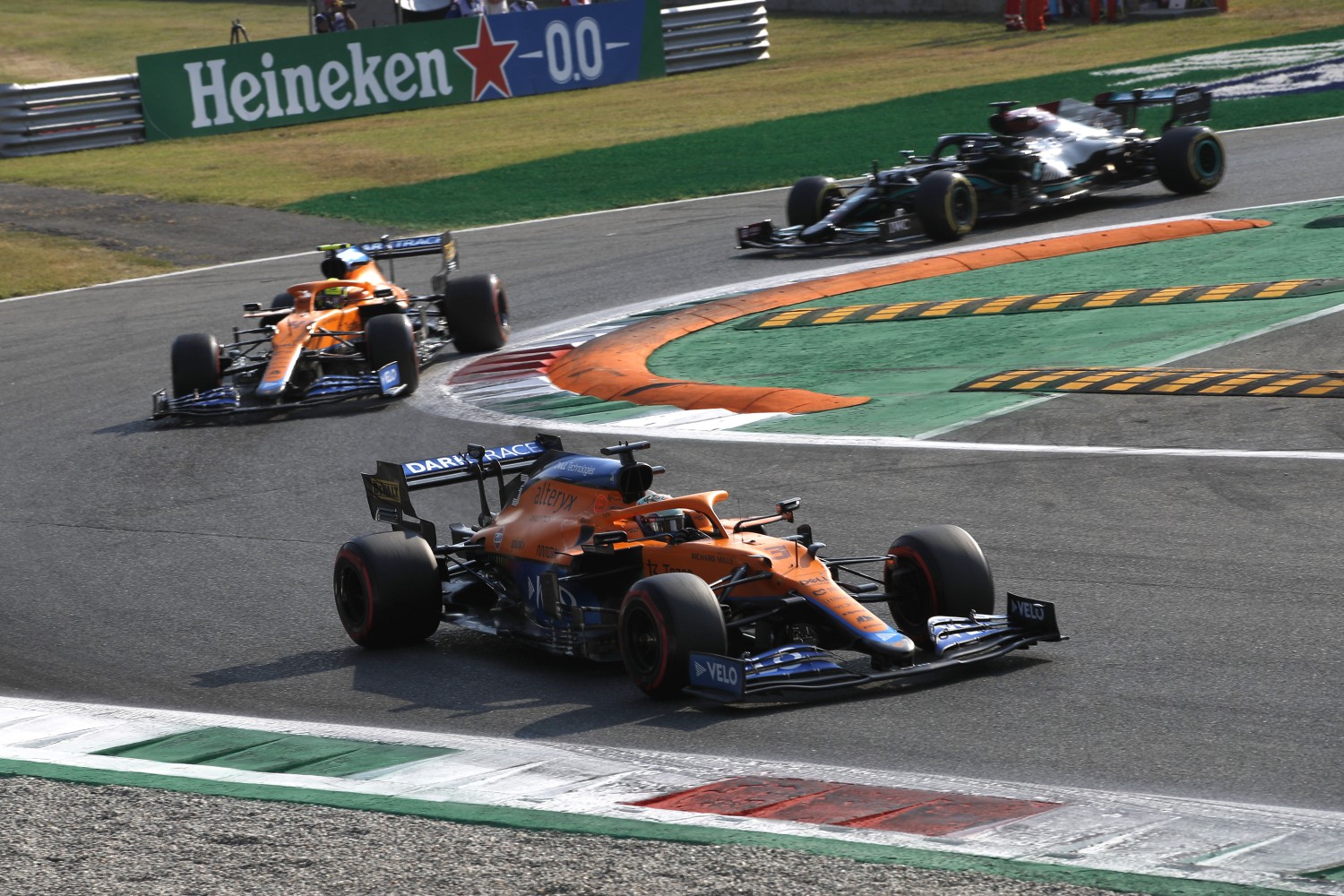 "Can I swear? I want to swear. No? About cough time," said an ecstatic Ricciardo
"It went well for me yesterday and even if we got the start, it was never a guarantee we'd hold the whole race. To lead literally from start to finish, I don't think anyone expected that. There was something in me on Friday, I knew something good was to come.
"I've felt better the last three weekends. For McLaren to be on the podium is huge, let alone a 1 – 2. I'm for once, lost for words."
On the podium Ricciardo spoke Italian to the Italian fans, and they loved it.  They consider him one of theirs, even though his Italian family moved to Australia years ago.
"We've had a pretty awesome weekend," said Norris.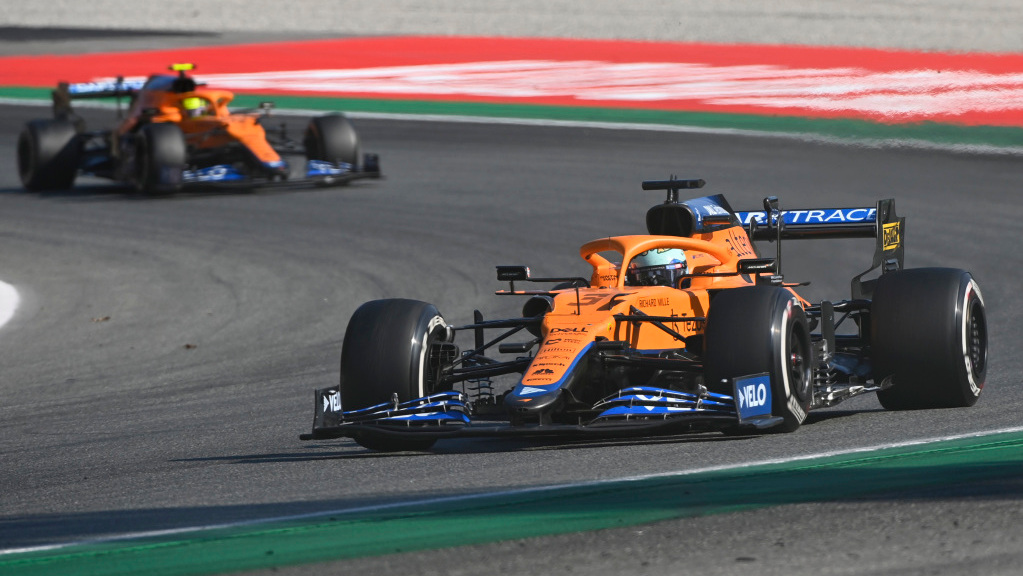 "We've been working towards this and we got a 1 – 2 finally. I'm happy for of course Daniel for getting the win. You want to go for it, but I'm also here for the long term, for the team and it could have ended up like the other guys [Hamilton and Verstappen]."
Valtteri Bottas was third for Mercedes, ahead of the Ferrari of Charles Leclerc and the Red Bull of Sergio Perez.
"I mean starting from the back, it's never easy," said Bottas. "I'm glad we get to get more points than Red Bull, we maximized and from my side, it was good fun."
The race result changed dramatically when Max Verstappen and Lewis Hamilton took each other out in Turn 1 as Verstappen, on hot tires, was passing Hamilton on cold tires, but Hamilton, did not leave Verstappen any room despite the Red Bull being alongside, and Verstappen's Red Bull ended on top of the Mercedes.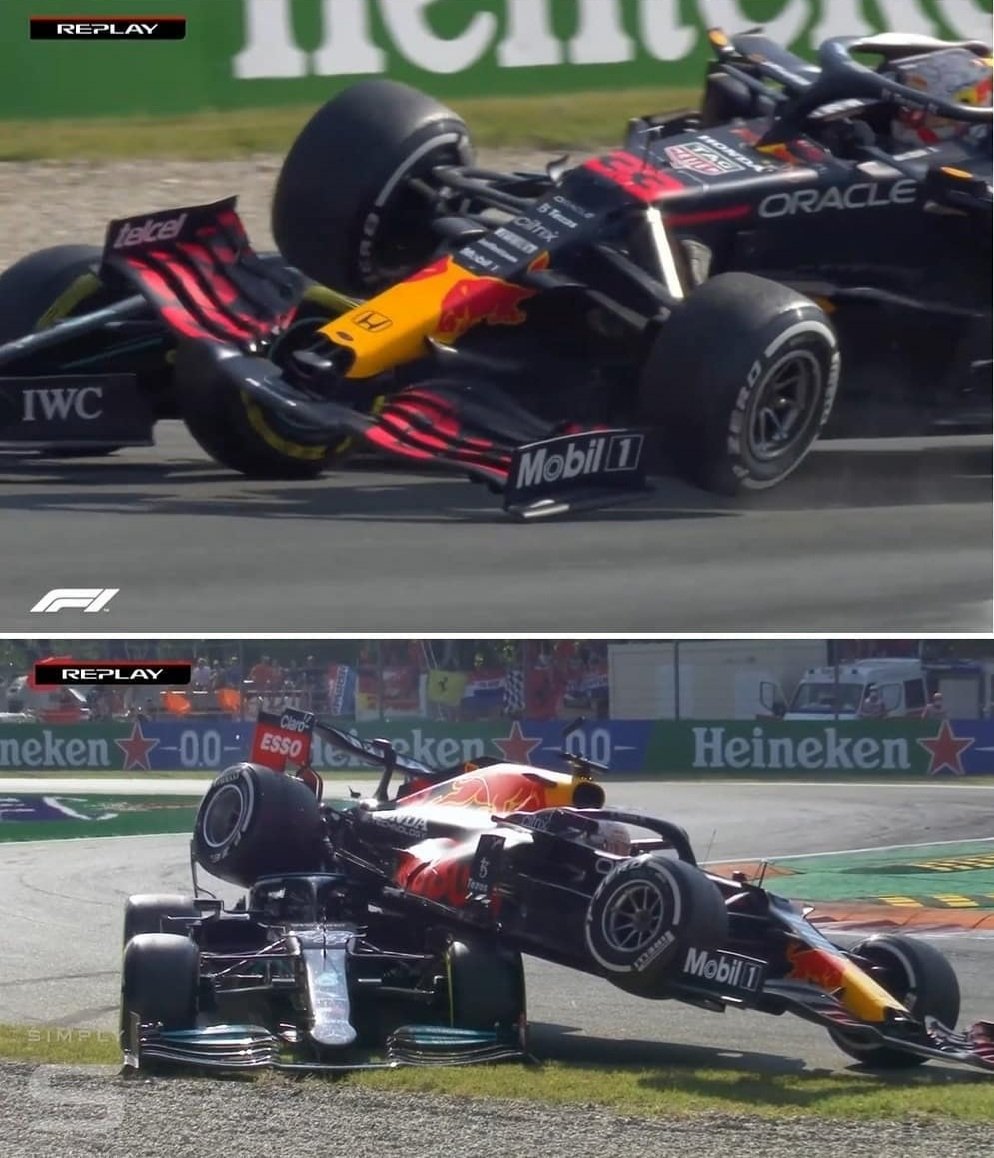 Race over for the two championship leaders.
"Of course we realized it was going to be close into Turn 1," said Verstappen.
"He cut across, and he realized I was going for it. He kept on squeezing me and I wanted to work with him. I didn't expect him to keep on squeezing, kept pushing me wider and there was nowhere to go. He pushed me onto the sausage curb and that's why we crashed."
"It landed on my head, but I'm okay," said Hamilton.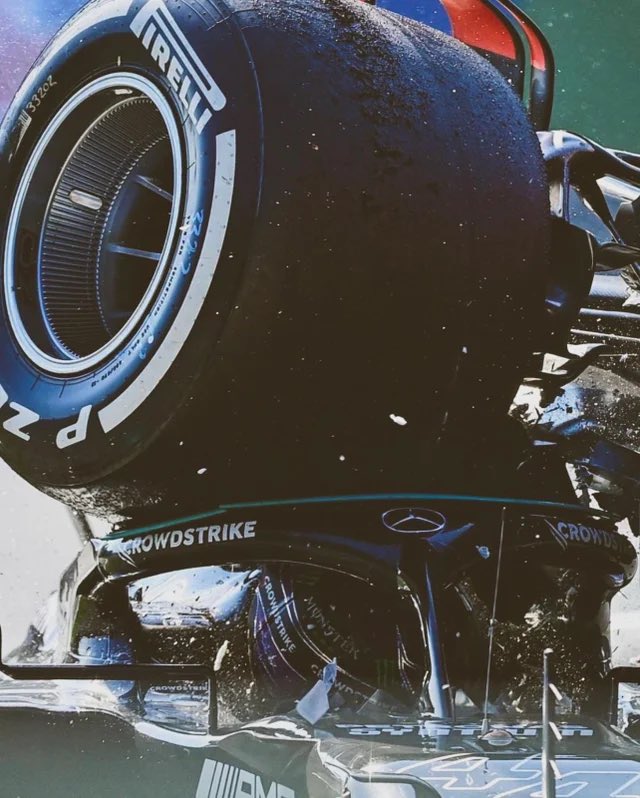 "I was racing as hard as I could, finally got past Lando, I was in the lead. Came out, I saw that Max was coming, I made sure I left a car's width on the outside. Into Turn 1 I was ahead, I was ahead going into Turn 2, and the next thing he was on top of me. I was in exactly the same position [earlier in the race] and I gave way. I don't know what to say."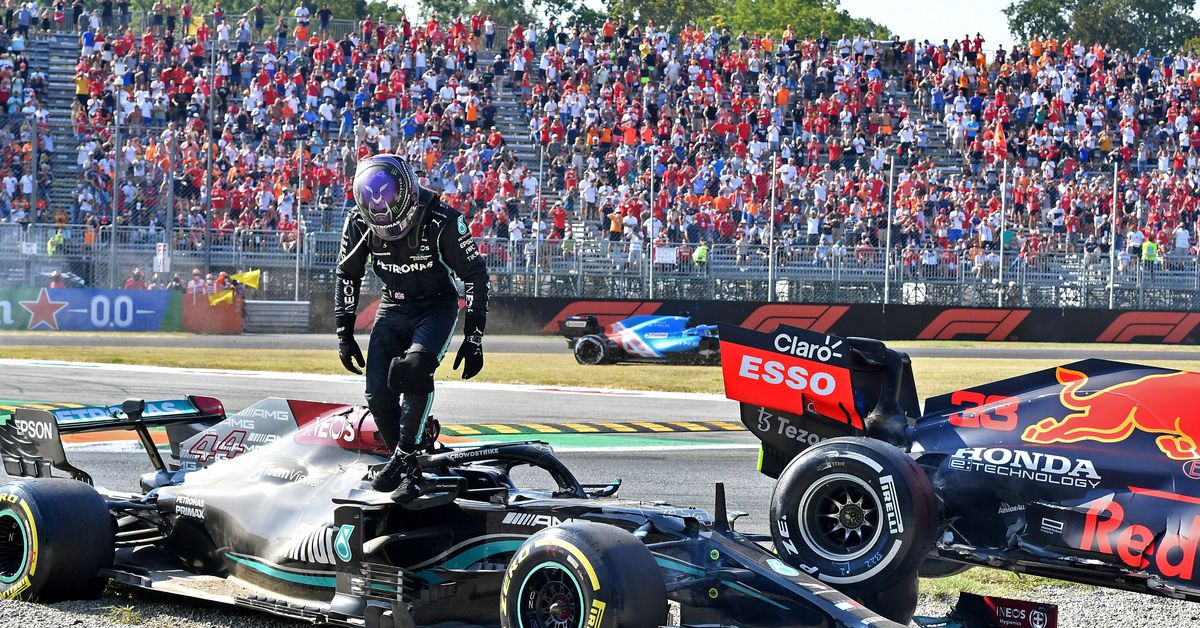 "Doesn't look alongside. And then he rolls over the sausage curb," said Toto Wolff.
"Let's let the stewards make the judgement. I think when you look at Turn 4 [Hamilton] backed out, and then the incident where they crashed, it was clear for Max it would end in a crash. We've had a high-speed crash in Silverstone, here a car has landed on our head. Did you see the car? The whole thing is damaged over the halo, all over Lewis' head."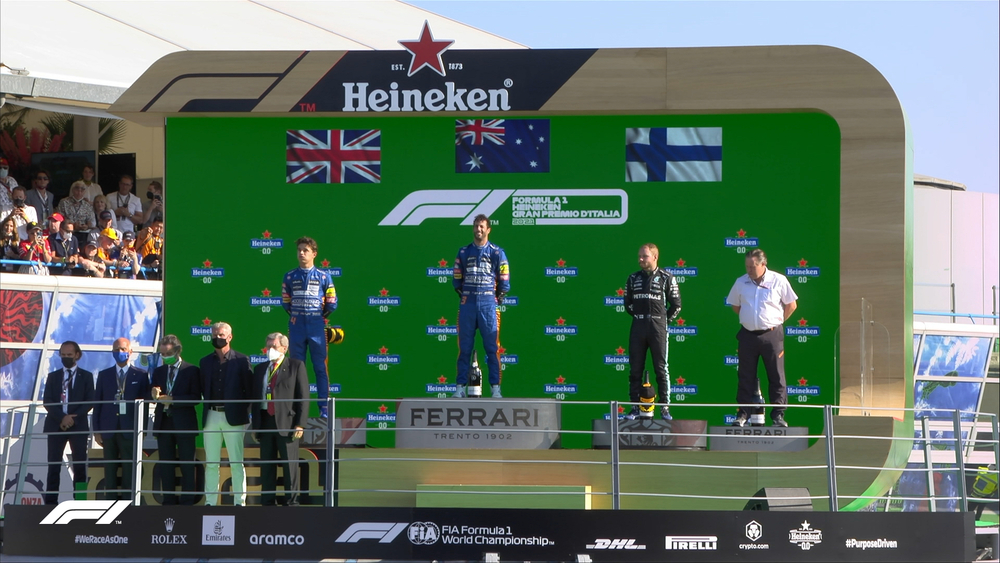 Turning attention back to Ricciardo, though, and what a breakthrough result this could be for him. It might seem odd to discuss breakthrough wins for a 32-year-old, but he is in the second phase of his career, and the portents weren't good when he was being consistently beaten by his younger teammate this season.
But of late, the Aussie has started to find some of his old form, and this weekend was really on it from word go. Today's victory was set up by an electric start yesterday that netted him P2 on the grid for today's race – and then he wasn't exactly sloppy off the line for the Grand Prix either.
Select Quotes
Valtteri Bottas
I told the Team that I was going to be on the Podium today so I am glad we did. A great recovery from me, I don't think I've made up that many places in a race in my career. Starting from the back is never easy, and in the end, I am glad we got more points than Red Bull today, especially considering where we were before the race. It was enjoyable out there, some good overtakes and some good racing. The battle with Perez was a good one and I am very happy with my result. Probably one of my better weekends with Mercedes, I think I was strong all weekend so that is very satisfying. Obviously, it is a shame about the crash with Lewis and Max – we lost some important points there. I haven't really seen the incident properly yet but I am glad to hear he is ok. Now we need to look ahead and I hope to carry this momentum into Russia, a track where I've done well in the past.
Lewis Hamilton
Obviously disappointing for me to end the race in the manner that it did. I though the Team did a great job with the strategy, and we were in a good position until that collision on Lap 26. From what I remember, after I came out of the pits, I saw Max coming and I made sure I left a car's width on the outside for him. I went into Turn 1 and I was ahead, and I was ahead going into Turn 2, and then all of a sudden, he was on top of me. All in all, not a great end to the weekend for me but it was good to see that Valtteri carried the Team with his amazing recovery drive. Coming from the back all the way to the podium on a track like this is not easy. The Team did a great job and coming away with more points than Red Bull is definitely positive.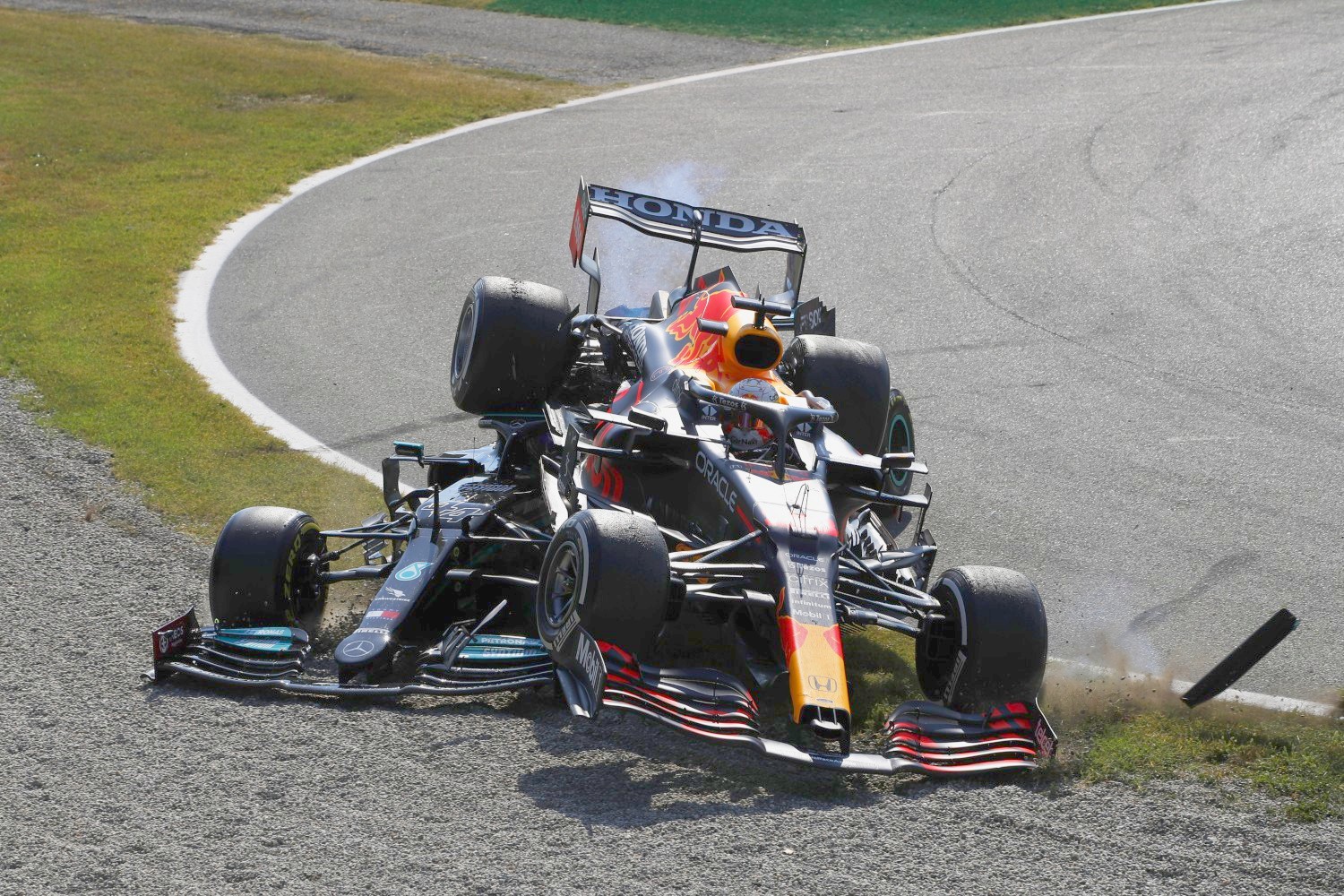 Toto Wolff
Another mixed afternoon for us. On the one hand, Valtteri did an incredible job coming from P20 and getting a podium for the Team. He has been on top form this weekend and P3 from back of the grid is thoroughly deserved after his performance all weekend. On the other hand, the incident with Max was really unfortunate for Lewis, as he seemed to be in a great position after his stop. If you compare it to Lewis at turn four on lap one, where he backed out, I think it was clear for Max that his positioning would end in a crash. The stewards have made their decision but it is clear that, without the halo this could have been much worse.
Andrew Shovlin
It was a great drive by Valtteri today to get back to the podium; such a shame that we had to take a penalty with him, as a weekend like the one he put together would normally be rewarded with a win. It's sad that Lewis's race had to end the way it did, but a relief that he had the extra protection of the Halo today, otherwise it would have been very nasty. Max was never going to make the corner, but it seems like he will always choose to force the issue rather than concede a position to Lewis. It's frustrating to have had a car that was so quick and leave here with so few points, but the reality is that there are many areas where we need to perform better. Valtteri can be proud of what he did but as a team we've got to be critical of ourselves in a number of areas of performance and reliability, we've not been at the level we need so fixing that has to be our priority right now.
Sergio Perez
"It was a very eventful race and a real shame to miss out on the podium. With the penalty, I think we hoped for a wider view in the sense that it was my corner, and I was ahead of Charles, but it is what it is, and we tried to recover. From our side we did the best possible race we could as a team, but overtaking was impossible today, and it was really difficult to keep ahead of the cars behind. McLaren were really quick and difficult to beat, they've been solid this weekend and especially on the straights they were hard to follow. They had very strong traction so at no point could I be a threat to them, but as a Team this wasn't our track, we weren't so strong here, so now we move on and look forward to Russia. There is still a long way to go in this championship."
Max Verstappen
"We were racing for position today, but you need two people to work together to make the corner and Lewis just kept squeezing until there wasn't room anymore for two cars and that's when we crashed. When he exited the pits, he started to squeeze me going into Turn 1, so I had to use the green part of the track. It was very tight, but there was room for me to go around the outside, and then I was pushed onto the orange sausage curb. I was there to try and race hard but fair. I don't fully agree with the penalty, as I believe it was a racing incident. It's very unfortunate what happened today, but we are both professionals, and so we will move on."
Christian Horner
"We are disappointed with the three place grid penalty, but accept the stewards decision. We felt what happened between Max and Lewis was a genuine racing incident. You can argue for both sides, but ultimately, it's frustrating and disappointing to see both cars out of the race in what is proving to be an exciting championship. The main thing today is that the halo ultimately did its job and certainly this isn't the way we intended to finish the race. With Checo, he was desperately unlucky, and we felt it was very marginal given there was no instruction from the race office to give the position back. We had to make a decision whether or not to get on with the race, and so we got our heads down, and then Checo was handed the penalty. He drove some strong laps under intense pressure but was unable to open up a gap and so we were sad to finish third on the road but fifth overall with only one car scoring points."
Race Results
| | | | | | |
| --- | --- | --- | --- | --- | --- |
| POS | NO | DRIVER | CAR | LAPS | STATUS/BEHIND |
| 1 | 3 | Daniel Ricciardo | McLaren Mercedes | 53 | 0.000s |
| 2 | 4 | Lando Norris | McLaren Mercedes | 53 | +1.747s |
| 3 | 77 | Valtteri Bottas | Mercedes | 53 | +4.921s |
| 4 | 16 | Charles Leclerc | Ferrari | 53 | +7.309s |
| 5 | 11 | Sergio Perez | Red Bull Racing Honda | 53 | +8.723s |
| 6 | 55 | Carlos Sainz | Ferrari | 53 | +10.535s |
| 7 | 18 | Lance Stroll | Aston Martin Mercedes | 53 | +15.804s |
| 8 | 14 | Fernando Alonso | Alpine Renault | 53 | +17.201s |
| 9 | 63 | George Russell | Williams Mercedes | 53 | +19.742s |
| 10 | 31 | Esteban Ocon | Alpine Renault | 53 | +20.868s |
| 11 | 6 | Nicholas Latifi | Williams Mercedes | 53 | +23.743s |
| 12 | 5 | Sebastian Vettel | Aston Martin Mercedes | 53 | +24.621s |
| 13 | 99 | Antonio Giovinazzi | Alfa Romeo Racing Ferrari | 53 | +27.216s |
| 14 | 88 | Robert Kubica | Alfa Romeo Racing Ferrari | 53 | +29.769s |
| 15 | 47 | Mick Schumacher | Haas Ferrari | 53 | +51.088s |
| NC | 9 | Nikita Mazepin | Haas Ferrari | 41 | DNF |
| NC | 44 | Lewis Hamilton | Mercedes | 25 | DNF |
| NC | 33 | Max Verstappen | Red Bull Racing Honda | 25 | DNF |
| NC | 10 | Pierre Gasly | AlphaTauri Honda | 3 | DNF |
| NC | 22 | Yuki Tsunoda | AlphaTauri Honda | 0 | DNF |