NASCAR announces plans for Mickey Mouse L.A. Coliseum race
From a Super Speedway to a 1/4-mile track in a Coliseum.  NASCAR Cup Racing is taking a step-down.  Make that 5 steps down.
The season-opening Clash exhibition race is about to get a taste of West Coast flavor in 2022, marking a historic first visit to the tradition-rich Los Angeles Memorial Coliseum.
The only venue to host two Olympic Games will add NASCAR Cup Series racing to its 98-year-old portfolio next season. The event is to be contested around a 1/4-mile asphalt oval that will be built around the facility's football field. The Los Angeles event will mark the first time the preseason Clash will be held outside of Daytona International Speedway since its inception in 1979, and it will give the sport its first competitive look at the Next Gen car on Feb. 6 for 2022 in a non-points event.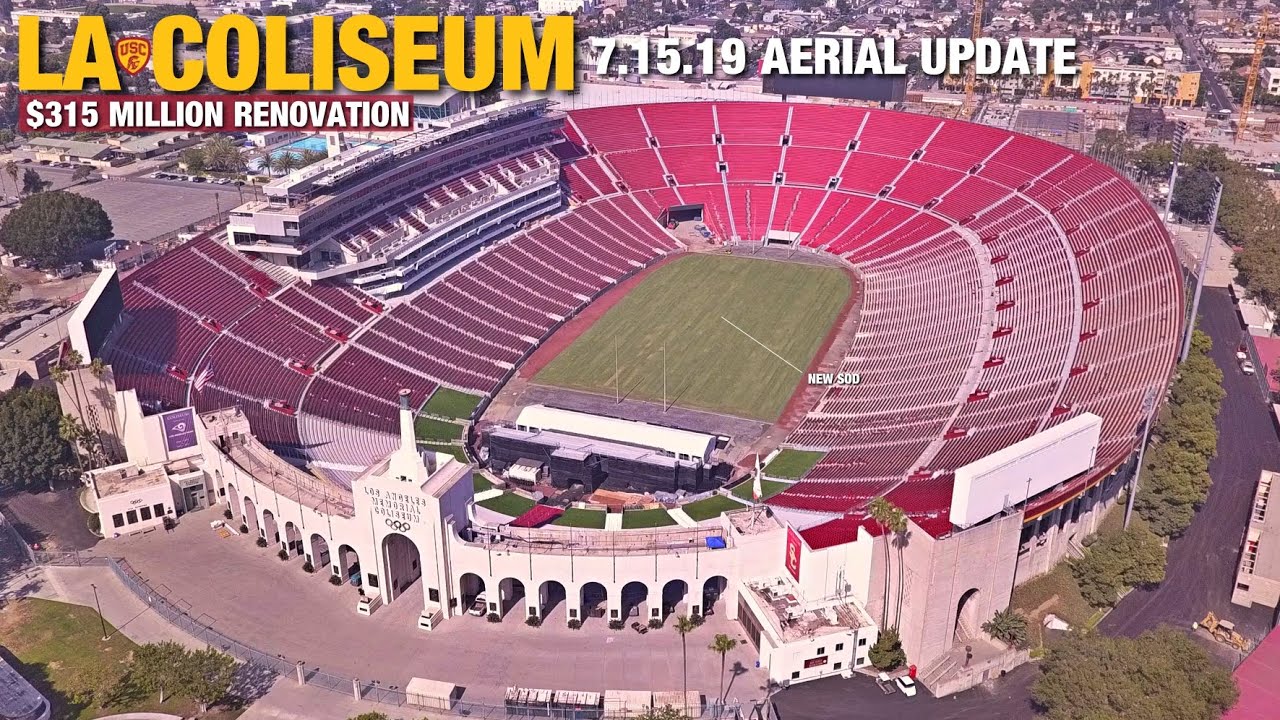 "We've been discussing the Clash for a while, and we've had it at the (Daytona) oval for a number of years," said Ben Kennedy, NASCAR senior vice president of strategy and innovation. "We moved it to the road course this year, but really wanted to think outside the box as we thought about the Clash in the future — and seeing that it's an exhibition event, we looked at a number of different places and locations that we could host it at, and ultimately narrowed it down to the L.A. Coliseum.
"I think the large fan base that we have here in Los Angeles, the largest that we actually have in the nation, paired with exciting racing and being here in the downtown Los Angeles market, I think will be really special."
Kennedy said talks with Coliseum officials began two years ago, but negotiations and planning were delayed by the COVID-19 outbreak last spring. How those conversations started was by simpler means than one might think.
"We've had these discussions for a while, and they actually came about by us going to their website, finding their contact page and reaching out to them," Kennedy says. "So, we started that in 2019, I had a few conversations, obviously with COVID put things on pause, but resurfaced and I would say early on this year, I've had a ton of dialogue. Over summer, we put a team together a couple of months ago, and really we're off to the races and running now."
The 77,500-seat venue has hosted motorsports events in the past, with both supercross and speedway motorcycle races within the stadium. Off-road trucks and rallycross events (including the X Games) have also been competed on temporary dirt courses at the Coliseum in recent years. But an impermanent paved track for big-league stock-car racing will be a first, and construction is scheduled to start on New Year's Day in 2022.
Kennedy said series officials have considered two or three configurations for the quarter-mile bullring, with iRacing computer simulations helping to determine the track's real-life profile. Simulated trials have taken place with 5 degrees, 2.5 degrees and no banking in the turns, he says. "You can only go so high, just because of the sight lines and the temporary construction, but we've played with a few different ones," Kennedy says. "We'll have more at a later date on that."
A handful of NASCAR Cup Series drivers and competitors in the eNASCAR Coca-Cola iRacing Series have already given the Coliseum track a virtual sim shakedown. "I think a lot of good feedback and intel that we've gotten from some of those test events, and I think that will ultimately help us kind of refine exactly what that model is going to look like," Kennedy says. "So other than that, it'll be asphalt, quarter-mile. We'll have a few pit stalls, maybe eight to 10, inside but for non-competitive stuff. If someone has a loose wheel or needs to repair their car, they'll be able to come in and do that."
The track will be the shortest that the Cup Series has competed on in the modern era. Currently, Bristol Motor Speedway (0.533 mile) and Martinsville Speedway (0.526 mile) are the smallest layouts on the schedule. In previous years, the circuit visited quarter-mile Bowman Gray Stadium in Winston-Salem, North Carolina, from 1958-1971 and tiny .2-mile Islip (N.Y.) Speedway from 1964-68, 71.
The format and eligibility for the L.A Coliseum preseason exhibition, which is typically shorter than a standard points-paying event, will be announced at a later date. The event has traditionally been open to Busch Pole Award winners from the previous year and other selected invitees. While the race procedures have yet to be made final, Kennedy says the unique venue's debut will have a new-look structure.
"What I will say, though, is the format will be a little bit different from what we've traditionally seen at the Clash at Daytona," Kennedy says. "So, looking at a few different options. The group has really, really been challenged to think kind of differently about how we have all the different events leading into the main event, and I think a lot of good thoughts and input that we've got on it so far, so more to come on all that."
The non-points invitational will also provide a glimpse of the Next Gen car for the 2022 Cup Series in race conditions. Officials had initially targeted a competitive on-track debut during Daytona's Speedweeks, but now the seventh-generation Cup Series model will have a Tinseltown premiere.
"I think given that it is a fresh concept, a fresh event, a fresh year, we wanted to start off with a fresh look with the Next Gen car," Kennedy said.