NASCAR: Kyle Larson wins 6th Cup race of 2022
(Update)
This article has been updated with additional photo, videos and quotes.
---
September 19, 2021
After securing a big victory in the NASCAR Playoffs at Bristol Motor Speedway, Kyle Larson now has six Cup wins, and counting, so far, this year! Larson won the wild Bass Pro Shops NRA Cup race at Bristol Motor Speedway.
Larson, who won Stage 2 and led the most laps, won by passing Kevin Harvick with 5 laps to go in his #5 Valvoline Chevy. It came with an assist from teammate Chase Elliott, who took Harvick's line at the 0.533-mile concrete track and slowed his progress after Harvick earlier gave him a flat tire and ruined his race.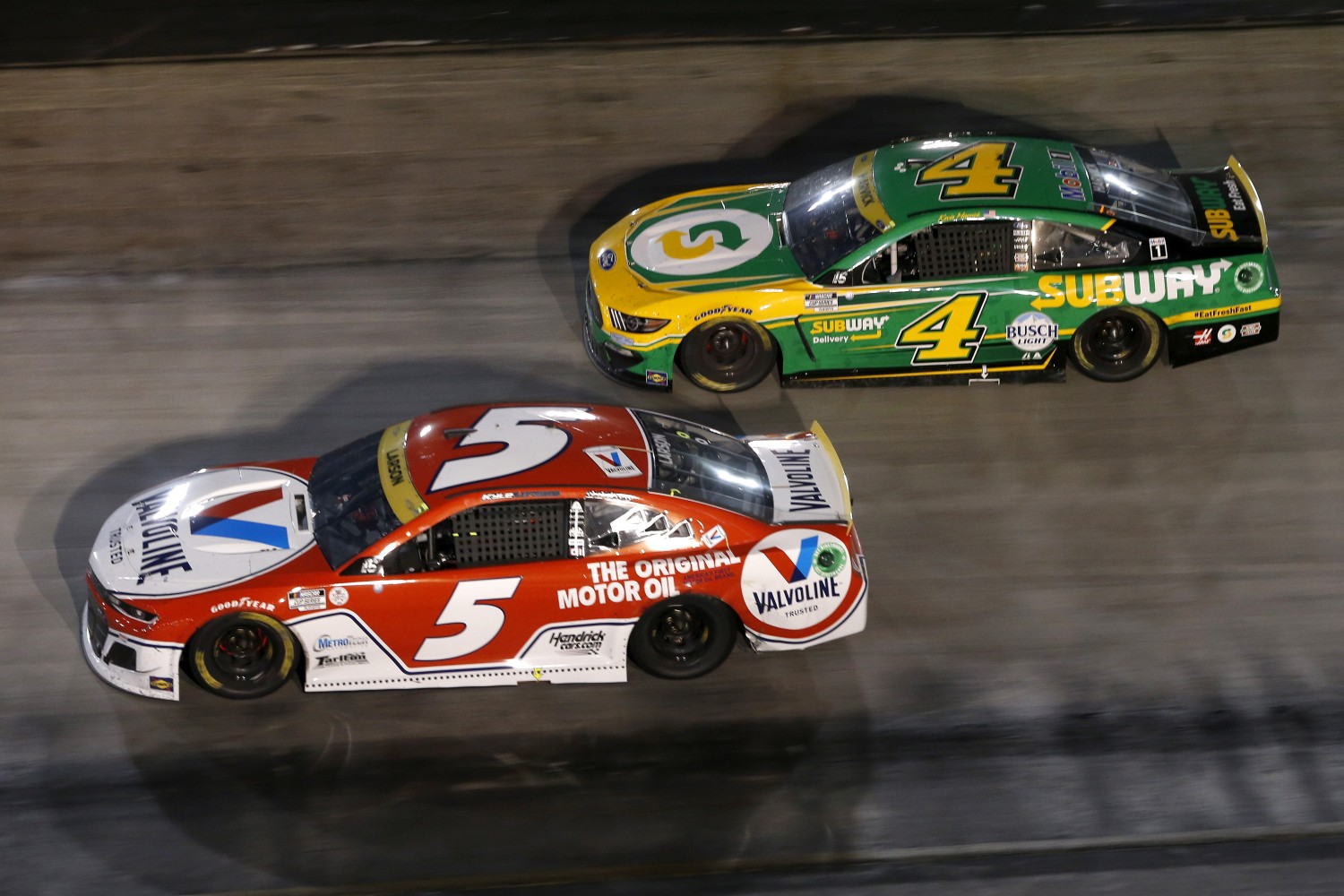 Larson became the 7th driver to win at Bristol for Hendrick Motorsports.
Chase Elliott and Kevin Harvick squared off on pit road after late contact in Saturday night's Bass Pro Shops Night Race at Bristol Motor Speedway.
Harvick squeezed past Elliott in their contest for the lead with 35 laps remaining in the 500-lap event, the last race in the opening Round of 16 of the NASCAR Cup Series Playoffs. The contact caused a flat tire on Elliott's No. 9 Hendrick Motorsports Chevrolet, and he drove the car to pit road for service and finished 25th.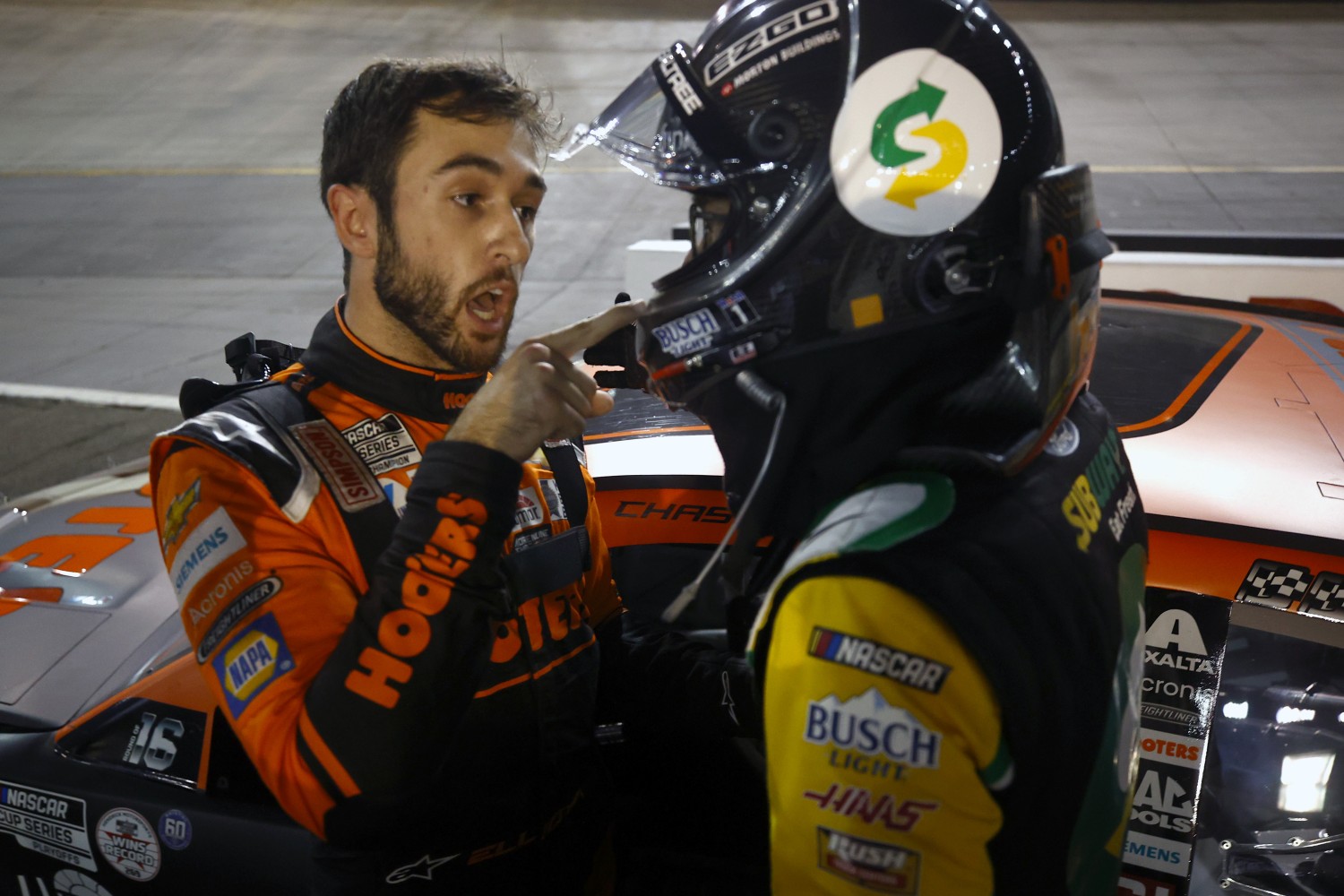 Elliott sideswiped Harvick's No. 4 Stewart-Haas Racing Ford after returning to the track, and Harvick eventually finished second to Elliott teammate Kyle Larson. Elliott blocked Harvick on the entry to pit road after the checkered flag and their exchange of words became heated after both exited their cars.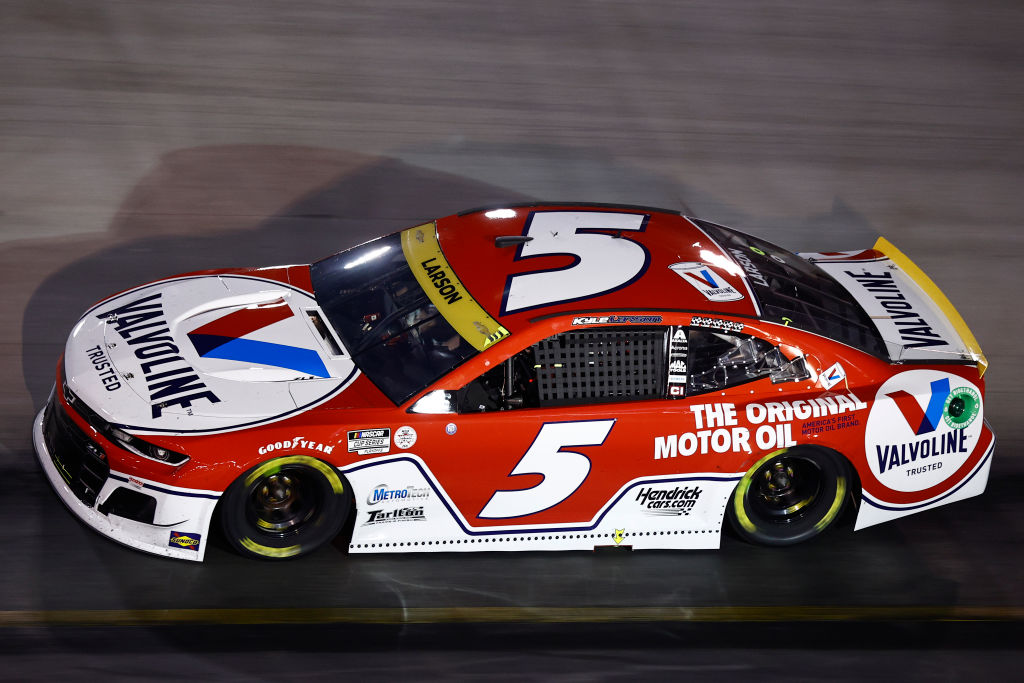 While Larson celebrated, Harvick and Elliott traded their views of the finish in a heated exchange on pit road.
"It's just chicken (expletive)," Harvick said after the confrontation broke up. "I don't know what else to say. Throw a temper tantrum like you're two years old because you got passed for the lead and got a flat tire. We barely even rubbed. It's all Chase's way, or it's no way. If he doesn't get his way, he throws a fit."
Not surprisingly, Elliott had a different interpretation of the events in the closing stages of the race.
"It's something that he does all the time," said the reigning Cup Series champion, who finished 25th. "He runs into your left side constantly at other tracks, and sometimes it does cut down your left sides. Other times it doesn't.
"Whether he does it on purpose, it doesn't matter. At some point, you've got to draw the line. I don't care who he is and how long he's been doing it. I'm going to stand up for myself and my team, and we'll go on down the road."
Aric Almirola, Tyler Reddick, Kurt Busch and Michael McDowell were eliminated from the Playoffs in the cutoff race of the Round of 16. William Byron snagged the final transfer spot into the Round of 12 by finishing third behind Larson and Harvick.
That result gave Byron a two-point edge over Almirola and Reddick, the first two drivers out of the Playoff.
Of the 12 drivers who advanced to the second round of the Playoff, four represent Hendrick Motorsports (Elliott, Larson, Byron and Alex Bowman); four represent Joe Gibbs Racing (Kyle Busch, Denny Hamlin, Martin Truex Jr. and Christopher Bell); and three represent Team Penske (Brad Keselowski, Joey Logano and Ryan Blaney).
Harvick is the lone driver from Stewart-Haas Racing to advance to the Round of 12.
Both Kyle Busch and Bell survived cut tires near the end of the race to clinch spots in the next round. Blaney finished fourth and Bowman fifth on Saturday night. Keselowski, Truex, Erik Jones, Hamlin and Matt DiBenedetto completed the top 10.
Harvick and Elliott later continued their discussion behind closed doors in Elliott's No. 9 transporter.
Quotes
Kyle Larson
Kyle makes it happen with a pass on Kevin Harvick. A Bristol win is important to you, but how did you get that done?
KYLE LARSON: Yeah, that was an awesome race. It was so cool to be able to race there for the win. Obviously Harvick and Chase got together. Chase was upset. Kind of held him up. It got Harvick having to move around and use his tires up off the bottom
I started to get some dive-ins working off of two, got a big run, decided to pull the trigger, slide him, squeeze him a little bit. Then he had me jacked up down the frontstretch. It was wild.
But had my hands full. Thanks to Valvoline, everybody that helps on this Hendrick Motorsports car. Beautiful paint scheme. Two wins with it. Thanks to Valvoline. Thanks, Mr. H. Wish you were here. So cool.
How about winning one in front of the Bristol fans?
KYLE LARSON: I love this place. This is by far my favorite track. This is why. You guys are amazing, loud. We feel the energy while we're out there racing. Thanks, everyone, for spending your hard-earned money to come watch us putting on a show. I look forward to the rest of the year.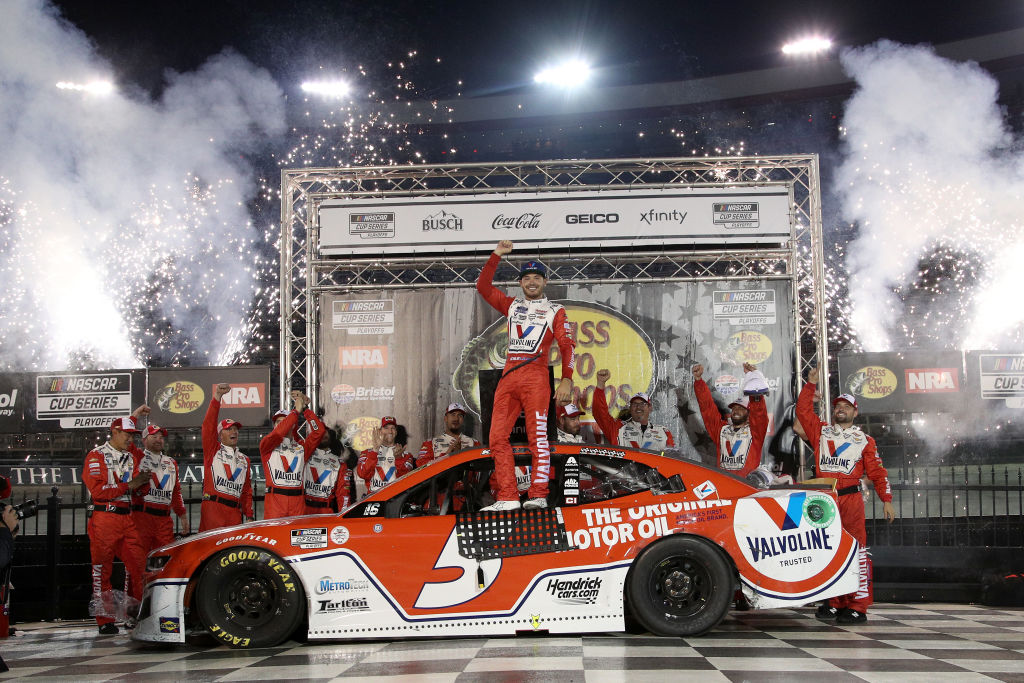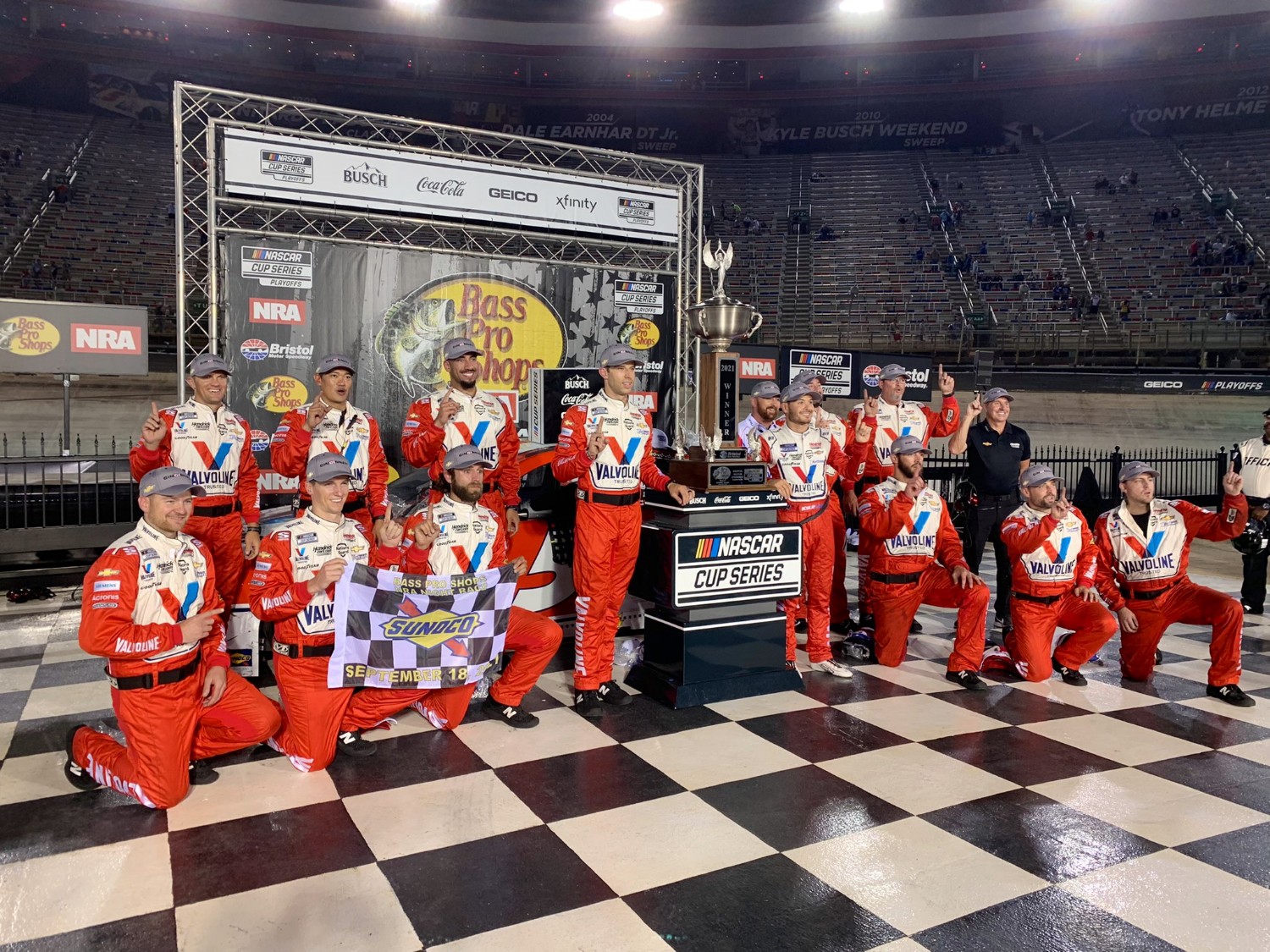 Kevin Harvick
Kevin, not happy with Chase Elliott. What was the conversation between you and Chase after the race?
KEVIN HARVICK: I just told him it was kind of a chicken-shit move he did there at the end. We're racing for the freakin' win at Bristol, three-wide, he throws a temper tantrum. I was just trying to get the lead and race him hard. Then he pulls up in front of me and sits there till I lose the whole lead.
Just hate for it our Subway Ford Mustang team to lose a race like that. I watched him let the 24 go by. Anytime you run into him, it's a problem. So they can boo all they want. I don't care.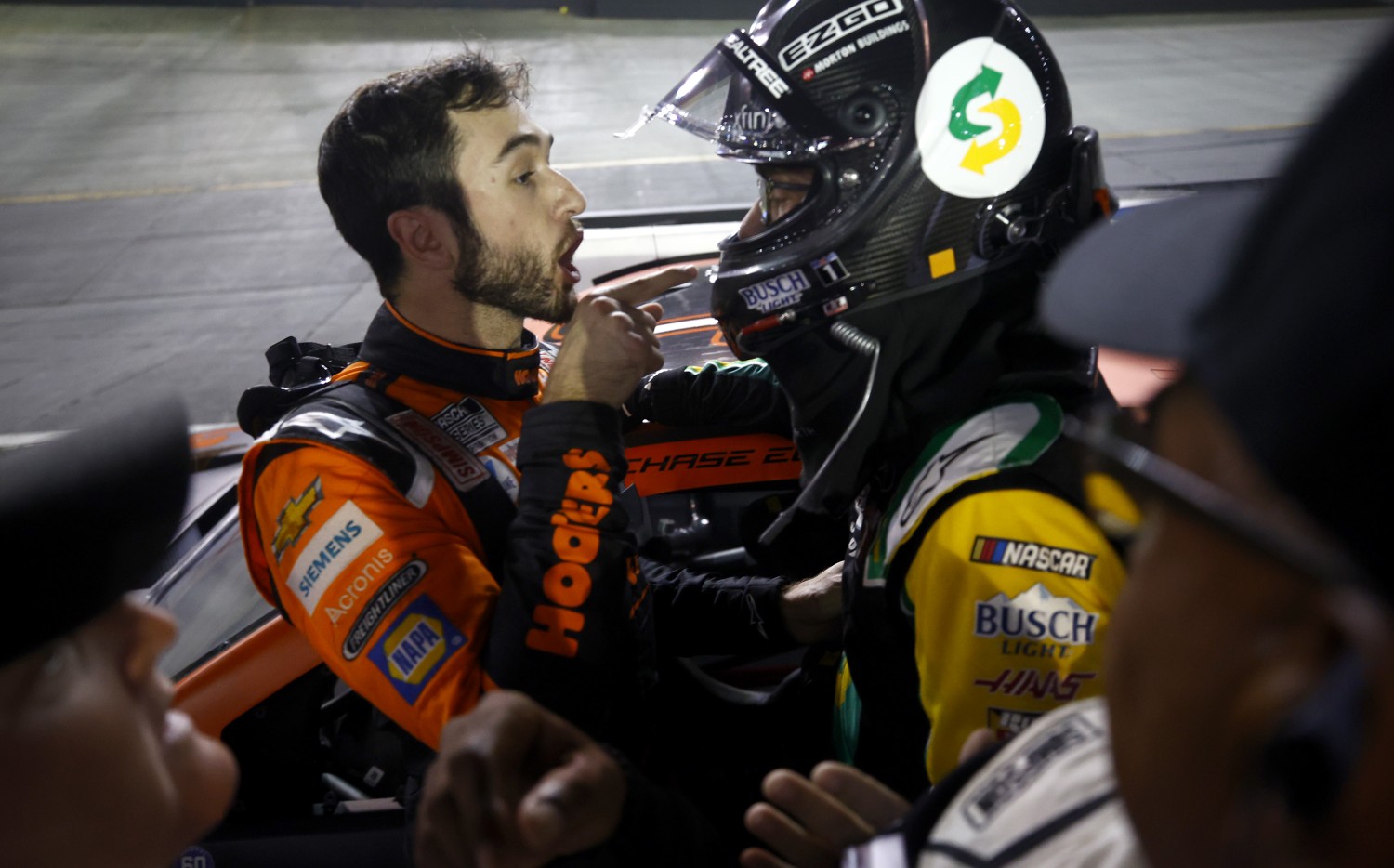 How much of this is compounded by the fact that you were so close to winning, to have it slip away? Also what happened when he went by you again?
KEVIN HARVICK: Yeah, well, I lost so much there. Then when I got behind the car, I kept getting tied up off the corner. I couldn't run my line. So, damn, I'm ready to rip somebody's freaking head off.
And to top it all off he had a spider on his car. Rough night. #NASCAR #Bristol pic.twitter.com/X5PlY4ErlI

— nascarcasm (@nascarcasm) September 19, 2021
Chase Elliott
You don't feel you were raced very well by Kevin there.
CHASE ELLIOTT: Well, it's something he does all the time. He runs into your left side constantly at other tracks. Sometimes it does cut down your left side, other times it doesn't. Did it to me in Darlington a few weeks ago because he was tired of racing me.
Whether he did it on purpose doesn't matter. At some point you have to draw a line. I don't care who he is or how long he's been doing it, I'm going to stand up for myself and my team and we're going down the road.
This happens a lot of places you said. Things like this typically happen at Bristol.
CHASE ELLIOTT: I just ran my line. I'm super happy for Kyle, man. He's had a heck of a year. He's a good dude. A great race car driver. Deserves his accomplishments, deserves his success.
I'm happy for Team Hendrick. Wish I could have got our Hooters Chevrolet in Victory Lane. But we'll try again next week.
Race Results
| | | | | | | | |
| --- | --- | --- | --- | --- | --- | --- | --- |
| Fin | Str | No. | Driver | Team | Laps | Led | Status |
| 1 | 5 | 5 | Kyle Larson (P) | Valvoline Chevrolet | 500 | 175 | Running |
| 2 | 8 | 4 | Kevin Harvick (P) | Subway Delivery Ford | 500 | 71 | Running |
| 3 | 14 | 24 | William Byron (P) | Axalta Chevrolet | 500 | 0 | Running |
| 4 | 7 | 12 | Ryan Blaney (P) | Menards/Richmond Ford | 500 | 45 | Running |
| 5 | 11 | 48 | Alex Bowman (P) | Ally Chevrolet | 500 | 0 | Running |
| 6 | 10 | 2 | Brad Keselowski (P) | Discount Tire Ford | 500 | 10 | Running |
| 7 | 1 | 19 | Martin Truex Jr. (P) | Bass Pro Shops/SherryStrong.org Toyota | 500 | 5 | Running |
| 8 | 22 | 43 | Erik Jones | US Air Force Tuskegee Airmen Chevrolet | 500 | 0 | Running |
| 9 | 2 | 11 | Denny Hamlin (P) | FedEx Freight Toyota | 500 | 65 | Running |
| 10 | 19 | 21 | Matt DiBenedetto | Reese/Draw-Tite Ford | 500 | 0 | Running |
| 11 | 3 | 22 | Joey Logano (P) | Shell Pennzoil Ford | 500 | 0 | Running |
| 12 | 13 | 8 | Tyler Reddick (P) | Food City/Childress Vineyards Chevrolet | 500 | 0 | Running |
| 13 | 20 | 14 | Chase Briscoe # | Rush Truck Centers/Cummins Ford | 500 | 0 | Running |
| 14 | 17 | 42 | Ross Chastain | Moose Fraternity Chevrolet | 500 | 0 | Running |
| 15 | 18 | 3 | Austin Dillon | Bass Pro Shops/Tracker Off Road Chevrolet | 500 | 0 | Running |
| 16 | 28 | 23 | Bubba Wallace | McDonald's Toyota | 500 | 0 | Running |
| 17 | 27 | 37 | * Ryan Preece | Viva Chevrolet | 500 | 0 | Running |
| 18 | 12 | 10 | Aric Almirola (P) | Smithfield Ford | 500 | 0 | Running |
| 19 | 15 | 1 | Kurt Busch (P) | Monster Energy Chevrolet | 500 | 0 | Running |
| 20 | 23 | 47 | Ricky Stenhouse Jr. | Kroger Chevrolet | 499 | 0 | Running |
| 21 | 9 | 18 | Kyle Busch (P) | M&M's Toyota | 499 | 0 | Running |
| 22 | 21 | 99 | Daniel Suarez | Coca-Cola Chevrolet | 498 | 0 | Running |
| 23 | 25 | 17 | Chris Buescher | Fastenal Ford | 498 | 0 | Running |
| 24 | 16 | 34 | Michael McDowell (P) | Love's Travel Stops Ford | 498 | 0 | Running |
| 25 | 4 | 9 | Chase Elliott (P) | Hooters Chevrolet | 497 | 129 | Running |
| 26 | 31 | 7 | Corey LaJoie | Schluter Systems Chevrolet | 497 | 0 | Running |
| 27 | 35 | 51 | JJ Yeley(i) | Nurtec ODT Chevrolet | 495 | 0 | Running |
| 28 | 26 | 41 | Cole Custer | Autodesk/HaasTooling.com Ford | 494 | 0 | Running |
| 29 | 6 | 20 | Christopher Bell (P) | SiriusXM Toyota | 493 | 0 | Running |
| 30 | 36 | 53 | Garrett Smithley(i) | Boom Mobile Chevrolet | 487 | 0 | Running |
| 31 | 33 | 52 | Josh Bilicki | Insurance King Ford | 482 | 0 | Running |
| 32 | 38 | 66 | * David Starr(i) | Whataburger Toyota | 482 | 0 | Running |
| 33 | 37 | 15 | James Davison | Greatest Generations Chevrolet | 474 | 0 | Running |
| 34 | 34 | 0 | Quin Houff | Boss Hoss Cycles Chevrolet | 375 | 0 | Accident |
| 35 | 30 | 38 | Anthony Alfredo # | Dude Wipes Ford | 313 | 0 | Accident |
| 36 | 29 | 77 | Justin Haley(i) | Diamond Creek Water Chevrolet | 216 | 0 | Accident |
| 37 | 32 | 78 | BJ McLeod(i) | Honor And Remember Ford | 215 | 0 | Accident |
| 38 | 24 | 6 | Ryan Newman | Kohler Generators Ford | 177 | 0 | DVP |
Average Speed of Race Winner:  87.409 mph.
Time of Race:  3 Hrs, 2 Mins, 56 Secs. Margin of Victory:  0.227 Seconds.
Caution Flags:  8 for 71 laps.
Lead Changes:  23 among 7 drivers.
Lap Leaders:   M. Truex Jr. (P) 1-5;C. Elliott (P) 6-43;B. Keselowski (P) 44;C. Elliott (P) 45-83;K. Larson (P) 84-90;D. Hamlin (P) 91-121;K. Larson (P) 122;D. Hamlin (P) 123-129;B. Keselowski (P) 130;K. Larson (P) 131-137;B. Keselowski (P) 138-144;D. Hamlin (P) 145-171;R. Blaney (P) 172;K. Larson (P) 173-253;B. Keselowski (P) 254;K. Harvick (P) 255-264;R. Blaney (P) 265-307;K. Harvick (P) 308-336;K. Larson (P) 337-365;R. Blaney (P) 366;K. Larson (P) 367-412;C. Elliott (P) 413-464;K. Harvick (P) 465-496;K. Larson (P) 497-500.
Leaders Summary (Driver, Times Lead, Laps Led):  Kyle Larson (P) 7 times for 175 laps; Chase Elliott (P) 3 times for 129 laps; Kevin Harvick (P) 3 times for 71 laps; Denny Hamlin (P) 3 times for 65 laps; Ryan Blaney (P) 3 times for 45 laps; Brad Keselowski (P) 4 times for 10 laps; Martin Truex Jr. (P) 1 time for 5 laps.
Stage #1 Top Ten: 11,5,9,2,12,4,18,20,19,24
Stage #2 Top Ten: 5,11,2,24,9,4,12,20,8,18