IndyCar: Herta wins from pole at Laguna Seca
Colton Herta started from pole in his #26 Gainbridge Honda and led all the way except for pitstops to win the Firestone Grand Prix of Laguna Seca IndyCar race.
The only scare Herta had was when Herta went wide in Turn 4 on lap 2 of the 95-lap race, opening the door for fellow front-row starter and Andretti Autosport teammate Alexander Rossi in Turn 5.
Rossi and Herta banged wheels while side-by-side in Turn 5, and Rossi lost control of his No. 27 NAPA AUTO PARTS/AutoNation Honda and spun into the gravel and stalled. Rossi's car was refired, but he finished 25th, two laps down.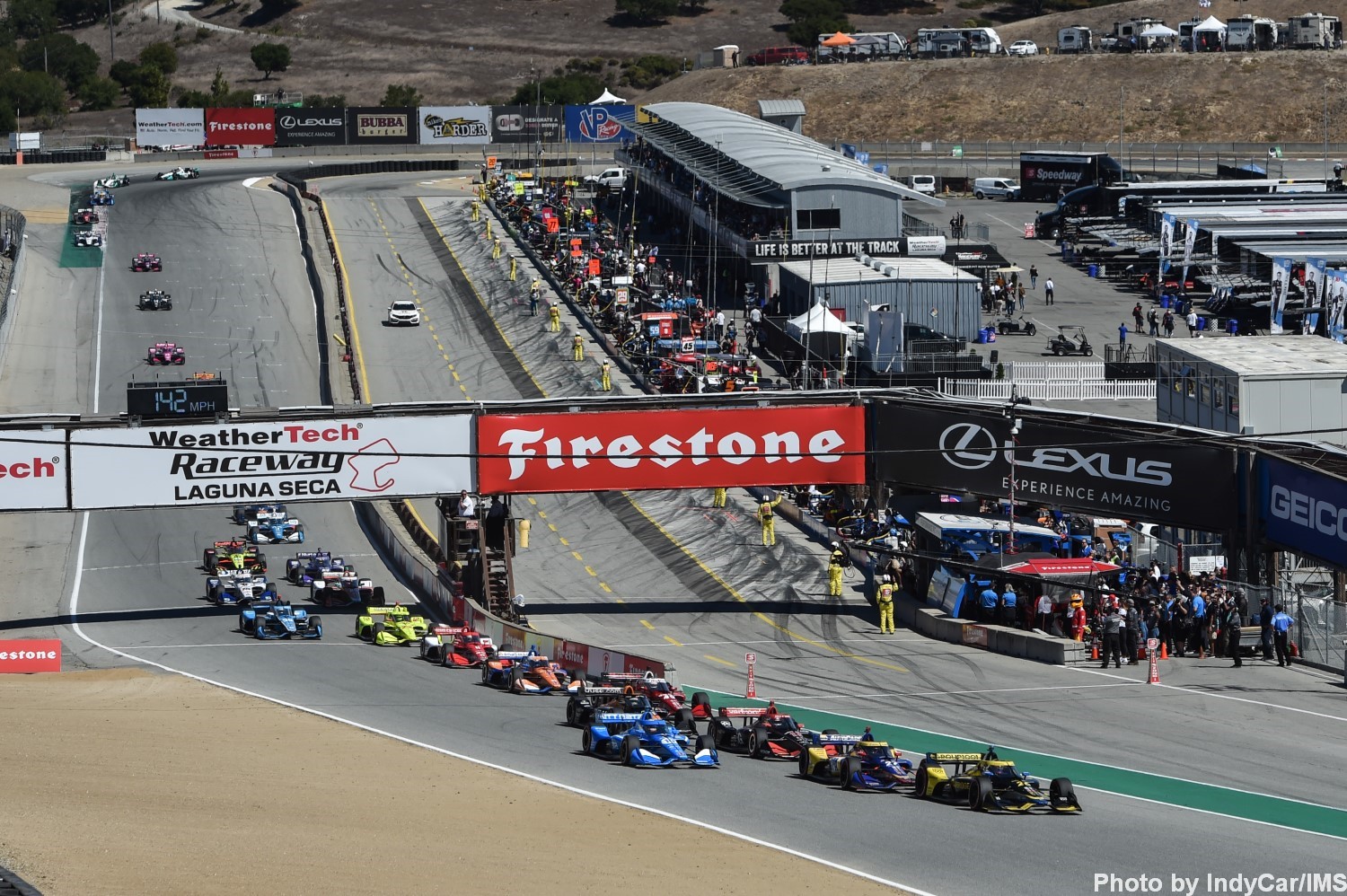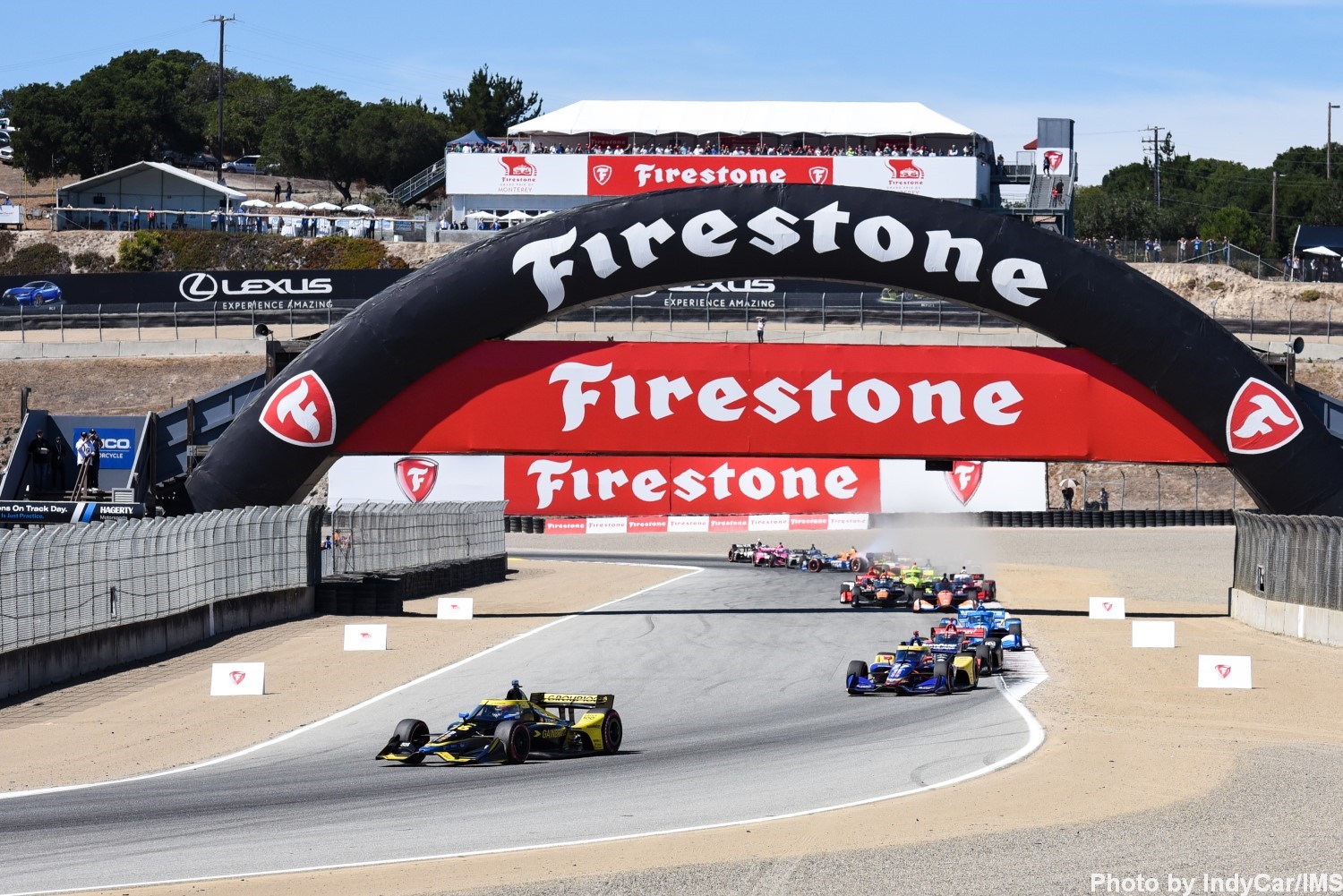 "I enjoy racing here so much," Herta said. "It's an amazing track for me and my family. It's been so good to us. To go two-for-two so far (at Laguna Seca) is great. We were fast all weekend, and I'm glad we could pull it off in the race."
Points leader Alex Palou came home2nd just 1.97s behind Herta and extended his points leads going into the final race at Long Beach next weekend.
Romain Grosjean was the driver of the day, coming from 13th at the start to take the final podium position in third for Dale Coyne Racing.
Graham Rahal and Pato O'Ward rounded out the top-5.
Palou leads the points by 35, 517 to 482 to O'Ward, and by 48 over Josef Newgarden in third. There are 50 points on the line to win at Long Beach.  Newgarden has a chance, but a very slim one.
Six-time series champion Scott Dixon and Chip Ganassi Racing teammate Marcus Ericsson were eliminated from contention at this race after finishing 13th and sixth, respectively.
Palou must finish 11th or better at Long Beach to earn his first title in his second season in the series.
"We didn't have it today for the win, but we did the most we could," Palou said. "I was trying, but it was tough. It was Herta's day today. I'm happy with P2."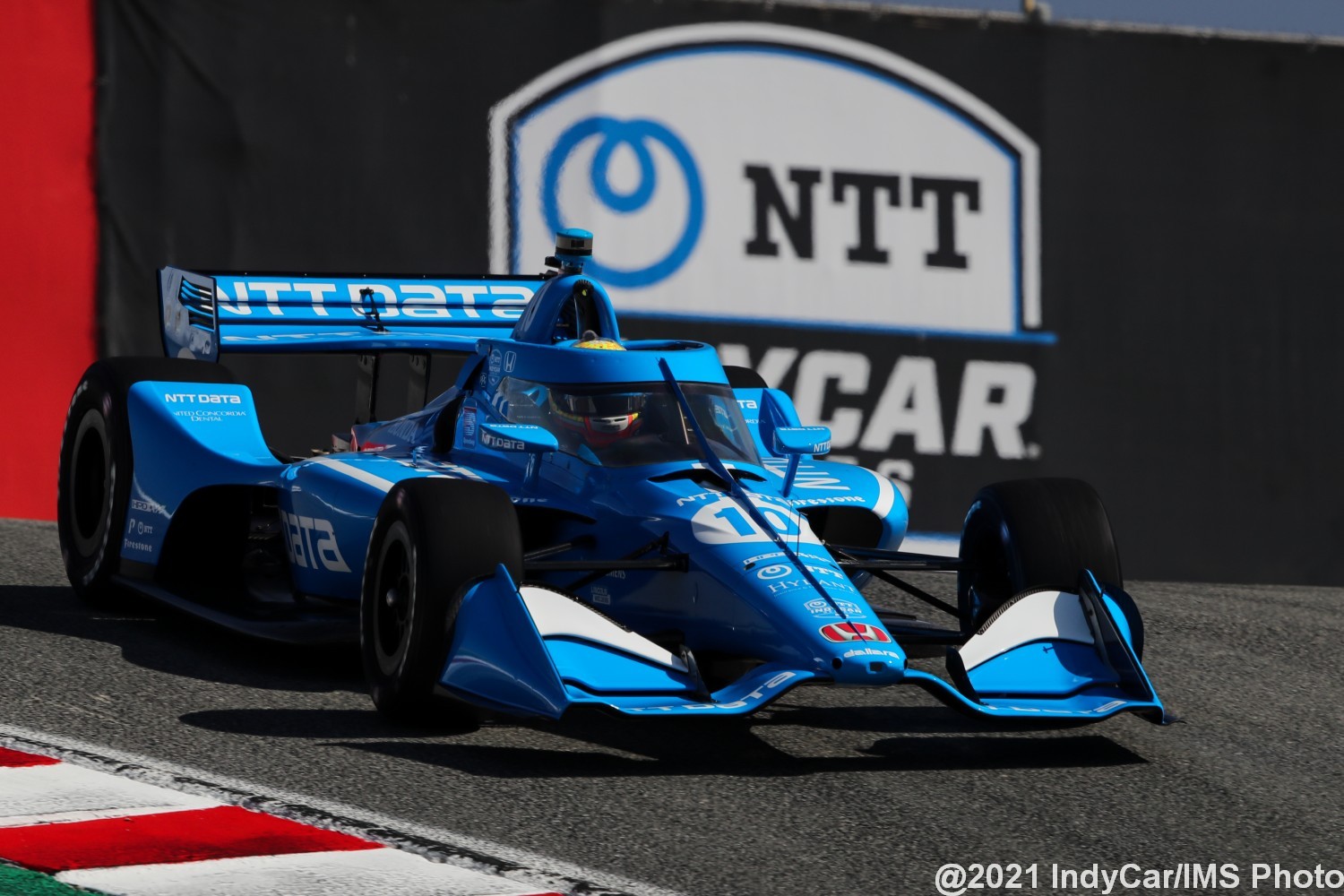 Grosjean's third podium finish of the season helped him stay alive in the race for Rookie of the Year honors, as he trails Scott McLaughlin by 20 points. Everyone knows Grosjean is the better driver of the two, by a wide margin.
Grosjean was 10 seconds behind Herta with nine laps remaining but closed to within 3.7087 seconds at the finish after some deft driving, including a wheel-banging, side-by-side duel to lap Jimmie Johnson in the famous "Corkscrew" turn with seven laps remaining. Series rookie Johnson was hip-checked off the track by Grosjean but returned to the racing surface to finish a season-best 17th in the No. 48 Carvana Honda fielded by Chip Ganassi Racing.
"The last stint was very fun because we were on new tires and fresher than everyone else," Grosjean said. "So, that was exciting. It's been a great day. Sorry to Jimmie for the contact out there. He was trying to protect Alex (Palou, teammate), and I wanted to go chase Alex.
"P13 to P3 today, it's a pretty good day. Laguna Seca, I love you. That's all I can say."
"All weekend we didn't have it," O'Ward said. "I truly feel like we used every single ounce of energy and pace that this car had. We pulled off a near-miracle in qualifying to start in the first three rows. In the race, honestly, that was as much as I had.
"All we can do at Long Beach is win, and then let everything else fall. I've got faith in myself. I know I'm pretty handy around a street course, so let's see what we can pull off next week."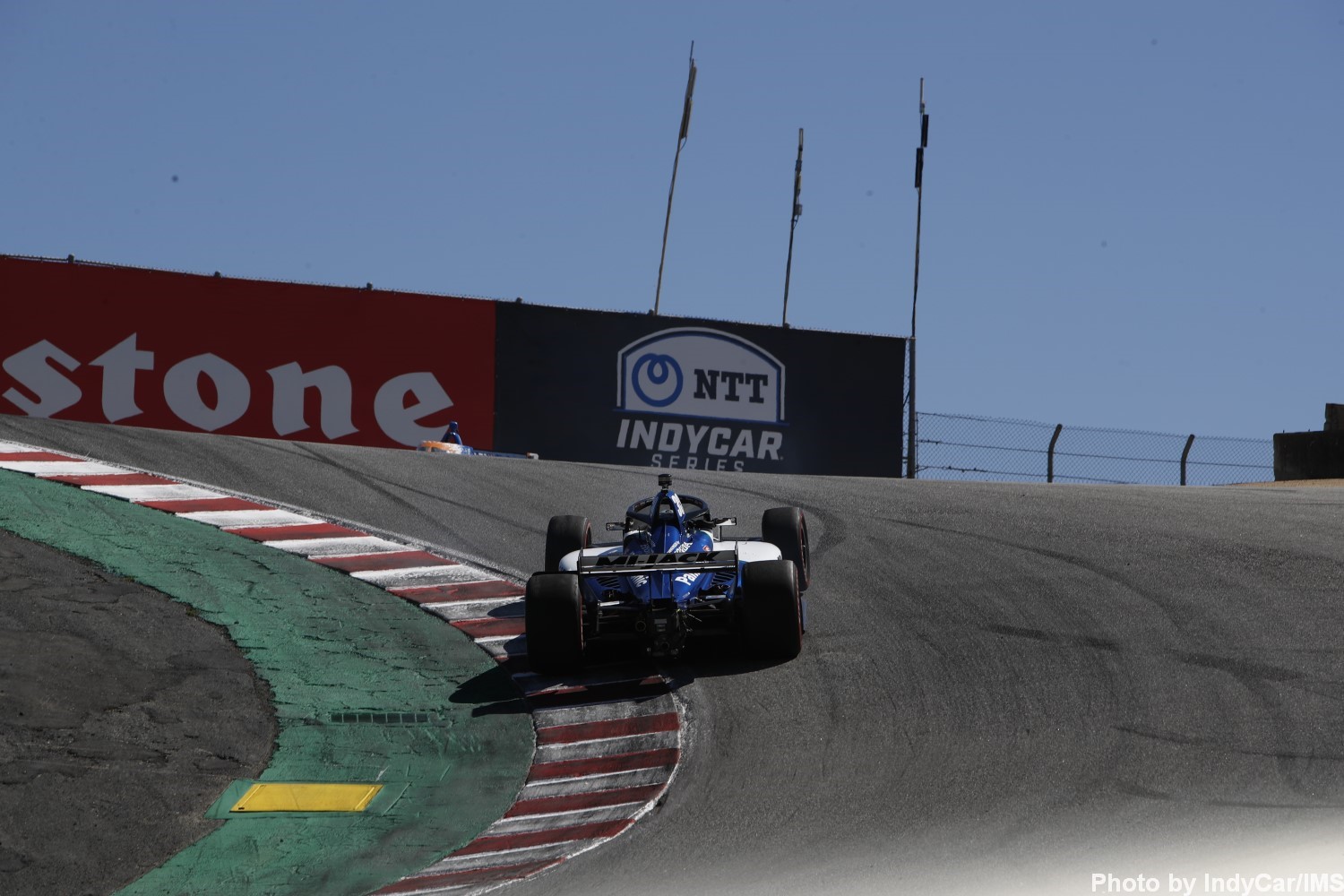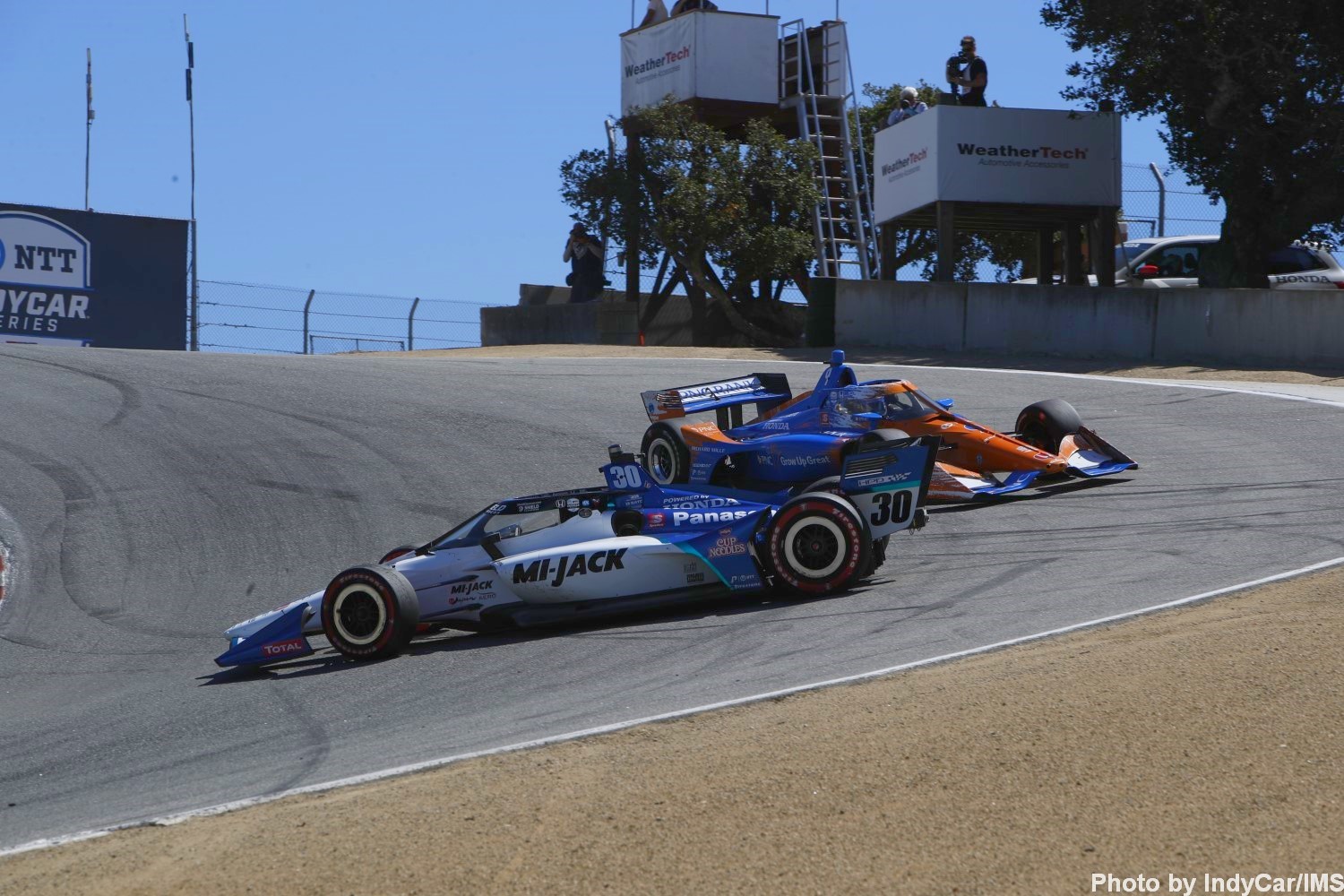 With Herta's win, Honda has clinched the 2021 Manufacturer's crown over Chevy for the 4th consecutive year.
"There was always pressure there from Alex behind me," Herta said. "Even at the beginning of the stints when I was a little bit better, he was still there. And he closed it back up at the end of the stints. I think he was a little better that time.
"I'm just happy to have done it. This place is so awesome – it's my favorite track in North America by far. To win here means so much."
Race Results
| | | | | | | | | | | |
| --- | --- | --- | --- | --- | --- | --- | --- | --- | --- | --- |
| Pos | No | Name | Laps | Diff | Gap | Led | ST | Engine | Points | Team |
| 1 | 26 | Colton Herta | 95 | 0.000s | 0.000s | 91 | 1 | Honda | 402 | Andretti Autosport |
| 2 | 10 | Alex Palou | 95 | 1.9747 | 1.9747 | 0 | 4 | Honda | 517 | Chip Ganassi Racing |
| 3 | 51 | Romain Grosjean | 95 | 3.7087 | 1.7340 | 4 | 13 | Honda | 266 | Dale Coyne Racing w/RWR |
| 4 | 15 | Graham Rahal | 95 | 13.8616 | 10.1529 | 0 | 12 | Honda | 374 | Rahal Letterman Lanigan Racing |
| 5 | 5 | Pato O'Ward | 95 | 24.6972 | 10.8356 | 0 | 6 | Chevy | 482 | Arrow McLaren SP |
| 6 | 8 | Marcus Ericsson | 95 | 28.5032 | 3.8060 | 0 | 7 | Honda | 430 | Chip Ganassi Racing |
| 7 | 2 | Josef Newgarden | 95 | 29.7267 | 1.2235 | 0 | 17 | Chevy | 469 | Team Penske |
| 8 | 22 | Simon Pagenaud | 95 | 30.4215 | 0.6948 | 0 | 9 | Chevy | 353 | Team Penske |
| 9 | 45 | Oliver Askew | 95 | 32.4675 | 2.0460 | 0 | 5 | Honda | 52 | Rahal Letterman Lanigan Racing |
| 10 | 18 | Ed Jones | 95 | 47.9944 | 15.5269 | 0 | 14 | Honda | 215 | Dale Coyne Racing with Vasser Sullivan |
| 11 | 28 | Ryan Hunter-Reay | 95 | 67.1843 | 19.1899 | 0 | 19 | Honda | 249 | Andretti Autosport |
| 12 | 3 | Scott McLaughlin | 95 | 73.4940 | 6.3097 | 0 | 16 | Chevy | 286 | Team Penske |
| 13 | 9 | Scott Dixon | 95 | 76.3595 | 2.8655 | 0 | 8 | Honda | 445 | Chip Ganassi Racing |
| 14 | 14 | Sebastien Bourdais | 94 | 1 LAPS | 12.5852 | 0 | 21 | Chevy | 234 | AJ Foyt Enterprises |
| 15 | 60 | Jack Harvey | 94 | 1 LAPS | 2.7203 | 0 | 20 | Honda | 281 | Meyer Shank Racing |
| 16 | 20 | Conor Daly | 94 | 1 LAPS | 0.3807 | 0 | 18 | Chevy | 226 | Ed Carpenter Racing |
| 17 | 48 | Jimmie Johnson | 94 | 1 LAPS | 5.3480 | 0 | 25 | Honda | 95 | Chip Ganassi Racing |
| 18 | 21 | Rinus VeeKay | 94 | 1 LAPS | 5.6846 | 0 | 24 | Chevy | 303 | Ed Carpenter Racing |
| 19 | 7 | Felix Rosenqvist | 94 | 1 LAPS | 3.2007 | 0 | 15 | Chevy | 188 | Arrow McLaren SP |
| 20 | 29 | James Hinchcliffe | 94 | 1 LAPS | 4.5092 | 0 | 11 | Honda | 204 | Andretti Steinbrenner Autosport |
| 21 | 59 | Max Chilton | 94 | 1 LAPS | 1.9156 | 0 | 10 | Chevy | 119 | Carlin |
| 22 | 77 | Callum Ilott | 94 | 1 LAPS | 15.8894 | 0 | 26 | Chevy | 13 | Juncos Hollinger Racing |
| 23 | 4 | Dalton Kellett | 94 | 1 LAPS | 9.0069 | 0 | 27 | Chevy | 137 | AJ Foyt Enterprises |
| 24 | 06 | Helio Castroneves | 94 | 1 LAPS | 0.5450 | 0 | 22 | Honda | 147 | Meyer Shank Racing |
| 25 | 27 | Alexander Rossi | 93 | 2 LAPS | 26.7355 | 0 | 2 | Honda | 304 | Andretti Autosport |
| 26 | 12 | Will Power | 93 | 2 LAPS | 58.9715 | 0 | 3 | Chevy | 337 | Team Penske |
| 27 | 30 | Takuma Sato | 83 | Mechanical | 5 LAPS | 0 | 23 | Honda | 302 | Rahal Letterman Lanigan Racing |
Race Statistics
Winner's average speed: 104.114 mph
Time of Race: 2:02:31.5444
Margin of victory: 1.9747 seconds
Cautions: 1 for 2 laps
Lead changes: 4 among 2 drivers
Lap Leaders:
Herta, Colton 1-18
Grosjean, Romain 19
Herta, Colton 20-68
Grosjean, Romain 69-71
Herta, Colton 72-95
NTT INDYCAR SERIES point standings: Palou 517, O'Ward 482, Newgarden 469, Dixon 445, Ericsson 430, Herta 402, Rahal 374, Pagenaud 353, Power 337, Rossi 304