IndyCar: Laguina Seca Post-Race Press Conference
Drivers:
1st – Colton Herta, Andretti Honda
2nd – Alex Palou, Ganassi Honda
3rd – Romain Grosjean, Dale Coyne Honda
5th – Pato O'Ward, Arrow McLaren SP Chevy
Press Conference
THE MODERATOR: Joined now by the two-time champion of the Firestone Grand Prix of Monterey, win number four for the family, led 91 of 95 laps, second win of the season, fifth of his career, Colton Herta.
You made it look easy. I'm sure it wasn't.
COLTON HERTA: No, it wasn't. Alex, really the whole race, was right there. Then Grosjean at the end pressured Alex, therefore pressured me. It was very interesting to see the cars that struggled with tire deg that we were much faster than. Once we got to them, were stuck behind them, struggling to overtake.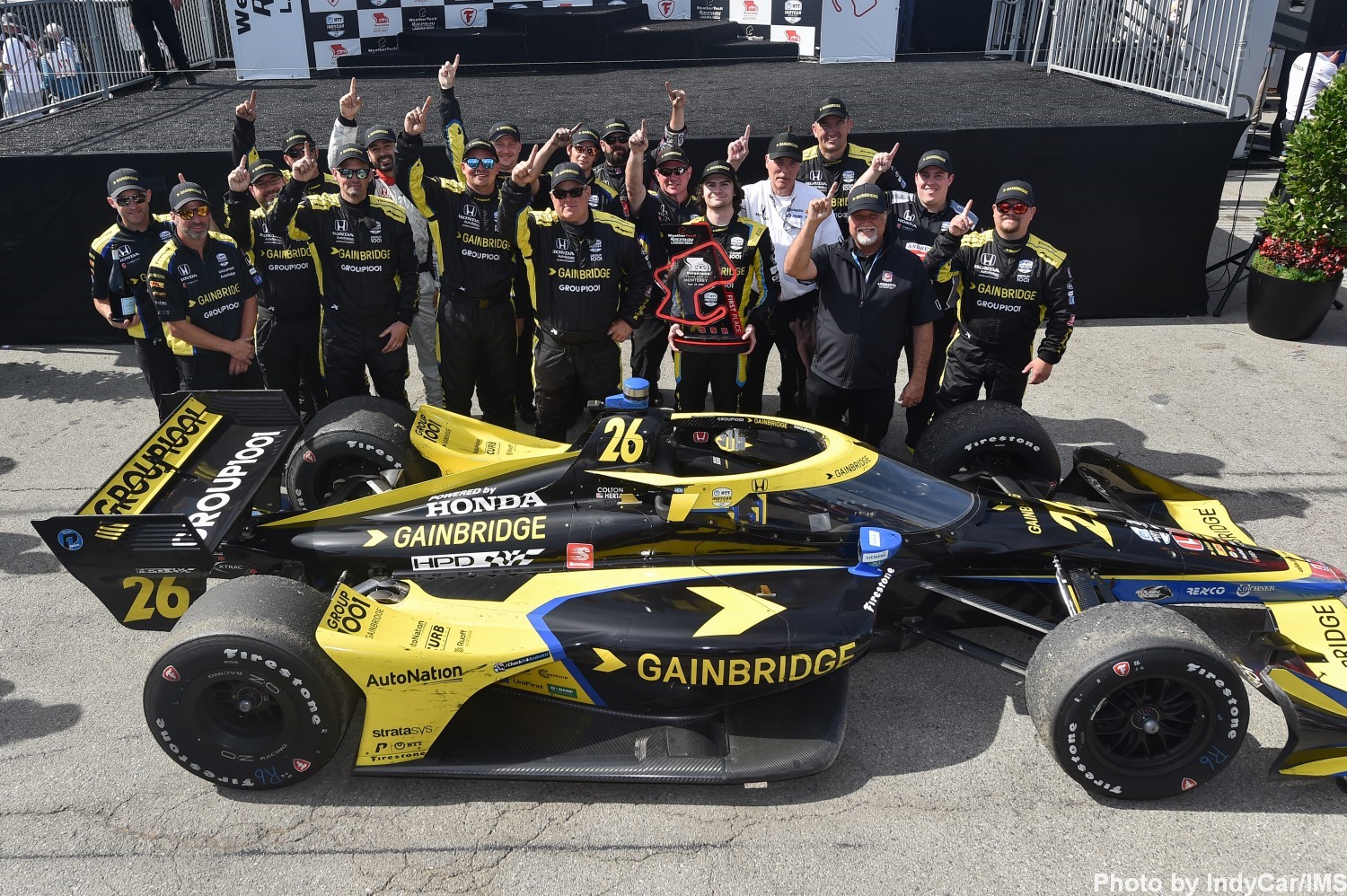 The balance for most of the race, when I was stuck behind lap traffic, defending from Alex but trying to get by the other drivers, was very difficult and different to the race I had in 2019.
They were both refreshing and fun. Glad it was over because it got hectic at some points. I really didn't want it to be.
THE MODERATOR: I'm assuming your dad, someone told you that 51 was charging through the field…
COLTON HERTA: Not initially. He told me after the checkered flag that Grosjean finished third. I was very confused on how that happened, especially at this place, right? I think he's in a perfect position to use that strategy of using his two sets of new reds. He used it very nicely.
The tire situation was so interesting, but the used reds were dropping off and falling off by lap 11, whereas the new reds you can run till lap 20 and still be pushing after that.
I don't think I've ever seen a deficit that much between two-lap-old reds versus brand-new reds, a 10-lap difference in deg, which is pretty crazy.
THE MODERATOR: Questions, please.
Q. You hit something on the track. What was it?
COLTON HERTA: It was either a squirrel or a bunny. I don't know. Last time I was here there were a lot of squirrels on the track, so I imagine it was one of those guys unfortunately. But he came along with me to win the race, so… He's won an INDYCAR race. He's got a lot more than a lot of INDYCAR drivers (smiling).
Q. I guess he crossed the line ahead of you.
COLTON HERTA: He really won the race.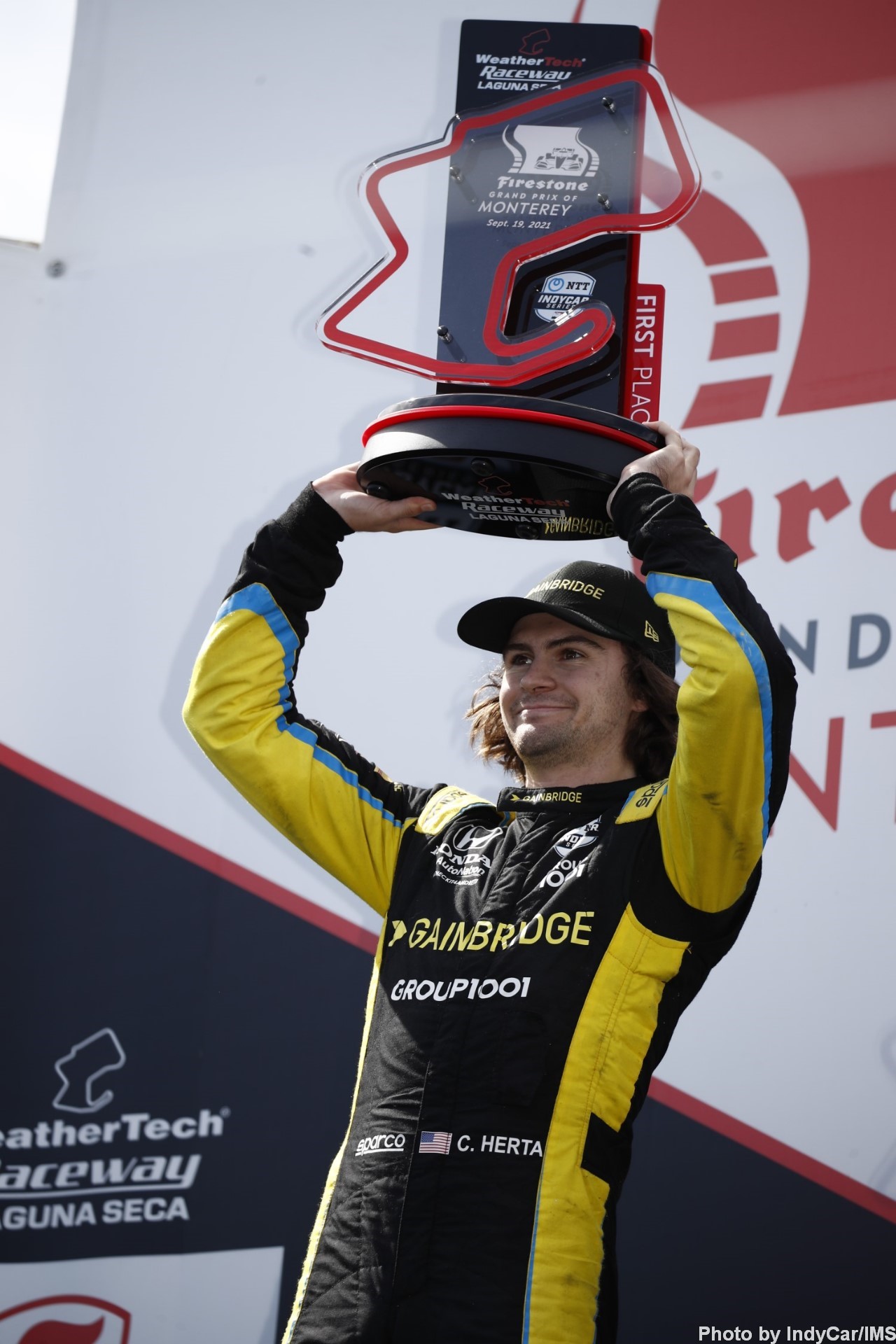 Q. Blue flags, a constant debate about what should happen there. You did a great job of keeping Alex behind you. Do you think there needs to be a change in that rule?
COLTON HERTA: Yes and no. In the car, if you were to ask me, I would have said, yeah, like 100% we need (indiscernible) blue flag.
But I think from, like, the consumer aspect, it makes the race more interesting, especially when you come to a place like this that's so hard to overtake. You're either waiting for your tires to drastically fall off, which that never happens for the top-running guys, or something like that.
It made the race interesting at the front. Before that I had a six- or seven-plus-second lead over Alex for a lot, first half of the race. That really clamped it down and brought him right to me.
It was interesting. It was something new for me. I'd never really had that in INDYCAR where I was lapping people and struggling to lap people, having a car that I'm having to defend from and also attack in front of me.
It was interesting. It made the race fun. It definitely made it more stressful, but it made the race more fun. Especially in Detroit when that happened, I wasn't in the position to win. I think I was, like, third at that time. It was even more fun.
When you're leading, it's not as fun. Any other place it gives you an opportunity to win, which that's what INDYCAR racing is about, right? You can win from anywhere. Like we saw Grosjean started 13th and finished third. I think it's a part of INDYCAR racing that's always kind of been there.
Q. Yesterday you talked about all the changes that have to be done overnight. I assume they were spot on? Can I assume the morning warmup being so weird, useless for you to figure out?
COLTON HERTA: Yeah, we didn't take anything from warmup just because there was a lot of mildew, it was almost wet. Yeah, it wasn't very useful.
We had a good idea of what we wanted to do based off of 2019, then based off of what we see the aeroscreen do during races, too. Kind of a hybrid setup we came up with between the two.
It worked good. I don't think it was excellent. There's always stuff we can work on. But I do think we had the best car today.
THE MODERATOR: What happened on the second lap between you and your teammate?
COLTON HERTA: I dropped a wheel in turn four, and he got a run on me. I partially defended. He chose to go to the inside, from my point of view. I haven't seen a replay or anything. From my point of view, I gave him enough room. I think he walked up the track, got loose on the curb inside. Then I felt contact in my left rear, then I saw him spinning to the inside. That's what I would imagine happened. I haven't seen anything, so I can't really say if I'm right or wrong.
Q. Did you make a mistake at all this weekend?
COLTON HERTA: No, I did have some. I did have a moment that almost cost me the lead with Alex when I dropped a wheel in turn four and he got a run on me. I did that again later in the race where I dropped the wheel. It wasn't a perfect weekend by any means. But it was pretty darn close to it.
Q. Was your strategy the same as 2019?
COLTON HERTA: Somewhat. I think we were able to be a little bit more aggressive because after the first stint we had a good gap to third. It's really just me racing Alex at that point in second. So we were really only focused on him, whereas in 2019 we were focused on Dixon, Pagenaud and Power. They were all right behind me. We had to be a little bit more careful in that situation. Today we were able to be a little bit more aggressive and just kind of react to what Alex did.
THE MODERATOR: Tacos tonight?
COLTON HERTA: Oh, yeah, yes.
THE MODERATOR: Who is buying?
COLTON HERTA: The place I go to sells them for a dollar. It's pretty easy.
Q. What was the game plan going into this race? How do you think you executed it?
COLTON HERTA: The plan was simply to win, and do that by any means necessary. Seems like we did that. The strategy was great. The pit stops were great. There was never a point in the race where I really felt like threatened pace-wise and stuff.
I think we had an amazing car, an amazing crew, and everybody put it together perfectly.
Q. Can you go into depth about this track and the difficulties of it?
COLTON HERTA: I guess the hardest thing to tackle is just the tire wear. Rear tires tend to go off here. A lot of people struggle with that. A lot of people struggled with that during the race that I could see that I caught up to and stuff. That's probably the biggest thing, is having no rear tires and a very fast track with a lot of cambered corners.
It gives you a false sense of security when you get into the banking, the camber of the corner, that makes the rear slide out even more and kill your tires even more.
Q. How have you enjoyed your visit in Monterey County so far?
COLTON HERTA: I love it. I always love coming up here. I didn't get time to go to aquarium. I love that here. Unfortunately I didn't get time to do that, but maybe next time.
Q. Last year we didn't have the race, but this is your second win back to back. How does that feel?
COLTON HERTA: It feels great. I think there was a lot of unknowns coming into this weekend or how the pace was going to be and stuff. Right after the first session, we asserted that the pace from 2019 was still there. We needed to fix some things for the car, but the main pace was there.
I think once we kind of got on top of that, my engineer Nathan made some amazing changes during the weekend, it took a lot of the stress off of me and I was able to do my job a little bit better.
Q. What is the difference in race strategy from this win?
COLTON HERTA: The biggest difference would be the compound. It tended to wear a lot if you had used tires. But the new tires tended to stay in there, which was surprising because I didn't expect that at all. New reds were better than blacks on track. This is the last place I would think that would happen.
The pace dropoff was significant for both, but the reds just stayed that little bit better the whole time and were able to hang on for a good 20 laps before you kind of hit that cliff. But the pace advantage on the reds was massive.
Maybe next year there's a thing to qualifying 13th here, right? The guys might not be too upset when they get knocked out in round one.
Q. How about the difference between having Brian Barnhart and your old man on the timing stand?
COLTON HERTA: It's different. I think it means more to have my dad on the timing stand for a race like this. But both are great strategists. Both got me many wins. I love working with both.
I guess to win at Laguna Seca, it's awesome to have another Herta there.
Q. You led 94% of race laps here. A ridiculous number.
COLTON HERTA: I think that just shows how dominant the cars were today, right? We had great cars. I think it's easy to say that we had the best car. We could push when we wanted, we could conserve when we wanted. Our pace didn't seem to be too affected. Never felt at any point vulnerable to Alex and stuff like that during the race.
Really easy to be calm and cool because of how good the car was.
THE MODERATOR: Thank you.
THE MODERATOR: We have second and third place now here. Second place Alex Palou, his eighth podium of the season, ninth of his very young NTT INDYCAR SERIES career. Joined by Romain Grosjean, who finishes third today. Romain's third podium of the season.
Alex, your thoughts overall today on what happened.
ALEX PALOU: Yeah, was good. Was really exciting race. Unfortunately we didn't had the pace that Colton had. I think in reds and blacks he had a bit more. As soon as I tried to catch him, which we tried, I would just cook my tires. Yeah, I couldn't go as fast as him without losing my tires.
Yeah, it was exciting. We had to save some fuel, overtake some cars. Yeah, I think was a good race. Another podium feels good. We carry some momentum for Long Beach now.
THE MODERATOR: Did you go red the second time?
ALEX PALOU: Used red, new red, black, black. It was tough. I thought that the reds were going to be, like, a lot better, like used reds were going to be better than new blacks, but they were not.
I think today having two sets of sticker reds was an advantage. Obviously you had to overtake lots of cars, so… Good job by Romain, as well. He was pushing there at the end. It was good that the race finished on that lap because I didn't have any left (smiling). Yeah, happy with that.
THE MODERATOR: Romain, I think lap 89 you and Jimmie hooked up there on the corkscrew. Tell us about that.
ROMAIN GROSJEAN: Yeah, I mean, I was trying to get my way through and push really hard. I knew Alex was in front. Jimmie is Alex's teammate.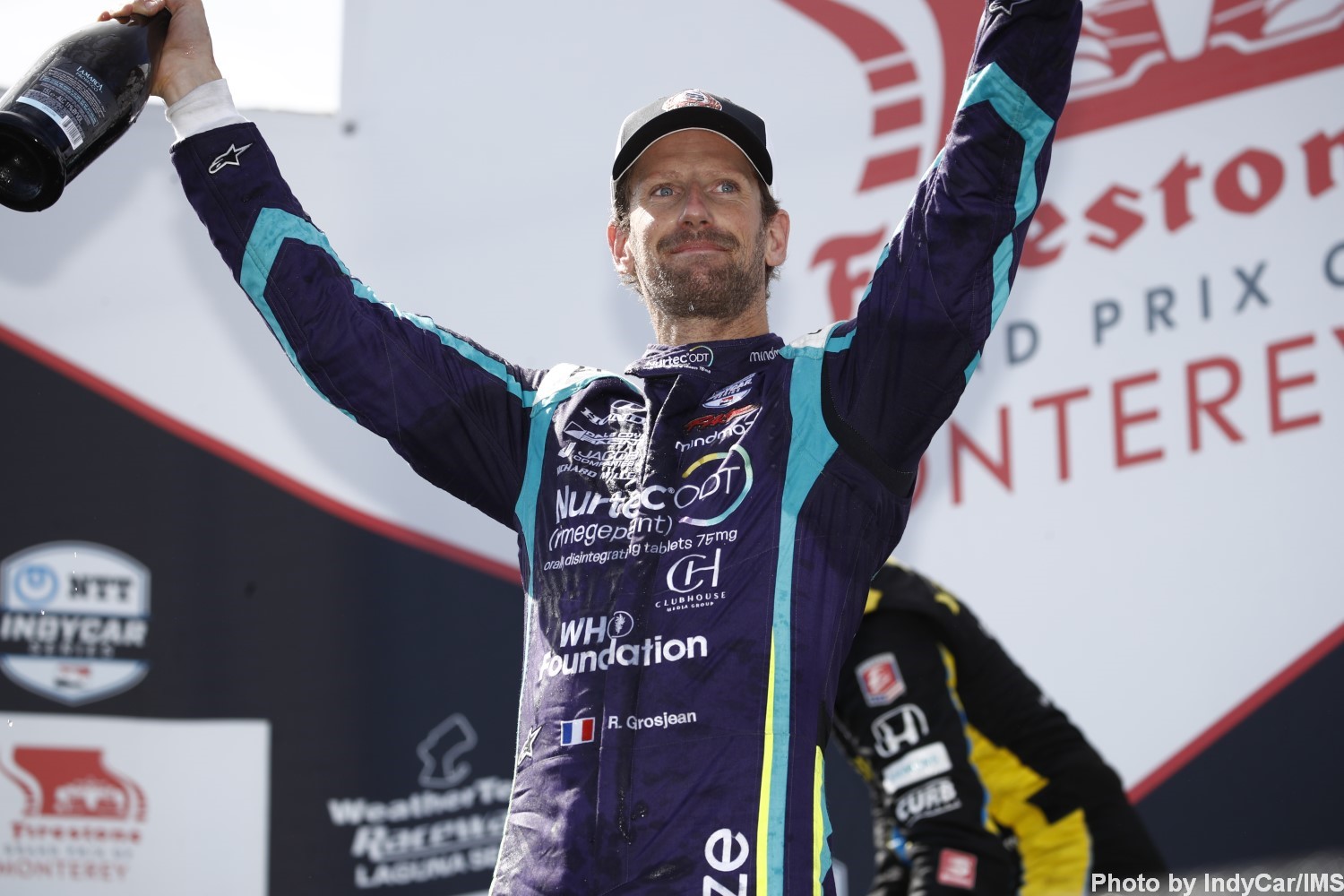 ALEX PALOU: Did you push my teammate out?
ROMAIN GROSJEAN: May have. Sorry, brother (smiling).
Yeah, I'm sorry we made contact with Jimmie. I was definitely going in. I think Jimmie probably didn't see me. He was pushing hard to protect Alex from me, which is the game. So we made a bit of contact.
Had a lot of passes on the corkscrew, which was good. Felt a bit like Zanardi, which is not a bad thing. I must say I'm very impressed with Honda today because the podium is fully Honda. I think we had a great drivability to look after the tires probably better than others.
THE MODERATOR: I don't know how important this is on your season, but you're still alive for the Rookie of the Year champion.
ROMAIN GROSJEAN: I still don't know how many points is Cole.
THE MODERATOR: You're 20 points behind Scott McLaughlin.
ROMAIN GROSJEAN: Kidding me? I didn't pick up more than that? Bloody hell (smiling).
It's okay. Scott can have it. That's what I said from the beginning of the year. I'm very impressed with Scott McLaughlin. His adaptation to single seater. I saw the trophy this morning, it looks good. I think Scott definitely is more rookie than I am.
THE MODERATOR: Questions.
Q. Romain, can you describe the move in the corkscrew. You really went in there with no fear.
ROMAIN GROSJEAN: Well, I think you need to be confident in what you can do in the car, where you are. (Indiscernible) better tires than anyone else. Yeah, I had some good passes. I had a close moment with one of the Meyer Shank cars that actually slowed down to let me by. I didn't realize till quite late. I had to bail off.
Yeah, I mean, the race was fun. Turn one is a good place to overtake, the corkscrew is another good place to do so. Cool tires was very hard for a couple of laps. Warm tires was hard for the last 10 laps of each stint, very tricky. It was about keeping the car on track and trying to maximize your pace.
Q. One race left in the season. What was your expectation when you came into your rookie year and have you exceeded that expectation level?
ROMAIN GROSJEAN: Yeah. Oh, yeah, by a long margin. I came in not knowing what to expect, if I was going to like or not the championship. I basically fell in love with INDYCAR. Expectation were maybe just go one podium. Alex was with Dale Coyne Racing last year and had two podiums.
ALEX PALOU: One. You had some F1 seasons. Maybe that balances…
ROMAIN GROSJEAN: He's bloody good on sim racing. I can't keep up.
Alex had a very good season last year, he had a podium, a front row start. That's what I based kind of my season on. Once we did the podium in Indy GP, scored a podium and second-place finish, were up there running with the top guys, it was already job done.
Last week I was really annoyed with myself, really angry at myself. I'm glad this weekend we made a good job.
Q. Alex, in Long Beach you only need to finish 11th even if Pato gets all the bonus points for you to clinch the championship. How much does that alter your approach to the race?
ALEX PALOU: Yeah, obviously that helps knowing that we have a good margin instead of needing to win to get the championship. That means we did a really good job so far. So happy with that.
But in INDYCAR, like Romain was saying that was P8 that last stint and finished P3 because he didn't have more laps, otherwise he would have won.
INDYCAR you cannot relax at any moment. We just keep doing what we've been doing, race hard, race smart, and hopefully we can get that championship without needing to finish 11 or anything. We will try and get the best result as possible.
Q. When you were only half a second behind Colton, how hard were you pushing? Was the dirty air just screwing your tires?
ALEX PALOU: There were some moments I was pushing, especially at the beginning of the race when we catch him a lot. Maybe I would have a chance. As soon as I was getting really close, he would push a bit more and I could see that. He had a bit more margin than I had today.
I was still trying, even at the end. But, yeah, he was on another planet today. He did a really good job together with the team to be superior than what we were today.
Q. Romain, when did you decide basically to run the tactics that you did, what strategy you ran?
ROMAIN GROSJEAN: First stint. Through the first stint the plan initially was to come very early in, like lap six or seven, put the blacks, because we were feeling the blacks were going to be a better tire. Pato was on black and he was struggling a lot, whilst on red it was actually getting good on the pass, Ericsson, Dixon, Pato, some more on the first stint. I realized that we were pretty good on those tires.
We put the black and it didn't feel good. So I told my engineer, Let's go long, long, long. The last stint we're just going to go as hard as we can on the reds and make up for it.
Now it's easy to say, but I wish we would have pitted five laps earlier because the tires were still very good at the end.
Q. Did the damage that you got when you smacked into Jimmie Johnson actually affect the handling of the car at all?
ROMAIN GROSJEAN: Yeah, there was a bit of vibration going on after the touch. Again, I'm sorry for that one. It's again the blue flag rules that some drivers have been complaining about.
Yeah, at one point there were three back markers between me and Alex. They're not in the race, they shouldn't be here. Let's see what we can do and work on that. That will definitely avoid incidents like today.
Q. Alex, how much of today is relief knowing where you're at in the points battle?
ALEX PALOU: I mean, yeah, obviously I was happy to know that there was only one car in front of me, and it was not fighting for the championship.
I don't know. I'm relieved that we get seven podiums this season. Like, it's not that we were lucky three weekends. We've been a bit unlucky actually.
Yeah, I'm just happy that we keep on performing even when we struggle. I think last weekend we had a really strong car, and this weekend maybe we were lacking a little bit of pace. Since the beginning of the practices we improved. We got almost there with Colton.
Yeah, I think it was a good weekend.
Q. What I mean is does it take the stress of the points battle, does it take the fun or the fight away?
ALEX PALOU: The fun? No, it's more fun to know that. I'm going to Long Beach where I've never been. Pato, Newgarden been there. Dixon. Everybody that I'm fighting been there. It's not going to be easy. Even if I only have to finish P11, I still have to finish P11.
As I said, I'm not going to think about the points till last pit stop.
Q. Romain, you mentioned sim driving earlier. Did you feel like you were in cheat mode towards the end when you were flying by everybody? Is that what you live for?
ROMAIN GROSJEAN: Yeah, it was French torpedo mode. It was cool like this in Road America. (Indiscernible) on NBC. I told my engineer, Let's go. He was worried that the tire would go off. But I felt like we had a good balance and I could just go for it. That was a fun stint.
I'll tell you one thing, the 60 laps beforehand was not fun. Make sure we were long, long, then eventually short stint at the end. Yeah, not the funniest part of the race. But then the last 20 laps, yeah, were good.
I just knew I had much more pace. We had to catch up. I was seven seconds behind Pagenaud in P8. I was P7 when I started catching. Then it just went really well.
Q. Basically you're saying you had to do a lot of work to get to the fun part?
ROMAIN GROSJEAN: Yeah. You can always look good at the beginning of the race, but the last stint is when the checkered flag is going to come.
Yeah, today we bend a bit our back. We had some tough laps, tires were completely gone, but we had to do that to make that strategy work, and it did.
Q. Romain, how does it feel to come into a series where every race weekend you know you have a shot?
ROMAIN GROSJEAN: Feels pretty good.
Q. How much does that motivate and drive you? You really seem to be renewed this season.
ROMAIN GROSJEAN: Yeah, listen, I was one of the 20 lucky guys in the world to make it to Formula 1, had an incredible career. Yes, the last few years were a bit tough and frustrating. I knew I knew how to drive but I couldn't show anything.
Definitely coming somewhere where you can fight at the front, you have an engineer telling you, You are the fastest car on track, you're P1, fighting for podiums, it's definitely a revival.
I understand a lot of kids want to make it to Formula 1. If it's to be at the back of the grid every weekend, I think you're better here.
Q. Alex, how big of an unsung hero is Roger Yasukawa in this moment when you're really on the brink of a championship?
ALEX PALOU: Yeah, I met him in '19 when he was the team manager in Japan for Team Goh. I knew he was an INDYCAR driver. I always was asking like, Hey, Roger, is there any way we can test a car? Can we do something in America?
He was like, Maybe, maybe.
Yeah, he made it happen together with Team Goh and Dale Coyne. It was pretty awesome. Yeah, he did the hard job and I just was given the opportunity to do it.
Q. What was it like when you stood on the car, fans were cheering? What has the fan reception been like for you this year in INDYCAR?
ROMAIN GROSJEAN: It's difficult to describe really. I mean, yeah, it's difficult to describe. It's just been incredible. As I say, I had a podium, when I got the ovation – is that the word in English – I almost cried, and I don't cry very often. It's been more than anything I could imagine.
Without the fans, we wouldn't be racing. Without the fans, there wouldn't be any TV viewership. If there's no viewership, there's no sponsor. If there's no sponsor, there's no job.
They are a very important part of what we do. But what they give me back is just incredible. So I wanted to share with them the podium.
Q. Romain, you said you have fallen in love with INDYCAR. What have you fallen in love with?
ROMAIN GROSJEAN: I think it's a combination of the relationship that I can have with the driver, which is really cool. It's the freedom of driving the car the way you like to drive it. You don't need to look after charging mode, push mode, tire temperature, tire window, so on and so on and so on. You just go in the car, leave the pit lane, then you push every single lap. You play a bit with your bars. But as I said, you push, push, push, come in, pit, new tires.
The ability to enjoy every single lap that we do, enjoy the fact that you can be competitive in any team, makes it that with the atmosphere in the paddock, obviously with the support of the fans, been just the whole package that I've enjoyed a lot.
Q. Alex, you started your career with Dale Coyne Racing. Romain, you've been with them your rookie year. Could you reflect a little bit on how Dale and that team there have helped provide great starts for your INDYCAR careers.
ALEX PALOU: For me, I remember the first conversation I had with Dale. He asked me like, Do you want to drive here in America in INDYCAR?
I was like, Yeah, yeah, let's do it.
He was like, Two weeks we have a test.
I was like, Wait, what's going on?
He gave me the opportunity, obviously together with Honda, Honda here in America, Japan, Team Goh. It was not only one person, but he was willing to do it.
I think if you look over the young drivers he has given an opportunity, it's endless. Yeah, it's great to have him. He does an amazing job with the resources they have. They are able to fight for lots of races.
Yeah, it's a great team.
ROMAIN GROSJEAN: Yeah, Dale is running a good team. Obviously we have fast cars. He's been in the business for a very long time. Personally he gave me the opportunity of coming in INDYCAR and race without even knowing if my left hand was able to hold a steering wheel or not. It was here. He gave me the chance and said, Let's try.
The first test was supposed to be in January. I said, Dale, I cannot, I cannot drive in January. The hand cannot do it.
He didn't panic. He was like, Okay, we move it a little bit later.
Then when I was on pole in Indy, rolling start… He understands.
I think for everyone that wants to start in INDYCAR, it's just a perfect place because the team is a big family. You feel good. The boys will give you everything you need to have a good car. You probably don't feel the pressure you can feel in a top team because the top team you probably need to deliver, whereas with Dale Coyne you go with the flow.
Q. Alex, what will you do this week? Try to get away from it at all or fully focused on racing?
ALEX PALOU: Yeah, tonight I'm taking all the team, the 10 car team, for some Mexican food. No fried chicken because we didn't win. But I don't know, yeah, fully focused. I have now probably the most important week of my entire life. I think I can have vacation after that if everything goes well. So fully focused. I'll enjoy every single moment of it.
Q. Does that mean sitting in your hotel room looking at data?
ALEX PALOU: There's not that much. It's like putting salt on food, you need to have a balance. Yes, as we've been doing, it's been working. Working with the team, getting as prepared as much as possible.
Obviously going to Long Beach, a street course, a track that I don't know, it's going to be a big (indiscernible). But I think we have the balance right.
THE MODERATOR: We have brought in Pato O'Ward who comes home in fifth position. Still very much alive in the championship. Tell us about your day, tire selection, what did you make of it?
PATO O'WARD: Yeah, I'm, like, disappointed, happy. Happy because I think we pulled off a miracle with what package we had this weekend. We didn't have anything at all. I don't know how I pulled off a Fast 6 in the qualifying, to be fairly honest. I think that put us in a great position to start.
We took a risk. We started on blacks, because that's our worst tire, has been all year. But the preferred tire was new. We only had one set of new reds, so we were forced to use three blacks, one new red. That was our race.
We did everything we could. I fought like hell. So, I mean, we're sort of still alive in the championship. I know a lot of things can fall either our way or against us in Long Beach. What we can try and do is just go there and try and win it and we'll see where everything else falls, I guess.
THE MODERATOR: You said you were chasing it all weekend.
PATO O'WARD: If you see our practice sessions and warmup, I don't think we went better than 16th. I think that just shows that for some reason we were really struggling to find pace. So a fifth I think is pretty fantastic for us this weekend.
THE MODERATOR: Questions.
Q. Would you still regard this year as a success, breakthrough, with wins? Can you see a step forward from where you were last year?
PATO O'WARD: Yeah, I think we've made a significant jump in just execution. But we're not there yet. We're not where Ganassi is specifically because, I mean, the guys have three cars in the top five in the championship. If you ask me whose championship it is to lose, it's them.
We're here as underdogs. It's the first time we truly challenged for a championship of this magnitude, with this amount of competitiveness. I mean, I don't think it's ever been this stacked. We're up against multi-time champions.
I think it's been a fantastic year, I have to say. I mean, I'm very proud of what we've been able to accomplish. Really proud of how we've grown. But we're not there yet. We need to keep pushing and we need to keep improving.
I think when we find a little bit extra that we need, it should put us into contention of more wins just more frequently.
Q. On Friday you said you didn't care whether you finished second or third in the championship. Does that free you up for Long Beach to go for the victory?
PATO O'WARD: Yeah, I mean, obviously I'd rather finish second than third.
I mean, I'm going for the win in Long Beach, whatever it takes. I think our street course package is probably one of our stronger packages in terms of road courses, street courses, ovals, short ovals. I think I'm pretty handy around a street course, so hopefully I can pull off something good and put us into contention.
Q. You talked about needing to make up some ground on Ganassi. Do you feel eventually when this team adds a third car, what might that add?
PATO O'WARD: Yeah, I mean, honestly for me, I always focus on my stuff. I mean, honestly, this weekend Felix and I were driving a very similar car for the first time. But usually I'm on one end of the spectrum compared to any other teammate I've had, and they're on other end of the spectrum in terms of what I like.
Yeah, man, I mean, we know we're lacking. The problem is we can't find it. That's just the plain truth. We're trying to really find those little extra bits, but we can't seem to find it yet. I know we will.
I mean, I have a lot of faith in the guys that do all the smart things on the team because I'm certainly not the one to look at the numbers.
We're going to find it. We're not there yet. Like, it's not easy. I mean, that's why I feel like you put so much emphasis on how hard it is to win here, because it's freaking, damn hard, man. It's really tough.
When you don't execute in qualifying, it's really hard in the race. For example, today's race that favored new sets of tires, new reds and new blacks, guys that had new reds could do a stint that was a few seconds quicker, at least 10 or 15 seconds quicker, than a black stint. I think Grosjean almost freaking won the race. He started, like, 13th.
Yeah, I mean, I think today we actually maximized what we had. At least that's how I feel.
Q. You raced Long Beach once in your career.
PATO O'WARD: Yes.
Q. What do you remember from that race? Anything you can take away from your experience there?
PATO O'WARD: I remember it was a boring fuel save race. That's all I remember. I don't think there was one lap where I pushed. Everything was…
I don't know if it's longer or shorter. I mean, to be fair, I hope it's chaotic. I think those are really fun. If not, I think it's going to be a follow-the-leader kind of race. I think it's better when it's like a St. Pete 2020. Cautions make everything more fun, unless you're the caution, then it's no fun.
Q. Have you been able to pinpoint sizable improvements from you and the team's performance this year with the two wins?
PATO O'WARD: Yes, I think we started the year really strong. I haven't felt like we've had that weekend where we're, like, we have the thing to win. I haven't had that feeling that I had in Detroit, Barber, Texas. I mean, we had great cars. We didn't have mega superior cars, but we had cars. Even before the race I knew I could win the thing. We haven't had that.
Like I said, it's so tough. You have to take advantage of every single weekend that you have that because they're rare. Like all I'm asking is I just want to be on par with the guys I'm fighting in Long Beach. I know I can take care of it from there.
Whenever we don't have the pace, there's not much I can do.
Q. You've been honest with us all year. How are you feeling?
PATO O'WARD: How am I feeling? I feel like I was pretty honest when I said I'm sort of disappointed but sort of happy, honestly.
With how we started the weekend, with fifth right now, if you told me after practice one, You're going to win fifth, I would be, Give it to me. That is the absolute maximum what we had this weekend.
We obviously needed more to close the gap. So we made it a bit harder on ourselves for Long Beach. I mean, we still have a shot. I know things can go south real quick in racing. All I can do is just send it in Long Beach, yeah, take the fight to the guys. I think that's the only thing we can do now.
THE MODERATOR: Thank you. We'll see you in Long Beach.