The greatest Long Beach Grand Prix of all-time
In a few short days the 46th running of the  [Acura] Grand Prix of Long Beach will take place on the streets of Long Beach, California.  During the 45 prior years there have been many great races and many wonderful memories.  However, there was one Long Beach Grand Prix that stands out above all the rest, and it was the race that ensured Long Beach's future.  
LONG BEACH, CA, APRIL 3, 1977  The race was called "The Monaco of the West," but the fact that both this race and the one in Monaco wind around numerous blocks of city streets is where the similarity ends.  This was 1977 and Long Beach was a far cry from what it is today. Back then it was a Formula 1 race.
Only at Long Beach would you see religious freaks yelling from across Ocean Boulevard (then the pit straight) about the wages of sin of people who followed auto racing.  The religious freaks are still there today, but then, as they do now, no one paid any attention to them.  Only at Long Beach could you see vans decorated from top to bottom with beautiful painted scenes, or an enormous black Cadillac with a sticker across its front saying, "To all you virgins – thanks for nothing."
To the largely European Grand Prix circus, getting off the plane at Los Angeles International airport and driving down the 405 Freeway to Long Beach to the sights of V8-powered motorcycles, gun slinging cops on Harley Davidson's, short shorts, big breasts and tight tee-shirts was a whole different world than where they came from.
Practice on Friday began 2.5 hours late.  First there were big financial problems to be sorted out the night before to the tune of $150,000 that Chris Pook had to come up with to meet the Formula One Constructors Associations $300,000 requirement, finally getting enough money from donations given by local civic leaders. And then at Midnight all the men working on the fencing walked off the job.  Having eventually sorted this all out, Chris Pook breathed a sigh of relief when the first engines started and practice was underway at about 11:00 AM.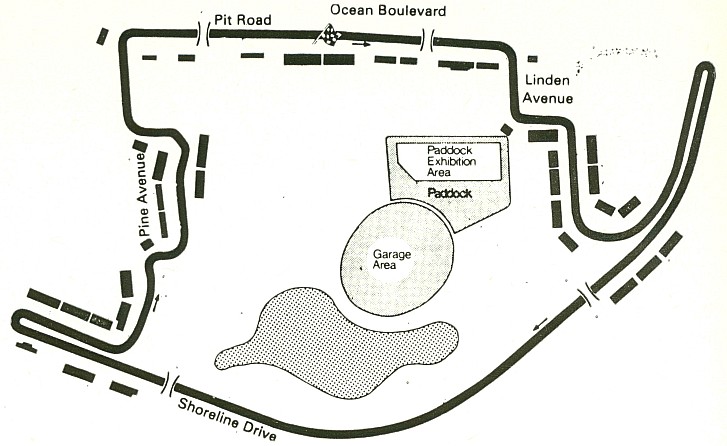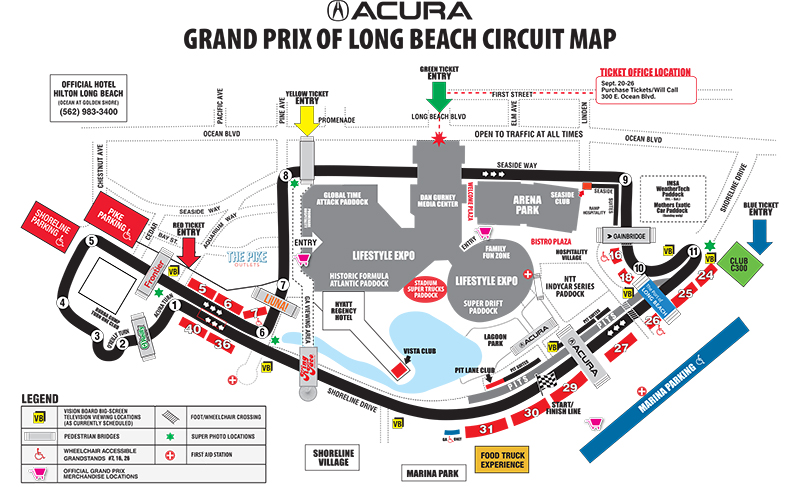 The morning practice was not particularly exciting and Jody Scheckter in a Wolf Ford clocked the fastest time with a 1:22.79 time around the 2.02-mile circuit using a new set of tires.  Mario Andretti's Lotus Ford was up to 2nd with a 1:22.97 lap, both under the 1:23.09 lap set by pole sitter Clay Regazzoni the year before.  Regazzoni was 3rd fastest at 1:23.07 in his Ferrari.  The outright lap record was held by the late Tony Brise at 1:19.90 set in the 1975 inaugural race, run with US F5000 cars, but the course had been modified slightly since then.
When it all counted in Friday afternoon qualifying, Mario Andretti was atop the sheets with a 1:22.06 lap followed by Jacques Laffite 1:22.29, John Watson 1:22.38, Carlos Reutemann 1:22.47, James Hunt 1:22.60 and Nike Lauda 1:22.66.  It was run with temperatures in the sun hovering right around 100 degrees Fahrenheit, unusually high for southern California in April.
Saturday practice was from 10:30 to 12:00 noon with final qualifying scheduled from 1:30 to 2:30 PM.  In the morning the weather was reasonable, in the 90's in the sun, a little less hot than Friday.  It clouded over for the final qualifying session and it looked like rain.  The temperature dropped to 82 degrees but the rain held off.
A great excitement came for the under funded Wolf team when Scheckter was the first to break into the 21s bracket by really hurling the car around.  He held the fastest time for nearly half the session, then Lauda put in a very quick lap to secure pole with a time of 1:21.63.  Andretti nipped Scheckter for 2nd with a 1:21.86 and was pleased to be on the front row with Lauda.  Scheckter lined up 3rd with a 1:21.88 followed by Reutemann 1:22.26, Laffite 1:22.29 and Watson 1:22.37.
Sunday was a glorious day with a track temperature in the sun of 104 degrees F.  The crowds came pouring in and were estimated at 65,000 to 70,000.  The start of the 80-lap race was at 1:00 PM and after a prayer and the national anthem, the cars lined up on Ocean Boulevard for their customary standing start.
Niki Lauda got a bad start from pole position, but it was Jody Scheckter who made a sensational getaway from the 2nd row and led into the first corner by some 20 yards.  Behind him all hell broke loose.  Carlos Reutemann forgot about braking his Ferrari for the first corner and came in like gangbusters.
He punted defending World Champion James Hunt up into the air and out of the race.  If Andretti had not seen him and slowed, he would have been tee-boned.  Reutemann went straight on, hit Hunt who used Watson's wheel as a launching pad, and flew some 6 feet into the air.
Through the first set of corners Scheckter led from Lauda and Andretti.  At the end of the long Shoreline straight Andretti out braked Lauda for 2nd place, a move that would later pay huge dividends.
The order at the end of the first lap was Scheckter, Andretti, Lauda, a gap and then Laffite, Watson , Emerson Fittipaldi, Alan Jones, Patrick Depailler, Jean-Pierre Jarier, Gunnar Nilsson, Clay Regazzoni, Hans Stuck, Hans Binder, Brian Henton, Renzo Zorzi, Brett Lunger and Alex Ribiero (not to be confused with Andre Ribiero).  The front three were pushing very hard, with Andretti trying to find a way past Scheckter.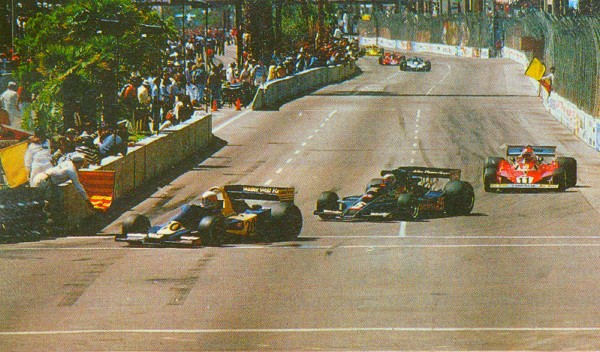 By lap 3 Scheckter had opened a gap of 1.7 seconds over Andretti and Lauda was nipping at Andretti rear wing.  On one occasion Lauda passed Andretti for 2nd, but Andretti passed him right pack a few corners later.  Great stuff.  Such was the pace of the three leaders, that they left everyone else far behind.  Lap after lap the three were at it hammer and tongs, never more than a second or two apart, except when they were lapping traffic.  The Wolf was putting the power down well coming out of the hairpin leading onto Shoreline drive and would squirt away from the Lotus of Andretti and the Ferrari of Lauda just enough so that neither could quite get close enough to him to out brake him at the end of the long straight.
On lap 33 of 80, Niki Lauda tried to out brake Andretti for second at the end of Shoreline, but locked up a front wheel in a huge cloud of smoke and put a flat spot on it.  Scheckter seemed to have the advantage in traffic as he always managed to get through quicker than Andretti and Lauda, in part due to his fabulous acceleration out of the hairpin.
It was during these times that Scheckter would pull out a couple of seconds over Andretti and Lauda, but once the road was clear, both Andretti and Lauda would nibble away at Scheckter's lead until they got to within 1-second.  Although both were slightly faster, they never seemed to be able to find their way past the Wolf.
It was a gripping race and the three drivers took turns setting fast lap times, with all three breaking the lap record at one time or another.  It was finally settled with Lauda leaving it at a 1:21.65 on the 62nd lap.  Each of them knew, and so did the spectators, that if any of the three made the slightest mistake for a fraction of a second he would lose his place.  The pressure was the greatest on Jody because both Andretti and Lauda wanted the lead, but it was looking as though Scheckter was going to be able to keep them at bay.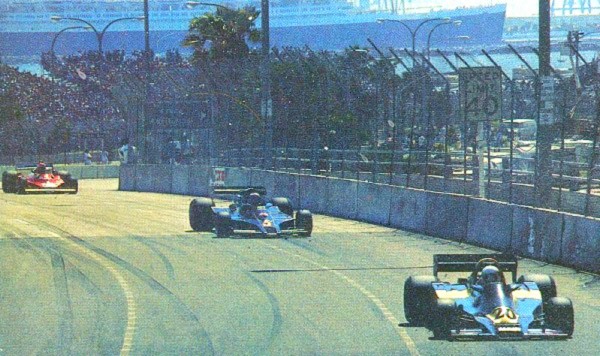 As the race went into the final 20 laps the tension began to rise.  The partisan American crowd were standing and cheering for Andretti.  With about 15-laps to go Scheckter came past the pits pointing to his right front tire, he had picked up a very slow leak.  Andretti closed the gap to under a second, and you could throw a blanket over the three cars.  The Wolf crew waited for Scheckter to pit for a new tire at any time.
For the next 18 laps Scheckter put on a heroic battle with both right under his rear wing.  But the leak was not too severe and Scheckter was able to hold off each of their attempts at passing.  As the laps wound down Jody was looking more and more like he was going to hold on to the lead.
The tires and brakes on all three cars were thoroughly spent, and all three drivers were fighting to keep control.  On lap 76 of 80 a breather tube came loose on the Wolf dropping oil on the exhaust pipe and made Mario and the crowd think Scheckter was in trouble. In fact, the oil leak was not serious and caused him no trouble.  But Mario could smell blood now, and the fans were on their feet waiting for something to happen.
On lap 77 it did.  As they accelerated out of the hairpin leading onto Shoreline, Andretti was a little bit closer this time.  Down the straight they went with Jody ahead by a few car lengths.  Half-way down the straight Andretti drew a little closer in Scheckter's slipstream.    As the hairpin quickly approached Mario then jerked the black John Player Special right, and this time under braking he went straight from 5th gear down to first and braked as hard as he could.
It worked as he drew alongside the Wolf and had the line into the hairpin.  There was nothing Scheckter could do to the delirious delight of the wildly enthusiastic crowd.  A roar rocked Long Beach.  It was a deep throated all-American roar.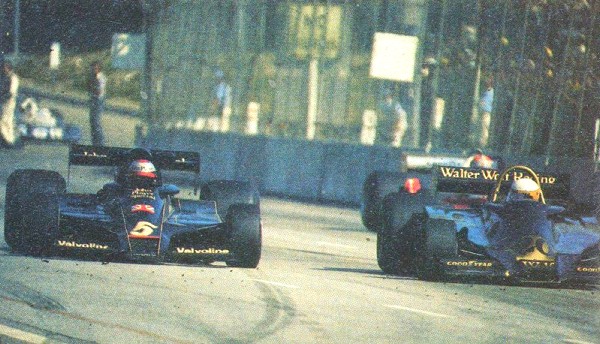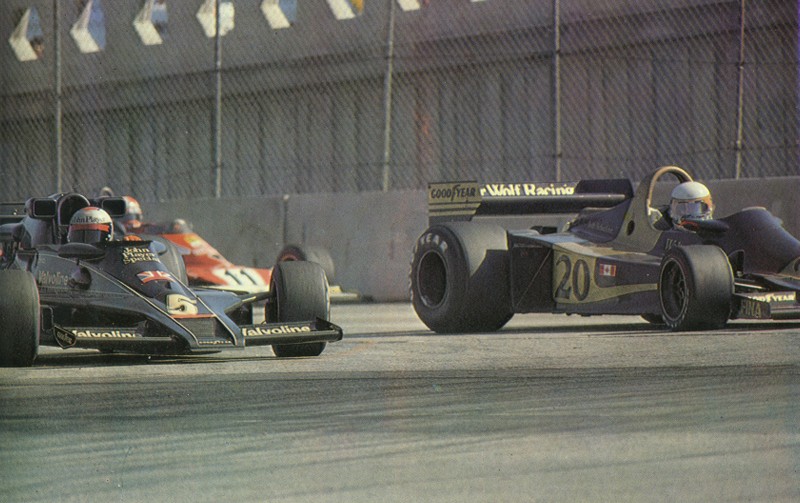 Andretti drew slightly away and the following lap Lauda was past the Wolf and trying to catch Andretti.  The crowd was on its feet for the remaining three laps cheering Andretti home.  The sound was deafening, and the stands were shaking.  On lap 79 the order was Andretti, Lauda, Scheckter.  The flagman waited, the Lotus pits held their breath, the crowd roared even louder.
Up the hill, around the corner of Pine and Ocean.  It was Andretti by just 0.7 seconds over the blood-red Ferrari of Lauda.  He headed for the flag.
Mario did it – he really did it.  Lotus team owner Colin Chapman flung his hat high into the air.  What a race!
The cheering was deafening and continuous for many minutes after Andretti made his triumphant victory lap, both hands off the steering wheel and waving.  As the Star Spangled Banner played on a very scratchy record, blared out of the speakers, one of the greatest days in American racing history neared a close.
Up on the podium Andretti was obviously delighted.  It was the first, and only time an American had won the US Grand Prix.
"Even at 37 years old Andretti is fabulous" gushed Colin Chapman.  "He kept grinding away, grinding down Jody, it was sensational."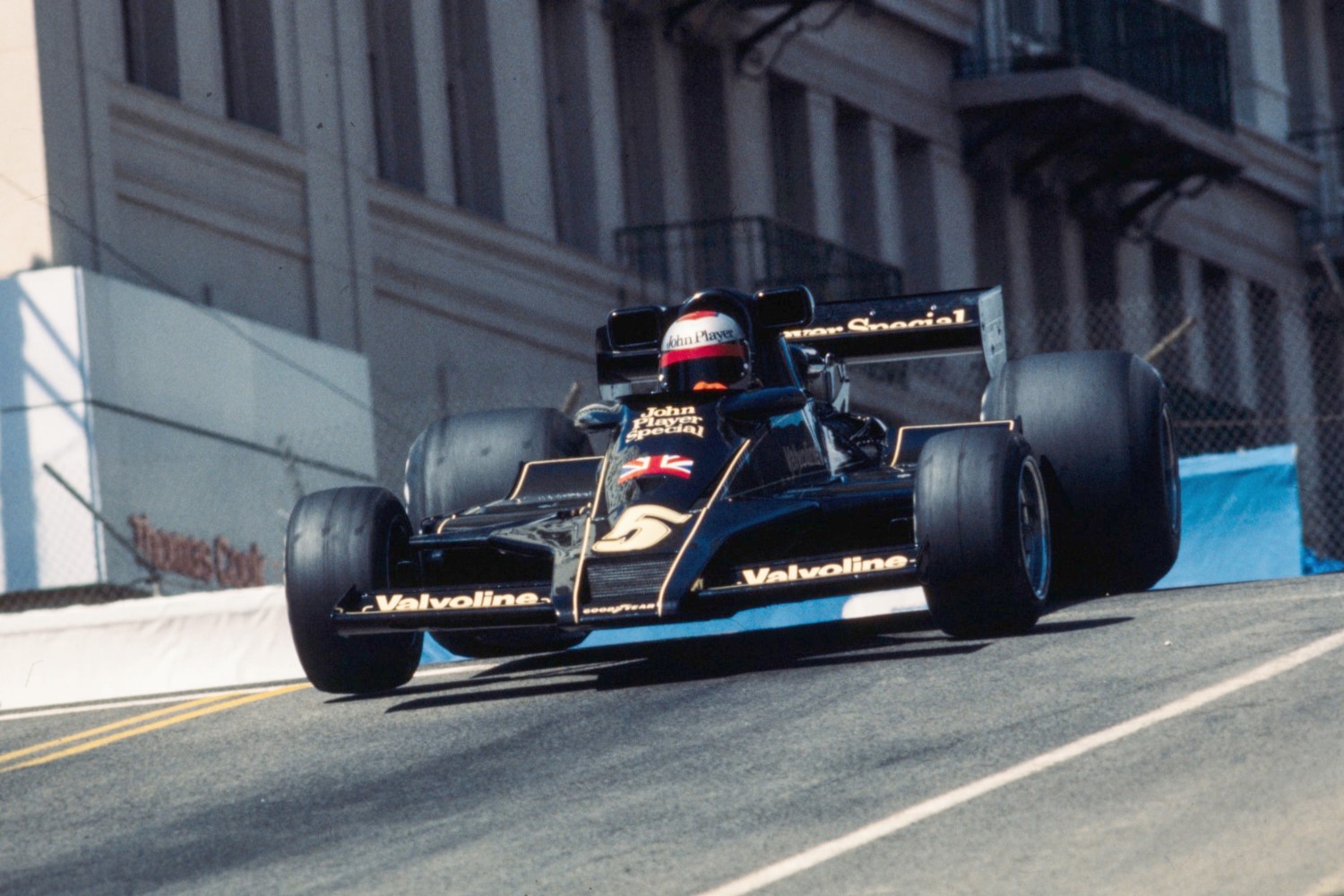 Everyone in the press room was calling it the best F1 battle in ten years.  Mario grinned from ear to ear and was full of quotes afterwards.
"I'll guarantee you, it's the most satisfying win in my whole career.  More so than winning the Indianapolis 500 and Daytona 500.  Formula One means so much to me and to win my home Grand Prix, it's just great."
Throughout 1977 Andretti was fastest in most races but lost the title due to a myriad of engine problems.  In 1978 he and Chapman won the World Driving Championship, but it was the unforgettable day in April of 1977 that started them both back on their winning ways.  As Chris Pook still says to this day, it was this race that saved the race and made the Long Beach Grand Prix what it is today.
Starting Grid
| | | | |
| --- | --- | --- | --- |
| Pos | Driver | Car | Time |
| 1 | Niki Lauda | Ferrari 312T2-030 | 1:21.630 |
| 2 | Mario Andretti | Lotus 78/3-Cosworth | 1:21.868 |
| 3 | Jody Scheckter | Wolf WR1-Cosworth | 1:21.887 |
| 4 | Carlos Reutemann | Ferrari 312T2-029 | 1:22.260 |
| 5 | Jacques Laffite | Ligier JS7/01-Matra | 1:22.296 |
| 6 | John Watson | Brabham BT45/38-Alfa Romeo | 1:22.372 |
| 7 | Emerson Fittipaldi | Copersucar FD04/3-Cosworth | 1:22.382 |
| 8 | James Hunt | McLaren M23/11-Cosworth | 1:22.529 |
| 9 | Jean-Pierre Jarier | Penske PC4/02-Cosworth | 1:22.611 |
| 10 | Ronnie Peterson | Tyrrell P34/5-Cosworth | 1:22.655 |
| 11 | Vittorio Brambilla | Surtees TS19/06-Cosworth | 1:22.659 |
| 12 | Patrick Depailler | Tyrrell P34/2-Cosworth | 1:22.675 |
| 13 | Clay Regazzoni | Ensign MN06-Cosworth | 1:22.762 |
| 14 | Alan Jones | Shadow DN8/3A-Cosworth | 1:23.056 |
| 15 | Jochen Mass | McLaren M23/12-Cosworth | 1:23.231 |
| 16 | Gunnar Nilson | Lotus 78/2-Cosworth | 1:23.384 |
| 17 | Hans Stuck | Brabham BT45/1B-Alfa Romeo | 1:23.811 |
| 18 | Brian Henton | March 761B-Cosworth | 1:24.036 |
| 19 | Hans Binder | Surtees TS19/02-Cosworth | 1:24.173 |
| 20 | Renzo Zorzi | Shadow DN8/1A-Cosworth | 1:24.357 |
| 21 | Brett Lunger | March 761/2-Cosworth | 1:24.979 |
| 22 | Alex Ribeiro | March 761B-Cosworth | 1:25.080 |
Results
| | | | | | | |
| --- | --- | --- | --- | --- | --- | --- |
| Pos | Driver | Ctry. | Car-Engine | Time/Behind | Status | Laps |
| 1. | Mario Andretti | USA | Lotus 78/3-Cosworth | 1:51:35.470 | Running | 80 |
| 2. | Niki Lauda | Aut | Ferrari 312T2-030 | 0.773 sec. | Running | 80 |
| 3. | Jody Scheckter | RSF | Wolf WR1-Cosworth | 4.857 sec. | Running | 80 |
| 4. | Patrick Depailler | Fra | Tyrrell P34/2-Cosworth | 1:14.487sec. | Running | 80 |
| 5. | Emerson Fittipaldi | Bra | Copersucar FD04/3-Cosworth | 1:20.908 | Running | 80 |
| 6. | Jean-Pierre Jarier | Fra | Penske PC4/02-Cosworth | 1 lap | Running | 79 |
| 7. | James Hunt | GBr | McLaren M23/11-Cosworth | 1 lap | Running | 79 |
| 8. | Gunnar Nilsson | Swe | Lotus 78/2-Cosworth | 1 lap | Running | 79 |
| 9. | Jacques Laffite | Fra | Ligier JS7/01-Matra | 2 laps | Running | 78 |
| 10. | Brian Henton | GBr | March 761B-Cosworth | 3 laps | Running | 77 |
| 11. | Hans Binder | Ger | Surtees TS19/02-Cosworth | 3 laps | Running | 77 |
| DNF | Ronnie Peterson | Swe | Tyrrell P34/5-Cosworth | DNF | Fuel line | 63 |
| DNF | Clay Regazzoni | Swi | Ensign MN06-Cosworth | DNF | Gearbox | 58 |
| DNF | Hans Stuck | Ger | Brabham BT45/1B-Alfa | DNF | Brakes | 54 |
| DNF | Alan Jones | Aus | Shadow DN8/3A-Cosworth | DNF | Gearbox | 41 |
| DNF | Jochen Mass | Ger | McLaren M23/12-Cosworth | DNF | Transmission | 40 |
| DSQ | John Watson | Gbr | Brabham BT45/38-Alfa Romeo | DNF | Assist. on circuit | 34 |
| DNF | Renzo Zorzi | Ita | Shadow DN8/1A-Cosworth | DNF | Gearbox | 28 |
| DNF | Alex Ribeiro | Bra | March 761B-Cosworth | DNF | Gearbox oil leak | 16 |
| DNF | Carlos Reutemann | Arg | Ferrari 312T2-029 | DNF | Collision damage | 6 |
| DNF | Brett Lunger | USA | March 761/2-Cosworth | DNF | Collision | 5 |
| DNF | Vittorio Brambilla | Ita | Surtees TS19/06-Cosworth | DNF | Accident | 1 |
Fastest Lap:  Niki Lauda, 1:21.65 on lap 62
Lap leaders:  Jody Scheckter 1-76, Mario Andretti 77-80
Weather: Sunny, warm
The author can be contacted at markc@autoracing1.com