F1: Bottas again leads Mercedes 1-2 in 2nd Russian GP practice
Valtteri Bottas laid down a 1m33.593s marker to lead the 2nd practice session for the Russian GP at Sochi. His time was just 0.044s quicker than his Mercedes teammate Lewis Hamilton. Why are the times almost identical?  Because in F1 it is 99% car and 1% driver.
That was a straightforward session for the Finn, but less so for his teammate. While Hamilton kept things clean and smooth out on track, he did come close to running over his front jack man, who had to take avoiding action.
Mis sueños son Hamilton

Yo soy el mecanico del gatopic.twitter.com/ZCGvuTkCjr

— FTotal (@F1Total102) September 24, 2021
Pierre Gasly was 3rd quick for AlphaTauri 0.252s behind, before taking off his front wing, while Lando Norris and Esteban Ocon rounded out the top-5.
Replays show that Gasly ran wide and over the sausage curbs at Turn 2, with the front wing catching and sliding under the car. He has limped back to the pits.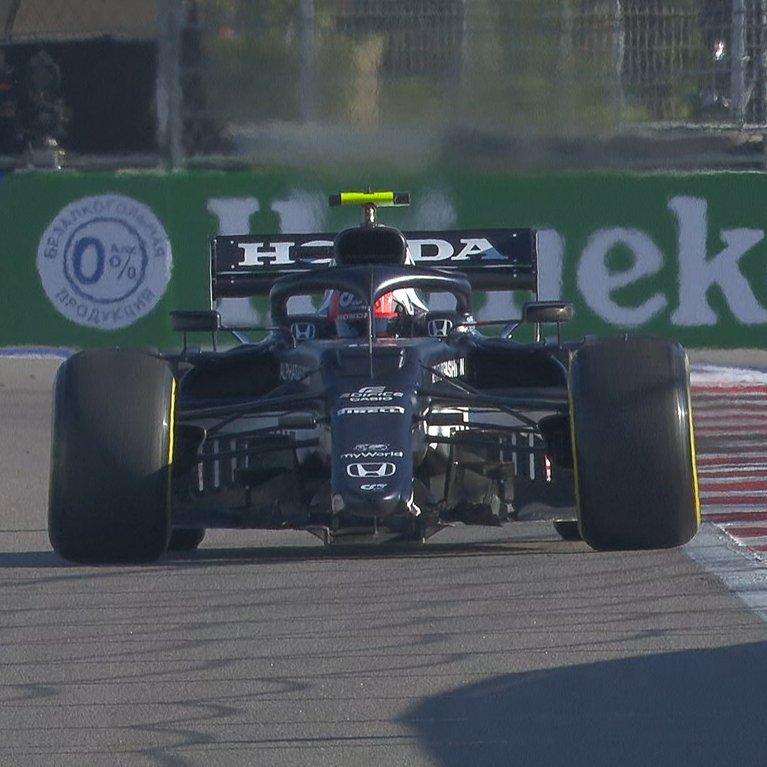 Max Verstappen, who will start last on Sunday due to a Red Bull Honda Power Unit change, was 6th 1.028s behind, but since he has to start last Verstappen focussed on race setup.
Carlos Sainz Jr. was 7th for Ferrari ahead of the Alpine of Fernando Alonso.
Sebastian Vettel was 9th for Aston Martin while Charles Leclerc rounded out the top-10 in the 2nd Ferrari.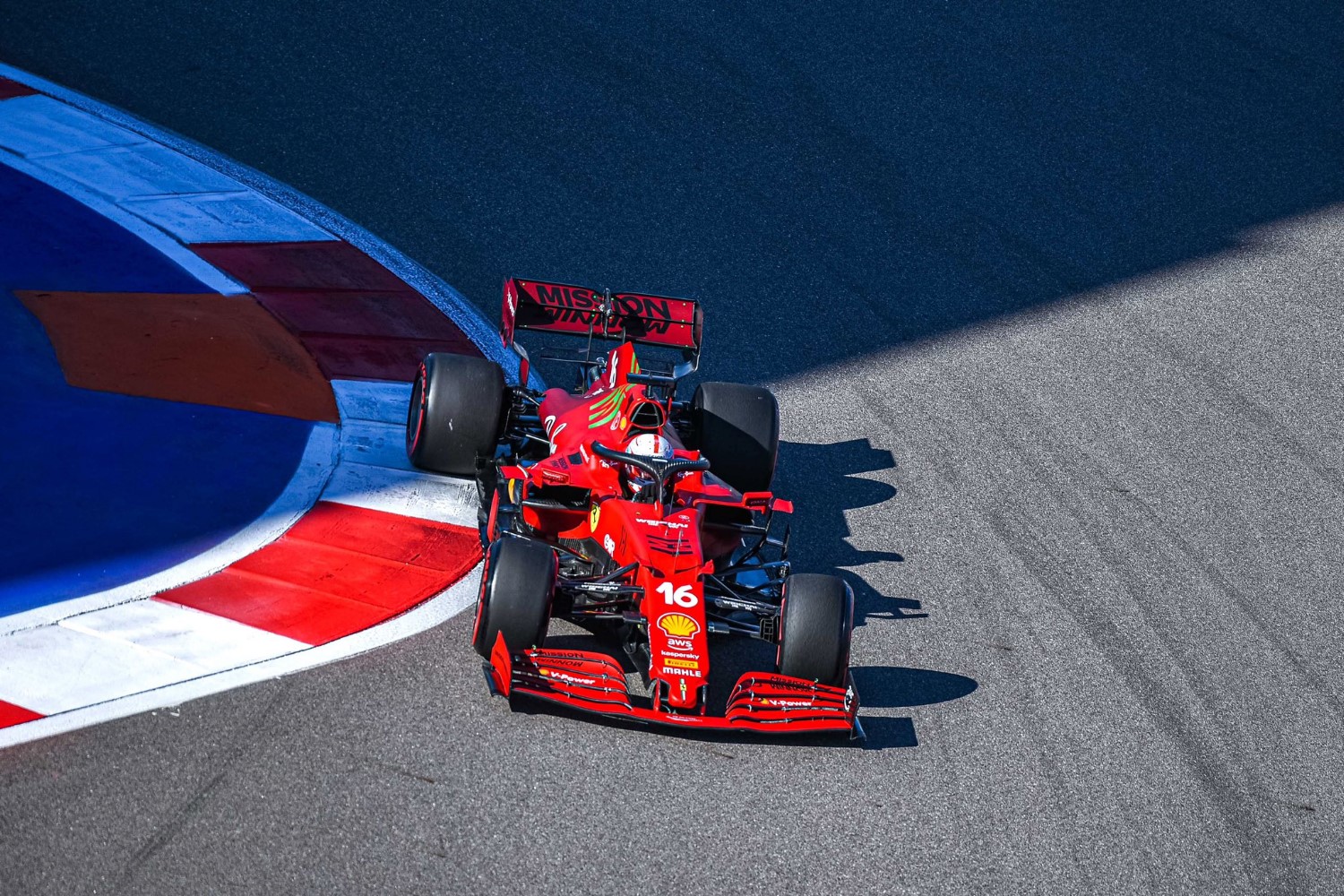 Antonio Giovinazzi caught the barriers with the rear of his Alfa after spinning out of Turn 8. That caused the first red flag period of the weekend, and cut the Italian's running short.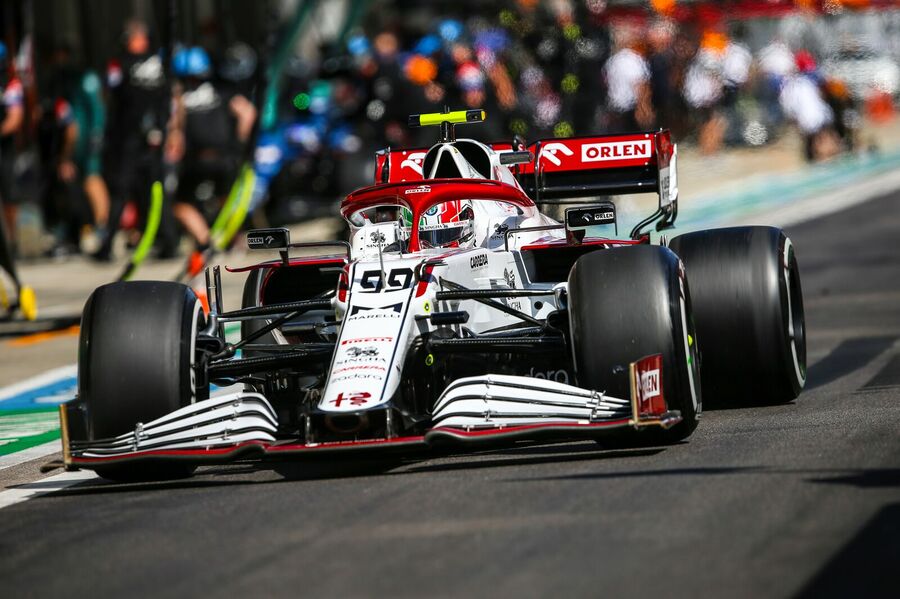 "The sessions were going pretty well until the incident. FP1 wasn't too bad and FP2 was an improvement, overall a good start of the weekend. The wind was rather strong, I got a bit of understeer outside the corner, touched the astroturf on the exit and lost the rear. Tomorrow is another day, we need to see what the weather is going to be like and continue our work."
Heavy rain is forecast for Saturday, so today's sessions were important for race setup. Unlikely to take much of a part in proceedings tomorrow are Leclerc and Verstappen. Both will start at the back after taking on new Power Units, both will set up their cars for the race rather than one lap pace.
Select Quotes
Valtteri Bottas
If you look at the timings and based on my own feeling in the car, it was a good day. From the first run, I had confidence in the car and the balance was very good so I could focus on my driving, looking for small gains. Tomorrow looks like it will be wet, so it'll be a completely different experience. The main thing is the car feels good on the long runs so that's encouraging for Sunday which should be dry. I really find my flow on this track and I enjoy it – when the car works well here, it's great fun to drive.
Lewis Hamilton
We had two good sessions today pace-wise. We ticked off as much as we could working through different setup items and had very clean runs with no issues so overall it was a good day. Valtteri and I went quite different with our setups to see which areas work best and we'll spend tonight studying the data to understand where we want the car for tomorrow and Sunday. It looks like it will be a lot of rain tomorrow, a big wet day, and we'll have to consider our setup with that in mind but keeping an eye on Sunday which is set to be dry.
Andrew Shovlin
We had a pretty good balance to start with today and were able to put in decent times on all tire compounds. We've often struggled on the Soft tire this year, but today it seemed to work well. Our long run performance was OK, but we've not got the balance quite right so there's a bit of work to do there overnight. The forecast looks very wet for tomorrow, especially in the morning, but we're expecting dry conditions for the race. That's going to give us an interesting compromise to deal with, finding a setup that works well in a wet qualifying but also has good long run pace in the dry. Overall though a reasonable start to the weekend.
Max Verstappen
"We thought it would be best to take the engine penalty here in Russia, we took everything into account before making the decision and we of course considered the weather for tomorrow. We had to take the penalty at some point so if we didn't take it here, we would have taken it somewhere else. As for the set-up, we are trying to make the best possible race car for this weekend despite starting from the back of the grid. I hope it's going to work out, and we will try to make the best of it during the race on Sunday, for now, let's wait and see what the weather will be like tomorrow."
Sergio Perez
"I think we have some good information going into qualifying tomorrow, when there won't be much running due to the rain, so today was probably the last chance we have to test the dry conditions before qualifying. I think there is potential in the car for this weekend, we just have to make sure we get it right. I think my first and second sector looked good, but there are some areas to improve in the third sector. There are some set-up changes we might need to make to the car to suit the weather conditions come qualifying, but there are still a lot of interesting things to be analyzed later on this evening. With Max starting from the back, it is going to be a bit of a challenge as a Team and obviously Mercedes are very strong around here but hopefully, we are able to put some pressure on them and qualify very close to them, that would be ideal."
Practice 2 Results
| | | | | | |
| --- | --- | --- | --- | --- | --- |
| POS | DRIVER | NAT. | TEAM | TIME | BEHIND |
| 1 | Valtteri Bottas | FIN | Mercedes AMG Petronas F1 Team | 1m33.593s | +0.000s |
| 2 | Lewis Hamilton | GBR | Mercedes AMG Petronas F1 Team | 1m33.637s | +0.044s |
| 3 | Pierre Gasly | FRA | Scuderia AlphaTauri Honda | 1m33.845s | +0.252s |
| 4 | Lando Norris | GBR | McLaren F1 Team | 1m34.154s | +0.561s |
| 5 | Esteban Ocon | FRA | Alpine F1 Team | 1m34.402s | +0.809s |
| 6 | Max Verstappen | NED | Red Bull Racing | 1m34.621s | +1.028s |
| 7 | Carlos Sainz | ESP | Scuderia Ferrari Mission Winnow | 1m34.678s | +1.085s |
| 8 | Fernando Alonso | CHI | Alpine F1 Team | 1m34.762s | +1.169s |
| 9 | Sebastian Vettel | GER | Aston Martin Cognizant F1 Team | 1m34.837s | +1.244s |
| 10 | Charles Leclerc | MON | Scuderia Ferrari Mission Winnow | 1m34.925s | +1.332s |
| 11 | Sergio Perez | MEX | Red Bull Racing | 1m34.938s | +1.345s |
| 12 | Kimi Raikkonen | FIN | Alfa Romeo Racing Orlen | 1m35.052s | +1.459s |
| 13 | George Russell | ISR | Williams Racing | 1m35.094s | +1.501s |
| 14 | Antonio Giovinazzi | GBR | Alfa Romeo Racing Orlen | 1m35.178s | +1.585s |
| 15 | Lance Stroll | CAN | Aston Martin Cognizant F1 Team | 1m35.334s | +1.741s |
| 16 | Nicholas Latifi | CAN | Williams Racing | 1m35.411s | +1.818s |
| 17 | Daniel Ricciardo | AUS | McLaren F1 Team | 1m35.630s | +2.037s |
| 18 | Yuki Tsunoda | JPN | Scuderia AlphaTauri Honda | 1m35.934s | +2.361s |
| 19 | Nikita Mazepin | RUS | Uralkali Haas F1 Team | 1m36.099s | +2.506s |
| 20 | Mick Schumacher | GER | Uralkali Haas F1 Team | 1m36.230s | +2.637s |