IndyCar: Herta tops opening practice for the Acura GP of Long Beach
Andretti Autosport's best driver, Colton Herta, coming off a dominant win last weekend at Laguna Seca, turned the fastest lap in opening practice for the Acura GP of Long Beach IndyCar race.
Herta's fast lap of 1m09.268s was 0.1664s faster than the Penske Chevy of Simon Pagenaud, who is driving for his ride in 2022.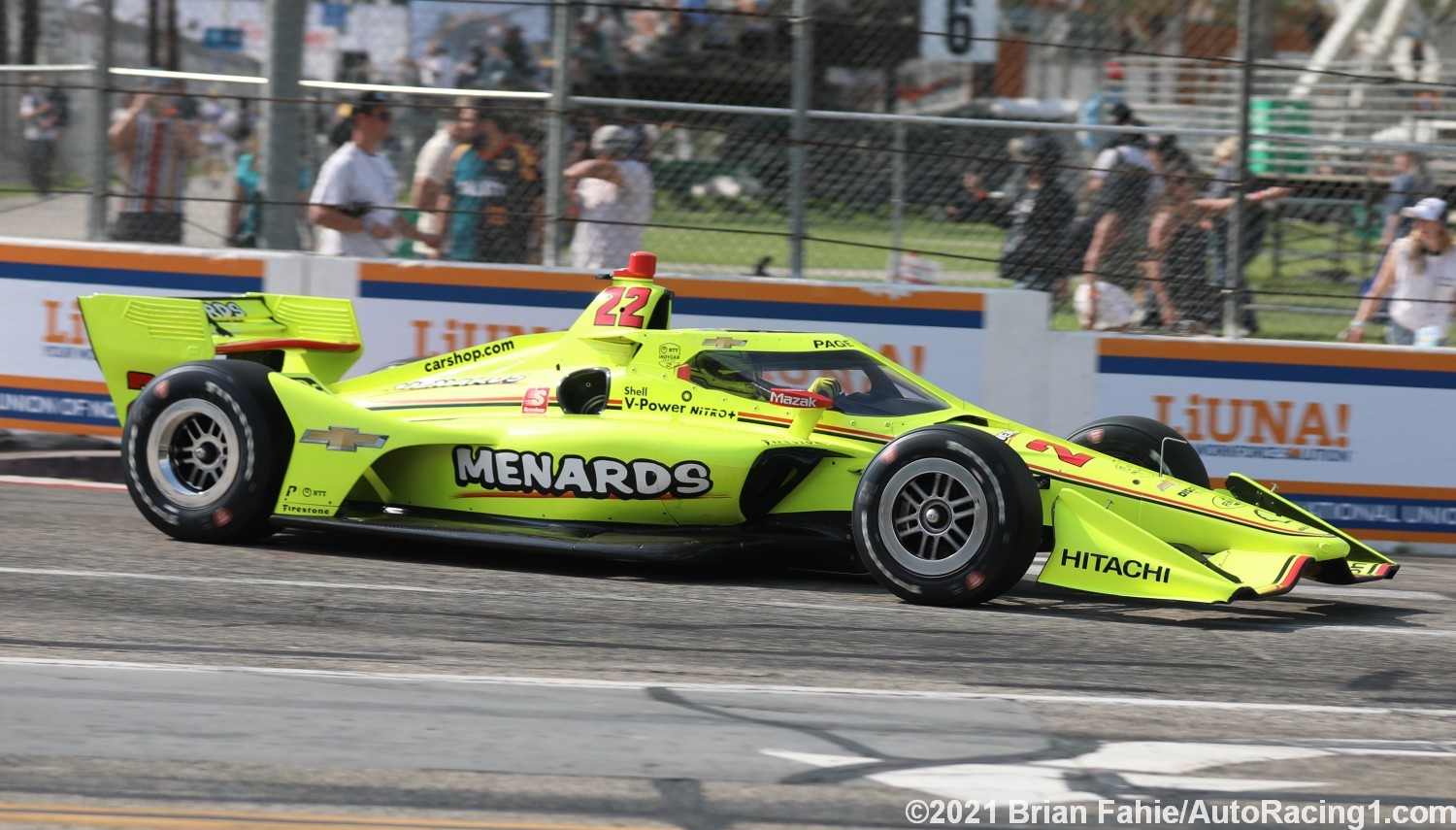 Points leader Alex Palou was 3rd fastest 0.18s behind Herta.
"It was a good session," Palou said. "I like the track. It was all about getting to know the track and see how that No. 10 NTT DATA car was handling. I'm comfortable and ready to push tomorrow."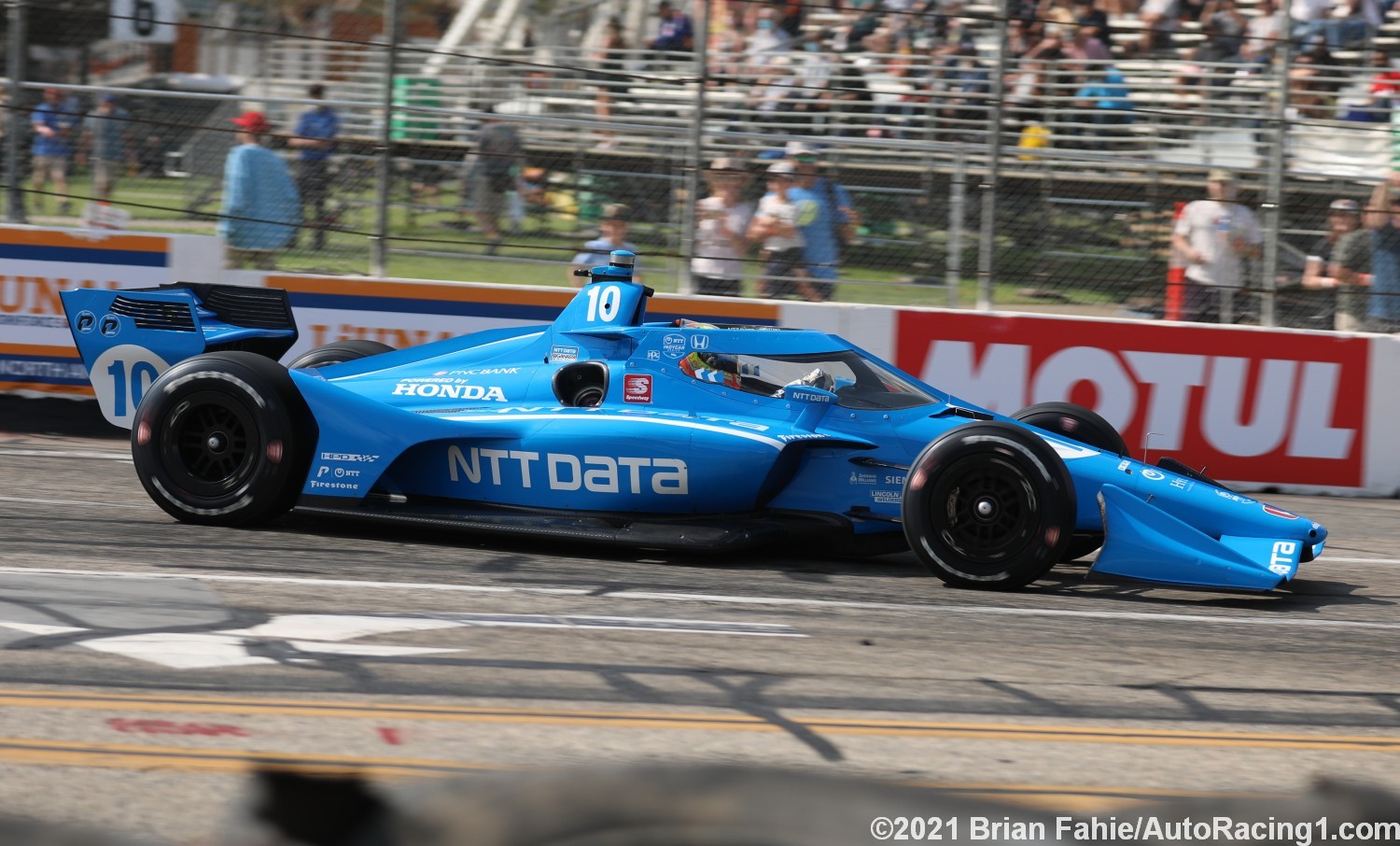 Felix Rosenqvist and Ryan Hunter-Reay, both driving like there's no tomorrow,  to land a ride in 2022, rounded out the top-5.
While Rosenqvist found speed, his championship-contending teammate Pato O'Ward struggled in practice. O'Ward is second in the championship standings, 35 points behind Palou. But he ended up 16th in the 28-car field at 1:10.2451 in the No. 5 Arrow McLaren SP Chevrolet.
"We need to work," an agitated O'Ward said after the session. "We just need to sort something out, find time."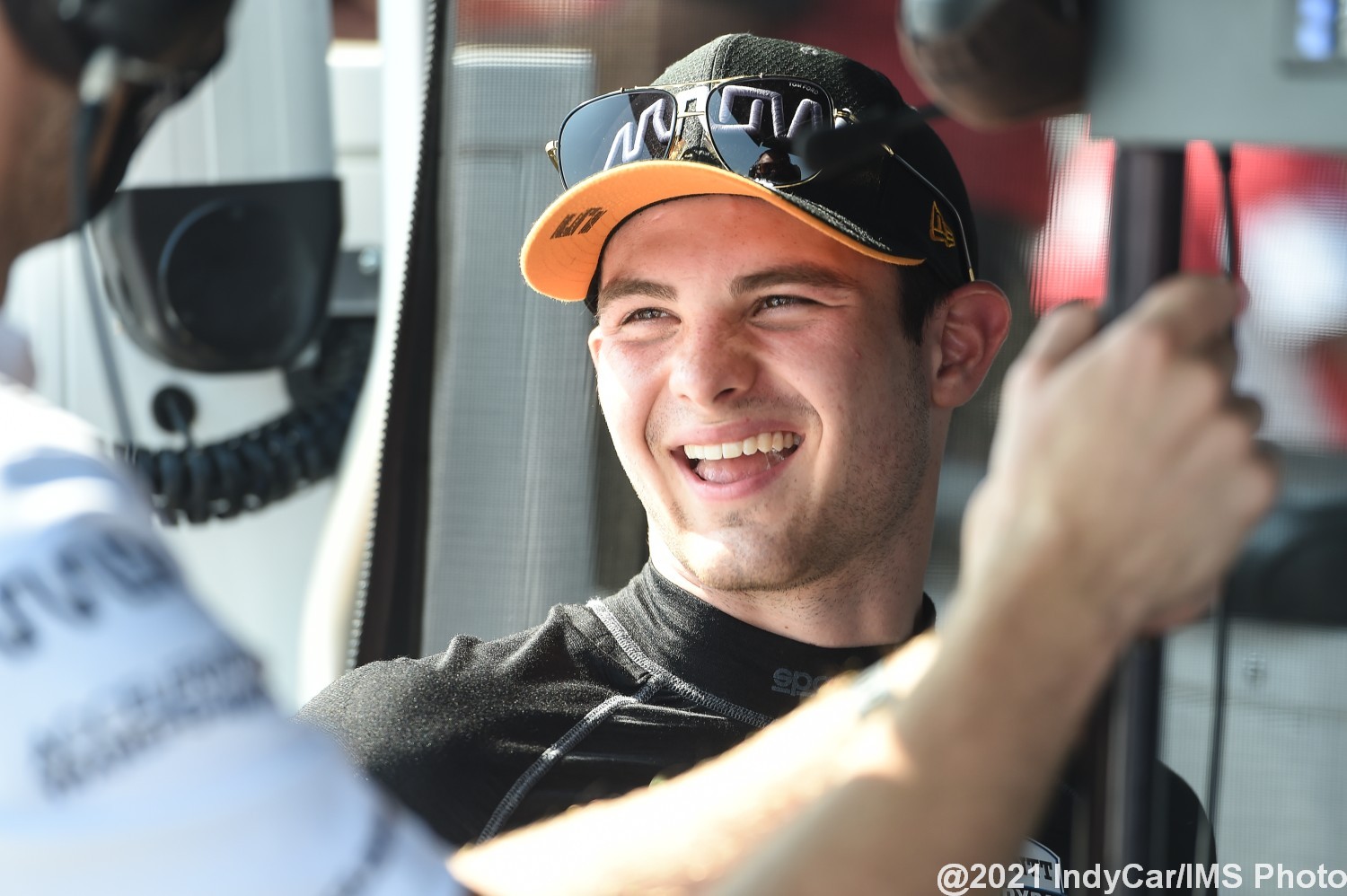 The third title contender, two-time series champion Josef Newgarden, was 10th at 1:09.8557 in the No. 2 Hitachi Team Penske Chevrolet. Newgarden spun early in the session after losing traction while running over a bump entering Turn 9, but he continued without damage to his car.
Newgarden is 48 points behind Palou in third and must win the NTT P1 Award, race and lead the most laps while Palou finishes 25th or worse to have a chance to pull off an improbable title charge.
Practice 1 Results
| | | | | | | | | |
| --- | --- | --- | --- | --- | --- | --- | --- | --- |
| Pos | No | Name | Time | Diff | Gap | Speed | Engine | Team |
| 1 | 26 | Colton Herta | 1:09.2680 | 0.000s | 0.000s | 102.281 | Honda | Andretti Autosport |
| 2 | 22 | Simon Pagenaud | 1:09.4334 | 0.1654 | 0.1654 | 102.037 | Chevy | Team Penske |
| 3 | 10 | Alex Palou | 1:09.4554 | 0.1874 | 0.0220 | 102.005 | Honda | Chip Ganassi Racing |
| 4 | 7 | Felix Rosenqvist | 1:09.4870 | 0.2190 | 0.0316 | 101.959 | Chevy | Arrow McLaren SP |
| 5 | 28 | Ryan Hunter-Reay | 1:09.5154 | 0.2474 | 0.0284 | 101.917 | Honda | Andretti Autosport |
| 6 | 06 | Helio Castroneves | 1:09.5703 | 0.3023 | 0.0549 | 101.837 | Honda | Meyer Shank Racing |
| 7 | 3 | Scott McLaughlin | 1:09.6212 | 0.3532 | 0.0509 | 101.762 | Chevy | Team Penske |
| 8 | 29 | James Hinchcliffe | 1:09.6276 | 0.3596 | 0.0064 | 101.753 | Honda | Andretti Steinbrenner Autosport |
| 9 | 27 | Alexander Rossi | 1:09.7940 | 0.5260 | 0.1664 | 101.510 | Honda | Andretti Autosport |
| 10 | 2 | Josef Newgarden | 1:09.8557 | 0.5877 | 0.0617 | 101.420 | Chevy | Team Penske |
| 11 | 51 | Romain Grosjean | 1:09.8807 | 0.6127 | 0.0250 | 101.384 | Honda | Dale Coyne Racing w/RWR |
| 12 | 12 | Will Power | 1:09.9916 | 0.7236 | 0.1109 | 101.224 | Chevy | Team Penske |
| 13 | 9 | Scott Dixon | 1:10.0535 | 0.7855 | 0.0619 | 101.134 | Honda | Chip Ganassi Racing |
| 14 | 18 | Ed Jones | 1:10.1145 | 0.8465 | 0.0610 | 101.046 | Honda | Dale Coyne Racing with Vasser Sullivan |
| 15 | 60 | Jack Harvey | 1:10.1758 | 0.9078 | 0.0613 | 100.958 | Honda | Meyer Shank Racing |
| 16 | 5 | Pato O'Ward | 1:10.2451 | 0.9771 | 0.0693 | 100.858 | Chevy | Arrow McLaren SP |
| 17 | 8 | Marcus Ericsson | 1:10.3153 | 1.0473 | 0.0702 | 100.758 | Honda | Chip Ganassi Racing |
| 18 | 14 | Sebastien Bourdais | 1:10.3788 | 1.1108 | 0.0635 | 100.667 | Chevy | AJ Foyt Enterprises |
| 19 | 15 | Graham Rahal | 1:10.5113 | 1.2433 | 0.1325 | 100.478 | Honda | Rahal Letterman Lanigan Racing |
| 20 | 21 | Rinus VeeKay | 1:10.7374 | 1.4694 | 0.2261 | 100.156 | Chevy | Ed Carpenter Racing |
| 21 | 30 | Takuma Sato | 1:10.7675 | 1.4995 | 0.0301 | 100.114 | Honda | Rahal Letterman Lanigan Racing |
| 22 | 59 | Max Chilton | 1:10.7844 | 1.5164 | 0.0169 | 100.090 | Chevy | Carlin |
| 23 | 20 | Conor Daly | 1:10.9036 | 1.6356 | 0.1192 | 99.922 | Chevy | Ed Carpenter Racing |
| 24 | 11 | Charlie Kimball | 1:11.0619 | 1.7939 | 0.1583 | 99.699 | Chevy | AJ Foyt Enterprises |
| 25 | 77 | Callum Ilott | 1:11.1181 | 1.8501 | 0.0562 | 99.620 | Chevy | Juncos Hollinger Racing |
| 26 | 45 | Oliver Askew | 1:11.2253 | 1.9573 | 0.1072 | 99.470 | Honda | Rahal Letterman Lanigan Racing |
| 27 | 48 | Jimmie Johnson | 1:11.4371 | 2.1691 | 0.2118 | 99.175 | Honda | Chip Ganassi Racing |
| 28 | 4 | Dalton Kellett | 1:11.7969 | 2.5289 | 0.3598 | 98.678 | Chevy | AJ Foyt Enterprises |