IndyCar: Newgarden wins pole for Acura GP of Long Beach
Josef Newgarden did what he had to do if he wants to win the 2021 IndyCar title – start from pole, lead the most laps and win the race and hope Alex Palou and Pato O'Ward run into trouble.
Newgarden turned a lap of 1m08.2241s to win pole for the Acura GP of Long Beach with a massive final lap as the clock went to zero. Step 1 complete.
Six-time and reigning series champion Scott Dixon will join Newgarden on the front row after qualifying second at 1:08.4422 in the No. 9 PNC Bank Grow Up Great Honda.
Four-time Indianapolis 500 presented by Gainbridge winner Helio Castroneves qualified third at 1:08.4827 in the No. 06 Meyer Shank Racing Honda, easily the best start of his partial season. Castroneves' previous best start was eighth for the Indy 500, which he won. His best start in four previous road or street course races this season was 15th at Nashville.
Joining Castroneves on the second row will be 2016 series champion Simon Pagenaud, whose best lap was 1:08,6514 in the No. 22 Menards Team Penske Chevrolet.
Felix Rosenqvist qualified fifth at 1:08.7461 in the No. 7 Arrow McLaren SP Chevrolet, while rookie Romain Grosjean rounded out the Firestone Fast Six at 1:08.7577 in the No. 51 Nurtec ODT Honda.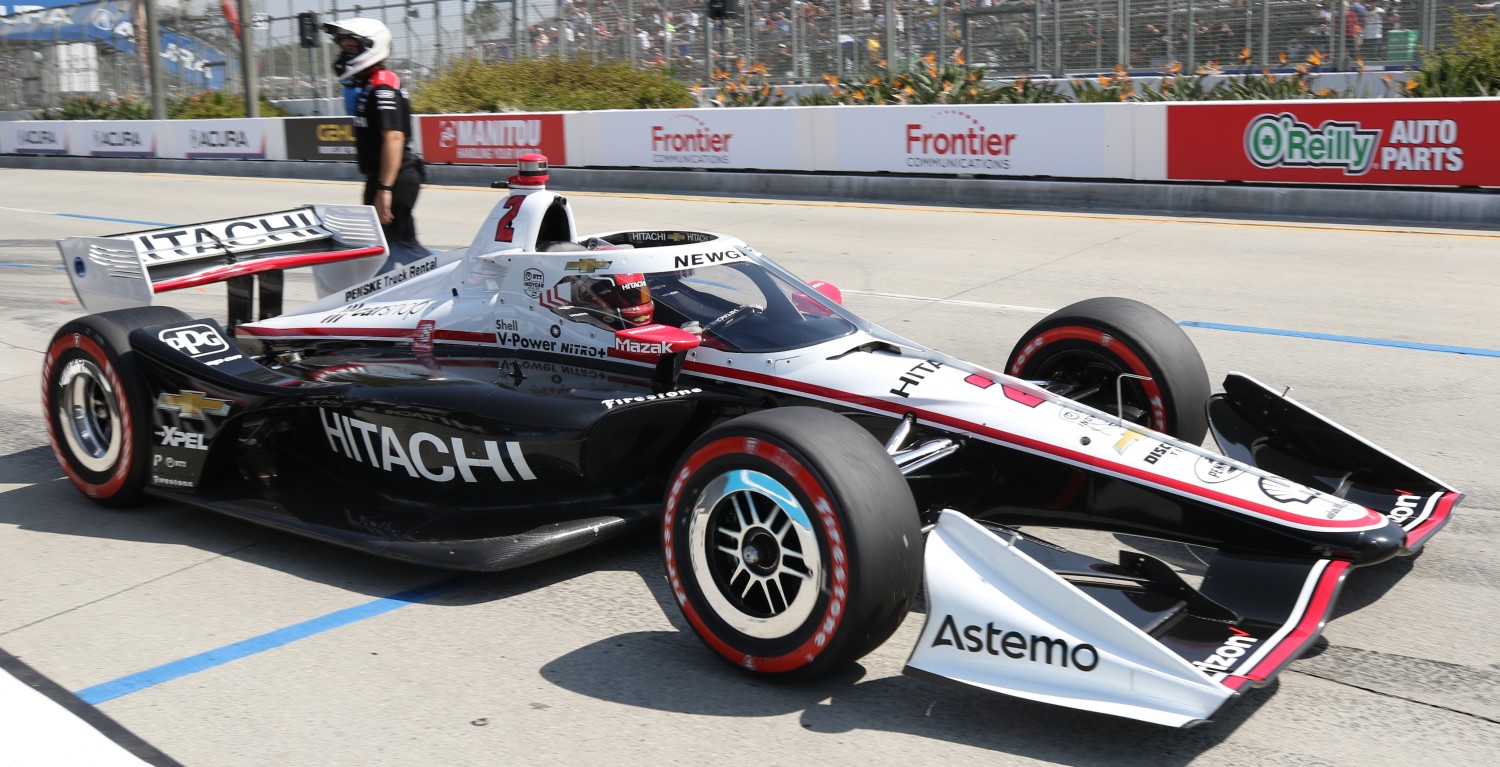 Palou must finish 12th or better – or 13th or better if he leads a lap – to clinch his first NTT INDYCAR SERIES championship in the No. 10 NTT DATA Chip Ganassi Racing Honda. He'll start 10th on the grid after a dramatic end to the round of 12 in qualifying in which a handful of drivers, including Palou and closest title rival Pato O'Ward, on fast final laps were forced to slow due to a local yellow flag for an incident involving Will Power.
Newgarden's only chance to win the title is to win and lead the most laps Sunday, with Palou finishing 25th or worse in the 28-car field.
"It's very improbable for us to win this championship," Newgarden said. "So, our goal is to win the race tomorrow. Let's finish our season on a high note, and we'll see what happens. I think it's pretty unlikely, but you never say never in this sport."
"There's some guy roaming around Long Beach that has just been yelling all weekend and getting us fired-up (laughter), and I was pretty much screaming that whole last lap," said Newgarden.
"He's at the track somewhere. He's just getting me hyped. He was getting all of us hyped. He needs to be in this pit box.
"I'm so happy. It's been a little bit demoralizing the last couple of weekends where we've qualified. We've had really good cars. The team has been doing a phenomenal job, Gavin (Ward, Race Engineer) and all the boys. They've been killing it.
"To start where we've started these last couple of races has just taken the life out of me a little bit. So, I'm so pumped that we were able to be quick here. I think we've got the package, for sure, with Team Chevy. I wish we had more of a fight with Colton (Herta). He was going to be really tough to beat today. It's a shame we didn't get to fight him straight up, but you know what? We accomplished our job for today, and now we have to go after it tomorrow."
"Yeah, I mean look, we've fought hard all year. We've had ups and downs. It's very improbable for us to win this championship. So, I think our goal is to win the race tomorrow. Let's finish our season on a high note. Everyone here deserves that. We'll see what happens. I think it's pretty unlikely, but you never say never in this sport."
"We always want to maximize our potential. If second is what we can do for the year, then we want to get that done. I know that's what's important to Roger (Penske) and the team and the same with me. So, we're going to do everything we can to finish as high as possible and we'll see where the chips fall at the end of the day."
Points leader Alex Palou will start 10th and 2nd in points Pato O'Ward 8th after IndyCar officials turned a blind eye to drivers racing through a yellow flag that resulted in Palou and O'Ward getting the IndyCar screw.  Newgarden drives for the owner of the series. Hmmm….
The team that really embarrassed themselves was Andretti Autosport.  Always strong here at Long Beach, they failed to get even one of their four drivers in the Fast Six.
Colton Herta, quickest in both practice sessions this weekend, was eliminated from the first round of qualifying and will start 14th. Herta hit the concrete retaining wall with the left side of his No. 26 Gainbridge Honda late in the second group while running on Firestone primary "black" tires. He came to the pits for a set of Firestone alternate "red" tires, but the toe link suspension piece bent by the earlier contact broke on his final flying lap on "reds," and he was forced to abandon the run.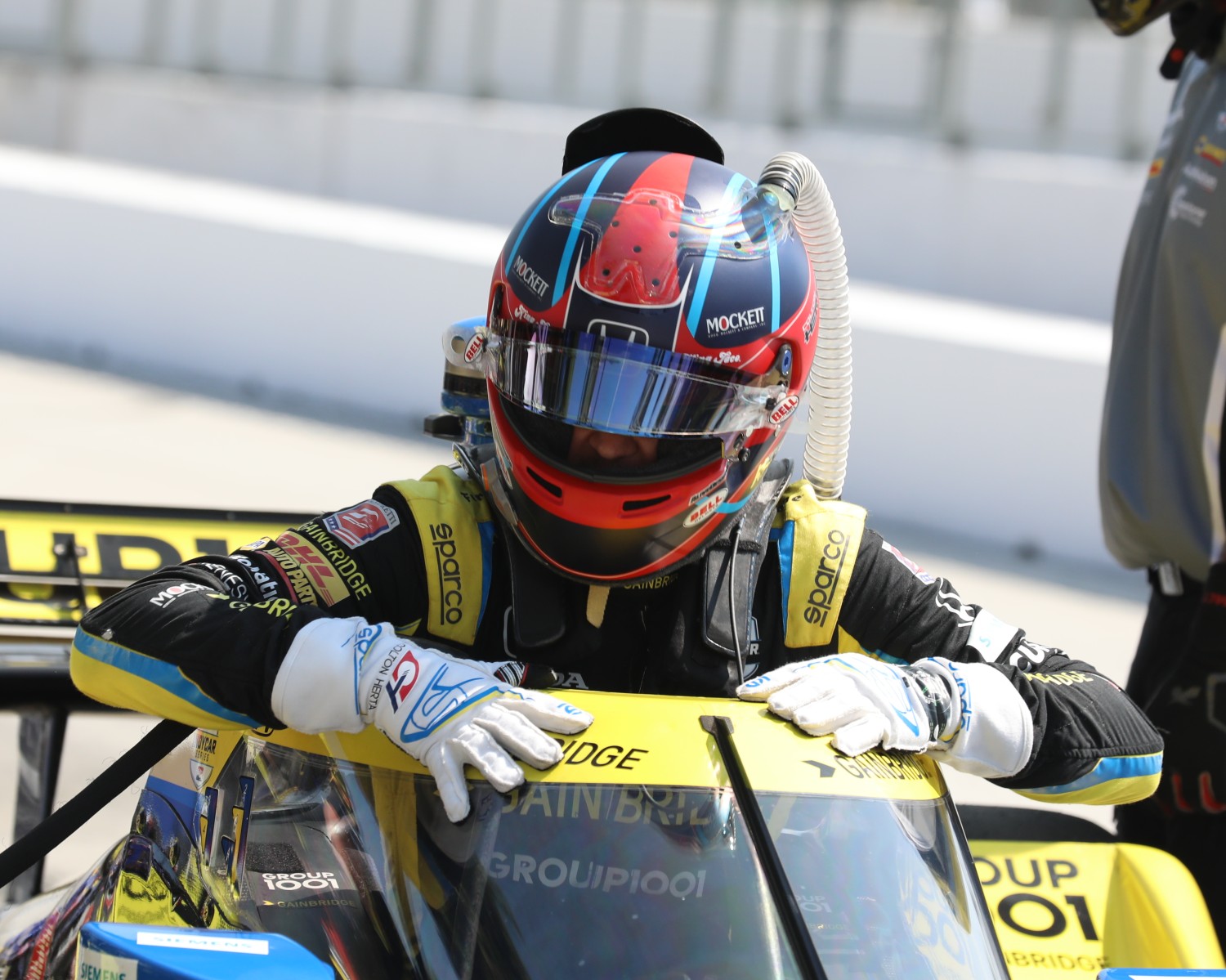 "It was a handful until it wasn't bent anymore and just broke," Herta said. "It was my fault, unfortunately. It will make for an interesting race, though. We're starting 14th and have two sets of new reds. Could be a good thing, a charge to the front tomorrow."
James Hinchcliffe qualified fastest (7th) for the Andretti squad, followed by Ryan Hunter-Reay (11th), Herta 14th, while the worst driver on the team, Alexander Rossi, will start down in 15th. After lucking into an Indy 500 win in his rookie year in IndyCar, it's been all downhill for Rossi.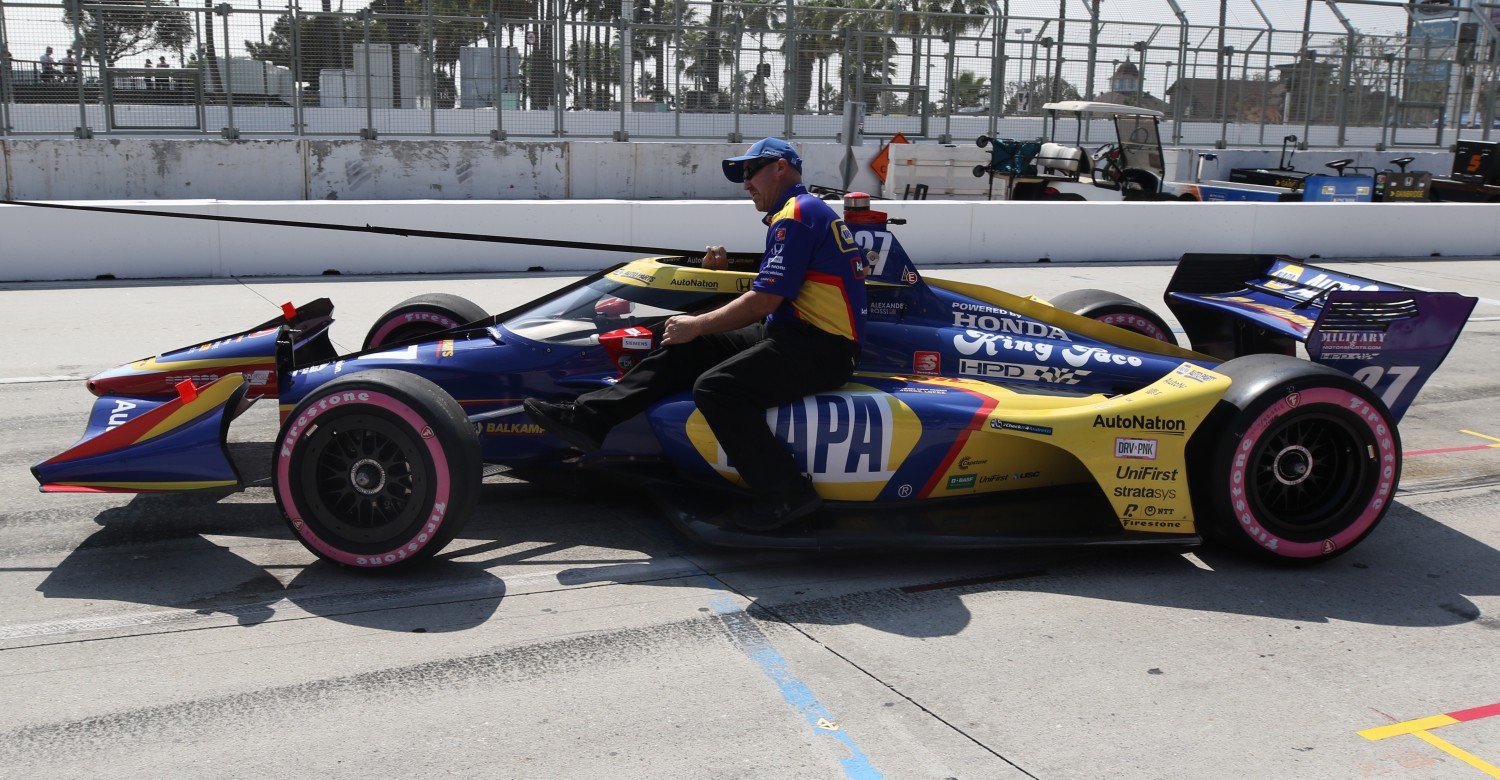 Rossi has one more year left on his contract before Michael Andretti has to decide whether to find a faster driver. He brought in Romain Grosjean for the next two years to replace Hunter-Reay. Who will Andretti go after next to replace Rossi?
More to follow……
Round 1 Group 1
Pos
No
Name
Time
Diff
Gap
Speed
Engine
Team
1
2
Josef Newgarden
1:08.5080
0.000
0.000
103.416
Chevy
Team Penske
2
9
Scott Dixon
1:08.5705
0.0625
0.0625
103.321
Honda
Chip Ganassi Racing
3
10
Alex Palou
1:08.7114
0.2034
0.1409
103.110
Honda
Chip Ganassi Racing
4
5
Pato O'Ward
1:08.7717
0.2637
0.0603
103.019
Chevy
Arrow McLaren SP
5
12
Will Power
1:08.8509
0.3429
0.0792
102.901
Chevy
Team Penske
6
28
Ryan Hunter-Reay
1:08.8576
0.3496
0.0067
102.891
Honda
Andretti Autosport
Eliminated
7
3
Scott McLaughlin
1:08.8611
0.3531
0.0035
102.885
Chevy
Team Penske
8
27
Alexander Rossi
1:08.9946
0.4866
0.1335
102.686
Honda
Andretti Autosport
9
15
Graham Rahal
1:09.0872
0.5792
0.0926
102.549
Honda
Rahal Letterman Lanigan Racing
10
8
Marcus Ericsson
1:09.1368
0.6288
0.0496
102.475
Honda
Chip Ganassi Racing
11
59
Max Chilton
1:09.4106
0.9026
0.2738
102.071
Chevy
Carlin
12
20
Conor Daly
1:09.5816
1.0736
0.1710
101.820
Chevy
Ed Carpenter Racing
13
48
Jimmie Johnson
1:10.2987
1.7907
0.7171
100.781
Honda
Chip Ganassi Racing
14
60
Jack Harvey
1:10.4664
1.9584
0.1677
100.542
Honda
Meyer Shank Racing
Round 1 Group 2
Pos
No
Name
Time
Diff
Gap
Speed
Engine
Team
1
7
Felix Rosenqvist
1:08.6223
0.000s
0.000
103.243
Chevy
Arrow McLaren SP
2
22
Simon Pagenaud
1:08.6641
0.0418
0.0418
103.181
Chevy
Team Penske
3
06
Helio Castroneves
1:08.6995
0.0772
0.0354
103.127
Honda
Meyer Shank Racing
4
51
Romain Grosjean
1:08.7144
0.0921
0.0149
103.105
Honda
Dale Coyne Racing w/RWR
5
29
James Hinchcliffe
1:08.8436
0.2213
0.1292
102.912
Honda
Andretti Steinbrenner Autosport
6
18
Ed Jones
1:08.8772
0.2549
0.0336
102.861
Honda
Dale Coyne Racing with Vasser Sullivan
Eliminated
7
26
Colton Herta
1:09.1094
0.4871
0.2322
102.516
Honda
Andretti Autosport
8
30
Takuma Sato
1:09.3814
0.7591
0.2720
102.114
Honda
Rahal Letterman Lanigan Racing
9
77
Callum Ilott
1:09.4360
0.8137
0.0546
102.034
Chevy
Juncos Hollinger Racing
10
45
Oliver Askew
1:09.4376
0.8153
0.0016
102.031
Honda
Rahal Letterman Lanigan Racing
11
11
Charlie Kimball
1:09.6793
1.0570
0.2417
101.677
Chevy
AJ Foyt Enterprises
12
14
Sebastien Bourdais
1:09.7022
1.0799
0.0229
101.644
Chevy
AJ Foyt Enterprises
13
21
Rinus VeeKay
1:09.7602
1.1379
0.0580
101.559
Chevy
Ed Carpenter Racing
14
4
Dalton Kellett
1:09.9144
1.2921
0.1542
101.335
Chevy
AJ Foyt Enterprises
Round 2
Pos
No
Name
Time
Diff
Gap
Speed
Engine
Team
1
51
Romain Grosjean
1:08.1776
0.000
0.000
103.917
Honda
Dale Coyne Racing w/RWR
2
9
Scott Dixon
1:08.3110
0.1334
0.1334
103.714
Honda
Chip Ganassi Racing
3
22
Simon Pagenaud
1:08.5307
0.3531
0.2197
103.381
Chevy
Team Penske
4
06
Helio Castroneves
1:08.5561
0.3785
0.0254
103.343
Honda
Meyer Shank Racing
5
2
Josef Newgarden
1:08.5673
0.3897
0.0112
103.326
Chevy
Team Penske
6
7
Felix Rosenqvist
1:08.6294
0.4518
0.0621
103.233
Chevy
Arrow McLaren SP
Eliminated
7
29
James Hinchcliffe
1:08.7143
0.5367
0.0849
103.105
Honda
Andretti Steinbrenner Autosport
8
18
Ed Jones
1:08.8153
0.6377
0.1010
102.954
Honda
Dale Coyne Racing with Vasser Sullivan
9
5
Pato O'Ward
1:08.8339
0.6563
0.0186
102.926
Chevy
Arrow McLaren SP
10
10
Alex Palou
1:08.9464
0.7688
0.1125
102.758
Honda
Chip Ganassi Racing
11
28
Ryan Hunter-Reay
1:09.1330
0.9554
0.1866
102.481
Honda
Andretti Autosport
12
12
Will Power
1:09.1941
1.0165
0.0611
102.390
Chevy
Team Penske
Round 3 Fast Six
| | | | | | | | | |
| --- | --- | --- | --- | --- | --- | --- | --- | --- |
| Pos | No | Name | Time | Diff | Gap | Speed | Engine | Team |
| 1 | 2 | Josef Newgarden | 1:08.2241 | 0.000 | 0.000 | 103.846 | Chevy | Team Penske |
| 2 | 9 | Scott Dixon | 1:08.4422 | 0.2181 | 0.2181 | 103.515 | Honda | Chip Ganassi Racing |
| 3 | 06 | Helio Castroneves | 1:08.4827 | 0.2586 | 0.0405 | 103.454 | Honda | Meyer Shank Racing |
| 4 | 22 | Simon Pagenaud | 1:08.6514 | 0.4273 | 0.1687 | 103.200 | Chevy | Team Penske |
| 5 | 7 | Felix Rosenqvist | 1:08.7461 | 0.5220 | 0.0947 | 103.057 | Chevy | Arrow McLaren SP |
| 6 | 51 | Romain Grosjean | 1:08.7577 | 0.5336 | 0.0116 | 103.040 | Honda | Dale Coyne Racing w/RWR |
Starting Lineup
| | | | | | | |
| --- | --- | --- | --- | --- | --- | --- |
| Pos | Car | Driver Name | Engine | Time | Speed | Session |
| 1 | 2 | Newgarden, Josef | Chevy | 01:08.2241 | 103.846 | Round 3 / Firestone Fast Six |
| 2 | 9 | Dixon, Scott | Honda | 01:08.4422 | 103.515 | Round 3 / Firestone Fast Six |
| 3 | 06 | Castroneves, Helio | Honda | 01:08.4827 | 103.454 | Round 3 / Firestone Fast Six |
| 4 | 22 | Pagenaud, Simon | Chevy | 01:08.6514 | 103.200 | Round 3 / Firestone Fast Six |
| 5 | 7 | Rosenqvist, Felix | Chevy | 01:08.7461 | 103.057 | Round 3 / Firestone Fast Six |
| 6 | 51 | Grosjean, Romain (R) | Honda | 01:08.7577 | 103.040 | Round 3 / Firestone Fast Six |
| 7 | 29 | Hinchcliffe, James | Honda | 01:08.7143 | 103.105 | Elimination Round 2 / Top 12 |
| 8 | 5 | O'Ward, Pato | Chevy | 01:08.8339 | 102.926 | Elimination Round 2 / Top 12 |
| 9 | 18 | Jones, Ed | Honda | 01:08.8797 | 102.858 | Elimination Round 2 / Top 12 |
| 10 | 10 | Palou, Alex | Honda | 01:08.9464 | 102.758 | Elimination Round 2 / Top 12 |
| 11 | 28 | Hunter-Reay, Ryan | Honda | 01:09.1330 | 102.481 | Elimination Round 2 / Top 12 |
| 12 | 12 | Power, Will | Chevy | 01:09.2279 | 102.340 | Elimination Round 2 / Top 12 |
| 13 | 3 | McLaughlin, Scott (R) | Chevy | 01:08.8611 | 102.885 | Elimination Round 1 / Group 1 |
| 14 | 26 | Herta, Colton | Honda | 01:09.1094 | 102.516 | Elimination Round 1 / Group 2 |
| 15 | 27 | Rossi, Alexander | Honda | 01:08.9946 | 102.686 | Elimination Round 1 / Group 1 |
| 16 | 30 | Sato, Takuma | Honda | 01:09.3814 | 102.114 | Elimination Round 1 / Group 2 |
| 17 | 8 | Ericsson, Marcus | Honda | 01:09.1368 | 102.475 | Elimination Round 1 / Group 1 |
| 18 | 77 | Ilott, Callum (R) | Chevy | 01:09.4360 | 102.034 | Elimination Round 1 / Group 2 |
| 19 | 15 | Rahal, Graham | Honda | 01:09.3998 | 102.087 | Elimination Round 1 / Group 1 |
| 20 | 11 | Kimball, Charlie | Chevy | 01:09.6793 | 101.677 | Elimination Round 1 / Group 2 |
| 21 | 20 | Daly, Conor | Chevy | 01:09.5816 | 101.820 | Elimination Round 1 / Group 1 |
| 22 | 14 | Bourdais, Sebastien | Chevy | 01:09.7022 | 101.644 | Elimination Round 1 / Group 2 |
| 23 | 59 | Chilton, Max | Chevy | 01:09.7525 | 101.571 | Elimination Round 1 / Group 1 |
| 24 | 21 | VeeKay, Rinus | Chevy | 01:09.7602 | 101.559 | Elimination Round 1 / Group 2 |
| 25 | 60 | Harvey, Jack | Honda | 01:10.4664 | 100.542 | Elimination Round 1 / Group 1 |
| 26 | 4 | Kellett, Dalton | Chevy | 01:09.9144 | 101.335 | Elimination Round 1 / Group 2 |
| 27 | 48 | Johnson, Jimmie (R) | Honda | 01:10.5127 | 100.476 | Elimination Round 1 / Group 1 |
| 28 | 45 | Askew, Oliver | Honda | 01:10.0178 | 101.186 | Elimination Round 1 / Group 2 |