F3: Trident win the Teams' title as Doohan wins in Sochi
There was a dramatic end to the season as Jack Doohan sealed the Teams' title for Trident with a third victory of the season in Race 3 at Sochi, coming out on top of an intense battle with teammate Clément Novalak, who ended up in third behind Frederik Vesti.
The trophy is Trident's first-ever and takes the Teams' crown away from PREMA Racing, who had won it in both 2019 and 2020. Drivers' Champion Dennis Hauger was taken out of contention by Oliver Rasmussen midway through and had to pit for repairs, but did manage to take the fastest lap from Novalak.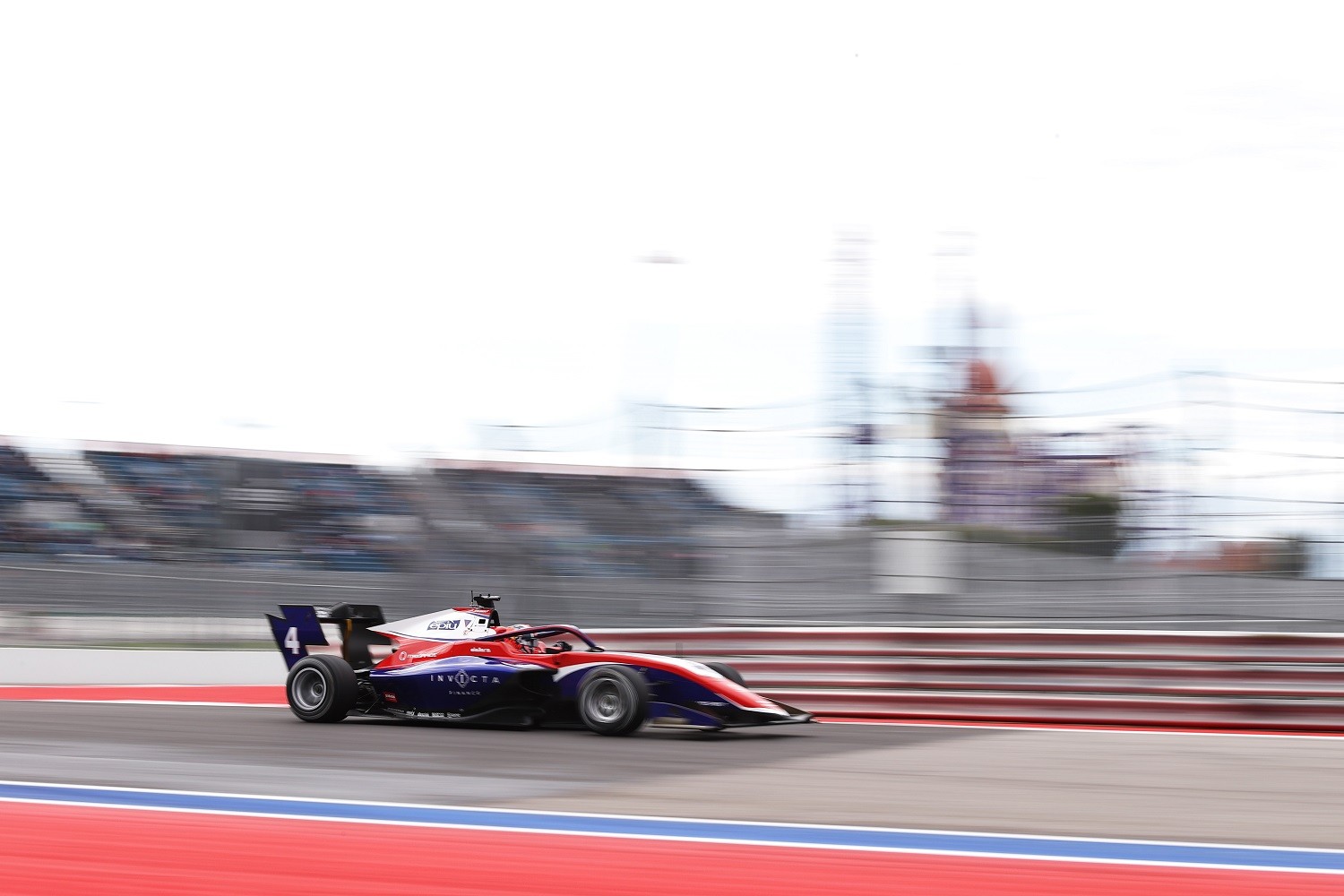 His teammates, Arthur Leclerc and Olli Caldwell fought their way to seventh and 10th, having started in 14th and 15th, but it wasn't enough to clinch the title for their team.
In the closing stages, Frederik Vesti stole second from Novalak, whose tires had taken a battering from his fight with Doohan.
Logan Sargeant climbed from 11th to fourth to secure fifth in the Teams' Championship for Charouz Racing System, their highest placing at this level. Hitech Grand Prix's Jak Crawford completed the top five for his best result on a Sunday.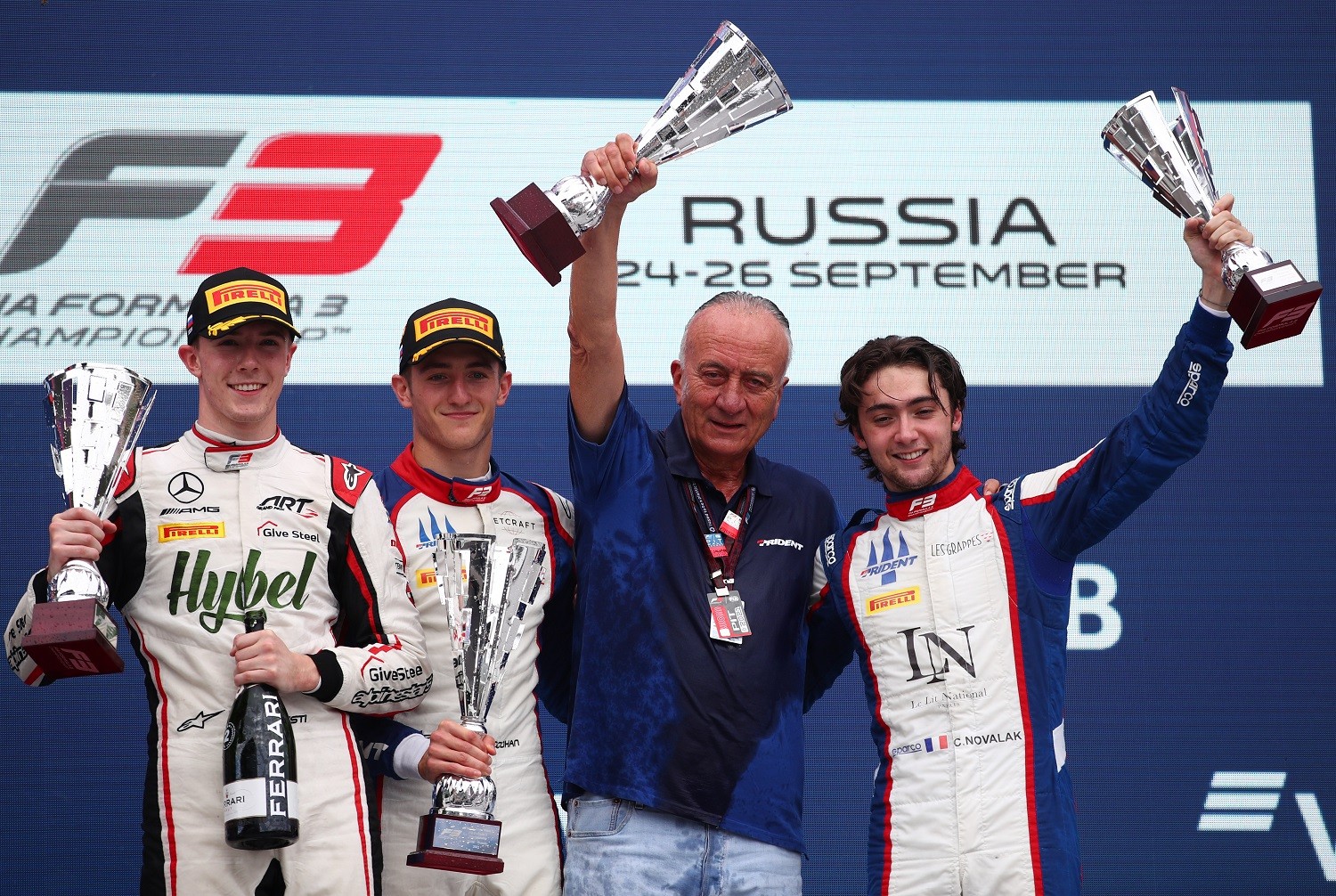 Race Results
| | | | | | |
| --- | --- | --- | --- | --- | --- |
| POS | No. | Driver and Team | LAPS | BEHIND | GAP |
| 1 | 4 | J. Doohan Trident | 20 | – | – |
| 2 | 7 | F. Vesti ART Grand Prix | 20 | 3.111 | 3.111 |
| 3 | 5 | C. Novalak Trident | 20 | 3.758 | 0.647 |
| 4 | 29 | L. Sargeant Charouz Racing System | 20 | 7.445 | 3.687 |
| 5 | 10 | J. Crawford Hitech Grand Prix | 20 | 9.695 | 2.250 |
| 6 | 27 | J. Hoggard Jenzer Motorsport | 20 | 10.368 | 0.673 |
| 7 | 2 | A. Leclerc PREMA Racing | 20 | 15.281 | 4.913 |
| 8 | 17 | V. Martins MP Motorsport | 20 | 18.860 | 3.579 |
| 9 | 11 | A. Iwasa Hitech Grand Prix | 20 | 23.641 | 4.781 |
| 10 | 3 | O. Caldwell PREMA Racing | 20 | 25.738 | 2.097 |
| 11 | 9 | J. Correa ART Grand Prix | 20 | 26.855 | 1.117 |
| 12 | 26 | C. Williams Jenzer Motorsport | 20 | 27.370 | 0.515 |
| 13 | 24 | K. Frederick Carlin Buzz | 20 | 36.227 | 8.857 |
| 14 | 25 | J. Edgar Carlin Buzz | 20 | 36.732 | 0.505 |
| 15 | 6 | D. Schumacher Trident | 20 | 37.208 | 0.476 |
| 16 | 22 | A. Cordeel Campos Racing | 20 | 37.583 | 0.375 |
| 17 | 14 | M. Nannini HWA RACELAB | 20 | 38.944 | 1.361 |
| 18 | 19 | T. van der Helm MP Motorsport | 20 | 43.183 | 4.239 |
| 19 | 28 | F. Ugran Jenzer Motorsport | 20 | 52.999 | 9.816 |
| 20 | 31 | Z. Chovanec Charouz Racing System | 20 | 58.271 | 5.272 |
| 21 | 30 | A. Simmons Charouz Racing System | 20 | 58.635 | 0.364 |
| 22 | 20 | L. Tóth Campos Racing | 20 | 62.130 | 3.495 |
| 23 | 8 | A. Smolyar ART Grand Prix | 20 | 68.788 | 6.658 |
| 24 | 1 | D. Hauger PREMA Racing | 20 | 98.800 | 30.012 |
| 25 | 15 | O. Rasmussen HWA RACELAB | 18 | 2 LAPS | – |
| 26 | 12 | R. Stanek Hitech Grand Prix | 18 | 2 LAPS | 251.208 |