F1: Hamilton gets 100th win in dry to wet Russian GP
Lewis Hamilton, benefitting from a call from his team to pit for Intermediate Rain tires, won the Russian GP as race leader and pole sitter Lando Norris, on worn slick tires, slid off the track with less than 3 laps to go in his McLaren.
It was Hamilton's record 100th F1 race win.
"It's taken a long time to get to 100 and at times, I wasn't sure it would come," said Hamilton.
"Lando did such an amazing job, he had incredible pace. It was bittersweet to see my old team ahead. The team made a great call right at the end, I didn't want to let Lando go but again I didn't know what the weather was doing."
Max Verstappen fought from dead last on the grid to finish 2nd in his Red Bull Honda and stay within 2 points of new point leader Hamilton.
"It was pretty tricky on the in-lap to make the call for inters, it was really slippery," said Verstappen.
"If we'd have gone one lap earlier you'd have destroyed the inters. The race itself was not very easy, luckily with the rain, it helped us to make that last jump. With the penalty we had, to lose only one spot basically – when I woke up, I definitely didn't expect this result."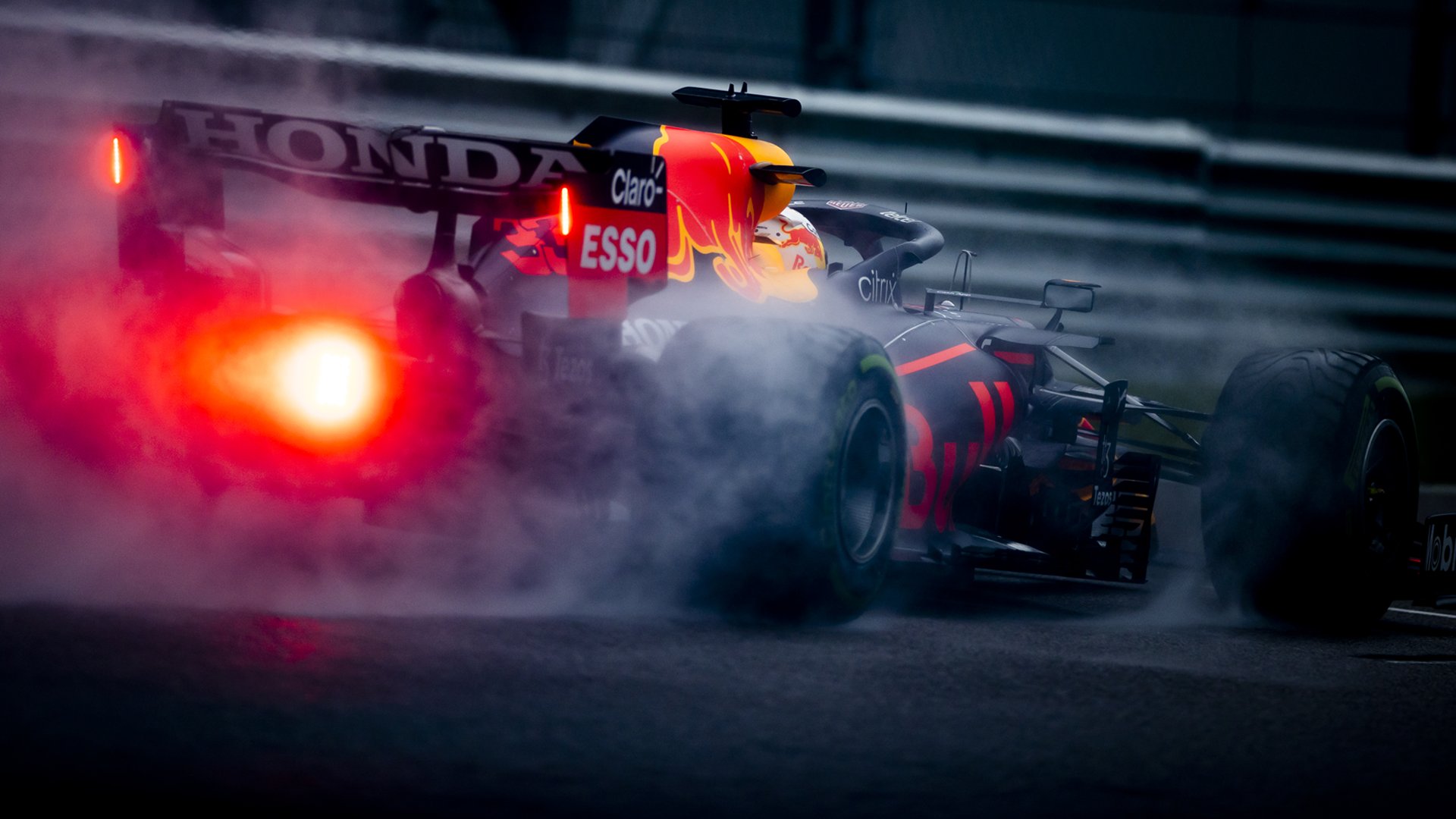 Carlos Sainz Jr. gave Ferrari a podium finish in third.
"I got round Lando into Turn 2, but then graining came, and we had to go early onto the hard," said Sainz Jr.
"The rain came at the right time as my hard tires were going away. We boxed at exactly the right time and managed to get back onto the podium. "
Daniel Ricciardo was fourth for McLaren and Valtteri Bottas rounded out the top-5.
Norris finished 7th but will probably be penalized. He slid around and missed the white line and had to cut back across to make it into the pits. Adding insult to injury today for the McLaren man. Driver of the Day will be no consolation tonight.
He has no one to blame, his team begged him to stop for Intermediate tires more than once and the radioed back "shut up" as he felt he could keep the car on the track. He could not as the rain got much worse.
Select Quotes
Lewis Hamilton
Wow… 100! It's taken a long time and I wasn't even sure the 100th would come! Going to bed last night I wasn't the happiest with the job I did yesterday. I watched the replay over and over again; they were subtle mistakes but I was so determined to put things right when I woke up this morning.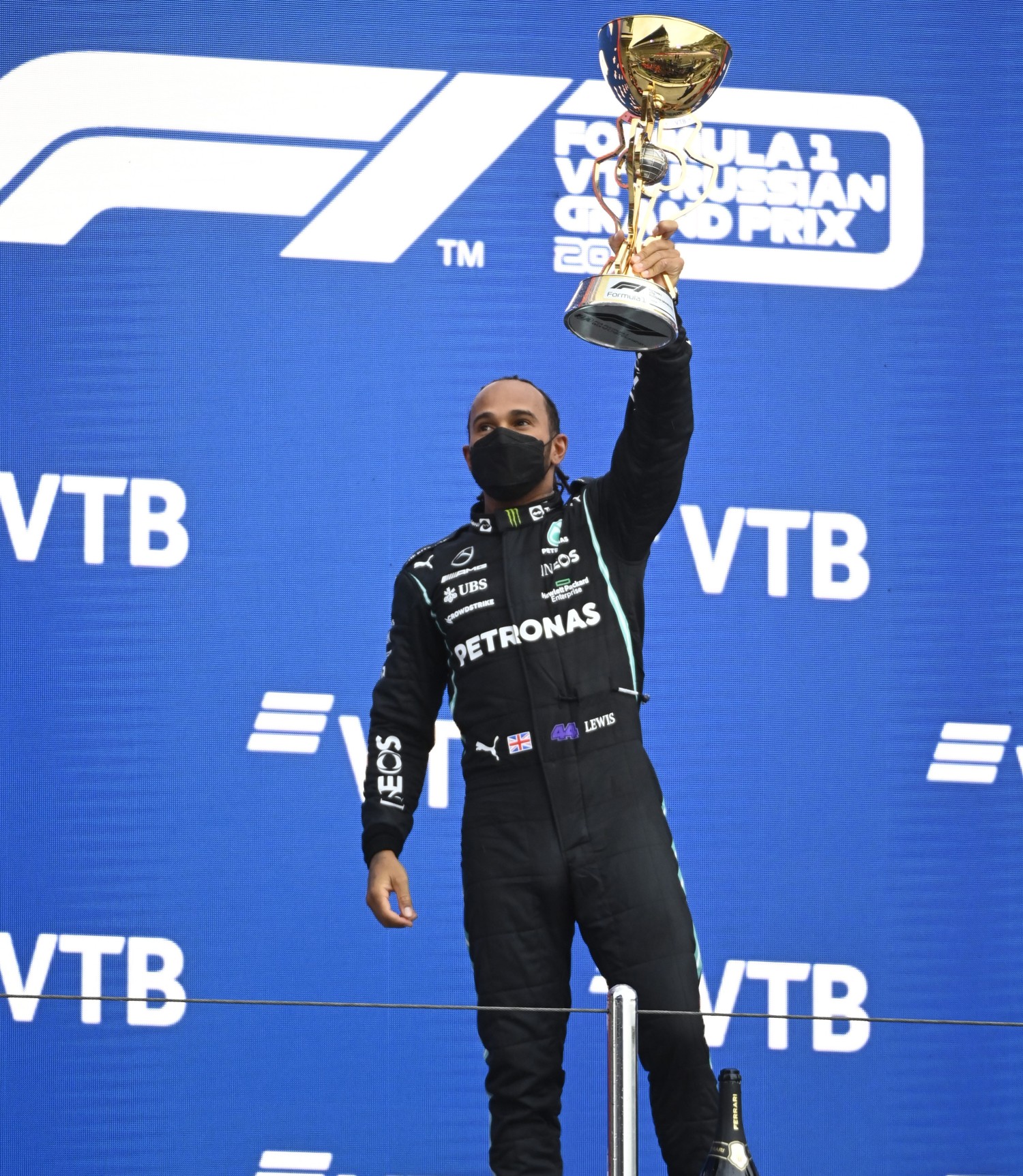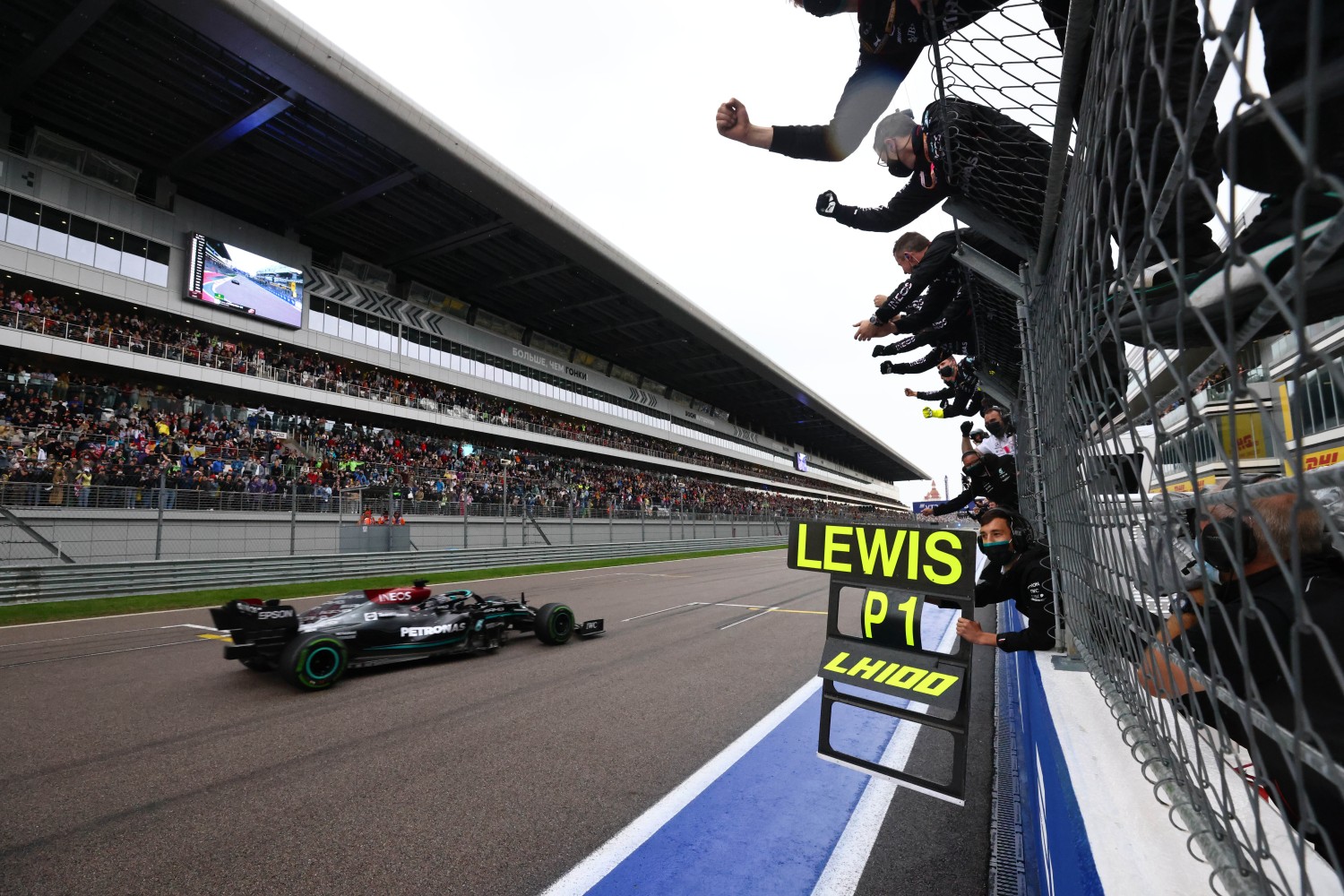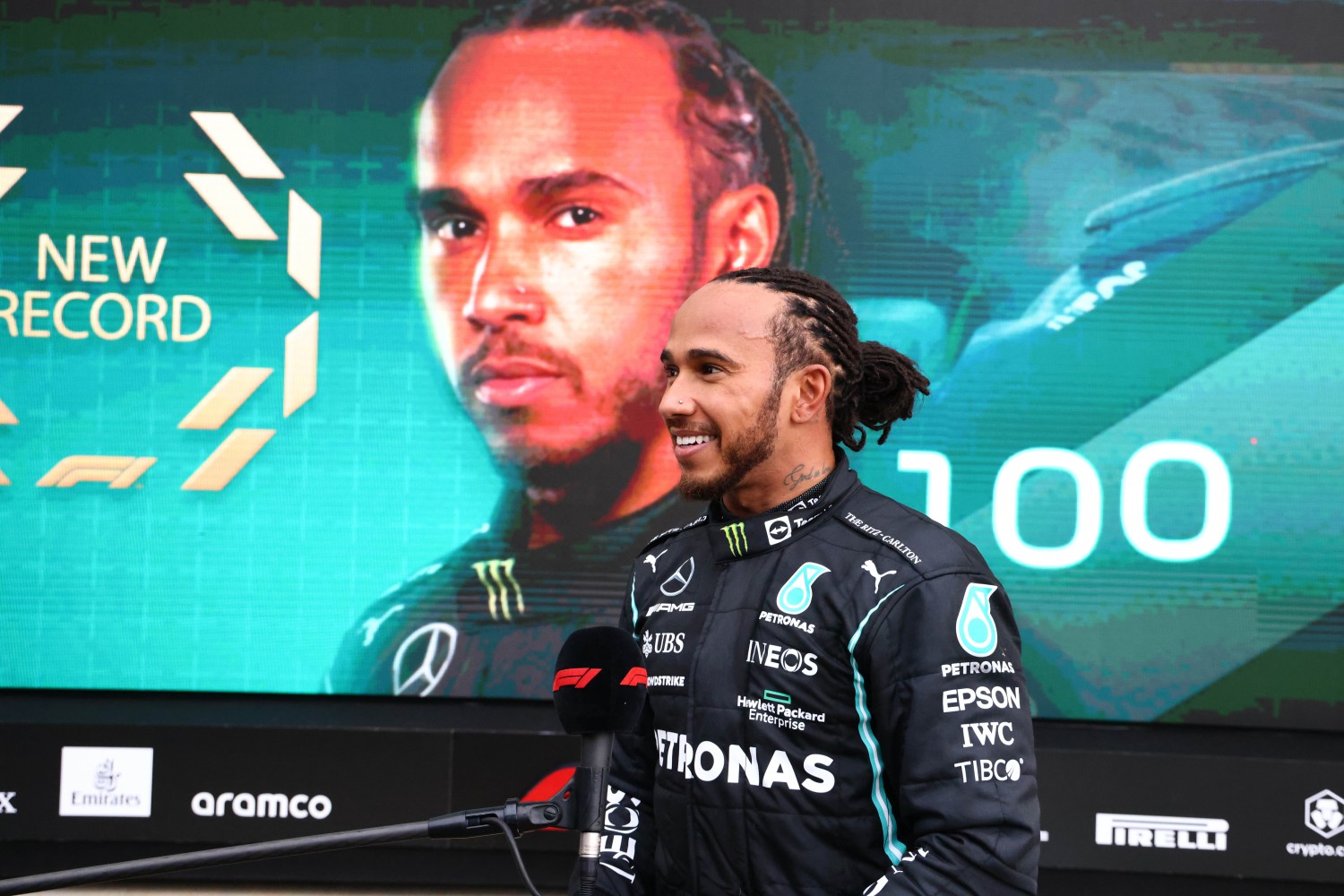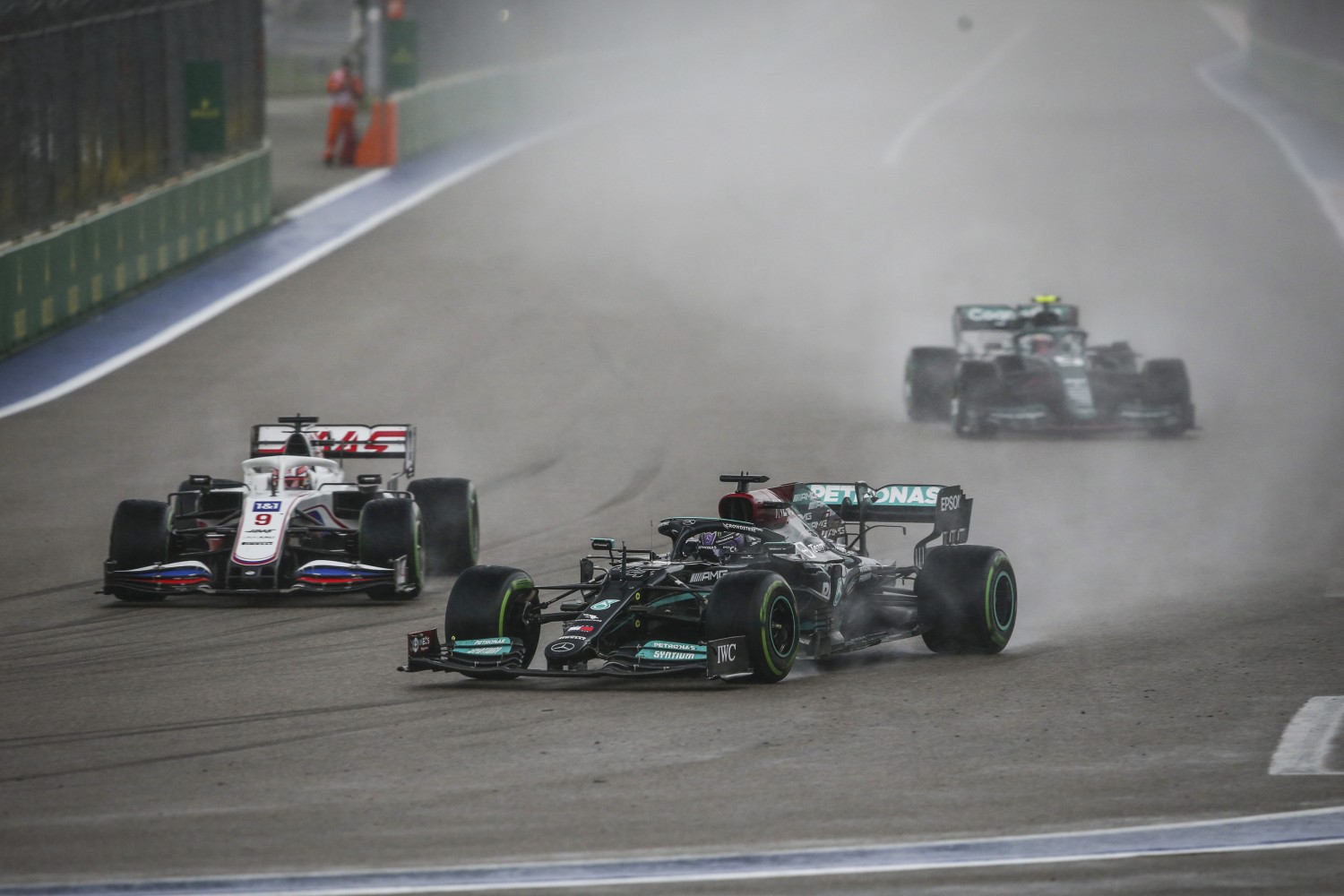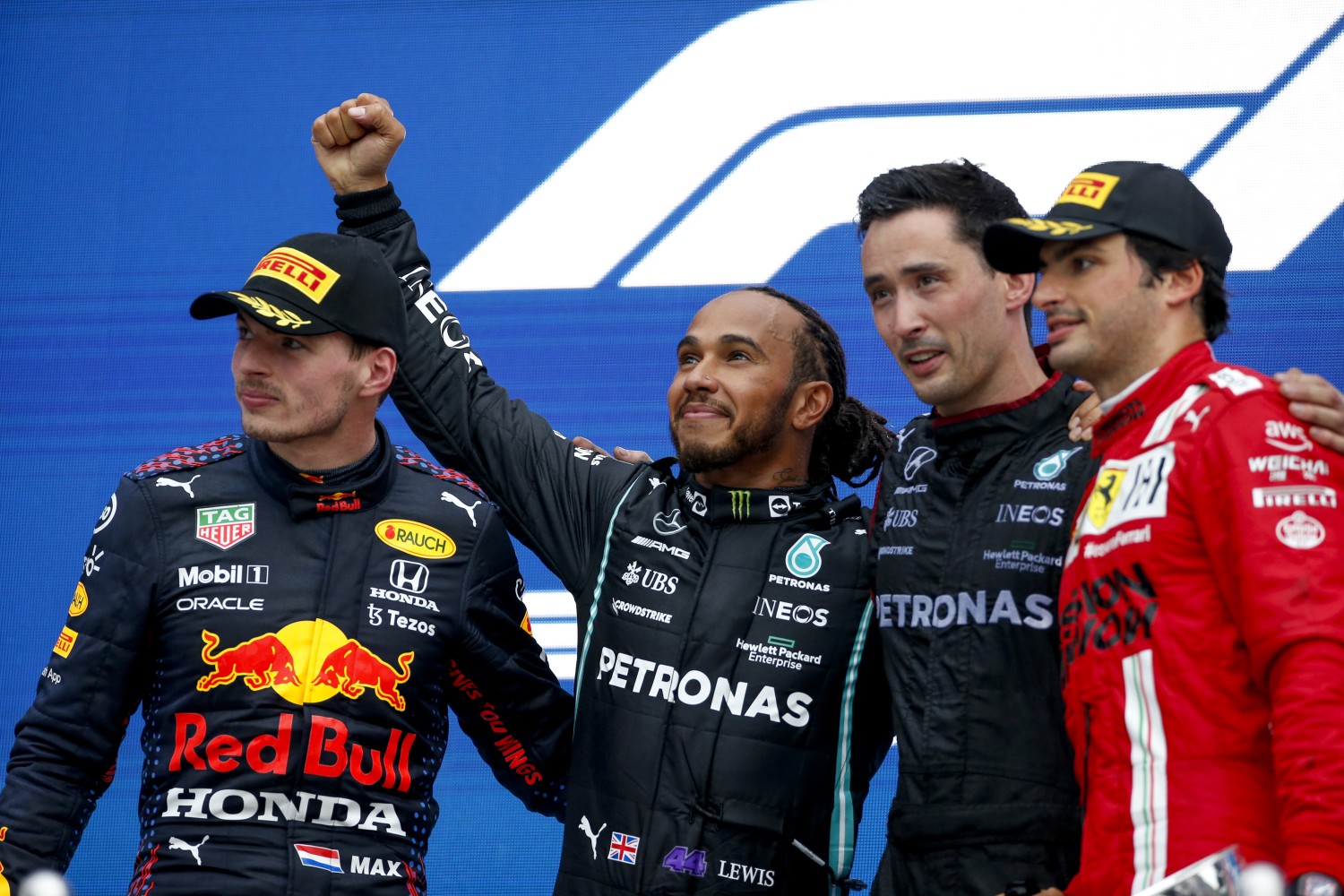 Today was tough – I lost a lot of ground at the start, just trying to stay out of trouble. I was patient and at the end, when the rain came, I didn't want to let Lando go by boxing. Of course I didn't know what the rain was doing, it was just my feeling but I'm incredibly grateful to the strategy team for the job they did today. Getting anywhere near 100 victories wouldn't be possible without the hard work of the men and women here and back at the factory, I'm so grateful to them – it just feels so special.
Lando did an amazing job today, he had incredible pace and he's doing such a great job for McLaren. It was bittersweet to see my old team ahead, they're doing so well powered by Mercedes and it's good to see them united again. Max did a good job to come up from second to last, the battle continues and we know we need to be on top form over the remaining races.
Valtteri Bottas
Firstly, congrats to Lewis on the win and his 100th victory. From my side, it was a difficult race and not an easy day, but the situation at the end with the rain saved it for me. Before that, I was struggling to progress through the field. It was much more difficult than I thought it would be, because I just couldn't follow through the corners – I was getting big understeer. I couldn't carry the speed and get close enough to overtake, and other cars were finding it easier to follow closely. Then the rain arrived, I wanted to stop one lap earlier but the team wasn't quite ready, but we were still one of the first cars to stop, which was good. I managed to climb up the order and score some good points, which is positive after a tricky day.
Toto Wolff
Those final few laps were so intense, but we managed to make the right calls and lead the field across the finish line. A big congratulations to Lewis on his 100th win. What we are witnessing is just mind-blowing. It'll be talked about for the next few days, but it'll only be years down the line when we realise that we've all been part of this journey. A journey no other driver in F1 history has done so far. That's beyond race wins and championship victories, that is the very human part of all this.
In terms of the race, I think it would have been difficult to get past Norris in the dry, as Lewis struggled to overtake Ricciardo even with DRS. Norris managed the race very well, who knows what would have happened if the rain hadn't arrived, but it did. This kind of decision is hugely difficult, it started to drizzle on half of the circuit, but we made the call and it paid off. We'd made the call a little bit earlier with Valtteri, and that brought him into contention after a challenging race and he did a great job to move up the field and into the top five. A big well done to the entire team for all their work and efforts, it's been a little while since we had a race victory but I know results like this will fire everyone up even more to keep pushing until the end of the season.
Andrew Shovlin
Congratulations to Lewis on his 100th win, it's an incredible achievement and hopefully he can find time over the next few days to enjoy it. Obviously the end of the race was quite exciting, the team stayed calm and reacted well to the conditions and ultimately that's what gave us the win. Prior to the rain it was quite a tough race, Lewis lost places at the start after getting boxed in at turn 2 and Valtteri had a good start but struggled to make progress through the traffic, especially when stuck in a DRS train. We'd managed to get Lewis up to second and it would have been a straight fight with Lando in the dry but we were actually hoping for the rain as it felt like that would be our best chance of making it to the top step. Valtteri was further back at the time it started so we decided to switch to intermediates early and that paid off, gaining some good points in the process. Overall, a solid team performance and it's put us back in front in both championships so we're happy with that but Max covered very well today from a PU penalty, finishing just one place behind, so we know we need to be at our very best in the coming races to have a chance of bringing the Championships home.
Max Verstappen
"Wow, we will definitely take that result! Of course to come from last to second is very good and when I woke up this morning I definitely didn't expect this result. To finish where we did with the penalty we had, we didn't lose as many points as we could have so as a Team we did a really good job. It was a crucial call to change to the inters, it was really slippery on track and we made a great decision with the timing and took the right lap to pit. A lot of things can happen when you're starting from the back of the grid, especially on the first lap when other cars are fighting each other, but we stayed out of trouble, kept it clean, and managed our race very well. The race itself was not very easy, it was difficult to pass other cars and once you got stuck it was easy to damage your tires but luckily in the end the rain helped us make the last jump in positions."
Race Results
| | | | | | |
| --- | --- | --- | --- | --- | --- |
| POS | NO | DRIVER | CAR | LAPS | TIME/BEHIND |
| 1 | 44 | Lewis Hamilton | Mercedes | 53 | 1:30:41.001 |
| 2 | 33 | Max Verstappen | Red Bull Racing Honda | 53 | +53.271s |
| 3 | 55 | Carlos Sainz Jr. | Ferrari | 53 | +62.475s |
| 4 | 3 | Daniel Ricciardo | McLaren Mercedes | 53 | +65.607s |
| 5 | 77 | Valtteri Bottas | Mercedes | 53 | +67.533s |
| 6 | 14 | Fernando Alonso | Alpine Renault | 53 | +81.321s |
| 7 | 4 | Lando Norris | McLaren Mercedes | 53 | +87.224s |
| 8 | 7 | Kimi Räikkönen | Alfa Romeo Racing Ferrari | 53 | +88.955s |
| 9 | 11 | Sergio Perez | Red Bull Racing Honda | 53 | +90.076s |
| 10 | 63 | George Russell | Williams Mercedes | 53 | +100.551s |
| 11 | 18 | Lance Stroll | Aston Martin Mercedes | 53 | +106.198s |
| 12 | 5 | Sebastian Vettel | Aston Martin Mercedes | 52 | +1 lap |
| 13 | 10 | Pierre Gasly | AlphaTauri Honda | 52 | +1 lap |
| 14 | 31 | Esteban Ocon | Alpine Renault | 52 | +1 lap |
| 15 | 16 | Charles Leclerc | Ferrari | 52 | +1 lap |
| 16 | 99 | Antonio Giovinazzi | Alfa Romeo Racing Ferrari | 52 | +1 lap |
| 17 | 22 | Yuki Tsunoda | AlphaTauri Honda | 52 | +1 lap |
| 18 | 9 | Nikita Mazepin | Haas Ferrari | 51 | +2 laps |
| 19 | 6 | Nicholas Latifi | Williams Mercedes | 47 | DNF |
| NC | 47 | Mick Schumacher | Haas Ferrari | 32 | DNF |