IndyCar: Long Beach Sunday Press Conference
Participants
1st – Colton Herta, Andretti Honda
2nd – Josef Newgarden, Penske Chevy
3rd – Scott Dixon, Ganassi Honda
4th – Alex Bowman, Ganassi Honda (Series Champion)
11th – Scott McLaughlin, Penske Chevy, (Rookie of Year)
Chip Ganassi, Champion Team Owner
Press Conference
THE MODERATOR: Attention turned towards our race winner, Colton Herta, the California sweep. Third win of the season, sixth of his career.
Big pass on Josef further back in the field, got in front of him and stayed in front the rest of the way.
COLTON HERTA: Yeah, what a good car that we've come here with. We've actually done numerous changes this weekend, but one very minor change that stuck on the car. It just shows what kind of car we brought do this race weekend.
Yeah, it was perfect. Without the muff-up in qualifying, I think we could have had a great shot at pole, have another dominant race. It was fun to come from the back. A little bit more stressful, but it was a lot of fun.
THE MODERATOR: Questions for Colton.
Q. How big of a deal is it for you to not only win this race but to finish this season with back-to-back victories?
COLTON HERTA: Yeah, this is the biggest race for me outside of Indy. I said previously that this is the first race I ever was able to come to, being from Santa Clarita. I was two weeks old when I first came to Long Beach. My father was driving in 2000. It was the only race I could go to because I was so young and I couldn't fly yet. Lucky enough that it came around.
I remember growing up around here, coming to this race every year when I was five, six, seven, all the way up until I was racing in INDYCAR in 2019. I can't believe I won it on my second try. I'm super happy. This is a big one for me.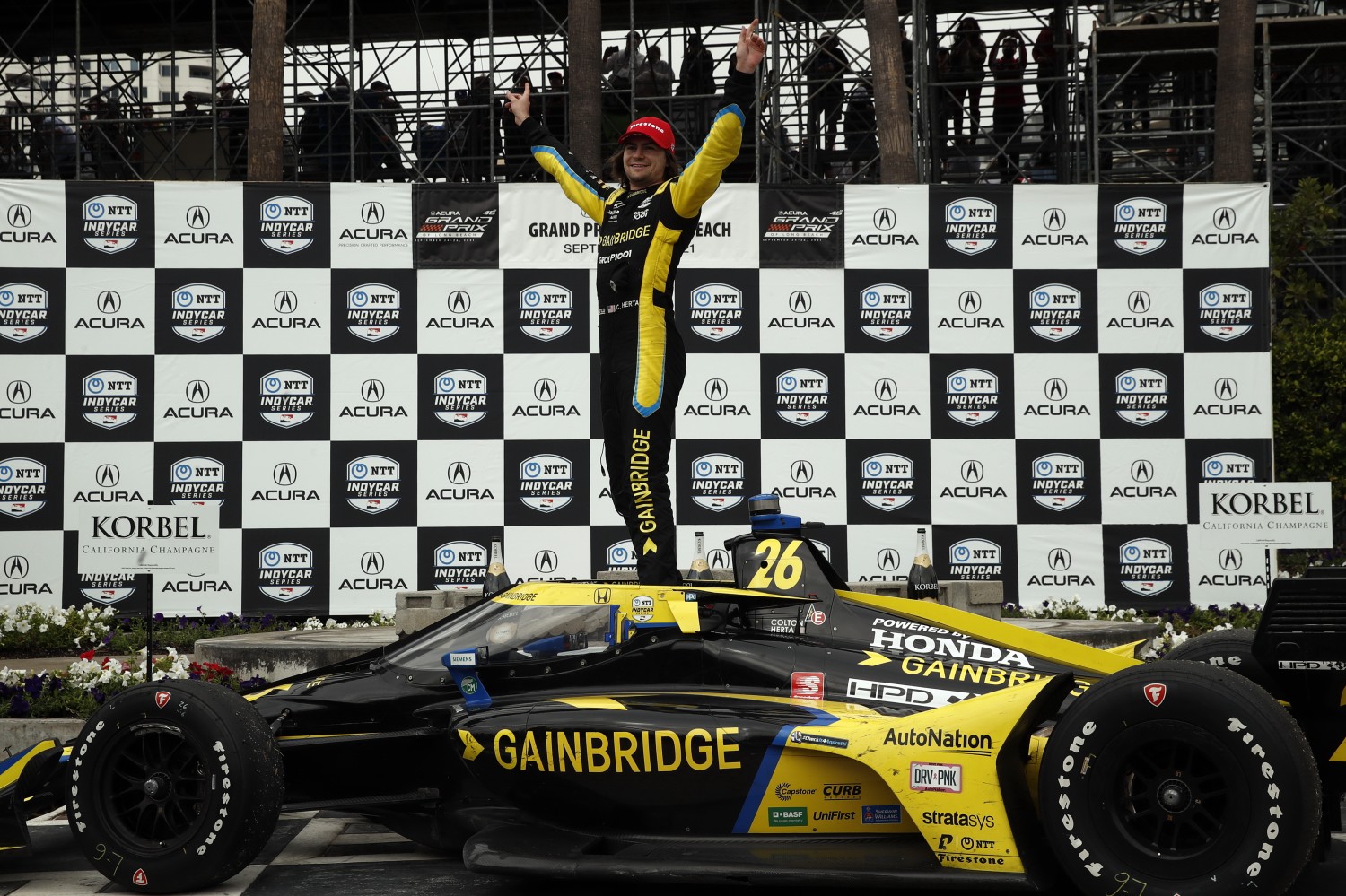 Q. I believe there's a famous quote that races are often won and lost at the race shop. How much preparation did you do with your engineers? What part did you play in coming up with the perfect setup?
COLTON HERTA: Yeah I think we always have a clear plan of what we want coming in from the engineering side. They do a lot of work to make sure that the car is prepped properly. Looking back at previous years of setup, what we can expect. For a race like this, it was the first for us with the aeroscreen here at Long Beach. There's a lot of unknowns coming in. I think we brought a tremendous car.
Yeah, a lot of work does go into it. It's definitely worth it when you can get a result like this.
Q. You were on the black tires at the end. Everybody behind you were on reds. How stressful was that?
COLTON HERTA: I was pretty focused the whole time. Not really stressed, just focused and trying to nail corner by corner, just focusing to the next one. It was a big ask to keep guys like Scott and Josef behind when they're on new reds. I guess Josef was on used, but Scott was on new.
I knew it was going to be tough. I thought when the yellow came out it was kind of game over for us and we were going to be swallowed on the restart being on the blacks, but it worked. I think it just shows how good the car was. We were kind of all in tune, in one, fast on blacks, fast on reds, didn't matter. We were just fast.
Q. What were some of the difficulties driving from 14th to a win?
COLTON HERTA: I think we kind of proved that long today. If you have a great start, you start in the back, you can pass here. We were one of the cars that was trimmed, we were able to brake pretty less, which was a big thing for us. It was a lot of fun, too. I was kind of surprised how quick we were at the start. I was very surprised when we were able to keep going after hitting Ryan in the year after Jones spun Pato. We had a little bit of damage to the right front, but luckily it wasn't enough to kind of take us out, we could keep running around and be quick.
Q. You talk about your focus in the race. Can you talk a little bit about your emotions from starting so far back. Was that a thing where you were angry or were you eager?
COLTON HERTA: I mean, yesterday I was pretty upset at myself for making that mistake of hitting the wall in qualifying and kind of taking us out of contention when I think we really should have done well.
But in the race, it's just fully focused on trying to get the best result out of it. You kind of know by maybe lap five or six what kind of car you have, if you have something that could be good in the race. I kind of knew. I got by a few guys, car was feeling good, I kind of knew. I didn't think we had a shot at winning, to be honest. I thought a podium would be a reach, but possible. I thought that was going to be the maximum.
I was very surprised by how much pace we were able to have. When I saw by like lap 15 or something we were in fifth, I couldn't believe it.
Q. Third and fifth in the championship the last two years. What do you need to do to win the championship?
COLTON HERTA: Just need to clean it up a little bit. We've been so close. I think there have been three or four other times we should have won and we didn't for different reasons. I'm not too worried about that right now. I think give a month and then look at it afterwards, kind of into the off-season, debriefing on 2021, what we need to do better to kind of be in Alex's position coming into the final round in 2022.
THE MODERATOR: One thing you haven't talked about is the final restart. Nice jump. That helped in the end.
COLTON HERTA: Yeah, I wasn't sure how far I could go from the start/finish line, and they would let me. I was kind of happy. I got a good jump out of nine. I don't think Josef was expecting me to go that early. I think that was enough of a buffer that the first few corners on the blacks are stone cold and trying to get all the rubber, all the debris off the tires, get some heat into them. It gave me enough of a buffer that I could do that without being under too much pressure from Josef.
From then on it's about managing the gap. I was still having to make a little bit of a bigger fuel number than Josef because he was able to pit one lap later. I had to sacrifice a little bit in the brake zones lifting, coasting, stuff like that. I'm happy with how everything played out.
Q. The setup compared with Nashville. Is there a fairly basic street course setup that you keep nailing?
COLTON HERTA: There are some major things that we do keep, then there's a lot of little things that might change, yeah. I'd say depending on the circuit, some stuff might be pretty different. There are a few, two or three, major things that they found in the maybe last five years that we'll keep on the car for pretty much all street courses, and vice versa, the permanent road courses or the short ovals, superspeedways, stuff like that. We have these certain things that just work no matter what and are pretty much go-tos. We test them by taking them off and replacing them with stuff we think could be better, but it never really is.
Q. The nature of the damage, how did it affect you or the car?
COLTON HERTA: Sorry, the damage?
Yeah, the steering wheel was pretty right hand down for most of the race. I thought it was getting worse. Every time I would turn left, I had a lot of understeer. But versus, when I turned right, the thing would chuck it in. It was really fast. I needed to get a little bit used to that. Once I did, it wasn't that big of a problem.
Obviously the grip level was still the same as probably what it normally would have been. It's not as nice when you have to drive like this instead of what is your normal straight.
THE MODERATOR: Congratulations on the finish to 2021. We'll see you in St. Pete where you're the defending champion.
—
THE MODERATOR: Joining us obviously two of the three off the podium from today, Josef Newgarden comes home second, his sixth podium of the season, seventh straight top 10 this year in 2021. Scott Dixon with his fifth podium of the season, make that 127 now for his career, still second place all time.
We'll begin with Josef. Starting with pole, you hung with it at the top, then what happened?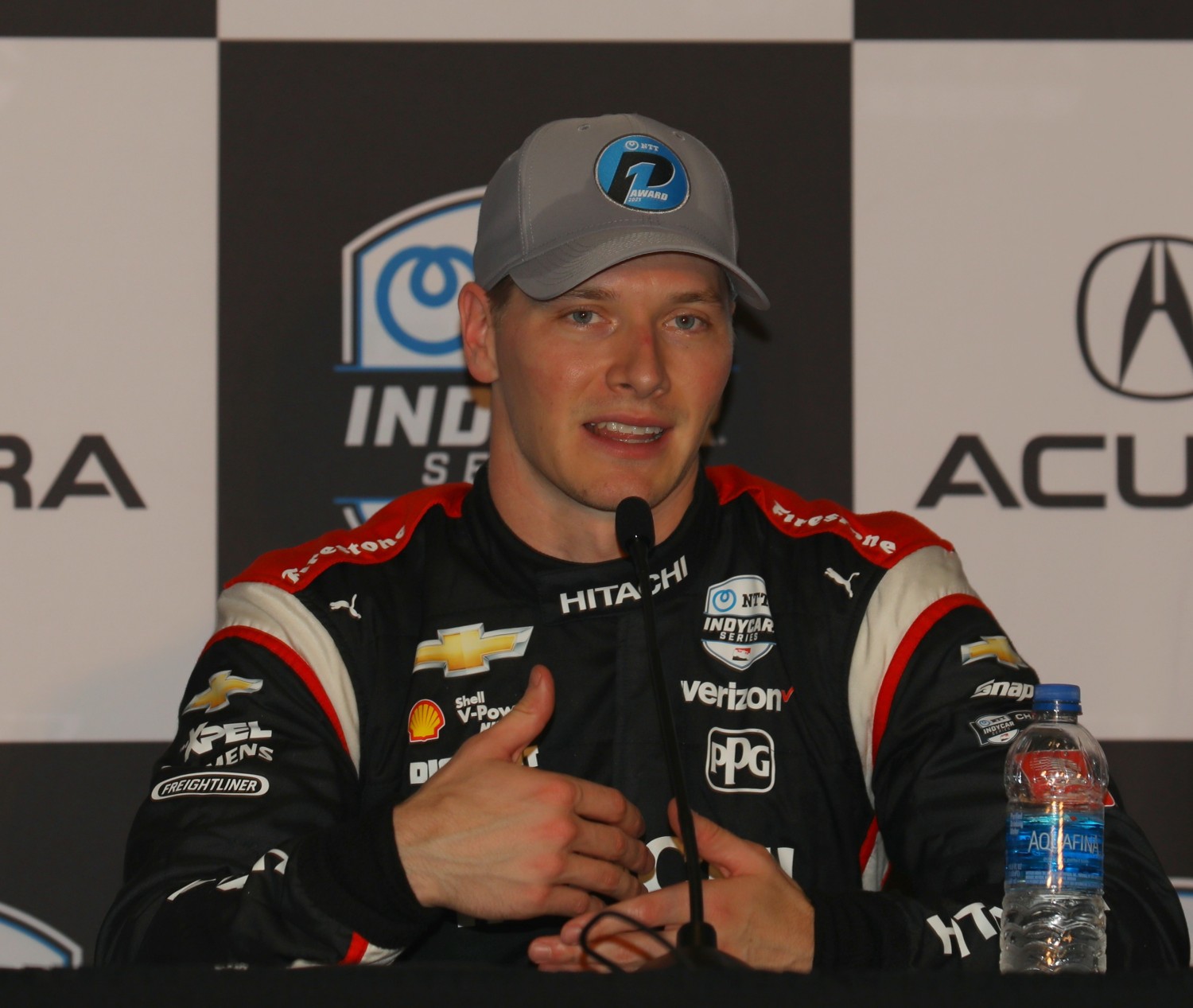 JOSEF NEWGARDEN: It was a pretty good day overall. I think Scott and me were pretty balanced. He was stronger at the beginning of the stint, I was maybe a touch better at the end.
The yellows, inopportune yellow for us. Timed pretty well for Colton. He was fast, made use of it. He was on the right tire at the right time. Once he got the lead, even us closing up with the yellow at the end, he had position on us when we weren't fuel saving any more. I was basically able to hold position.
Pretty good day overall, but disappointed to not convert the pole to a win. Just coming up short in this race, coming up short in the championship is definitely disappointing. I think for us overall, we got to be proud of our fight, be proud of the effort we put in all year with our partners in Hitachi and Team Chevy. We'll come back next year.
A lot of great competitors. Congrats to Alex, too. He did an amazing job all year with the championship, so he should be very proud with his group. We'll congratulate them and come back next year and try to do one better.
THE MODERATOR: Scott, third-place finish. Obviously also watched your teammate Alex Palou win the championship. What does all that mean for this team now and heading into 2022?
SCOTT DIXON: Yeah, it's huge. That was the only real goal today. Obviously on our side, it was to try to win the race. Super proud of everybody at Chip Ganassi Racing. Having seen what happened to the 8 car, obviously the tires. I think even Jimmie got the leader's circle at the end with passing a couple cars, which is big for the 48 as well.
All in all, just to see I think the stress off of Alex at the end there. Of course he was smiling, he's always smiling, so that wasn't a change. But just to see I think everybody on the 10 car side have that relief of capturing the championship is very special. So big off-season for everybody at Ganassi to be very happy about.
As Josef touched on today was a bit blah. We were definitely stronger than Josef on the start of the stints for the first five or 10 laps, then it plateaued. They were stronger the last sort of five, which made it difficult for that one sort of pit sequence.
Yeah, I don't know, wasn't that much going on. We tried a couple time, but they were definitely very strong out of five and out of eight, also out of 11, which makes it tough to pass. So, yeah, just trying to stay out of trouble and make it to the end. Obviously disappointed we didn't have a little bit more today.
THE MODERATOR: Questions.
Q. Josef, in a nutshell, what do you think about a guy like Alex Palou who at the age of 24 wins the series championship in just his second full season in INDYCAR?
JOSEF NEWGARDEN: Yeah, I think he's done a good job about maximizing his opportunity, right? Coming up, we all dream of having that type of team around you. Certainly within your second year, that's a dream opportunity. So he's certainly got all the resources and people around him to make it happen.
He's done the job clearly. He's been solid all year. Been well within the fight. I said earlier in the year I think from the young crop of drivers he looks the most complete. Maybe that's just because he has a couple more years on a lot of the other younger guys. He's definitely been very complete all year. Seems to be very Dixon-esque in a lot of ways. Scott has been sort of the measure over the last couple decades of how you be a champion. Alex seems to embody that pretty well.
He could have a very good run over the course of his career. We don't know. We'll see. I'm sure he'll have a lot of time to stick around and see what he can do.
Q. Can you give us some insight what you will do for the off-season.
SCOTT DIXON: Yeah, it's a long off-season. I think we only have one test I think, which will probably be pretty close to St. Pete. So, yeah, a lot of not doing INDYCAR.
Luckily I still do some other programs, especially with the IMSA program, which definitely I think we've got maybe five test days before Christmas, then plus we have Petit Le Mans, that kind of keeps you going. Obviously we kick off with Daytona, the Roar, then obviously the race, so on.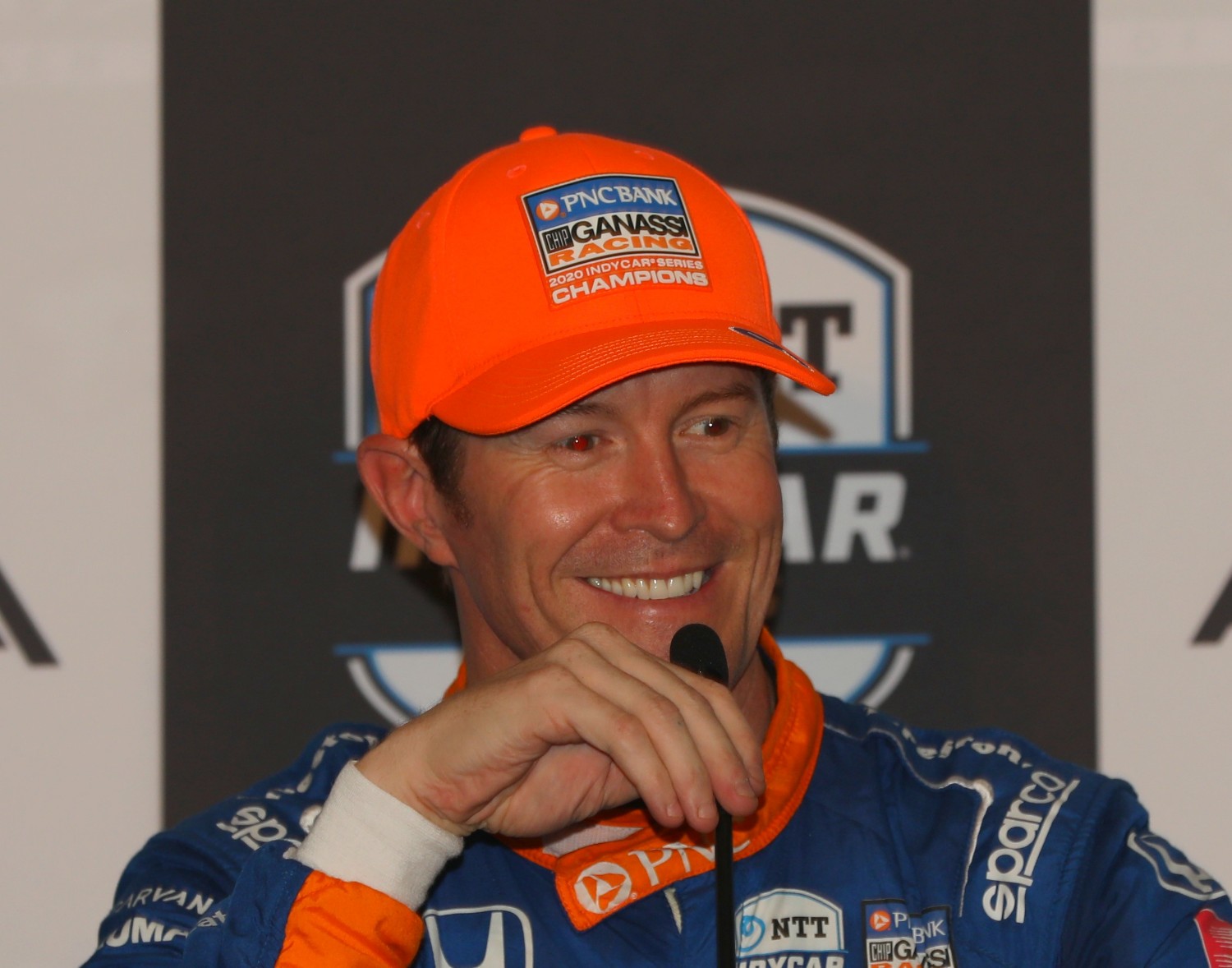 Lucky that I'm part of that program, at least I hope I'm part of that program. Haven't been told by Chip yet. For us it's a lot of training, but a lot of analyzing in the off-season, trying to figure out where you went wrong. Lots of video. The problem these days is there's so much information, it's trying to get through it. Yeah, the team and everybody sort of on the engineering side will go through a bunch of that.
Q. Scott, how does it feel having a teammate (no microphone) as Alex had?
SCOTT DIXON: Honestly, it's great. It's great for the team. Obviously it has raised the bar, but I think it's raised the bar for all of us this year to keep pushing.
It definitely feels like kind of the 2009 through sort of '12, '13 period with Dario, which is great. Obviously it was really only two cars at that point. We had G2 for a brief period there. But excited. Excited for team morale. That's the big thing. Obviously when you get beat, when it's not just the drivers but the crews as well, it pushes everybody a lot harder. Hopefully we can come out of the gate very strong.
Super proud of what the 10 car has done. Super proud of Alex. Man, he's done a tremendous job this year.
Q. Aside from today's runner-up finish, what would you say would be the highlight of your season?
JOSEF NEWGARDEN: I don't know. Probably the two wins. I guess those are the highlights. Mid-Ohio and Gateway. I would say those two.
Q. Scott, what is the progress that you have seen for Alex this year coming as almost a rookie for Ganassi and now being a champion? What was the progression like, the evolution of him this year?
SCOTT DIXON: The progression was strong from the get-go. I think he definitely took a lot in with the previous season at Coyne. Having Cannon and a few of the engineers that have known Alex from the previous years, they knew he was quick. He was definitely I think out of the shortlist of drivers they had the possibility of filling that seat. That was the guy I said, You got to go for, too. His progression has been, again, veteran-like, which has been really interesting.
He definitely asks a lot of questions. He's not shy to ask questions. But he processes it very well. I think as we've seen throughout the season, just the kind of lows that they've had maybe, not many lows, but the way that they've reacted to it as a group, he's had a lot of help obviously from the whole group of Ganassi, especially on the engineering side, but then also with Dario, with the other drivers.
He soaks it up and he processes it very well. The progression has been quick and fast. I think his natural talent, that's the biggest thing you look for, right? It's the easiest. The speed is what you need most. Sometimes you need to contain that and make sure it turns into results and not crashes. He does that very well anyway.
The process was quick and fast. You could even see that through the westbound, if it was a new track, a track he didn't know that well, he would methodically go through it from session to session. That was definitely very impressive.
Q. Scott, you've been in this situation many times yourself. You were the youngest winner in the championship prior to today. Can you explain to me what it really means to people back in New Zealand?
SCOTT DIXON: Yeah, it's definitely again, even throughout the season, but even the off-season, just seeing Ricky, I don't know, I think I won my championship when I was 23. I don't know. Ricky was my crew chief. It's pretty cool he's in that situation.
Again, it's just that whole team morale is fantastic. So fun to see. I don't know, for me that's been kind of the biggest thing this year, is just walking in the truck and seeing all groups really excited to be there, really happy, which most days they are. I think this year has been a standout getting a lot of wins across the board for a lot of the teams, obviously seeing Jimmie's progression as well.
It's huge for Ricky. A hell of a nice guy, a hard worker, very good at being a champion.
THE MODERATOR: Congratulations, Scott and Josef. Josef by the way also wins and clinches the season-long NTT P1 Award. A nice boost heading into 2022.
—
THE MODERATOR: Your 2021 NTT INDYCAR SERIES champion, Alex Palou with three wins, eight podiums this year, pole position as. The first NTT INDYCAR SERIES champion from the country of Spain. His second NTT INDYCAR SERIES season, gets it done here in 2021. The first champion from a predominantly Spanish-speaking country since Juan Pablo Montoya did it back in 1999. The first under-25 champion since Scott Dixon back in '03.
ALEX PALOU: I know that guy.
THE MODERATOR: The seventh youngest INDYCAR SERIES champion. You bring Chip Ganassi, your boss, his 14th NTT INDYCAR SERIES championship as well.
ALEX PALOU: Not bad.
THE MODERATOR: What a weekend. What a season. Can you sum it up?
ALEX PALOU: Yeah, man, what a season. What a season. I cannot really believe it. I'm super happy. We worked so, so hard. Getting into the season finale, this place, didn't know the track, but the guys gave me a really good car. They gave me good strategies.
Today we went from P10 to P4, right? Just amazing, super happy. I think all the season we were super consistent. Feels amazing to be a champion. I want to do it again now.
THE MODERATOR: Questions, please.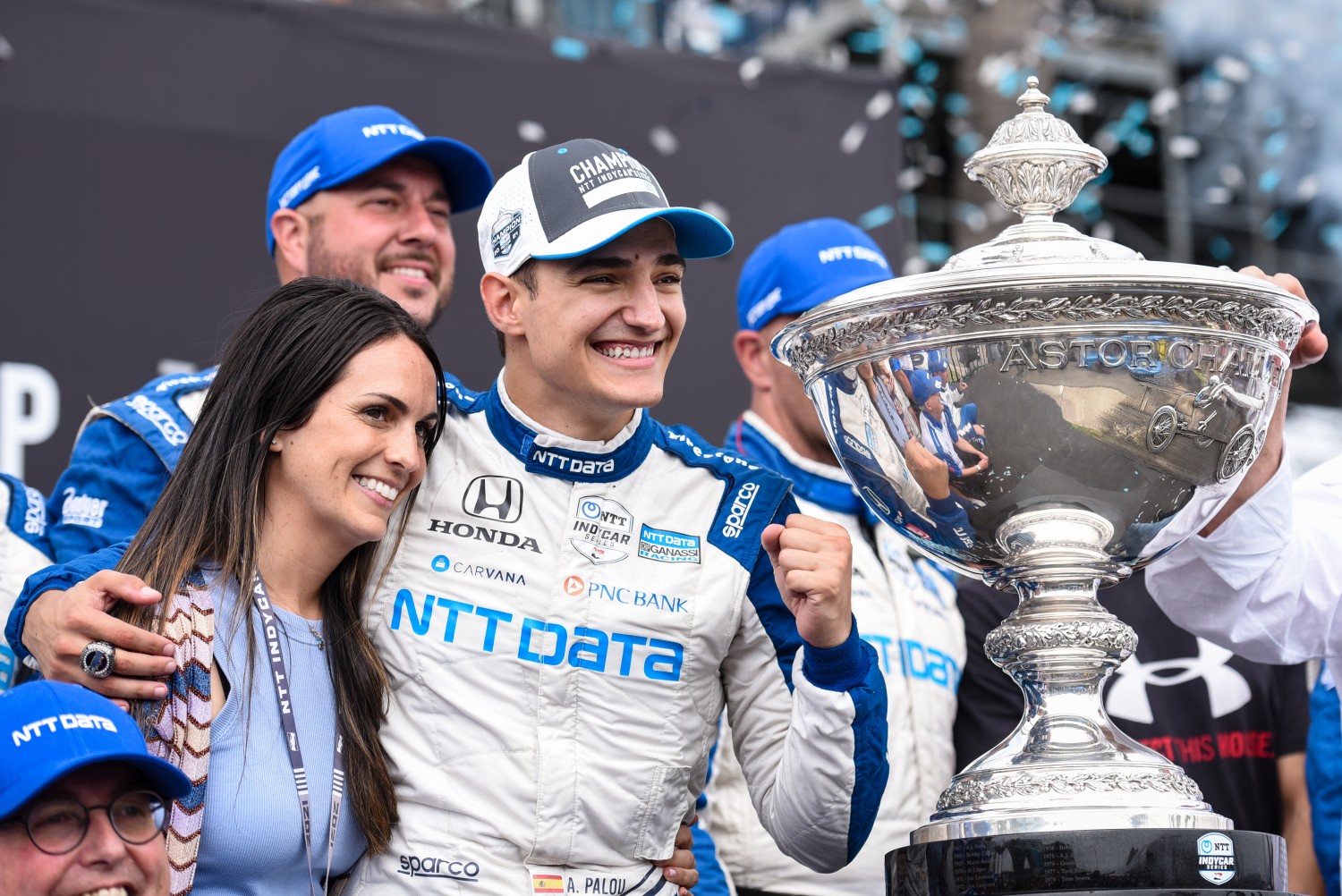 Q. You only became series champion about half an hour ago, but your dad was here, first guy from Spain, your second INDYCAR season, have you been able to wrap your head around all of that? What does it all mean to you?
ALEX PALOU: Not yet. Not yet. I don't think I realize what we just did. But I'm just super happy that my dad is able to see it and to celebrate with me. Hopefully I can get him to party tonight (smiling). I think he can. He's young, so…
Then my girlfriend is also here. Big part of me being here. Yeah, shame that not all my family can be here, but I'm sure we'll celebrate once I'm there.
Yeah, super proud to be the first Spanish guy to win it. I hope I'm not the last one. I'm sure we'll try and fight for a lot more Astor Cups on the future.
Q. What is the grand technique you were able to use from when you were in super formula to today that helped you clinch the championship not just for you but the entire Chip Ganassi organization?
ALEX PALOU: You mean the super formula experience?
Q. Yes.
ALEX PALOU: I think it was crucial. Super formula is the only series, a part of INDYCAR, in single-seaters that you do refueling. Fuel consumption is super important. That helped me to be here today.
I think it's really close, the championship. The cars drive pretty similar. They were both fast. For sure they helped me to be here today.
Q. Racers want to dream to win, want to win, sometimes they don't expect to win. What was your initial expectation when you first drove for Chip this year?
ALEX PALOU: I said it at the beginning and after the first race. There was no expectations; there were goals. The goal that Chip told me was to win the championship. So it was a small goal to start (smiling).
He says he likes winners. If you're not a winner, you're in trouble. That's what pushes the team. It's not a bad pressure, it's a good pressure. He does everything he can to make the team successful. He just lives for the team and he takes care of all of us. He gives the opportunity to be here today.
Q. You had never raced at Portland, you won there. Never raced at Long Beach, you won here. Must be looking forward to Iowa next year.
ALEX PALOU: I raced there last year.
But, yeah, I think we can be stronger if we know the tracks more. Barber was a track we didn't race, and we won there. Yeah, I mean, I just feel like here, for example, I was much better during the race obviously than qualifying. After warmup I wanted to do another qualifying because I found some stuff.
I cannot wait to be back again next year.
Q. Talk about your keys to success of winning on tracks you've never been to. Did you have any close calls today?
ALEX PALOU: Preparation. Preparation. Hard work. I think everybody does that. It was working for us. We didn't leave anything on the table from my side or the team's side. We did everything we could to be as prepared as we could possibly be.
Q. Any close calls?
ALEX PALOU: Today. We were on a street course with INDYCAR, so, yeah, lots of close calls. I think I brushed the wall once or twice only. Yeah, lots of close calls.
THE MODERATOR: Was 12 the magic number, 12 or better you would be safe when it came to the championship?
ALEX PALOU: I knew we had a better car than where we were starting. I just wanted to go up front because if you're thinking about that 12, 11, whatever, something happens on the last lap, you just lock up, you're 13th, what happens then?
I wanted to be up front. I wanted to go for the podium. Scott was up front, and Barry was like, It's fine here. Okay, let's do it here. Yeah, I just wanted to do our best race.
Q. Was Chip telling you to win the title a possibility in your mind after the win at Barber?
ALEX PALOU: Yeah, and before. It was a tough thing, for everybody it's tough to win championships. When you know you have the team around, it's only up to you. I knew it was going to be hard especially not knowing so many tracks this year, but we made it through.
Q. Racing with Pato down to the wire, how was that relationship between you two?
ALEX PALOU: I think perfect, yeah. We get along really well. I was not happy to see him spin from another driver. If you make a mistake, that's your fault. But if there's another driver that hits somebody that is contending for the title, I don't think that's right. Maybe they should take care of the people that is fighting for it.
I wanted to fight with him. But, anyway, we did our job and we finished in the top five, so…
Q. Did the team keep you informed of what happened to Pato early in the race and where Josef was running?
ALEX PALOU: I mean, I saw that somebody spun him and I passed. I saw that we were top five, so I didn't had to worry if he was on a strategy or anything.
Then I saw that he had an issue. I don't know what happened. Yeah, I was just focusing forward.
Q. After you had the bad luck at Gateway, the engine failure at the Indy GP, was there ever a thought in your mind you might have lost the chance to win the championship?
ALEX PALOU: Never. I guess like Josef before coming here, he was close. He did the job he had to do yesterday. He got one point. He never said that it was over.
You can never say it's over until it's over. Yeah, I knew that doing a good job at Portland, Laguna, like we luckily did, I could have a shot here.
Q. Can you talk us through your relationship with Ricky, maybe how his wealth of knowledge in the sport has helped you win the championship?
ALEX PALOU: Yeah, Ricky is amazing. He's my crew chief. I don't know. Since the first day, he was really happy to see me. He was really welcoming me to the team, to the family. That was making me feel part of a family, to be honest, since day one.
We get really well each other. The relationship is amazing. So he does everything he can to make sure I have the best car every day and he's been delivering that every race this season.
Q. The little incident that happened with Pato and Ed Jones, it looked like your front wing hit another car. How hard a hit was it? Were you concerned there might have been damage?
ALEX PALOU: It's an INDYCAR, so… I mean, you can hit hard and it's still okay.
It was not a super hard hit. I knew it was, like, straight. When it's straight from the nose, you know it's okay. Maybe if you hit the tire or something, it can be a bit damaged. No, it was fine. I knew it was fine because it was a light kiss.
Q. Also Roger Yasukawa is from Los Angeles. You were able to clinch the championship in Long Beach. How special is that? He helped get you to North America.
ALEX PALOU: Yeah, for sure. Just amazing, right? I guess I'll need to visit his ramen shop tomorrow or in two days during the week. Super happy. I think he's sleeping at home and everything. He should be happy.
Q. For a Spaniard to win an INDYCAR SERIES championship is the sangria flowing in Barcelona right now?
ALEX PALOU: I don't know. I was checking. There is quite a lot of stuff going on, which is really good. I'm happy to see that. I'm happy to see the success here, it's going to open some eyes in Spain and more people is going to discover INDYCAR, they are going to fall in love with it. That's amazing. Exactly what we needed.
Q. Chip was asked earlier who you reminded him of. He eventually said Dixon. When we asked him was there anything you don't do well yet, he couldn't come up with anything. Pretty complete. Anything you have cited as something where you need to work on it for 2022?
ALEX PALOU: Well, that's big words. I don't think there's anybody close or like Dixon. He's an amazing driver, really complete. He always gives 100% and extracts 100% from the car. Without him I wouldn't be here today. That's 100% true.
I've been learning a lot from him, from how to go faster, to save fuel, save tires, think better while I'm in the car, everything. Yeah, it's a lot of thanks to Scott.
What do I need to improve? Everything. I need to go faster. I'm not the fastest. I need to try and do everything better. I think there's not one only thing this I'm missing. I think there's a lot of things that I can just bring up. With experience it will come next year.
Q. Is the Indy 500 the next target? Once Ryan Hunter-Reay won the championship, the next thing he wanted to check off was an Indy 500 win, and two years later he did it. Is that your next big ticket item?
ALEX PALOU: For me Indy 500 obviously it hurt this year a little bit. At the same time I learned a lot. That's one thing that, yeah, obviously I want to win so bad.
If we keep on performing like we do, it will come. I don't know if it's going to be next year or two years or five years. Who knows. It's only one race, 200 laps. There's so much stuff going on. You have to have the best car, the best crew, the best mental attitude. You have to have everything perfect for that race. If it's not next year, I'm not going to worry too much. I think we have lots of years to come.
Still my main goal is always going to be the championship. I think it's a bit harder to win the championship, or it depends more on you, because like Dixon, he was the fastest this year, he was going to win that thing, and because of a bad yellow he couldn't even finish in the top 20.
I think the championship, it's bigger.
THE MODERATOR: You're wearing the ring already.
ALEX PALOU: Of course.
THE MODERATOR: Shiny and sparkly.
ALEX PALOU: Yeah, and it's heavy. But I like it (smiling).
Q. I'm assuming you're going to be going on a bit of a media tour in Spain. Are you looking forward to those obligations?
ALEX PALOU: Oh, yeah, that's the best part of it. You get to win, enjoy with the friends, family, team, then talk about how good the season was. Yeah, I cannot wait for that moment. To see all the family, celebrate with them. I can't wait for the media. I always have fun. When you talk about good stuff, more good stuff, it's going to happen so…
Q. Are you going to take the No. 1 on your car next year?
ALEX PALOU: No. No. 10 is the number I started, my first go-kart, my first laps was with a go-kart with the No. 10. No reason for that. But I started with that. It's Chip's number. It's the team's number. That's the number we want to keep on winning with.
There's always one driver that can drive the No. 1 car, so I think the No. 10 is more special.
Q. You've asked for lots of advice from Scott and Jimmie throughout the year. Are you still expecting to get good answers from them now that you've got the championship?
ALEX PALOU: I hope so. Otherwise I'll be in trouble. Yeah, I expect him to be the same way. He's an amazing person, not only him, Jimmie, Marcus, and Tony on the ovals. Yeah, I think they'll be happy to help.
We start from new in February. I'm just going to be no champion any more. So, yeah, I think we'll still share stuff to make the team stronger, and that's going to give us the best position at the end of the year.
Q. On your Twitter account you have 'living the American dream'. I want to know, do you feel like you're living the American dream now that you've won the INDYCAR championship? What does that mean to you?
ALEX PALOU: Yeah, of course. That's why it's there. It was already before. That's the way I feel. I wanted to race here in America, live here in America. That's what I'm doing.
So now with a bit better feeling, being a champion. But, yeah, it just feels amazing. We'll try and keep it going.
Q. Watching the broadcast, the commentary team mentioned calm, cool, collected, doesn't raise his voice at people, doesn't lose his cool. Where do you believe this demeanor comes from? Who was your role model in getting that demeanor?
ALEX PALOU: Yeah, I don't know. Difficult to say. In Japan I learned a lot losing the championship there. That made me really, really strong today. About trying to always be positive. I think it's the only way I can get the best of myself and the best of my people around, right?
Who do I get that from? I don't know. But my hero is my dad. I guess I take it from him and from lots more people that's been pushing me to get here.
Q. The role of Campos in your early career, they helped you on this journey to where you are today, whether you feel like the championship you've achieved today maybe gives something back to them, especially after a difficult year they've had this year?
ALEX PALOU: Yeah, I mean, Campos was the person that got me into single-seaters. I was going to do another year of go-karting, more and more and more of go-karting. That was my stuff. I didn't even think that single-seaters were possible. He gave me that opportunity. Not only him, but all the team around at Campos Racing.
He was pushing me to get here, so he should be really happy. I think he would be super, super happy and super proud of it.
Q. You've seen why Dixon has been able to be successful at Ganassi. What do you think has made that possible? Is it something you're looking to replicate in sticking with Ganassi for your own dynasty, I suppose?
ALEX PALOU: Yeah, that's the idea, try to follow Scott if I can. It's not going to be easy. This guy, he's from another planet.
But the idea is to try and be here and win as many championships and races as possible for the Ganassi crew. They do an amazing job. They are going to be tomorrow celebrating a bit. But next week they'll be back to work to try to be champions next year and win again.
Q. You are the first champion in the No. 10 with Chip Ganassi Racing since Dario Franchitti. I believe you know him. What was it like working with Dario as a driver coach this year?
ALEX PALOU: Yeah, I don't really know why they didn't win more because the crew, the team, is amazing. I believe they just had some bad years and some bad luck on racing, which you need the luck on your side, and we had it this year.
But they are amazing. They just kept on doing what they know how to do. Dario has been a big part of it. Dario, the good thing from Dario, is that he's a champion and he can see stuff that nobody else sees. He can have the two mindsets of more of an engineering and a racing driver. He's been helping me a lot and pushing me even this morning in the warmup.
Yeah, it's been a huge help.
Q. What did you feel when you crossed the line? Was it relief, pure joy?
ALEX PALOU: Not relief. It was just like happiness. Suddenly I was super happy. Once I knew I was after the last pit stop, I knew I didn't have to do another pit stop, I knew our fuel mileage was good, I knew we were more or less up there, I said, Okay, let's just do 23 more laps, and after I'll talk to myself again. I kept on driving, kept on hitting the brake marks. Once I crossed that checkered flag, I started thinking again.
It was a nice feeling.
Q. What has been the highlight for yourself in terms of the season either on track or personally?
ALEX PALOU: You mean the best stuff?
Q. Kind of like your first win or the championship in itself.
ALEX PALOU: I think the best moment from this year has to be Portland. I think it was a tough race for us. We started on pole. We were shuffled at the back. We had to overtake some really fast cars on track. We made that win that we needed to win the championship.
I think that is probably the best memory.
The best memory before that sounds weird, but I think battling with Helio was quite special. Long Beach is always going to be special just because it gave us our first championship. 'Our' I mean me and the crew, like they already have lot of championships. Yeah, Long Beach is going to be special for sure.
Q. At the end of the race Chip said we're seeing a young driver that is going to set a lot of records, that you really surprised the team when you came in the front door at the Ganassi shop. When you heard that, what did you think?
ALEX PALOU: That's amazing that the boss talks so good about you, right (smiling)?
Yeah, I think what for me is impressive is that they saw something. I don't know what they saw. They trusted me. They gave me the opportunity to drive a championship-winning car. They gave me the opportunity to fight for this championship. That's what impresses me.
Now obviously everybody is super happy. But he saw something. Not only him, but all the crew. They had to do a big investment. They just got somebody that scored a podium, that's it. I didn't win any race. I didn't score any pole. I didn't do crazy stuff. I was just driving and doing my best.
Yeah, the impressive thing is what they saw.
Q. Thank you for everything you do for the media. We appreciate it. On behalf of my media colleagues thank you very much.
ALEX PALOU: Thank you.
THE MODERATOR: We have a presentation.
ALEX PALOU: Karina was taking care of me last year. She can a really good job, yep. But she did a bad job on showing me Pop Tarts, yeah (laughter). I don't have to say thank you for that because that's a bad thing.
But, yeah, when we had some good moments, she would take some boxes and some Pop Tarts and give it to me secretly. She did it once again. So thank you, Karina.
THE MODERATOR: Road to the championship begins with Pop Tarts.
ALEX PALOU: I'm not going to eat one now.
THE MODERATOR: You can.
ALEX PALOU: Not now.
Q. Who needs chicken and waffles when you have chicken and Pop Tarts.
ALEX PALOU: That's not something I've tried before. Maybe it's good. I want to wake up tomorrow and have a good stomach. I'll try one day.
Q. You're the first under-25-year-old INDYCAR champion since Scott Dixon in 2003. What does that mean to you?
ALEX PALOU: A lot. It means a lot. He's a reference. He's one of the best, if not the best. To be able to be the youngest behind Scott, it just feels amazing.
Now the difficult part comes, right? To be able to do it for 15 more years on the same level.
Q. You have to get five more championships.
ALEX PALOU: That's a lot. I mean, oh, my God, yeah. This was hard. I can't imagine five more, but that's the goal.
THE MODERATOR: You're only 24.
ALEX PALOU: Yeah, but…
Q. First champion from Spain. What does that mean for you to represent Spain and your heritage?
ALEX PALOU: Yeah, it means a lot to be the first Spanish one. I didn't know that until maybe couple of weeks ago when somebody mention it.
That's super cool, right, to be the first one to do something. But I'm just proud to be part of the championship-winning drivers here in INDYCAR.
I think it's going to be good for some Spanish young drivers because they never had a champion before to follow. Hopefully in the future they will see more Spanish drivers here.
Q. Have you thought about you'll be that guy they look at one day?
ALEX PALOU: Not yet because I'm looking at so many people now. I don't think I'm at the point where people is looking at me. Yeah, maybe someday, in five years or so (smiling).
Thank you so much everybody. It's been a pleasure this year. Hopefully I see you more next year. You've been really good with me and I like that, I appreciate it.
THE MODERATOR: Congratulations.
ALEX PALOU: Thank you.
—
THE MODERATOR: What a 2021 NTT INDYCAR SERIES season. Wrapping up not only the year, but obviously the Acura Grand Prix of Long Beach.
Congratulations to our 2021 NTT INDYCAR SERIES Rookie of the Year. In the end it was a 33-point advantage over Romain Grosjean as Scott McLaughlin got it done.
Overall your thoughts about the day and perhaps more importantly winning the Rookie of the Year.
SCOTT McLAUGHLIN: Yeah, I think you get one shot to win this. It's a proud moment regardless to win it. My ultimate goal was potentially top 12, top 10 in the championship. You always strive for more. To win the Rookie of the Year, it will sit with me forever and no one can ever take it away from me.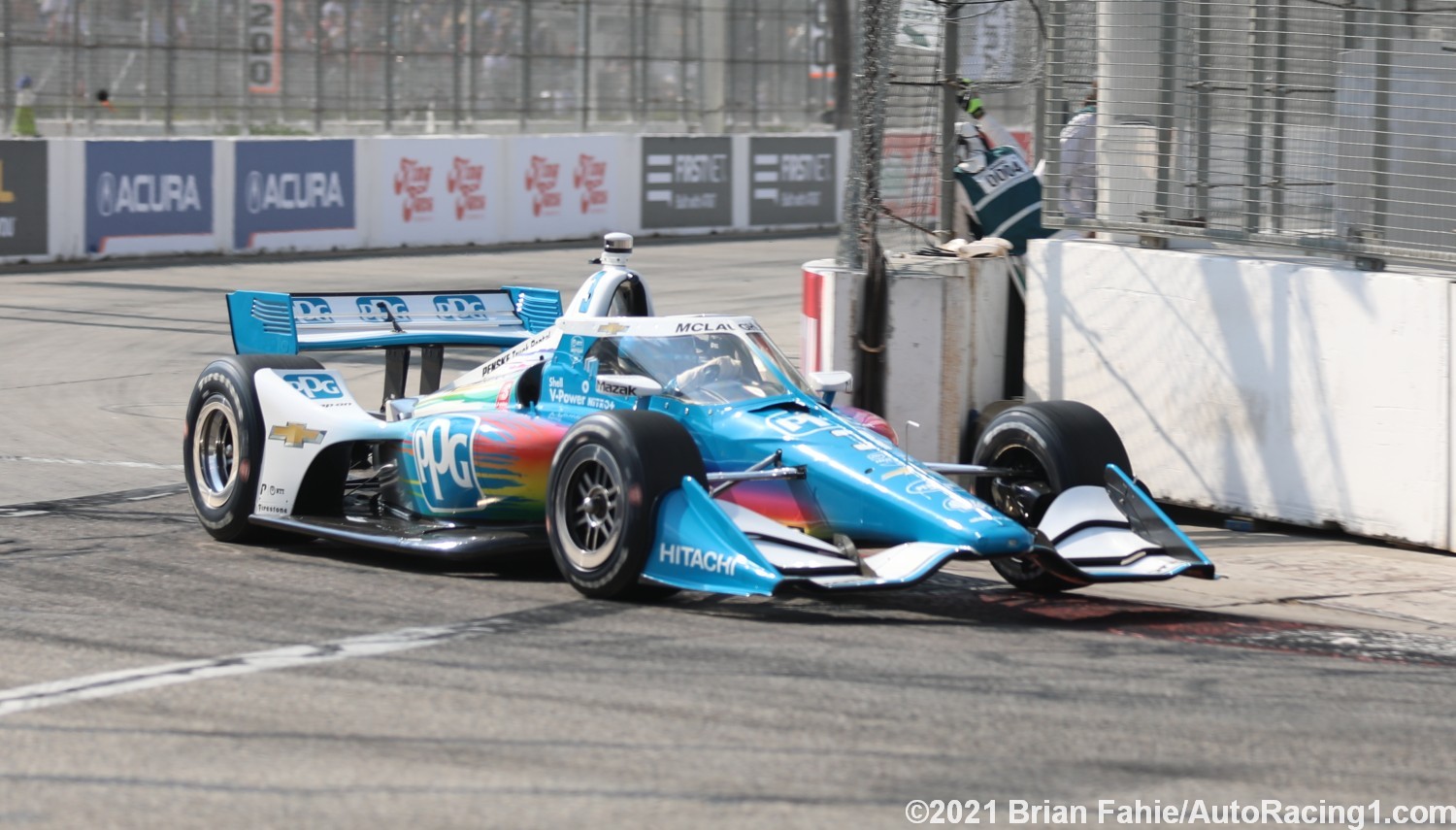 Today we took a little bit of a punt just with the strategy at the start, staying out. Would have worked out if there wasn't another quick yellow. Unfortunately there was. We pitted obviously. It put us back to sort of 22, 23. After that it was all just about trying to make the most of what we had. We moved our way forward all the way to 11th.
Overall towards the end of the season, since probably St. Louis, potentially before that, I felt like I've had a good stranglehold on the car. I've come in leaps and bounds in terms of my confidence with the care. It really sets me up well for 2022.
Qualifying is skill my Achilles' heel right now, with the different compounds, getting used to that tire-wise. I'm happy. I had a year that's had its ups and downs, overperformed, under performed, had a podium, close to having some semi-good results at the Indy 500. I've really enjoyed it.
Proud of this year because it could have gone one of two ways. It's been a big challenge for me and my wife to come back across here, order a couch, took four weeks to get a couch, then you sit on bean bags for a while, testing, doing a lot of different things. It's been a lot of things off and on the track and just really proud to get through it with some success at the end of it.
THE MODERATOR: You can't test at a place like Long Beach or the street courses. Last year I remember a chilly Indianapolis Motor Speedway, your first opportunity to run in a car. It's been quite a transition for you this year.
SCOTT McLAUGHLIN: Yeah, if I think back to that point, where I was when I was then, to where I am now, confidence levels, how I feel in the car, it's completely different. This is my first ever open-wheel championship. The only thing I've driven is two races in a Formula Ford. This is a different kettle of fish, probably the most competitive series in the world. To compete with these guys, girls, Simona, at the Indy 500 is a privilege.
I've really enjoyed it. It's made me better. I certainly feel like I'm a better racing driver even though I'm finishing the solidly finishing in the back edge of the 12. But I feel better and I'm excited for what's ahead.
THE MODERATOR: We'll take questions.
Q. Can you comment on the excitement around the young talent in INDYCAR.
SCOTT McLAUGHLIN: Yeah, I think it's exciting for the category. You look at Alex, who just won the championship. Big congrats to him. A second-year guy just made it all happen and the most of his opportunity at Ganassi. Pato and Rinus. Both won this year. Pato nearly won the championship. It's exciting. Colton obviously winning today.
INDYCAR is in such a good set right now, it's getting ready to go. I'm excited for these young guys to come through. I certainly believe that someone like Pato or Colton, they're good enough for Formula 1. They're good enough to take it to the very top. I'm not saying this isn't it, but I think you'd be hard-pressed to find them wanting to leave.
INDYCAR is so good right now, it's such a good category. I can't see it getting any smaller. It's just going to get bigger and bigger. The fan base as well. I think that's exciting.
Q. Where did you finish in the championship in the end? 12th?
SCOTT McLAUGHLIN: I think. I think around there. I really don't know.
Q. What would you say is a realistic target for next year or are you just thinking in terms of wins or podiums?
SCOTT McLAUGHLIN: I think top 10 in the championship, for sure, I need to be pushing there, getting results in the top 10. I think we've got that merit. I think we took a few risks on strategy the last few races because of where we were in the championship, we had nothing to lose.
Next year, would we have taken that yellow at the start? Probably. Then we probably would have been a lot further up. But it's exciting where I am and, like, where I feel. I certainly believe in my mind that I can be right there in that top eight, really be contesting for wins and podiums more regularly.
I've still got a lot to learn. I think this year, being able to go back to all these tracks that I learnt, I feel, yeah, it's going to feel amazing.
Q. A massive focus at Penske on the 500. On the other hand there's nowhere in the world where second place means less, right?
SCOTT McLAUGHLIN: Maybe Bathurst (laughter).
Q. Would you say, given your performance this year at the 500, a victory there is on the cards?
SCOTT McLAUGHLIN: Oh, I'm going next year to Indy with the idea of winning. I'm going to be in a car that can win the race. I know I'm quick there. I know I'm quick on ovals. I feel like I've got a handle on it. It's just a matter of having a good month, building up to it. Dotting my Is, crossing my Ts, not speeding in pit lane. That really hampered me. I think we were on for a top five.
I feel like this whole rookie thing could have been sealed a lot longer if I could have finished where I was going to finish at the Indy 500. I was infatuated with the Bathurst 1000 before I won it. Now I'm infatuated with the Indy 500. With my wife, I'll watch old Indy 500s on tele, YouTube videos, watch anything at the end of the day. I just will be infatuated with it until I go good there and get a result. Certainly I want to get there next year.
THE MODERATOR: 14th overall in the championship this year.
SCOTT McLAUGHLIN: Oh, damn it. Must have been close.
THE MODERATOR: Yes.
Q. Is there one memory that stands out from this year?
SCOTT McLAUGHLIN: I think you have to go back to Texas, following Scottie there. I certainly didn't think I'd be in that position. I thought we could have been easily top five. To be battling for the win almost, really chasing him till the end, that was a good feeling.
I think also starting my first Indy 500, there's nothing better. Rolling out and seeing all the fans. Every driver in the intro room was saying, Wait till you see it next year when it's full. I can't wait. What I saw, 50% or whatever it was, it's going to be off the chain. I'm really excited for that.
Q. Out of all these tracks, they were all new this year, is there one that really stood out as a track you felt comfortable at and enjoyed? How has life been in the U.S. by comparison to living down this way?
SCOTT McLAUGHLIN: To be honest, I really enjoyed Laguna Seca. I felt really comfortable there. Felt like we had a really good car. Out of all the street tracks, I feel like this one's probably my favorite. Out of the ovals, obviously Indianapolis was probably my favorite obviously just for obvious reasons.
In terms of living in America, it's just a whole lot bigger. New Zealand, it's a beautiful place, but the amount of people and things you can do here, I think no disrespect to the Americans, I feel like they take for granted what they have here. It's such an amazing country. I feel privileged to live here. I feel privileged to have the opportunity to potentially go a Green Card and permanent residency. I also feel privileged to have a passport in New Zealand to go home whenever I want. Miss my home terribly. Miss my mom and dad. They haven't seen me in the INDYCAR in the flesh yet. It's been on the box, watching on TV. They're my biggest fans. I can't wait for them to be at the Indy 500 next year.
Q. What can you take from this season to go forward into next year to come out with a better result?
SCOTT McLAUGHLIN: Like I've said, I need to get qualifying sorted and understand the tire. The hardest thing for me here is I've been so used in the super car extracting qualifying, you only had one lap to do it basically. The peak of the tire, you learnt that quite quickly, how to get it to its peak early enough in the lap to do a really good lap time over one lap.
Here the laps — your fastest lap sometimes happens on lap two, three, potentially lap four. Trying to get the tire to come on at the very perfect, right time is very difficult and hard to understand or explain.
But that will be certainly what I work on in the off-season, trying to understand. But I think I've slowly got it. It's just the guys that have got it sorted, the guys that have been around for many years, even guys like Romain who have been on different compounds for a long time, they've got it sorted. I have to work hard to make it to that point.
If I can get qualifying sorted, I feel like I'm as good as many people in the race.
Q. What was it that attracted you to INDYCAR?
SCOTT McLAUGHLIN: The opportunity to race for Team Penske, probably the most world famous team, one of the most world famous teams in the sport of motorsports. To drive for Roger in INDYCAR is pretty special. To then race at tracks like this, race the Indy 500, events that I've watched since I was a little kid, that's certainly special.
It's just, yeah, an opportunity to try something completely different. I have so many bad habits from my super car days that have hampered me this year, so I think that's why I've gone good on the oval because I've never been on an oval before, so I've got no bad habits.
The road course stuff, it's just completely different. I don't have a roof over my head anymore. I've got a windscreen, but it's different. I have open-wheels. I'm not banging doors any more. I can't bang doors because if I do that, I'm going to be in a lot of trouble. It's a lot of hard work trying to understand, trying to portray that to the media and the public. I've enjoyed the transition, feel like I've done an okay job.
Q. If I'm not mistaken, I believe you are the very first Rookie of the Year winner from Team Penske, probably the only thing they didn't win in INDYCAR yet. What did you feel about racing for Team Penske in your first season?
SCOTT McLAUGHLIN: I think it just shows that Roger doesn't really employ rookies (smiling).
I feel privileged to be in that position. But I also feel a bit vulnerable. Look, it's a proud moment. Like I said, you get one chance to win this Rookie of the Year. I was lucky to win Rookie of the Year at Indy, Rookie of the Year this year in the championship. Any time you're winning for Roger in any way, shape or form he's happy. Yeah, hopefully it's just a little bit of job security (smiling).
Q. You got your best result of the year in second place at Texas on an oval. Was it a surprise to you? What do you feel is your comfort level on these tracks now?
SCOTT McLAUGHLIN: If we had qualifying and I was able to qualify, I feel like we could have qualified in the top five. I felt really strong on the ovals, like I said. Especially at Texas. I was a bit bummed not to qualify that race. Then we started 15. That's where it was a surprise because I was just surprised. We made our way through, had really good speed on the in and out laps. I don't really know what to expect on the in and out laps. One of my first times heading into pit road at speed because it had rained over practice, qualifying and stuff.
It was one of those things where I just trusted my instincts, trusted my talent, my feelings. It worked really good. So the minute after that, I was like, Well, if I can maximize that, I can be better and better. I started overdriving. I sort of am back to where I felt at Texas, where I'm letting it all happen, enjoying it.
Yeah, that was definitely a pivotal moment for me this year, something I really enjoyed.
Q. After racing in touring cars in Australia and New Zealand for many years, is this what you expected or were there some things that surprised you?
SCOTT McLAUGHLIN: No, no, there was certainly — I think how hard it's been to extract the speed on the red and the black tire in qualifying. I found it easier to do it in practice because you have I guess an unlimited amount of laps. If you make a mistake, you can get away with it. In qualifying you simply can't. The battles are so close, so tight, you can't afford to make any mistakes.
I'm surprised with the competitiveness of the category, I think everyone has. This year it's been crazy close, you just can't make mistakes. That's why we go racing. We take the risks to get faster and faster and I feel good.
Q. Do Supercars have a Rookie of the Year title? I assume you won it in 2013?
SCOTT McLAUGHLIN: Yeah, they do. It's called the Mike Kable Young Gun Award, unfortunately named after a guy that passed away. I won that, which was pretty special, too. I guess you can say I've won in all the categories I competed in, which is nice.
THE MODERATOR: Congratulations. You're a rookie no longer.
SCOTT McLAUGHLIN: Thank God.
—
THE MODERATOR: Joined now by Chip Ganassi, no stranger to this ceremony. Its fourth NTT INDYCAR SERIES championship. Names like Jimmy Vasser, Alex Zanardi, Juan Pablo Montoya, Scott, Dario Franchitti. How big is this for you?
CHIP GANASSI: It's as big as it gets. Just to see this young man come along, it's been a few dry years in the 10 car. I go back to think of Dario and Dan Wheldon in the 10, all the successes they had.
Unfortunately for one reason or another, we haven't found that right combination for a few years. You have to work just as hard. Sometimes you're probably working harder than the guys on the 10 car and the 8 and the 48. They have to work harder sometimes than the champion.
Like last year with Dixon… I'm really, really happy for the team. Championships are won by a lot of hard work, by a lot of people making a lot of sacrifices that aren't obvious to the naked eye or get lost and they never get the press or the coverage of the late nights over the winter in Indianapolis, cold and dark and blowing snow. Guys are in there toiling away on their computers or on their cars, making them just a little better, getting ready for the start of the season or getting ready for the Indianapolis 500. That's where the championships are won.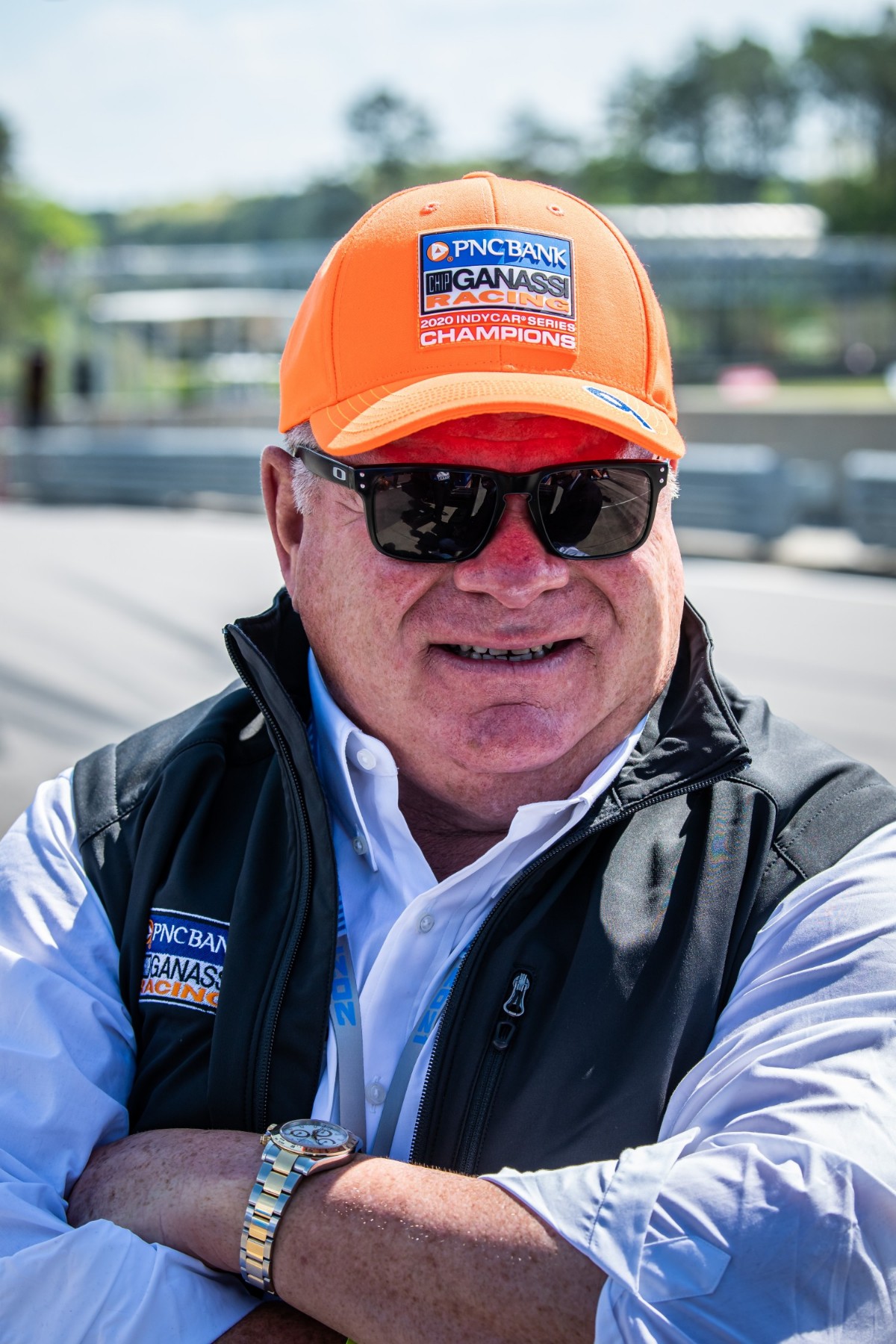 There's a whole slew of people back in Indianapolis that I'm sure right now have a big smile on their face. They're in our race shop, family members that aren't able to be here with their spouses, boyfriends or girlfriends. It's a pleasure to represent those people. So that's what makes this championship special.
THE MODERATOR: Questions for Chip.
Q. The first time that Alex tested for you, what did you see in him that made you think he was going to do the job for you and win?
CHIP GANASSI: It's pretty interesting. I think the first test was done in Birmingham. We went down there. All four cars were there. He ended up quickest. We were like, geeze. But we were trying a lot of things. You never really know at a test on a particular day, time of the day, tires, whatever. You always find some rationalization for why a guy was fast or wasn't fast.
We kind of just took it with a grain the salt I would think. Then of course we show up for the race, he was fastest in practice. We said, Okay, great, that's nice, but we have qualifying, a race, plenty of talent around the paddock. Then he was, of course, fastest in qualifying, then won the race.
He had Will Power and Dixon breathing down his neck the whole day. He showed there that he could stand the pressure. He could win. He didn't put a wheel wrong all day.
You sort of build on that. You go from there. But, yeah, early on in the season, you just don't know if a young guy like that has staying power all season or does he get tired in June or July or something.
I've always said that driving INDYCARS, the actual driving part is not hard, the travel is not too hard, the testing is not bad, the sponsorship work around our team is not hard. For some reason when you put it all together, it's hard.
He was able to put all that together and still have more in his tank.
Q. You talked about how championships are won in the off-season. You've won this championship this year still with a NASCAR team going. That's going away for next year. Talk about how the resources from that team, if any, will translate into IMSA or your INDYCAR teams.
CHIP GANASSI: Yeah, I think any time you're involved in other racing series, you can take something away from it, whether it's NASCAR or IMSA sports cars. We have an Extreme E team. It's not like I can call up this guy sitting next to me up here and ask him a question about his car or something. I don't know if I'm going to get a straight answer.
When you have that building up in your team, I've said before that motor racing rewards tenure. You got a guy like Colton up here. He's got a big future in front of him because he's a young guy. Tenure will reward you in this business.
Q. Could you talk a little bit about Alex's transition into the team, working with the people behind the scenes, key people with Ganassi, how he's meshed with the staff you have in there.
CHIP GANASSI: Yeah, I think obviously his apprentice program into racing most recently was in Japan. I think he brings a lot of that type of Japanese mentality to the team, which a lot of us find refreshing. Obviously being a Honda team and being with them for many years, many wins, he brought a certain fortitude I would say that you see in that part of the world.
I think that with he's got some good management around him with some of you know, we were just approached by really a friend of our team and a friend of his, a guy named Roger Yasukawa that said, You got to take a look at this kid. We said, Sure, arrange a meeting or something. That's how it really got started.
Q. You've been through and seen a lot of drivers. Does Alex remind you of anyone?
CHIP GANASSI: Yeah, that's a good question. I haven't given that one much thought. I'd like to think he takes — I don't know. I'm trying to think. Do you have somebody in mind you're thinking of?
THE MODERATOR: Sounded like a leading question (laughter).
CHIP GANASSI: I don't know if I'm missing somebody here.
He's a lot like Dixon. Kind of not a lot of baggage. Just focuses. A lot like, yeah, Dixon.
Q. Have you noticed anything that he doesn't do well? Scott has said he's kind of pretty complete. Anything where you see room for improvement?
CHIP GANASSI: That's a good question. I'm not sure I have a good answer for you. I'll have to think about that one a little bit.
No, I like everything about him as a driver. Yeah, I don't know. I don't really have a good answer for you. I'm sorry. I'll follow Dixon's words right now and say he's pretty complete as is.
Q. How well did he bounce back from what happened in the practice in the 500?
CHIP GANASSI: That's a good question. When you hit the wall at 215 or whatever, 220, you hit the wall at Indy, you're not surprised when a guy goes up the next day and goes about 210 after running 220, 225, whatever. That can slow you down a little bit.
I was really surprised that it didn't affect him much. We were all quite taken aback. He was right back to speed when he got in the car. That surprised us a lot.
THE MODERATOR: Congratulations, Chip.
CHIP GANASSI: Thank you.
THE MODERATOR: Championship number 14.