NHRA: Torrence, Hagan, Enders win at Gateway
Steve Torrence says he doesn't count points, and there is certainly no reason to doubt him, but the three-time Top Fuel world champ clearly didn't enjoy coughing up the points lead last week in Charlotte when he lost in the semifinals of the DeWalt NHRA Carolina Nationals. Who could blame Torrence for enjoying the view from the top. The Capco driver took the lead at the second event of the season in Las Vegas and steadily extended it throughout the regular season, where he dominated with eight wins.
Seven days after he surrendered the top spot to rival Brittany Force, Torrence quickly addressed the issue by claiming his ninth win of the season in St. Louis. Torrence went to the final for the 72nd time in his career where he bested Mike Salinas and his Scrappers team. Torrence was in trouble early in the final when  Salinas left with a .011 reaction time, but the Scrappers car drifted towards the centerline at half-track and Torrence took advantage of the miscue with a 3.736 to seal the win and extend his advantage over the field.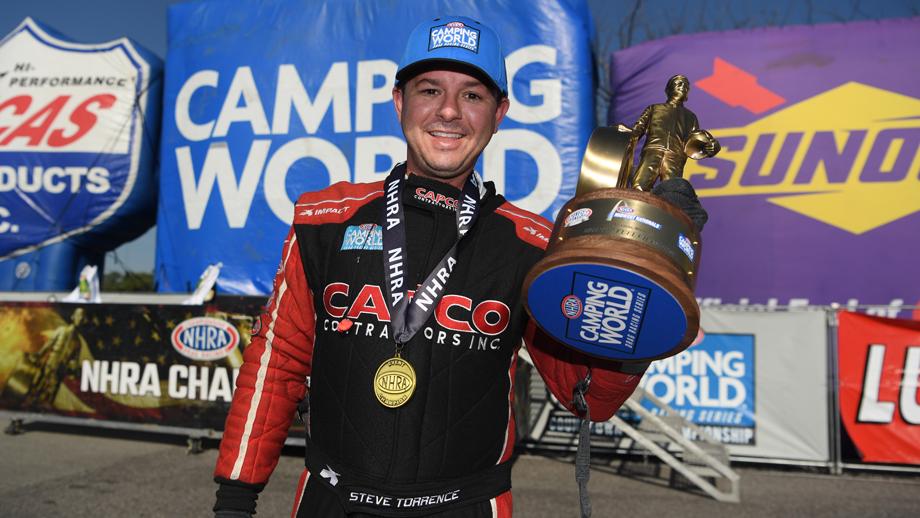 "The final was crazy. Normally, your crew chief or someone pulls you into beams or leans over to give you the signal to roll in and pre-stage," Torrence said. "I was waiting and Mike's top bulb is on. I was in the process of bumping in and his top bulb went out. I don't think he meant to do it but it was a distraction. I looked up and the lights were on. I knew I was dead late. I was gaining on him at half-track and I saw he was close to the centerline. I finally saw my win light. Some days it's better to be lucky than good.
"Thankfully, I don't do what I did in the final too often," said Torrence. "We have continuity. My guys have been together, every one of them since 2013, and the way we work together just makes you better every year."
Torrence didn't have the quickest car in St. Louis but he was never far off the pace set by the leaders. In qualifying, he ran a 3.697 but trailed Salinas and Force, who exchanged haymakers with runs of 3.652 and 3.663 that are among the quickest in the history of the class. Throughout his career, Torrence has always been more content to made headlines on Sunday than on Friday or Saturday and he was content to do just that in St. Louis with victories against Shawn Langdon, Antron Brown, and Josh Hart, the winner a week ago at zMax Dragway.
Torrence and his Richard Hogan-led team were overpowering with a 3.669 to beat Langdon, and a 3.709 against Brown, but his semifinal win took a bit more finesse. In his first season in the Top Fuel class, Hart has already won a few races via holeshot but he and Torrence left even. Any thoughts of an upset quickly evaporated when Hart's R&L Carriers dragster hazed the tires. Torrence may have gotten a break when he made his slowest run of the day, a 3.767.
"I've been No. 1 all year except for the first race and the last race," said Torrence. "I'm confident in my ability to do the job. You've just got to win on race day. The points are what they are. We've won nine of 16 races and we're still fighting these guys for a championship. It's kind of a joke.
Although Salinas didn't' win in St. Louis, he had to be happy with the progress of his Scrappers team on several fronts. Salinas has been quick at times, but also a bit inconsistent. Team manager Alan Johnson and crew chief Brian Husen have worked on the performance end and that paid off with some of the best runs of Salinas' career, and he's also done his part working to improve his driving. That part became evident when he cut back-to-back .042 and .038 lights in his wins against Tripp Tatum and Leah Pruett, a prelude to his .011 bulb in the final round.
Torrence now holds a 36 point lead over Force with four events remaining in the season.
Funny Car: Hagan Wins NHRA Midwest Nationals
Defending National Hot Rod Association (NHRA) Funny Car world champion Matt Hagan powered his Don Schumacher Racing (DSR) New Holland Mopar Dodge Charger SRT Hellcat from the No. 1 qualifier position to the winner's circle at the Midwest Nationals near St. Louis in dominant fashion to take over the lead in the "Countdown to the Championship".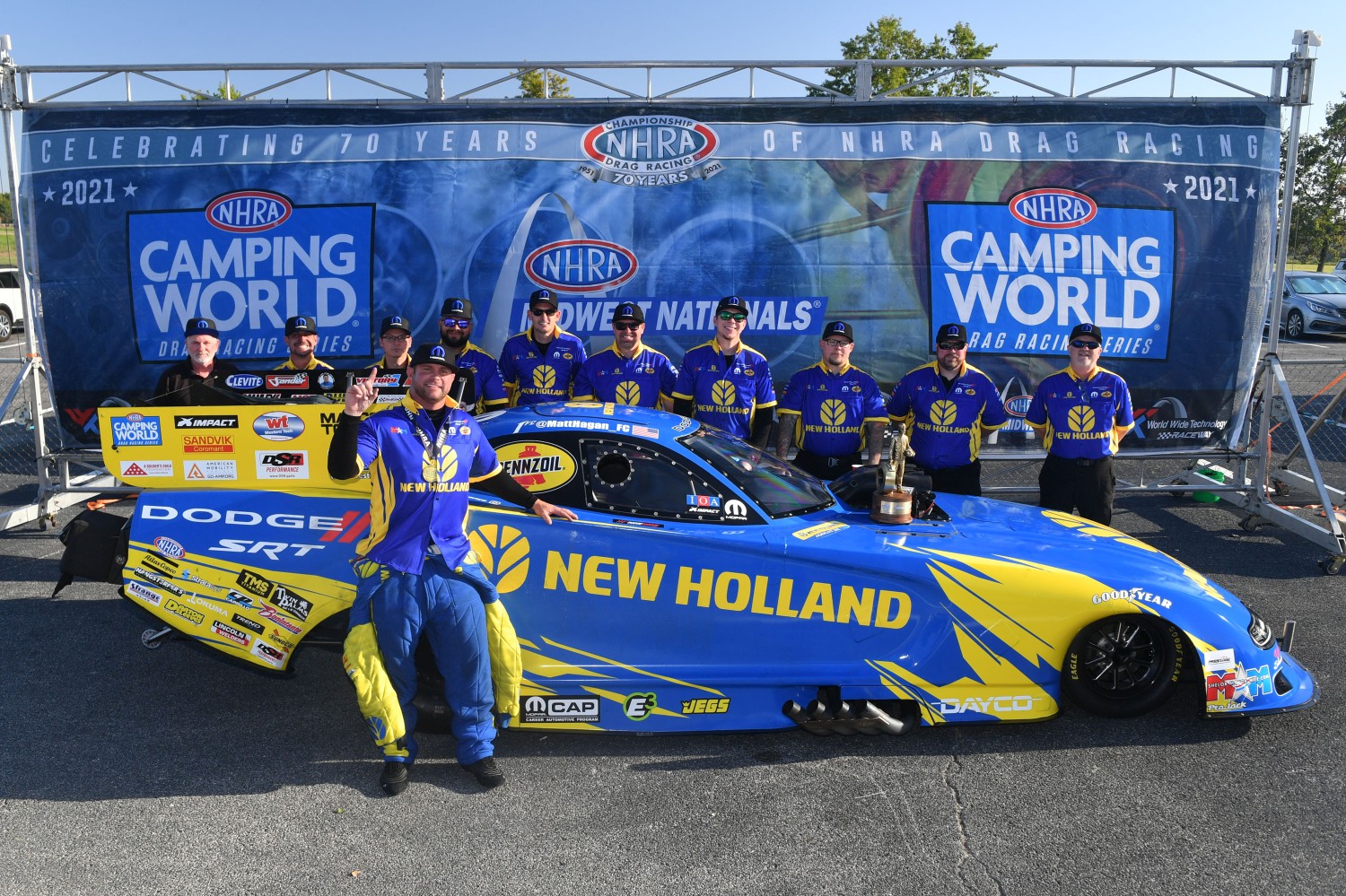 Hagan kicked off the third of seven NHRA playoff series events by driving his HEMI-powered machine to the provisional No. 2 spot at World Wide Technology Raceway in Friday evening qualifying to find himself closing in on DSR teammate and points leader Ron Capps on the provisional timing sheets as well as the Funny Car championship standings. From there Hagan never looked back and laid down the quickest laps in both Saturday qualifying sessions with a final pass of 3.868 seconds at 333.25 mph to secure his third No. 1 qualifier position of the year, a 43rd overall, and collect eight of nine possible bonus points to put him just one marker behind Capps heading into Sunday's elimination rounds.
Hagan had an opening round bye run and a quarterfinal win against J.R. Todd to move on to an all-Dodge Charger SRT Hellcat semifinal against No. 5 seed Cruz Pedregon. Both launched and battled side-by side the entire length of the track with Hagan (0.086/3.922/328.30) turning on the win lights over Pedregon (0.083/3.954/323.58) to advance to his fifth final round showdown of the season. Facing off against No. 6 seed Bob Tasca, Hagan got out of the gate first and made another solid sub four-second run (3.933) at 333.49 mph to earn his first Wally trophy from the St. Louis venue.
The win was Hagan's third of the season, the 39th of his career, and a fourth for his crew thanks to the victory earned in the playoff opener in Reading, Pennsylvania with substitute driver Tommy Johnson Jr., who slipped into the Mopar Dodge Charger SRT Hellcat seat as its regular driver recovered from COVID-19. With two playoff wins in three events, Hagan moved into the top spot in the Funny Car championship battle with a 59-point lead over his fellow DSR stablemate Capps.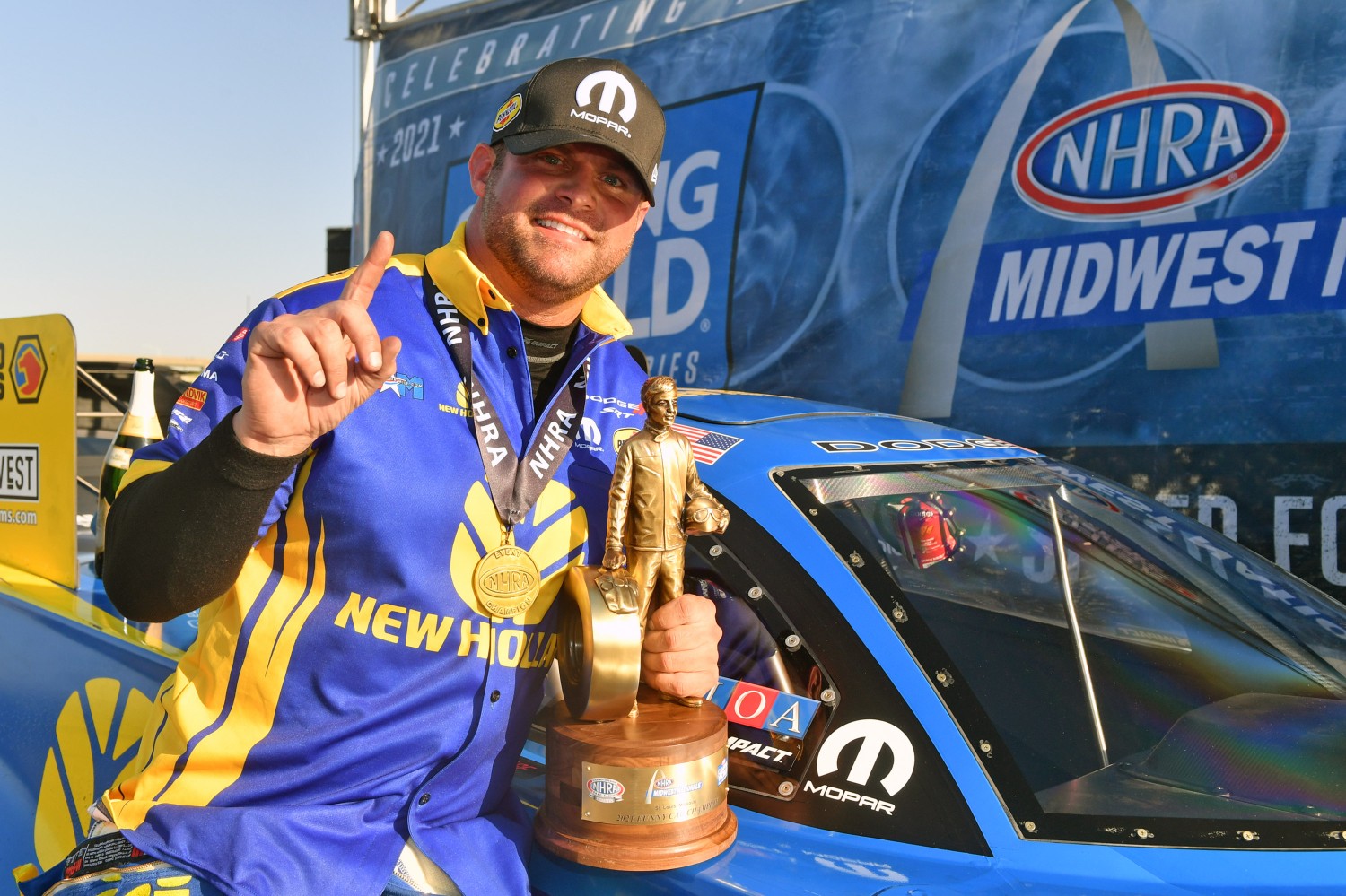 "When you've got a combination and a package like we do, it's hard to beat. The way (Crew Chief) Dickie (Venables) has got this car running, as long as I do my job, it's going to turn the win light on. You try not to focus too much on the points because it changes so fast from day to day, and race to race out here. You can be on top of the points one day and then you go out first-round the next day, so we take it in stride. Over the years, the championships that I won, I've really just tried to focus on what I can control, and everyone else has to do their job, and I'm fortunate in that I'm in a situation where I truly can depend on my team.
"We only have four more races left after this, so the pressure is there, but I've been there before, I understand the hunt, and I know that our car is going to be a really serious contender. I honestly really think we can win this championship with the way Dickie's got this thing running. (Ron) Capps is going to be tough, (John) Force is going to be tough, all of them, really. These crew chiefs are throwing down, it's like a slugfest out there."
Pro Stock racing has always been close, but few races have been as close, or as dramatic as the St. Louis final round featuring Erica Enders and Dallas Glenn. Enders won her 33rd career race and fourth season but the margin of victory at the finish line was just two-thousandths of a second, or just a few inches at nearly 210 mph. The numbers were impressive as Glenn left first with an almost perfect .001 reaction time and made a very competitive run with a 6.583 in his RAD Torque Systems Camaro. That wasn't enough as Enders countered with a .010 light of her own and a 6.572 in the Elite entry.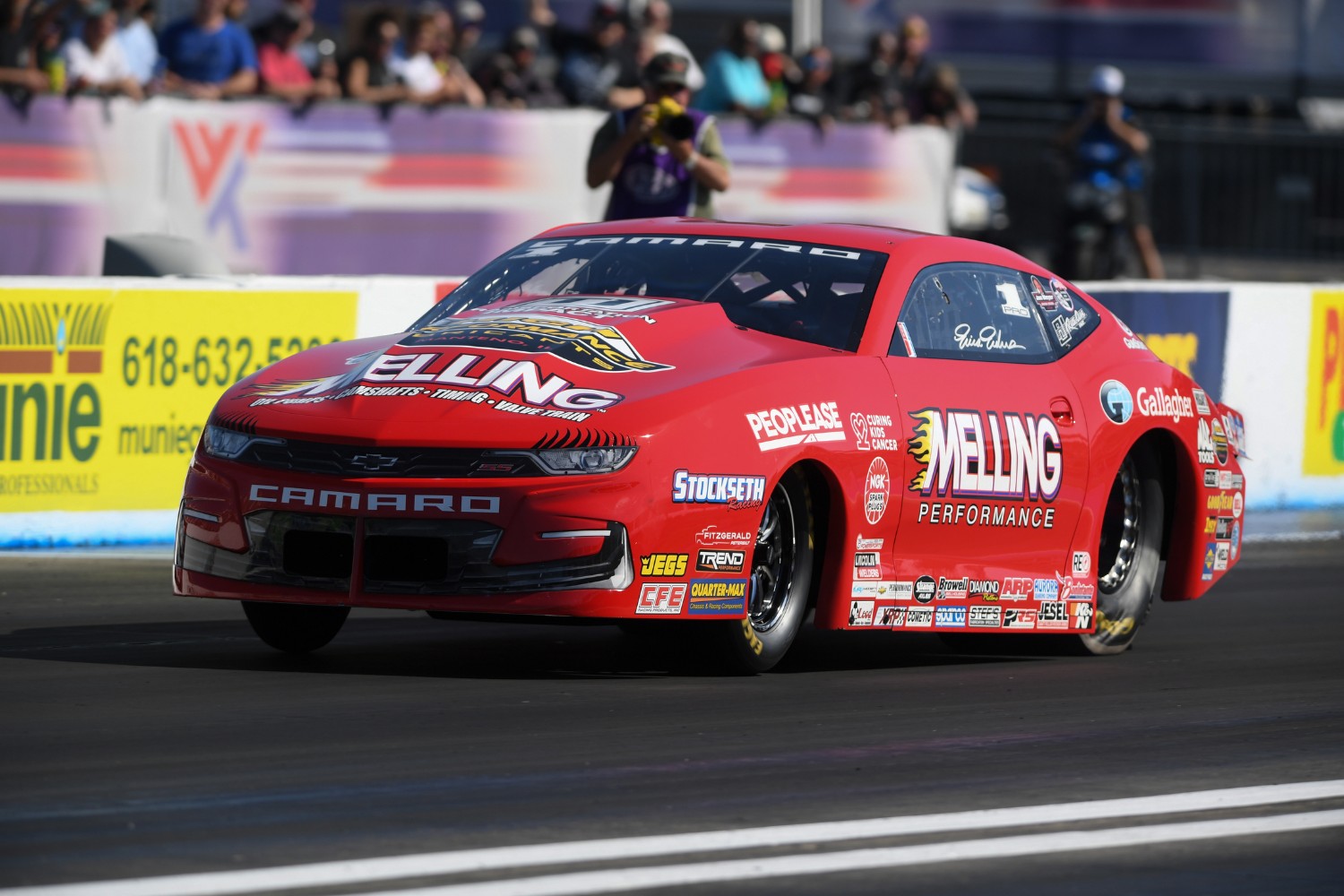 For Enders, the win was much needed after she'd fallen 65 points behind rival Greg Anderson as both drivers battle for their fifth Pro Stock world championship. Anderson lost in round two, giving Enders the opportunity that she needed to get back in the hunt.
"I always put it in high gear and check and I knew exactly where [Glenn] was. I knew it was going to be close," said Enders. "I was legging it and shoving the throttle pedal through the firewall. We just needed to have Greg stumble a little and we needed to go to work on our program and I needed to work on myself. I've been struggling a little bit. Tim Freeman and Mark Ingersoll, my two crew chiefs said ten or better [on the Tree] and you can't lose. I was .010 and Dallas was .001 and these kids are keeping us honest and making us work for it. Again, it's going to be a dog fight."
Enders has also won the last St. Louis events, a combined 12 round win streak in the Gateway City. She's at a loss to explain that success, but will happily take it.
"I don't know but I love it. I'm not going to question it," said Enders. "I don't know what it is about this facility. I've been coming here since we were kids with our Super Comp dragsters. It's a blast and I really enjoy it.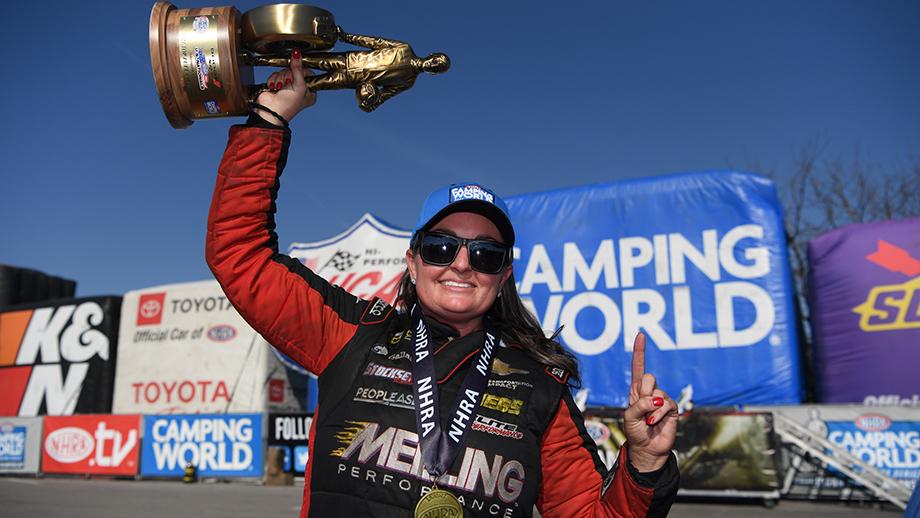 Enders came from the No. 5 qualifying spot to reach the final thanks to wins against Bo Butner, Aaron Stanfield, who later clinched his second-straight now two-time Factory Stock champion Aaron Stanfield and Mason McGaha, who also got the early lead with a .017 light before falling behind when his 6.63 was nosed out by Enders' 6.59.
For his part, Glenn continues to have what amounts to an amazing rookie season. Already a two-time winner, he's now been to four final rounds including last week in Charlotte, his home track. Glenn took advantage of red-light starts by Fernando Cuadra and semifinal opponent Chris McGaha, but also did his part with a 6.580 in his victory against Rodger Brogdon in the quarterfinals.
Points leader Anderson was dominant in qualifying but took a tough loss in the quarterfinals when he got beat on a holeshot by Mason McGaha. Anderson once had the biggest championship lead of any of the four pro classes, but that has now shrunk to just 17 points with four events remaining.