Dyson clinches 2021 Trans-Am title with VIR sweep
In the penultimate round of the season, all Chris Dyson needed to secure the 2021 Trans Am by Pirelli Series championship was a sixth-place finish at Virginia International Raceway. But Dyson isn't one to play it safe; he totally dominated the race weekend aboard his #20 ALTWELL CBD Ford Mustang, qualifying on the pole and leading the 100-mile sprint from green flag to checker, while setting the race's fastest lap. By the end of the 100-mile sprint race Dyson couldn't even see in his rear-view mirror his closest competitor, Boris Said, who finished more than a half minute (30.137 seconds) behind.
"Fantastic!" Dyson exclaimed as he climbed from his race car. "We were up front and able to dominate. What a way to win the championship! To add the Trans Am title to my two IMSA championships means the world to me."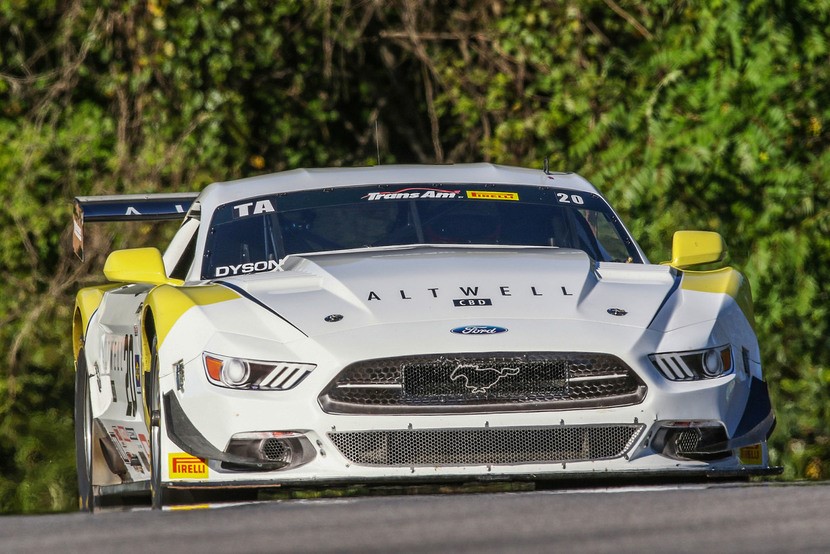 Dyson added that winning the championship provided added satisfaction not just because the Trans Am has been America's leading sedan road-racing series since its inception in 1966 (a dozen years before Dyson was born) but because the combination of high horsepower and the lack of digital driver aids makes it a real driver's series.
The victory at VIR marked Dyson's seventh win in the ten races run so far this season. The only other drivers still in contention for the championship coming into the weekend, Tomy Drissi and Ernie Francis, Jr., fell to misfortune during the race. Drissi, who started alongside Dyson on the front row, ran second at the start but suffered race-ending mechanical problems just five laps into the 31-lap event. Francis, the series' defending champion, was bouncing over curbs trying to match Dyson's race-leading pace. Francis fell out of contention at the race's two-thirds mark.
Speed and Consistency All Season
"This series has superb competition," Dyson said, adding that with the top cars and drivers evenly matched on performance, good and bad fortune becomes a factor. "This season our competitors have faced some of the same issues our team did the past two seasons. And we've just gotten stronger as the season has progressed," noting that six of his wins have come in the seven most recent races.
At every race this season my CD Racing team has given me a car that was fast and reliable," Dyson said. "Knowing the car will be good right off the trailer has allowed me to focus on getting the car set up for qualifying and then for the race. Every race I've known I have a car that's capable of winning."
In terms of the championship, some people might say the final race of the season, in November at the Circuit of the Americas in Austin, Texas, will be anticlimactic. But that's not how Dyson sees it.
With the championship decided, no one has any reason to do anything but race as hard as they can for the whole 100 miles," Dyson said. "COTA should be a total shootout. Tomy, Ernie and Boris will all want to finish the year with a win, and so do I. Nobody's going to leave anything on the table. It should be a great race."