F1 race director plays down 'washboard' Austin surface
(Update)
(GMM) F1 race director Michael Masi has played down a controversy surrounding the venue of the next race on the 2021 Formula 1 calendar.
Two years ago, drivers including Lewis Hamilton – who claimed the situation gave him a "massive headache" – complained that the surface at Austin's US GP venue, Circuit of the Americas, was excessively bumpy.
The situation appears to have worsened since then, with 2021 MotoGP championship leader Fabio Quartararo describing the current state of the bumpy surface "a joke" and "unsafe".
"We said three years ago that they need to resurface and it's even worse now," said the rider.
F1 race director Masi, however, insists he is dealing with the situation.
"I spent that (MotoGP) weekend on the phone with my colleagues from FIM to get a real idea of what was going on there," said the Australian.
"After the US GP in 2019, much of the circuit was resurfaced, but the sections of the track that drew criticism from the MotoGP riders are located in a different part of the circuit," Masi added.
Two weeks ahead of F1's 2021 US GP, Masi said an FIA inspector is currently on site.
"He reports from there that work is already underway at the circuit to solve a number of existing problems," said Masi.
"With the time remaining before we get there, the owners of the track will do everything in their power."
—
"Tony Cotman, who's one of the FIA circuit inspectors and was previously IndyCar race director, who is in the US, has been out to Austin already during the week, done a report and the circuit is doing some changes for us to sort of address some of the concerns," said Masi.
"They'll grind some bumps and so forth.
"But we've got some time to do it. So, they'll do what they can within the timeframe."
---
October 2, 2021
MotoGP championship leader Fabio Quartararo says the Circuit of the Americas track surface is "a joke" and "unsafe", comments echoed by many riders after Friday's practices in Austin.
Anyone who has driven to and from the track knows how the roads around the track are an undulating mess caused by the ground in the entire area that is sinking. It was the worst possible place to build a racetrack.
But they did anyway.
Turns 2, 3 and 10 are particularly bumpy.
Quartararo branded COTA as "not a MotoGP track".
"It's more or less a track I use to train with a motocross bike, but much faster and with a MotoGP bike," he said. "So, it's really bad. I can't imagine it, we said three years ago they need to resurface and it's even worse.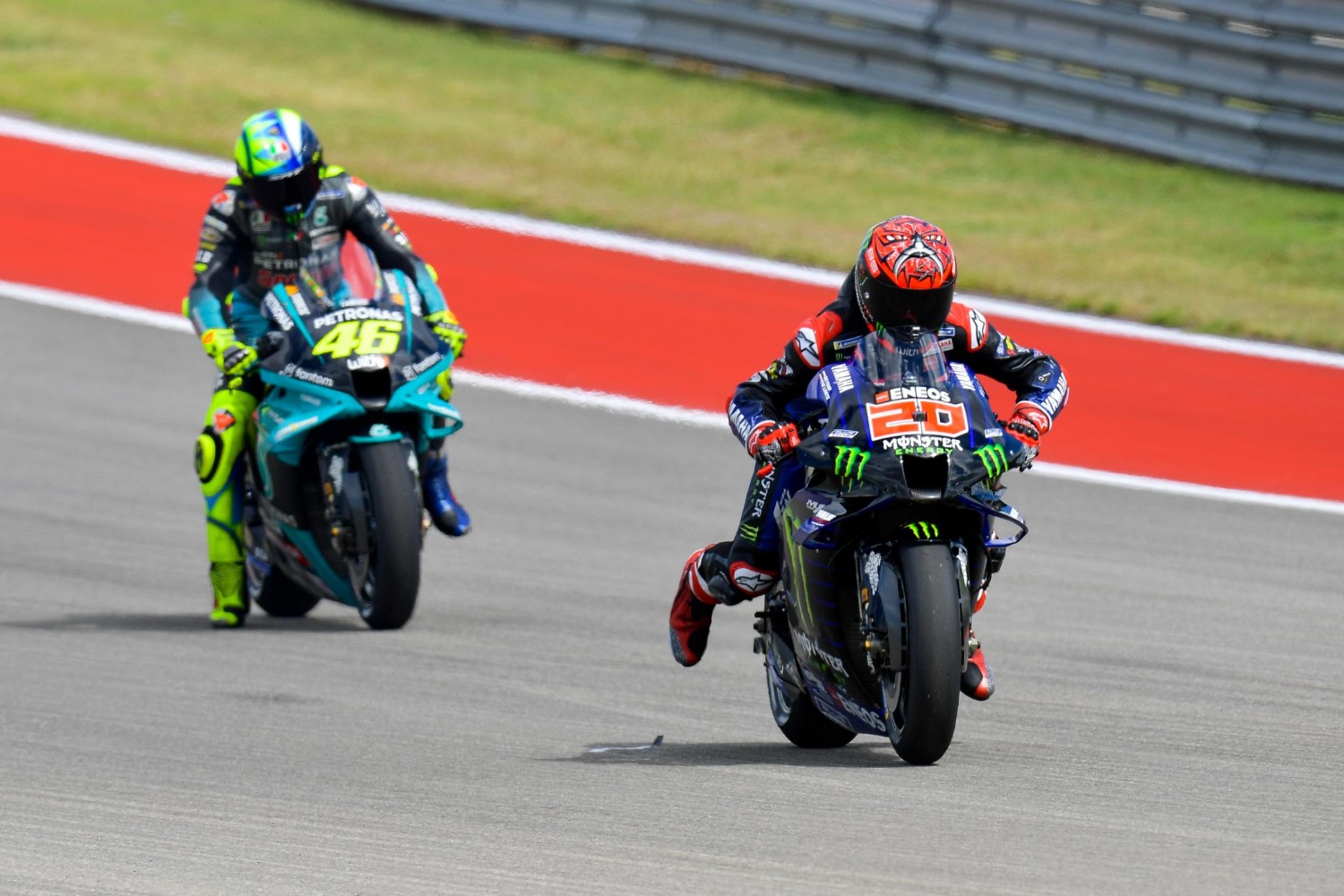 "It's just acceptable to race, I don't know what to say. But it's a joke.
"It's not a MotoGP track for me. To make a race here – for one lap it's OK – but for 20 laps, we will see that there will be some bad moments.
"You see a lot of bikes shaking in Turn 10. The thing is the bumps are in the worst places possible, because if you have bumps in Turns 1, 11, 12, it's OK because it's slow corners.
"But Turn 1, Turn 2, 3, 10 are the worst corners you can have bumps, and there are bumps there. So, let's see.
"I usually don't go to the safety commission, but when there is something serious, I will go and today something serious that for the safety is… the track is unsafe. It's clear to say that it's not great, and they need to resurface everything."
Aprilia's Aleix Espargaro went one step further, saying that he doesn't believe it's possible to race at COTA this weekend with the track in its current state.
"We have been complaining about this track for many years and they haven't resurfaced it, the bumps are very, very dangerous," he said. "The bikes in 2015 were much worse than now, it's been six years and Marquez's time after all this time is two seconds slower [than his lap record from 2015, a 2m01.135s].
"The track is very dangerous and for me, it's too dangerous to race here on Sunday."