NASCAR: Talladega post-race press conference
Participants
-Bubba Wallace, Race Winner
-Denny Hamlin, Team co-Owner
-Bootie Barker, Winning Crew Chief
THE MODERATOR: Bubba, thank you for taking some time. Congratulations on the victory.
We'll get right into questions for Bubba.
All the things you ever hear is, He hasn't won, he hasn't won. Now that you've won, what does it say about you as a race car driver and as far as having a voice for change?
BUBBA WALLACE: Yeah, I was one of those people that was telling myself that I haven't won. It's tough to kind of get out of that mentality. It's like, man, you just want to go out and compete and win. It just so happened today.
I know now Bubba won because it rained. Everybody knew it was going to rain. We knew we had to make a move to get out and the caution came at the right time.
Yeah, just appreciate everybody that's in my camp to help me stay focused on the things that matter and eliminate the BS I have to deal with on a daily basis. It's moments like this where I can go back and thank and appreciate them because we're here, we're a winner, got some credibility to my name now.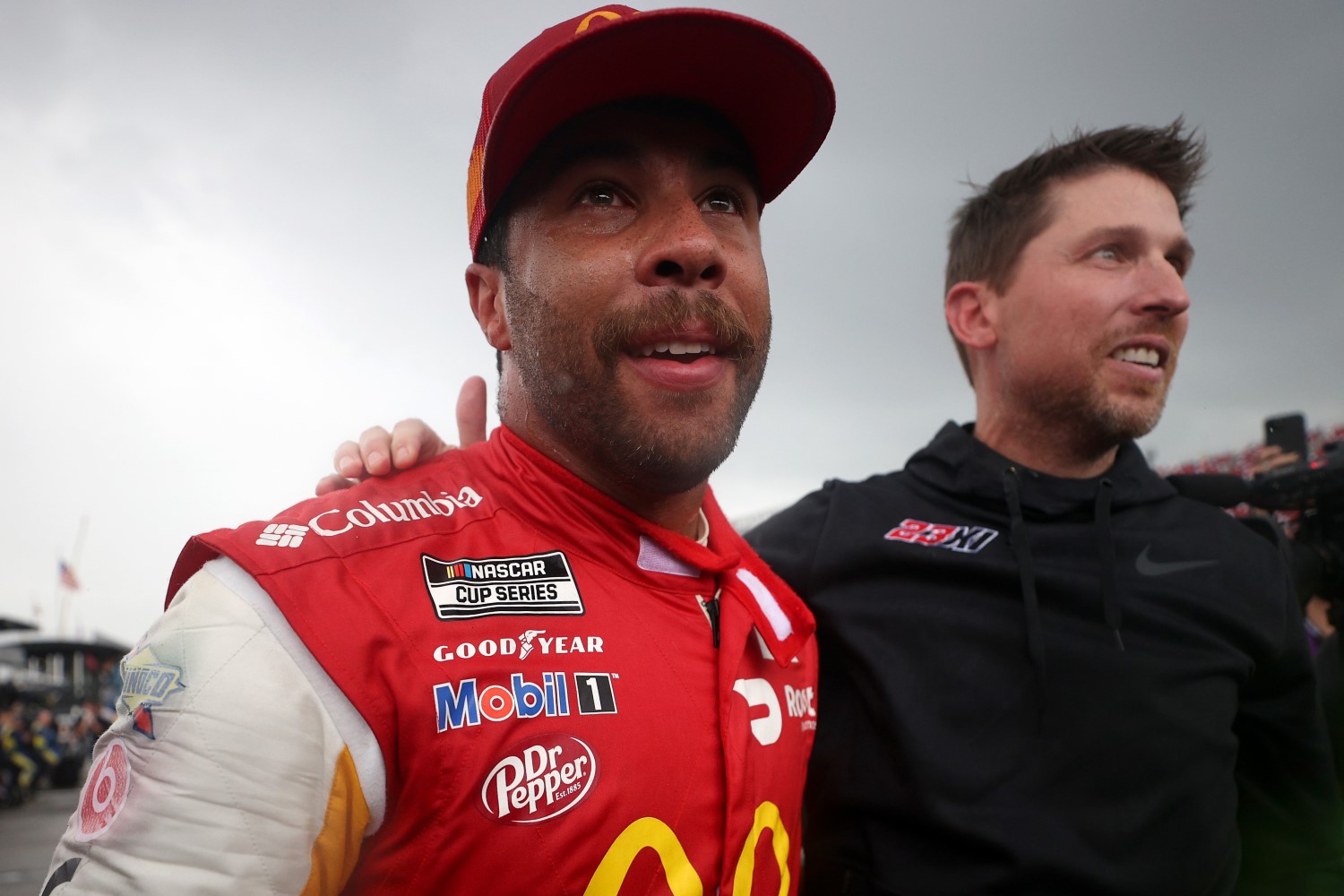 We'll just go out and we know how the sport works. We go back to work. Everybody gets back to work today, after racing on a Monday. Go back tomorrow and get focused on the Roval.
Blaney said what you had to go through, the things you hear, would hurt anybody, that you're human. How have you dealt with that?
BUBBA WALLACE: Some sleepless nights. Talking to professionals to help me stay focused on the task at hand. Really listening to my family. Amanda being there pushing me. I go into some of these races and I just have a negative attitude. She rips me in the ass to get in shape and to show up with some positivity.
I appreciate her. I hate that she couldn't be here. She had to fly back home for work last night. But it's my family pushing me and knowing that as I'm being the realistic, sometimes pessimistic person, they hold the optimism for me and help me show back up at the racetrack with a good mindset.
Have you talked to Amanda or your mom yet?
BUBBA WALLACE: I called them both as we were walking to Victory Lane.
You have been catapulted into an ambassador role when it comes to bridging the gap with the African American community and NASCAR. Now that you have your first win under your belt, how much do you think that will help bridge that gap, make this sport well-known for the African American community?
BUBBA WALLACE: I just got to go out and keep doing what I got to do. I know that sounds like the typical athlete answer, but for me and the people that know me in my camp, I just want to go out and compete and win races and be here talking to you like this. What allows me to do is that just focusing on the task at hand, which is the race. That's how I continue to kind of go about it.
We'll talk about it post race, but leading up to it and in the moment, I'm just going out to win races and put on the best show I can to show, hey, be part of this sport. Either be at the track or sit on the couch, have a party, watch at home. Whatever it may be, just tune in. You never know what can happen, you could be enjoying moments like this.
What did you share with your mom? What has it meant to have this journey with her?
BUBBA WALLACE: Yeah, there were a lot of tears so it was kind of hard to understand her. We were both crying on the phone happy. Just excited.
She is the number one person that knows how hard I am on myself each and every weekend, each and every day. She is always sending me positive encouragement, scriptures, just always is holding that positive light. Even though she knows it could be no good outcome, she's always there for that support system. Love her so much for that.
She has started a new life for her. She moved to Atlanta. She wasn't far away, but she wasn't here at the race. She lives in Atlanta now with her husband George. I know they had a lot of people watching back at home. I just appreciate the support. It's been pretty cool. I have yet to see my phone. Sure I got a lot more reaching out.
Anything you do is of an historic proportion. To do something that hadn't been done since Wendell Scott, what is that like?
BUBBA WALLACE: Yeah, I mean, I'm selfish. I'm like, Finally, I'm a winner again. It's been four years, Michigan truck race. I'm a winner. I'm a winner at the Cup level. Hell, yeah, that's what I'm saying.
Then you think about everything else that follows suit with the history being made. There were a lot of firsts today within our team, within our organization. This is a really huge team effort. I'm so proud of everybody for continuing to just stick with it.
It's been a lot of up-and-down races, a lot of frustration, a lot of shouting matches. We always regroup, come back and rally for when the green flag falls on Sunday, or a Monday like today. We go out and compete and put everything else aside. We know what we have to focus on.
We continue to build this organization up. I got Kurt coming over next year. He was one of the drivers that came up during the rain delay there. I appreciate him, his optimism, his wisdom. We just got to keep going. I got to go out to the Roval, my best track – not – next week. Just go out and have some fun.
This win didn't put us in the Playoffs or anything, but there was a huge weight lifted off my shoulders. I told Claire earlier, if I'm walking out of this room, I went out as a winner. That's good.
The challenges you faced the last few laps, Brad Keselowski all over you, how tough were the last few laps?
BUBBA WALLACE: For sure, man. You never count out the Penske cars. It's something that we talk about them at our Monday, Tuesday meetings. It's like, Hey, those guys make it work. There's a reason why they win the races.
So knowing that we had to defend them. Freddy did a hell of a job on top of the roof. So proud of him. Week in and week out he's always getting better and pushing me to be better. We just made the right moves and it worked out.
TV said this, you didn't say this. They said Talladega last year was a real low point for you. Is that accurate?
BUBBA WALLACE: I wouldn't say it was a low point. I've had some low points in my life, and that wasn't the same feeling. This was just a hurdle that we needed to climb over.
How do you feel when you come to Talladega? Is it just another racetrack to you or is there lingering issues?
BUBBA WALLACE: No. For me, it's easy — obviously I still remember to the day. It's funny, I was sitting in the bus after they called it, after they called it yesterday. I was close to texting Steve Phelps saying, I don't want a phone call. It was basically the same thing that happened. Rain delay, called the race, going to race on Monday. It's just like, Man, déjà vu. But I didn't text him or anything.
You think about those things when you come to this place. For some reason I had a feeling we were going to win. This was on Friday. I was like, We're going to go win. Amanda said we were going to win. I had a buddy of mine, Mamba. I told him I'm going to go out and win. I got it documented.
Where did you get that confidence from that you were going to win this weekend?
BUBBA WALLACE: I was sitting there. Being a part of this 23XI deal, they are so big on preparation. Denny is big on leading up to days before the race making sure you're doing your homework, doing your debriefs. I was sitting there reading over our notes, looking at our previous race here in the spring. I was like, Man, our first stage average was pretty damn good. I think we were like fourth on average. After that we were like 15th to 20th second and third stage. We ended up I think 18th or so.
It made me think about Daytona. We led some laps in Daytona in the spring, even at the 500. We lead some races early on, then kind of survived and get a good finish.
You always talk about the good plate racers. These guys are great at place raters, Penske cars, Denny is really good. It's like, Damn, I'm good at getting good finishes, but I don't consider myself as a good plate racer. Let's turn it up a notch and try to become a pretty damn good plate racer today.
As you can expect, as soon as the race was called social media started lighting up saying the race was fixed. I asked Denny about it. He said he encouraged you to get off of social media and thought that did help. Did you get off social media? How did that help you?
BUBBA WALLACE: Yeah, I've been off my main pages for a handful of months now. It's helped out a ton. For me, I would go and read the comments. After a bad race, I would become one of those haters that doesn't know anything. I would become one of them. Just start telling myself a bunch of dark thoughts. It never helped anything.
I said for good to get off the main pages there, go out and enjoy life, don't let people like that… In high school I was always worried about what other people thought of me. I finally let that go once I kind of graduated, matured a little bit.
I'm not going to be able to please everybody. Doesn't matter if I won by a thousand laps or won a rain-shortened race, not everybody is going to be happy with it. That's okay because I know one person that is happy and that's me because I'm a winner and they're not.
Make sure Blaney throws you a big party tonight.
BUBBA WALLACE: No doubt.
As you're standing on pit road and it's raining, what are you feeling?
BUBBA WALLACE: The realistic side. I was just saying, Hey, we still got 71 laps yet. If they don't call it, obviously it wasn't meant to be won like this. Just make sure your ass is there leading that last lap if we do go the full distance.
You had the cameras there building up the hype. Honestly, I was just like, It ain't over till it's over. I wasn't too excited.
What ere you feeling when you knew it was going to be canceled, the emotion when it hit you this was official?
BUBBA WALLACE: Walking back to the pit box, we were told we were on a lightning hold now. I knew that was another 30 minutes. It was another notch of the anticipation kind of raised there. But it's still like, All right, there's still some time we can get this race in.
Then it stopped raining. We were on top of the box. The jets were going around. We were talking on top of the box, We just need one rain shower and they'll call it. So many cool fans behind the box shouting, It's going to rain, pray for rain. Then you start to see some sprinkles. All right, that's a little bit. It started getting heavier and heavier.
My engineer, JR, had a NASCAR scanner had his ear. We'll be sure to post that video. I'm going to have to bleep out a couple words. You see our reaction on top of the box. He's like, Wait, what? They just called it, it's official.
Going from we're going to go back to racing to no we're not, we're winners, was like a roller coaster for sure. Really cool.
The fans behind the pit box, what was that like?
BUBBA WALLACE: It's super cool. It's definitely been tough going to the track, some of these tracks, this year. You get some of the most boos now. Obviously everybody says, As long as they're making noise, that's fine. I get booed for different reasons, and that's the tough thing to swallow.
That's why Beats came onboard at the perfect time. I just blocked out the BS, turned on some heavy music and enjoy. I don't really hear that but I know it's there.
Standing out on the grid, waiting on the rain delay, hearing people shout your name, Man, those boos are quiet. You still heard one or two, but you heard a lot of people in your camp pulling for you and supporting you.
I appreciate all those that were there doing the rain dance with us, pulling for us, just support all career long for me. Especially everything that's gone on the last 15, 16 months, the people that have stuck with me and know the real side of things, it's definitely appreciated, so thank you.
(Question about who he has spoken with.)
BUBBA WALLACE: I haven't spoken to MJ. I left my hone in the bus before the race. I have yet to see my phone. I'm sure I got one or two text messages and one or two phone calls, probably a couple emails. Just excited to get back and celebrate, be able to breathe for a second.
I'm enjoying the moment right now, don't get me wrong. I'm not over worked up. My first win in Martinsville, I was like a kid in a candy store. This one, I think I've matured enough.
Just appreciate everybody that is in my camp, in my corner, from fans, family, friends. That means more than a race win, is just knowing that I have that support system. It carries a lot more weight.
Obviously there's a lot of people that know what you went through last season. Was there any message for fans, especially your younger fans, that might be watching you today?
BUBBA WALLACE: Yeah, I said it there on TV, you're going to go through a lot of BS. When you want to stand up for what's right and be yourself, encourage others to do the same. So just be ready for that. Don't let anybody else tell you you can't do something that you're so passionate about. Just always stay true to your craft.
I support the next generation coming up through. This sport is tough. I'm going to give it everything I got to keep you from beating me. But if you are passionate about being where you want to be inside this sport, then be part of it. Stay true to it, never give up, just keep pushing.
I asked Denny about your superspeedway racing development. Regardless of how this race ended today, you were in the mix. He mentioned he had seen a change in how you worked these races between the Daytona 500 and first Talladega race, then what you did at the second Daytona race and this race, leaps and bounds you had come. Could you touch on that a little bit. Do you feel you've changed your approach much?
BUBBA WALLACE: Yeah, I definitely have. I think we kind of started a good plate run, even driving the 43 last year, we put together some good races. I've crashed out a lot whether it's my fault or not. We always, like I said earlier, get a good finish.
At Daytona a month ago, we were running 13th down the backstretch. Looked like we were going to finish there. They all wadded up, we finished second. That still wasn't a good race for me. I got to go back and look at what we could have done different to be inside the top five. Would we have gotten wrecked? Yeah, but we were in contention instead of riding around 13th.
Like I said, told Freddy, let's turn the wick up a little bit. I don't want to change a damn thing we've been doing, we've been getting good finishes. That's what it ultimately comes down to, is getting a good finish no matter how you get it. Let's get some more respect on the plate tracks and become one of those good plate racers.
Do you feel your performance on plate races, you have to count on other good people around you, do you feel you've developed a good reputation in how you race that you can race up front with the other guys?
BUBBA WALLACE: Yeah, I think so. I think this definitely gives some credibility to my name. I don't know what was on my back bumper the first three years in the Cup Series. Everyone was leaving 43 out to dry. I'd be going to the front, next thing you know we'd go to the back because everybody left us hanging.
Whatever that message was, encrypted code on the back, is gone because we had some help. I think we're one of the talked about cars. I feel like our Toyotas are really strong. Everybody back in the shop at 23XI is doing a really good job. Toyota is doing a really good job with what we need at these plate tracks to keep us up front and become a good plate racer.
A long time since McDonald's has been in Victory Lane.
BUBBA WALLACE: Right?
What do you feel about having the opportunity to bring that long-time NASCAR sponsor back into Victory Lane?
BUBBA WALLACE: I hope they do more now (smiling). I appreciate McDonald's. They've been a part of my career for two or three years, even part of the 43. Really appreciate them sticking with it, sticking with me, continuing to help me push myself to be better.
To get them to Victory Lane, I think it's been since the '90s if I'm correct, it's been a long time. Congrats to them. I know I'll be getting a 10-piece meal with a large fry and large Dr. Pepper when I leave this place (smiling).
You were talking about how you got to the front. Threw a huge block on Brad. You didn't move up and block the 22. The thought process, what you were hearing?
BUBBA WALLACE: I just trusted what Freddy says. He tells me where the energy is coming from, whether it's the bottom or middle lane. I seen Brad come down and get behind me. My we had a good pusher. You never count out the 22.
I seen him coming through the middle, but I also seen the 37. I didn't know what car it was at the time. I seen a car shootout to the right. I'm like, Hey, we're in position here. The caution is going to come out, we'll be fine. Just try to do your best at controlling your destiny.
I remember 2011 a driver told me that on the grid at New Hampshire, Kyle Busch. He said, Control your own destiny. I didn't know what the hell that meant at the time. I was just pumped to be talking to Kyle. It comes down to these plate races, you're controlling your own destiny.
There's a lot of teamwork out there you can go by. A lot of team orders, but at the end of the day you're controlling your own destiny. You're trying to do the best that you can for sponsors to put yourself in moments like this.
As a graduate of the Drive for Diversity program, how special is it to represent them with this win while inspiring others who are pursuing their dreams in motorsports?
BUBBA WALLACE: It's really cool. It's ironic. I was sitting in the bus bored last night playing some PlayStation. I got bored with that. What's on TV? Watched a little bit of the football game, Patriots and Buccaneers. The ARCA Menards was on from Salem. I had already knew that Rajah had finished third. I was watching them, Damn, that's a really good run for him. I'm proud of him, need to shoot him a message. Ironic how I was watching him, got pumped up for how well he ran there, then the win today. Do I give him some credit for bringing some good mojo? Yeah, if that makes him feel better, I'll give him some.
The diversity program is continuing to shine. I still continue to say without that deal back in 2010, 2011, I don't know if I would be here. I don't know if I would be in the top three levels of our sport without that deal.
Just got to keep on going, continue to watch the talent come up through.
Who did you look up to as a race fan? What do you think it means to see a black driver in Victory Lane in the NASCAR Cup Series?
BUBBA WALLACE: Yeah, not in a negative way, but I didn't look up to anybody. I just found some people that I liked cheering for. It wasn't like, Oh, I'm going to try to be like them. It's not possible because we're all different. We all have our own little quirks about us that make us different.
I just had people that I respected in the garage, would talk to to kind of gain some insight and whatnot. At the end of the day you go out and do what's best for you. I didn't look up to anybody. We went to race, have fun, get checkered flags, cash those big old checks in the day. Get those trophies. That was it.
What do you think it means to have a driver with your background in Victory Lane?
BUBBA WALLACE: It means a lot. I think about the next generation that wants to be a part of this sport. I think this gives them a little bit more motivation, a little bit more fuel in the tank. It's important for that because we look at our demographic of our sport and we want it to change so desperately. With everything that's gone on in the last 16 months, we are trending upwards.
But we still have a lot of work to do. I know the biggest work that can be done is on the racetrack and we were able to accomplish that today.
In talking to people who have been in the situation where you are where you're a trailblazer, there can be a lot of pressure to be perfect. You have less margin for error with so many eyeballs on you. Has any of that fed into the some of the depression you've talked about in the past? Does today provide a measure of affirmation or vindication for you?
BUBBA WALLACE: Absolutely. When you go winless for four years, for me I'm so hard on myself, I'm always just pessimistic about why we ran like this, why we ran like that. It sends you down a dark path. I am my own worst critic. It's 100% true when people say that.
Today I'm like, Hell, yeah, we got a win. Then I'm like, Hey, you only got a win because it rained. I still can't let myself enjoy it fully. I think that's why I'm so competitive, because I continue to push myself.
Some people find it annoying and not very helpful. That's just kind of how I work. I'm very sarcastic, hard on myself. But I want to win. I want to be competitive. I want to be one of the greats inside the sport. I know there's a lot of work to be done. It starts with getting your first out of the way, and we were able to do that.
In the early part of the last decade and you Kyle Larson were developmental superstars. Over the course of the trajectory of your career, his took off. Then last year, the different trajectories. From where you were at Talladega last season to the moment you had today, what do you think about the paths?
BUBBA WALLACE: Yeah, man, I was jealous of Larson back when we raced against each other in the K&N days. Driving the 6 car. They won a championship. He and I had a run-in at Rockingham. He blocked me, like, twice. I had enough of it. I shifted him. They went on to win the championship. A long time we didn't talk much. He thought I hated him or he hated me. I don't know.
But we were always super respectful of each other. Then we raced against each other in the truck stuff, beat him at Homestead and Eldora. I have always been a huge fan. I always said he was the most talented one in our garage, to be going from different backgrounds in the dirt world, asphalt world, continue to dominate, I thought that spoke volumes to his character and his craft. It's always been fun to watch him no matter what he's driving.
With everything that went on last year with him, could have went a different route. Being able to talk to him and hear the sympathy in his voice and go through all that, I knew deep down he has a good heart. So to get him back in the sport, he's kicking everybody's tail this year.
It was cool to congratulate him for his first win back at Vegas. It was pretty damn cool, he walked into Victory Lane lane here after he wrecked out or whatever, I don't know where he finished up, but I know he had a rough day. He took time to come over and congratulate me for my first win.
That's just the respect level we have for each other. Means a lot. Proud of him. Continue to race it on out.
How did it feel to get your first win at Talladega, your home track?
BUBBA WALLACE: It's super special. With everything that's gone on, it's fitting that we got our first win here. It's a plate race, one of those wild card races, you never know what's going to happen. We were able to capitalize on the opportunity.
What does it feel like to be a role model to kids that look up to you?
BUBBA WALLACE: It's super special for me to go out and compete and do what I love to do, go out and win some races, make our sponsors happy, make our team happy.
Knowing we have a whole fan base back home watching on TV or whether it's on the track, wherever they are, they're supporting me. Having kids that want to be in my shoes one day, it's cool. It's tough to get to where we're at. Just stick with it and you'll be here one day.
THE MODERATOR: Bubba, thank you so much for taking some time with us. Congratulations on the victory. We look forward to many more.
BUBBA WALLACE: Cool. Thank you.
THE MODERATOR: Thank you for taking some time to join us, Denny. Congratulations on your first win as a team owner. Talk about your emotions right now, how you're feeling, what the talk was like with Bubba.
DENNY HAMLIN: I mean, emotions obviously super high. I didn't realize it would be this high at this moment. I understand the process in which it takes to get to this point, winning in NASCAR's highest level. I'm in every meeting, I'm hands on with the team. I know how hard they work.
I certainly am more emotional, more happy with someone else's victory than mine on this day.
THE MODERATOR: We'll take some questions.
What do you think this win means for the sport? You've been in all these meetings with sponsors who specifically wanted Bubba. Especially with it coming here at Talladega…
DENNY HAMLIN: Well, I mean, again, there were so many dots that are crossing here, makes this win more special. I mean, there's something about it's Talladega, his home state, everything that happened at Talladega last year, things that Bubba didn't ask to happen, but he had to go through it. A lot of the pushback, things that happened afterwards in the aftermath.
Then we have McDonald's who has been a big part of our sport for many, many years, decades, and they haven't won in decades. To have them in Victory Lane as one of the founding partners of 23XI. Toyota, I mean, they're supporting my crazy dream.
There's been so many different partners that believed in my vision and my dreams that helped finance this thing, like, I just can't believe it's all come together and we got a win.
THE MODERATOR: We are also joined by our race crew chief Bootie Barker with his first Cup Series win.
We'll continue with questions.
Denny, obviously there will be a lot of talk about how this race ended. You have raced many times with Bubba even before he joined 23XI in superspeedway races. Talk about what kind of racer he is, and this shouldn't be thought of as a surprise.
DENNY HAMLIN: Well, I mean, just look at the results, right? A lot of times he got into incidents, but a lot of times he was up front when he got into them. He's just got a knack for it.
I just think he needed to refine. We had those discussions of how he could get better with it. He made some big changes from Daytona one and Talladega one to Daytona two. I mentioned to him this week, I was like, That's the right way to do it. That's how you maintain your track position up front. That's how you work the lanes.
I've just seen a transition with him, his willingness to take in information and apply it. I think this is not going to be the last time you're going to be hearing about his name on a superspeedway. He's very gifted at 'em. He has very, very good instincts.
Like early on in his career, early 20-year-olds, mid 20-year-old, he gets excited at times. How can you regulate that not to get too high or low when things don't pan out exactly how you want? I think he's working on that tremendously. This is obviously going to go a long way with him emotionally and for his self-confidence.
Bubba has had a lot of weight on his shoulders. How do you feel like he's handled this season in general?
DENNY HAMLIN: Yeah, I mean, it's been an eye-opening experience for him I'm sure. It's probably a better question for him.
At the race team we're trying to provide him the best race cars that we can possibly provide him. I walk from my shop to my other shop, and the cars are the same. I make sure that if those guys feel like they need anything, any part, piece to go faster, I go out and I get it. That's the attitude that Joe Gibbs has always taught me. It will drive you broke if you don't eventually have results. But I'm too much of a competitor to be just okay with mediocrity.
I think this is just a stepping point that I'm sure you're going to see in performance in the last part of this year and into next year. What the media doesn't see is the work that he's putting in behind the scenes to be a better race car driver. It just takes time to apply it.
As soon as the race went red and it was raining, the Internet blew up with a lot of negative things being said about Bubba, the race being fixed. How do you think he handles that? Winning here in Alabama, which is not only technically his birth state, but where he had a bad year last year in terms of the social justice stuff, what do you think all this means to him?
DENNY HAMLIN: We talked about, and he got off social media for a while, and I think that was the best decision ever. Ultimately I get hate tweets as well because I hired him. Those people just need to grow up honestly, appreciate the accomplishment that the kid just had. He drove it to the front, and the caution came out. There's not much else you can do.
I was busy trying to push the 20 car as hard as I could to keep him up front. He just played the lines just right and got around us there, obviously got the win. It's still pouring here.
I think people just have a microscope on him because they want to be critical. They just are a hater. That's all you can really say about it. I try to say to him, Don't get your motivation trying to prove haters wrong. Instead get your motivation from trying to do the people that support you proud. That's where the motivation is going to come from, is the people that are going to support you through the good times and the bad times.
I'm sure today is a big day for them because when they wear their Bubba Wallace shirt, they know I'm putting myself out there, right? Those people deserve a great day today.
How do you answer people that say a race is fixed?
DENNY HAMLIN: It's silly. I spend way too much money and these teams spend too much money to fix it. I'm not sure how you fix it. It's just silly. Anytime there's unique circumstances, it's fixed. When a team is close to winning a football game, they fumble on the one yard line, it's fixed. It's just someone that's having a bad day.
Bootie, four years on the sidelines, and they call you back into the battle. Here you are race 484 of your career and you finally win.
BOOTIE BARKER: I mean, it's great. When Denny spoke to me, I was excited. I told him, I mean, I'm a competitor, I've always been a competitor, and I knew the resources. I knew the team we had. I knew the people we had. I know the resources we had. I know the leadership that Denny provided. I knew what we were capable of.
I was really excited about getting another opportunity. But I didn't plan on it this way. I just planned on doing a good job in whatever my role was.
It takes a lot of things to win a race. It's a million ways to lose one and one way to win one. So, I mean, I did what I had to do to get this far, so I appreciate with Denny giving me a shot.
Denny, I wanted to know if you could kind of describe what the difference is to winning as an owner compared to a driver.
DENNY HAMLIN: It's like watching your kid succeed at whatever they're doing, whether it be baseball, musical theater, whatever, right? I have no relation to anyone on this team, but they are family. We spend a lot of time together, we work hard together. I know the people within the shop work very, very hard. They had to work their tails off to get this team off the ground just 10, 12 months ago.
I can understand and I appreciate this win more as a car owner because I know how hard the last 10 to 12 months have been putting this thing together and trying to take it up to NASCAR's highest level, which is not easy obviously.
We're still again in the building stage, we're still in the growing stages of our team. This is just a huge morale boost, a huge confidence boost for Bubba. There's a lot of positives that will come out of this that will linger for a very, very long time.
Right now everyone is focused on the win from Bubba, what an awesome accomplishment that is. You and Michael Jordan have invested heavily in this team. What will that mean when the dust settles and you get back to the shop?
DENNY HAMLIN: Yeah, I mean, I'm not sure. I've talked to Michael. He's as excited as I am. Even though I probably do most of the work on the ownership side, he's emotionally invested in this team as much as I am.
This would not be possible without him. This would not be possible without the support of Toyota. There's so many different people that said, Okay, you want to do this, all right, we're going to stand behind you.
That to me is what makes it so gratifying, is that when you have crazy dreams and you want to build something, that you have people that believe in your vision.
These team guys, they work hard for me and Michael every single day. Bootie has been part of this race team from the very beginning working in the shop. It's great that these guys get to enjoy a victory. I hope they spend this next week or whatever just really soaking it in and enjoying it and celebrate.
Bootie, could you replay the finish of the race. Obviously everyone was looking for this rain delay, whether it was a factor. Were you saying, Hey, Bubba, get to the front as quickly as possible?
BOOTIE BARKER: We had an awareness of the weather. It looked like there was potential weather about halfway. How can I say this? When that didn't pan out, then I came and we got four tires. We got four tires. I told him at a certain point, Look, we need to get this far, this many laps in, then I'm going to turn you loose.
That's pretty much what I said. I said, You've done what I asked you to do, you've been smart, now go after it. That's when he flew. It worked out. He and Freddy have a great relationship. To win these races, not only does Bubba have to make all the right moves, but the spotter is huge, too. He and Freddy both, they turned it up a notch. That's what you got to have.
Everything kind of went to plan. We knew. When I said go, they went. It worked out nice.
What has it been like working as Bubba's crew chief?
BOOTIE BARKER: Bubba and I were friends. I mean, we got along already before this. I don't know how to say it. I've never had this many resources. With Denny and Michael, from the top down, never had this many resources.
Bubba and I just needed to — my main focus was to make sure the team, the strength of the team, was brought to bear. In other words, I didn't do anything to inhibit us, make no mistakes, put us in position to succeed has been my main focus.
I knew Bubba could get it done. I knew we had the stuff and the people to support him to knock it out. Not saying it was anybody's fault, per se, but we had had troubles early this the year, fluke things, whatever. It's been my focus always with him and us to just don't beat ourselves.
THE MODERATOR: We will cut Denny loose as he takes over some other team owner obligations. Thank you for taking time with us. Congratulations on the victory.
DENNY HAMLIN: Thank you. Cheers.
THE MODERATOR: We will now continue with questions for Bootie.
It's been almost 20 years since you were last in Victory Lane, won four races with Scott Wimmer in the Busch Series. Long road since then. From a crew chief standpoint, technology advances in the sport, was there any point where you started saying can I still do this, still crew chief a race-winning car? How validating is it to be able to get a win at this level?
BOOTIE BARKER: Because, see, I work as an engineer in the shop now. As far as all of my jobs and everything else, from a technical standpoint I'm not trying to sound arrogant at all, I hadn't fallen behind at all because this is what my job is or was.
As far as the crew chief aspect, I mean, I feel like that's kind of what I do best. I'm not saying I'm doing good at it, but it is what I do best, I feel like (laughter). It's what I enjoy the most, working with all the guys. I think it's what I belong to be doing.
I said it before: I've never been with a team, and this is no disparagement to any of the teams I've been with before, but I've never been with a team or in this position as a crew chief with this many resources behind me. That's a huge factor, as well.
I wasn't trying to suggest anything. I was trying to find words to put into context what this was.
BOOTIE BARKER: And you didn't. You didn't.
I'll say this. I didn't let the losses define me. I'm not going to let this win define me. I felt I was good before. I feel like I'm good now.
But I think you got to work. I think the competition is excellent. You got to have so much support. You got to have everything right to do it. It's not a one-person thing.
I'm fortunate, though. Very fortunate to be in this position.
In listening to you over the last three weeks on the radio, you are a positive, uplifting personality. That's really something that Bubba has really relished. Talk about the chemistry between the two of you.
BOOTIE BARKER: I mean, the way I look at things is we're in the peak series of racing. I say it sometimes, Boys, we got cake. What I mean by that is we got it good. It's not like something I have. I don't really have to generate a false positive. I mean, I feel positive. I feel like we got a great shot. I really enjoy the people I work with. I enjoy the situation I'm in. I enjoy working with Bubba. I feel like he has a lot of upside, a lot of potential.
I don't think it comes across as disingenuous, because it's not. How I come across is how I feel. I'm happy for him, too, though. I want to say that. I'm more happy for Bubba than anybody. That's great.
THE MODERATOR: Bootie, thank you for taking time with us. Congratulations. We will let you go to take care of some other obligations.
BOOTIE BARKER: Yeah, got to go back (smiling).