NHRA" Force, Hight, Anderson, and Johnson top FallNationals Quals
Friday leaders Brittany Force, Robert Hight, Greg Anderson, and Steve Johnson all held onto their No. 1 qualifying positions through a hot second day of qualifying for the Texas NHRA FallNationals at Texas Motorplex, setting the field for Sunday's final eliminations.
Force's Friday-night 3.637 low qualifier was never in jeopardy on a hot Sunday, so the real action was in the team's setting themselves up for Sunday's final eliminations under the heat of raceday.
Force's Monster Energy dragster smoked the tires on her first qualifying run Saturday as her team tested the limits of traction on a warmer track but stormed back with a 3.756 in Q4 that exactly matched the performance of Steve Torrence, the man she's chasing in the championship battle, but she earned the bonus point with a better speed.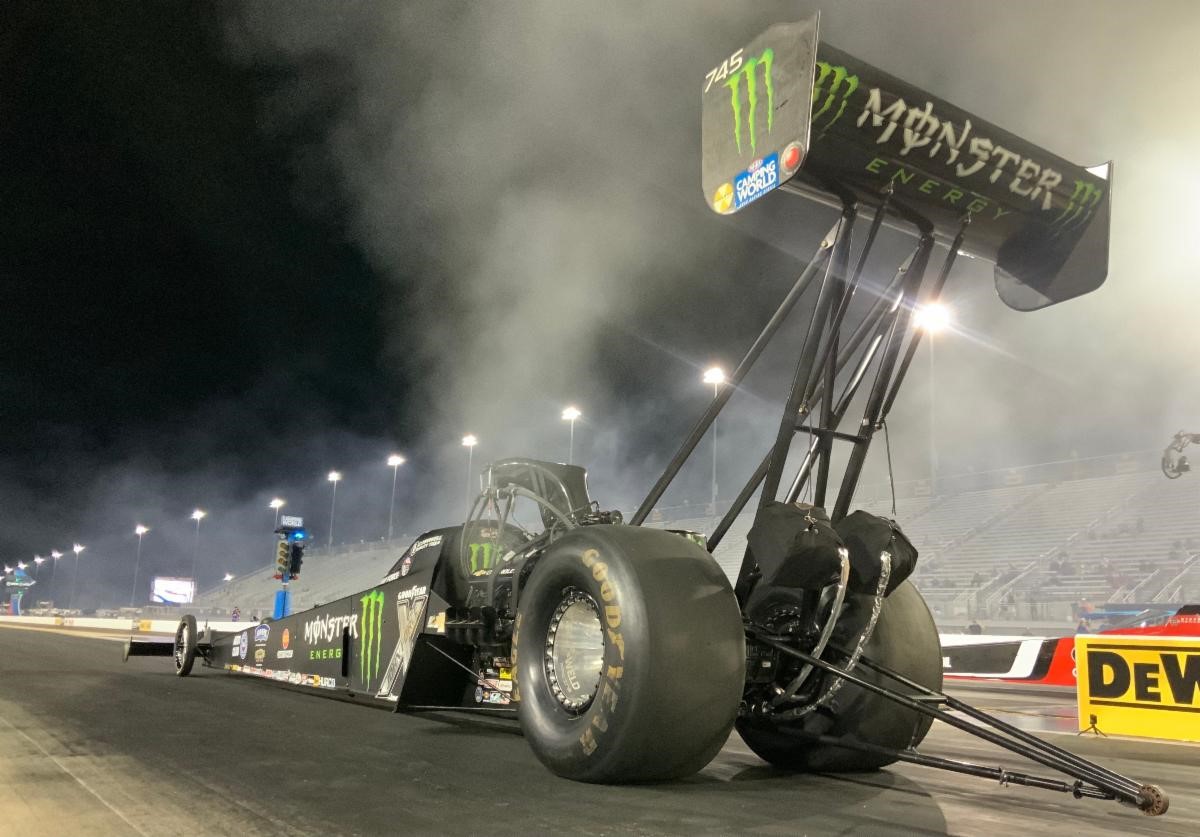 "We missed our mark on what we were aiming for in Q3, and that track is a little tricky when it heats up," she said. "We have it figured out cooler conditions and hot conditions we struggle a little bit, but we made up for it in Q4.
"We made some good passes this weekend. We actually came into Texas early to do some testing so I definitely like that helped us out and we laid down some pretty good runs, especially that run last night because I grabbed the No. 1 qualifying spot and set us up."
Not a whole lot changed over the two sessions though Clay Millican did work his way into the top half of the field with a wild 3.745 with the Parts Plus dragster veering side to side at the stripe. The gutsy driving job gave him the No. 8 spot and first-round lane choice against Shawn Langdon and two bonus points for the second-best run of the session.
Mike Salinas, runner-up two weeks ago in St. Louis, had the best run of Q4 with a 3.715 that nicely backed up his Friday-night 3.68 to solidify his No. 3 spot.
Justin Ashley (3.687), Billy Torrence (3.715), Josh Hart (3.728), Antron Brown (3.743), and Clay Millican (3.745) round out the top eight. Joe Morrison qualified on the bump spot and will face Force in round one.
Like his teammate Force, Hight maintained his Friday spot atop the Funny Car field though his 3.878 was vulnerable especially in Q4, where 11 cars ran in the threes. In the end, it was Hight himself who came closest to his pole number, clocking a 3.882 on his final pass. And, like Force, his team also tested the track's limits in Q3 and smoked the tires, then rebounded.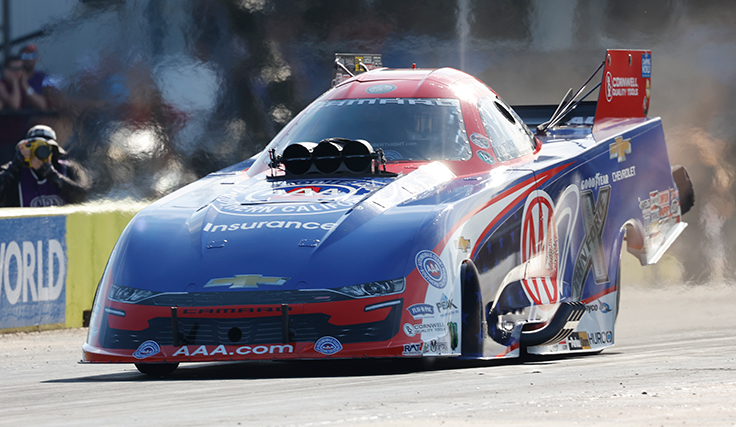 "We're pretty excited," he said. "I's our first race with four qualifying runs, and we were low e.t. on three of the four runs, so that that gives you a lot of confidence going into Sunday. Tonight we were only a hundredth off last night's run in the heat. That's still a great run for us.
"[In Q3] it slipped a lot more than we thought it would. It was way too fast leaving; we just pushed too hard. And sometimes that's a good thing, because that's really the conditions that we're going to face tomorrow in the middle of the day, and we definitely know what not to do now."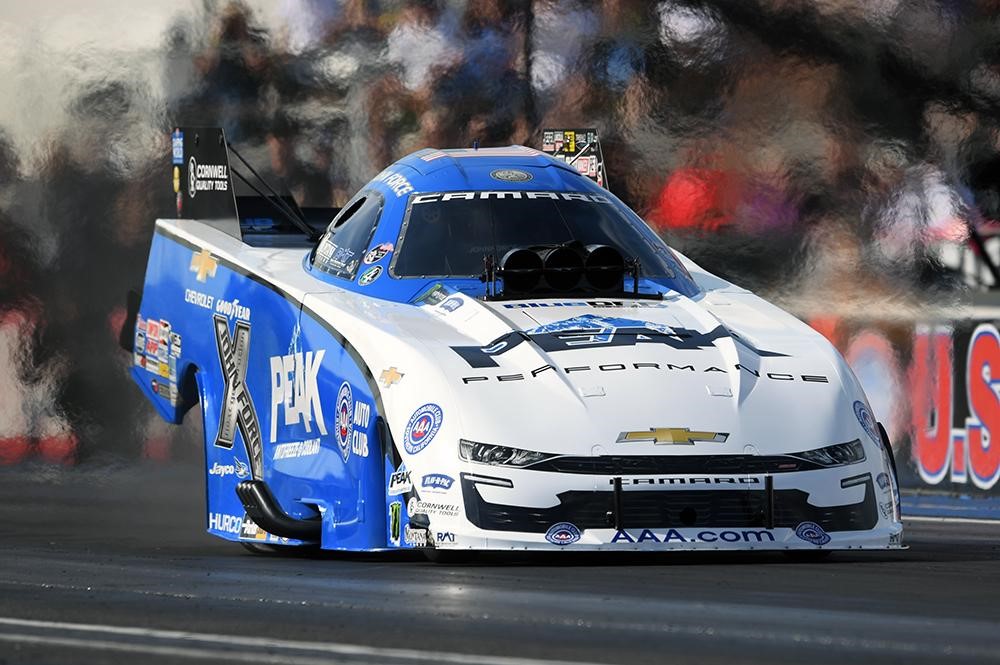 No. 2 qualifier Ron Capps (3.882) also had the second-best run of that final session with a 3.890 to make him Hight's biggest threat although a total of 13 drivers qualified in the three-second zone.
Cruz Pedregon slotted his Snap-on Dodge No. 3 with a 3.892 and made three-second runs on three of his four passes while points Matt Hagan had to rely on his Friday 3.897 – one of two three-second passes – to stay No. 4.
Bob Tasca III (3.911), Alexis DeJoria (3.917), Blake Alexander (3.922), and JR Todd (3.924) round out the top eight with Tim Wilkerson, Paul Lee    , John Force    , Jim Campbell, and Dale Creasy Jr. also qualifying in the threes.
Jeff Arend sits on the bump spot in Dexter Tuttle's Nitro Bandit and will race Hight in round one.
As expected with the hot weather, Anderson remained atop the Pro Stock with his Friday-night 6.553 for his 10th No. 1 qualifying position of the year, championship rival Erica Enders made her presence known with passes of 6.593 and 6.604, which were the second best and then best run of the two final qualifying sessions, giving her momentum heading into raceday.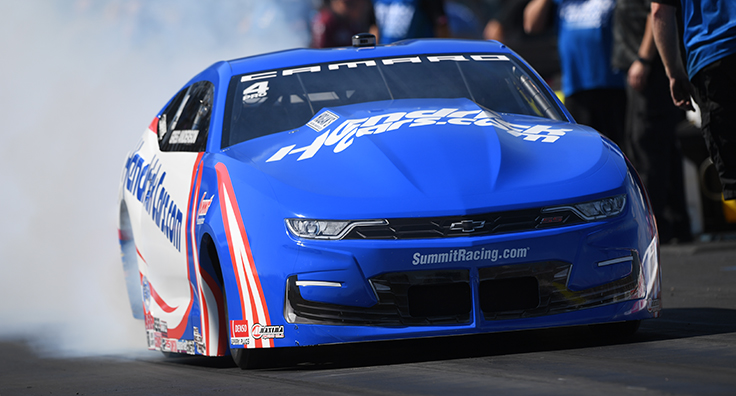 Both Anderson and No. 2 qualifier and teammate Dallas Glenn had one aborted pass out of the two – Anderson in Q3 and Glenn in Q4 – that allowed Enders to scoop up some valuable qualifying bonus points. She finished third with a 6.571 from Friday.
"We had a small hiccup today and again broke part [a rocker arm] on the burnout in the first run but that's OK; we're in good shape, right where we want to be," he said. "Missing the morning run kind of screwed us a little bit for tonight so we missed a little bit, it's OK.
"It's been an awesome weekend. I've just had a great car all year long and guys have done a fantastic job and they've given me a horse to win with every race. Unfortunately, I haven't handled that horse that well, but I'll get it tomorrow."
Enders' fellow Texan, Rodger Brogdon, looked solid in the No. 4 spot with a 6.580 and ran a competitive 6.59 in Q3, while Kyle Koretsky grabbed the No. 5 spot with a 6.591, earning the position with a better speed than Aaron Stanfield, who clocked an identical elapsed time. Chris McGaha (6.597) and Vincent Nobile (6.604) round out the top eight, Marty Robertson qualified for the field in the No. 16 spot with a 6.673 to qualify for his second straight race and will face Anderson in round one.
Johnson didn't get the Pro Stock Motorcycle low qualifier bounty during the cool Friday night session but he bounced back by making the best run of both Saturday qualifying sessions under the conditions that will most closely mirror Sunday's final eliminations.
"I'm so excited because I feel like I drove really, really good today," not like I did last night," he admitted. "It's exciting because to start from the No. 1 spot clearly gives you a mental edge I'm from Alabama now. So the Alabama teams are all about preparation, and if you understand the preparation, and you administrate that into doing your job, then the results will be everybody's happiness, because we're preparing the right way. And when you hit No. 1, clearly you've prepared. Nick Saban says it way better."
Johnson made runs of 6.761 and 6.791 for the best and third-best runs of the day with world champ Matt Smith having the day's second-best pass with a 6.774 as Johnson collected his third No. 1 low qualifier hat of the season.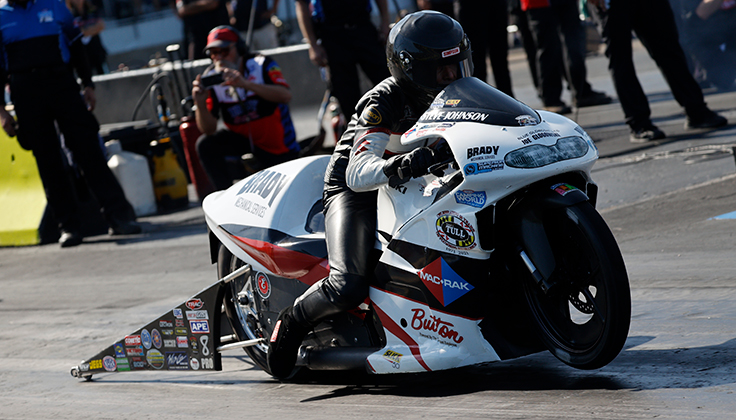 Three-time world champ Angelle Sampey, who is trying to stop Johnson from winning his first world title, sits third aboard the Vance & Hines Suzuki with a 6.809.
Rounding out the top eight are Hector Arana Jr. (6.822), Jerry Savoie (6.839), Eddie Krawiec (6.878), Chris Bostick (6.878), and Karen Stoffer (6.885).
Savoie, making his first start since Hurricane Ida hit his Louisiana homestate, was solidly in the low 6.80s Saturday and is the two-time defending event champ.
Jianna Salinas held down the final spot in the field with a 6.949; perennial field-qualifier Ryan Oehler finished just outside in the No. 17 spot with a 6.962.