NHRA: Anderson, Ashley, Capps, and Smith win Fall Nationals
The day simply could not have gone any better for Greg Anderson. Not only did the four-time world champion finally surpass his mentor, Warren Johnson, as Pro Stock's winningest driver with his 98th career win, but he also benefited from the early losses of his closest points pursuers on a wild final day of the Texas NHRA FallNationals.
After tying Johnson's mark in mid-September in Reading, it only took three more races and two more finals to break the tie with his HendricksCars.com Camaro. After coming up short against KB Racing teammate Kyle Koretsky in Charlotte and an upset second-round loss two weeks again in St. Louis. Anderson left no doubt in Dallas, and clinched it on Chris McGaha's final-round red-light.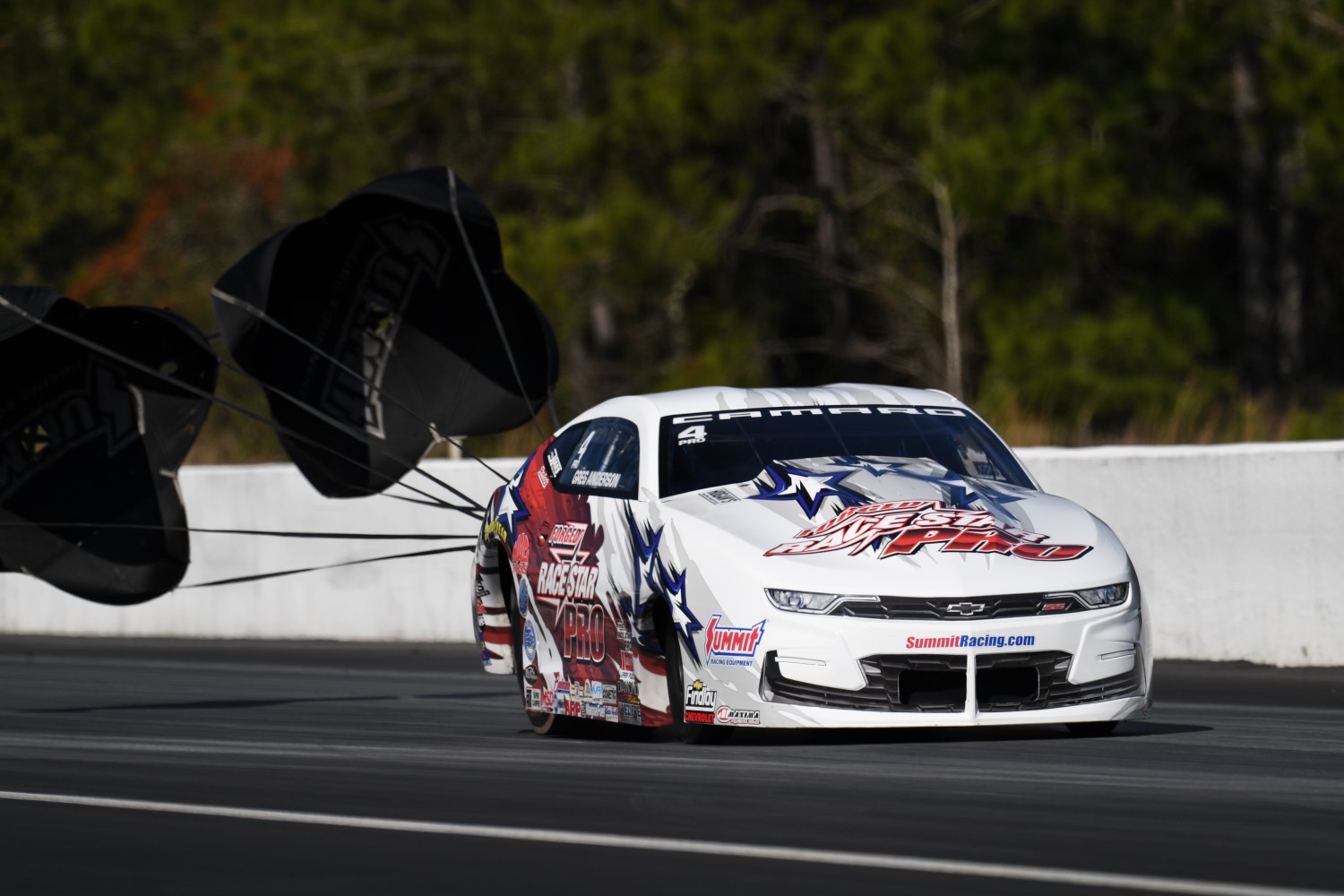 "I saw [McGaha's red-light] on the scoreboard and I had a difficult time getting to the finish line from third gear on  down," he said. "  think I took my arm off the shifter and pumped my fist a couple of times in between gears. I shouldn't even be looking at [the scoreboard] but for some stupid reason I looked at the scoreboard and I saw mine was on. That was a helluva relief
"As soon as I stepped out of the car I got a call from Mr. [Rick] Hendrick at the finish line and [NASCAR teammate] Kyle Larson won today in the HendrickCars.com Chevrolet then Jim Campbell, the  president of Chevrolet, jumps on the phone as excited as can be. I'm just I'm honored to be part of it.
"I'm not gonna make any bones about it. I respect Warren Johnson]. He taught me a ton and I would not be here without everything that he taught me and everything he did for me."
Anderson, five times previously a winner in Dallas (2003, 2005, 2009, 2010, and 2019), qualified his HendrickCars.com Camaro No 1 with a solid effort, making the best run in three of the four qualifying sessions, then looked as dominant in eliminations Sunday where he capitalized on his opponents' miscues who were trying to make up their performance disadvantage.
Anderson beat red-lighting Marty Robinson and the tire-shaking efforts of Matt Hartford and Troy Coughlin jr. to reach the final, the 166th of his hall of fame career.
Second-round losses by his closest points rivals, Erica Enders and Dallas Glenn, and a first-round loss by fourth-place Kyle Koretsky give Anderson a big advantage heading into the final three races of the season. His lead over Enders, which was at 17 before the event, now stands at 81 points.
McGaha reached his first final since winning the 2019 Norwalk event. McGaha, who lives just five hours from Texas Motorplex in Odessa, Texas, had a heroic day behind the wheel of his Harlow Sammons Camaro, cutting reaction times of .011, .005, and .013 en route to beating his son, Mason (for the first time in four meetings this season), red-hot rookie Dallas Glenn, and Aaron Stanfield. A round before facing McGaha, Stanfield dropped jaws by beating Enders on a 6.67 to 6.65 holeshot, then died by that same sword against McGaha, 6.695 to 6.690.
—
Matt Smith raced his way from third place to first in the standings and collected his fifth win of the season on Hector Arana Jr.'s final-round red-light at the Texas NHRA FallNationals.
Smith, who had led eight of the 11 races this season, entered eliminations 32 points behind Steve Johnson and seven behind Angelle Sampey, but after Sampey was felled in round two by Smith's wife, Angie, and Johnson's all-conquering Suzuki wouldn't fire for its semifinal date with Arana, the path was cleared for Smith's 200-mph Denso EBR to race into the lead.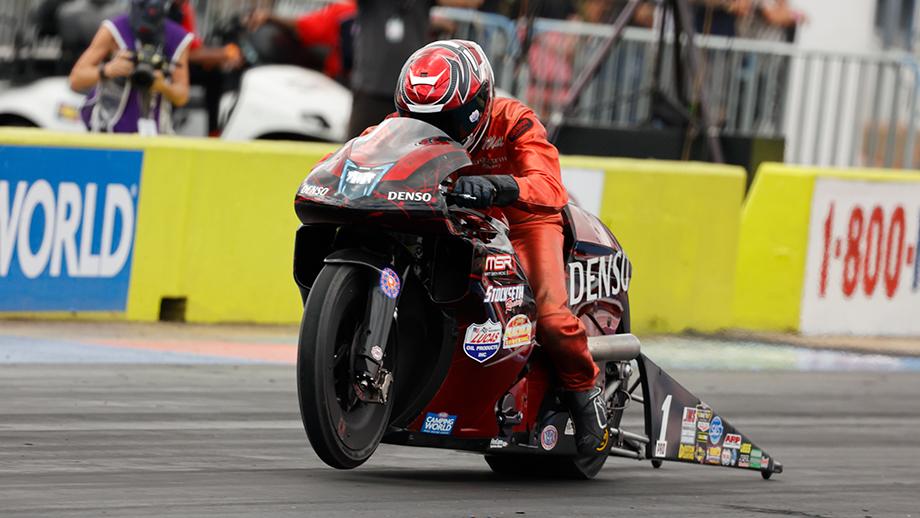 "It was a great weekend for this Denso team," he said. "we were pretty flawless all weekend. qualifying No. 2, just a tick by Steve Johnson, and we were low [e.t.] every round today,  so hats off to my guys . We've  got a pretty awesome team and to get that cowboy hat [symbolic of winning this event]; ever since I started my career I've always wanted to win this race and never got it done and just glad to get it done.
"The weather played into our hands;  the weather threw everybody a curveball, and  I know how to run into these conditions. We ran these conditions in Norwalk earlier in the year we won that race ,and I looked back in my notes. With Angie beating Angelle and two of our bikes in the semi's, you can't ask for much more than that. It was a good weekend for MSR."
Smith, winner earlier this year in Gainesville, Norwalk, Denver, and Pomona, reached his seventh final round of the season, from the No 2-qualified spot then raced to a strong 6.79 on a first-round bye run and posted a solid 6.82 to end Chris Bostick's Cinderella day. Smith then defeated his wife, Angie, in the semifinals with a 6.88.
Arana Jr., a perennial championship contender throughout his career, was competing in just his fourth event of the season but looked like he hadn't missed a beat. He drove his Lucas Oil EBR to victories over Kelly Clontz and two-time and defending FallNationals champ Jerry Savoie, then caught a break when Steve Johnson was unable to get his Brady Mechanical/MacRak Suzuki started alongside him in the semifinals.
The final round was Arana's first since his win at the 2019 Four-Wide Nationals in Las Vegas, where he defeated Smith (and Eddie Krawiec and Andrew Hines) for the title.
Until this final, Arana had an unblemished final-round record against Smith, having beaten him in five previous finals.
—
Ron Capps closed the gap on his points-leading teammate Matt Hagan by beating him in a clutch performance in the final round of the Texas NHRA FallNationals. Capps defeated Hagan on a holeshot, 3.93 to 3.91, to collect his second win of the season and the 68th of his career in his 130th final-round appearance.
"I'm just trying to be the weak link," said Capps of his final-round leave. "We have a great race car, a real hot rod, so I really don't want to be the weak link so it raises my intensity every time to not be second leaving the starting line, to not do anything wrong, to do the best I can every time.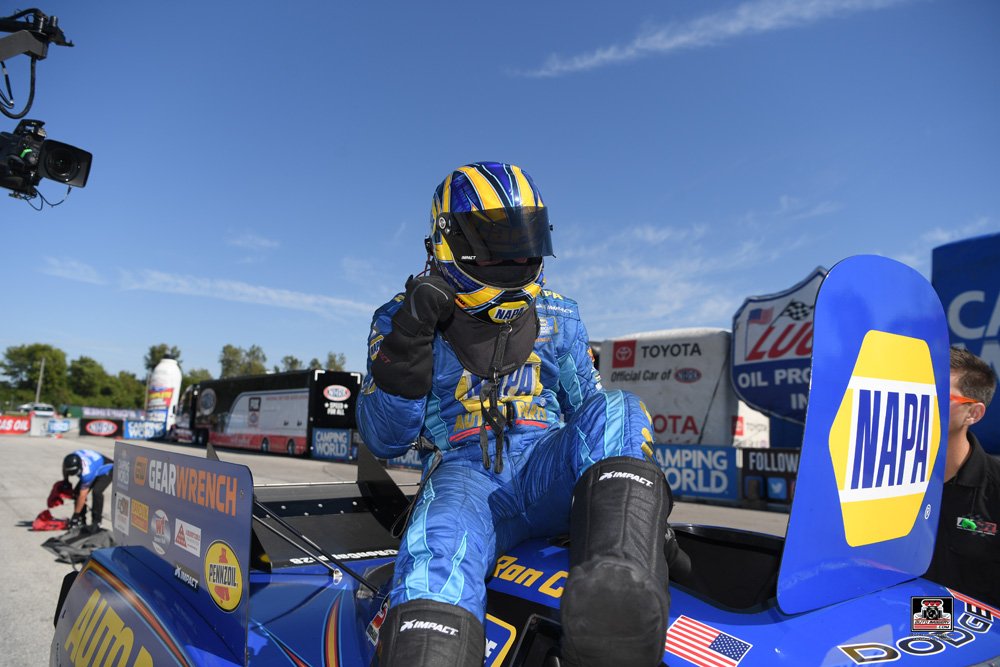 "It's rare to beat [Hagan]on a holeshot but I just am so focused for my team, for NAPA Auto Parts, because there's just a lot of stuff going on right now. a  lot of thoughts rolling around in your brain at this time of year and the  Countdown, and you're just trying to focus. There was a lot of emotion going into that round. It's good to get a little bit of ground from third place and gain a little bit on Hagen and those guys , and it's nice to go right to Bristol."
Capps, winner earlier this year at the Winternationals in his native California, and the Dean Antonelli- and John Medlen-tuned NAPA Auto Parts Dodge started raceday from the No. 2 qualifying spot and blasted out a 3.89 in round one to defeat privateer Jay Wyatt, then meted out of pair of 3.92s to trailer Paul Lee and Cruz Pedregon.
While Capps had never won the FallNationals, he did win at the defunct spring Motorplex event in 1998, when he beat John Force in the final.
It was the second straight win for Capps' tuners, who last year wrenched Jack Beckman to victory at this event. Capps now trails Hagan by just 33 points.
Hagan, in just his third race back after recovering from COVID-19, reached his second final round and did enough to stay in the points lead.
Hagan, who beat Capps in the 2016 Dallas final for his second of three Motorplex wins, qualified his Western Tech University Dodge No. 4 in the field, then raced past Dale Creasy Jr., Bob Tasca III, and J.R. Todd with a trio of consistent runs (3.91, 391, 3.90) to reach the final, the 71st of his career.
—
Justin Ashley pulled off a major upset in the Top Fuel final at the Texas NHRA FallNationals defeating points-leading world champ and homestate favorite Steve Torrence by just .005-second for his second win in the class.
Both drivers left with brilliant .035 reaction times but Ashley's Mike Green-tuned Smart Sanitizer/Vita C Shot entry got to the finish line first by 005-second, 3.759 to 3.764.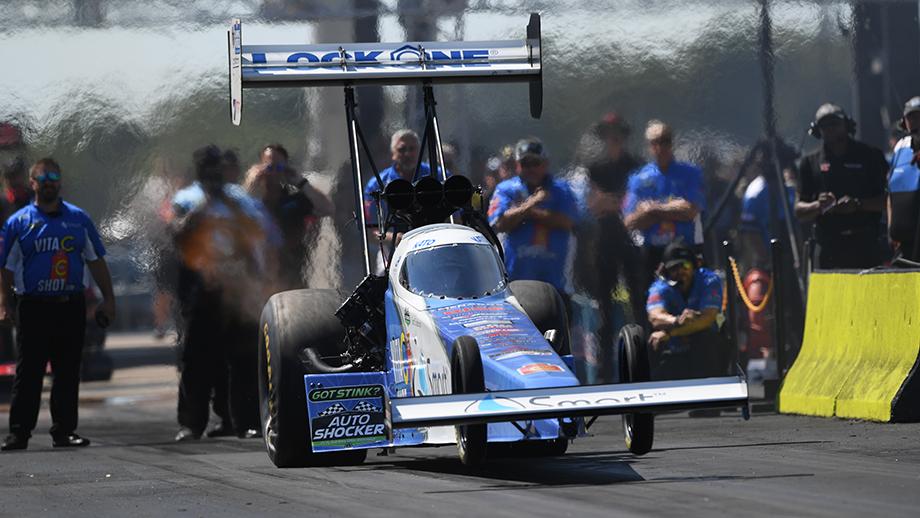 The victory is the second in Top Fuel for Ashley and his fourth overall and vindicated two tough final-round losses earlier this season. Ashley reached the finals of the time-shifted July Winternationals but was unable to contest the round due to heat exhaustion, then lost the final round in Reading by just .02-second to Torrence's father, Billy.
Ashley, a two-time Alcohol Dragster winner whose first Top Fuel win came at last year's July Indianapolis event and led to him being named 2020's rookie of the year, qualified in the No. 4 spot and handily beat Keith Murt in round one, then avenged his loss to 2019 Dallas winner Billy Torrence on a holeshot in round two, 3.75 to 3.74.
Ashley, renowned as the best leaver in the class, again lived up to that reputation by slaying the event's performance monster, low qualifier Brittany Force's David Grubnic-wrenched Monster Energy dragster, beating her on a 3.74 to 3.72 holeshot, taking the stripe by just .007-second. His victory carried him to third place in the standings.
"We looked at the ladder, and figured these are some guys and girls that we might have to go up against and they're tough, they're great competitors. but it's exactly what we wanted," he said. "Coming into this race for fifth their points we knew we needed to gain some ground
"Everybody did their job. I think that the best teams in the world are the ones who have each individual do their job and do it to the best of their ability. And it was a complete team effort today. You know, I was fortunate and did my job behind the wheel. Mike did an awesome job tuning this race car all weekend."
Torrence, who was looking for his 10th win in 17th events this season and his 50th victory in Top Fuel, had to play second fiddle to Force in qualifying, but her early exit in the semifinals allowed him to boost his tenuous points lead from 32 points to 52.
Torrence's Capco Contractors destroyer raced past Texas Buddy Hull in round one with a 3.72 then beat Doug Kalitta in round two with a 3.75. Torrence advanced to the final, his 11th of the season, by driving around rookie Josh Hart's slight holeshot to a 3.76 to 3.79 victory.