NASCAR: Hendrick says 'We've had the kind of year that you dream about'
Rick Hendrick has seen the highest of highs and lowest of lows in the motor sports world, but right now it's the former as the NASCAR Cup Series season winds down with Hendrick Motorsports in the hunt for a record-extending 14th championship.
The NASCAR Hall of Fame owner said it's been years since he's seen all four of his teams firing on all cylinders the way they have in 2021. Alex Bowman, William Byron, Chase Elliott and Kyle Larson all have at least one victory under their belts this year, and Larson and Elliott still are in contention for the Cup title.
There are just four races left in the season, including the next three events in the NASCAR Cup Series playoffs Round of 8: Texas Motor Speedway, Kansas Speedway and Martinsville Speedway. Although the previous round was a difficult test, Hendrick is confident about his organization's prospects to close out the year in strong fashion. The team has won 51 races combined at the final four tracks of 2021.
"I'm excited about the mile-and-a-half tracks. I'm excited about Martinsville," Hendrick said. "We've got the winningest record in Martinsville, and these guys have done an awesome job. I think the Round of 8 is going to play into our favor."
Another reason for Hendrick's optimism is that Hendrick Motorsports has the wind at its back. Larson and Elliott both overcame major obstacles in last weekend's playoff race at the Charlotte ROVAL, providing momentum for this Sunday's showdown Texas. Larson thundered back to win his league-leading seventh race of the year and Elliott overcame major damage to his Chevrolet to place 12th and earn his spot in the Round of 8.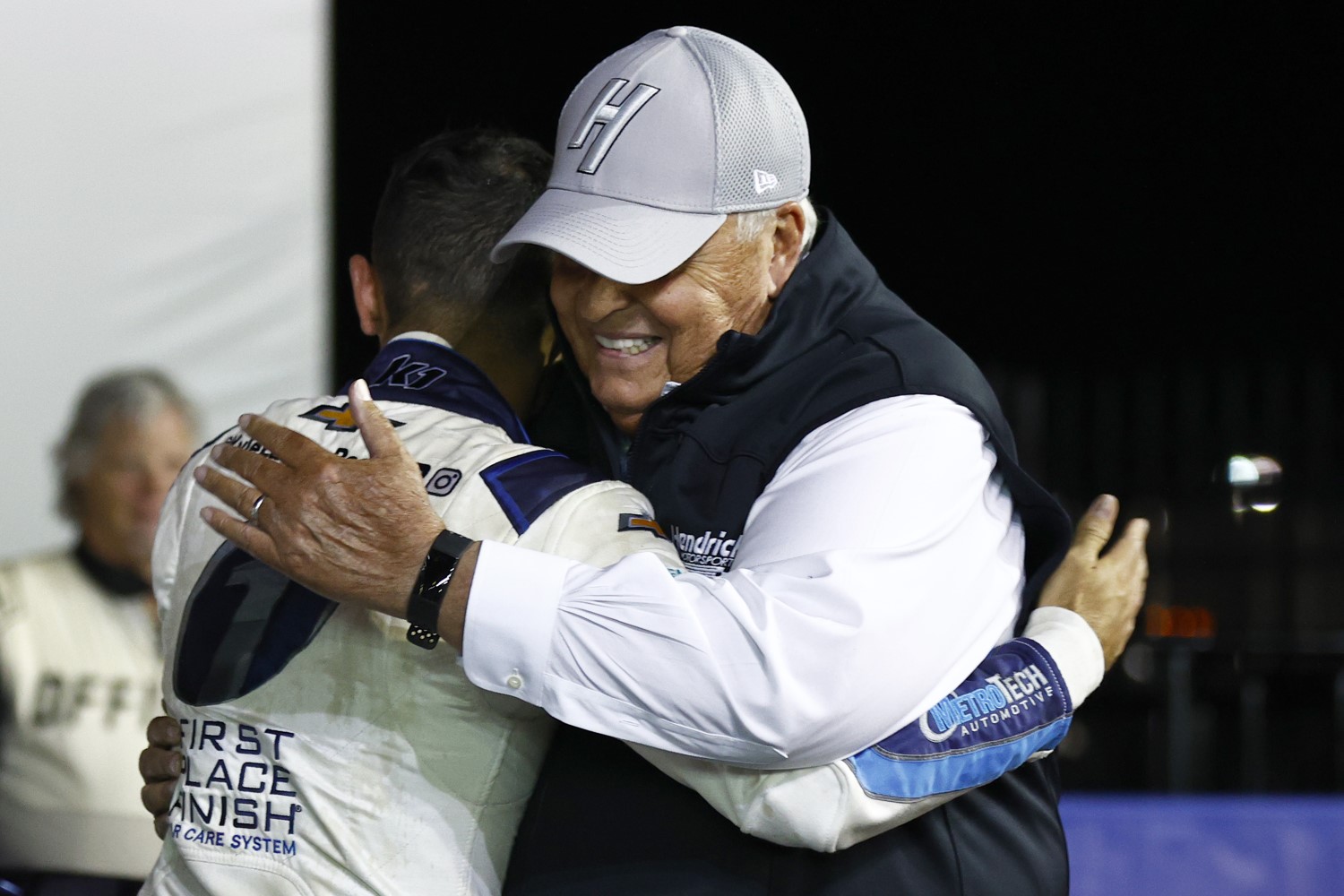 The perseverance displayed at Charlotte left an impression on Hendrick.
"I've been doing this almost 40 years and I have never seen us overcome those kinds of obstacles in a race," he said. "To break a belt, to have to put a belt on a car and change a battery and not lose a lap was an amazing feat. When they said it was going to take three minutes to get around the track and we got two minutes to do all this work, I was just shocked that (the No. 5 team) could get it done.
"And I can't believe how Chase was able to finish. I didn't even think we could continue. But to finish where he did and make it into the (next round of the) playoffs – what an amazing job by (crew chief) Alan (Gustafson) and the No. 9 team. I'm so proud of the crew chiefs and the planning, the strategy and everything they did. And the drivers just did an awesome job."
One unfortunate aspect for Hendrick was watching Byron lead for 30 laps but miss the chance to win at the ROVAL due to cautions, restarts and a late-race bump from Tyler Reddick. However, the hunger of both Byron and Bowman was evident, and Hendrick walked away impressed by how his young drivers gave 100% until the very end.
"I think it said a lot about our organization and the will to win and the will to continue – the never-give-up preparation," Hendrick said. "Preparation is key in everything you do, and the guys were prepared. I have never been through such a roller coaster in a race in my life. From the bottom of the valley to the top of the mountain.
"We proved that we're going to be there and we're going to be a team they've got to contend with."
Hendrick Motorsports has been a contender all season. Overall, its drivers have posted 13 victories in 2021, allowing the team to surpass Petty Enterprises' all-time wins record. The organization also won the All-Star Race, posted a historic 1-2-3-4 finish at Dover International Speedway and has gone to victory lane in 10 of the last 20 points races. The consistency from his teams has buoyed Hendrick's confidence as the 2021 season finale quickly approaches.
"We've had the kind of year that you dream about," Hendrick said. "We haven't had this kind of momentum with all the teams in years. I think we've got an awesome chance. If we can get one in (the championship race), it would be awesome. If we get two in, that would be unbelievable.
"But I think we're going to win the deal. I feel really good about it."