NHRA: Salinas, DeJoria and Sampey win at Bristol
Even after a year away, Bristol Dragway continues to treat Mike Salinas very well.
Salinas won the most recent event at the track in 2019 and is now a back-to-back winner in Thunder Valley, ousting Steve Torrence in the final round of the NHRA Thunder Valley Nationals on Sunday when the points leader went up in smoke on the starting line.
Salinas went 3.854-seconds at 245.05 mph in his 11,000-horsepower Scrappers Racing dragster to clinch his first victory of the season and also the first since that Bristol triumph on Father's Day weekend two years ago. This one came in October and during the fifth race of the Countdown to the Championship and it felt just as good for Salinas, who picked up his third career win.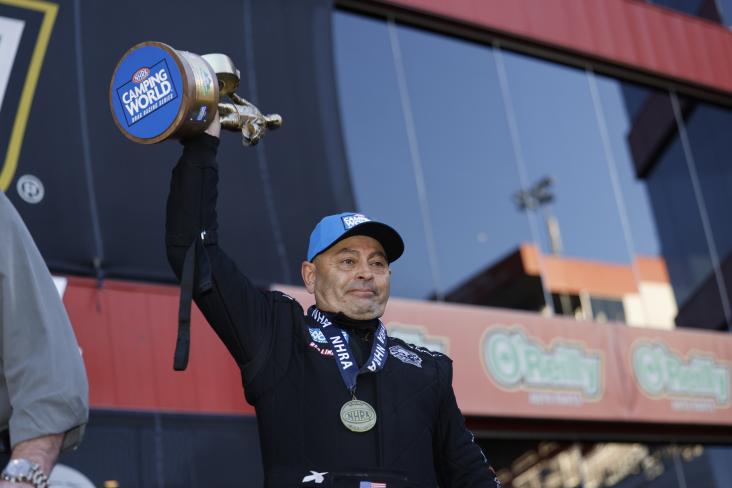 "It's a great facility and I'm glad they welcome us here," Salinas said. "This track loves me. I met so many nice people over the years here. We've got a great team, and all the parts and pieces, and I think I threw away 3-4 races at the beginning of the year trying to get my routine down. It's hard when you're running with all these guys, but I got a lot of help and I've made some big improvements."
Salinas was impressive in reaching the final round for the third straight time at Bristol, knocking off Antron Brown, Clay Millican and Brittany Force. He went 3.672 to easily dispatch Brown and then turned in a 3.698 to get past Force in the semifinals, who ran into trouble almost immediately to thwart her chances. Salinas was also strong on the starting line, showing considerable improvements there on Sunday in Bristol.
That's been a point of focus for the team and he came through in a big way this weekend in Bristol, which has quickly become a special place for Salinas. He fell in the final round against Tony Schumacher in 2018, but has responded with two standout performances, winning both times against Torrence in the final round at Thunder Valley.
Salinas also competed in Pro Mod at Bristol, advancing to the semifinals as part of his memorable weekend.
"It's really fun to run both classes," Salinas said. "My head's in the right place. It's taken me a while to get here, but it's starting to get a little easier. I'm going to be able to cut some pretty decent lights. These guys in this class, they're awesome. They cut good lights I found something that works perfectly for me and I think we're getting there. I just try to race my lane and that's it."
It wasn't the end result Torrence, the No. 1 qualifier and three-time defending champ, wanted, but he still stretched his points lead thanks to Force going out in the semifinals. It's now 73 points over Force heading into the final two races.
To reach the final round, Torrence went through Cameron Ferre and Justin Ashley, with the Ashley duel turning into an absolute thriller. Ashley got the best of Torrence in the final round last weekend in Dallas — and in the semifinals at the opening playoff race in Reading — but Torrence exacted some revenge on Sunday in Bristol.
In an absolute thriller, Torrence laid down a run of 3.677 at 331.69 to slip past Ashley and his strong run of 3.697. Ashley set the track speed record earlier in the day with a blast of 334.48, but Torrence was on point in their semifinal matchup.
DeJoria Wins All-Toyota Funny Car Final
Alexis DeJoria defeated J.R. Todd in an all-Toyota Camry Funny Car final round to win Sunday's NHRA Thunder Valley Nationals at Bristol Dragway. It marked the first all-Toyota final round in Funny Car since Shawn Langdon defeated Todd at World Wide Technology Raceway in St. Louis in 2019.
The win is the sixth career Funny Car win for DeJoria and her first since coming out of a two-year retirement last season.
DeJoria opened her day with Paul Lee, where the two left side-by-side, but the Bandero Toyota drove off to an easy win as Lee clicked it off early. In round two, DeJoria would have a bye as the number one qualifier in the 14-car field and took care of business with a solid 3.931. That would set up a semi against Robert Hight where she ran the quickest pass of the day in Funny Car with a 3.904 to move on.
In the finals, DeJoria would register an amazing .002 light and then lay down a 3.921 to Todd's 3.939, never trailing in the final in giving DC Motorsports its first win.
Todd's run to the final was nearly as impressive. In round one, he matched up with Matt Hagan who came into the event with the series point lead. The DHL Toyota had the starting line advantage and Todd kept it hooked up in running the quickest pass of the round with a 3.924 for the win, beating Hagan by 0.049 seconds despite Hagan making the third-quickest pass of the round. Todd ran an even better pass in dispatching John Force in round two with a 3.916-second run – the quickest pass of round two. In the semis, Todd would once again defeat the point leader, this time Ron Capps, with a 3.921 to send him to the final round.
Alexis DeJoria, Bandero Toyota Camry Funny Car:
Tell us about day
"Round one always makes me want to throw up in my helmet. It's the worst round for me. It's not nerves, I just want to get past first round. After that, it gets better. We got the win and I'll just leave it at that. Then we got the bye in round two which was a gift this week. We just haven't had much luck. We have a great car and I do pretty good sometimes, but we just haven't had the lucky rounds. So the first two rounds went great. Obviously, we made it down the track with another good run on our bye run. Just to make it to the semis and the finals was a huge deal. I was just happy to make it to another final and have it be against another Toyota Funny Car. Two Toyota cars in the finals, it couldn't be better than that. Even though I'm not teammates with J.R. anymore, all of those guys are always going to be teammates to me. We're Toyota cars and we're friends and I was just there a long time. I love racing him and I think that's why I have such good lights against him."
On the final round
"It's hard when the tree is long like that. For us, it seems like an eternity in the car. You've got your foot off the clutch and you're holding the brake and have the fuel on the high side and you're just sitting there. Luckily, I was hungry and know that feeling in the finals it was like I was back in Indianapolis. I was up there saying, I'm just happy to be here and I'm going to do a damn good job and I'm going to win."
Was this one of the biggest wins of your career?
"I would say it's one of the biggest because as a part-team owner definitely. Coming back after taking the two years off and getting to work with my mentor, old teammate and friend in Del Worsham. I look up to him and I learned everything I know from Del. To be able to do this with him again and do something we weren't able to do at Kalitta when he ended up driving the other car. But we always wanted to do this again and we were able to make it happen. It was the right time to do this with Del and Nicky (Boninfante) and all of these guys, some who have been with me since day one when I first started in Nitro Funny Car, so it's huge. It's been a rollercoaster this season. We'll do really good, then I'll have a bad light or I'll have a killer light and the car would strike the tires for some reason we didn't know. It's just been like, man when are we going to catch a break. And it happened today and thank God because I have been really depressed after the last couple of races and all of a sudden, there's just three races and I'm wondering when are we going to win? That was really hard and it takes a toll. It's hard to explain to people who aren't in this sport, it's really hard to explain why you're bummed out. People say why are you bummed out?  You get to drive a race car. Yes, but it's racing and it's very humbling."
Tell us about that .002 light in the finals.
"The night before we were working on reaction times and I did really well, but obviously when you get on the track, it's a lot different. I was just ready. I was ready to win, not nervous, just calm and collected. When I'm in that head space, that's when I do my best."
What does this win mean moving ahead?
"It's a huge weight taken off our shoulders. We were number one qualifier and that was the first step. Getting that elusive number one after getting a ton of number twos, that was amazing. Then to get the Wally at the same race is insane. Whatever happens after this, I just hope for the best, but we're good because we got a Wally. This is a huge confidence builder for me and our whole team. We knew we could do this, it's just a matter of time."
What does winning Bristol mean to you?
"Bristol is a very special track to me. When Del was my crew chief in 2012, this was the first place where we went to a final round and lost a great race to Ron Capps. So to come back here together again and make it to the final and then win means the world to me. This is definitely one of my favorite tracks, if not my favorite. It's just beautiful here and all the sounds and the people. I just love it here."
There's two races remaining, can you win again?
"I think so. Once you get a win, it feels like anything is possible. Vegas has been very good to me. I've won there twice. We haven't won at Pomona yet, but we did have a number one qualifier there. Vegas I feel good about it and Pomona would just be icing on the cake."
J.R. Todd, DHL Toyota Camry Funny Car: 
On the first two rounds:
"We just need to keep doing what we did in the first round against Matt Hagan. That was a hell of a run. To see that win light come on, it caught me by surprise. Against Force, you just take a deep breath and slow everything down. That left lane was tricky. I had my handful driving that DHL Toyota Camry.
On the final round
"There is nothing I would have done differently in that final. You are not going to beat a .002 light and a 3.92 on the race track. That is unbelievable. All in all a great day for the Yella Fellas. It just shows what kind of team I have behind me with everything that has gone on the last three races. It was a good points day, but I just wanted that one bad. The kind of day we had today is the day you dream about as a driver, and I just want to finish it off. There is nothing we could have done differently in the final."
On the championship:
"We were in a little better position in 2018. Going into the Countdown I knew that we had a good enough car and team to contend for a championship. We have had some hiccups along the way, but we are still in the hunt. We have to keep our heads up and keep fighting."
"We stunk up the show in qualifying and that just goes to show you it really doesn't matter out here on race day. Honestly, it kind of worked in our favor getting the draws on the ladder that we had. That helped us because you can't make up ground on these guys when they are going to the later rounds. We definitely didn't sandbag in qualifying but it just kind of worked out in our favor. At the end of the day, we want to come out here and make good solid runs every time down the track. These guys don't give up and that showed today. I want to give them my all and there is nothing I would have changed in that final. Nine time out of ten we win that one."
With her second win in the Countdown to the Championship, Angelle Sampey proved on Sunday at Bristol Dragway that she's right in the thick of the championship conversation in Pro Stock Motorcycle.
In an all-female final round at the NHRA Thunder Valley Nationals, Sampey used a .010 reaction time against Karen Stoffer, winning on a holeshot on her Mission Foods/Vance & Hines Suzuki with a pass of 6.773-seconds at 196.85 mph.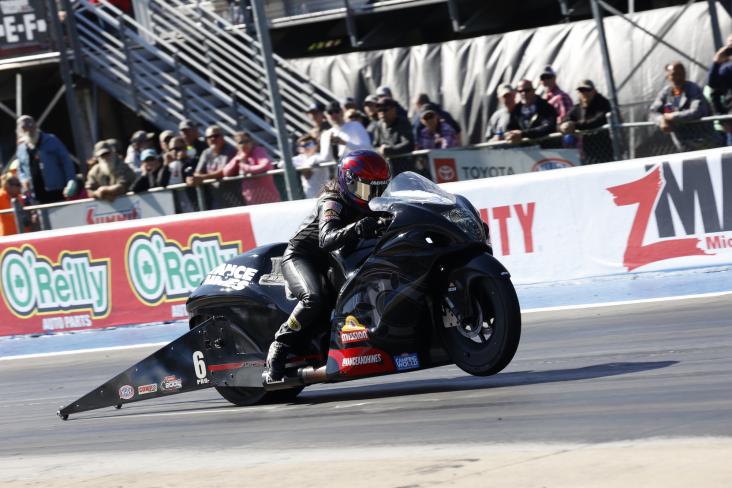 It was enough to hold off Stoffer, who went a remarkable 6.760 on the quickest run of the weekend, and gave Sampey her 45th career victory. It was her second playoff win this season and also pulled her with 25 points of Matt Smith with two races remaining.
The victory was also noteworthy for Sampey, as she became the first rider in Pro Stock Motorcycle to hoist a Wally at Thunder Valley. The class ran exhibition races at the track in 1999 and 2000 — and Sampey competed in both of those — but this weekend was the first official points race for the class in Bristol.
"I've been out here for so long, I've really learned to appreciate everything I get now," Sampey said. "When I win a race, the emotions are 100 percent genuine because it's a task to get it done. To get four round wins is really tough, and it means so much to me. I love this sport so much and this team just works so hard. This mission was to catch back up in the points race, and we made it happen. It was a fantastic day, and it would be great to get the No. 1 back on the motorcycle."