F1: Verstappen holds off Hamilton to win USGP
Scorching temperatures, sunny skies and packed grandstands at COTA created a spectacular atmosphere for an equally exciting 56-lap USGP Formula 1 race
Lewis Hamilton got the jump on polesitter Max Verstappen at the start, but Red Bull used the undercut to get Verstappen out in front of Hamilton after both pitstops and although Hamilton had the faster tires than Verstappen over the last 20 laps, he was not able to catch the Dutchman and finished 1.33ss behind at the flag.
Hamilton couldn't have done much more there – he closed the gap when he needed to, but found it too hard to follow closely in the dirty air on those last few laps.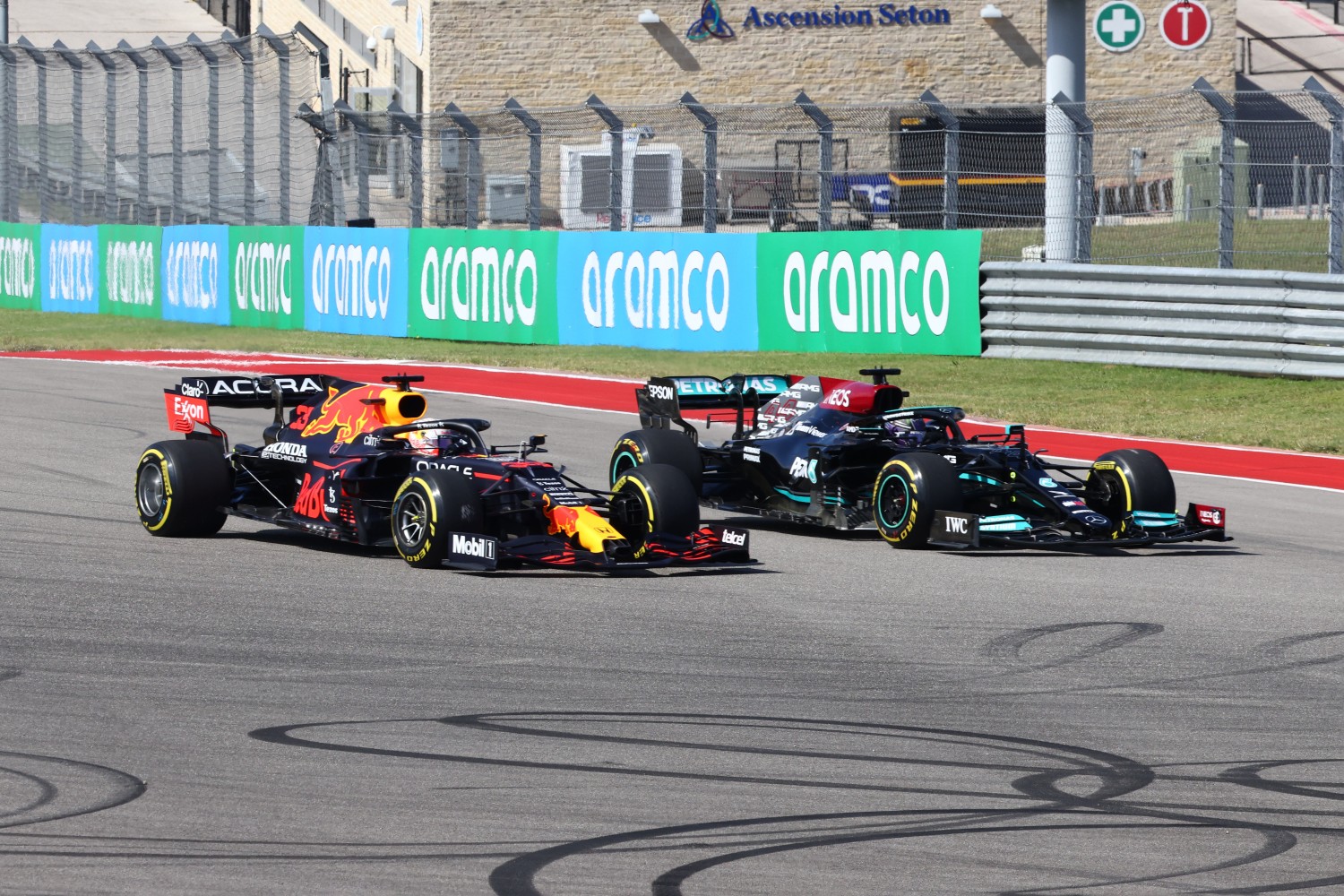 The win did not look likely with ten laps to go. But the Dutchman managed his tires to perfection there, and that could be a championship decided victory.
With the win, Verstappen doubles his championship points leads to 12 with 5 races remaining in the season.
"The tire wear is quite hard at this track," said a tired Verstappen. "We went aggressive, I wasn't sure it was going to work but super happy. It's amazing to be here, hopefully we can do this for many years to come."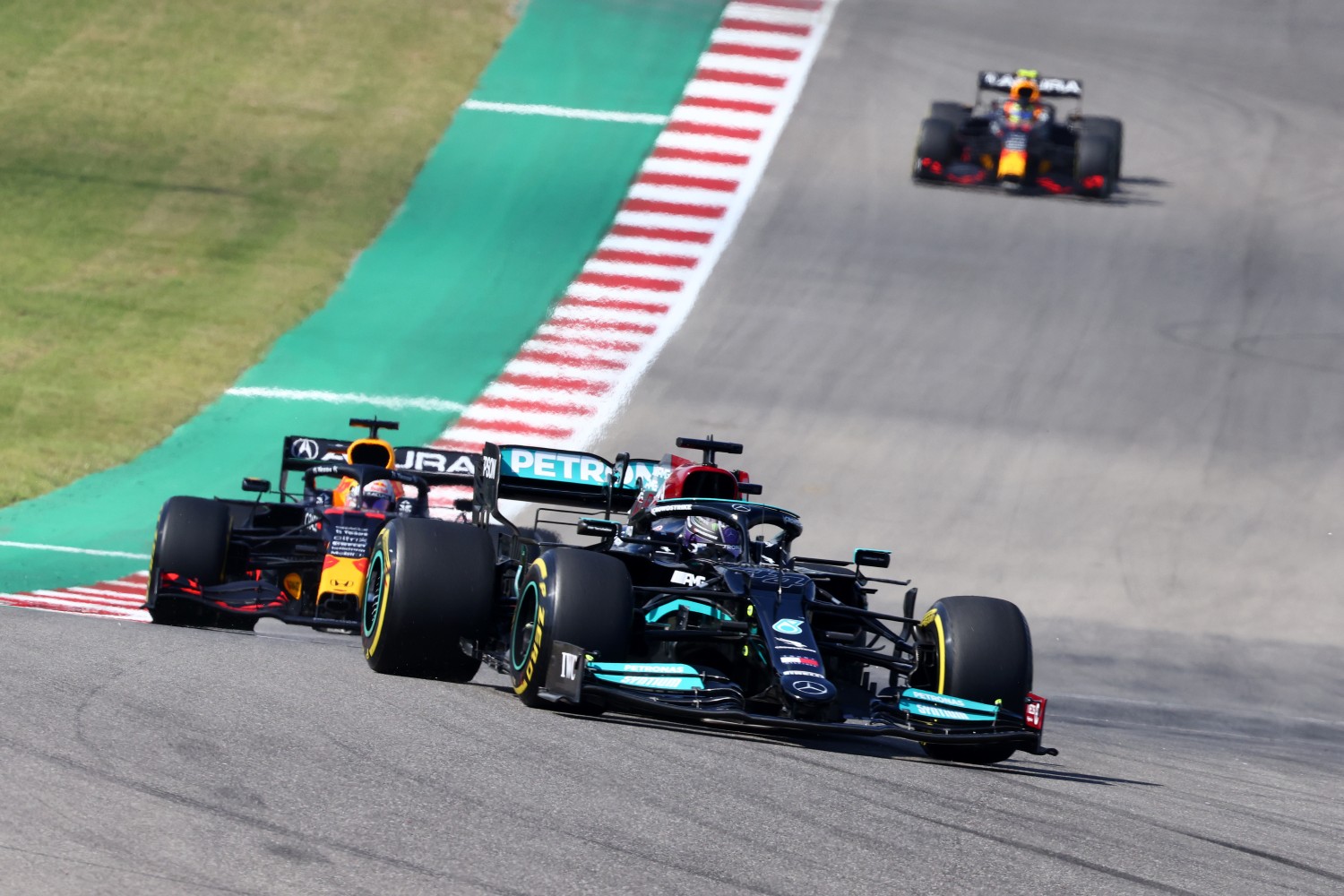 "It is big for us to beat Mercedes here, get the win against Lewis," said a happy Christian Horner.  "I didn't think he was going to pull that off there. The first set of hards were down to the canvas. Max managed the race really smartly. We didn't want to give up track position, but that meant the last ten laps were going to be crucial."
"Firstly congratulations to Max, they did a great job today," said Hamilton. "What a great crowd (announced as 140,000 Sunday and 400,000 for the weekend), to perform in front of you guys in such an honor. I think this is definitely our acceptance into the US!
Sergio Perez brought the 2nd Red Bull home 3rd 42.2s behind his teammate.
"Since Lap 1, I had no water, I couldn't drink at all," said an overheated and dehydrated Perez.  "By my second stint I was finding it pretty difficult."
Charles Leclerc came home 4th for Ferrari and Daniel Ricciardo rounded out the top-5 for McLaren in one of his best drives of the year.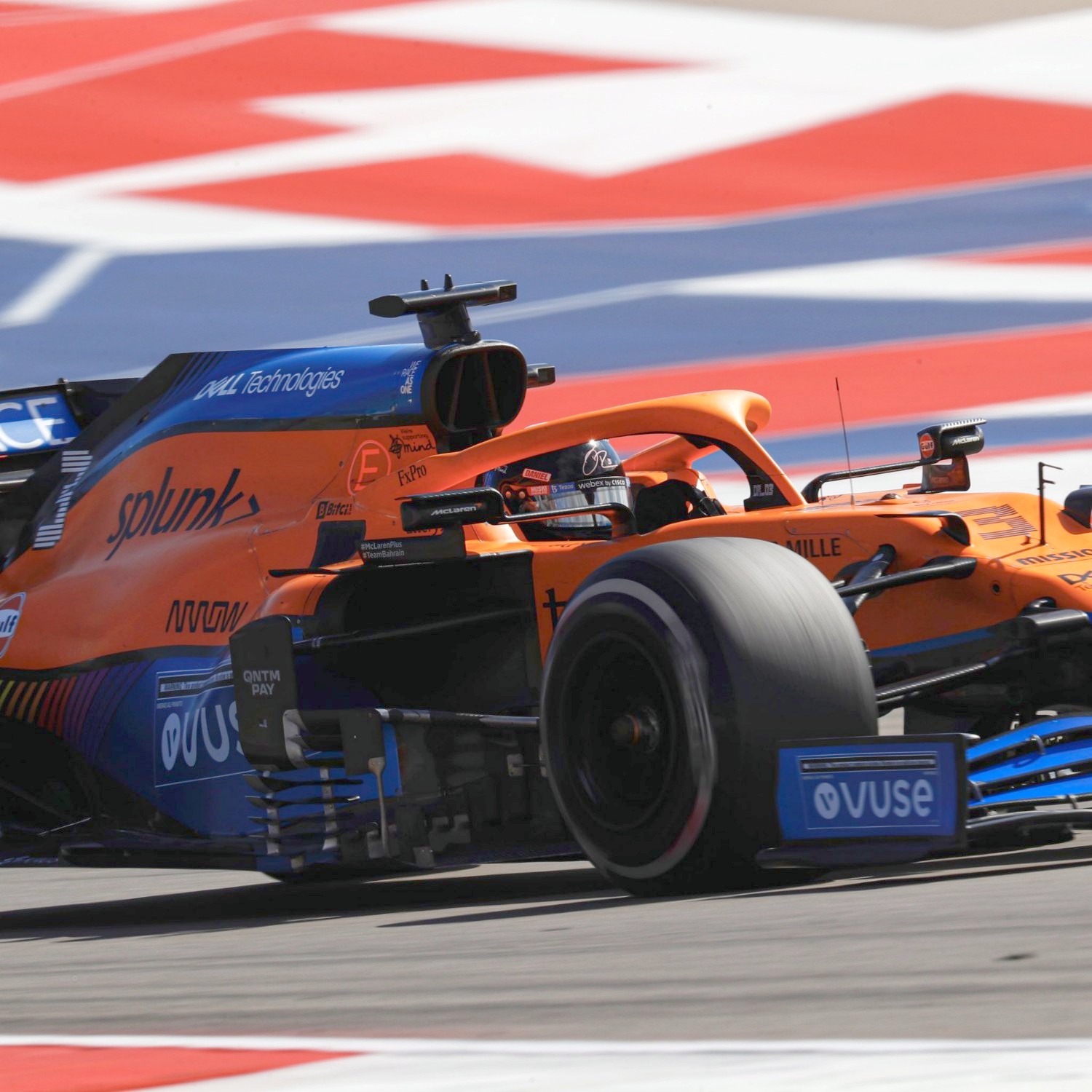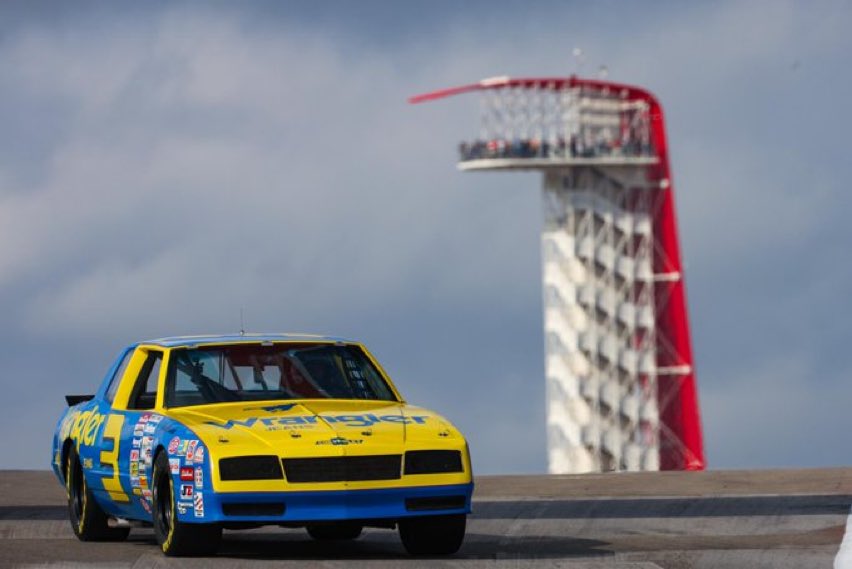 Valtteri Bottas passed Carlos Sainz Jr. on the last lap for sixth, with Lando Norris was eighth.  Yuki Tsunoda drove maturely for P9 and Sebastian Vettel picked up the last point thanks to Kimi Räikkönen's late spin.
Twelve points. That is Verstappen's lead over Hamilton in the championship, heading into two races at altitude that normally favor his team. The championship is edging ever closer, and the momentum is definitely with the Dutchman as it stands.
Max Verstappen (287.5 points) leads the Drivers' Championship by 12 points from Lewis (275.5 points) with Valtteri (185 points) in P3.
The Mercedes-AMG Petronas F1 Team (460.5 points) lead Red Bull (437.5 points) by 23 points in the Constructors' Championship.
Select Quotes
Max Verstappen
"It was an exciting race and it feels incredible to win here in front of all the fans. The pressure was on for the whole race and not knowing how quickly Lewis would catch up. I actually thought I had a decent start, but Lewis had an even better one. So we went for an aggressive strategy after losing the lead into turn one, and we pitted early in the first stint. Then for the middle stint we were in that undercut range, so we had to respond and we went for track position which made the last stint very long, especially in this heat. The last two laps were definitely difficult on the tires, there wasn't much grip left. But, then with two laps to go, I had the Haas in front of me, and I was able to benefit from the DRS, so we managed to hang on in the end. We definitely gave it our all today as a team, and it was great to have Checo up there with me on the podium."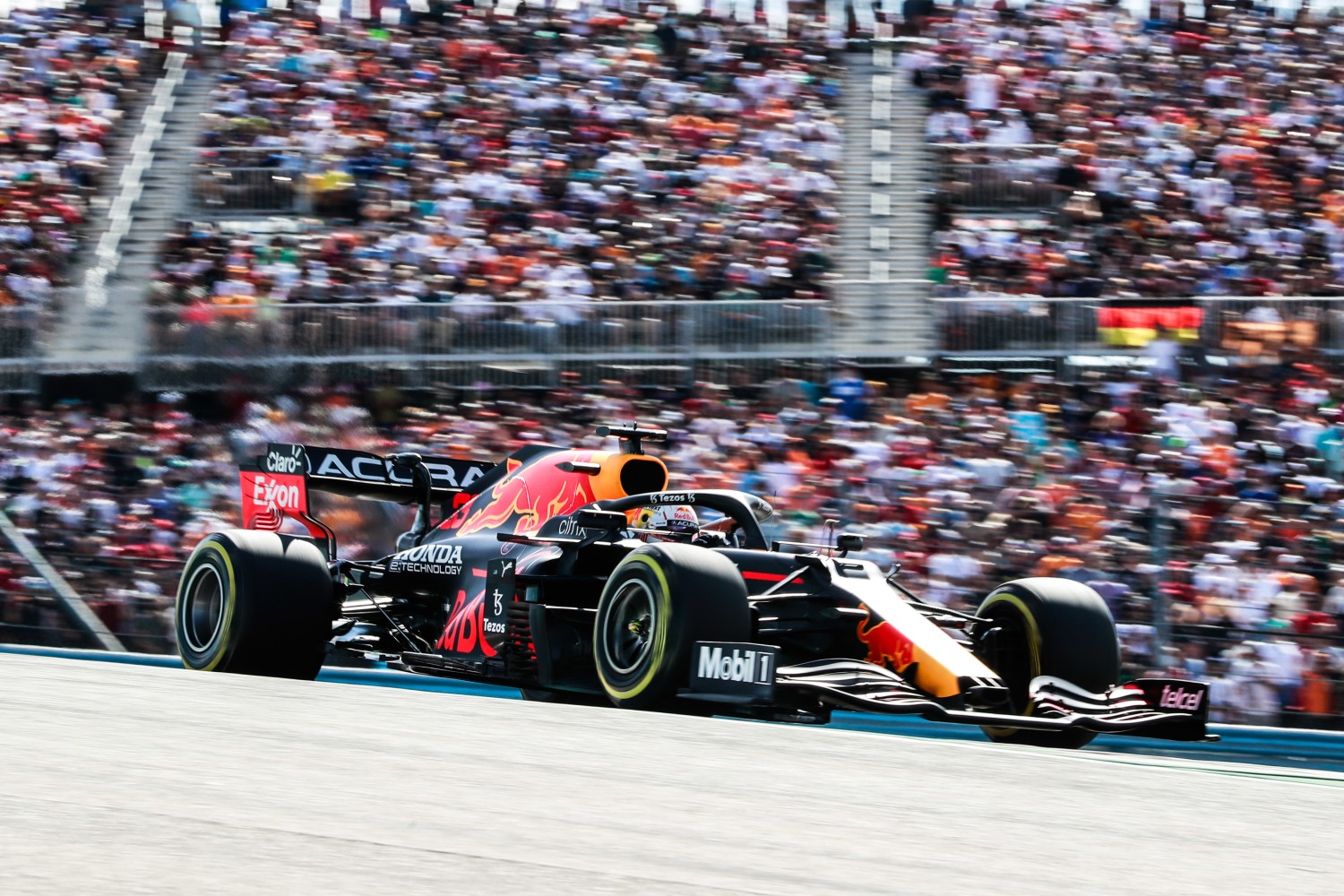 Sergio Perez
"That was the hardest and longest race of my life. I wasn't feeling great before the race and then my drinks system stopped working on the first lap and with the hot weather today it was very physical and a pretty tough afternoon. I was struggling massively and by lap 20 I was done, so it was a shame I couldn't keep up with Max and Lewis, but there are a lot of positives to take from this weekend and back to back podiums are always nice. It's a good result for the Team, the undercut worked well and Lewis had no option but to cover me which helped Max out in front, so we can be very happy as a Team. I'm so looking forward to Mexico, the Team have done well there in the past and I think we'll have a good package for my home race. I can't wait, and I hope to be on the podium again in front of my home fans."
Christian Horner
"What an incredible victory and double podium for the Team! It's our first US GP win since 2013 and what a way to do it. At the beginning of the race we had really good pace on the mediums and Max was able to put pressure on Lewis, but we know that he is so strong at the end of the race and he went long which bought himself an advantage. So we went for track position and Max held on and managed the race superbly, especially his last stint on the hard tire to have enough left to keep his lead at the end. It was a tough race for Checo with no drinks system, but again the way he managed the race was fantastic, and you can see him growing in confidence with his second podium in consecutive races. He produced a phenomenal drive and with his home race coming up he's finding his form, which is crucial for us at this time of year. It's five to go now, and we know that there are a couple of races where Mercedes will have the edge and a couple where we will be strong, so the rest of the season is going to be really tight."
Lewis Hamilton
Firstly, congratulations to Max, he did a brilliant job today. And also, a big thank you to the amazing crowd we've had in Austin all weekend, to perform in front of such packed grandstands and passionate fans has been a real honor. I really thought for a second we might be able to win, I gave it absolutely everything out there. It was such a tough race, but unfortunately, we couldn't convert it. Red Bull just had the upper hand, and we couldn't match them. It looked like they had a better and more stable rear end on their car, with less sliding. The start was obviously great and closing the gap towards the end, but I got into the dirty air and the tires overheated in the last few laps. Thank you to the team for amazing pit stops and so much hard work over the weekend. We didn't quite get it this time, but we'll move onto the next one.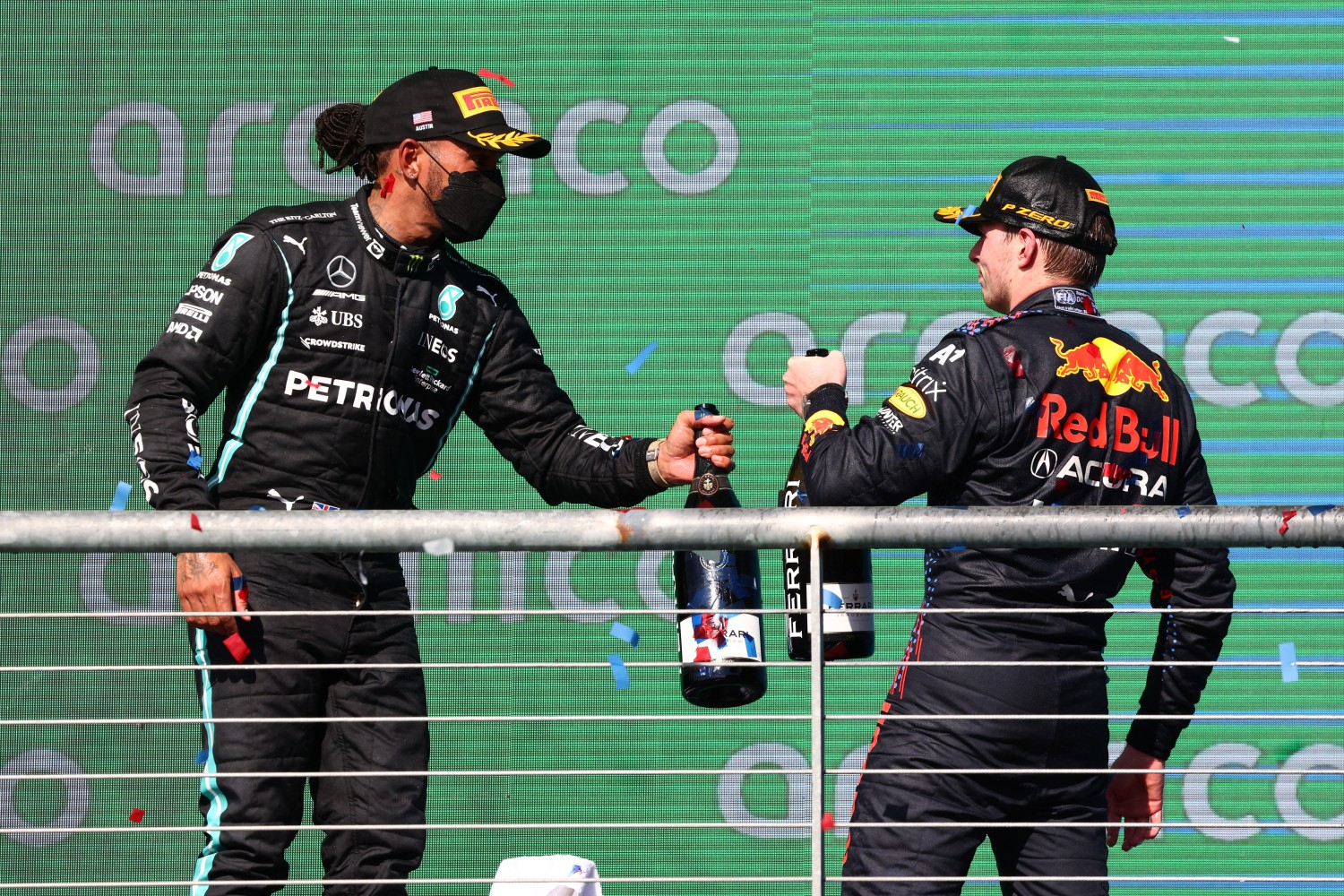 Valtteri Bottas
It was a pretty uneventful race for me, we tried the best we could, but it wasn't easy to fight through the field. Making progress was difficult, and we knew it would be, because of the temperatures here and the characteristics of the track. In the first stint I got stuck behind the Alpha Tauri's and that cost me quite a lot of time. Once I was behind slower cars, the pace difference wasn't quite big enough to make passes easily. There weren't any Safety Cars or other situations for us to make the most of, but with the grid penalty and where we started, I'm not sure what more we could have done. Not the strongest weekend for us, but in free air the car felt good and there are plenty of learnings we can take forward as a team.
Toto Wolff
This really was a race of interesting strategic games and great battles. We thought we had a sniff at the victory with Lewis, and he put in a brilliant charge in the final laps, but in the end it wasn't enough. In the first stint, the car wasn't quick enough on the Medium and then Red Bull went for a super-aggressive first stop, before covering it the second time. We thought our offset strategy, going longer, would be enough at the end to get them, but the moment you get within touching distance of the car in front, it makes it very difficult to make a move. In the end, we were close, but not close enough, so Red Bull deserved to win today. For Valtteri, he also struggled with overtaking and moving through the field, but we used the longer stints to make up some places, and he put in a strong move on Sainz on the penultimate lap to take sixth. It's not the weekend we hoped for, but we know there are still many opportunities to come. We are right there, we are in the fight and we're enjoying the battle. So, let's see what the next one brings.
Andrew Shovlin
A frustrating day but we've not been strong enough here and whilst the win wasn't miles out of our reach, we weren't good enough in qualifying on Saturday and we weren't good enough on the Medium tyre in the first stint. Added to that, Valtteri's penalty meant he wasn't in the fight at the front and strategically that made our life more difficult. We understand a few of the issues that have cost us a bit of pace here, but there are others that we've not yet got to the bottom of, so that's something we need to make progress with ahead of the remaining races. We can't be anything other than disappointed when we've lost a chunk of points in both Championships but there is still a long way to go, and we've been in a worse position earlier in the Championship and pulled it back. We've got a bit of time to regroup before the triple header and prepare for the races ahead; getting the most out of the car over the next five tracks is going to be key to retaining the titles so we will be working hard in the next few days to do just that.
Sebastian Vettel
"We only scored one point today and we had to fight hard. It was a good recovery after the grid penalty yesterday and when we were in clean air the pace was good. As we expected, it was a difficult race for everybody trying to manage the tires with the hot track temperatures. I was happy when everybody pitted quite early because we knew we would have a chance by running longer. It gave us fresher tires at the end, when it mattered, so we could move up into the top 10. It was a good strategy by the team. With a couple more laps, we would have caught [Yuki] Tsunoda, but, from where we started, I think scoring a point is a good result."
Lance Stroll
"It was not our weekend. After yesterday's qualifying, where we were affected by the yellow flags, I was hit at Turn One on the very first lap today. The contact dropped me to the back of the field and I picked up a significant amount of damage on the front wing. It cost us some performance, but we still managed to fight our way up the field. However, points were just out of reach in the end. It is a race to forget, and we will move on and look to come back stronger in Mexico."
Otmar Szafnauer, CEO & Team Principal
"Lance was the innocent victim of a clumsy lunge by [Nicolas] Latifi at Turn One on the opening lap, which relegated him to P19 and caused damage to his front wing. From there, although he passed both the Haas cars on lap two, he was never going to be able to recover to a points-scoring position; he did his best and ended up 12th. Sebastian got off to a clean start and was running 12th, just ahead of Lance, for much of the last third of the race. On lap 52 he passed [Antonio] Giovinazzi for 11th, a well executed move, and that became 10th on the next lap when Kimi [Räikkönen] ran wide ahead of him. A solitary World Championship point was scant reward for a fine drive, but our strategists made the right call to go for comparatively late first pit stops and we maximized all the opportunities available to us."
Frédéric Vasseur, Team Principal Alfa Romeo Racing ORLEN:
"The team would have deserved at least a point after a good race, and it's obviously disappointing to see it slip from our hands so close to the checkered flag. We fought from lights to the line in the top ten or just outside it and this is very encouraging, even though in the end we have nothing to show it: we've been in this fight in the last few races and there is no reason to think we shouldn't be there until the end of the season. Hopefully, we will be able to convert some of these chances into points as the pace is there to do a good job."
Kimi Räikkönen (car number 7):
"The car felt really good, especially in the first part of the race, and we were able to fight in the top ten. Unfortunately, at the start of the second stint I had a clash with Alonso and I got some floor damage: it didn't really affect the balance of the car, but we seemed to run out of tires a lot quicker afterwards. By the end of the race, I didn't really have much rears left just as I tried to push hard to stay ahead of Sebastian [Vettel]. It is a shame not to bring home any point today: we always seem to be there or thereabout but it wasn't to be this time."
Antonio Giovinazzi (car number 99):
"It was a good race, with some nice fights along the way, in particular with Fernando [Alonso]. I tried to hold him back as much as I could but in the end he was just faster: still, it is nice to be fighting with someone like him, a world champion. We went once again very close to the points, and probably the second stint is where we missed out as we couldn't get those tires to work well. We did a good work as a team, swapping places when Kimi when he could push more in that part of the race, and that very nearly paid off."
Esteban Ocon
"It was a tough day for us as a team with both Fernando and I retiring. We suspected we had a problem with the rear of the car and that's why we retired towards the end of the race. Our afternoon was compromised early on with the contact with an Alfa Romeo on the first lap through sector one. The car felt OK, but we had to pit as there was front wing damage and from there it was a difficult race. It's not an easy one to take, but the important thing now is that we reflect and recover as a team. The aim is to come back stronger for the next run of races."
Fernando Alonso
"It was an unfortunate end to today and overall a challenging weekend for us. Our race was quite good considering we started from the back of the grid. We were heading towards a possible top ten finish after a few back and forth battles with the Alfa Romeos and Aston Martins. There were some incidents that perhaps we need to look at. Two of them were penalized and one was not. As we were pushing towards the end of the race the rear wing broke on the penultimate corner and I looked in the mirror, and it was visibly damaged, so we had to retire the car. We need to analyze it because at the moment we're not sure why it happened."
Marcin Budkowski, Alpine Executive Director
"In summary, it's a race to forget for us. Pretty much everything that could go wrong did go wrong during this weekend. Esteban started in eleventh position on the Mediums and scoring a few points seemed a very achievable target. Unfortunately, he was hit by Giovinazzi in the first lap and suffered front wing damage, which forced us to stop to change it. From that point onwards, his race was heavily compromised. There was not much to fight for, and as we suspected a problem on the car, we decided to retire him as a precaution. Fernando drove a brave race starting from the back, and we tried everything to sneak into the top 10, pushing very hard and taking risks, and trying a different strategy to build a tire advantage towards the end. As we were closing in rapidly on the cars in front, we had a rear wing issue that robbed us of an exciting finish. We come out of this weekend without any points, which concludes our series of fifteen consecutive points scoring finishes. We have lots to reflect and improve on after this weekend, and we will be working hard ahead of the next batch of races."
Race Results
| | | | | | |
| --- | --- | --- | --- | --- | --- |
| POS | NO | DRIVER | CAR | LAPS | BEHIND |
| 1 | 33 | Max Verstappen | Red Bull Racing Honda | 56 | +0.000s |
| 2 | 44 | Lewis Hamilton | Mercedes | 56 | +1.333s |
| 3 | 11 | Sergio Perez | Red Bull Racing Honda | 56 | +42.223s |
| 4 | 16 | Charles Leclerc | Ferrari | 56 | +52.246s |
| 5 | 3 | Daniel Ricciardo | McLaren Mercedes | 56 | +76.854s |
| 6 | 77 | Valtteri Bottas | Mercedes | 56 | +80.128s |
| 7 | 55 | Carlos Sainz | Ferrari | 56 | +83.545s |
| 8 | 4 | Lando Norris | McLaren Mercedes | 56 | +84.395s |
| 9 | 22 | Yuki Tsunoda | AlphaTauri Honda | 55 | +1 lap |
| 10 | 5 | Sebastian Vettel | Aston Martin Mercedes | 55 | +1 lap |
| 11 | 99 | Antonio Giovinazzi | Alfa Romeo Racing Ferrari | 55 | +1 lap |
| 12 | 18 | Lance Stroll | Aston Martin Mercedes | 55 | +1 lap |
| 13 | 7 | Kimi Räikkönen | Alfa Romeo Racing Ferrari | 55 | +1 lap |
| 14 | 63 | George Russell | Williams Mercedes | 55 | +1 lap |
| 15 | 6 | Nicholas Latifi | Williams Mercedes | 55 | +1 lap |
| 16 | 47 | Mick Schumacher | Haas Ferrari | 54 | +2 laps |
| 17 | 9 | Nikita Mazepin | Haas Ferrari | 54 | +2 laps |
| NC | 14 | Fernando Alonso | Alpine Renault | 49 | DNF |
| NC | 31 | Esteban Ocon | Alpine Renault | 40 | DNF |
| NC | 10 | Pierre Gasly | AlphaTauri Honda | 14 | DNF |