WEC: Toyota front-row lock-out in Bahrain while Porsche on pole in LMGTE Pro
TOYOTA GAZOO Racing earned Hypercar pole position and a clean sweep of the front row for the 6 Hours of Bahrain as it moved a step closer to the 2021 FIA World Endurance Championship (WEC) title.
Brendon Hartley stayed cool in the Bahrain heat to set a fastest lap of 1min 47.049secs and give the #8 GR010 HYBRID, which he shares with Sébastien Buemi and Kazuki Nakajima, its first Hypercar pole.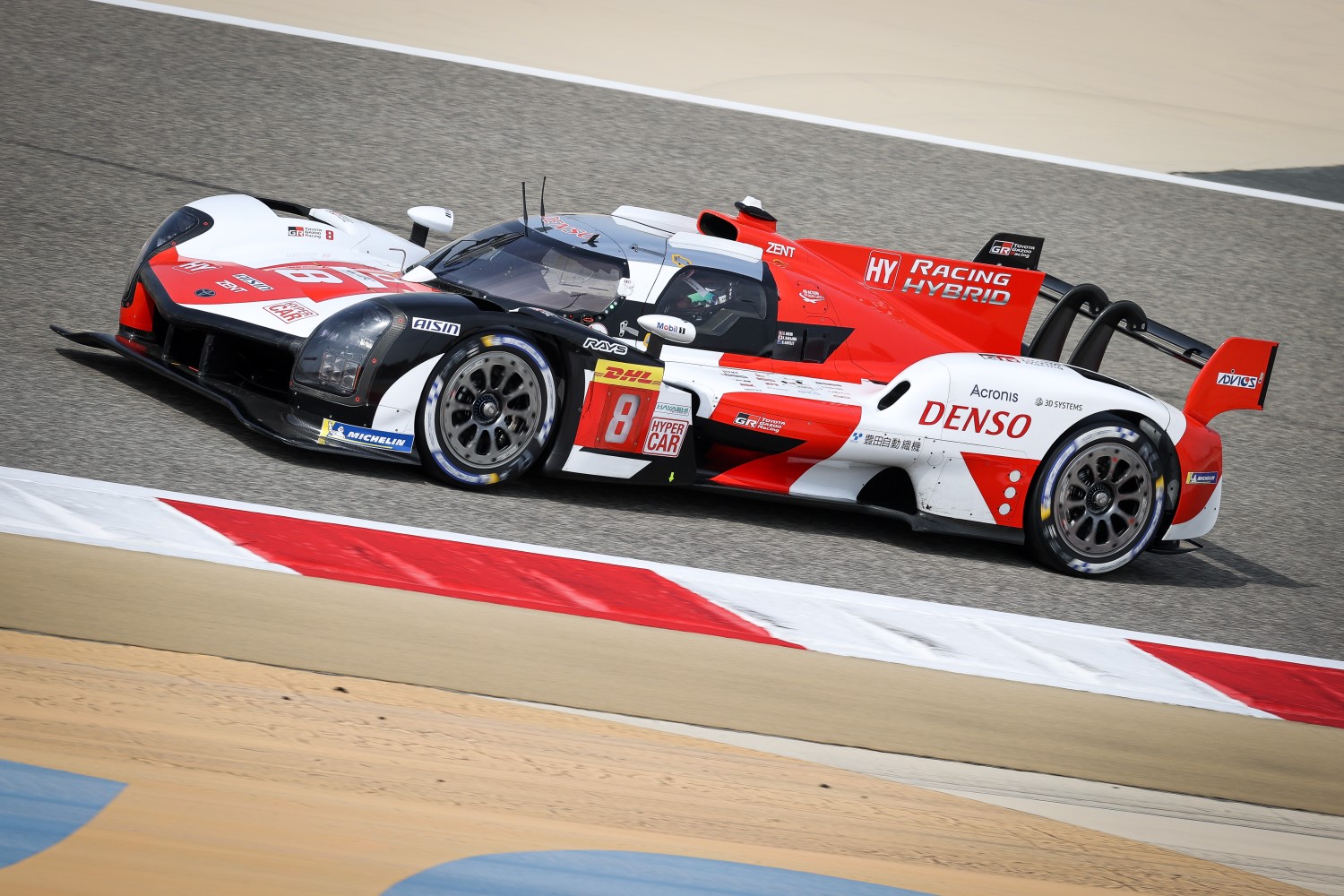 The two GR010 HYBRID Hypercars had been closely matched throughout practice and Kamui Kobayashi completed a perfect team result, taking second in the #7 GR010 HYBRID he drives alongside fellow reigning World Champions Mike Conway and José María López. His lap was 0.398secs off pole.
Pole position for the #8 car was achieved the hard way via a challenging start to the day, when an accident in second practice required suspension repairs and new front bodywork. The mechanics performed impressively to repair the car in time for third practice when the crucial qualifying preparations took place.
Qualifying delivered one potentially-important point in the battle for both Hypercar World Championships. By banking that point today, TOYOTA GAZOO Racing can now guarantee the teams' championship with fourth place in Saturday's race.
It is a particularly significant point in the battle for the drivers' crown. Sébastien, Kazuki and Brendon have now narrowed the gap to leaders Mike, Kamui and José to eight points, with 64 still to fight for in the Bahrain double-header.
The Rest
The No. 92 Porsche heads LMGTE Pro for the fourth time this season, while the No. 28 JOTA took top position in LMP2 for the team's second pole of 2021.
Iron Lynx was fastest in LMGTE Am ahead of No. 98 Aston Martin Racing entry.
Below are the main headlines from qualifying.
Hypercar
No.8 Toyota Gazoo Racing takes Hypercar and overall pole in Bahrain as Brendon Hartley sets the pace
Hartley guides Toyota GR010 HYBRID Hypercar to best lap of 1m47.049s
Kiwi driver beats No.7 sister Toyota to reduce points deficit to eight points ahead of tomorrow's race
No.7 Toyota second as Kamui Kobayashi sets best lap of 1m47.447s
Alpine Elf Matmut Hypercar driven by Andre Negrao to start third after Brazilian laps in 1m48.003s
Negrao gets fastest lap deleted in final moments after infringing track limits
LMGTE Pro
No.92 Porsche GT Team takes LMGTE Pro pole as Kevin Estre sets best lap of 1m56.144s
Frenchman celebrates four poles from five rounds so far this season and reduces gap in title chase to 11-points
Porsche claims 1-2 lock-out as Gimmi Bruni takes No.91 Porsche 911 RSR to a best of 1m56.178s, just 0.034s off pole time
Porsche enjoys sizeable 1.18 second advantage over class rival, Ferrari
AF Corse Ferraris to start third and fourth as No.51 Ferrari 488 GTE Evo heads No.52 AF Corse run entry
Alessandro Pier Guidi and Miguel Molina set laps and ae separated by just 0.3s
LMP2
Tom Blomqvist claims the pole in LMP2 class for JOTA for second time in 2021
He laps in very rapid 1m49.932s to go marginally quicker than United Autosports USA car
Filipe Albuquerque's late time grabs second as team aims to defend LMP2 title
JOTA also take third best time as No.38 Oreca-Gibson driven by Antonio Felix da Costa places third to make it three title contenders in first three positions on the grid
Loic Duval peaks on a 1m50.559s to take fourth and also leads Pro/Am division for Realteam Racing
LMGTE Am
Rino Mastronardi seals first Iron Lynx pole position in FIA WEC in No.60 Ferrari 488 GTE Evo
Recent ELMS title winner laps in 1m59.687s to out-pace No.98 Aston Martin Racing car driven by Paul Dalla Lana by 0.7s
Third on LMGTE Am grid is No.56 Project 1 Porsche as Egidio Perfetti gets to within 0.073s of the Aston
Qualifying Results
| | | | | | | | |
| --- | --- | --- | --- | --- | --- | --- | --- |
| Pos | No. | Drivers | Team | Class | Time | Behind | Gap |
| 1 | 8 | S. Buemi/K. Nakajima/B. Hartley | Toyota Gazoo Racing | HYPERCAR | 1:47.049 | 0.000s | 0.000s |
| 2 | 7 | M. Conway/K. Kobayashi/J. Lopez | Toyota Gazoo Racing | HYPERCAR | 1:47.447 | 0.398 | 0.398 |
| 3 | 36 | A. Negrão/N. Lapierre/M. Vaxiviere | Alpine Elf Matmut | HYPERCAR | 1:48.003 | 0.954 | 0.556 |
| 4 | 28 | S. Gelael/S. Vandoorne/T. Blomqvist | JOTA | LMP2 | 1:49.932 | 2.883 | 1.929 |
| 5 | 22 | P. Hanson/F. Scherer/F. Albuquerque | United Autosports USA | LMP2 | 1:49.994 | 2.945 | 0.062 |
| 6 | 38 | R. Gonzalez/A. Da Costa/A. Davidson | JOTA | LMP2 | 1:50.198 | 3.149 | 0.204 |
| 7 | 70 | E. Garcia/L. Duval/N. Nato | Realteam Racing | LMP2 | 1:50.559 | 3.510 | 0.361 |
| 8 | 34 | J. Smiechowski/R. Van Der Zande/A. Brundle | Inter Europol Competition | LMP2 | 1:50.658 | 3.609 | 0.099 |
| 9 | 29 | F. Van Eerd/G. Van Der Garde/J. Van Uitert | Racing Team Nederland | LMP2 | 1:50.942 | 3.893 | 0.284 |
| 10 | 31 | R. Frijns/F. Habsburg/C. Milesi | Team WRT | LMP2 | 1:51.043 | 3.994 | 0.101 |
| 11 | 21 | H. Hedman/J. Montoya/B. Hanley | DragonSpeed USA | LMP2 | 1:51.312 | 4.263 | 0.269 |
| 12 | 44 | M. Konopka/O. Webb/K. Maini | ARC Bratislava | LMP2 | 1:51.487 | 4.438 | 0.175 |
| 13 | 20 | D. Andersen/A. Fjordbach/R. Kubica | High Class Racing | LMP2 | 1:51.506 | 4.457 | 0.019 |
| 14 | 1 | S. Floersch/B. Visser/G. Aubry | Richard Mille Racing Team | LMP2 | 1:51.736 | 4.687 | 0.230 |
| 15 | 92 | K. Estre/N. Jani | Porsche GT Team | LMGTE Pro | 1:56.144 | 9.095 | 4.408 |
| 16 | 91 | G. Bruni/R. Lietz | Porsche GT Team | LMGTE Pro | 1:56.178 | 9.129 | 0.034 |
| 17 | 52 | D. Serra/M. Molina | AF Corse | LMGTE Pro | 1:57.327 | 10.278 | 1.149 |
| 18 | 51 | A. Pier Guidi/J. Calado | AF Corse | LMGTE Pro | 1:57.573 | 10.524 | 0.246 |
| 19 | 60 | R. Mastronardi/A. Piccini/M. Cressoni | Iron Lynx | LMGTE Am | 1:58.687 | 11.638 | 1.114 |
| 20 | 98 | P. Dalla Lana/A. Farfus/M. Gomes | Aston Martin Racing | LMGTE Am | 1:59.331 | 12.282 | 0.644 |
| 21 | 56 | E. Perfetti/M. Cairoli/R. Pera | Team Project 1 | LMGTE Am | 1:59.404 | 12.355 | 0.073 |
| 22 | 47 | R. Lacorte/G. Sernagiotto/A. Fuoco | Cetilar Racing | LMGTE Am | 1:59.410 | 12.361 | 0.006 |
| 23 | 54 | T. Flohr/F. Castellacci/G. Fisichella | AF Corse | LMGTE Am | 1:59.534 | 12.485 | 0.124 |
| 24 | 33 | B. Keating/D. Pereira/F. Fraga | TF Sport | LMGTE Am | 1:59.538 | 12.489 | 0.004 |
| 25 | 88 | K. Al Qubaisi/A. De Leener/J. Andlauer | Dempsey – Proton Racing | LMGTE Am | 1:59.923 | 12.874 | 0.385 |
| 26 | 83 | F. Perrodo/N. Nielsen/A. Rovera | AF Corse | LMGTE Am | 2:00.263 | 13.214 | 0.340 |
| 27 | 77 | C. Ried/J. Evans/M. Campbell | Dempsey – Proton Racing | LMGTE Am | 2:00.294 | 13.245 | 0.031 |
| 28 | 777 | S. Hoshino/T. Fujii/A. Watson | D'Station Racing | LMGTE Am | 2:00.300 | 13.251 | 0.006 |
| 29 | 85 | R. Frey/S. Bovy/K. Legge | Iron Lynx | LMGTE Am | 2:00.457 | 13.408 | 0.157 |
| 30 | 86 | M. Wainwright/B. Barker/T. Gamble | GR Racing | LMGTE Am | 2:00.939 | 13.890 | 0.482 |
| 31 | 57 | T. Kimura/M. Jensen/S. Andrews | Kessel Racing | LMGTE Am | 2:01.877 | 14.828 | 0.938 |