WEC: Toyota run 1-2 at halfway mark of 6 Hours of Bahrain
The No.7 Toyota GR010 Hybrid Hypercar driven by Jose-Maria Lopez leads the Bapco 6 Hours of Bahrain from the No. 8 Toyota Gazoo Racing entry driven by Sebastien Buemi by 11-seconds at the race's three-hour mark.
In LMGTE Pro, the No.92 Porsche driven by Neel Jani heads a Porsche 1-2 after the WEC neutered the AF Corse Ferraris to ensure a Porsche win.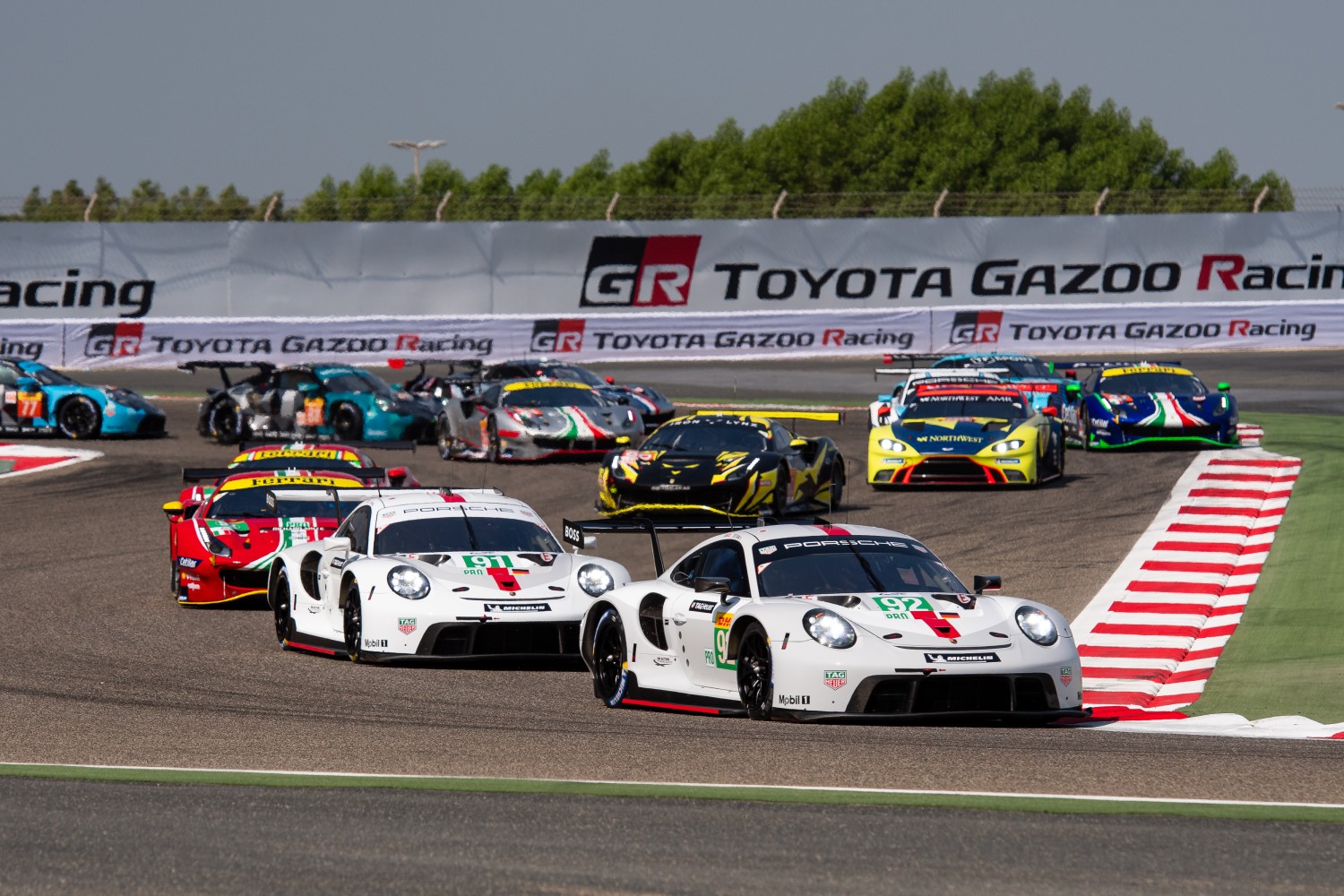 The #31 Team WRT Oreca-Gibson leads in LMP2. An action packed first lap saw Giedo van der Garde blast through from sixth on the grid to take a sensational lead for Racing Team Nederland.
The No.98 Aston Martin Racing  leads an Aston Martin 1-2-3 in LMGTE Am.
Hour 3 Standings
| | | | | | | | | | |
| --- | --- | --- | --- | --- | --- | --- | --- | --- | --- |
| Pos | No. | Status | Class | Team | Current Driver | Car | Laps | Behind | Gap |
| 1 | 7 | RUN | Hypercar H | TOYOTA GAZOO RACING | LOPEZ Jose Maria | Toyota GR010 HYBRID | 92 | – | – |
| 2 | 8 | RUN | Hypercar H | TOYOTA GAZOO RACING | BUEMI Sébastien | Toyota GR010 HYBRID | 92 | 11.093 | 11.093 |
| 3 | 36 | RUN | Hypercar | ALPINE ELF MATMUT | VAXIVIERE Matthieu | Alpine A480 – Gibson | 91 | 1:12.354 | 1:01.514 |
| 4 | 31 | RUN | LM P2 | TEAM WRT | MILESI Charles | Oreca 07 – Gibson | 89 | 59.627 | 1.240 |
| 5 | 22 | RUN | LM P2 | UNITED AUTOSPORTS USA | SCHERER Fabio | Oreca 07 – Gibson | 89 | 11.387 | 11.387 |
| 6 | 28 | RUN | LM P2 | JOTA | VANDOORNE Stoffel | Oreca 07 – Gibson | 89 | 3 laps | 27.479 |
| 7 | 38 | RUN | LM P2 | JOTA | DAVIDSON Anthony | Oreca 07 – Gibson | 89 | 40.387 | 40.387 |
| 8 | 34 | RUN | LM P2 | INTER EUROPOL COMPETITION | SMIECHOWSKI Jakub | Oreca 07 – Gibson | 89 | 44.816 | 4.429 |
| 9 | 29 | RUN | LM P2 P/A | RACING TEAM NEDERLAND | VAN EERD Frits | Oreca 07 – Gibson | 89 | 52.377 | 7.534 |
| 10 | 70 | RUN | LM P2 P/A | REALTEAM RACING | NATO Norman | Oreca 07 – Gibson | 88 | 1:31.237 | 39.613 |
| 11 | 1 | RUN | LM P2 | RICHARD MILLE RACING TEAM | AUBRY Gabriel | Oreca 07 – Gibson | 88 | 1:41.615 | 7.913 |
| 12 | 20 | RUN | LM P2 P/A | HIGH CLASS RACING | ANDERSEN Dennis | Oreca 07 – Gibson | 88 | 4 laps | 27.546 |
| 13 | 44 | RUN | LM P2 P/A | ARC BRATISLAVA | MAINI Kush | Oreca 07 – Gibson | 87 | 1:28.553 | 1:28.553 |
| 14 | 92 | RUN | LM GTE Pro | PORSCHE GT TEAM | JANI Neel | Porsche 911 RSR – 19 | 87 | 25.041 | 1:06.361 |
| 15 | 91 | RUN | LM GTE Pro | PORSCHE GT TEAM | LIETZ Richard | Porsche 911 RSR – 19 | 87 | 2.339 | 2.339 |
| 16 | 51 | RUN | LM GTE Pro | AF CORSE | CALADO James | Ferrari 488 GTE Evo | 86 | 31.506 | 29.499 |
| 17 | 52 | RUN | LM GTE Pro | AF CORSE | SERRA Daniel | Ferrari 488 GTE Evo | 86 | 36.542 | 5.036 |
| 18 | 98 | OUT | LM GTE Am | ASTON MARTIN RACING | DALLA LANA Paul | Aston Martin Vantage AMR | 85 | 1:43.712 | 1:44.119 |
| 19 | 33 | RUN | LM GTE Am | TF SPORT | PEREIRA Dylan | Aston Martin Vantage AMR | 85 | 28.654 | 28.654 |
| 20 | 777 | RUN | LM GTE Am | D'STATION RACING | HOSHINO Satoshi | Aston Martin Vantage AMR | 85 | 3:51.227 | 27.899 |
| 21 | 56 | RUN | LM GTE Am | TEAM PROJECT 1 | PERA Riccardo | Porsche 911 RSR – 19 | 85 | 3.324 | 3.324 |
| 22 | 54 | RUN | LM GTE Am | AF CORSE | FLOHR Thomas | Ferrari 488 GTE Evo | 85 | 14.167 | 10.843 |
| 23 | 83 | RUN | LM GTE Am | AF CORSE | ROVERA Alessio | Ferrari 488 GTE Evo | 85 | 22.967 | 8.192 |
| 24 | 77 | RUN | LM GTE Am | DEMPSEY – PROTON RACING | EVANS Jaxon | Porsche 911 RSR – 19 | 85 | 23.612 | 0.645 |
| 25 | 21 | IN | LM P2 P/A | DRAGONSPEED USA | MONTOYA Juan Pablo | Oreca 07 – Gibson | 85 | 3:51.227 | 0.000 |
| 26 | 86 | RUN | LM GTE Am | GR RACING | WAINWRIGHT Michael | Porsche 911 RSR – 19 | 85 | 49.835 | 4:41.062 |
| 27 | 85 | RUN | LM GTE Am | IRON LYNX | LEGGE Katherine | Ferrari 488 GTE Evo | 85 | 50.052 | 0.217 |
| 28 | 57 | OUT | LM GTE Am | KESSEL RACING | ANDREWS Scott | Ferrari 488 GTE Evo | 83 | 8 laps | 1 lap |
| 29 | 47 | RUN | LM GTE Am | CETILAR RACING | FUOCO Antonio | Ferrari 488 GTE Evo | 83 | 9 laps | 1:01.089 |
| 30 | 60 | OUT | LM GTE Am | IRON LYNX | CRESSONI Matteo | Ferrari 488 GTE Evo | 82 | 1:01.212 | 1:01.212 |
| 31 | 88 | RUN | LM GTE Am | DEMPSEY – PROTON RACING | ANDLAUER Julien | Porsche 911 RSR – 19 | 79 | 12 laps | 2 laps |