Supercars: Van Gisbergen and De Pasquale win Sunday races in Sydney
The Race 21 victory at the Bunnings Trade Sydney SuperNight belonged to Shane van Gisbergen.
Van Gisbergen started sixth for the race; it was his fifth win at Sydney Motorsport Park.
It was also the Red Bull Ampol Racing driver's 12th win of the season, and 17th podium from 21 starts.
It was the 11th instance of a driver winning 12 or more races in a season.
It has now happened three years in a row, with Scott McLaughlin winning 18 and 13 races in 2019 and 2020 respectively.
Van Gisbergen's series lead is now a season-high 348 points, with teammate and closest rival Jamie Whincup seventh.
Will Davison loomed to break his five-year winless drought, which dates back 144 starts.
Van Gisbergen went one better than his Saturday charge from sixth to second, claiming his 12th victory of a dominant Supercars season.
But it took a nightmare start from pole-sitter Anton de Pasquale and a major technical problem from de Pasquale's Shell V-Power teammate Will Davison to earn van Gisbergen a statement victory, his 52nd of his career.
De Pasquale won Race 20 and topped every qualifying and practice session through the weekend, but had a woeful start to Race 21, dropping five spots on the start as he almost stalled. He lost another spot to fall to seventh on the first lap.
His veteran teammate Davison got away cleanly and took first in his Ford Mustang, while van Gisbergen again surged up the field, claiming three places to move to third. Nick Percat overtook Jamie Whincup but soon lost it back, while Van Gisbergen stormed past Brodie Kostecki into second before the first lap was finished – making it a four-place rise.
Will Davison was maintaining the lead despite a number of serious technical issues leaving him with no information on his dashboard and a number of other technical problems – including no pit lane limiter, meaning he manually kept his speed below the 40km/h limit without the benefit of a speedometer.
He was forced to completely restart his central power unit while stopped after lap 15, which gave him gear change lights on his dashboard but no other dashboard instruments.
Shane van Gisbergen jumped him in the pits while taking on three new tires, while Davison took on four fresh tires – likely taking the time needed to reboot the car's electronic systems to put on extra tires.
He would never recover the position, finishing second behind van Gisbergen.
Davison was heartbroken after losing out on the chance of a first race win since Bathurst in 2016, saying: "It's gutting. We lost all dash and comms on lap two… No lights, no gear position. We had a blackout in the pit lane… I was just trundling down the pit lane with nothing at all… I'm devastated mate."
De Pasquale had pitted on just lap eight for two tires in a desperate attempt to undercut his rivals and hold them off on degrading tires. He took the lead when van Gisbergen and Davison pitted on the 15th lap, but it wasn't long before he lost top spot.
an Gisbergen used his far fresher tires to overtake De Pasquale on lap 23, with de Pasquale moving aside for the faster Davison immediately afterwards.
Van Gisbergen said: "We had a bit of luck obviously with whatever dramas they had… again, had a pretty fun first lap fighting with those guys."
He said of his over 300-point championship lead: "We do have a big lead but it's not done yet. We had to let everybody know that we're here to win races and not just pick up points."
Brodie Kostecki locked up on lap 29, losing fourth spot to Nick Percat. Percat continued charging upwards, overtaking the struggling de Pasquale into third down the inside on the run to turn six.
De Pasquale was barely holding on with his aging tires, with Brodie Kostecki getting past on lap 31 – the penultimate lap – to move to fourth, just one spot off his second podium in as many days.
De Pasquale was forthright in his analysis of the race: "Ballsed up the start and that's about all she wrote."
Meanwhile van Gisbergen's Red Bull Ampol Racing teammate Jamie Whincup had started fourth, two higher than his teammate, but couldn't make moves in the race. He finished seventh.
And de Pasquale was later found to have accidentally used one of Davison's tires during the race, meaning his points for finishing in fifth were later scrubbed out and the team fined. He said: "I don't worry about it. It is what it is. You can't change things like that."
Whincup was promoted to sixth after de Pasquale's disqualification over the tire mishap.
Race 21 Results
| | | | | |
| --- | --- | --- | --- | --- |
| Pos | No. | Driver | Team | Behind |
| 1 | 97 | Van Gisbergen | Red Bull Holden Racing Team | +0.000s |
| 2 | 17 | Davison | Shell V-Power Racing Team | +1.911 |
| 3 | 8 | Percat | Brad Jones Racing | +9.440 |
| 4 | 99 | B. Kostecki | Penrite Racing – Erebus | +10.786 |
| 5 | 11 | A. de Pasquale | Shell V-Power Racing Team | +12.309 |
| 6 | 3 | Slade | CoolDrive Racing | +16.860 |
| 7 | 88 | Whincup | Red Bull Holden Racing Team | +16.992 |
| 8 | 25 | Mostert | WAU Racing Pty Ltd | +17.548 |
| 9 | 7 | Heimgartner | Nissan Motorsport | +17.983 |
| 10 | 26 | Reynolds | Nissan Motorsport | +18.395 |
| 11 | 14 | T. Hazelwood | Brad Jones Racing | +25.683 |
| 12 | 9 | W. Brown | Erebus Motorsport | +31.601 |
| 13 | 2 | B. Fullwood | WAU Racing Pty Ltd | +34.331 |
| 14 | 6 | C. Waters | Monster Energy Racing | +41.198 |
| 15 | 5 | J. Le Brocq | Truck Assist Racing | +44.852 |
| 16 | 20 | S. Pye | Team 18 | +48.532 |
| 17 | 96 | M. Jones | SCT Motor Sports | +49.396 |
| 18 | 18 | Winterbottom | Team 18 | +50.280 |
| 19 | 44 | Courtney | Boost Mobile Racing | +50.945 |
| 20 | 4 | J. Smith | SCT Motor Sports | +53.621 |
| 21 | 35 | Z. Goddard | Matt Stone Racing | +1:13.392 |
| 22 | 34 | J. Kostecki | Matt Stone Racing | +1:16.619 |
| 23 | 22 | G. Jacobson | Team SYDNEY – Tekno | +1:27.384 |
| 24 | 19 | Coulthard | Team SYDNEY – Tekno | +1 Lap |
Race 22
Anton De Pasquale has defied a spirited Will Brown to claim his second win at the Bunnings Trade Sydney SuperNight.
De Pasquale, who won Saturday's night race, raced from pole to victory in Race 22.
It marked the Shell V-Power Racing Team driver's third win of 2021, and fourth of his career.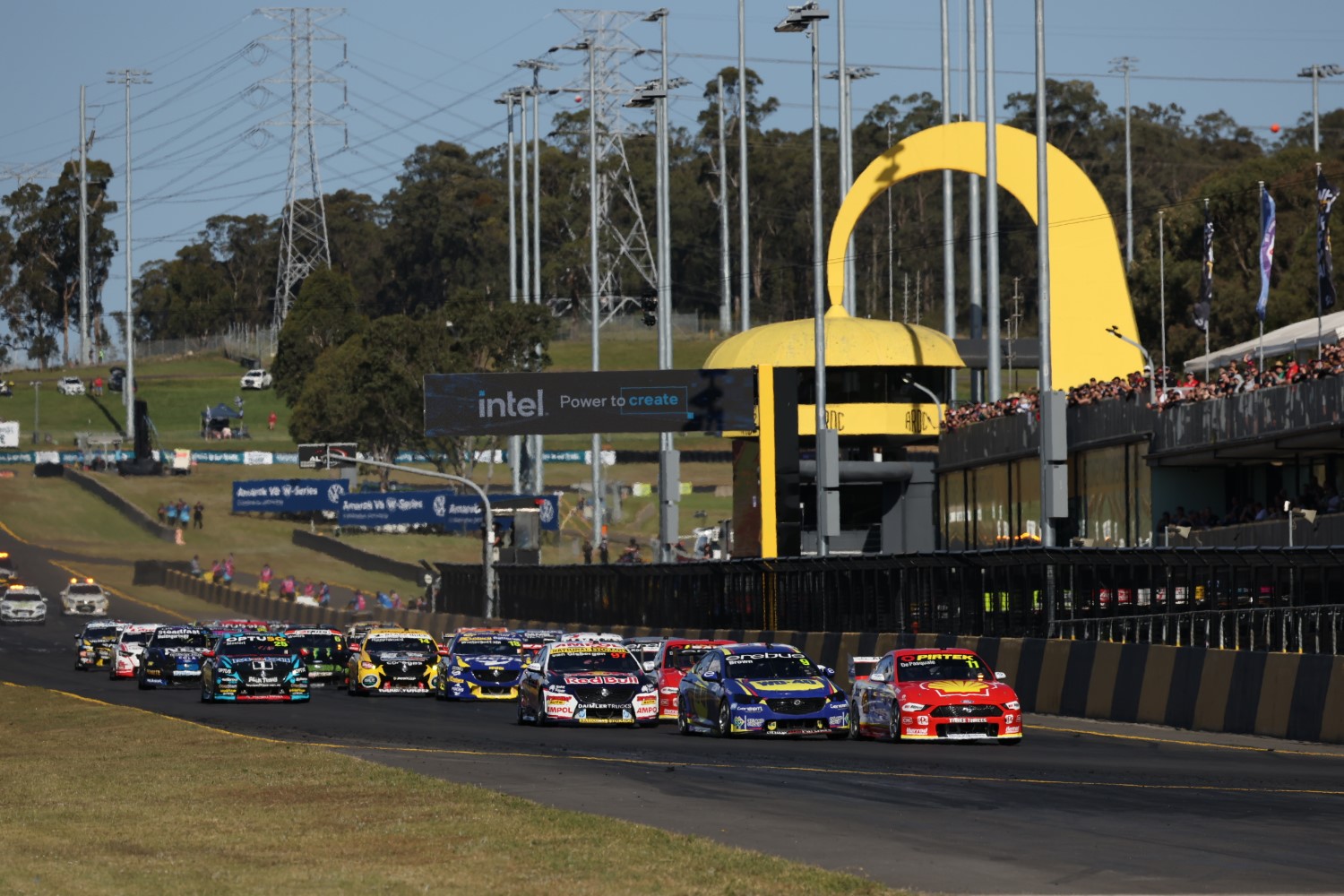 De Pasquale also claimed bonus points for the fastest lap of the race.
Erebus Motorsport rookie Brown, who was left wanting on Saturday due to a botched pit stop, claimed his first career podium.
Jamie Whincup was a lone hand in third, with the Red Bull Ampol Racing driver claiming his first podium since July's WD-40 Townsville SuperSprint.
The final sprint race started in chaotic fashion, with cars bumping and shunting each other in a chaotic jam-packed bunch. While the top four – De Pasquale, Will Brown, Jamie Whincup and Shane van Gisbergen – retained their starting positions, there was chaos further back.
Nick Percat and Chaz Mostert soared three places to sixth and seventh respectively, with Brodie Kostecki and Mark Winterbottom falling three and two places respectively to eighth and ninth.
Todd Hazelwood was involved in a manic first lap and took damage, which sent him spiraling from eighth to the back of the back with a suspected steering arm failure. He was soon taken to the garage but returned to action two laps down.
De Pasquale took on four tires and van Gisbergen three when they pitted on the 12th lap, though De Pasquale's right rear tire was significantly delaminated. Reports from his garage said that he had been scheduled to complete another five laps on that set before being forced into a premature stop.
Chaz Mostert overtook Tim Slade, who had stopped early once again, to move into eighth.
Will Brown changed four tires on lap 16 and emerged just ahead of Shane van Gisbergen, with de Pasquale and Davison ahead of that duo behind Jack le Brocq, the only man to not yet pit by that stage.
Van Gisbergen dove down the inside of Will Davison to take third on lap 20, with Whincup quickly following his teammate past Davison.
Waters was charging up the field, getting past Percat and Heimgartner to get up to P10.
Fabian Coulthard started last after a poor qualifying, but had picked up seven places before breaking a driveshaft and retiring.
Whincup – second in the championship but having a poor weekend – got past teammate van Gisbergen on the second attempt on the penultimate corner on lap 24 to regain his original third-place starting position.
De Pasquale had led by almost 10 seconds, but was forced to manage his tires as his former teammate at Erebus Motorsport Will Brown cut it down to 1.8 seconds with eight laps remaining.
By lap 27, the lead was less than a second. The pair engaged in a frenzied battle as Brown touched his rival's rear end on the final corner before pit straight, but Brown's tires were diminishing and he eventually fell to defeat by 1.2 seconds.
Race 22 Results
| | | | | |
| --- | --- | --- | --- | --- |
| Pos | No. | Driver | Car | Behind |
| 1 | 11 | Anton De Pasquale | Ford Mustang GT | 0.000s |
| 2 | 9 | Will Brown | Holden Commodore ZB | 1.262s |
| 3 | 88 | Jamie Whincup | Holden Commodore ZB | 20.575s |
| 4 | 97 | Shane van Gisbergen | Holden Commodore ZB | 28.166s |
| 5 | 17 | Will Davison | Ford Mustang GT | 33.234s |
| 6 | 6 | Cameron Waters | Ford Mustang GT | 34.543s |
| 7 | 25 | Chaz Mostert | Holden Commodore ZB | 37.739s |
| 8 | 5 | Jack Le Brocq | Ford Mustang GT | 39.461s |
| 9 | 3 | Tim Slade | Ford Mustang GT | 41.636s |
| 10 | 18 | Mark Winterbottom | Holden Commodore ZB | 44.136s |
| 11 | 8 | Nick Percat | Holden Commodore ZB | 46.422s |
| 12 | 44 | James Courtney | Ford Mustang GT | 46.435s |
| 13 | 7 | Andre Heimgartner | Ford Mustang GT | 51.391s |
| 14 | 26 | David Reynolds | Ford Mustang GT | 55.242s |
| 15 | 99 | Brodie Kostecki | Holden Commodore ZB | 55.440s |
| 16 | 96 | Macauley Jones | Holden Commodore ZB | 56.739s |
| 17 | 34 | Jake Kostecki | Holden Commodore ZB | 58.591s |
| 18 | 2 | Bryce Fullwood | Holden Commodore ZB | 1'04.493s |
| 19 | 4 | Jack Smith | Holden Commodore ZB | 1'10.825s |
| 20 | 20 | Scott Pye | Holden Commodore ZB | 1'11.160s |
| 21 | 22 | Garry Jacobson | Holden Commodore ZB | 1'11.932s |
| 22 | 35 | Zane Goddard | Holden Commodore ZB | 1'18.317s |
| 23 | 14 | Todd Hazelwood | Holden Commodore ZB | 3 Laps |
| 24 | 19 | Fabian Coulthard | Holden Commodore ZB | 15 Laps |
Top-10 Point Standings
| | | | | |
| --- | --- | --- | --- | --- |
| Pos | Driver | Team | Points | Behind |
| 1 | Shane van Gisbergen › | Red Bull Ampol Racing – Holden Commodore ZB | 2198 | 0 |
| 2 | Jamie Whincup › | Red Bull Ampol Racing – Holden Commodore ZB | 1860 | -338 |
| 3 | Will Davison › | Shell V-Power Racing – Ford Mustang | 1735 | -463 |
| 4 | Chaz Mostert › | Mobil 1™ Appliances Online Racing – Holden Commodore ZB | 1702 | -496 |
| 5 | Cameron Waters › | Monster Energy Racing – Ford Mustang | 1670 | -528 |
| 6 | Anton De Pasquale › | Shell V-Power Racing – Ford Mustang | 1451 | -747 |
| 7 | Nick Percat › | Brad Jones Racing – Holden Commodore ZB | 1342 | -856 |
| 8 | Mark Winterbottom › | IRWIN Racing – Holden Commodore ZB | 1272 | -926 |
| 9 | William Brown › | Erebus Motorsport – Holden Commodore ZB | 1222 | -976 |
| 10 | Brodie Kostecki › | Erebus Boost Mobile Racing – Holden Commodore ZB | 1208 | -990 |