World of Outlaws Sprint Car Series 2022 schedule
The World of Outlaws Sprint Car series announced their 2022 schedule that includes more than 80 races in 22 states.
The 2022 season will also feature a record 1-million-dollar points' payout with $200,000 going to the champion and $100,00 to second. The purse will be boosted by $350,000 with the top 20 positions all boasting increases.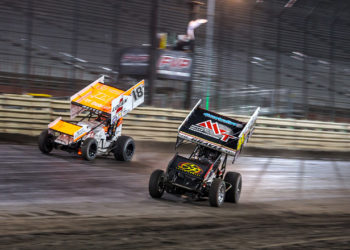 "The strength of World of Outlaws Sprint Cars and our devotion to the series was showcased in 2020 by overcoming the pandemic," said Brian Carter, CEO of the World of Outlaws in a release.
"Then, we took off running in 2021 with the return of big events and the increase in purses throughout the year. Now, in 2022, we're eager to build off that momentum and continue to show why the World of Outlaws is 'The Greatest Show on Dirt.' There are a lot of new and exciting things in store for drivers and fans alike in 2022 that we've been looking forward to for a while."
2022 Schedule
February
Thursday-Saturday, Feb. 10-12 – Volusia Speedway Park
Friday, Feb. 25 – Magnolia Motor Speedway
Saturday, Feb. 26 – The Rev
March
Friday-Saturday, March 4-5 – Cotton Bowl Speedway
Friday-Saturday, March 11-12 – Thunderbowl Raceway
Friday, March 18 – Merced Speedway
Saturday, March 19 – Ocean Speedway
Friday, March 25 – Bakersfield Speedway
Saturday, March 26 – Perris Auto Speedway
Tuesday, March 29 – Vado Speedway Park
April
Friday, April 1 – Lawton Speedway
Saturday, April 2 – Devil's Bowl Speedway
Friday, April 8 – US 36 Raceway
Saturday, April 9 – Lake Ozark Speedway (Jason Johnson Classic)
Friday-Saturday, April 15-16 – Federated Auto Parts Raceway at I-55
Friday, April 22 – Tri-City Speedway (IL)
Saturday, April 23 – Tri-State Speedway (IN)
Thursday-Saturday, April 28-30 – Bristol Motor Speedway
May
Friday-Saturday, May 6-7 – Eldora Speedway
Tuesday, May 10 – Lincoln Speedway
Friday-Saturday, May 13-14 – Williams Grove Speedway
Tuesday, May 17 – Bridgeport Speedway
Friday, May 20 – Attica Raceway Park
Saturday, May 21 – Sharon Speedway
Saturday, May 28 – Atomic Speedway
Monday, May 30 – Lawrenceburg Speedway
June
Friday, June 3 – River Cities Speedway
Sunday, June 5 – Huset's Speedway
Friday-Saturday, June 10-11 – Knoxville Raceway
Friday-Saturday, June 17-18 – Beaver Dam Raceway
Thursday-Saturday, June 23-25 – Huset's Speedway
July
Friday-Saturday, July 1-2 – Cedar Lake Speedway
Friday, July 8 – 34 Raceway
Saturday, July 9 – Wilmot Raceway
Tuesday, July 12 ­– Attica Raceway Park
Wednesday-Saturday, July 13-16 – Eldora Speedway
Wednesday, July 20 – Port Royal Speedway
Friday-Saturday, July 22-23 – Williams Grove Speedway
Friday, July 29 – TBA
Saturday, July 30 – Weedsport Speedway
August
Friday-Saturday, Aug. 5-6 – Federated Auto Parts Raceway at I-55
Wednesday-Saturday, Aug. 10-13 – Knoxville Raceway
Thursday-Saturday, Aug. 18-20 – Jackson Motorplex
Friday, Aug. 26 – River Cities Speedway
Saturday, Aug. 27 – Red River Valley Speedway
September
Thursday-Saturday, Sept. 1-3 – Skagit Speedway
Monday, Sept. 5 – Grays Harbor Raceway
Friday-Saturday, Sept. 9-10 – Silver Dollar Speedway
Friday, Sept. 16 – Keller Auto Speedway
Saturday, Sept. 17 – Placerville Speedway
Friday, Sept. 23 – Eldora Speedway
Saturday, Sept. 24 – Sharon Speedway
Friday, Sept. 30-Saturday, Oct. 1 – Williams Grove Speedway
October
Friday-Saturday, Oct. 7-8 – Port Royal Speedway
Friday-Saturday, Oct. 14-15 – TBA
Friday-Saturday, Oct. 21-22 – TBA
Friday-Saturday, Oct. 28-29 – TBA
November
Thursday-Saturday, Nov. 3-5 – The Dirt Track at Charlotte