Editorial: Is Larson on par with Hamilton and Verstappen as world's best?
(Update)
Sunday, Tony Stewart called Kyle Larson the greatest driver he has ever seen race.  Here is a summary of Larson's year:
NASCAR Oval wins (Vegas/Charlotte Coke 600/Nashville/Bristol/Texas/Kansas/PHX)

NASCAR Road course wins (Sonoma/Glen/Charlotte

Roval)

Winner, NASCAR All-Star Race ($1 million to the winner)

NASCAR Cup

Champion

Most NASCAR wins – 10 + All-Star Race, so 11
Most NASCAR laps led (NASCAR record, breaking Jeff Gordon record)
Most NASCAR top-10s
Most NASCAR Top-5s
Most NASCAR Stage wins
Most NASCAR regular season Points
Most NASCAR playoff wins

Winner, Chili Bowl (Midget)

Winner, All-Tech race (Late Model)
Winner Williams Grove (Sprint Car)
Winner, Brownstown (Late Model)
Winner, Atomic (Sprint Car)

Winner Kings Royal (Sprint Car)

Winner,  Knoxville Nationals (Sprint Car)

Winner, Lawrenceburg (Sprint Car)
Winner, Wayne County (Sprint Car)
Winner, Waynesfield (Sprint Car)
Winner, Grandview (Sprint Car)
Winner, Port Royal (Sprint Car)
Winner, Fairbury (Late Model)
Winner, Southern Iowa (Sprint Car)
Winner, Knoxville (Sprint Car)
Winner, BC39 at IMS (Midget)

Winner,

Prairie Dirt Classic (Late Model)

Winner Sharon (Late Model)
---
November 5, 2021
With one race remaining in this NASCAR Cup season, Kyle Larson has wrecked out of just one race and completed 97.7 percent of all the laps and dominated all the statistics:
Victories (nine, ten if you include the All-Star race)
Stage wins (17)
Top fives (19)
Top 10s (25)
Laps led (2,474).
He's been as strong in the playoffs, winning four of nine races.
We here at AutoRacing1.com think he is the best American driver of this era, and if he had a chance to get a proper F1 seat, would show the world he is on par with Lewis Hamilton and Max Verstappen.
Before you think we're crazy, let's explore some more facts.
Rick Hendrick: He believes he can win in anything
"I think the word was, before this year, that Kyle was fast, but he couldn't close, he couldn't run a 500-mile race and be there at the end," said team owner Rick Hendrick. "He's proven everybody wrong in that area.
"You know when a guy's fast, he's capable. But then I've witnessed him being so good at managing his tires and giving up a little bit in one part of the race to be better at the end, give up a little bit early in the run to be good at the end of the run.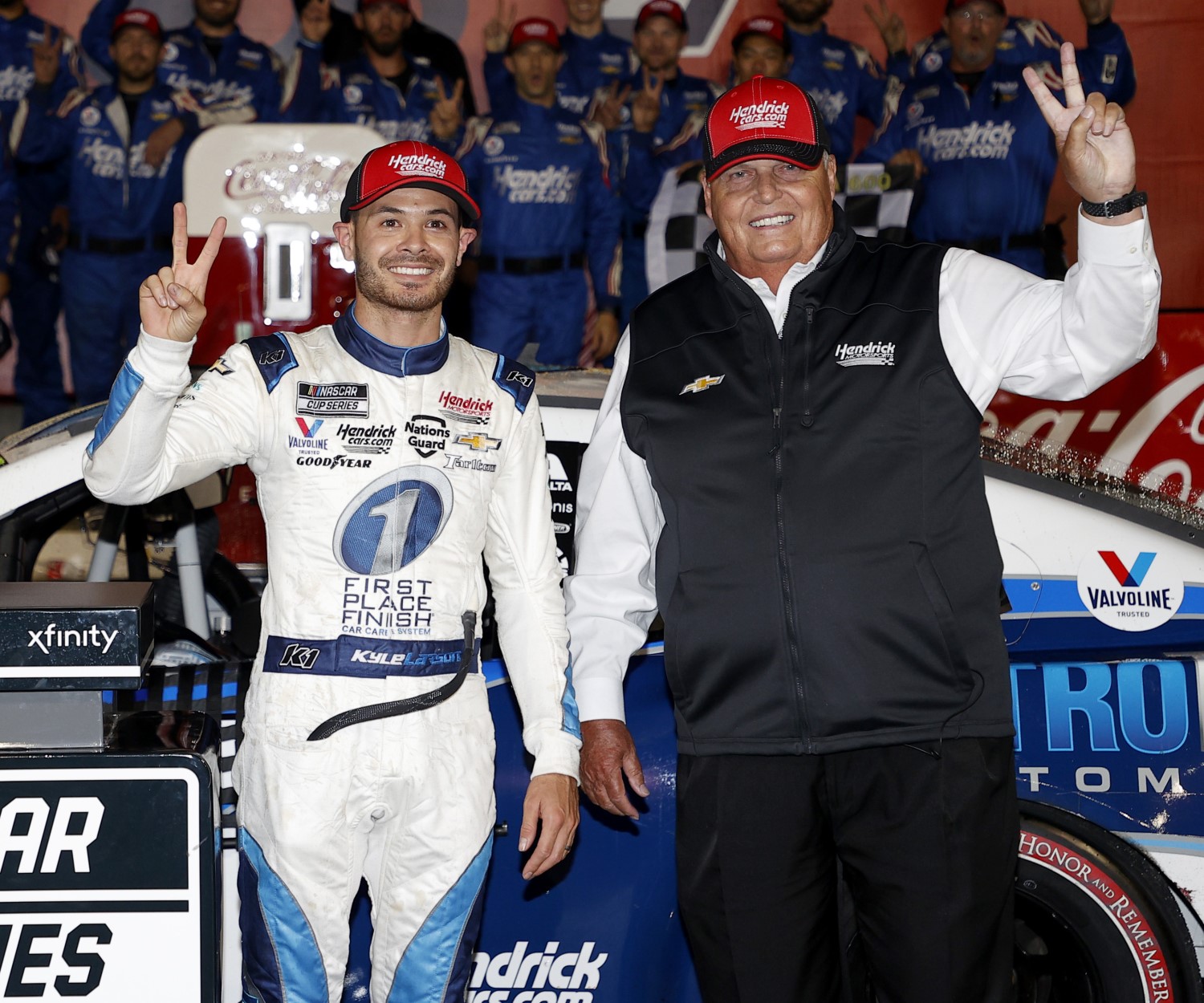 "That takes a lot of patience. When you couple patience and understanding of what the tire and car can do, then you put that talent with it, you see the results this year. I've been amazed at how he can control a race."
Hendrick said another element to Larson's on-track performance this season is his confidence.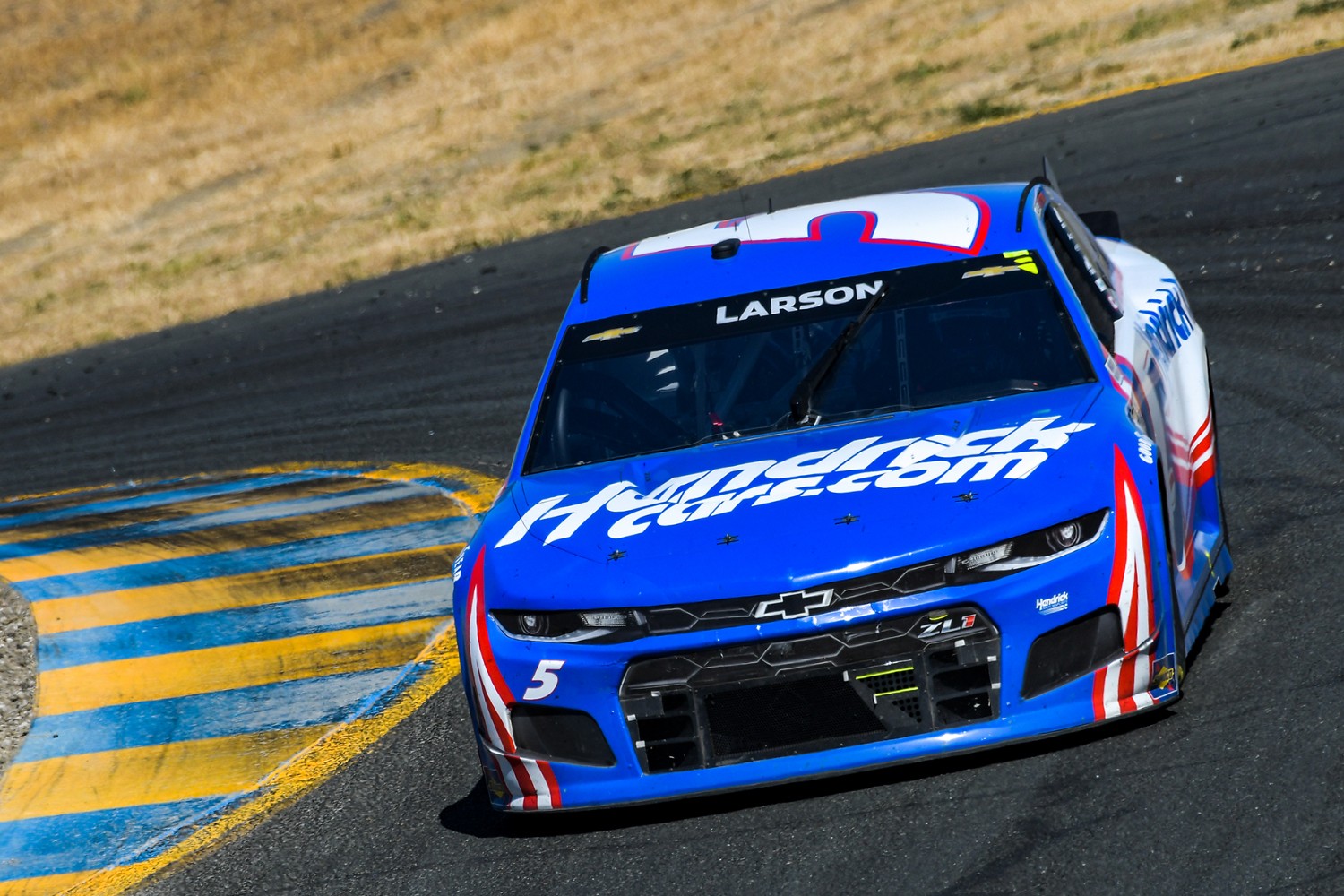 "He believes that he can drive anything, and he believes he can win in anything," Hendrick said. "That confidence builds a lot of – he just gets in a car ready to go."
"I can see why he's won so many races, not just in our car, but everything he gets in," Hendrick said. "He's competitive, smart.
"I mean, a lot of people might be fast, but they don't know how to race. He knows how to race."
Brad Sweet: None of us had ever seen anything like him
Brad Sweet, Larson's competitor when he runs in World of Outlaws, knows how great Larson is.
 Sweet sees things about Larson that most sitting in the stands don't.
"I guarantee you," Sweet told NBC Sports, "if you asked every driver who the best driver that they've raced against in this generation, that 99% of the people that have raced against Kyle would say Kyle Larson because you just see things that he does on the racetrack, whether it be in a dirt car, whether it be in a go-kart playing in the backyard, whether it be in a stock car. You just see a natural talent that is just able to elevate anything he drives to another level."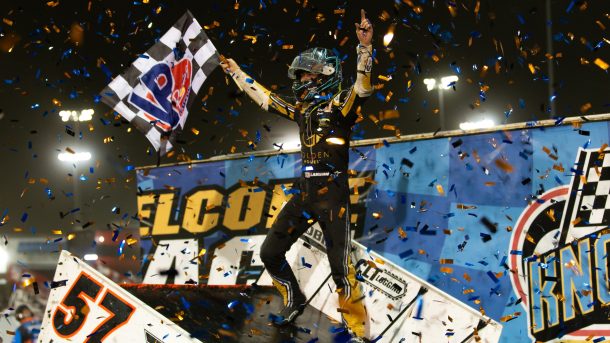 Sweet notes the one ability Larson has that few can match is "his eyes and his hand-eye coordination, how he sees things."
"When he talks about a race, he'll tell you something about how he saw you move your line, or he saw a piece of mud that moved a little, or he saw the scoreboard on the backstretch and knew there were this many laps to go. … He doesn't realize, for other drivers, it's not happening that slow for them," Sweet said.
"The stock car world is going to see. He's going to be a force, a factor for a very long time, as long as he wants to be. We've known about how talented he is in the dirt world for a very long time because none of us had never seen anything like him."
"You'd have to put Kyle Busch in a category of Kyle Larson," Sweet said, comparing Larson with the two-time Cup champion. "Obviously, there are talents like Lewis Hamilton and Max Verstappen that are out of this world. I'm not going to go as far and say that Kyle (Larson) is the best racer in the world, but he's certainly in the debate as one of the greatest talents that we've ever seen in our generation and one of the best overall drivers in the world.
"I'd love to see how he stacked up in an IndyCar. I'd love to see how he would stack up in a Formula One car. He's the type of person that can actually draw all of motorsports together because he's the only guy, I think, that is naturally talented enough that he could get in all these different cars, a late model, a sprint car, an IndyCar, a stock car and actually be up to speed very quick.
"You just plug him in the car, you give him two or three laps, a couple of runs and he's going to be as fast or faster than his teammate or whoever is in something similar. It's just who he is and how he is able to adapt. It's very unbelievable. I wish I knew exactly what it was how he sees things. He can't explain it. I've asked him a thousand times."
"Not that I don't want to be just referenced as the greatest NASCAR driver of all time or the greatest sprint car driver of all time," Larson told NBC Sports before the playoffs began, "I want to be known as somebody who could climb into all different types of cars and be great at what they do."
Mark C. reporting for AutoRacing1.com