WEC: No. 7 Toyota on pole in Bahrain; Porsche fastest in LMGTE Pro
Toyota Gazoo Racing's Kamui Kobayashi has taken pole position in Bahrain at the wheel of the No. 7 Toyota GR010 Hybrid Hypercar to extend his and Jose-Maria Lopez and Mike Conway's title lead to 16 points.
Kevin Estre in the No. 92 Porsche GT Team 911 RSR tops LMGTE Pro for the fifth time this season. Point for pole means Porsche and No. 51 AF Corse Ferrari crews are tied on points heading into finale tomorrow.
In LMP2, United Autosports USA seal pole and LMGTE Am top spot falls to Roberto Lacorte for Cetilar Racing for Italian teams' first pole.
Kamui Kobayashi (GR010 HYBRID #7): "Both cars knew this was going to be a very important qualifying session for the World Championship. It was a big fight, one of the toughest qualifying sessions of the year. Actually I didn't expect pole because I had struggled a bit in practice but Mike, José and the team helped me a lot. We made a big adjustment and it worked well. I was happy with my lap and the team effort to achieve this pole position. To finish the season with a win would be great. It's an important race for me personally because it's Kazuki's last race with the team. He is a brilliant driver and team-mate so I hope his last race will be one of the best."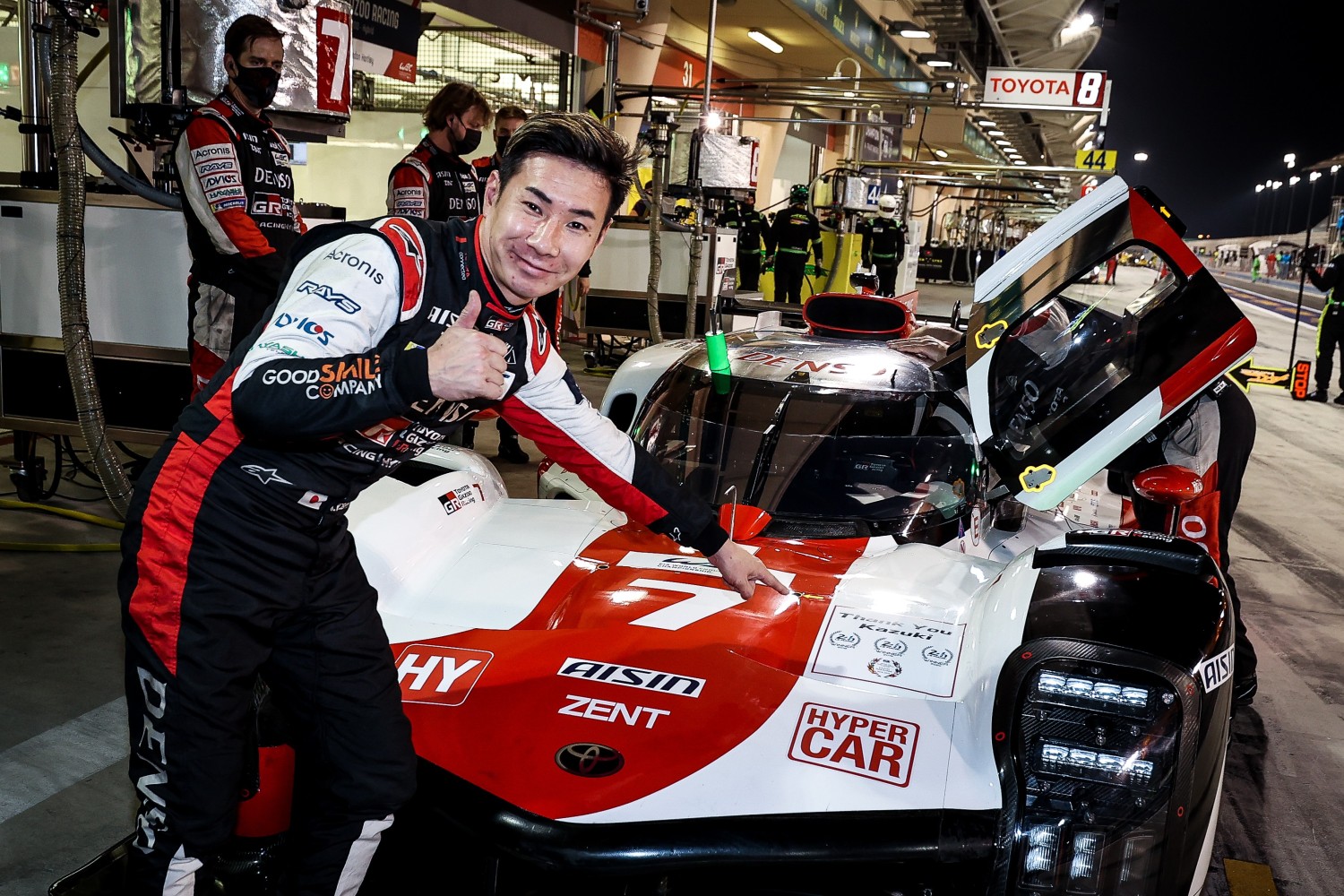 Below are the main headlines from Qualifying.
Hypercar
Toyota Gazoo Racing 1-2 on grid for final round of 2021 FIA WEC at the Bapco 8 Hours of Bahrain
Kamui Kobayashi slams in a 1m46.250s lap to lead sister No. 8 car by 0.6s
No. 8 Toyota in hands of Brendon Hartley goes for second lap but lock-up compromises Kiwi and he has to settle for second
Alpine Elf Matmut to start third with Matthieu Vaxiviere setting a 1m47.025s lap
LMGTE Pro
Kevin Estre tops LMGTE Pro in No. 92 Porsche to take fifth pole of the season
Frenchman laps in 1m56.041s but faces close fight with No. 51 AF Corse Ferrari second
James Calado gets within 0.160s of Estre's time in thrilling session
No. 51 AF Corse Ferrari 488 GTE Evo heads No.91 Porsche GT Team 911 RSR driven by Gimmi Bruni
Bruni sets a late lap of 1m56.541s after losing lap for track limits and starts third ahead of No. 52 AF Corse driven by Daniel Serra
LMP2
Filipe Albuquerque takes last ditch pole United Autosports USA entry with sensational 1m49.525s lap
Second pole of the season for United as they have 0.2s advantage
Realteam Racing close to LMP2 pole but pipped by Albuquerque. But blue LMP2 car also has best Pro/Am entry with Norman Nato peaking on a 1m49.819s
JOTA head start third as No. 38 car driven by Antonio Felix da Costa sets best of 1m49.910s
Team WRT start lowly seventh in class but ahead of title rivals No. 28 only ninth after troubled session
LMGTE Am
Cetilar Racing continue excellent form as Roberto Lacorte sets pole time in No. 47 Ferrari 488 GTE Evo
Italian takes first pole position of season with a 1m58.712s lap just 0.047s ahead of title leading No. 83 AF Corse Ferrari
Francois Perrodo places second as he and Niklas Nielsen and Alessio Rovera look to defend title
Exceptional third in LMGTE Am is Sarah Bovy in No. 85 Iron Lynx Ferrari for best qualifying effort of season
Qualifying Results
Pos

No Drivers

Team

Cat

QP

LMGTE

HC-LMP

Time

Behind

Gap

1

7 M. CONWAY / K. KOBAYASHI / J. LOPEZ

Toyota Gazoo Racing

HYPERCAR

H

1:46.250

1:46.250

0.000s
0.000s

2

8 S. BUEMI / K. NAKAJIMA / B. HARTLEY

Toyota Gazoo Racing

HYPERCAR

H

1:46.540

1:46.540

0.290s

0.290s

3

36 A. NEGRÃO / N. LAPIERRE / M. VAXIVIERE

Alpine Elf Matmut

HYPERCAR

1:47.025

1:47.025

0.775

0.485

4

22 P. HANSON / F. SCHERER / F. ALBUQUERQUE

United Autosports USA

LMP2

1:49.525

1:49.525

3.275

2.500

5

70 E. GARCIA / L. DUVAL / N. NATO

Realteam Racing

LMP2

P/A

1:49.819

1:49.819

3.569

0.294

6

38 R. GONZALEZ / A. DA COSTA / A. DAVIDSON

JOTA

LMP2

1:49.910

1:49.910

3.660

0.091

7

29 F. VAN EERD / G. VAN DER GARDE / J. VAN UITERT

Racing Team Nederland

LMP2

P/A

1:50.149

1:50.149

3.899

0.239

8

20 D. ANDERSEN / A. FJORDBACH / R. KUBICA

High Class Racing

LMP2

P/A

1:50.372

1:50.372

4.122

0.223

9

1 T. CALDERON / S. FLOERSCH / B. VISSER

Richard Mille Racing Team

LMP2

1:50.744

1:50.744

4.494

0.372

10

31 R. FRIJNS / F. HABSBURG / C. MILESI

Team WRT

LMP2

1:51.063

1:51.063

4.813

0.319

11

21 H. HEDMAN / J. MONTOYA / B. HANLEY

DragonSpeed USA

LMP2

P/A

1:51.134

1:51.134

4.884

0.071

12

28 S. GELAEL / S. VANDOORNE / T. BLOMQVIST

JOTA

LMP2

1:51.145

1:51.145

4.895

0.011

13

34 J. SMIECHOWSKI / R. VAN DER ZANDE / A. BRUNDLE

Inter Europol Competition

LMP2

1:51.187

1:51.187

4.937

0.042

14

44 M. KONOPKA / O. CALDWELL / N. PANCIATICI

ARC Bratislava

LMP2

P/A

1:51.424

1:51.424

5.174

0.237

15

92 K. ESTRE / N. JANI / M. CHRISTENSEN

Porsche GT Team

LMGTE Pro

1:56.041

1:56.041

9.791

4.617

16

51 A. PIER GUIDI / J. CALADO

AF Corse

LMGTE Pro

1:56.201

1:56.201

9.951

0.160

17

91 G. BRUNI / R. LIETZ / F. MAKOWIECKI

Porsche GT Team

LMGTE Pro

1:56.541

1:56.541

10.291

0.340

18

52 D. SERRA / M. MOLINA

AF Corse

LMGTE Pro

1:56.603

1:56.603

10.353

0.062

19

47 R. LACORTE / G. SERNAGIOTTO / A. FUOCO

Cetilar Racing

LMGTE Am

1:58.712

1:58.712

12.462

2.109

20

83 F. PERRODO / N. NIELSEN / A. ROVERA

AF Corse

LMGTE Am

1:58.759

1:58.759

12.509

0.047

21

85 R. FREY / S. BOVY / K. LEGGE

Iron Lynx

LMGTE Am

1:58.958

1:58.958

12.708

0.199

22

56 E. PERFETTI / M. CAIROLI / R. PERA

Team Project 1

LMGTE Am

1:58.989

1:58.989

12.739

0.031

23

33 B. KEATING / D. PEREIRA / F. FRAGA

TF Sport

LMGTE Am

1:59.087

1:59.087

12.837

0.098

24

98 P. DALLA LANA / A. FARFUS / M. GOMES

Aston Martin Racing

LMGTE Am

1:59.096

1:59.096

12.846

0.009

25

88 K. AL QUBAISI / A. JEFFERIES / J. ANDLAUER

Dempsey – Proton Racing

LMGTE Am

1:59.359

1:59.359

13.109

0.263

26

54 T. FLOHR / F. CASTELLACCI / G. FISICHELLA

AF Corse

LMGTE Am

1:59.492

1:59.492

13.242

0.133

27

77 C. RIED / J. EVANS / M. CAMPBELL

Dempsey – Proton Racing

LMGTE Am

1:59.936

1:59.936

13.686

0.444

28

57 T. KIMURA / M. JENSEN / S. ANDREWS

Kessel Racing

LMGTE Am

2:00.301

2:00.301

14.051

0.365

29 777 S. HOSHINO / T. FUJII / A. WATSON

D'Station Racing

LMGTE Am

2:00.364

2:00.364

14.114

0.063

30 86 M. WAINWRIGHT / B. BARKER / T. GAMBLE

GR Racing

LMGTE Am

2:01.282

2:01.282

15.032

0.918

31 60 C. SCHIAVONI / A. PICCINI / M. CRESSONI

Iron Lynx

LMGTE Am

2:01.941

2:01.941

15.691

0.659