NASCAR: Truck Series Phoenix Notebook
Phoenix winner Chandler Smith takes season rookie honors as well
Kyle Busch Motorsport's Chandler Smith finalized his NASCAR Camping World Truck Series Sunoco Rookie of the Year honor with a huge walk-off win in Friday night's season finale at Phoenix Raceway – earning the victory by a healthy 4.674-seconds over Halmar Friesen Racing's Stewart Friesen.
The win was the second of the 19-year old's young career, matching a victory at Bristol (Tenn.) Motor Speedway in September. His hard work was not only a race trophy, but the season's top rookie honors over fellow Playoff driver Carson Hocevar, who finished 10th at Phoenix.
It marked the 10th win of the season for Kyle Busch Motorsports and the 90th of the team's tenure in the series.
"First and foremost, all glory to the man upstairs," Smith said, adding. "He blessed me with a great family just being around great people and being able to compete in high-tier equipment, I'm just really blessed right now."
Smith completed the season with nine top-10 finishes, six top-five finishes and the two wins. He led 213 laps.
Ben Rhodes gifts ThorSport Racing its first owner title
Ben Rhodes' championship effort was a first for the 24-year-old Kentucky driver and a first for owner title for his team owners, Duke and Rhonda Thorson, who own Rhodes' No. 99 ThorSport Racing Toyota and a five-truck powerhouse organization that has competed in the series since 1996.
It's the fourth driver's title for the operation, but the first team owner's championship for the Sandusky, Ohio based team.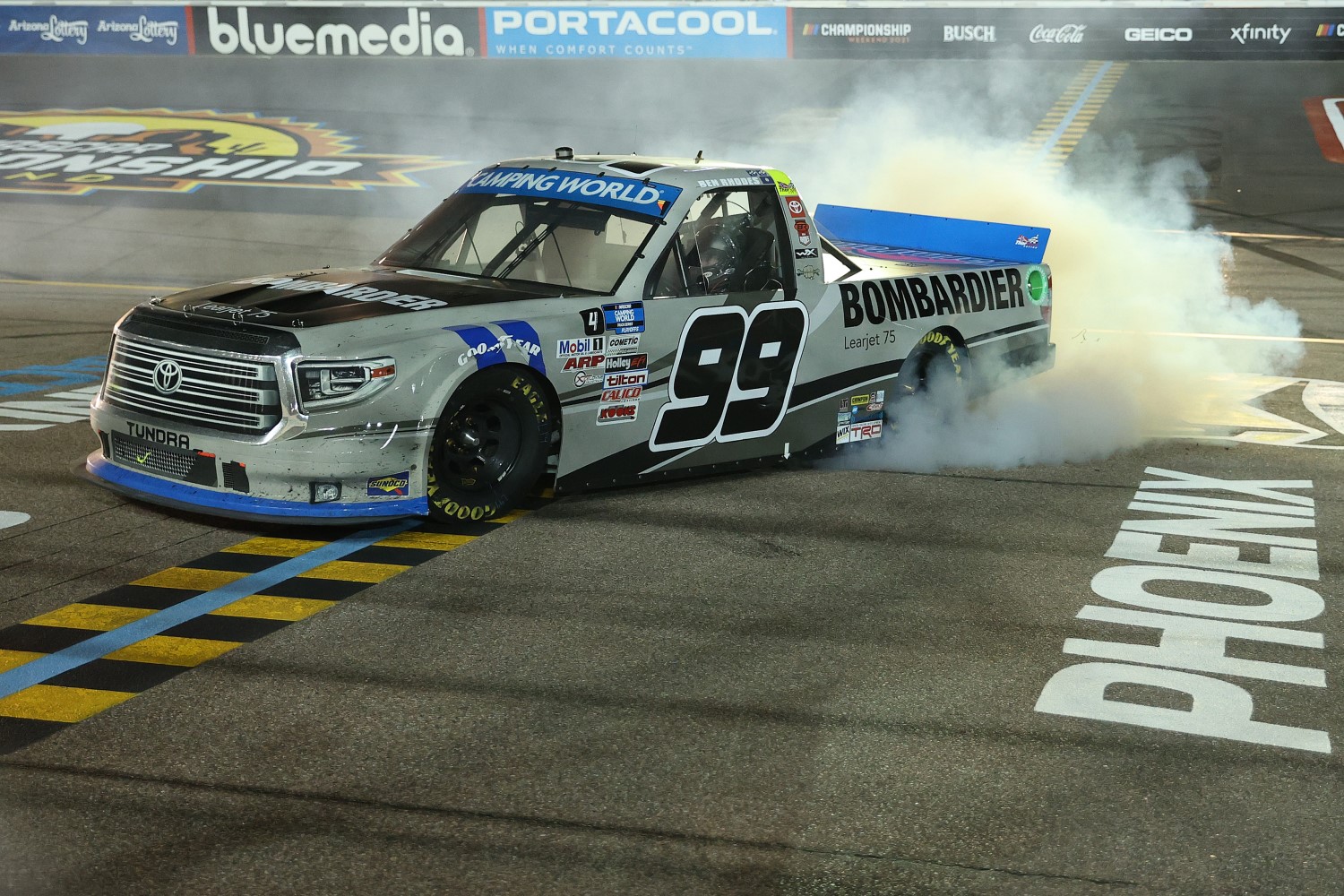 "I wouldn't even be here today if it wasn't for Duke and Rhonda," a smiling Rhodes said, holding his championship trophy.
"They gave me my opportunity in the sport. They were my very first full time national series team that I raced for and I've been with them ever since. They are so amazing and I can't even begin to thank them enough.
"This has just been the ride of a lifetime and I hope it's not over. This is a feeling you get and savor for the rest of your life, but you're hungry for more. I love this, but I love racing even more and Daytona can't get here fast enough."
The ThorSport Racing team had two drivers in the Championship 4 at Phoenix, with three-time series champion Matt Crafton finishing fourth among them with a 12th place effort on Friday.
Zane Smith goes back-to-back Camping World Truck seasons as runner-up
For much of Friday's NASCAR Camping World Truck Series championship finale, it looked like the 22-year-old Californian Zane Smith may pull off the season upset. He was the leading the championship-eligible driver up until eight laps to go when Ben Rhodes passed him.
Instead, the driver of the No. 21 GMS Racing Chevrolet finished fifth in his second Championship 4 appearance in as many career Truck seasons.
"I just needed my truck to turn, we struggled since we unloaded," said Smith, who scored a dramatic victory at Martinsville (Va.) Speedway last week to literally win a shot at the championship.
"We were eight laps away from winning the championship, really," Smith said, sitting on pit road while fireworks went off in the distance behind him.
"I almost got Chevrolet another one. I tried using all my tools from my side of things, but just could not get the thing to turn and struggled with that all night."
Rough night for championship favorite John Hunter Nemechek
Kyle Busch Motorsports driver John Hunter Nemechek won a series-best five races and the 2021 NASCAR Camping World Truck Series Regular Season Championship, but his fortune took a turn Friday night when a mid-pack qualifying effort essentially left him vulnerable in his push for the title.
Literally from the opening lap Nemechek's No. 4 Kyle Busch Motorsports Toyota found trouble – careering off trucks and the track wall before going two laps down early in the race.
His Kyle Busch Motorsports team repaired the damage and Nemechek remained focused as he raced back up through the field, getting back onto the lead lap by the final stage and powering forward in the closing dozen of laps. It was not enough, however and he finished seventh – third among the four Championship eligible trucks.
"Got run into on the first corner, got in the fence, someone else ran into us on the left side, I mean, the thing's killed pretty much," a dejected Nemechek said. "Had a left front tire go flat. Went down two laps, battled back and got both of our laps back. Just short. Needed more laps, I guess."
Nemechek can take some solace in turning in series-best statistics. His five wins, 12 top fives and 16 top 10s finishes led all drivers.
"We came here to win races this year and we succeeded, but came up short in the championship. Hashtag "back for more" next year," Nemechek said.
Not the night for veteran Matt Crafton in Phoenix
Three-time Camping World Truck Series champion Matt Crafton reiterated all week that he was prepared to hoist a record-tying fourth title trophy. But it was to be. The veteran never challenged for the race lead and after running top-10 for much of the night, eventually ended up 12th at the checkered flag in the No. 88 ThorSport Racing Toyota.
"That whole group over there deserves it," Crafton graciously offered of Rhodes championship team.
Crafton's 12th-place run at Phoenix marked the first non-top-10 finish of the Playoffs.
"We really fought free off all night," Crafton said. "Really free off, center off. Never really could get ahold of it for whatever reason. I'm excited for Ben (Rhodes), Duke and Rhonda (Thorson), everybody over there.
"All-in-all, regroup, head to Daytona, go to 2022," he added. By Holly Cain/NASCAR Wire Service