Supercars: Red Bull finish one-two in 250th start
In the team's 250th round start, Red Bull drivers Shane van Gisbergen and Jamie Whincup have finished one-two in the opening race of the Armor All Sydney SuperNight.
It could've been a different story though, had it not been for a disastrous pit stop cruelling the chances of rookie Will Brown who started from pole and took out an early lead.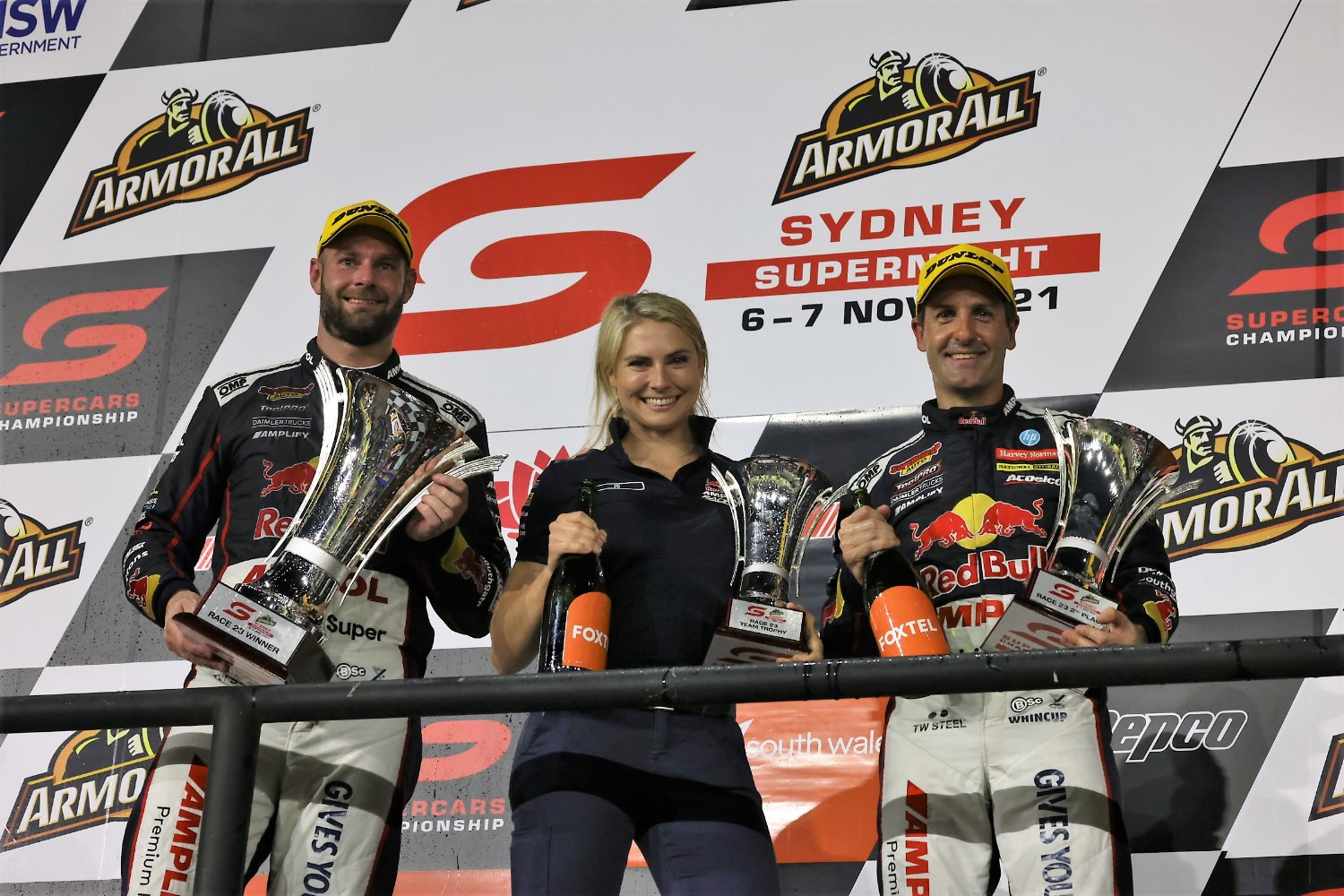 For the second week in a row, rookie Brown had problems in pit lane involving a tyre change. He was leading at the time of the incident, which ended his hopes of maiden career win and in turn opened the door for van Gisbergen and Whincup to take the lead.
From there, the Red Bull duo were never troubled and cleared away for a 1-2 result with van Gisbergen winning from Whincup.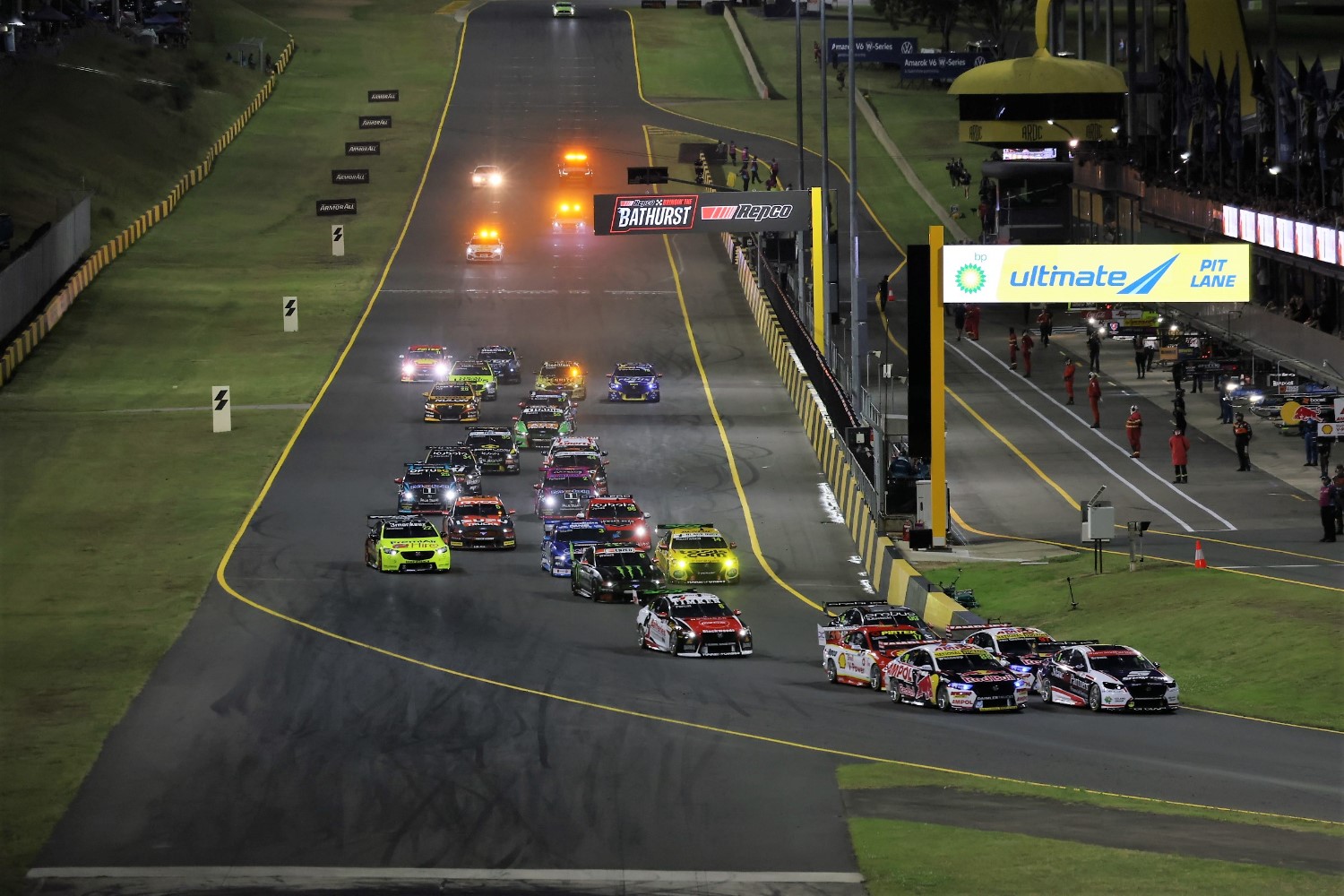 Shell Ford's Will Davison was third after holding off Nick Percat for the final spot on the podium.
Tonight's result sees van Gisbergen join a small group of drivers to have won 13 or more races in a season and opened his Championship lead to 338 points over Whincup.
Race 23 at the ARMOR ALL Sydney Sydney SuperSprint marked van Gisbergen's 13th win of the 2021 season, and 53rd of his career.
With the victory, he became the sixth driver to win 13 or more races in a year.
Red Bull Ampol Racing teammate Jamie Whincup, who finished second behind van Gisbergen, has done it twice.
Whincup won 15 races in 2008 and 14 races in 2014; both years, he won the championship.
Tonight's race is the first of two under lights this weekend in a first for the Eastern Creek venue.
Tomorrow could be a very different story with wet weather expected for the second night race of the event.
Race Results
| | | | | |
| --- | --- | --- | --- | --- |
| POS | No. | DRIVER | TEAM | BEHIND |
| 1 | 97 | Van Gisbergen | Red Bull Holden Racing Team | +0.000s |
| 2 | 88 | Whincup | Red Bull Holden Racing Team | +17.002 |
| 3 | 17 | Davison | Shell V-Power Racing Team | +24.715 |
| 4 | 8 | Percat | Brad Jones Racing | +25.303 |
| 5 | 14 | T. Hazelwood | Brad Jones Racing | +26.214 |
| 6 | 5 | J. Le Brocq | Truck Assist Racing | +30.398 |
| 7 | 3 | Slade | CoolDrive Racing | +32.916 |
| 8 | 6 | C. Waters | Monster Energy Racing | +33.840 |
| 9 | 20 | S. Pye | Team 18 | +38.927 |
| 10 | 2 | B. Fullwood | WAU Racing Pty Ltd | +38.948 |
| 11 | 9 | W. Brown | Erebus Motorsport | +47.502 |
| 12 | 11 | A. de Pasquale | Shell V-Power Racing Team | +48.165 |
| 13 | 96 | M. Jones | SCT Motor Sports | +50.482 |
| 14 | 25 | Mostert | WAU Racing Pty Ltd | +54.330 |
| 15 | 44 | Courtney | Boost Mobile Racing | +55.685 |
| 16 | 34 | J. Kostecki | Matt Stone Racing | +57.694 |
| 17 | 19 | Coulthard | Team SYDNEY – Tekno | +1:02.160 |
| 18 | 18 | Winterbottom | Team 18 | +1:03.021 |
| 19 | 4 | J. Smith | SCT Motor Sports | +1:03.983 |
| 20 | 22 | G. Jacobson | Team SYDNEY – Tekno | +1:06.469 |
| 21 | 35 | Z. Goddard | Matt Stone Racing | +1:07.838 |
| 22 | 55 | T. Randle | Castrol Racing | +1:09.221 |
| 23 | 99 | B. Kostecki | Penrite Racing – Erebus | +1:09.588 |
| 24 | 26 | L. Youlden | Nissan Motorsport | +1:19.162 |
| 25 | 27 | K. Kostecki | NAPA Auto Parts Racing | +1:25.667 |
| NC | 7 | Heimgartner | Nissan Motorsport | +11 Laps |