F1: Bottas wins Mexico GP Pole, Mercedes locks out front row
In a session that was expected to be dominated by Red Bull, Mercedes' Valtteri Bottas nipped teammate Lewis Hamilton by 0.145s to win pole position for tomorrow's Mexico City Grand Prix.
Championship leader Max Verstappen could manage no better than third. Verstappen may have been impeded on his final flying lap as Yuki Tsunoda and Sergio Perez in the sister Red Bull went off track. Luckily for Perez, he still managed to place fourth on the grid. Alpha Tauir's Pierre Gasly rounded out the top-5.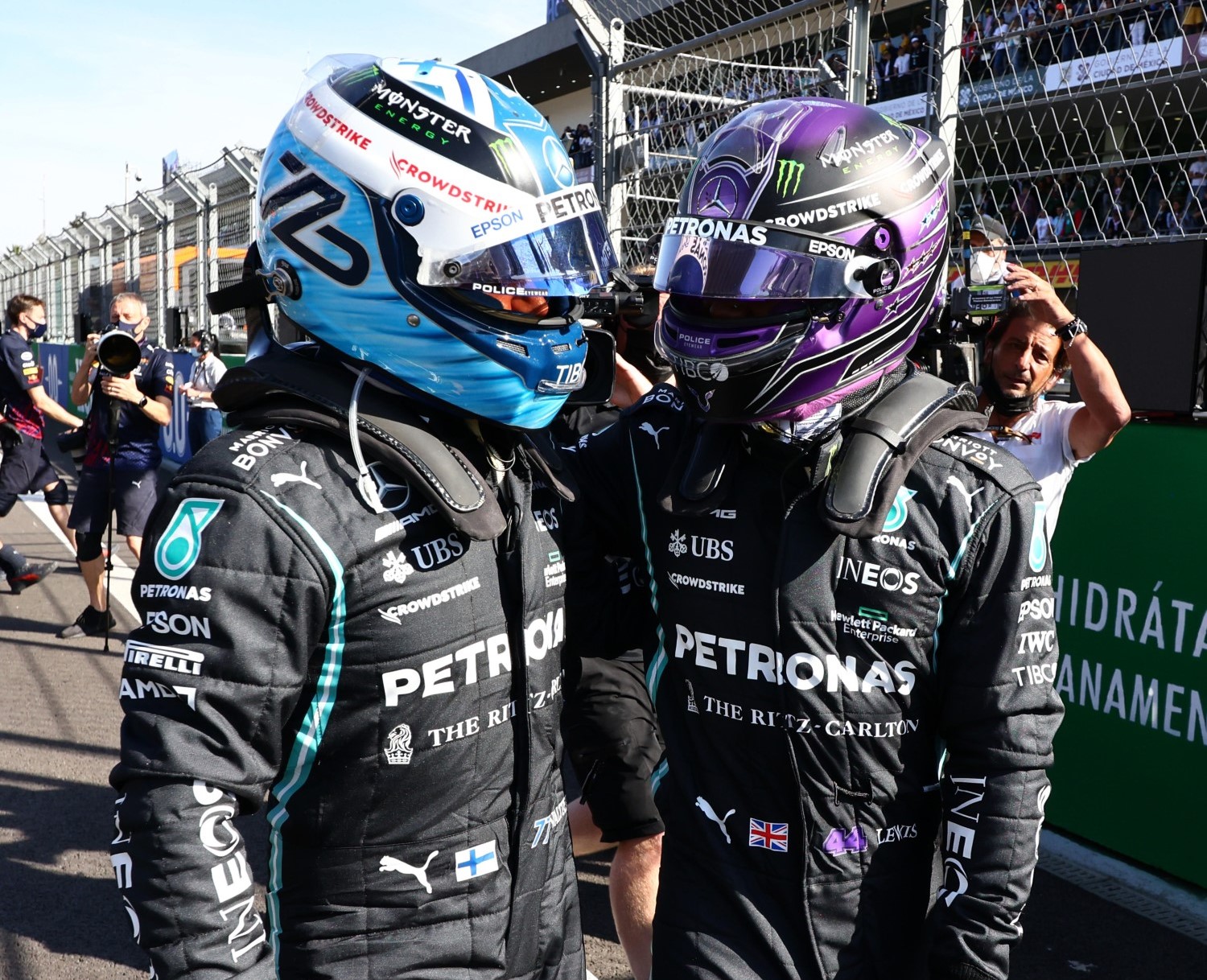 Red Bull, which had dominated in FP3, were surprised by Mercedes as Bottas had grabbed provisional pole on the first run in Q3 with a 1m5.875s, with Hamilton slotting in 0.145s behind.
Perez led Verstappen around for the final Q3 fliers.
Both Red Bulls posted personal bests in the opening sector on their final laps, but Tsunoda's off-track moment at the fast Turn 10 right caused Perez to choke, who went off as well, with Verstappen then coming across the pair and backing off expecting a yellow flag.
He then locked up during the stadium section and did not improve his best time while behind neither Mercedes driver improved, which sealed Bottas's 19th F1 pole.
Behind the leaders, Pierre Gasly took fifth, ahead of Carlos Sainz Jr and Daniel Ricciardo, with Charles Leclerc eighth.
After screwing both Red Bull drivers, Tsunoda took ninth ahead of Norris.
"It was an awesome lap, the first run in Q3," said Valtteri Bottas. "I couldn't quite match the same last sector in the second one but honestly that first run in Q3 was one of my best laps. Higher temperatures this afternoon than this morning came our way I think."
"Valtteri did an amazing job, I'm so proud, he's been driving so well these last few races," said Hamilton.
"We didn't think we had the pace this weekend so to lock out the front row is something special. I'm just as shocked as everyone – but we'll take it."
"It seemed like throughout qualifying the balance went away a little bit. But then on the last lap it was going good and I don't know what happened in front of me – I was expecting yellow flags so backed out of it a bit. I think this is better than starting second," said a disappointed Max Verstappen.
Select Quotes
Valtteri Bottas
It was an awesome lap! Especially my lap in the first run of Q3. I couldn't quite match my sectors in the second one, but I think honestly that first run in Q3 was one of my best laps. It's a good feeling! This morning actually the car was really good: we were lacking a bit of pace on lap 1 but I think with higher temperatures this afternoon than in the morning it came our way. We also tried to optimize everything with tires, temps and setup, and it was a joy to drive! Looking ahead to the start, it is a long, long straight and for sure, the cars behind with the tow will have good opportunities so we'll need a good start and at least, as a team, it's good that we have two cars ahead and hopefully, we can try and keep the positions.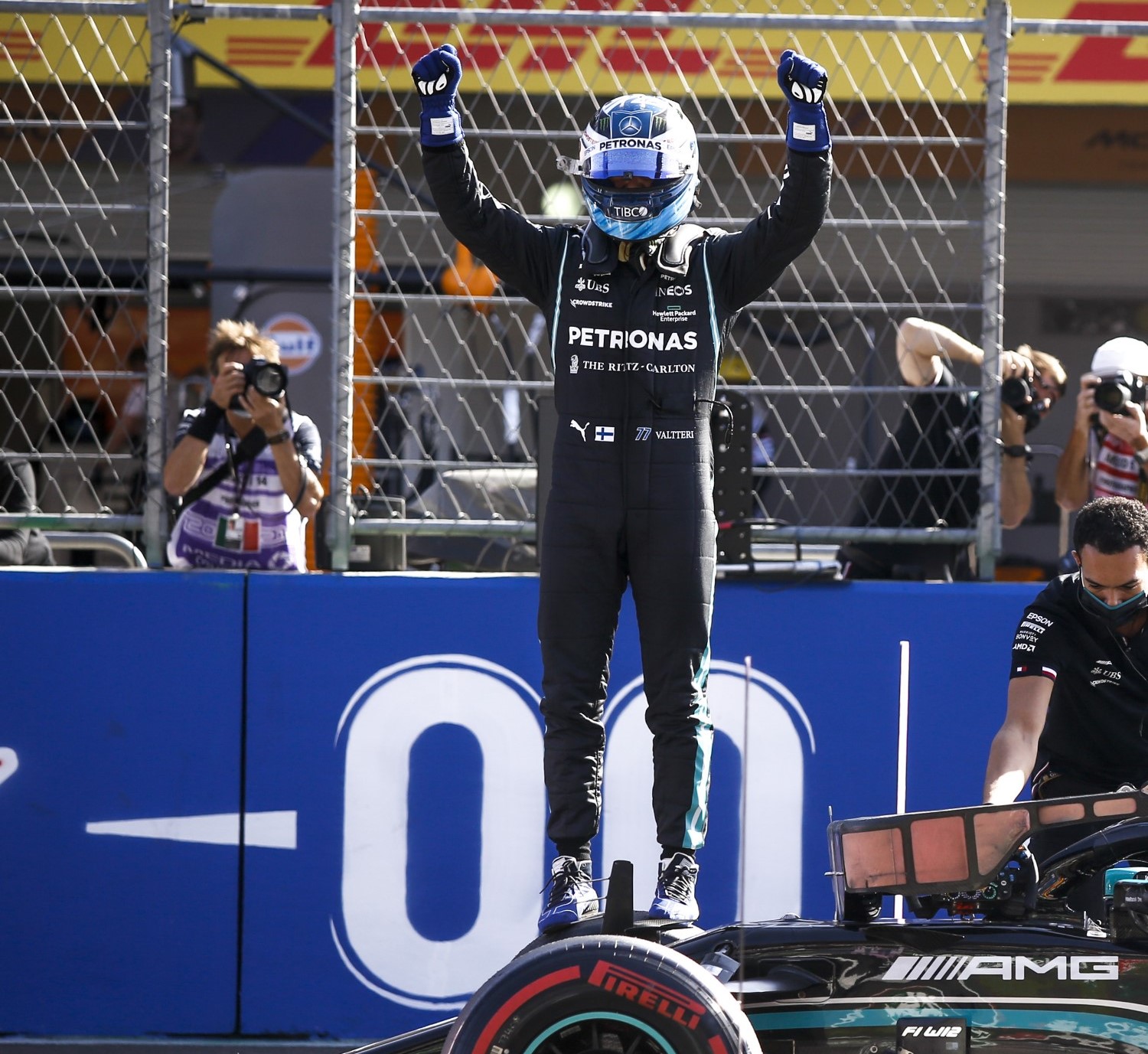 Lewis Hamilton
Valtteri did an amazing job, I'm so proud of him! I think he's been driving so well these last few races, so it's great for the team – they've been working hard. We didn't think we had the pace this weekend so to lock out the front row is pretty special and obviously gives us a good fight with the others tomorrow. I'm not sure where we found the performance compared to Red Bull but once we got to qualify we had good pace. I'm as shocked as everyone, but we'll still take it!
Toto Wolff
That was a fantastic qualifying session and we managed to put together the puzzle piece by piece as qualifying played out. To lock out the front row here in Mexico is a strong starting point for tomorrow's race, and it also shows the hard work that has gone into adapting our car and power unit to the challenges of running at altitude. It was very enjoyable to see how Valtteri is driving right now – he was unbelievable in Turkey, and he's working so well with the team; Lewis was on a potential pole lap on his second run, but then had a small lock up that cost him, but P2 is a very solid starting position. I'm happy that we have wrestled a bit of momentum our way – but in the end, it's about doing the proper job and session by session trying to understand and learn about the car. You saw in Austin that we had a good direction and lost the performance over the weekend; here, it's been the opposite. But there are no prizes handed out on Saturday, and we've still got a big and tough job to do tomorrow.
Andrew Shovlin
A phenomenal pole by Valtteri and great to get Lewis up there for another Mercedes front row. We've been battling with the car a bit all weekend and the drivers haven't found it easy to get the whole lap together. That's made it difficult to know whether to change our approach to stick to plan. That picture didn't really look to have changed particularly through the first two sessions in qualifying. Happily the final session was quite different, it looked like we were finally getting the grip out of the soft tires and at the same time Red Bull started to struggle a bit. It was very encouraging to see the straight line speed today; the power unit seems to be working well in the thin air thanks to a lot of good work that has taken place in Brixworth over the last few weeks. Today was certainly a nice surprise, but the race here is very tough on the car and there's no guarantee our speed today will translate into the long run. We're expecting it to be close and a good run to Turn One will be all important – there's a long way to go but after today the team have put themselves in a position where there is everything to play for.
Max Verstappen
"P3 isn't so bad considering we were really struggling to get the tires to work today, we were sliding around a lot. My first lap in Q3 wasn't great, the grip was terrible, so when I saw the gap to Mercedes, I thought that was fair enough. We needed to find a better balance in the car, so we tried to make a few changes to how our car was running, and then I think the second lap of Q3 was looking okay. I don't know what happened in front of me, but I saw Checo and Yuki both go wide, and I saw a lot of dust, so I thought that a car had crashed. I've been caught out by yellow flags here before, so I slowed down, as a result, I lost a lot of momentum and time. It's a shame that we both aren't locking out the front row tomorrow after being so competitive all weekend. Tomorrow is a new day and hopefully the race will be exciting, there's a long run to the first corner, so let's see what happens."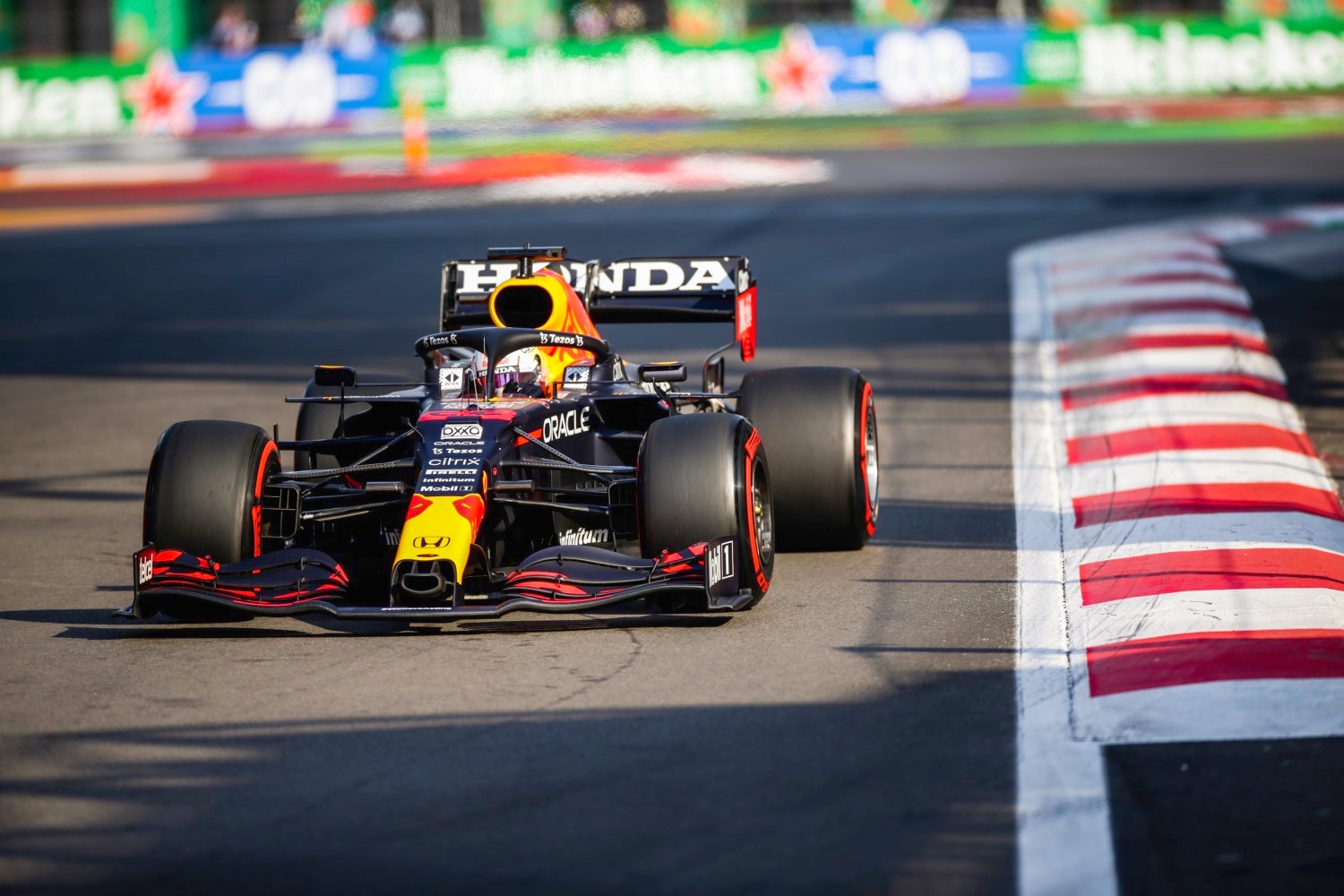 Sergio Perez
"The car was not the same as it was in FP3 after we had to change the rear wing, but we did couple of adjustments in the session and once we got on top of it, all of a sudden, I found Yuki off his racing line ahead of me at turn 11, which hurt my final lap. He wasn't a distraction it was that I was too close to him and it forced me to brake. Once I did that I lost my downforce and I think I got a lot of dirty air, lost the car unfortunately and lost my lap. We didn't have the pace across qualifying, but I think I could have improved a bit going into that final lap, I was up already on my previous lap and think I could have improved by a couple of tenths. We have to analyze as a Team to make sure tomorrow we have a good race car and are able to put pressure on the Mercedes ahead of us. I think the launch we have tomorrow is more important than the grid position, there is a long race ahead, and we will try to be there, I am optimistic and I hope all the fans enjoy it. The crowd have been amazing, they are giving me so much love and support. I just look forward to tomorrow now and hope I can celebrate with them on the podium, I will give my maximum."
Christian Horner
"Today has been disappointing because we felt we could have finished with both drivers on the front row, but we have both on the second row of the grid and they can have a great race from there. Max starts on the clean side of the grid so that's a positive. It is going to be very tight in the race tomorrow, we need to nail the start with both the drivers. We are disappointed for today but optimistic for tomorrow, and we still think we've got a great chance in this race, but it's certainly looking harder than it was this morning."
Sebastian Vettel
"It was a decent effort today. We tried to make it to Q3 on the Medium and I had two runs in Q2: my first was not very strong, and I think a tear-off stuck on the rear wing cost us some performance, but the second run was much better. I think we will start from ninth tomorrow, but let's see how the grid looks when all the penalties are applied. That should give us a good platform to have a strong race. We have shown good pace on the long runs this weekend, so I think we can be up there fighting for good points. We also have free choice on tires [as a result of qualifying 11th], so we will go away and look over the data to work out the best strategy for tomorrow."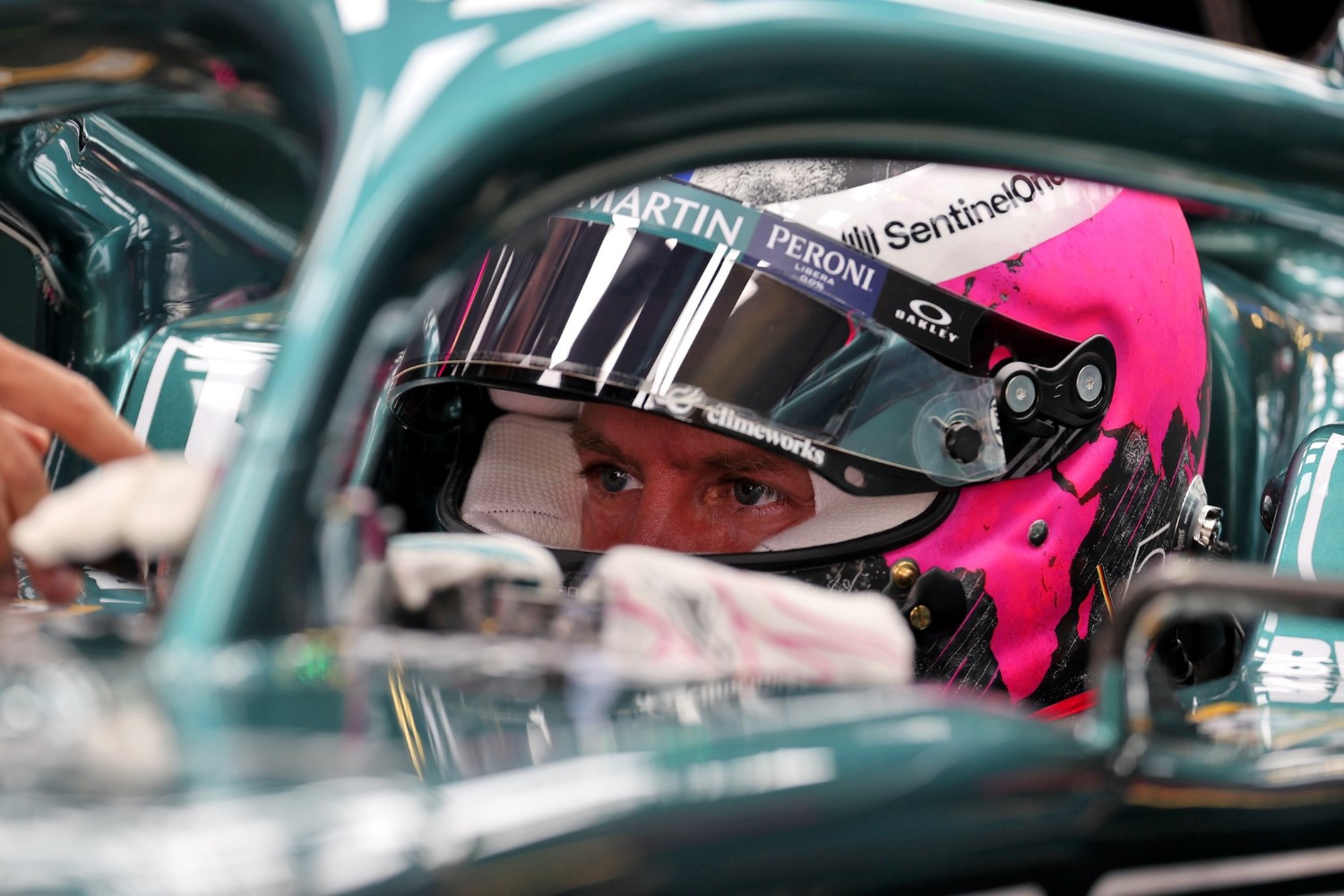 Lance Stroll
"I am OK. I was a little bit too wide at the final corner, it was a bit dirty out there, and I lost the car at the exit due to a lack of grip. It is a big job for the team and the mechanics [to repair], so it is a shame. I wanted to see what we could do in qualifying and see how the car felt, even though we were set to start at the back of the grid anyway. We will do our best to work our way up the field in the race and gain some places tomorrow."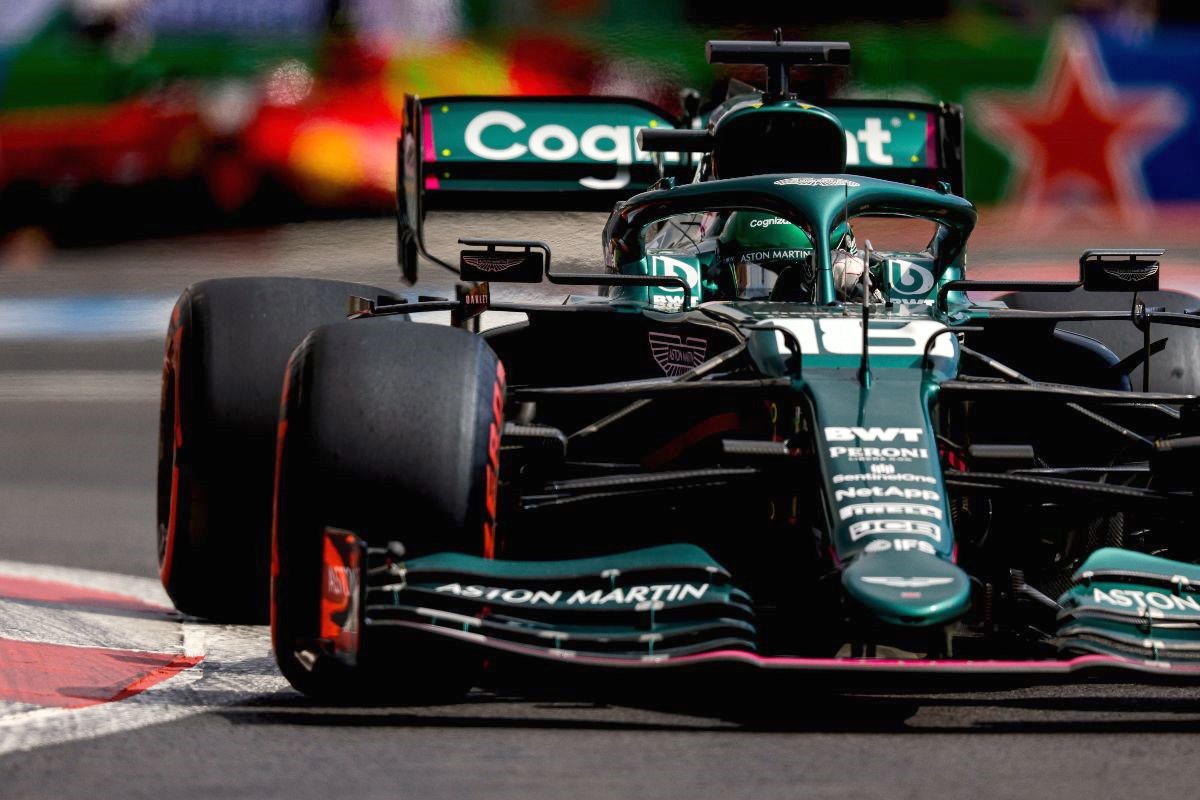 'Qualifying Results
| | | | | | | |
| --- | --- | --- | --- | --- | --- | --- |
| POS | NO | DRIVER | Q1 | Q2 | Q3 | LAPS |
| 1 | 77 | Bottas | 1:16.727 | 1:16.864 | 1:15.875 | 23 |
| 2 | 44 | Hamilton | 1:17.207 | 1:16.474 | 1:16.020 | 22 |
| 3 | 33 | Verstappen | 1:16.788 | 1:16.483 | 1:16.225 | 18 |
| 4 | 11 | Perez | 1:17.003 | 1:17.055 | 1:16.342 | 18 |
| 5 | 10 | Gasly | 1:16.908 | 1:16.955 | 1:16.456 | 22 |
| 6 | 55 | Sainz | 1:17.517 | 1:17.248 | 1:16.761 | 23 |
| 7 | 3 | Ricciardo | 1:17.719 | 1:17.092 | 1:16.763 | 17 |
| 8 | 16 | Leclerc | 1:16.748 | 1:17.034 | 1:16.837 | 22 |
| 9 | 22 | Tsunoda | 1:17.330 | 1:16.701 | 1:17.158 | 19 |
| 10 | 4 | Norris | 1:17.569 | 1:17.473 | 1:36.830 | 19 |
| 11 | 5 | Vettel | 1:17.502 | 1:17.746 | | 16 |
| 12 | 7 | Räikkönen | 1:17.606 | 1:17.958 | | 18 |
| 13 | 63 | Russell | 1:17.958 | 1:18.172 | | 13 |
| 14 | 99 | Giovinazzi | 1:17.897 | 1:18.290 | | 15 |
| 15 | 31 | Ocon | 1:18.126 | 1:18.405 | | 13 |
| 16 | 14 | Alonso | 1:18.452 | | | 7 |
| 17 | 6 | Latifi | 1:18.756 | | | 8 |
| 18 | 47 | Schumacher | 1:18.858 | | | 9 |
| 19 | 9 | Mazepin | 1:19.303 | | | 9 |
| 20 | 18 | Stroll | 1:20.873 | | | 3 |