F1: Hamilton draws first blood with 'trick' Mercedes engine in Brazil
Lewis Hamilton, with a fresh, more powerful, internal combustion engine in the back of his #44 Mercedes, turned the fastest lap in opening practice for the Brazilian GP with a time of 1m09.050s, a comfortable 0.367s faster than Max Verstappen in the Red Bull Honda.
However, Hamilton has been hit with a five-place grid penalty having taken a new Mercedes internal combustion engine for this weekend's race.
Hamilton took a 10-place grid penalty for a new ICE in Turkey but, after teammate Valtteri Bottas received a third engine penalty in four GPs at the United States, questions arose over Mercedes' power unit reliability and there was much talk of Hamilton taking another power unit at some point.  However, others think he took the new engine, not because of reliability, but because Mercedes has found more HP for his battle against Verstappen for the championship.
Here in Interlagos, it has been confirmed that the defending champion will indeed take his fifth ICE of the season, a decision by the Silver Arrows that will drop him five grid places for Sunday's race – but will not affect his starting position in the F1 Sprint on Saturday evening.
Covering up their real strategy, Toto Wolff said, "It came out in our simulation that this was the right place to do it. This will be the final one we add in our pool. We've seen our engine is degrading, much more than the last two years, weekend to weekend… We started on the wrong foot at the start of this first session [before changing the front springs], and we have more performance to come."
All that being said, with a five place grid drop confirmed for Sunday's race, Hamilton does desperately need both those three points that are on offer for the winner of the Sprint, and then pole would give him a starting slot of sixth for the race – by no means out of it.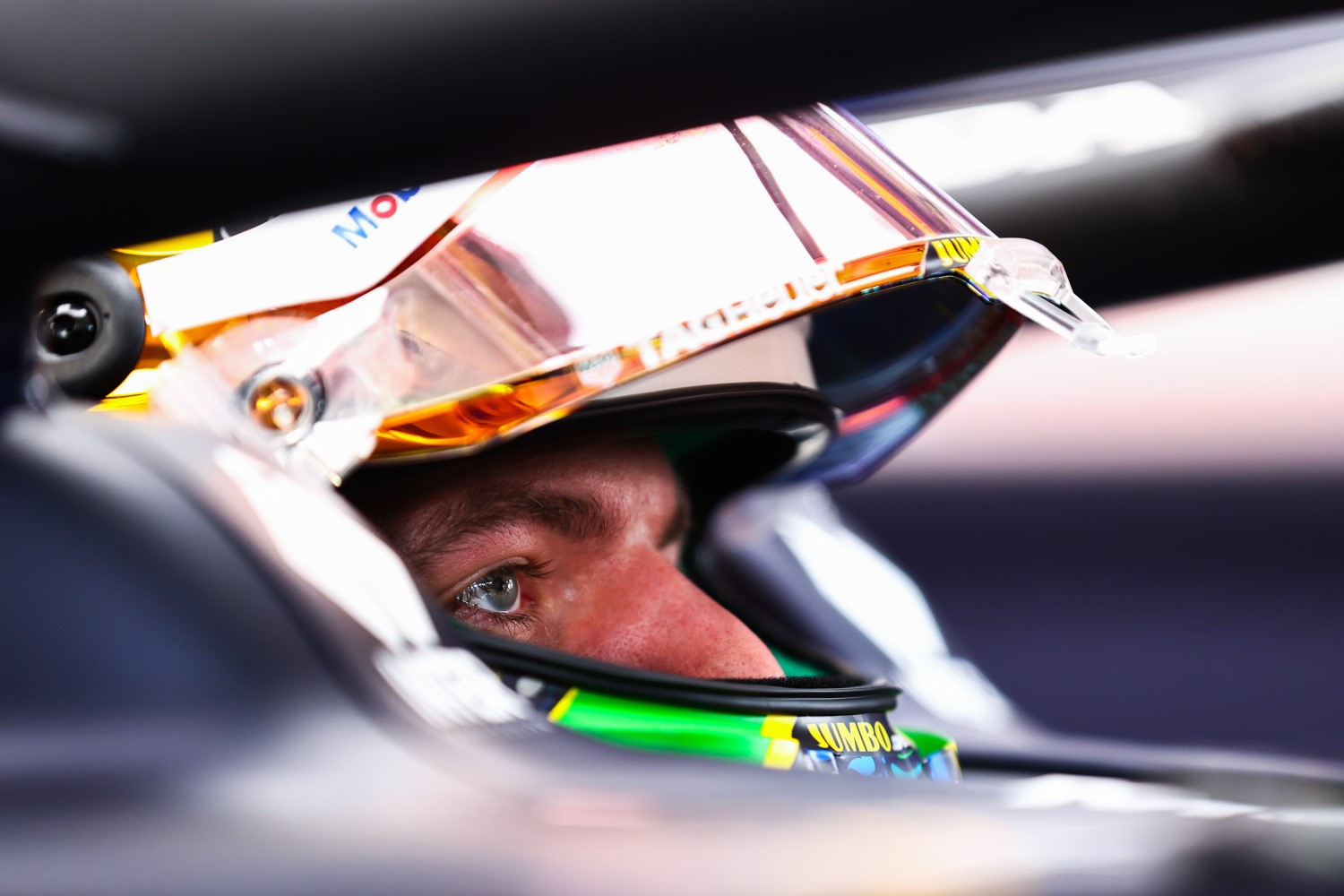 But Red Bull rarely start strongly in FP1, and can never be counted out. Verstappen looked quick from the start on the medium compound tire here, didn't seem unhappy with his set-up and will be going all out later to relegate his rival as low as possible.
Sergio Perez was 3rd fastest in the 2nd Red Bull Honda, down 0.442s on Hamilton.
Valtteri Bottas was 4th quick in the 2nd Mercedes, 0.517s slower than his teammate, who has the better engine.
Pierre Gasly rounded out the top-5, 0.830s behind the Mercedes.
McLaren were one of two teams – the other being Alpine – who didn't run the soft compound tire, and concentrating on race pace. Alpine did something similar last time out for the Sprint in Monza, and it is an interesting tactic for sure, but one that leaves their pace something of an unknown heading into qualifying.
Speaking of, qualifying gets underway at 3:00 ET today. The rules are the same as ever, three segments, the five slowest cars dropping out in Q1 and Q2. The qualifying slots decide the grid for the Sprint rather than the Grand Prix though, with pole decided by the winner of the Sprint tomorrow. Hamilton's 5-place grid penalty applies to Sunday's race, not the sprint race, where he could indeed start on pole.
Practice 1 Results
| | | | | | | |
| --- | --- | --- | --- | --- | --- | --- |
| POS | NO | DRIVER | CAR | TIME | GAP | LAPS |
| 1 | 44 | Lewis Hamilton | Mercedes | 1:09.050 | +0.000s | 31 |
| 2 | 33 | Max Verstappen | Red Bull Racing Honda | 1:09.417 | +0.367s | 22 |
| 3 | 11 | Sergio Perez | Red Bull Racing Honda | 1:09.492 | +0.442s | 28 |
| 4 | 77 | Valtteri Bottas | Mercedes | 1:09.567 | +0.517s | 30 |
| 5 | 10 | Pierre Gasly | AlphaTauri Honda | 1:09.880 | +0.830s | 32 |
| 6 | 55 | Carlos Sainz | Ferrari | 1:10.124 | +1.074s | 31 |
| 7 | 16 | Charles Leclerc | Ferrari | 1:10.142 | +1.092s | 32 |
| 8 | 31 | Esteban Ocon | Alpine Renault | 1:10.145 | +1.095s | 27 |
| 9 | 14 | Fernando Alonso | Alpine Renault | 1:10.201 | +1.151s | 26 |
| 10 | 18 | Lance Stroll | Aston Martin Mercedes | 1:10.352 | +1.302s | 27 |
| 11 | 22 | Yuki Tsunoda | AlphaTauri Honda | 1:10.374 | +1.324s | 33 |
| 12 | 5 | Sebastian Vettel | Aston Martin Mercedes | 1:10.413 | +1.363s | 28 |
| 13 | 7 | Kimi Räikkönen | Alfa Romeo Racing Ferrari | 1:10.443 | +1.393s | 31 |
| 14 | 99 | Antonio Giovinazzi | Alfa Romeo Racing Ferrari | 1:10.587 | +1.537s | 31 |
| 15 | 4 | Lando Norris | McLaren Mercedes | 1:10.610 | +1.560s | 27 |
| 16 | 47 | Mick Schumacher | Haas Ferrari | 1:10.885 | +1.835s | 27 |
| 17 | 6 | Nicholas Latifi | Williams Mercedes | 1:10.902 | +1.852s | 23 |
| 18 | 63 | George Russell | Williams Mercedes | 1:10.938 | +1.888s | 24 |
| 19 | 3 | Daniel Ricciardo | McLaren Mercedes | 1:10.990 | +1.940s | 25 |
| 20 | 9 | Nikita Mazepin | Haas Ferrari | 1:11.342 | +2.292s | 28 |