F1: Using new 'trick' engine, Hamilton wins pole for Brazil Sprint race
No one can believe how much straight-line speed Lewis Hamilton has at Interlagos this weekend after Mercedes installed a special 'trick' internal combustion engine with more HP for the Brazilian GP. Hamilton used that power to win pole position for Saturday's Sprint Qualifying race.
The new engine will cost Hamilton a 5-grid penalty Sunday, but his 'trick' engine is so fast he should dust the field easily on both Saturday and Sunday. Hamilton did not really need 5 engines this season, nor did Bottas. Mercedes used the 5 engines for each driver, and sacrificed grid penalties, in return for rolling out more and more powerful internal combustion engines.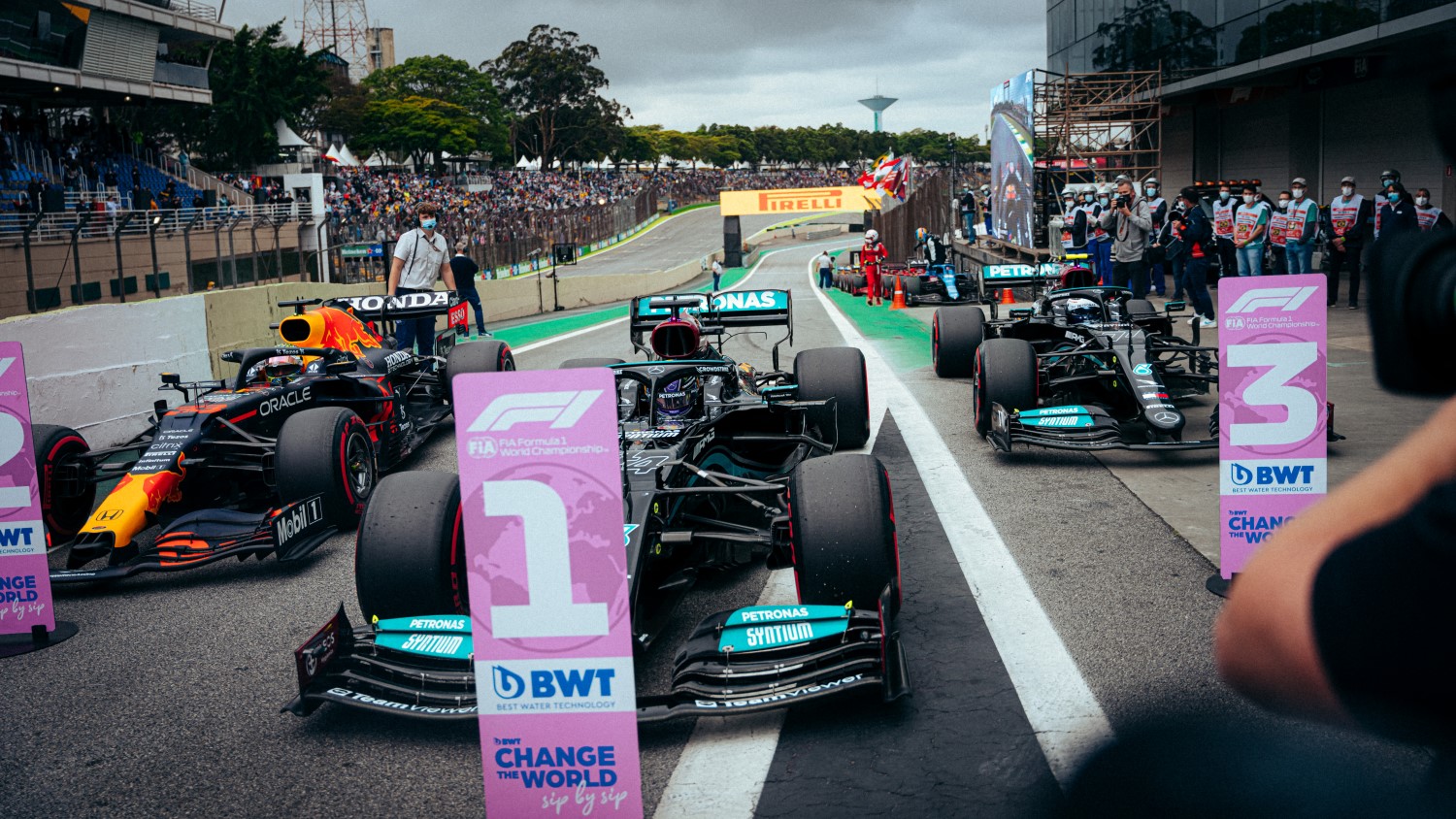 With a really fast time in sector 3 that is all full-throttle, Hamilton turned a lap of 1m07.934 to beat his rival Max Verstappen by a massive 0.438s.
In the first runs of Q3 Hamilton again led the way with a lap of 1:08.107, though Verstappen edged closer, getting to a little over two tenths of a second off the Mercedes driver. Bottas slotted into third, a tenth back on the Dutchman with Pérez in fourth place.
Verstappen pushed hard to get closer still and though he went quicker in the middle sector he couldn't find more time at the beginning or end of the lap and failed to improve overall. Hamilton, meanwhile, was finding time, and the seven-time champion crossed the line in a time of 1:07.934 to take P1 for the sprint. Pérez found a significant improvement on his final run but his 1:08.483 wasn't just over a tenth of a second slower than Bottas' final flyer and the Mexican was forced to settle for fourth place.
With pole for the sprint race, Hamilton is set to win the all important 3 points that go to the Sprint race winner.
"I'm so happy to be back in Brazil," said Hamilton. "It's been so hard coming from one race to another, but today was a super good qualifying day, but I'm super happy with it. We've got a penalty, but we'll give it everything we've got."
Complaining that his soft red Pirellis were giving up before the end of the lap, Verstappen had to settle for 2nd best behind Hamilton. But he did not appear too worried.
"When they take a new engine, naturally they have a bit more power for the weekend. Second is a good position to start from," said Verstappen. "There are not that many points to gain in the Sprint, so I just aim to have a good first lap, and look ahead to Sunday."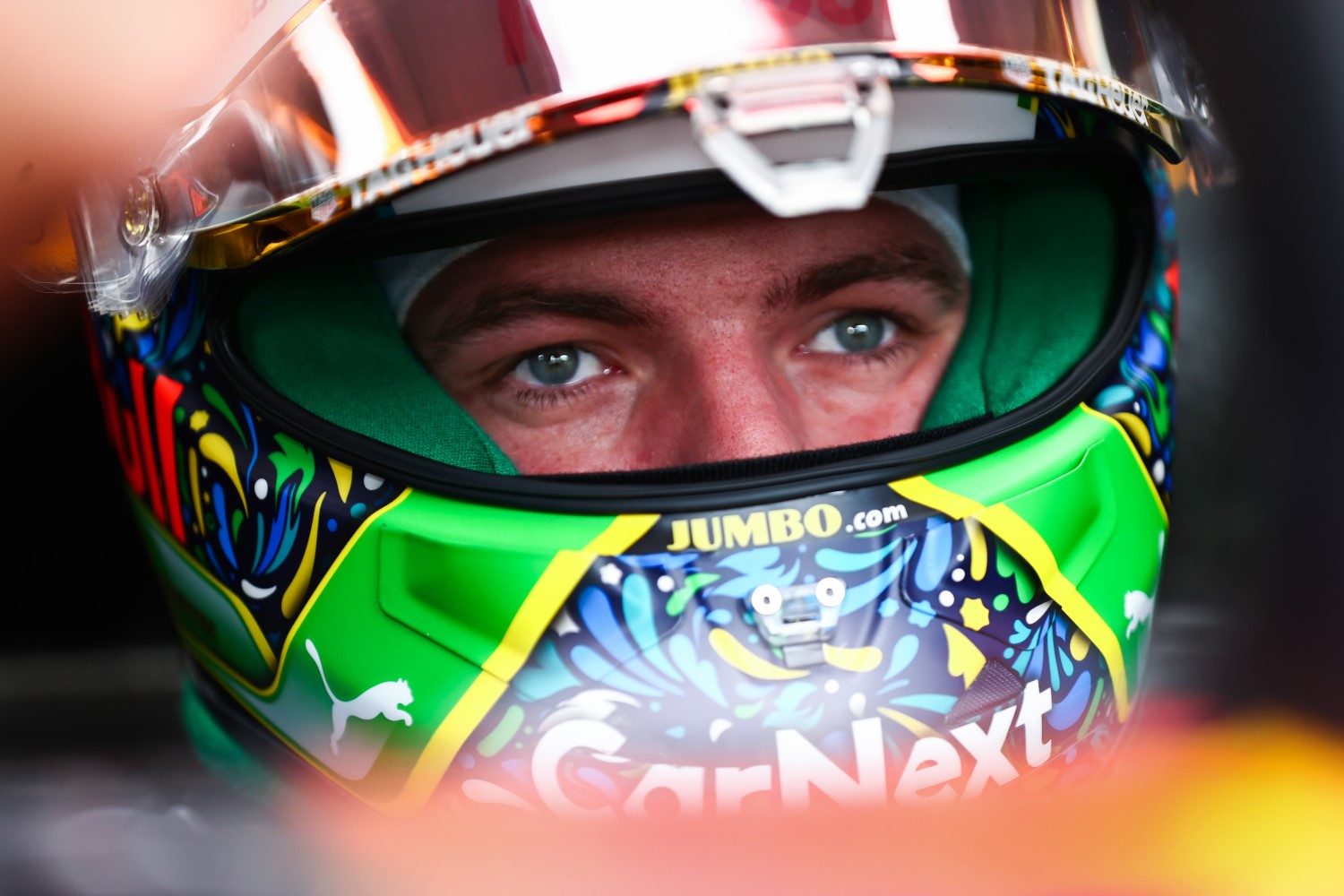 Valtteri Bottas will start 3rd in the 2nd Mercedes, 0.535s behind Hamilton. "The main place I was losing to Lewis was Turn 1, 2. It's a good starting place, hopefully Lap 1 will have lots of action, so let's see."
Sergio Perez was 4th quick in the 2nd Red Bull Honda just a tick behind Bottas while Pierre Gasly once again rounded out the top-5 again.
Behind the top five, the Ferrari's of Carlos Sainz and Charles Leclerc. McLaren's Lando Norris and Daniel Ricciardo were eighth and ninth respectively and 10th place was claimed by Alpine's Fernando Alonso.
Select Quotes
Lewis Hamilton
I'm so happy to be back here in Brazil! One of the marshals just said to me that I should use more often the Senna colors and flag because that's the first pole in a long time! Just a big, big thank you to all the team because they've been working flat out. It's been so hard coming from the last race to here, taking the car apart and rebuilding it… just the man hours are insane but today was a really good qualifying session, I'm super happy with it. We've got the penalty on Sunday but we'll give it everything we've got tomorrow, then I'll do my best to try and get through the field. I don't know what tomorrow will hold in the Sprint, but I think the weather will perhaps be a bit hotter which will make it a little bit more difficult for everyone, but I feel really grateful. It's crazy because it's been a while, so it feels like the first!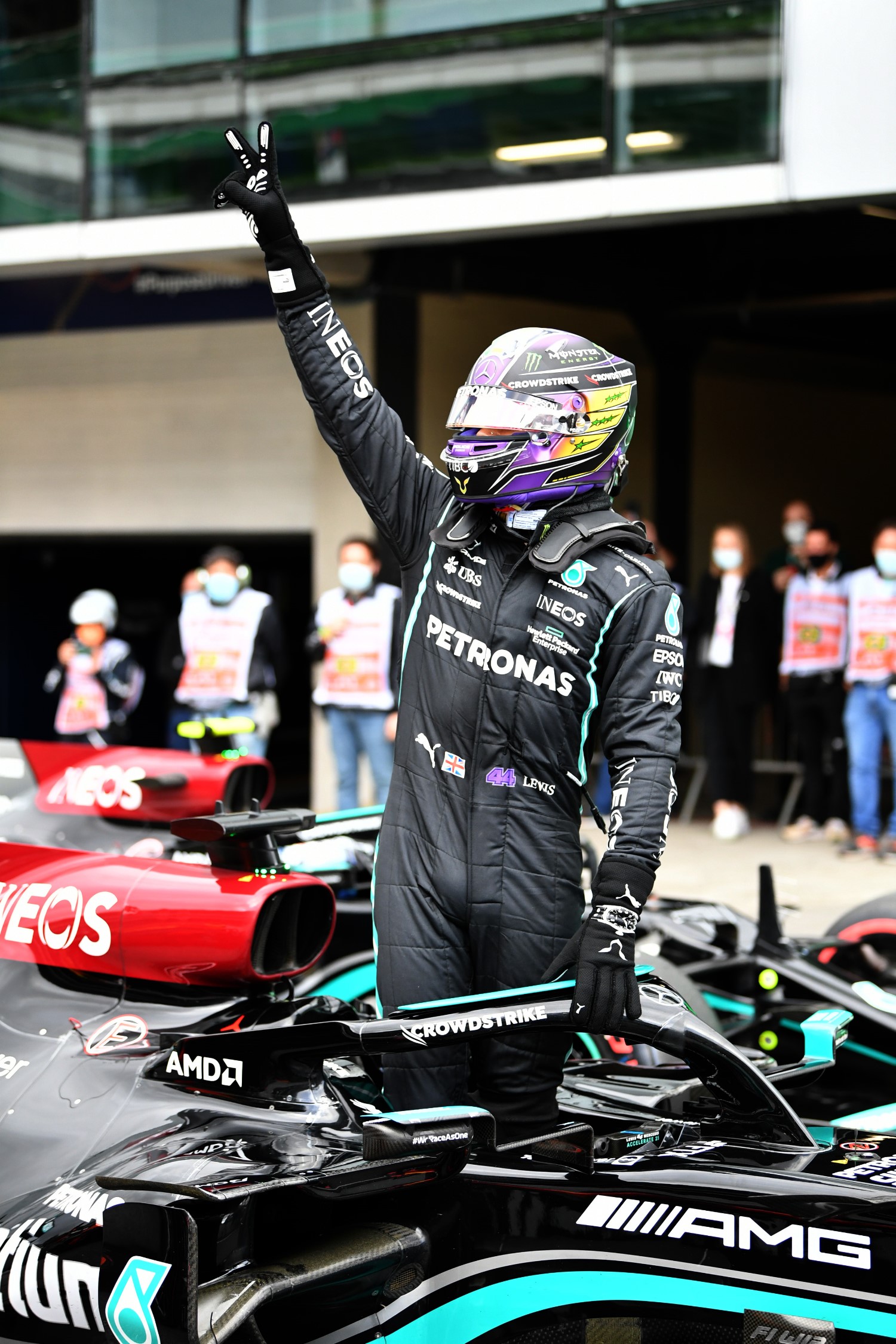 Valtteri Bottas
First practice today was a bit of a tricky session and I didn't feel quite comfortable with the car, especially in the first sector. It got a bit better in qualifying but still the main place I was losing out to Lewis was Turns 1 and 2, and a bit on the straight, so I'm not fully satisfied with P3. But obviously it's still a good starting place and there is everything to play for tomorrow in the Sprint race. Hopefully lap one will be full of action and we can make some progress towards the front!
Andrew Shovlin
A very impressive session from Lewis to secure P1 for the sprint qualifying tomorrow, and Valtteri only narrowly missed out on locking out the front row. The sprint format does throw a few challenges our way, only having one hour to do the work we normally complete in three hours means that we must be quite selective with our priorities going into the practice session. It also puts a huge importance on arriving with a car that is balanced and performing well. While we didn't look great on the first run in free practice, it was clear by the second run that we had good pace in the car but because the track is evolving so quickly here, you still need to adapt the car for qualifying to take account of the grip coming up. We'll see tomorrow how our long run pace holds up, we're also expecting cooler conditions in the sprint qualifying than the race on Sunday so it's going to be interesting to see how the performance picture unfolds, but overall we've got off to an encouraging start.
Max Verstappen
"I'm happy to be second, that's a good position to start from in tomorrow's sprint race. I always want to be closer, but sometimes you have to be realistic. Mercedes have taken a new engine so naturally they have more power this weekend, so for me it's not a big shock that they are ahead. There are not many points to gain tomorrow in the sprint race, so I hope we have a good start and we'll see what happens from there. Of course, the most important race is on Sunday and I think it's going to be a lot warmer which will change the behavior of the car as well, so we'll see."
Sergio Perez
"It was a bit tricky today, especially in Q1 having to use two sets of tires, so we started on the wrong foot in qualifying, but we were progressing well and gaining into Q3. Then I think the track cooled down a bit, and we didn't read the conditions as well as we could have. We got it together for our final lap, and we only lacked half a tenth or so to be further ahead. That said, fourth is a strong position to start the sprint race from. I think Mercedes' new engine seems to be working pretty well, Lewis was untouchable today, but we will see tomorrow. Hopefully, tomorrow we can have a good sprint race because the car has shown some good pace and I think it should be looking good."
Christian Horner
"I think the new Mercedes engine has definitely given them some extra horsepower, so I think second was the best that we could have hope for. To be on the front row tomorrow, we can be happy with that. So much can happen in these sprint races, as we've seen this season, so you've just got to go for it at the start, then see where you are. I think we've got a good race car, and it's going to get hotter throughout the weekend so that will also be a factor here, it's been pretty cool on track today so let's see in the race tomorrow."
Pierre Gasly
"Today I'm really, really happy. FP1 was quite difficult for me and I struggled a little bit in Quali too, but every time I went out I managed to find a little bit more, playing with everything inside of the car and making small improvements each time we ran. I managed to put it all together when it counted, and I think it was a really incredible lap in Q3 today, so I'm really pleased with that. It's really amazing for us to be qualifying right behind Mercedes and Red Bull, it's a critical moment in the Championship and the team did a fantastic job today. Of course, it's only Friday, so we've got two more days, it's going to be pretty intense, but we've put ourselves in the best place possible.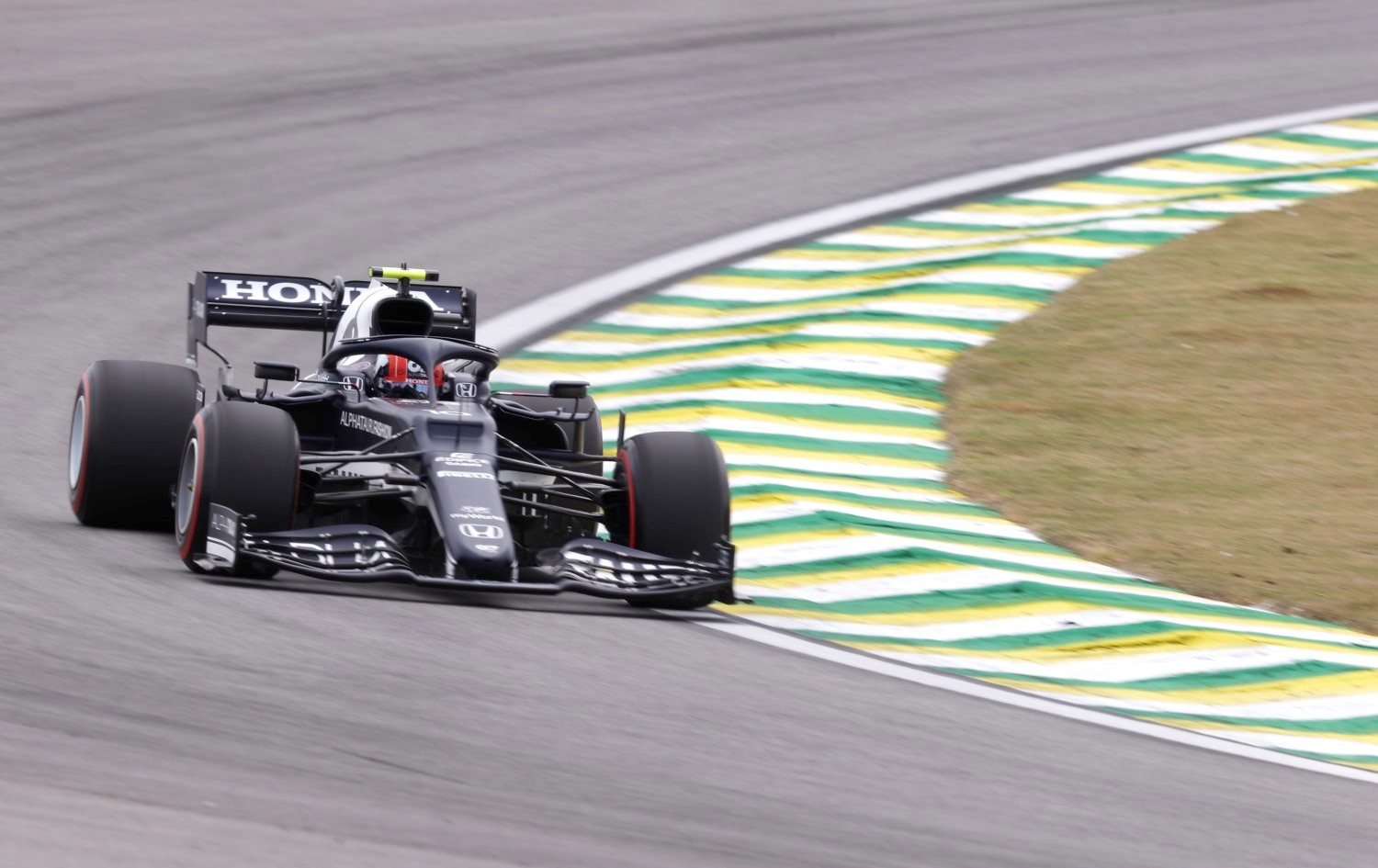 Mario Isola, Pirelli
"We saw a lot of track evolution throughout FP1 and also qualifying today. The quite cool conditions on a slippery track also led to a bit of sliding and consequent light abrasion, especially in free practice. Compared to qualifying at previous Brazilian grands prix, today was a different strategic challenge, with all the drivers having to run the soft tire from start to finish under the sprint qualifying rules, which also use a different tire allocation compared to conventional weekends. As is often the case, the weather looks set to remain somewhat unpredictable at Interlagos for the rest of the weekend, which will be a decisive factor when the teams come to consider which tires they will run in Sprint Qualifying and the race. Tomorrow's final free practice session will provide yet more valuable information on tires ahead of the racing action, before the teams finalize the strategy – which seems likely to revolve around the medium and the hard."
Brazilian GP Sprint Race Qualifying Results
| | | | | | | | |
| --- | --- | --- | --- | --- | --- | --- | --- |
| POS | NO | DRIVER | CAR | Q1 | Q2 | Q3 | LAPS |
| 1 | 44 | Lewis Hamilton | Mercedes | 1:08.733 | 1:08.068 | 1:07.934 | 23 |
| 2 | 33 | Max Verstappen | Red Bull Racing Honda | 1:09.329 | 1:08.499 | 1:08.372 | 17 |
| 3 | 77 | Valtteri Bottas | Mercedes | 1:09.040 | 1:08.426 | 1:08.469 | 23 |
| 4 | 11 | Sergio Perez | Red Bull Racing Honda | 1:09.172 | 1:08.973 | 1:08.483 | 22 |
| 5 | 10 | Pierre Gasly | AlphaTauri Honda | 1:09.347 | 1:08.903 | 1:08.777 | 18 |
| 6 | 55 | Carlos Sainz | Ferrari | 1:09.046 | 1:09.031 | 1:08.826 | 19 |
| 7 | 16 | Charles Leclerc | Ferrari | 1:09.155 | 1:08.859 | 1:08.960 | 22 |
| 8 | 4 | Lando Norris | McLaren Mercedes | 1:09.365 | 1:09.030 | 1:08.980 | 22 |
| 9 | 3 | Daniel Ricciardo | McLaren Mercedes | 1:09.374 | 1:09.093 | 1:09.039 | 22 |
| 10 | 14 | Fernando Alonso | Alpine Renault | 1:09.391 | 1:09.137 | 1:09.113 | 19 |
| 11 | 31 | Esteban Ocon | Alpine Renault | 1:09.430 | 1:09.189 |  – | 14 |
| 12 | 5 | Sebastian Vettel | Aston Martin Mercedes | 1:09.451 | 1:09.399 |  – | 15 |
| 13 | 22 | Yuki Tsunoda | AlphaTauri Honda | 1:09.350 | 1:09.483 |  – | 9 |
| 14 | 7 | Kimi Räikkönen | Alfa Romeo Racing Ferrari | 1:09.598 | 1:09.503 |  – | 15 |
| 15 | 99 | Antonio Giovinazzi | Alfa Romeo Racing Ferrari | 1:09.342 | 1:10.227 |  – | 14 |
| 16 | 18 | Lance Stroll | Aston Martin Mercedes | 1:09.663 |  – |  – | 9 |
| 17 | 6 | Nicholas Latifi | Williams Mercedes | 1:09.897 |  – |  – | 9 |
| 18 | 63 | George Russell | Williams Mercedes | 1:09.953 |  – |  – | 10 |
| 19 | 47 | Mick Schumacher | Haas Ferrari | 1:10.329 |  – |  – | 11 |
| 20 | 9 | Nikita Mazepin | Haas Ferrari | 1:10.589 |  – |  – | 10 |