NHRA: Anderson and Smith lead Friday qualifying in Pomona
The Auto Club NHRA Finals, the final event of the 2021 Camping World NHRA Drag Racing season kicked off at Auto Club Pomona Raceway on Friday with all four pro championships up for grabs. Title contenders Greg Anderson and Matt Smith finished the day as the leaders in Pro Stock and Pro Stock Motorcycle, respectively, while Mike Salinas leads Top Fuel and Robert Hight topped the Funny Car field.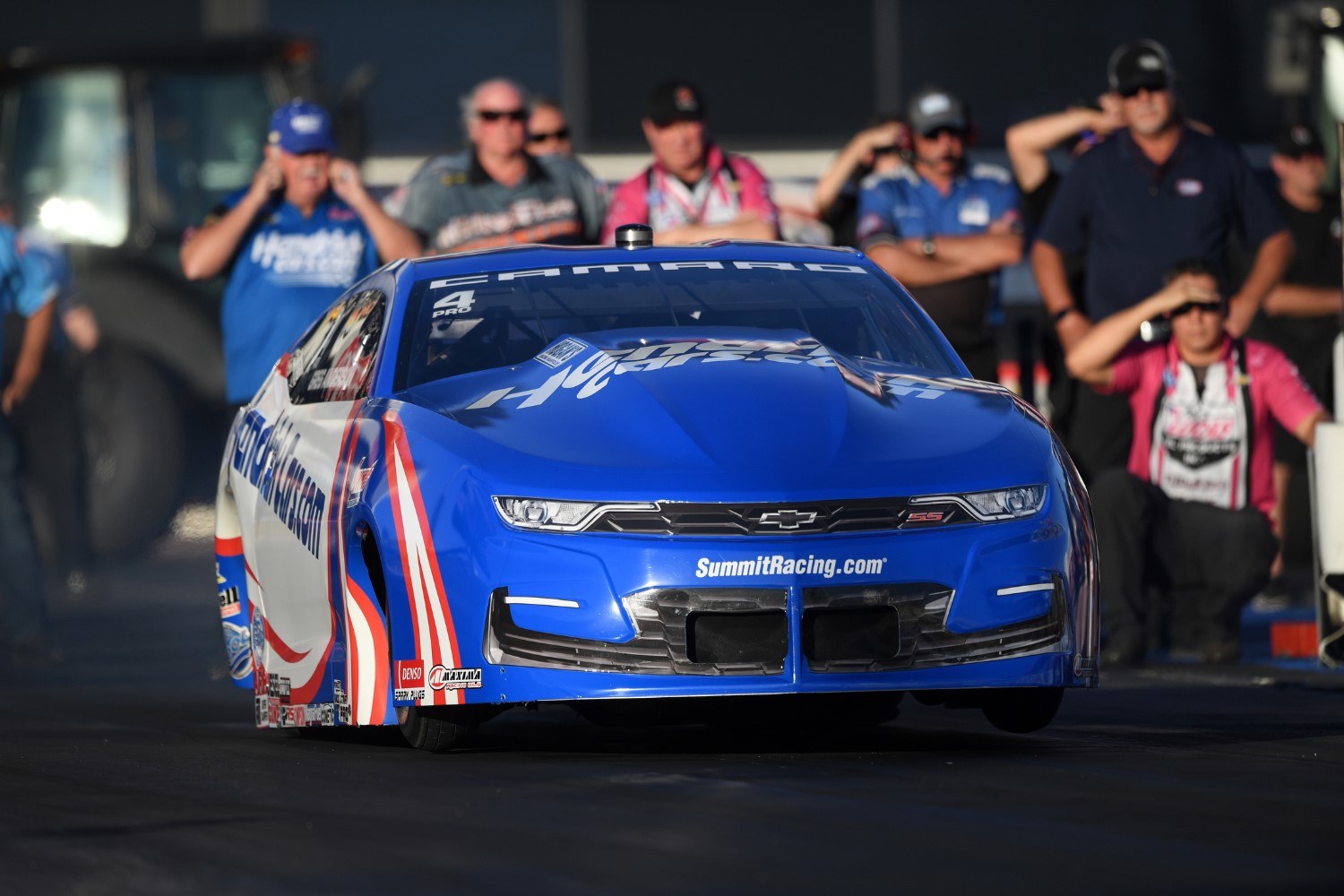 The first round in the battle for the Pro Stock title went to the KB team after incoming points leader Anderson wheeled his HendrickCars.com Camaro to a 6.566, 210.21 to take the early lead after Friday's lone qualifying session. Anderson came into Pomona with a 32 point lead over rival Erica Enders and he's not stretched that to 35 points after Enders finished in the No. 4 spot following a 6.589.
"I just have to focus and execute," said Anderson when asked what he needs to do to win a fifth title. "I can't worry about anything around me. Just think of this as a one lane racetrack. I just hope I have the mental fortitude to pull it off. "
The KB team swept the top three spots in the field with Kyle Koretsky and Las Vegas winner Dallas Glenn finishing the day in second and third respectively with matching runs of 6.584. Koretsky earned the No. 2 spot thanks to a slightly faster speed, 208.71 to a 208.54.
The Elite team continued to employ their all-or-nothing strategy in an effort to help Enders win the championship as Elite drivers Troy Coughlin Jr., Aaron Stanfield, and Cristian Cuadra each shut off early and they are ranked in the bottom of the qualified field.
So far, so good for incoming leader Smith, who rode his Denso Buell to a 6.779 at 201.19 mph to lead the Pro Stock Motorcycle field after the first day of qualifying. More importantly than winning the provisional pole, Smith added four qualifying points to his total. Smith picked up two points over championship rival Steve Johnson and three points over Angelle Sampey, who is also in the mix. Smith is seeking his fifth championship and second consecutive.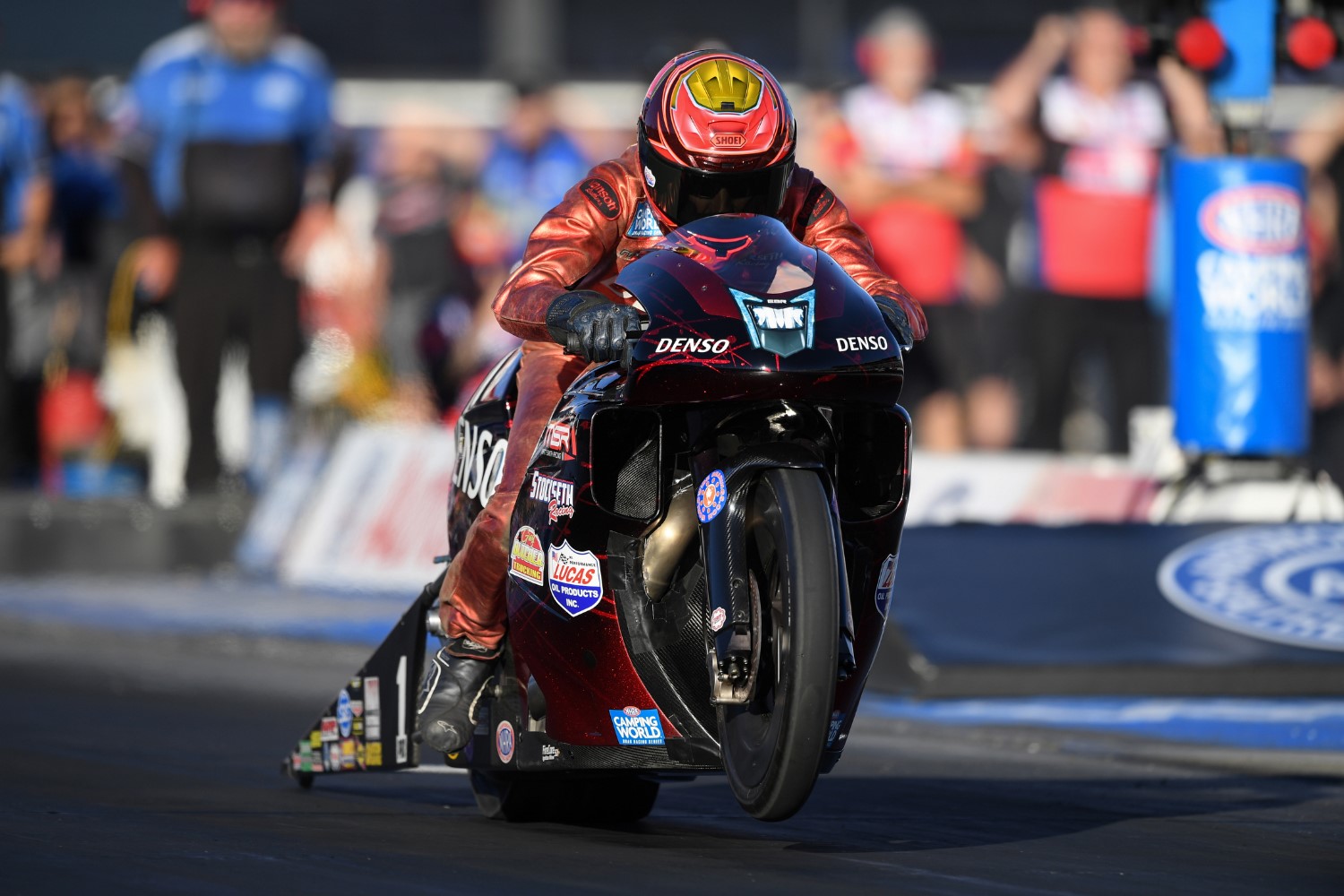 "We'll be okay if we just do what we just did; running low E.T. of each round," said Smith. "I've been sleeping good at night. I've won four of these [championships] and Steve has never won one. Angelle hasn't won one for a long time so they're probably worried and I'm sleeping pretty good."
Coming off a pair of runner-up finishes, Karen Stoffer is second after running a 6.785 on her Big St. Charles Suzuki while Las Vegas winner Johnson is third after a 6.811. Sampey earned a single bonus point after riding her special edition Vance & Hines/Mission Foods Suzuki to a 6.819.
At the other end of the field, there was apparent gamesmanship as Matt Smith Racing riders Scotty Pollacheck and Angie Smith did not make full runs. By qualifying at the bottom of the field, both riders would be in a position to take out one of the challengers in round one.
Salinas continued his hot streak in Top Fuel as the driver of the Scrappers Racing entry raced to the No. 1 qualifying spot with a 3.694. Salinas has been to the final round in three o the last four events with one win, in Bristol.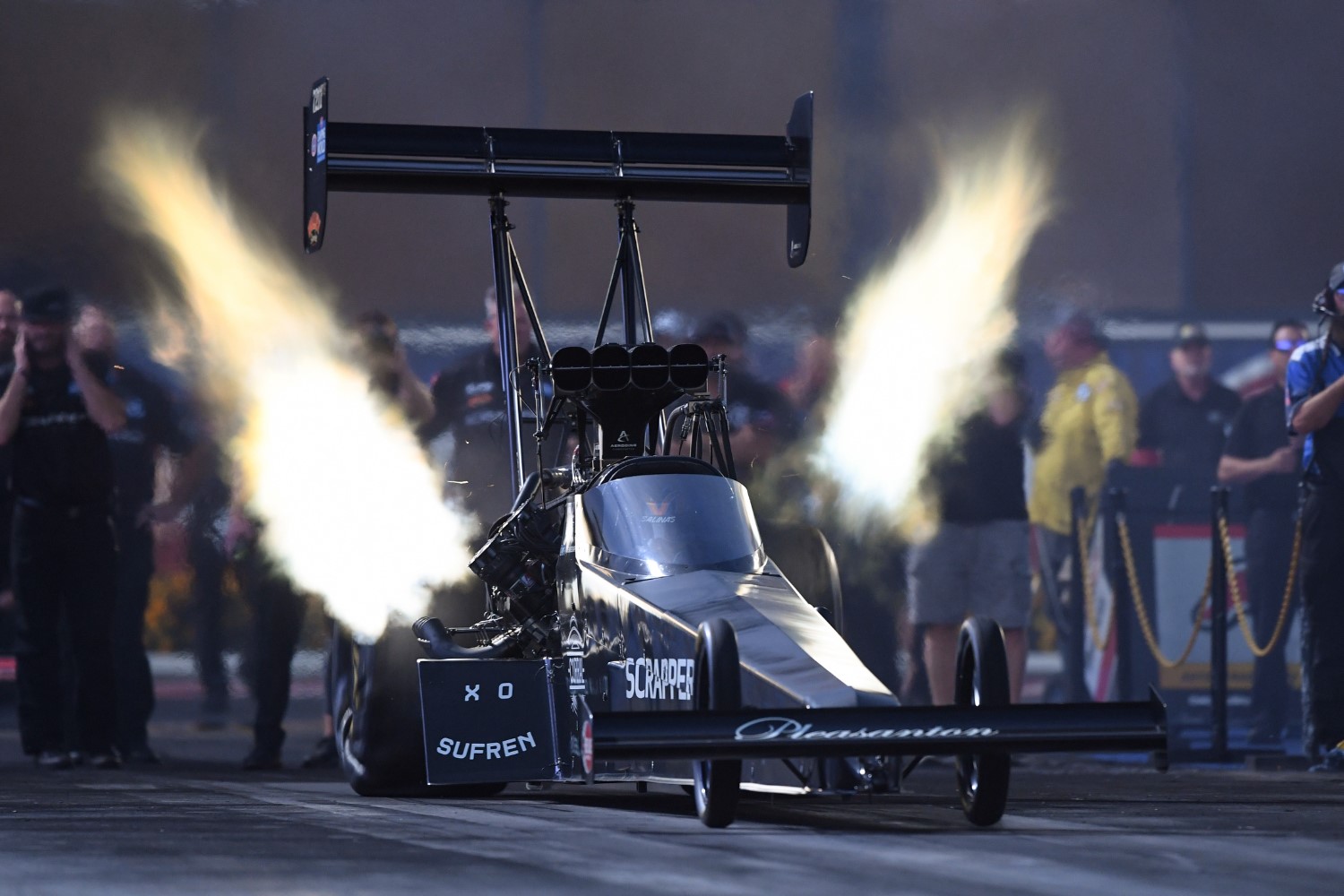 "I got six more rounds to win. That's real simple," he said. "We're having a good time. We're gonna finish this year off strong. And that's our plan and make it make it fun. And we'll start fresh next year. I think there'll be faster cars tomorrow. In the in the heat. I think it's gonna run pretty good tomorrow, too. And I think we're gonna run good.
"It's the last race of the season and you can either spend it smiling or crying, and we want to be smiling."
Points leader Steve Torrence added three more points to his lead over Brittany Force after qualifying No. 2 with a 3.698 and Force was unable to make a full run on her opening lap.
Torrence's father, Billy, is qualified No. 3 with a 3.713, just a few ticks ahead of Antron Brown's 3.719.
Shawn Langdon (3.747), Tripp Tatum (3.752), Clay Millican (3.756), and Doug Kalitta (3.759) round out the top eight.
Hight is hoping to salvage what has been a disappointing season for the three-time world champ and he hopes that a great race at the event and racetrack sponsored by his major backer will be some salve on the wound.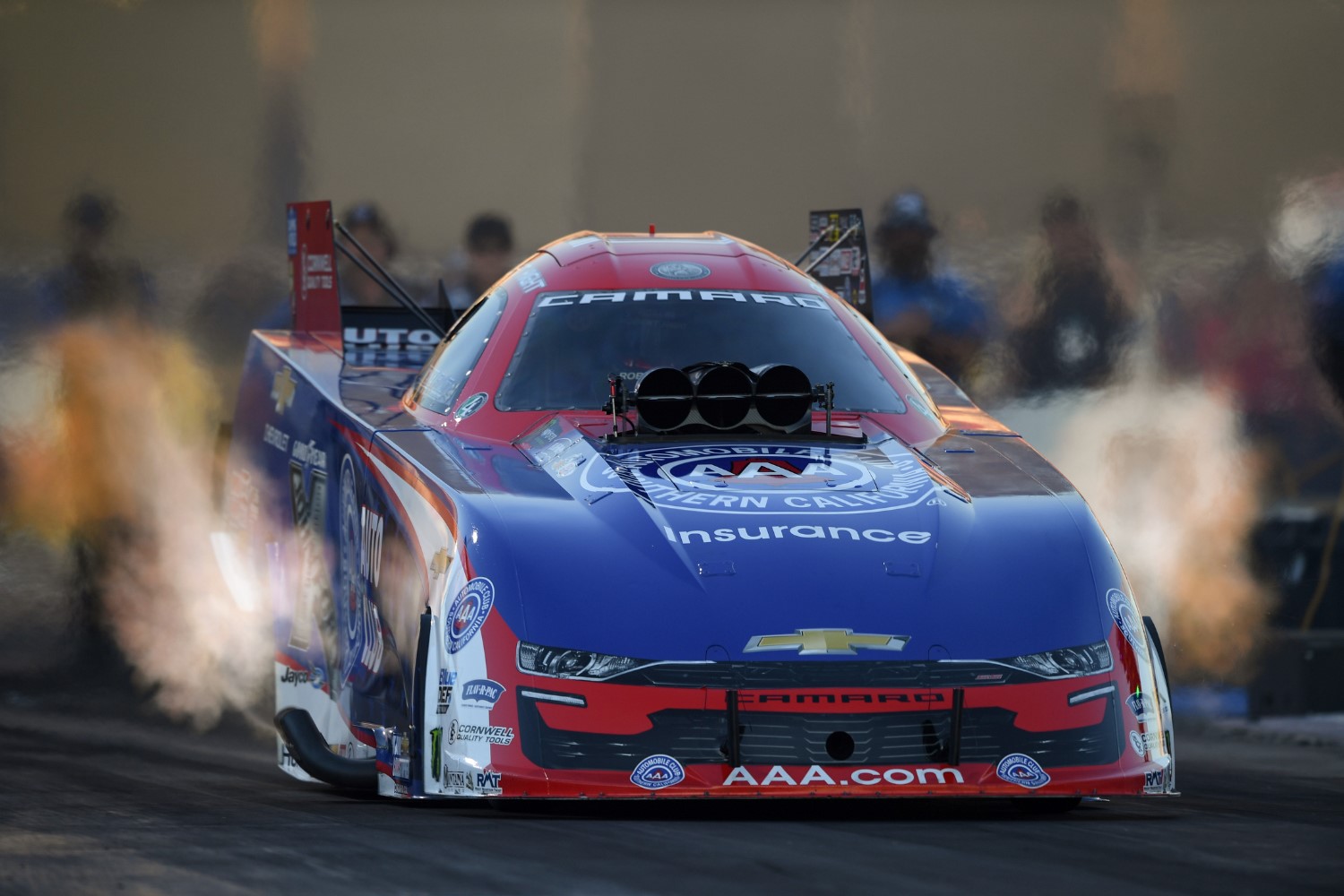 Hight booted the Jimmy Prock-tuned Auto Club of Southern California Camaro to a 3.894 for the No. 1 spot and the first of seven drivers to qualify in the three-second zone on the opening day.
Hight handled the Auto Club Chevy to an impressive 3.894-second pass at 330.55 mph to be quickest and fastest of the Funny Car session. The Auto Club team is looking for their third No. 1 of the season 71st of Hight's career as they chase their third win of the season.
"It's kind of bittersweet because we all know in our camp that this Auto Club Chevy is capable of doing this every single race. We've had a lot of ups and downs, not much consistency. Jimmy [Prock] said if it went it was going to go 3.89, so he's got a good handle on it. All we can do from here on out is try to win this race. The Auto Club Finals is the race you win and celebrate for the longest period. It sets the tone for the off season," Hight said. "I told my guys this morning: This isn't much fun. The last three years that I've been here to Auto Club Raceway I've been in contention for a championship, and I've finished one, two and one. To be here this year and not be in contention, this isn't where we want to be next year. So, remember this feeling and let's make sure we're not in this position next year at this time.'"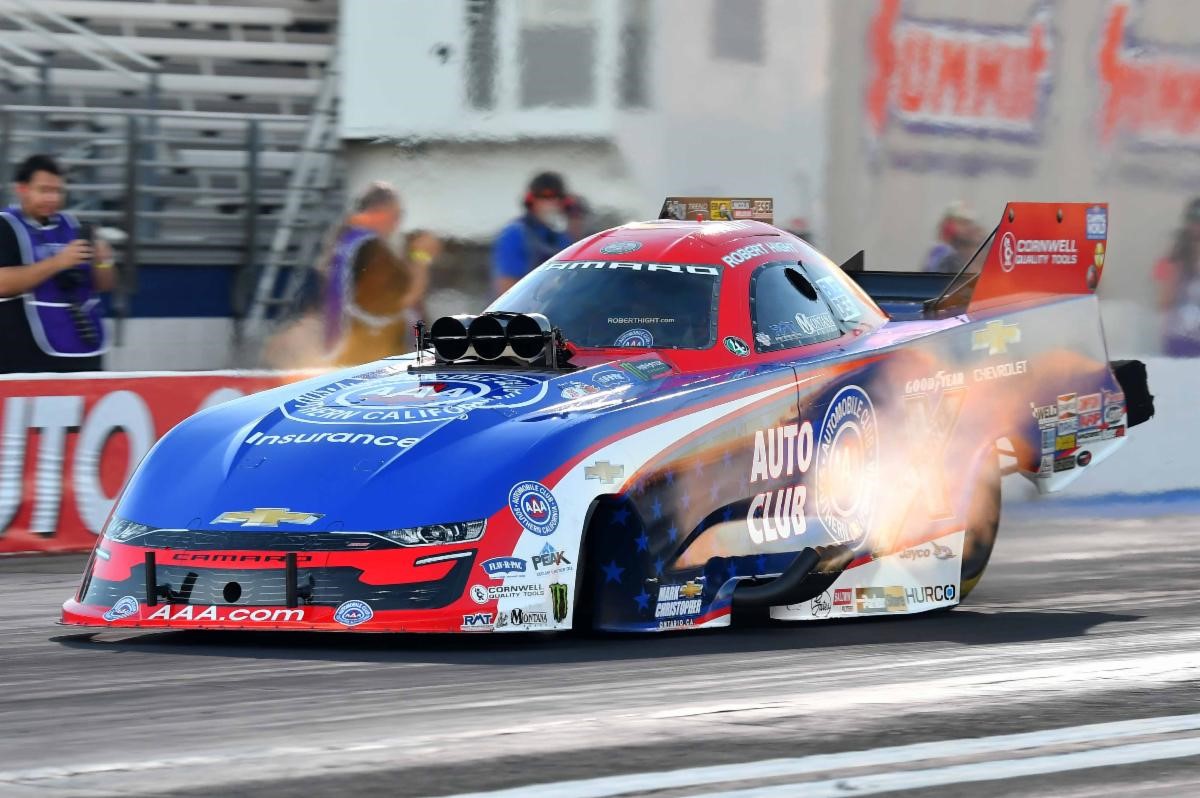 Points leader Ron Capps didn't get the No.1 spot but as the No. 2 man but he earned three very important session bonus points that expanded his lead over second-place Matt Hagan from 58 to 61 points, basically increasing his lead by one round on the reigning world champ. (Round wins at the Finals are each worth 30 points.)
Hot off of his win in Las Vegas two weeks ago, Cruz Pedregon, who sits third in the championship race, put the Snap-On Dodge in the No. 4 spot with a 3.939, a run matched by John Force, who earned the No. 3 position based on his superior speed, 328.14 to 321.96.
Alexis DeJoria (3.954), Bob Tasca III (3.975), Tony Jurado (3.988), and fast-rising Chad Green (4.002) round out the top eight, Chris Morel sits on the soft bump spot with a 7.165 with two sessions remaining Saturday.