F1: Hamilton disqualified in Brazil for illegal car
(2nd Update)
Mercedes has confirmed that it will not appeal Hamilton's disqualification.
---
November 13, 2021
The officials felt the cheater rear wing was not done deliberately by the team, instead something went wrong, perhaps a part failed.
But regardless, Hamilton gained an advantage, and they had to disqualify him.
---
November 13, 2021
Lewis Hamilton has been excluded from Formula 1 qualifying for the Brazilian Grand Prix, resigning him to a back of the field start for Saturday's sprint race.
Using an illegal rear wing, Hamilton topped qualifying at Interlagos on Friday afternoon, beating title rival Max Verstappen by four-tenths of a second at the end of Q3. That margin raised many eyebrows and many thought Mercedes had given Hamilton a more powerful 'trick' engine.  But instead it was his rear wing.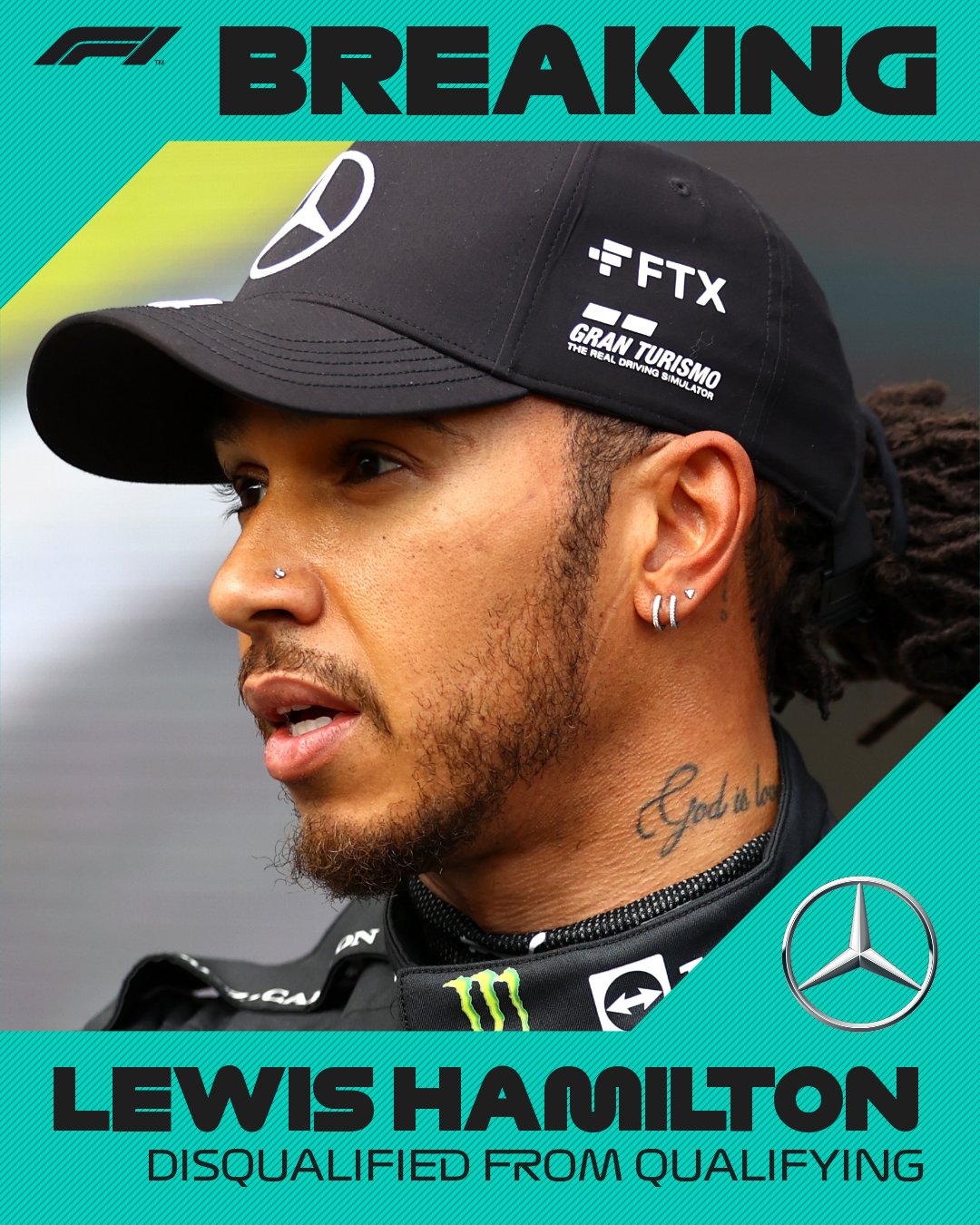 But FIA technical delegate Jo Bauer found in his post-session checks that the DRS (drag reduction system) on Hamilton's Mercedes W12 car was not in compliance (max opening 85mm) with the rules.
A hearing on Friday night was adjourned to Saturday so further evidence could be gathered, with Verstappen also being summoned to see the stewards for touching the rear wing of Hamilton's car in parc ferme, breaching the International Sporting Code.
Ahead of the Sprint event the stewards explained why they had handed the penalty to Hamilton: "In lay terms, there is a gap between the upper and lower parts of the rear wing. When the DRS is not activated this gap must be between 10mm and 15mm. The car passed this part of the test.
"When DRS is activated, which raises the upper element of the wing to a flatter position, the gap must be between 10mm and 85mm. The maximum gap is measured, in accordance with TD/011-19, by pushing an 85mm gauge against the gap with a maximum load of 10N (ten newtons.) If the gauge goes through then the car has failed the test.
"In this case, the gauge would not pass through at the inner section of the wing, but did at the outer section of the wing. This test was repeated four times with two different gauges, once being done in the presence of the Stewards and representatives of the Competitor."
It means that Hamilton will now start Saturday's sprint race from the rear of the field – potentially from the pit lane – acting as a further blow to his championship hopes against Red Bull driver Verstappen.  Wherever he finishes in the Sprint race, he will get an additional 5-place grid penalty Sunday for a 5th engine change
The result of the sprint race will decide the grid for Sunday's grand prix, with Hamilton dropping five places from his finishing position as a result of the engine penalty.