NHRA: Salinas, Hight, Anderson, and Stoffer will lead field at Pomona
The stage is set for an epic season finale at the Auto Club NHRA Finals in Pomona after a thrilling day of qualifying on Saturday. While there was plenty of shuffling in the qualifying order, Friday's leaders Mike Salinas, Robert Hight, Greg Anderson, managed to hold on to the top spots in Top Fuel, Funny Car, Pro Stock, while Karen Stoffer stole the top spot in Pro Stock Motorcycle from championship contender Matt Smith.
Salinas was already the No. 1 qualifier when he pulled the black Scrappers Racing dragster to the starting line in the final pair of the final session with his Friday 3.694 pass, but the Alan Johnson- and Brad Husen-led team — in their final race tuning Salinas' dragster — was not about to rest on those laurels, pounding out an emphatic 3.675 to solidify that lead.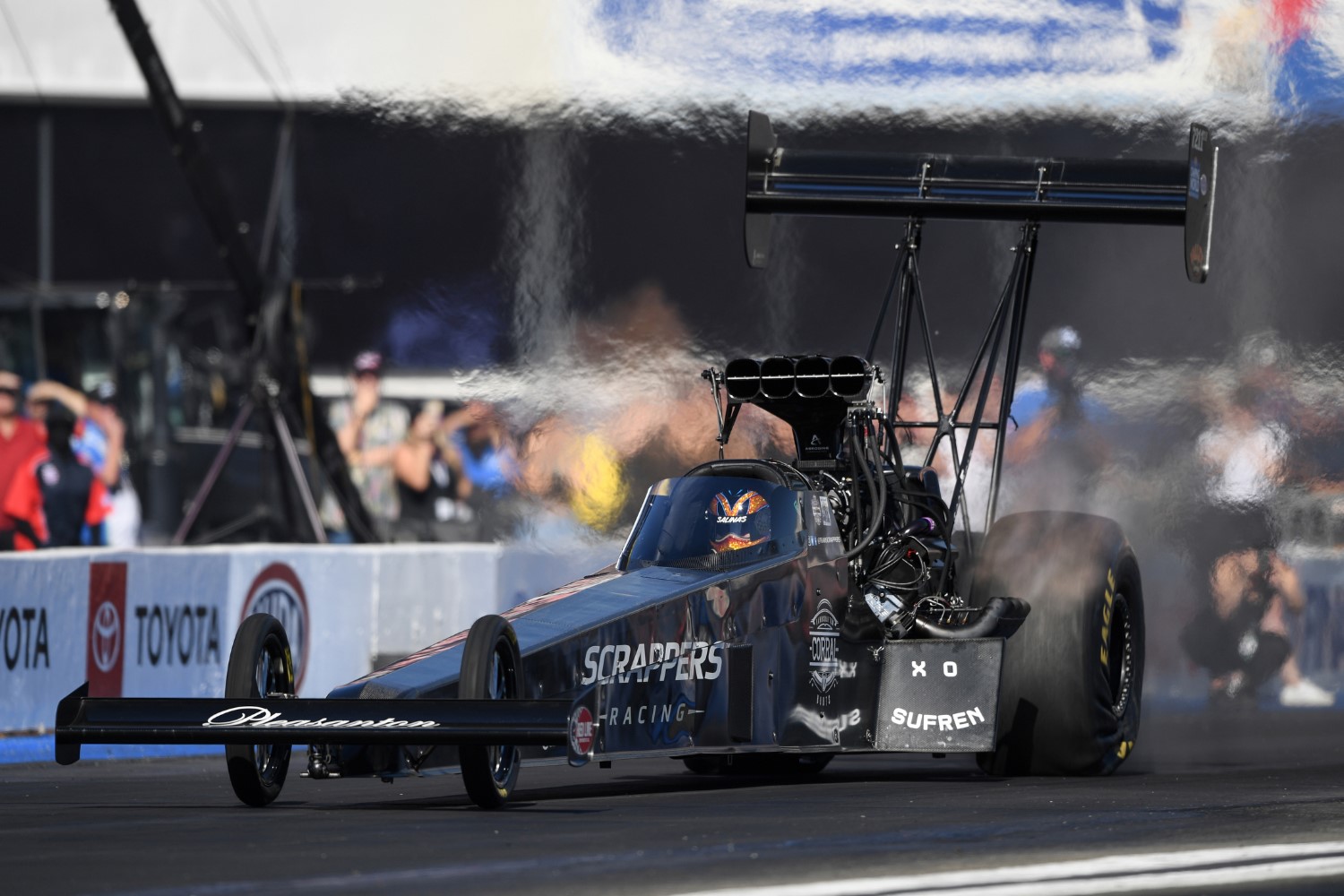 "This team is amazing": he said. "The crew is just second to none and there is nobody that's better than Alan Johnson and Brian Husen. Everywhere they go, they just leave,greatness., it's pretty awesome to be part of and if there's one thing they taught me, it's how to race. I thought I knew about racing until I hooked up with these people.
"Even though we're all going to split up and go different ways after this weekend, we're still a team until Sunday afternoon, and I believe we're gonna do really well and get four rounds tomorrow, and have a lot of fun."
Points leader Steve Torrence remained No. 2 in the field with his 3.698 but what little championship drama remained between he and Brittany Force was nearly drained in the final session.
Incredibly, Force entered the final qualifying session in the No. 16 spot after troubled efforts Friday and Saturday, then was bumped from the field by Steve Chrisman. She was in pair behind Chrisman in the same lane and responded with a clutch 3.784 to continue her championship aspirations into Sunday, where she now would need to win the race and have Torrence lose in the first round. Her run qualified her 13th and there briefly existed a chance for Torrence to be dropped from No. 2 to No. 4 to give them a first-round date, but no one could get past Torrence's 3.698.
Torrence will face Brandon Welch in round one and, in an extreme cause of can-you-believe it, Force draws Torrence's father, Billy, who became the No. 3 qualifier after Leah Pruett bashed out a 3.706 on her final attempt. Barring centerline penalties, if Steve Torrence wins his first-round round, he clinches his fourth straight championship. If he loses, Force will have to win the event to steal the title.
Antron Brown (3.719), Clay Millican (3.733), rookie Josh Hart (3.734), and Shawn Langdon (3.746) round out the top eight. Chrisman ended up in the 16th spot and will face Salinas in round one.
Funny Car
Robert Hight and the Automobile Club of Southern California Chevrolet Camaro SS Funny Car team secured the No. 1 qualifying position Saturday at the Auto Club NHRA Finals at Auto Club Raceway at Pomona. John Force and the PEAK Antifreeze and Coolant #PEAKSquad Chevy are heading into race day No. 5 while Brittany Force with the Monster Energy / Flav-R-Pac dragster are No. 13.
Entering the day already in the No. 1 spot, Robert Hight and the Auto Club Chevy stayed consistent throughout qualifying starting with a solid 3.951-second pass at 322.81 mph in the heat of the day Saturday afternoon. Coming into the final qualifying session, Hight and the Jimmy Prock and Chris Cunningham led Auto Club team laid down a stellar 3.886-second pass at 329.34 mph to solidify their third No. 1 of the season, 71st of his career.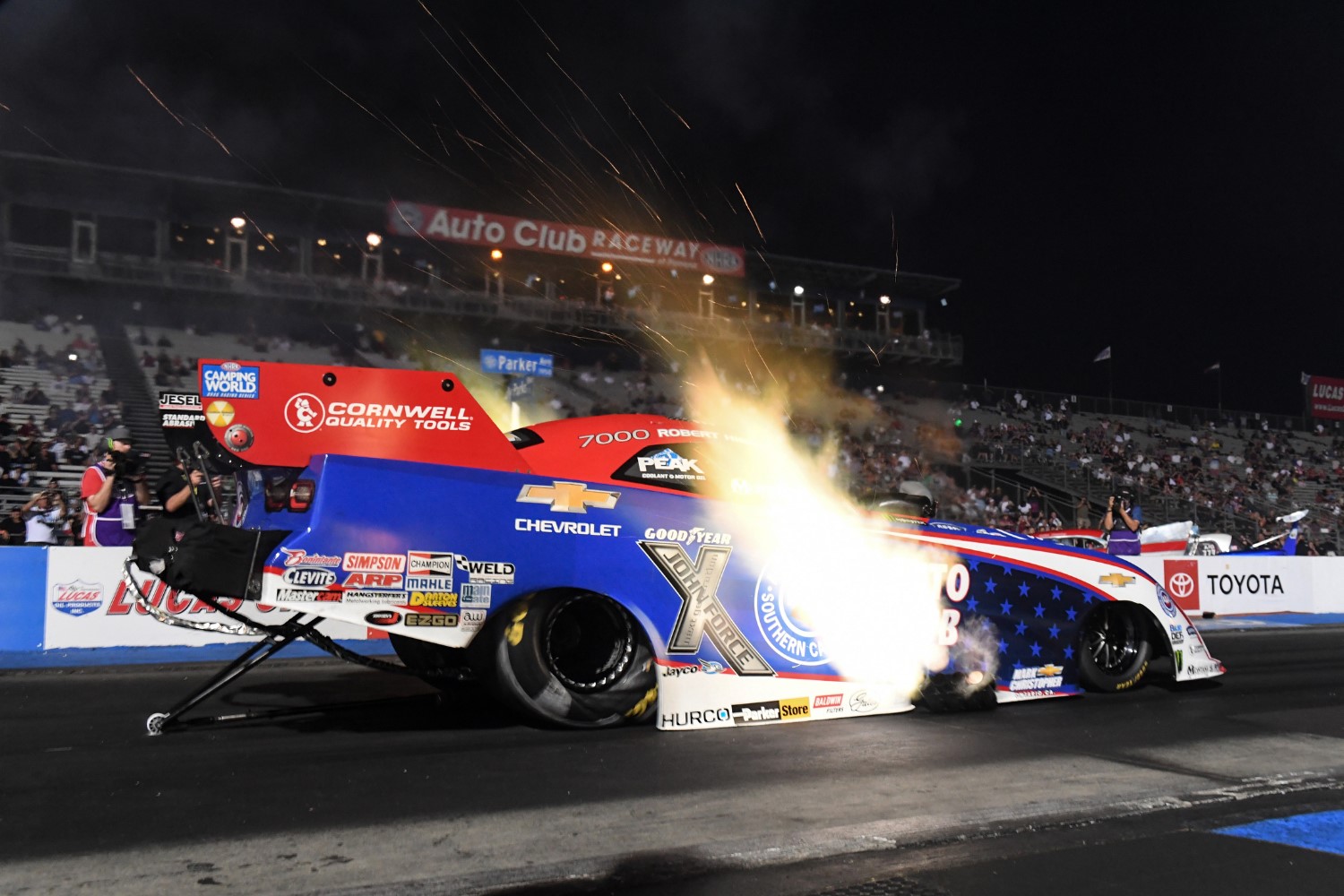 "Jimmy thought it could run .88 or .87 and it did exactly that. The left lane is a little tricker, so good job to my Auto Club guys for getting it down the left lane. This is probably the best car I've had all year going into race day," said Hight who lines up with Jim Campbell first round. "You can just tell it by the way Jimmy Prock is in the staging lanes. He was very confident when he made some changes and the car responded. It's pretty exciting. Unfortunately, it's a little too latee We want to be here fighting for a championship, but we want to win this race, see where it all shakes out and come back strong next year, really that's what I'm looking forward to."
Points leader Capps couldn't find his way past Hight for the qualifying lead, but his No. 2 final position and bonus points earned through the three sessions did help keep championship challengers in a deep hole. Hagan will need to go three rounds further than Capps and Pedregon four for either to take the points lead.
Capps will face Terry Haddock, Hagan will take on Tony Jurado, and Pedregon will race Chad Green. If both Capps and Hagan win their first-round races, they would face off in the second frame.
If Capps loses in round one, Hagan would have to reach the final to pass him and Pedregon would have to win the event. If Capps win his first-round race, Pedregon is eliminated, and Capps would race Hagan. if Hagan could beat Capps, he could win the championship by winning the event..
Alexis DeJoria and Paul Lee jumped to Nos. 3 and 4 in the final session with respective passes of 3.919 and 3.920. Pedregon (3.939), John Force (3.939), Hagan (3.956) and J.R. Todd (3.963) round out the top eight. Former world champ Todd entered the final session outside of the field, but his DHL Toyota team responded with a 3,963 to put them solidly in the show.
Pro Stock
There is still a long way to go, but Anderson has already accomplished one of his primary goals in Pomona. Anderson led all three qualifying sessions and has boosted his advantage over second-place Erica Enders from 32 points to 43, meaning that Enders will have to win two more rounds on race day in order to pass Anderson and win her fifth championship.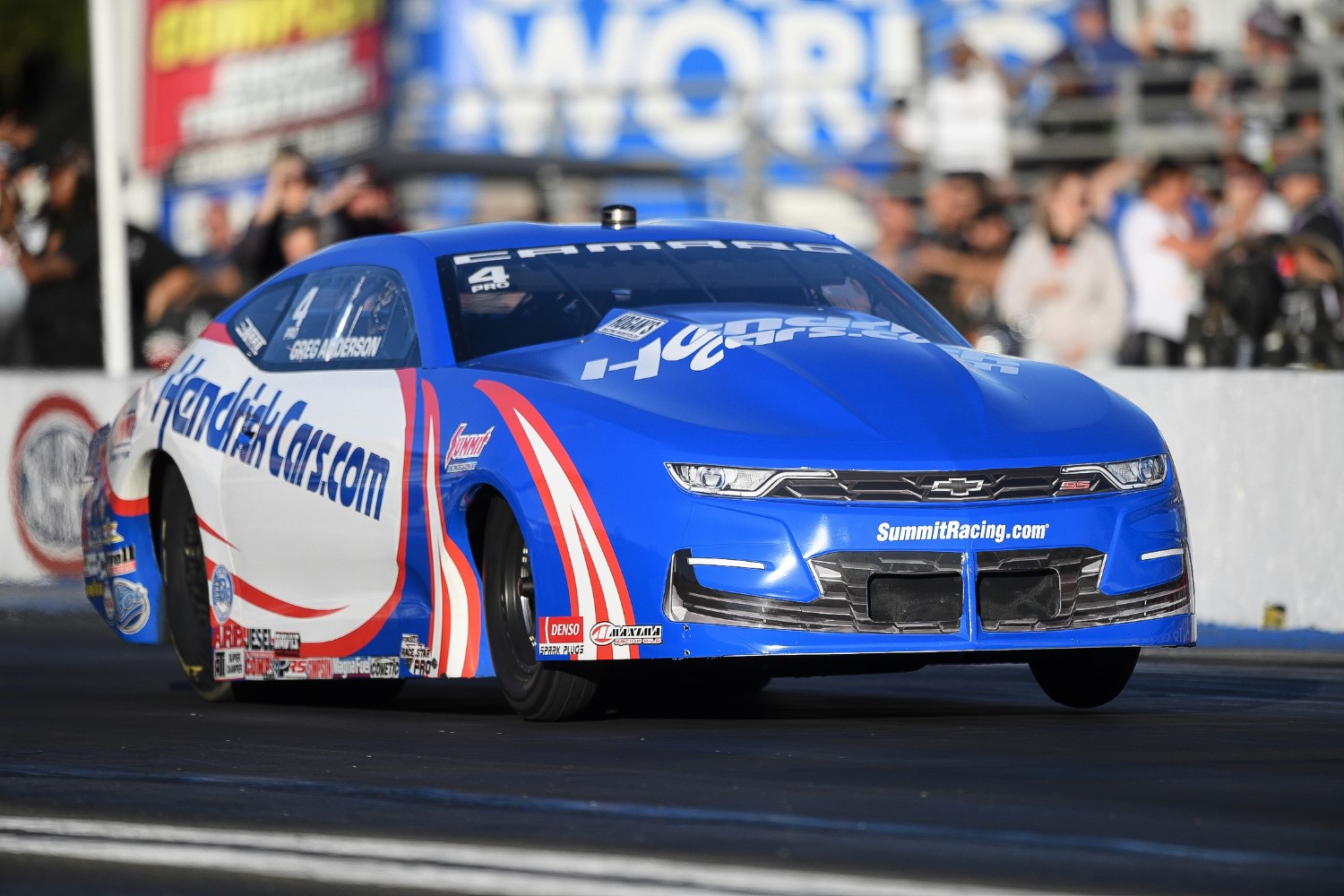 Neither Anderson nor Enders need to count points at this stage as each driver has their fate in their own hands. If either driver wins the race, they will also have won their fifth Camping World NHRA Pro Stock Championship. With Anderson in the No. 1 spot and Enders No. 5, there is a possibility they two rivals could meet in the semifinal round.
"My gut tells me I think [the championship] is ours," said Anderson. "I've never been more confident. This HendrickCars.com Camaro is bad to the bone. We made three flawless runs in a row and I guarantee it will be flawless tomorrow. What a great race team I have. This is just incredible.
"Quite honestly, I made three qualifying runs that were just about perfect," Anderson said. "This is just a continuation of what my team has done for me all year. It would be a crying shame to squander this opportunity and not get it done. There is a lot of pressure but I've got the best horse in the field. I just hope I can ride it like a champion. This has been a special year. I can't explain what that would mean to me to cap it off with a championship. It would mean more than any of the other championships. The table is set. I got every point they have to give so far. I hope tomorrow I can grab every point they have on race day."
The qualifying strategy employed by the Elite team that worked to perfection two weeks ago in Las Vegas, did not work as well this weekend as Anderson will race first-time qualifier Mike Callahan in round one rather than an Elite car.
Enders is scheduled to face Steve Graham in round one as she attempts to defend her 2020 title.
Pro Stock Motorcycle
Matt Smith held down the top spot in Pro Stock Motorcycle after the first two rounds of qualifying with a best of 6.778, but he was bumped to the No. 2 spot on Saturday afternoon when Karen Stoffer lowered the boom with a 6.751 on her Big St. Charles/Skillman Auto Group Suzuki.
Stoffer isn't in the championship hunt, but she's been a threat to win races lately with back-to-back runner-up finishes in Bristol and Las Vegas.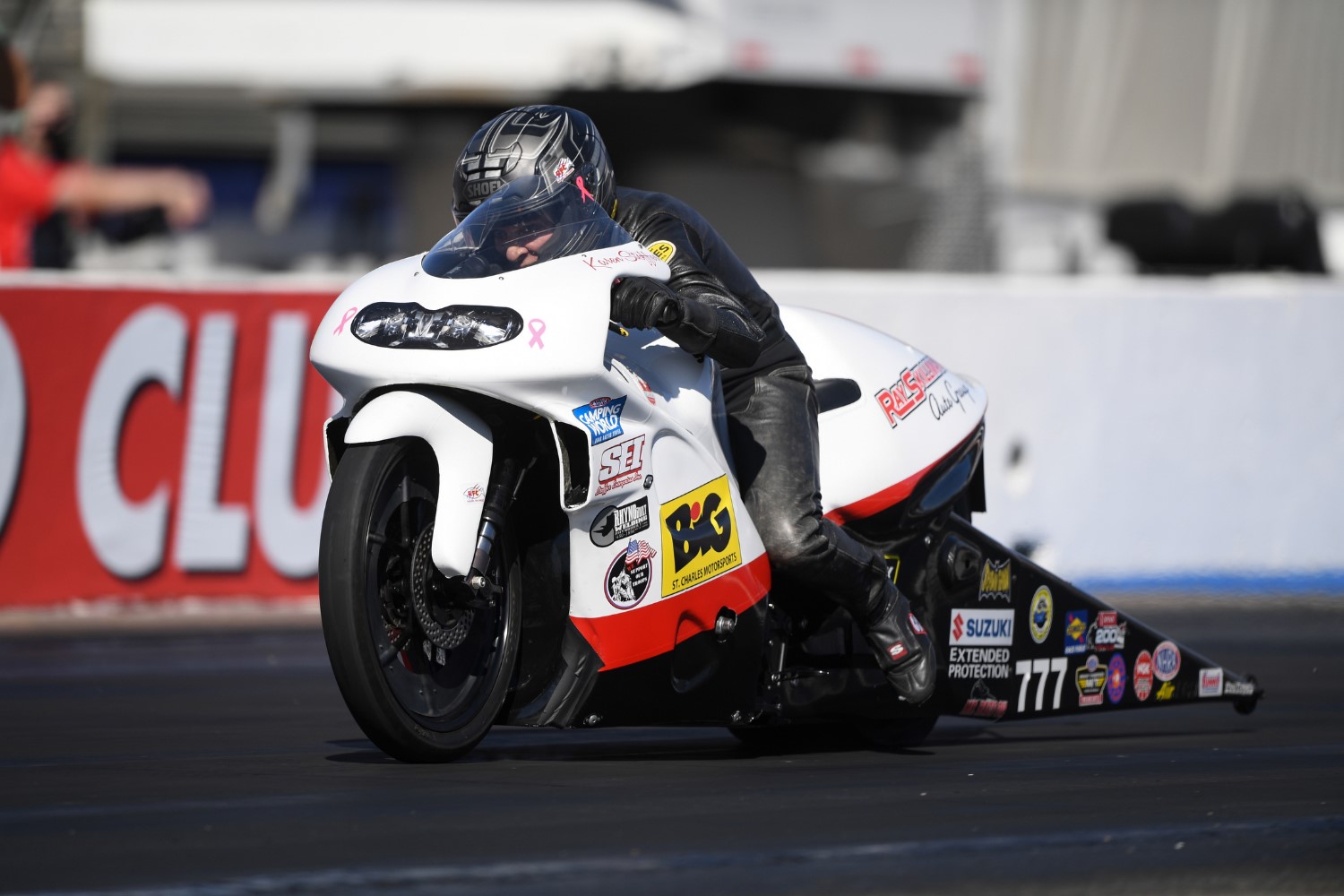 "I have to give a shout out to [team owner] Jerry Savoie," said Stoffer. "He's not racing much because he's still dealing with the effects of the hurricane in Louisiana. He's not racing, but he elected to continue with the four-valve program in my bike, and it turned our season around. I'm blessed. I've got to thank everyone for sticking with us."
"My Job is to turn on that win light four times," Stoffer said. Tim [Kulungian, crew chief] has put together a great bike. I'm very fortunate to ride a great bike. I know there is a lot on the line in this one as far as the championship but I'm not the one who comes in and plays games."
With 12 bikes in the field, Stoffer races Kelly Clontz in round one and the winner of that battle will receive a bye run into the semifinals. Stoffer was not aware of that perk until after she'd taken over the top spot.
"I'm not a strategic racer; I had no idea what they were talking about until I got to the top end and they told me there were 12 bikes here. That really doesn't change a thing. My job is still to go out and do the best job I can and win this race."
Matt Smith was bumped to the No. 2 spot but he still heads into Sunday's final eliminations fully in control of his own championship destiny. Smith's advantage over rivals Steve Johnson and Angelle Sampey is equal to two elimination rounds.
Smith is scheduled to race Ryan Oehler in round one and might be on a collision course with Sampey, who races Smith's wife, Angie in round one. If Sampey wins the race, she would also win her third title.
The landscape of the Championship changed dramatically during Saturday's final qualifying session when second place Johnson crossed the centerline. Since it was his third infraction of the season, he received a 15-point deduction.
Johnson would also need to win two more rounds than Smith and one more round than Sampey in order to claim his first championship. Johnson's quest for the title will begin with a first round race against Fred Camerena.