F1: Using more powerful engine, Hamilton outduels Verstappen in Brazil
With 12 laps to go in the Brazilian GP, Lewis Hamilton used the extra power in his 'trick' Mercedes engine, plus DRS, to blow pass leader Max Verstappen and go on to win at Interlagos in São Paulo, Brazil going away.
Hamilton stormed from 10th on the grid and overtook title rival Verstappen to claim a sensational 6th victory of the year.
"What a race, the team did an amazing job, Valtteri did a great job," said a happy Hamilton.  "I was pushing as hard as I could. From last on the grid, and then another five place penalty – I think that's the hardest weekend I've had. Things kept going against us, but it just shows – never give up, keep fighting. Never, ever stop fighting. It feels like the first win."
It was a great battle and Verstappen did all he could to hold off Hamilton for 60 laps, but eventually, he could not beat the extra power of the Mercedes and had to settle for 2nd.
"We were just missing a bit of pace, but we gave it our all and had fun," said Verstappen. "We still have a good points lead, today was a bit of damage limitation. In the coming races, we'll bounce back."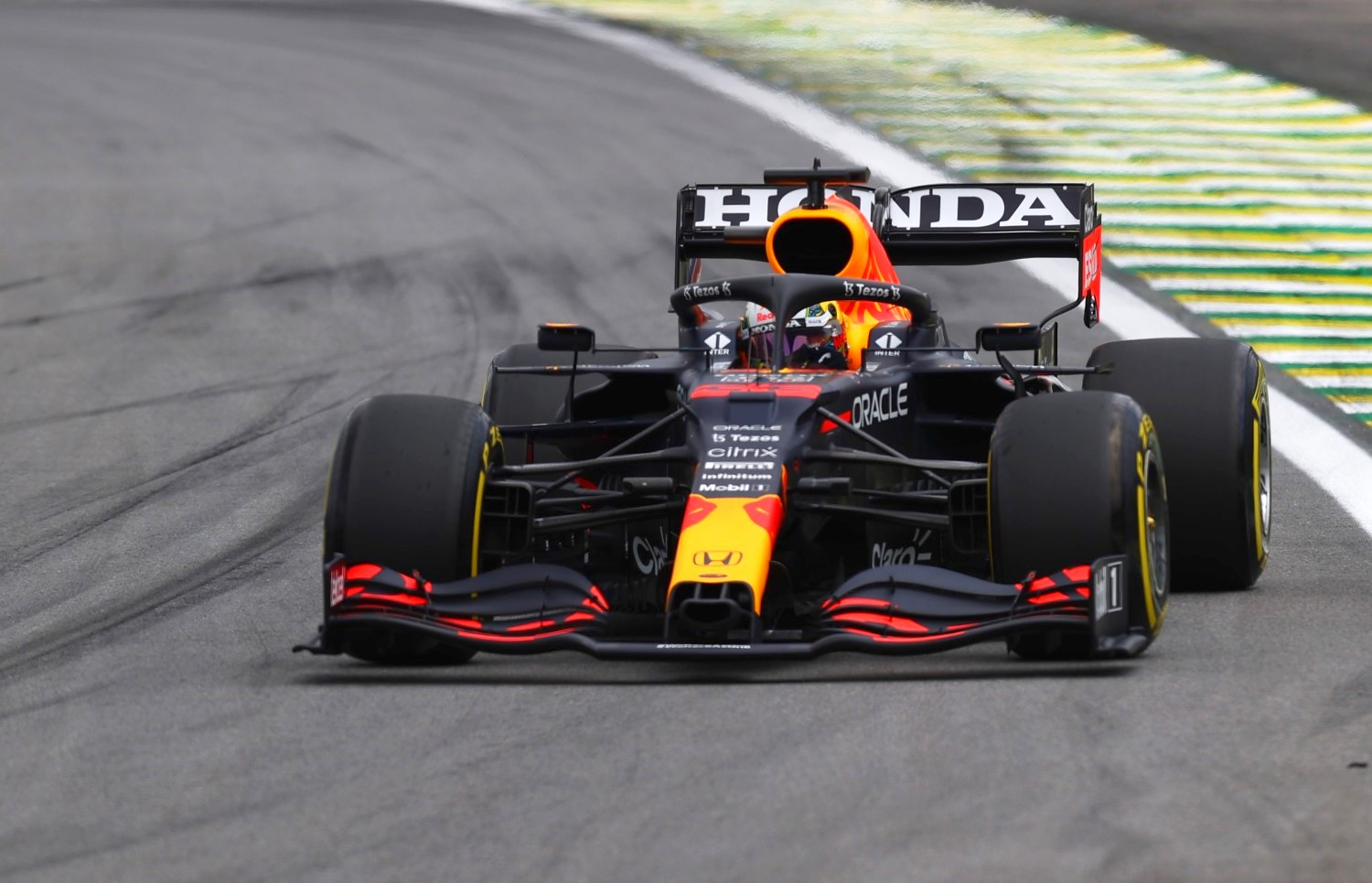 Valtteri Bottas rounded out the podium in the #77 Mercedes, ahead of the #11 Red Bull of Sergio Perez.
"The start was quite tricky, I'm disappointed with the start and the first lap," said Hamilton.  "Towards the end the pace was okay, I thought we could have done a one-stop quite easily. Lewis did an amazing job today."
Charles Leclerc rounded out the top-5 for Ferrari, over 54 seconds behind Hamilton.
Onto the penultimate lap Red Bull brought Perez into the pits – for soft tires to have a crack at fastest lap and take the one point away for Hamilton who had the fastest lap until that point. And Perez did it.
With the win, Hamilton closed the point gap to leader Verstappen from 21 points to 14. Mercedes extended their lead in the Manufacturers championship to 11 points.
Game on heading to Qatar.
There are three races left to come – Qatar, Saudi Arabia and Abu Dhabi. Qatar comes straight up next weekend, before a week break before the double header to end the season.
Hamilton's last win was in Russia – which must feel a lifetime ago. As such, you can understand why he was celebrating on the podium somewhat more enthusiastically than usual. His third win in Brazil, and could be his most important!
Rounding out the Top-10 were Carlos Sainz Jr. (Ferrari), Pierre Gasly (AlphaTauri), Esteban Ocon (Alpine), Fernando Alonso (Alpine) and Lando Norris (McLaren).
7th place on was lapped by the leaders.
Winner Quotes
Lewis Hamilton
I am so, so grateful for the incredible support I've had this weekend from the people of Brazil – I've not had this kind of support since Silverstone! To hear the crowd throughout the weekend has been really humbling. I've just been saying 'Obrigado Brasil' all weekend. What a race! The Team here and at the factory did an amazing job, and Valtteri did a great job today to get as many points as possible.
I was pushing as hard as I could from last on grid yesterday, and then with another 5-place penalty today. This was, I think, the hardest weekend I've had. But my dad said 'you reminded me of 2004' when I was in Formula 3 in Bahrain – I started last and I finished 10th and then I finished 1st so, this one is for my dad.
Coming into this weekend I never, ever thought we'd be able to close the gap like we have today. And then things just kept going against us, but I think it really shows, just never give up. Whatever you're facing, you've just got to keep pushing, keep tumbling away, keep fighting. Never, ever stop fighting. That's how I've approached this weekend. It feels like a first because I don't feel like I've had a win for a long time.
Valtteri Bottas
The start today was quite tricky, it was a disappointing first lap but I tried my best. After that, the pace was good and from the cockpit, I thought we could have a chance of the one-stop, but we decided to do a two-stop. The team put me in a good place to take advantage of the VSC, and it fell my way for once, so I was happy with that. Overall, I'm glad we could score more points than Red Bull today – it was a positive result. Congratulations to Lewis, he had an amazing drive.
Toto Wolff
What a weekend from this team. We started the weekend on the back foot with our self-inflicted engine penalty, we got disqualified yesterday which was harsh, and then today in the race, things went against us too. This team has always been together, but these decisions have brought us so close. It felt like everything was against us and I think that's what Lewis has felt all his life and we now feel it together as a team and we're going to fight – that is the emotion we're feeling in the garage at the moment.
Yesterday, Lewis produced one of the best drives we have ever seen. I don't know how many overtakes there were across the weekend, but Lewis was left, right, and over them. And today, his driving was immaculate. Max forced him off the road at Turn 4 and Lewis was very clever to avoid contact. It was great to see these amazing drivers but not giving a 5-second penalty? Come on!
Valtteri banked crucial points for the team today and his driving was top-class all weekend, a very strong podium for him today to follow his victory in the Sprint yesterday. This season keeps delivering and you can see how quickly the tides change – last weekend we went away beaten up in Mexico, this week we had the faster package. Red Bull could be very strong in Qatar next week and that is to be expected. May the stronger one win. Last weekend it was them, this weekend it was us – we'll fight to the end.
Andrew Shovlin
We've seen some impressive drives from Lewis over the years but that was incredible, we don't have the car advantage that we've had in years gone by but to do what he did this weekend was just amazing. Valtteri lost a bit of ground off the line and was pushed wide at turn one which gave him a difficult run to turn four. After that though, he did a brilliant job to recover to a podium, the VSC brought things our way but he was closing in on Max at the end and we were wishing the race was a couple of laps longer. It's been a busy weekend and whilst the win and double podium were the highlights, the most encouraging aspect was how strong the car pace was at a track that we were not strong in 2019 and how well the team and drivers have stuck together through was has been a really difficult weekend. We're looking forward to the challenge of the new track in Qatar and will be working non-stop over the next few days to try and arrive in as good a shape as possible.
Loser Quotes
Max Verstappen
"I knew today would be difficult, but I did everything I could, we were just lacking a little bit. At least it was a fun race, of course I would have liked to have won but realistically I think this was a good result. Lewis and I were fighting for position on multiple occasions, I think it was hard racing but good racing and that's how it should be. I was hoping for a little bit more performance but this result is definitely the maximum we could do. Top speed wise it was tough to defend, you can clearly see when they take a fresh engine that it gives them a bit more power, so hopefully that will die down over the coming races. There are three races coming up that will be completely different again, so we'll see how it goes."
Sergio Perez
"It was close today and it was fun, but I am not here to have fun, I am here to deliver. I had a great start but then it was very difficult to hold Lewis back, I tried my best to hold onto him but I couldn't, he was flying! Then we were ahead of Bottas by two seconds, we had the position and we had the podium but two laps later the virtual safety car came in. That timing was extremely unlucky for us and it worked perfectly for him, he managed to do the undercut and then pull five seconds away from us. It is a bit of a shame we lost the podium but I was able to build a big enough gap to the Ferrari in fifth to pit and go for fastest lap, which is an important point for the team. That straight-line speed of the Mercedes is just unbelievable, we were not able to match them and today they were on another planet. Ultimately it is a good result for us today, I don't believe there is much we could have done differently, it's just a shame because we should have finished ahead of Bottas had it not been for the VSC. Today the luck wasn't with us but there are still three races to go and everything to play for so we will keep pushing. Now we look forward to Qatar and hopefully there we can be competitive."
Christian Horner
"To come away with second and fourth today, plus the fastest lap was damage limitation this weekend. We scored 20 points for Max this weekend versus their 25 for Lewis in the Drivers' Championship, so we'll take that. We put up as good a defence as we could, Max did his best and raced hard, and Checo made Lewis have two goes to get past, and he came back with a great move to reclaim the place after Lewis' first effort. But we saw Mercedes pace from Friday and then again yesterday, so today wasn't too much of a surprise. They did a good job and Lewis drove a great race today, so well done to them. We've got some catching up to do this week. There's a lot of racing still to go, so we'll brush ourselves down and come back fighting in Doha."
Race Results – 71 Laps
| | | | | |
| --- | --- | --- | --- | --- |
| POS | DRIVER | NAT. | TEAM | BEHIND |
| 1 | Lewis Hamilton | GBR | Mercedes AMG Petronas | +0.000s |
| 2 | Max Verstappen | NED | Red Bull Racing | +10.496s |
| 3 | Valtteri Bottas | FIN | Mercedes AMG Petronas | +13.576s |
| 4 | Sergio Perez | MEX | Red Bull Racing | +39.940s |
| 5 | Charles Leclerc | MON | Scuderia Ferrari Mission Winnow | +49.517s |
| 6 | Carlos Sainz | ESP | Scuderia Ferrari Mission Winnow | +51.820s |
| 7 | Pierre Gasly | FRA | Scuderia AlphaTauri Honda | +1 Lap |
| 8 | Esteban Ocon | FRA | Alpine F1 Team | +1 Lap |
| 9 | Fernando Alonso | ESP | Alpine F1 Team | +1 Lap |
| 10 | Lando Norris | GBR | McLaren F1 Team | +1 Lap |
| 11 | Sebastian Vettel | GER | Aston Martin Cognizant | +1 Lap |
| 12 | Kimi Raikkonen | FIN | Alfa Romeo Racing Orlen | +1 Lap |
| 13 | George Russell | GBR | Williams Racing | +1 Lap |
| 14 | Antonio Giovinazzi | ITA | Alfa Romeo Racing Orlen | +1 Lap |
| 15 | Yuki Tsunoda | JPN | Scuderia AlphaTauri Honda | +1 Lap |
| 16 | Nicholas Latifi | CAN | Williams Racing | +1 Lap |
| 17 | Nikita Mazepin | RUS | Uralkali Haas F1 Team | +2 Laps |
| 18 | Mick Schumacher | GER | Uralkali Haas F1 Team | +2 Laps |
| DNF | Daniel Ricciardo | AUS | McLaren F1 Team | DNF |
| DNF | Lance Stroll | CAN | Aston Martin Cognizant | DNF |