NHRA: Torrence, Anderson, Smith, Tasca III winners in Pomona
Top Fuel
Steve Torrence clinched his fourth career NHRA Top Fuel championship, then added his 11th victory in 20 starts this season, besting good friend Antron Brown in the final round of the Auto Club NHRA Finals.
Steve Torrence had already won more than half of the season's first 19 events, collecting 10 victories including two of the last four events heading into the season finale, and clinching his fourth straight world championship, but it wasn't enough for the talented Texan.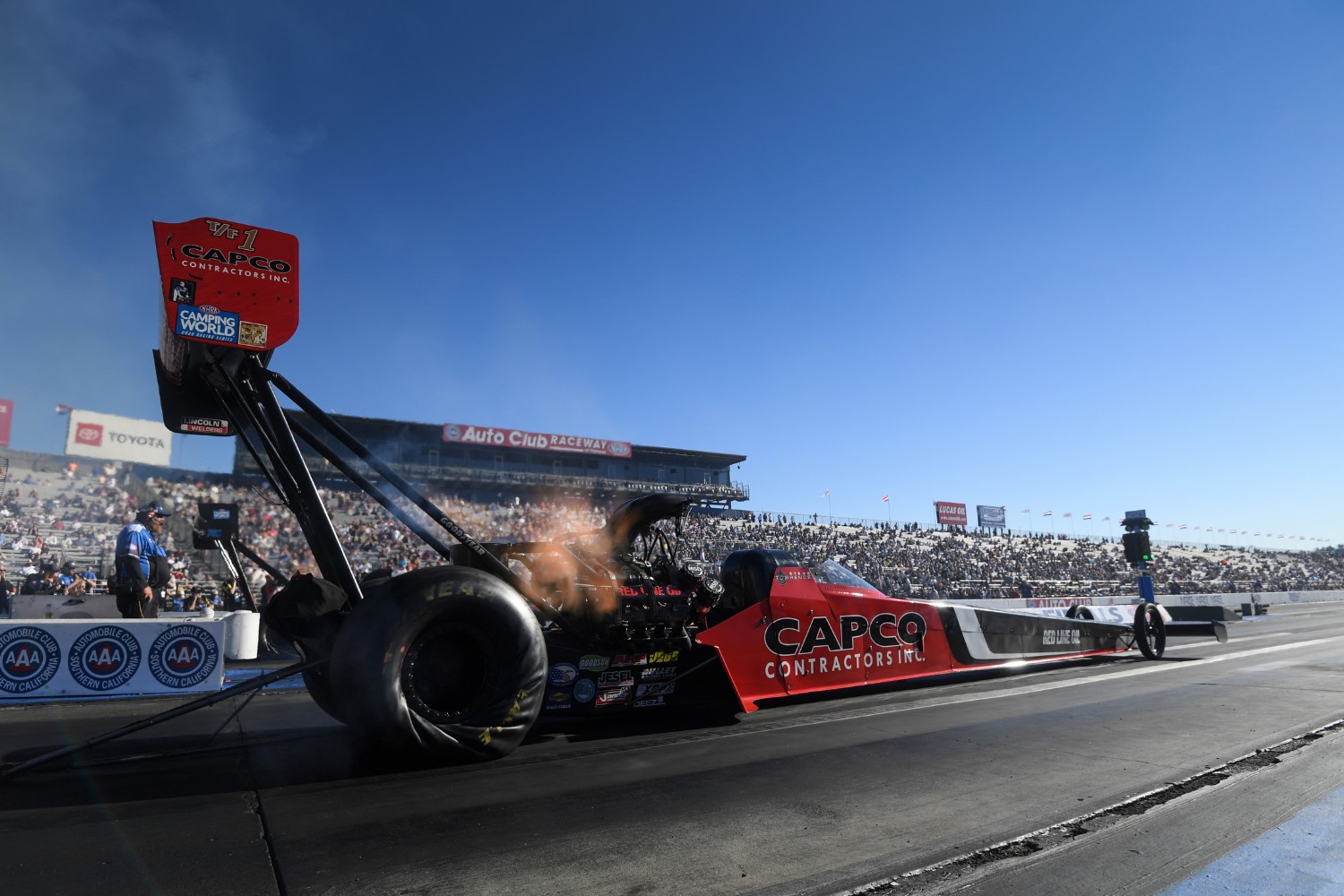 Torrence's monster season all but assured his fourth straight world championship, and, after qualifying an impressive No. 2, he clinched it with his first-round victory over Brandon Welch then went on to win the event, his 11th of the season, besting good friend Antron Brown in the final round, 3.75 to 3.80.
"When you come here, no matter what's going on, you're nervous," said Torrence. "First round, you got to do this, you got to do that. And you let pressure kind of influence you. And I think that the more experience that you get, the more in these situations that you've been, you're able to deal with that pressure better, and that that was a huge advantage to me today.
"[Winning the race] was big. Last year we won the championship, but we got beat in the final, same scenario. I'm racing  Antron at Vegas and I go up there and do something stupid, I'm late on the tree and lose on the holeshot. I did not want to do that today."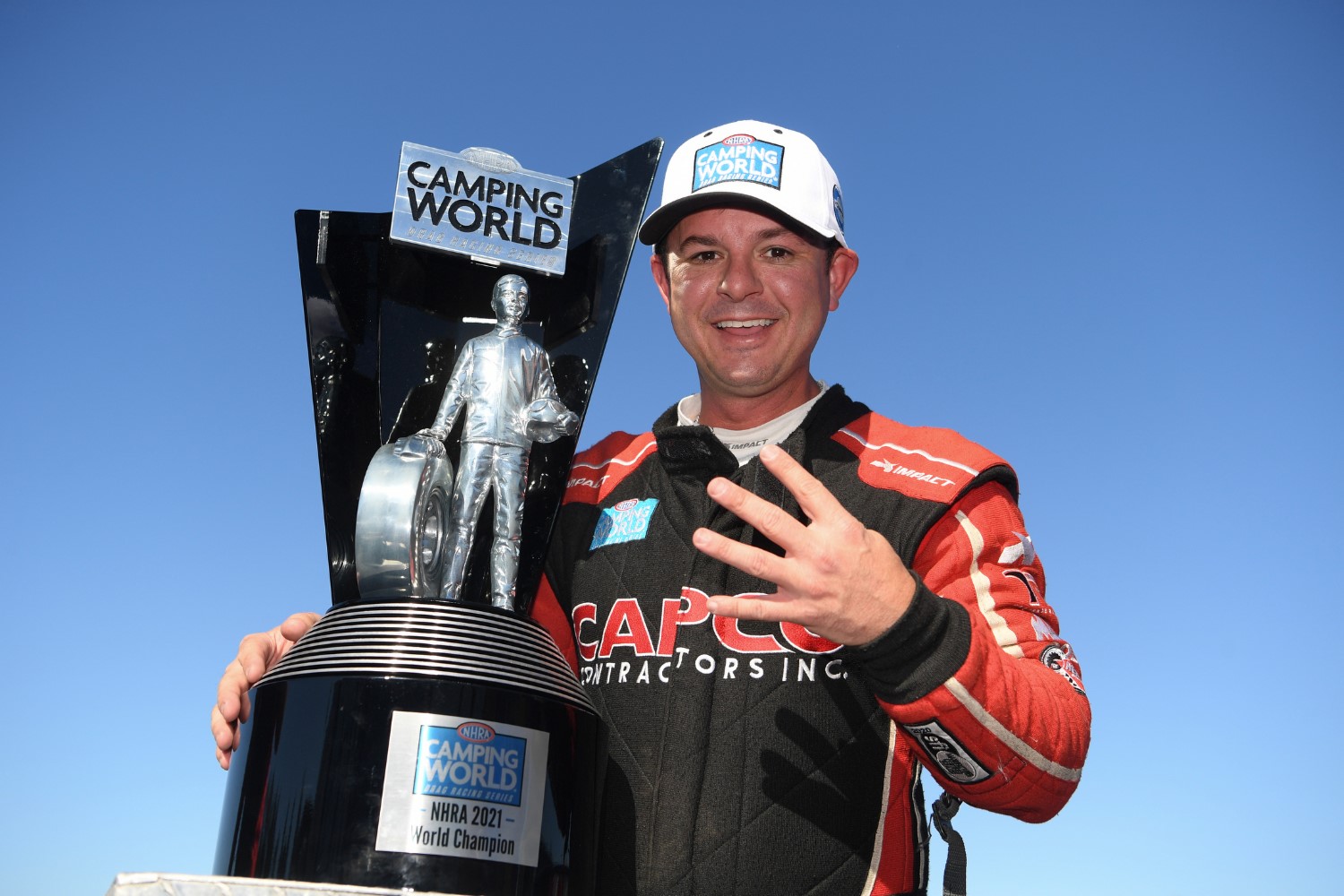 After clinching the title, Torrence had to pedal his way to victory in round two as both he and perennial championship rival Doug Kalitta lost traction, and Torrence's 4.25 was nothing to write home about but nonetheless advanced him to a semifinal date with darkhorse favorite Cameron Ferre. Ferre, who had won Super Comp at the Finals in 2012, had a career day in reaching the semifinals with the EMPI/Paton racing entry, almost pulled off another upset after Torrence's machine went silent before the finish line, but the early lead he built gave him a narrow .006-second victory and admission to his 76th career Top Fuel final.
The event was a meaningful one for Brown as he'll leave the Don Schumacher Racing empire for team ownership next season and gave the DSR operation one final thrill.
Brown qualified the Matco Tools machine No. 5 in the field and raced his way past Justin Ashley, beating the class' best leaver off the line and winning on a 3.717 to 3.713 holeshot. Brown followed with another holeshot victory over Billy Torrence, 3.74 to 3.73, then defeated fast-rising Tripp Tatum in the semifinals with a 3.79 to reach his 94th career Top Fuel final.
Funny Car
Bob Tasca III finished off a promising yet frustrating season of flirting with the world championship with his third Funny Car victory of the season at the Auto Club NHRA Finals.
Tasca, who led the points battle for eight races early in the season before his Motorcraft/Quick Lane Ford cooled in the summer with a series of first- and second-round losses before finding their footing with a runner-up in St, Louis.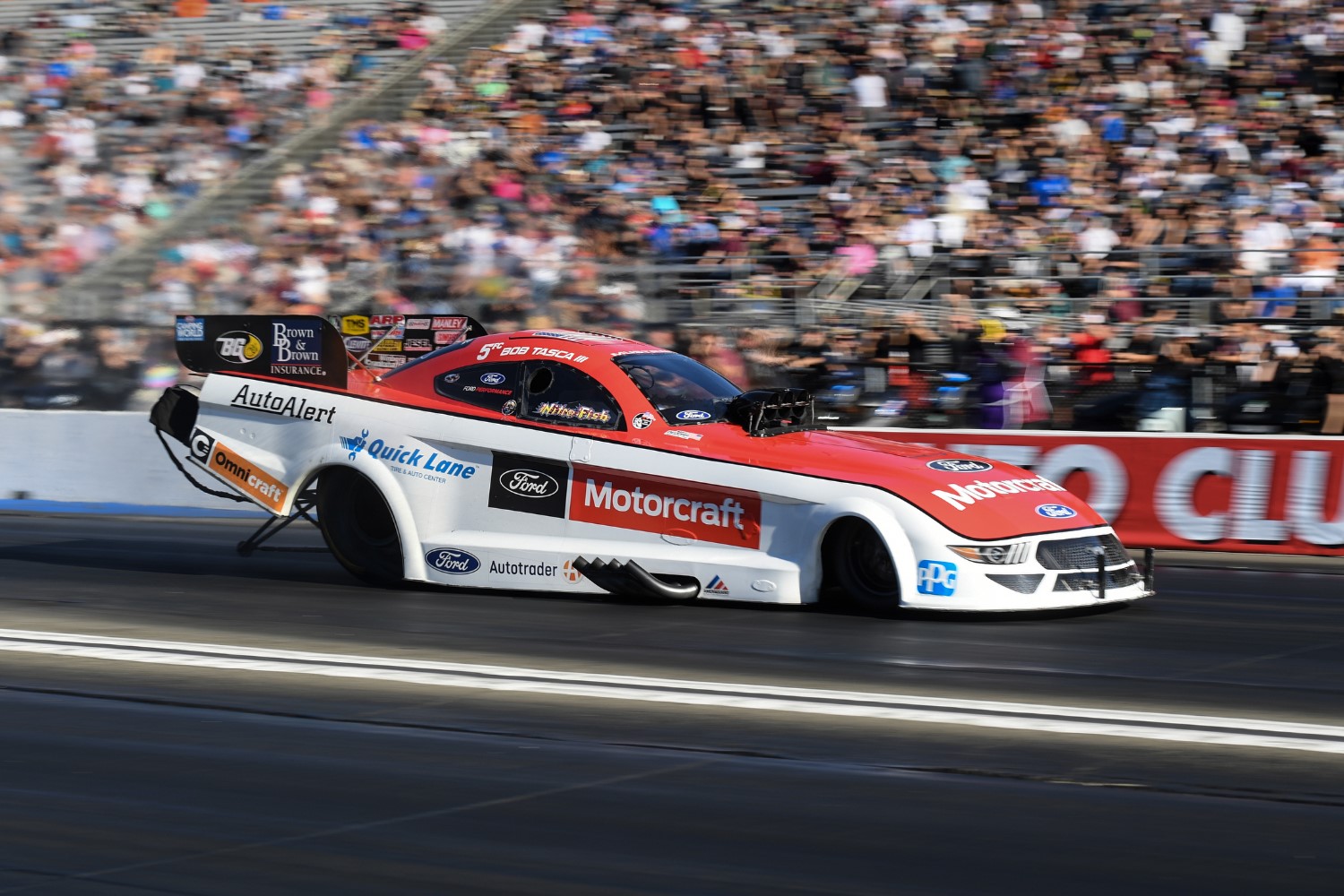 Tasca's red and white Mustang started from the No. 9 qualifying spot and took was amazingly consistent on race day, taking down J.R. Todd, Jim Campbell, and John Force with a pair of 3.95s and a 3.94 to reach the final, his 21st in Funny Car.
With off season bragging rights on the line, Tasca powered to another 3.95 to best Alexis DeJoria's 3.97 for his ninth career Funny Car win.
"You know, it's a shame," he said of his lost season. "We really ran to clutch problems; we ran out of clutch discs that we liked, We had enough to finish this race and we just saved them. We didn't have enough to really compete through the playoffs., but we had enough to finish this race and we just put them in. And I just knew we were gonna have a good weekend because we just know how to set the car up.
"I've been chasing a Pomona Wally for a long time.  I remember being out here as a kid with my dad at the Bob Glidden won, just walking down that left lane. I remember it like yesterday, and I've always wanted to win Pomona. It's a special race."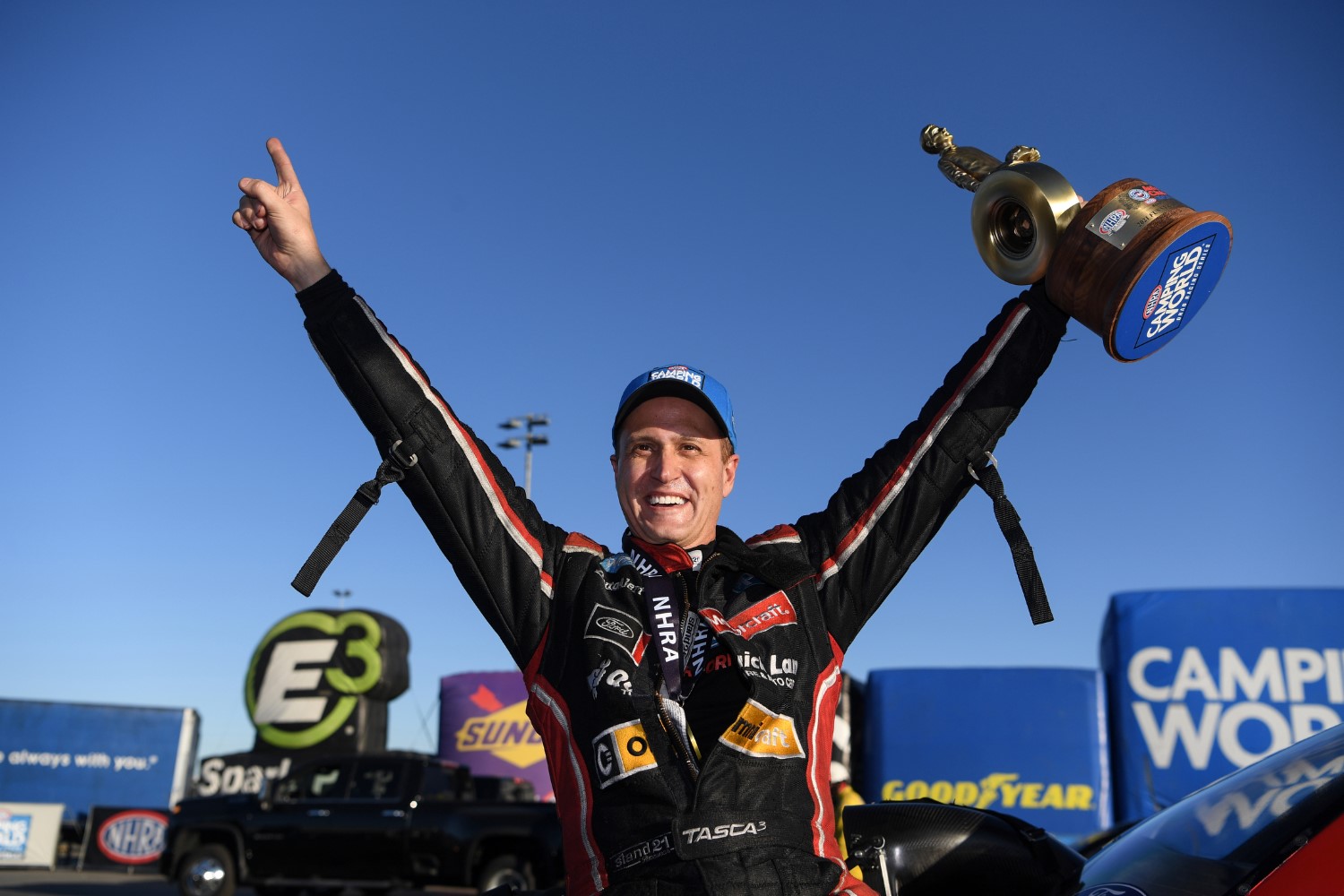 DeJoria's  Del Worsham and Nick Boninfante-tuned Bandero Tequila Toyota seemed primed for a win on the heels of her victory two events ago in Bristol and as the No. 1 qualifier at the last two events.
DeJoria qualified third and rode a trio of three-second runs to her 11th Funny Car final, beating Bobby Bode with a 3.93 and Tim Wilkerson with a 3.98 before squaring off with championship contender Matt Hagan. Hagan, who had beaten points leader Ron Capps in round two and still needed to win the event to claim his fourth championship, saw his dream disappear as DeJoria defeated him, 3.94 to 3.97.
Pro Stock
One round after clinching his fifth Camping World NHRA Pro Stock championship in a thrilling side-by-side race against reigning champ Erica Enders, Greg Anderson finished off one of the most rewarding weekends of his career when he defeated teammate Kyle Koretsky to win his 99th career NHRA Wally trophy. Ironically, Anderson needed a holeshot to finish the job as his 6.574 crossed the finish line before Koretsky's quicker 6.567.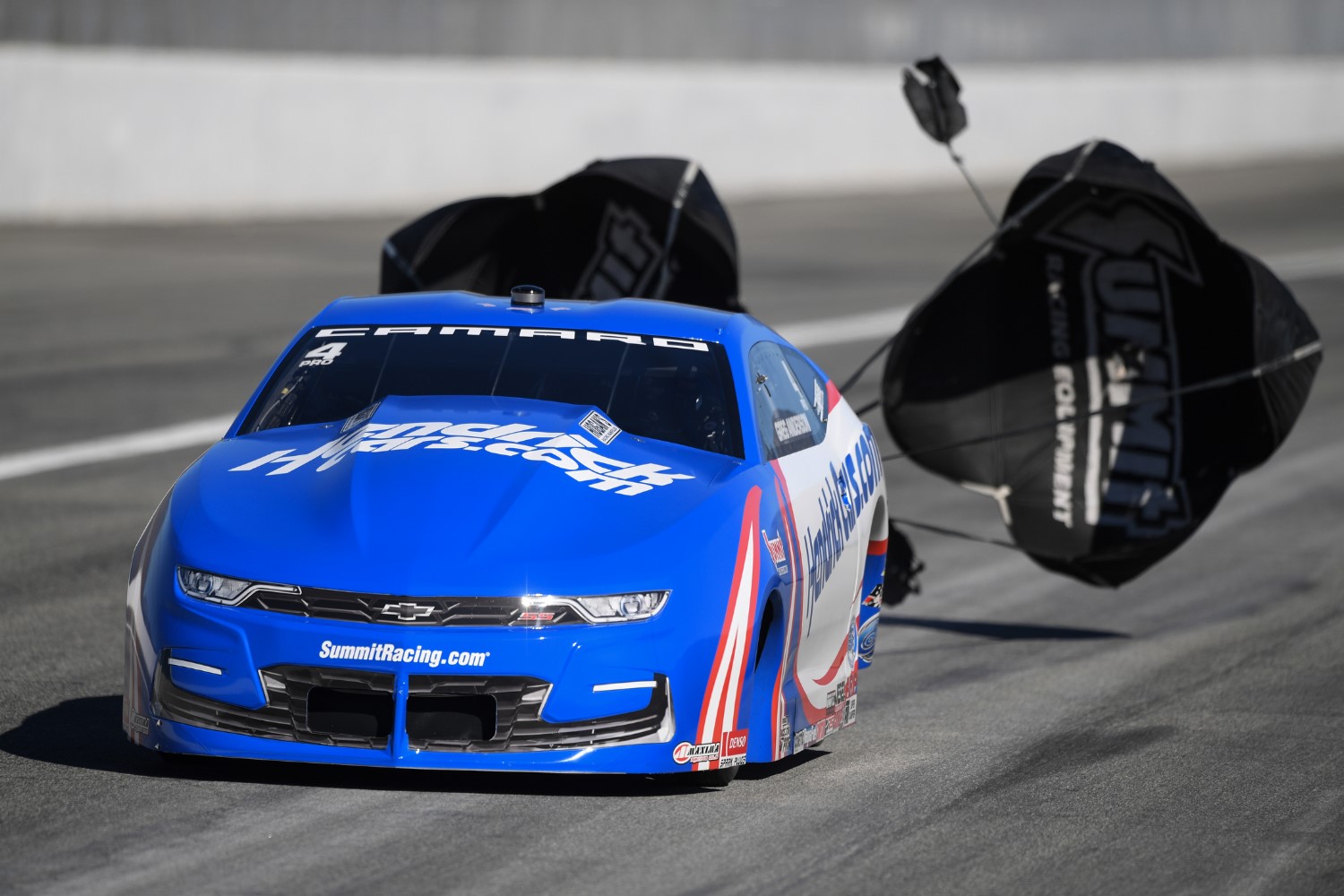 "Apparently, I'm not too old. Don't throw that dirt on the grave just yet," said Anderson. "I'm so proud to wear the colors of Hendrick cars.com. This weekend things just couldn't go wrong. I didn't' screw it up. This class is awesome. The competition is so close and the rivalries are so intense. Thank you to all our competitors. I can't wait to come back next year."
Anderson dominated the Auto Club NHRA Finals from start to finish, setting low elapsed time of all three qualifying rounds on Friday and Saturday and three of the four elimination runs on Sunday. Anderson kicked off eliminations with wins against Mike Callahan and Deric Kramer before facing championship rival Erica Enders in what could have been the most pressure-packed round of his career.
With the championship at stake, Anderson powered to a 6.578 to beat Enders' tire-shaking 6.742, putting a lock on his fifth championship. Anderson celebrated the win, but it was brief as he returned an hour later to beat Koretsky to claim his 99th career win.
"She's a bad-to-the bone driver; one of the best there is and you don't want to go up there and think too much about that," Anderson said. You need to focus on your own lane. My teammate [NASCAR champion] Kyle Larson gave me a shot in the arm. I watched him come from behind with a great pit stop to win and that's what I needed to get my head together. I did not want to drop the ball. We got it done and I'm bringing home the trophy and another Wally.
"To win 99 races is pretty doggone incredible," said Anderson. "To get to that number and be one away from 100 is amazing. I passed Warren Johnson, my old time mentor. Now 100 is the goal but I don't want to stop there. Hopefully, I can come back here at the Winternationals and win another."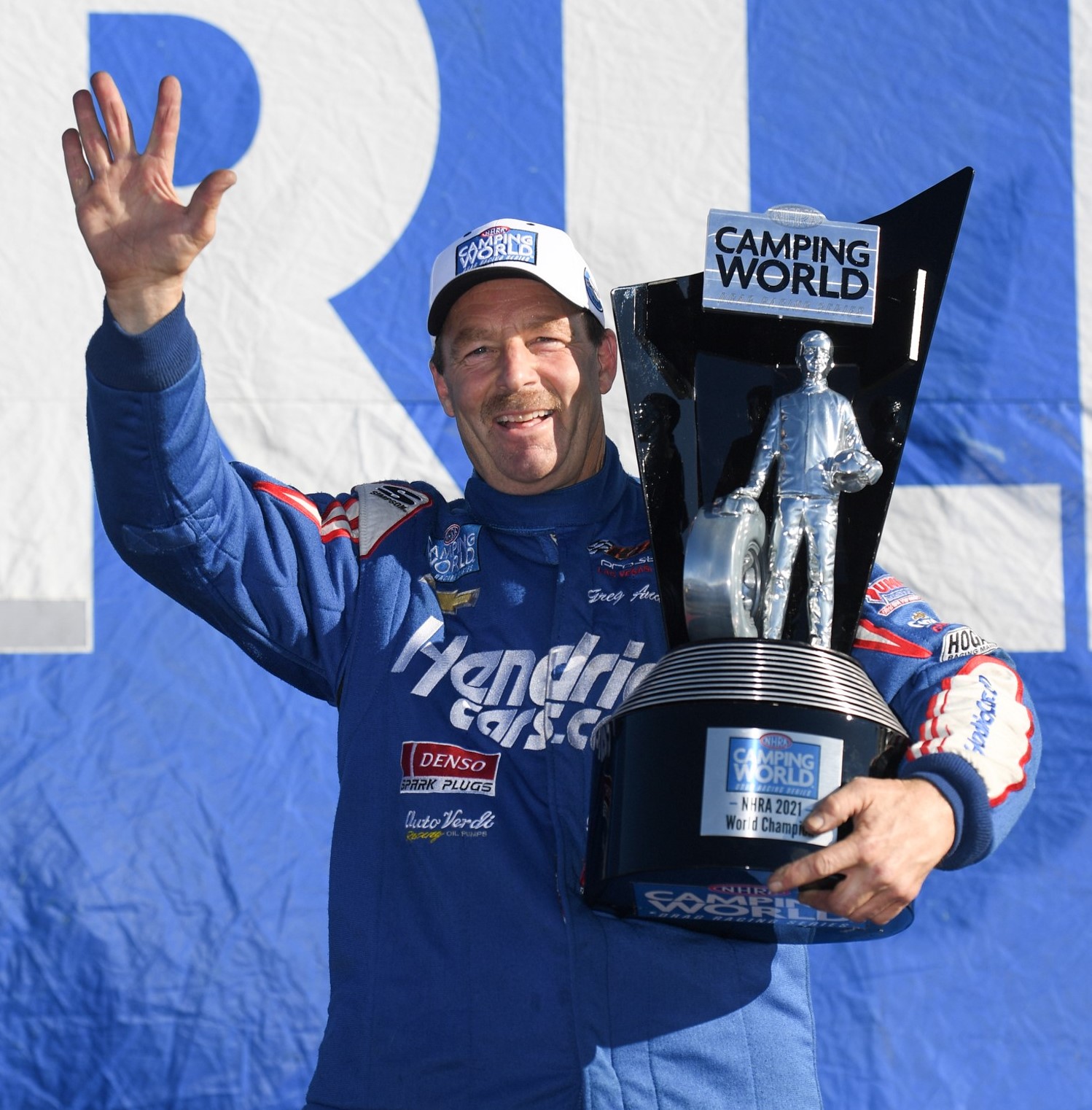 As frustrating as the loss may have been, there is no denying that Koretsky has become one of the better drivers in the Pro Stock class. Finishing his second year as a pro, the second-generation driver has now been to five final rounds and earned his first win in Charlotte.
Koretsky was second-quickest in qualifying with a 6.571 and wheeled his Lucas Oil/Nitro Fish Camaro to wins against Troy Coughlin Jr., Aaron Stanfield, and his teammate, Las Vegas winner Dallas Glenn. Koretsky finished the season as the No. 4 ranked driver in the class behind Anderson, Enders, and Glenn.
Pro Stock Bike
Matt Smith wrapped up his fifth world championship on Sunday at Auto Club Pomona Raceway when he defeated Angelle Sampey in the quarterfinals and then continued to roll on to the 32nd win of his career with a holeshot win over Karen Stoffer in the final round.
Facing a performance deficit for one of the few times this season, Smith rose to the challenge with a .011 light that left well ahead of Stoffer's .101. Putting a tenth in the bank, Smith was able to win with a 6.817 to Stoffer's 6.766.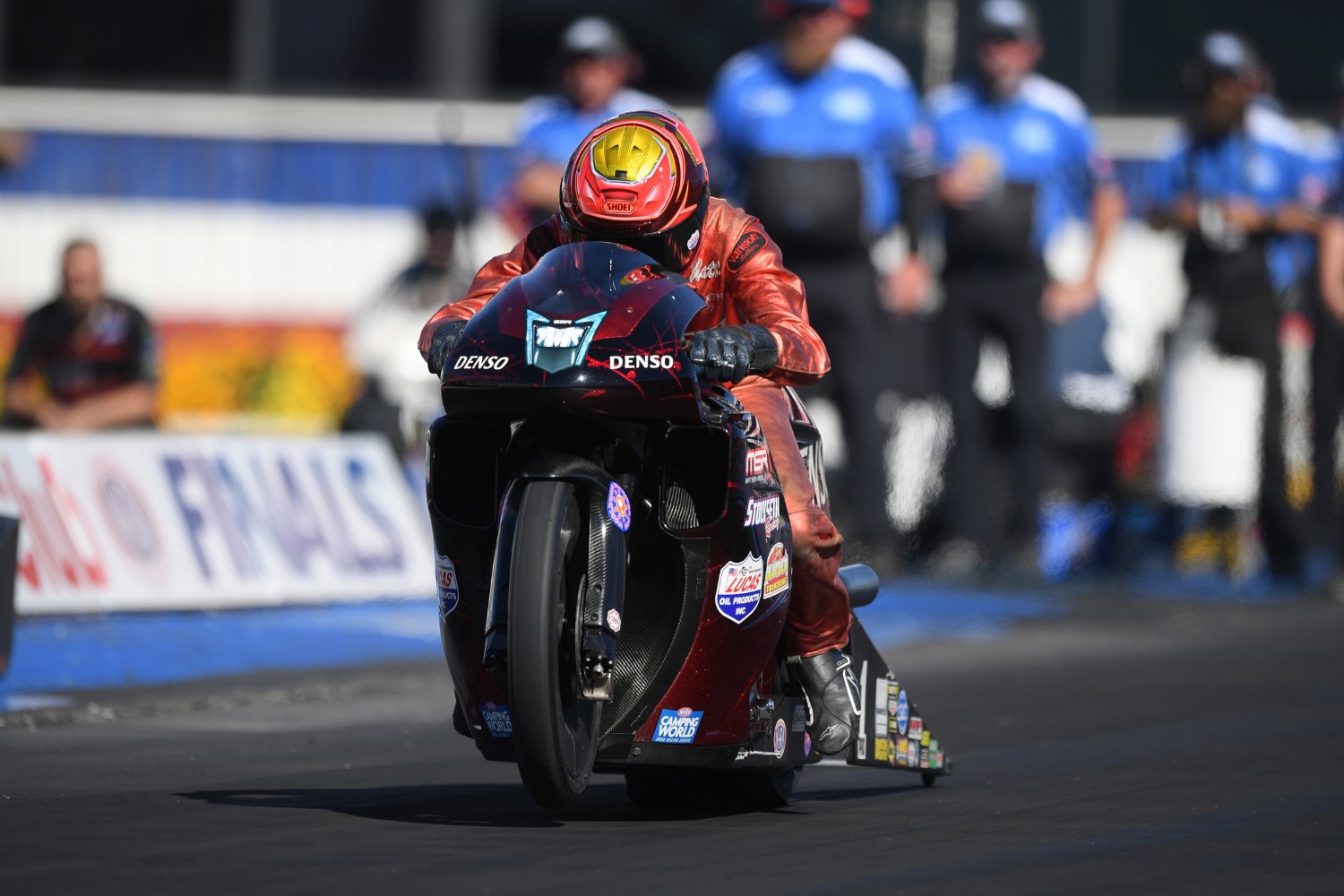 "What a relief; this has been a tough year," Smith said. "I've said all year long that those Suzuki bikes are fast. We made it work. I managed to outperform them on the starting line and we needed it. To Denso, Mark Stockseth, and Glen Butcher Trucking, thanks for all you do."
Smith was bumped from the top spot in qualifying by Stoffer on Saturday afternoon but starting from the No. 2 spot didn't seem to have much effect on the Denso team. Smith defeated Ryan Oehler, Sampey, and Eddie Krawiec before finishing the job with his win against Stoffer.
Smith's only hiccup was a trip to the sand trap following his championship-clinching win against Sampey but he managed to get his bike cleaned and serviced in order to race in the final two rounds.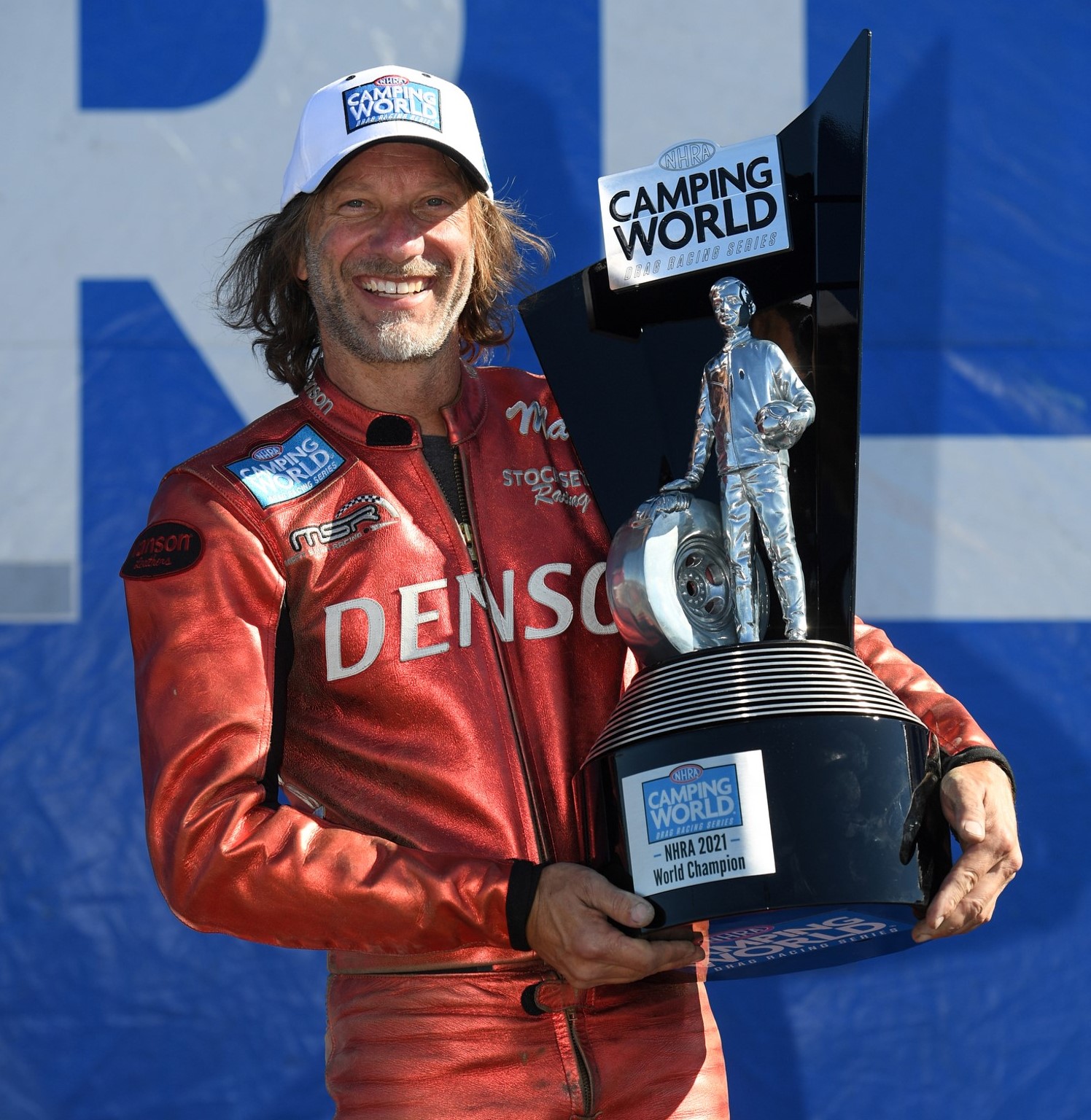 After runner-up finishes at the two more recent Pro Stock Motorcycle events in Bristol and Las Vegas, Stoffer has now appeared in the final of the last three events but hasn't been able to come away with a victory.
Celebrating her 25th year in the class, Stoffer rode her Big St. Charles/Skillman Auto Group Suzuki wins against Kelly Clontz and Scotty Pollacheck before taking a bye run in the semifnals. Stoffer also set low elapsed time of the weekend with a 6.741 in round one and recorded the first 200-mph pass of her career.