Supercars: Van Gisbergen snatches late win in Sydney, has one hand on title
Shane van Gisbergen has one hand on the 2021 Repco Supercars Championship title following a thrilling charge through the field late in Saturday's opening race of the Beaurepaires Sydney SuperSprint.
The points leader was forced to fight through the pack from as far back as ninth position, in front of a huge crowd at Sydney Motorsport Park.
Van Gisbergen's victory in the Beaurepaires Sydney SuperNight opener was his 14th win of 2021 and 54th of his career, putting him just two wins behind Garth Tander and Scott McLaughlin on the all-time list.
With Red Bull Ampol Racing teammate Jamie Whincup second in Saturday night's 250km race, van Gisbergen will carry a 349-point lead into Sunday.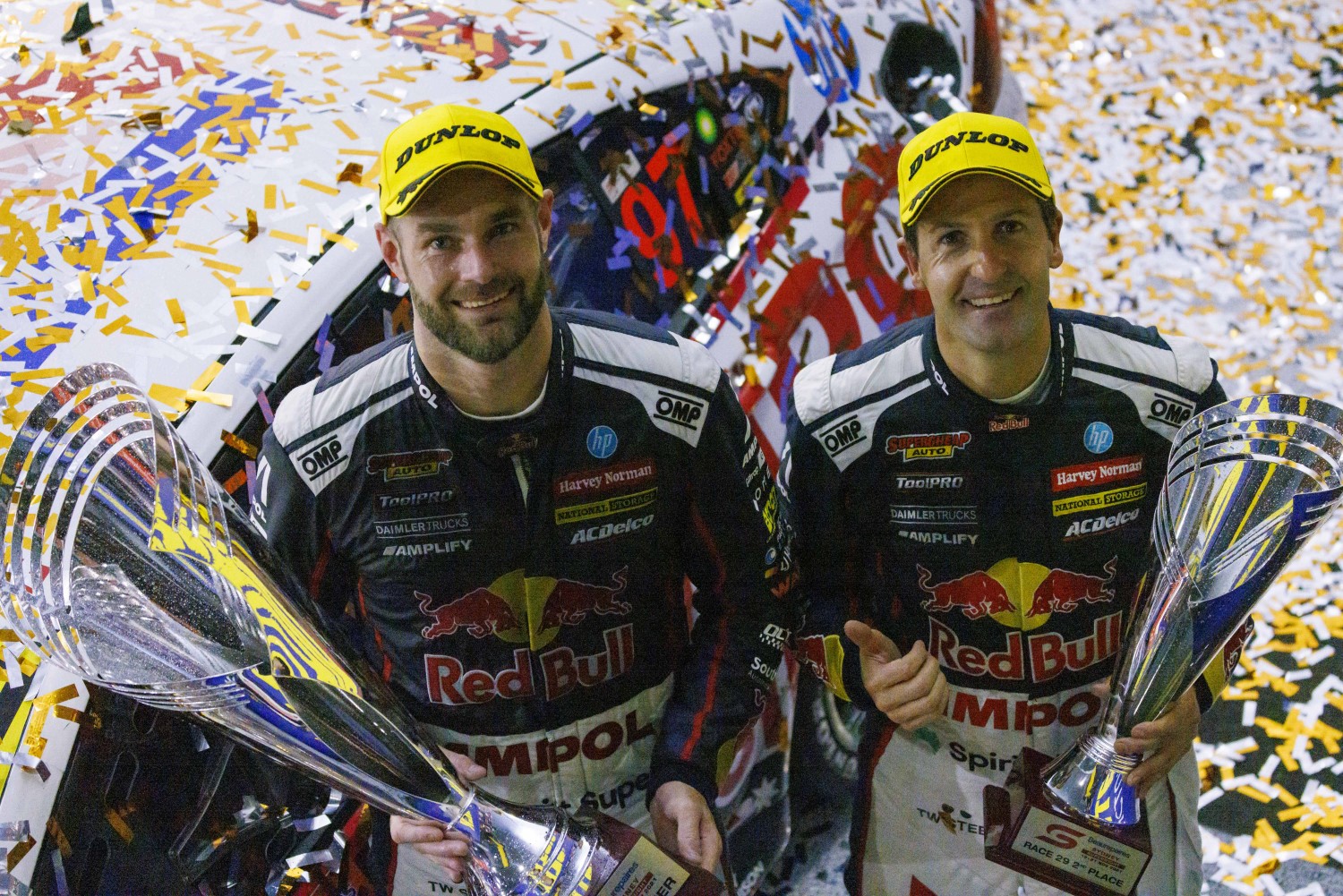 With two races remaining in 2021, only van Gisbergen and Whincup can become champion in 2021.
Monster Energy Ford Mustang's Cameron Waters led the majority of the 64-lap race, but couldn't hold off the fast finishing Red Bull duo. Waters hung on for third, his best finish in four rounds in Sydney.
Saturday night's result ensured Triple Eight Race Engineering a record 10th Teams Championship and the team's first since 2018.
Saturday night's race was a tactical thriller, with teams having to choose between hard and super soft tires.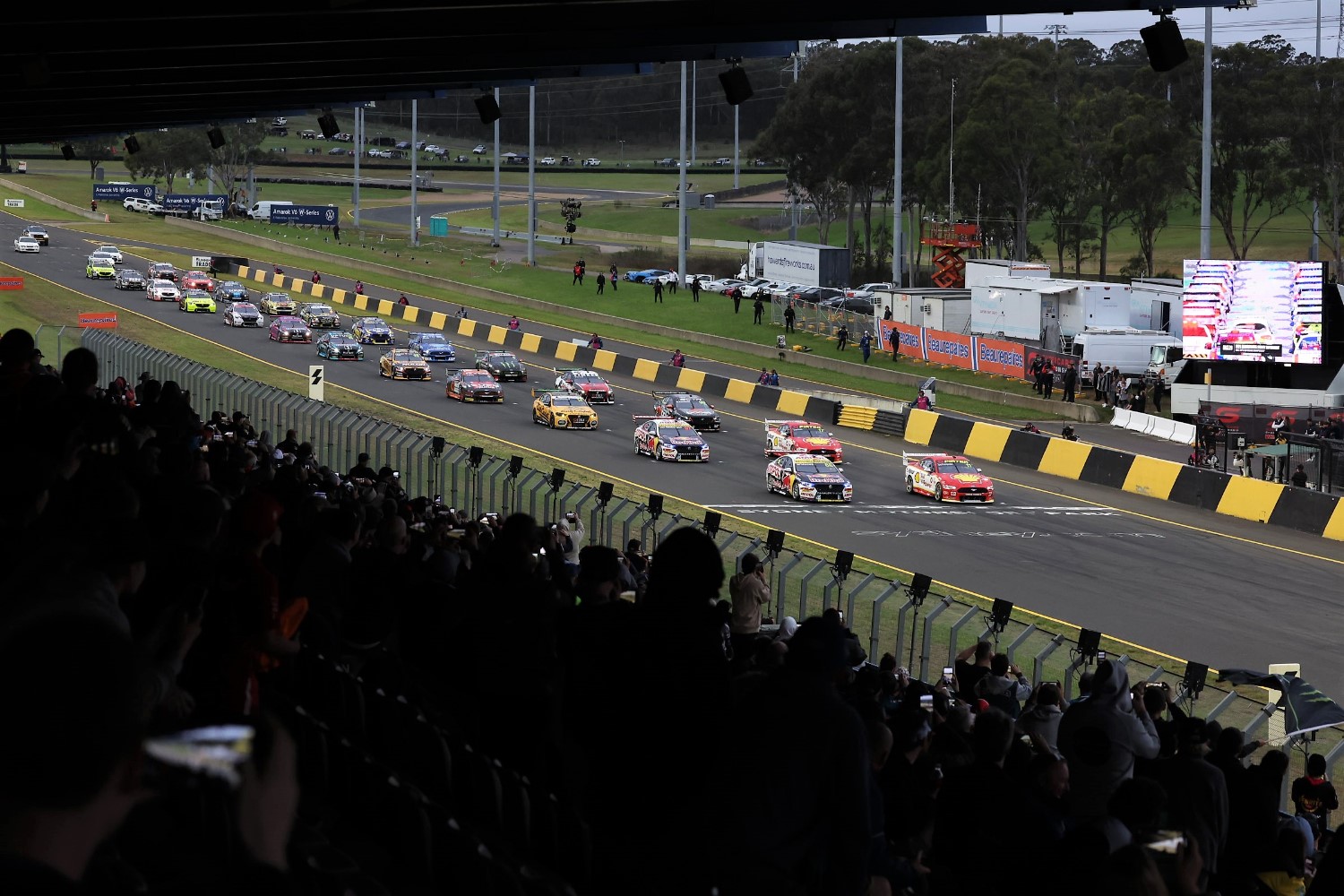 The super softs were quicker but the hard tires held their ground, and Waters along with youngster Will Brown looked to have done enough late in the race to cause the upset using the harder compound.
But Western Sydney's unpredictable rain played its part and as the drivers on hard tires had to fight to stay on track, the Red Bull duo, along with others, who used the Super Soft compound late in the race, made their charge.
Van Gisbergen was sixth with six laps remaining but found the speed he needed when it mattered and bolted past Waters to the race lead with three laps to spare.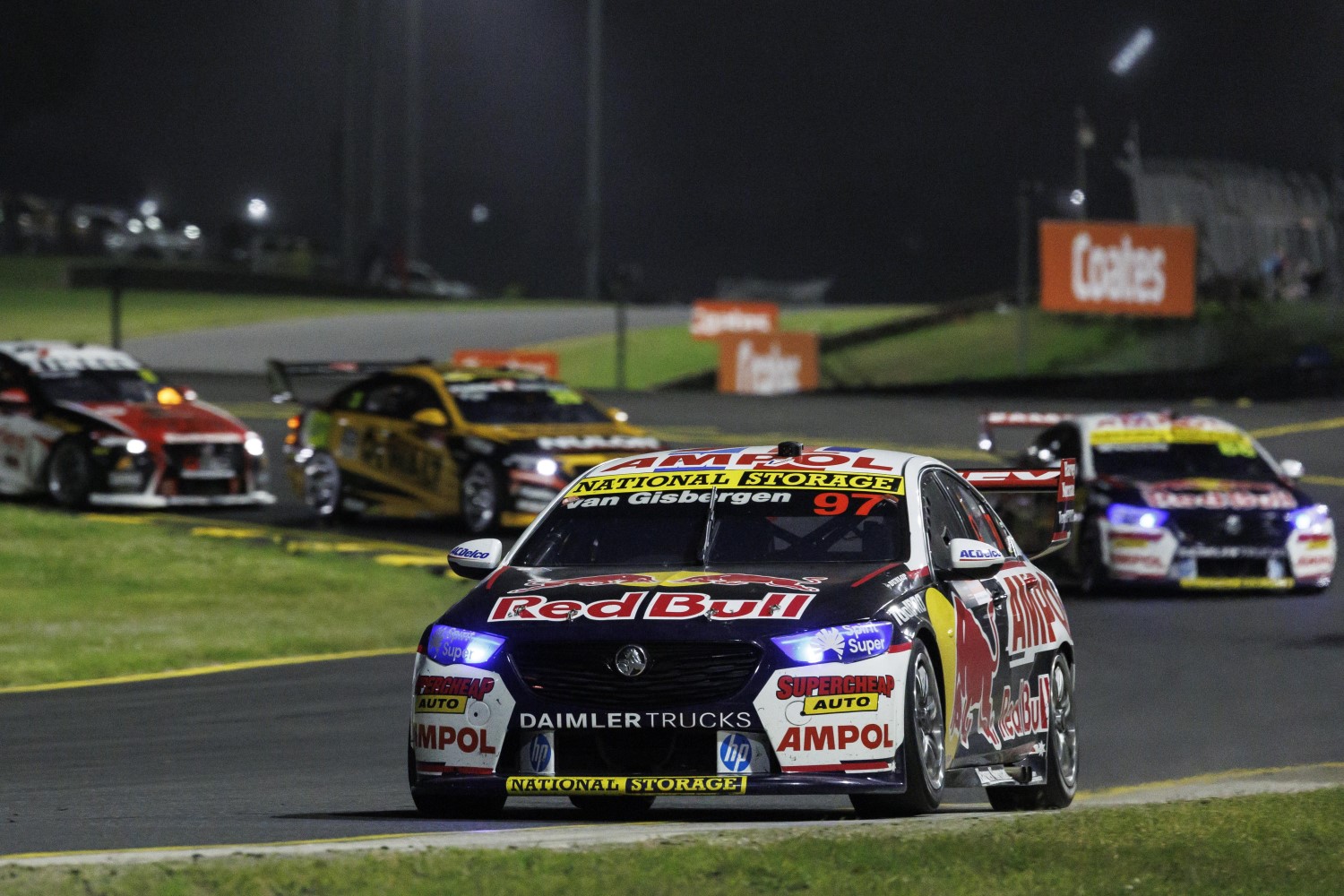 From there, the Kiwi held on for a memorable victory.
"I thought it was done once we used the [Super] Softs," said van Gisbergen, who will take a 73-point Beaurepaires Sydney Cup lead into Sunday.
"That was awesome, that second lease of life on them. Jamie let me through, which was nice of him.
"Thanks to the team. We lack a bit in qualifying, but in the races, the car's a jet."
Cars will return to the track for ARMOR ALL Qualifying on Sunday at 10:50am AEST.
This weekend's event is the penultimate round of the Repco Supercars Championship.
Race Results
| | | | | |
| --- | --- | --- | --- | --- |
| POS | No. | DRIVER | TEAM | BEHIND |
| 1 | 97 | Van Gisbergen | Red Bull Holden Racing Team | +0.000s |
| 2 | 88 | Whincup | Red Bull Holden Racing Team | +1.111s |
| 3 | 6 | C. Waters | Monster Energy Racing | +5.180s |
| 4 | 11 | A. de Pasquale | Shell V-Power Racing Team | +5.571s |
| 5 | 25 | Mostert | WAU Racing Pty Ltd | +6.077s |
| 6 | 20 | S. Pye | Team 18 | +6.203s |
| 7 | 9 | W. Brown | Erebus Motorsport | +7.610s |
| 8 | 99 | B. Kostecki | Penrite Racing – Erebus | +8.880s |
| 9 | 17 | Davison | Shell V-Power Racing Team | +10.961s |
| 10 | 8 | Percat | Brad Jones Racing | +13.153s |
| 11 | 5 | J. Le Brocq | Truck Assist Racing | +15.678s |
| 12 | 18 | Winterbottom | Team 18 | +18.576s |
| 13 | 3 | Slade | CoolDrive Racing | +21.853s |
| 14 | 14 | T. Hazelwood | Brad Jones Racing | +25.735s |
| 15 | 7 | Heimgartner | Nissan Motorsport | +26.247s |
| 16 | 4 | J. Smith | SCT Motor Sports | +28.284s |
| 17 | 26 | Reynolds | Nissan Motorsport | +30.804s |
| 18 | 34 | J. Kostecki | Matt Stone Racing | +33.065s |
| 19 | 35 | Z. Goddard | Matt Stone Racing | +34.745s |
| 20 | 44 | Courtney | Boost Mobile Racing | +41.536s |
| 21 | 19 | Coulthard | Team SYDNEY – Tekno | +1m12.972s |
| 22 | 22 | G. Jacobson | Team SYDNEY – Tekno | +1m13.522s |
| 23 | 2 | B. Fullwood | WAU Racing Pty Ltd | +1m26.136s |
| NC | 96 | M. Jones | SCT Motor Sports | +59 Laps |